On Monday July 24th, we packed up the trailer at Gros Morne RV Park in Rocky Harbour, NL and headed north on the Viking Trail (Rt 430) along the western coast of Newfoundland and then across the Great Northern Peninsula to the Viking RV Park in Quirpon, NL just south of L'Anse aux Meadows National Historic Site on the northern tip of the island. The road goes through many small fishing villages along the coast and has more undulating surface than just about anywhere we've been. On the TCH (Trans Canada Highway) they put up signs to warn you of these bumps (like low speed bumps) but not on the Viking Trail. So we were almost airborne more than once in the 5 hours it took us to drive the 225 miles from Gros Morne.
When we opened the door of the trailer for lunch, we discovered that one of the overhead cabinets in the dining area had come open and most of the contents were all over the floor. The good news is that nothing broke including Walters laptop! And we went through a bunch of papers that were stowed up there and threw most of them away. It was just one of those pre-lunch shocks you don't think you need, you know?
We got a nice pull-through site with water and electricity (and WiFi that we figured out how to use on the second day) for just $28 a night. It wasn't a fancy place but you could get a moose burger fresh off the grill in the little restaurant if you wanted. We settled in and then after dinner we took a little drive. First we drove up the road to Quirpon (pronounced Car-poon) which turned out to be a little fishing village with not much to say for itself. We drove back a ways on the Viking Trail to a 'Iceberg Viewing' sign we'd seen on the way in (in the little village of St. Lunaire) and at the end of the road sure enough there was a nice big iceberg that looked like a whale motoring along on the surface of the ocean.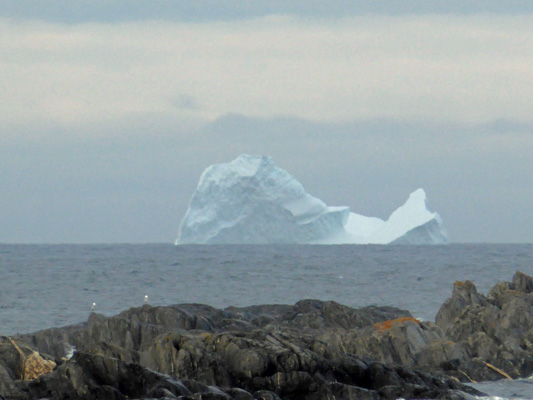 The eastern coast of Newfoundland is on what is called Iceberg Alley. Icebergs from Greenland and Baffin Island get caught in the Labrador Current and carried southward past the northern tip of the island and then down the eastern coast--as we saw in both Trinity and Terra Nova earlier in our trip. The farther north you are the more icebergs there are since they haven't had as much time to melt or be blown farther out to sea. July is late to see them but no unusual. The have an Iceberg Festival in St Anthony (the big town in the area) in early June.
Having had our iceberg sighting for the evening we drove homeward and I shot this photo from the hill pointed towards Quirpon.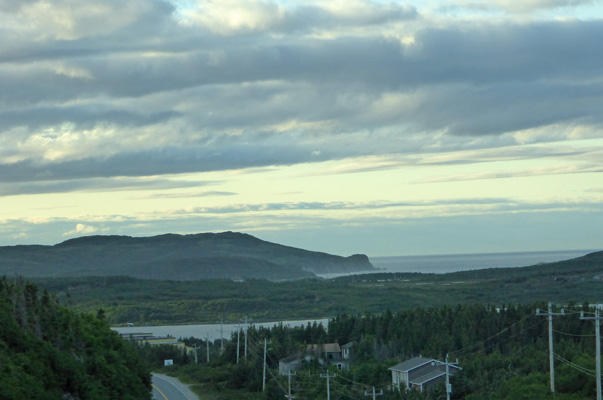 There was a small pond at the campground and we went down to have a look when we got back. I spied some Bluebead Lilies (Clintonia-borealis) in bloom in one of the campsites.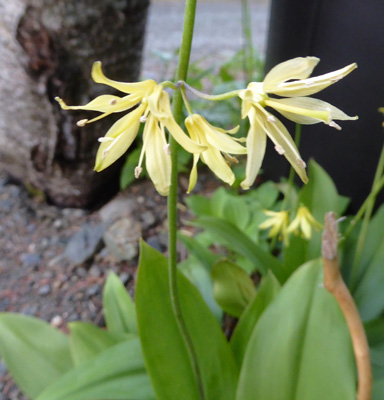 The next morning it was clear and cool (in the 50's) when we set out to visit L'Anse aux Meadows National Historic Site. Their parking lot was full when we arrived a little before 11:00; clearly this is everyone's first stop of the day. We found a place to put the truck along the road and hiked back up the hill to the Visitors Center. This is an archeological site where excavations began in 1961. Helge Ingstad, an 'explorer and adventurer' who was looking for possible sites for the Norse settlements that are mentioned in the Icelandic Sagas, found the place when he arrived in the little town of L'Anse aux Meadows and asked if there were any odd mounds. Folks sent him to this site that they all thought of as an old Indian ruins and it didn't take long before he was sure he'd found what he was looking for.
Anne Stein, Helge's wife, was an archeologist and she ran a professional dig of the site for over 4 years. In time, they found enough evidence (a bronze cloak pin, a spindle and some forged iron nails) to prove that indeed, this had been a Norse Settlement. It became a UNESCO World Heritage site in the 1990s and as a result the Canadian Park Service took over. The Park Service have a nice touch with sculptures and have placed a group of steel Viking/Norseman up on the hill so you can see them as you head to the Visitors Center.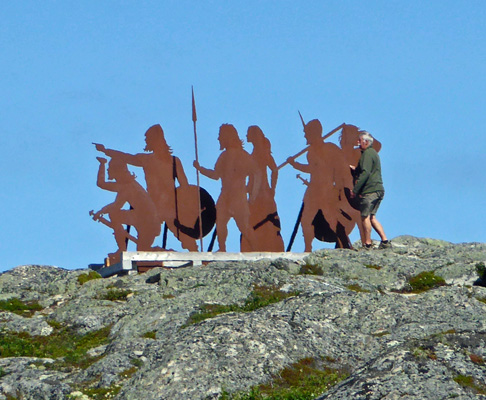 The Visitors Center and the movie that they show, provides you with a full explanation of how the site was found and how the Norse presence was verified. It also explains why this became a UNESCO World Heritage Site. It is not because the Norse 'discovered' America here. It is because their arrival closed the circle on human migration around the earth. We all started out in Africa and spread across Asia and then over land and sea to Australia and the Americas. But until the Norse arrived from Europe no one had crossed the Atlantic to arrive in the Western Hemisphere and when they did we had literally spread all the way around the world, completing the circle. If a bunch of Eskimos from Labrador had sailed east and built a settlement in Ireland, it would be the UNESCO site instead.
The Norse were pretty amazing seaman. They traveled in open boats and navigated by landmarks so they had to stay within sight land as much as possible.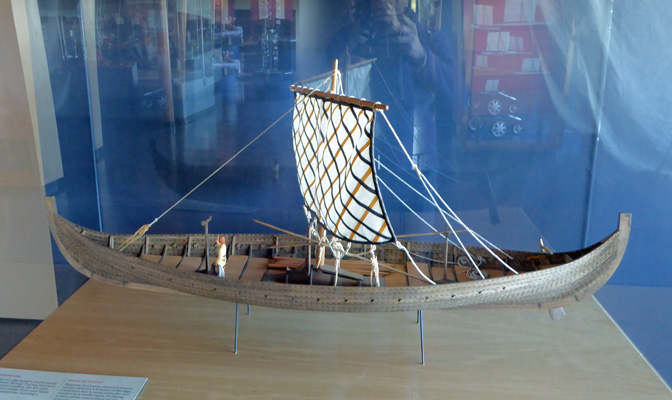 Current thinking is that they picked L'Anse aux Meadows because it was so easy to give directions for people to find the place. From here they explored southward to New Brunswick where there are wild grapes and hence it is probably New Brunswick which is Vinland in the Sagas.
The view from the Visitor Center out across the site is pretty marvelous. Those two islands out in the strait made finding L'Anse aux Meadows much easier. Off in the distance along the horizon you can see the coast of Labrador. The Norse followed the coast of Greenland to Baffin Island and then went down the Labrador Coast until they saw these two islands and presto they were in Newfoundland.

Out on the horizon if you look carefully you'll see 4 white blobs. Icebergs! And in this case a fishing boat too.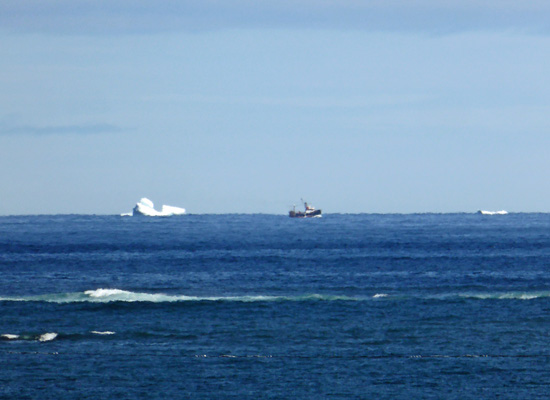 Having explored the displays and watched the movie, we headed out down the stairs to explore the site. And of course there were Bunchberries (Cornus canadensis) growing along the trail. In case you haven't noticed, I've been posting photos of Bunchberries that I've seen in every missive since June 4th. By this point, I've made a game of it. I love bunchberries but this is getting hysterical! They are considered a late spring flower and here they are in the heart of summer.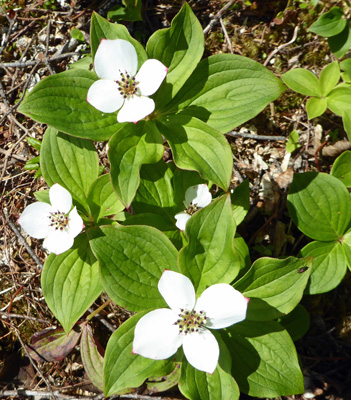 Along the path there is a nice sculpture by Luben Boykov, an immigrant to Newfoundland, in collaboration with Swedish sculptor Richard Brixtel to interpret the meeting of two cultures and worlds. It's called Meeting of Two Worlds.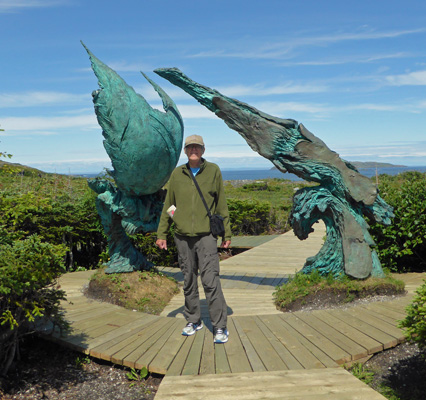 We followed the boardwalk down into the meadow and came to this lovely stream—fresh water for the settlement.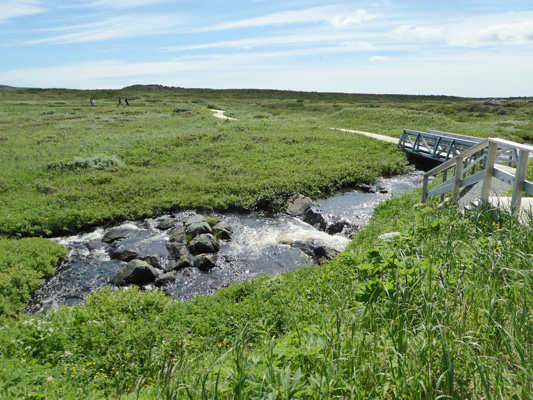 There were what a sign called 'Dwarf Coastal Irises' (Iris hookeri, I think) growing nearby.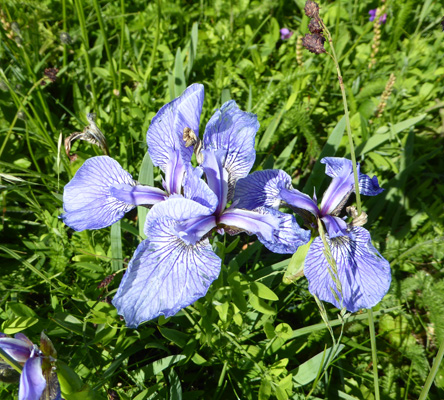 And Beach Pea (Lathyrus japonicus var. maritimus) too.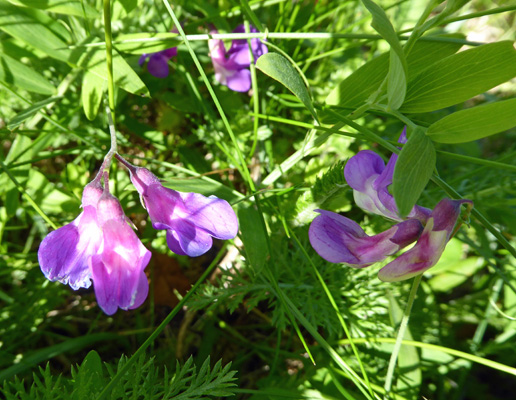 There were bunchberries that had begun to set their fruit but hadn't lost their petals—odd.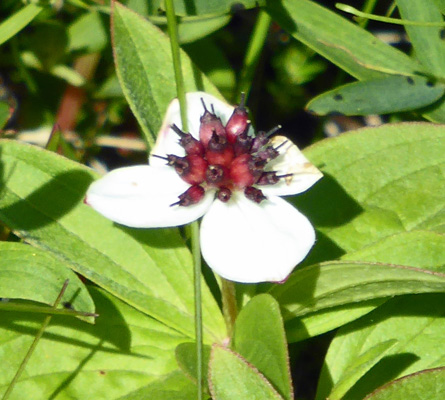 Down near the original site of the settlement they have built several historically correct reconstructions of the original sod houses and outbuildings that the Norse built here. There's a chieftain's house made of sod bricks.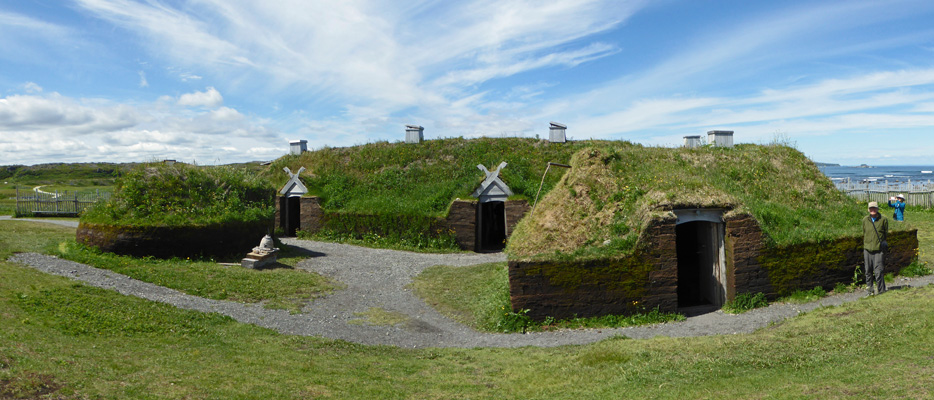 Inside there are re-enactors doing wood carving and weaving and answering people's questions. But not a hobbit in sight.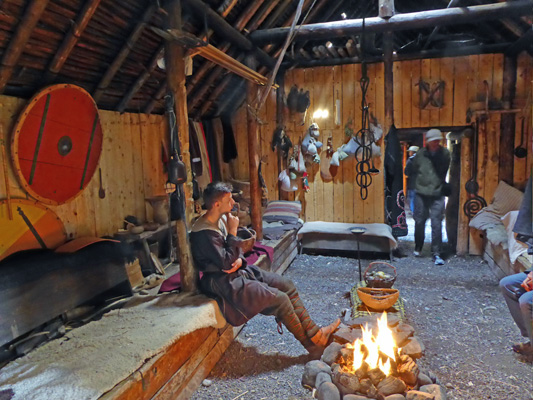 Outside they were posing for visitors photos too.
It's a tough job playing Norse dress-up all summer!
We wandered back through the meadows, past the original digs that consist of grass-covered foundations of the original sod houses. It appears that the Norse burnt their houses down when they abandoned the settlement about 10 years after it was built in around 1000 AD.
Current thinking is that the reason they gave up here was that other easier trading routes opened up and this outpost just wasn't paying off well enough.
For those who haven't gotten enough Viking fun, you can drive down the road a bit and visit a commercial endeavor where they've built a pretend Norse Village for you to visit. We took a pass on that and instead made the drive out to Burnt Cape Ecological Reserve in the middle of nowhere. This area consists of what are called Limestone Barrens. Much of the Great Northern Peninsula's coast is limestone barrens and Burnt Cape is the most representative of this unusual ecological niche. There are over 300 species of plants that grow here (30 that only grow on Burnt Cape itself and 3 of those are endangered). To get there you drive to the little town of Burnt Cape and turn left at the stop sign (their only one) and follow the road around the pond.
On our way to the town of Burnt Cape we had a good-sized male moose (complete with a nice-sized rack) run across the highway in front of us. They're amazingly fast and needless to say since I was driving no photo was taken.
The road into the ecological reserve is a limestone gravel road that hasn't been re-graded in some time. We arrived at about the same time as a family from Switzerland and we all stood around reading the two signs at the entrance and trying to decide if we really wanted to tackle the road. They set out to hike up the road and we wandered around.
There was a small potentilla of some sort growing in the rocks.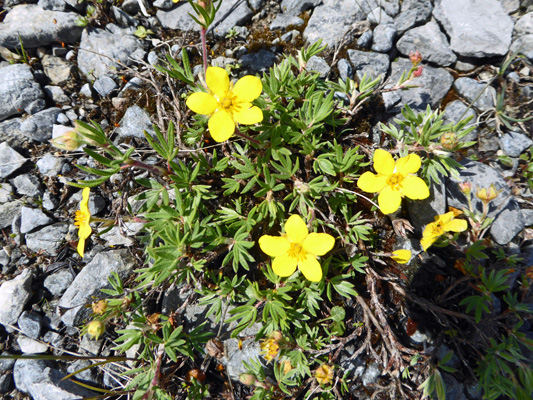 The Swiss father came back a few minutes later saying that the road wasn't bad at all up ahead and so when he got into his car, we followed him up the hill. The road flattens out on the top of the barrens and it was fine from then on. I spied a very bright pink plant and stopped to take a photo. It's a vetch of some kind but I've not seen that color anywhere else in Newfoundland.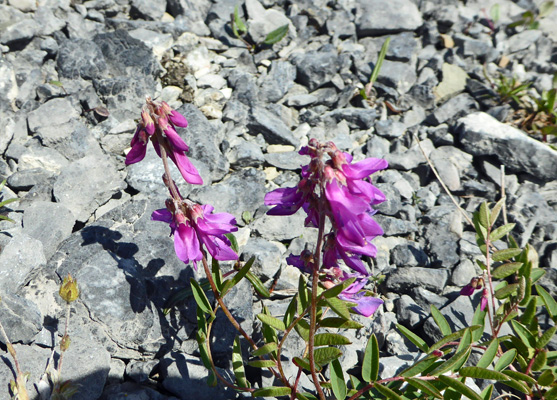 The Barrens have a very harsh winter climate so the plants here are mostly arctic and alpine varieties. I've searched the internet for plant lists for the barrens to no avail. So we'll just have to enjoy the interesting little plants without any names.
The road ends at a turnaround and from there you can look out onto the Strait of Belle Isle and Labrador across the way. There were 9 icebergs stretched out across our field of view moving along like ships in a convoy southward on the Labrador Current. I caught photos of these.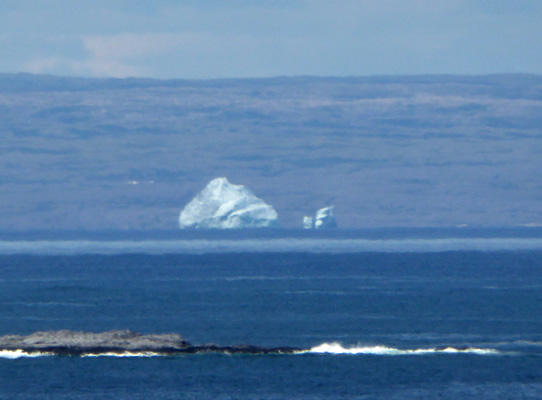 And these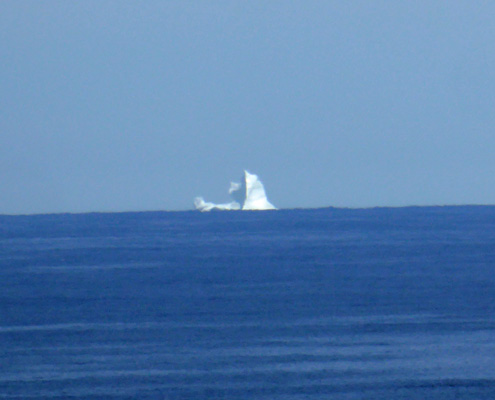 The wind does such an interesting job of sculpting the bergs as the travel.
There were little tiny yellow sedums in bloom in the rocks.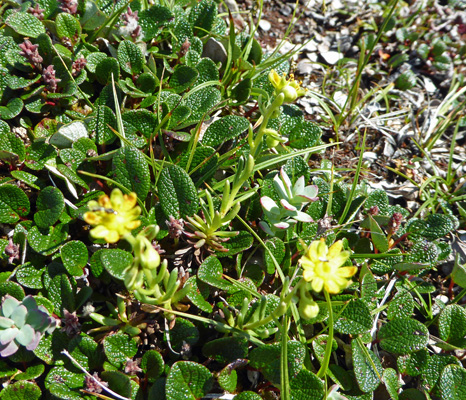 And these interesting little seedpods (flower buds?) on a plant whose leaves look familiar but...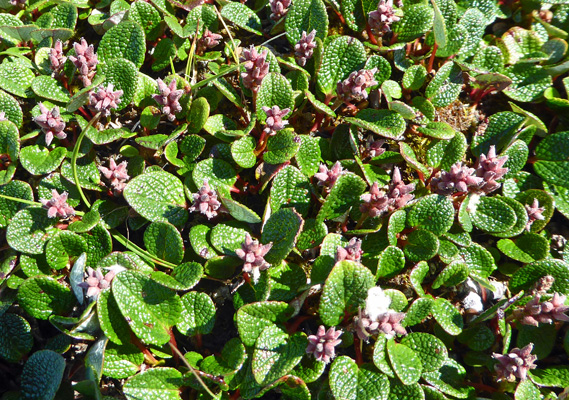 And little white flowers mixed in too.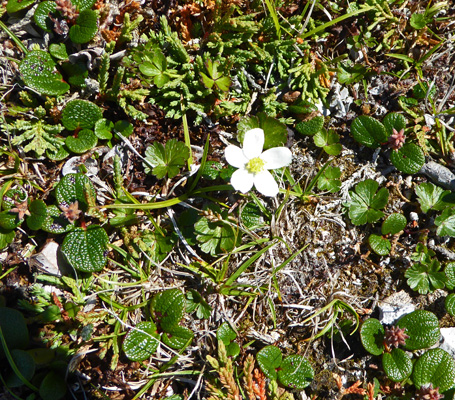 None of these were bigger than a dime.
I scrambled down the rocks to the edge of the cliff and was rewarded with a great view of the coastline.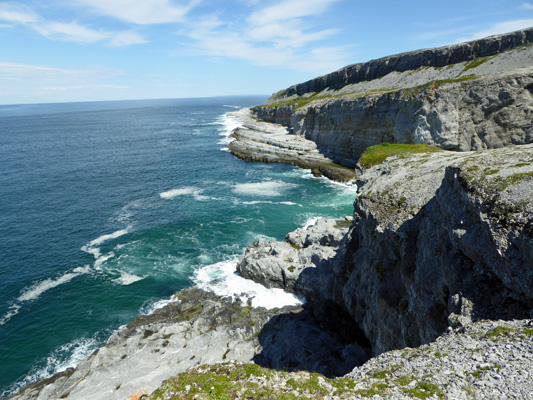 Meanwhile the Swiss family headed out along the top of the barrens looking for "Big Oven" one of the sea caves on the map. We left before they got back so I hope they found it.
I was perfectly happy with my views of the surf down below.
Back up top again I found some more odd little members of the succulent family. The little round rosettes of these plants weren't as big as a pea.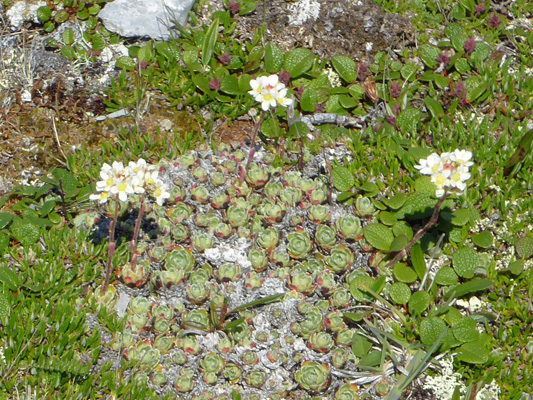 There was also a tiny little Roseroot (Rhodiola rosea) growing in the rocks.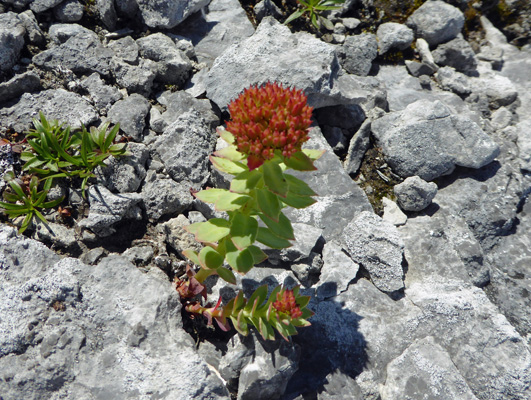 And some strangle little twin berries in with the odd seed pods which might be flower buds. As you can see from my finger tip these are not big plants.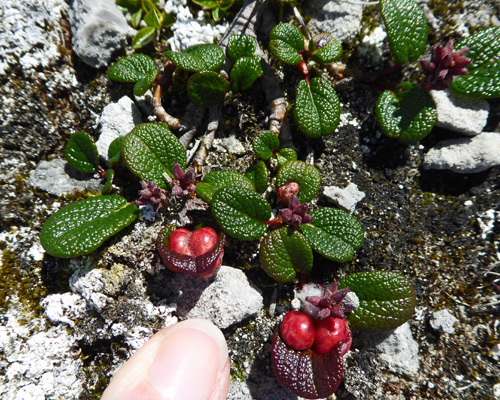 I think that this is the seed head of a Bearberry Willow (Salix uva-ursi) which I know grows here.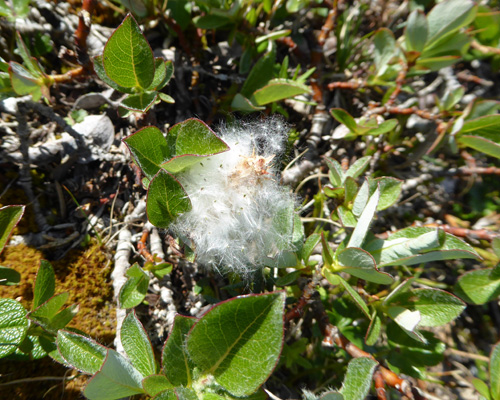 And last but not least there was a tiny little yarrow (Achillea sp) in bloom.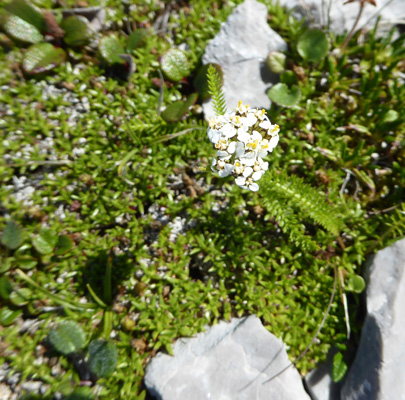 We happily finished up our wanderings and headed back down the rocky road to the bay and I spied a wonderful cluster of Irises (probably just good old Blue Flags (Iris versicolor)).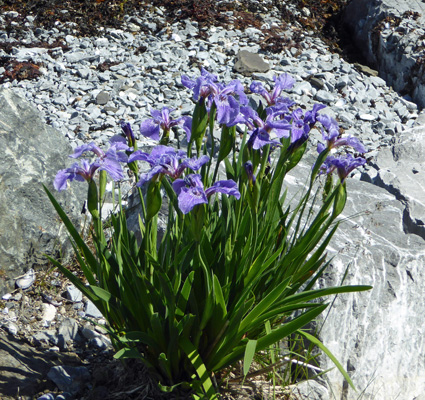 Our hiking guide said that there was an 'iceberg graveyard' at St Anthony Bight across from the city of St Anthony (the big city in the area with a population of about 2,000) so we headed that way. On the way, I stopped to take a photo of one of the many potato gardens that folks have in the verges along the roads and highways. The ground gets disturbed when the highway folks create the roads and it makes it easier to dig. Everything is already cleared and you've access from the road so they plant potatoes in a little fenced area to keep out the moose.
Mostly they just put white bags on the posts but occasionally someone gets creative and makes a scarecrow like this one.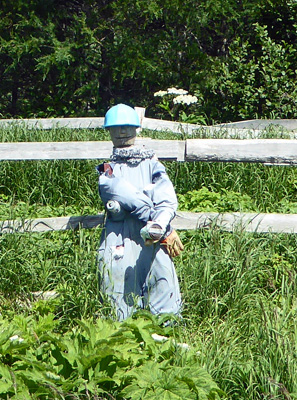 They also keep their wood piles along the verges. They get a permit to cut wood and then simply cut it to length and stack it right there along the road. Then they haul what the need back to their houses to feed their wood burning furnaces (which use fuel oil as backup if the fire runs low on wood). In some areas we saw oversized sleds (wood boxes) with runners to use in the winter—just pull it behind your snowmobile.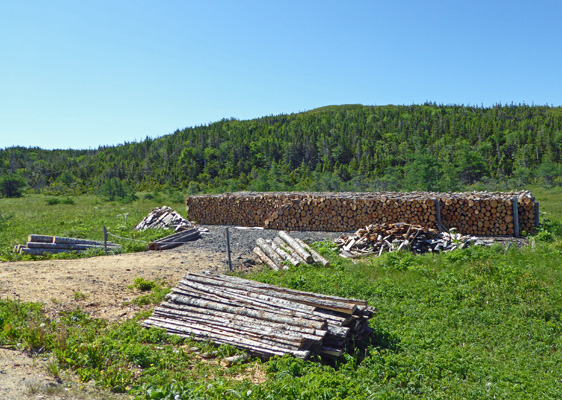 We couldn't find the trail in St Anthony Bight and we didn't see any icebergs in the bay, so we gave up and drove to Fishing Point in St Anthony for our lunch. I pulled in at the parking area for the Whale Trail and what should we see out in the Fishing Point Cove but 3 whales playing. We watched them while we ate lunch and they continued to move around the little bay for the whole time.
I went out to walk the trail and take a photo of the iceberg that was rapidly drifting around the point and managed to not only get the iceberg but a bit of a whale too. It's the black spot on the left.

Here's a close-up of the biggest of the icebergs—the others are just known as bergie bits.

And here's a view of the Fishing Point Cove from a nifty little wooden platform along the trail.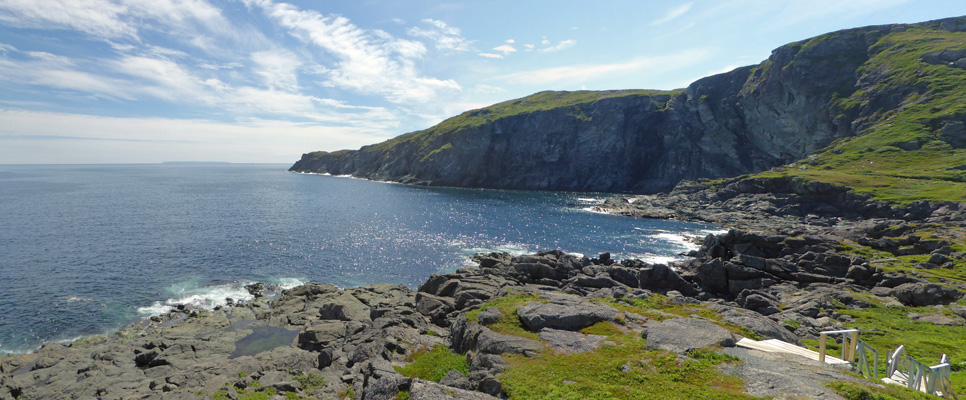 I followed the trail around the end of the point where I got to see yet another iceberg just coming into view from the north. Now the question is, is this two icebergs traveling together or is it one that's connected below the surface? We'll never know. An iceberg this size (bigger than a house) is known as a growler.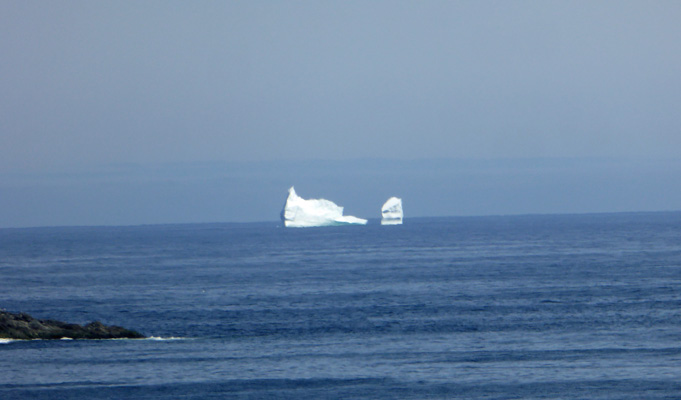 A fishing boat came out of the harbor mouth—only the second one we'd seen in Newfoundland. We watched him for quite a while but never saw him put his nets out.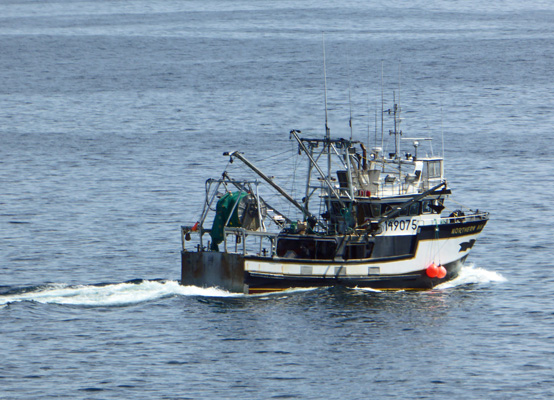 Around the end of the point is the Fishing Point Lighthouse, another one of these cute short squat lighthouses we've seen so many of in the Atlantic Provinces.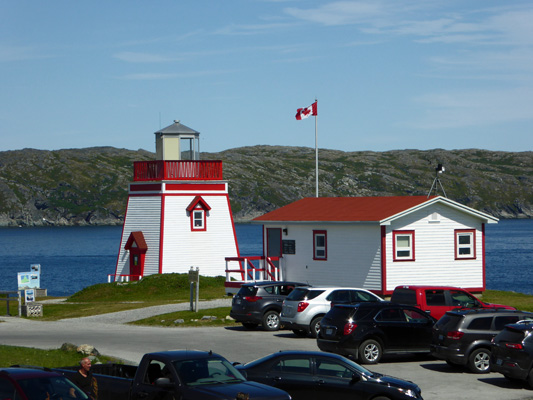 This was an all around great day: icebergs, Vikings, flowers, whales, a moose and blue skies.
On Wednesday July 26th, we drove south about 140 miles, retracing our steps back down the Viking Trail. The wood piles were joined not only by gardens on the coast but by stacks of lobster pots too. However when you take a photo from a truck window at 50 mph sometimes you only get the woodpile.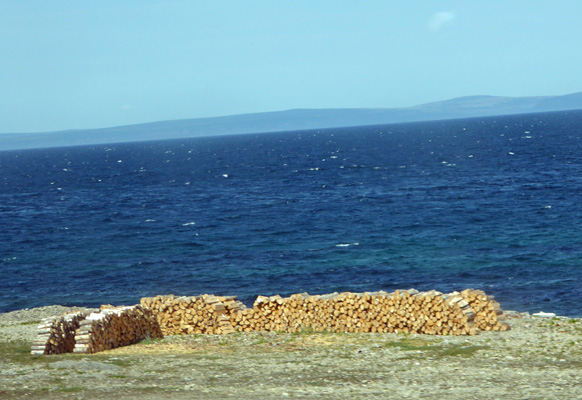 That's Labrador over there in the distance across the Strait of Belle Isle.
We continued on to River of Ponds Campground in River of Ponds, NL. This is a nice campground on a pond and we got a back-in site with water and electricity and a view of the pond for only $28 a night. They only had WiFi in their office and we decided that it was just fine with us to go without for a night. So we settled in for a quiet afternoon enjoying the view. Early in the afternoon the little sandy beach was full of families with dogs and kids but by 5 pm they'd all headed in and it was quiet.

At dusk we heard a loon fly by but we didn't see it.
On Thursday July 27th, we continued our drive south for another 120 miles, through Gros Morne National Park and back to Deer Lake and the junction of the Viking Trail and the Trans Canadian Highway. We got one of the last spots at Gateway to the North RV Park ($38 a night for a full hookup with WiFi that worked pretty well) and set up camp. I gathered up 2 weeks-worth of laundry and got it started before we even had lunch. By mid afternoon we had clean clothes and both of us had had showers in their shower house—plenty of hot water, it just had a really fine temperature adjustment—a hair one way it was too hot and a hair the other and it was too cool.
On Friday July 28th, it was cloudy when we broke camp and headed south along the TCH and then out to the coast on Hwy 460 to Port au Port and the Zenzville RV Park. They had lots of sites to choose from and we ended up with a nice pull-through site with water and electricity for $30. They had WiFi that sometimes worked great and sometimes was so weak I couldn't connect to it even though we were only one spot away from the transmitter. So for the 2nd day running I couldn't sent out my missive about our adventures at Gros Morne National Park. Ah well, WiFi was remarkably good in Newfoundland so I won't complain.
We had spotty rain off and on that afternoon and temperatures in the 60's.
On Saturday July 29th, it was raining when we got up. We waited for a break in the downpour and began to get ready to go and of course it just began to rain harder. We were both pretty wet by the time we were ready to go but at least it wasn't cold. We drove southward on Hwys 460 and 490 back to the TCH. Carmine the Garmin took us through an old decommissioned air force base that was a bit creepy and had huge puddles to drive through but at last after about 1/2 an hour the rain began to let up. We continued southward back to J. T. Cheeseman Provincial Park where we had stayed when we first arrived in Newfoundland. We decided to leave the truck hooked up to the trailer since we would be leaving again early the next morning to get in line for the ferry. Later in the afternoon, we had sun breaks and things dried off enough for me to walk over to their hot spot area and actually send my weekly missive—in two parts.
Sunday July 30th, we got up early and were on the road to the ferry terminal by 8:45 am. We were checked in and in line by 9:00 so I walked over to the ferry terminal and used their really nice fast WiFi to update our website and read the news.
This ferry didn't have as many vehicles on it as the one we had taken to Newfoundland 3 weeks earlier but there were lots of foot passengers so it seemed more crowded in the lounges than the last one. They loaded all the RVs and trailers last so we didn't get loaded until close to 10:30 am.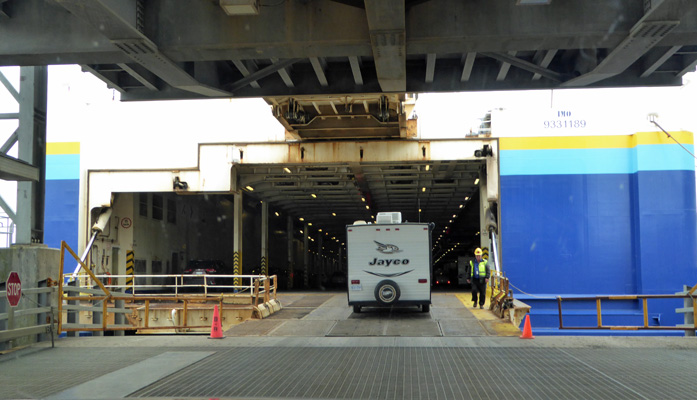 We found a place to sit and settled back for the ride. The sun came out about half way through the voyage and we had a lovely time though we had more white caps and a bit more roll than the trip out. We arrived on time but then they announced there would be a 15 minute delay—the ferry to Argentia pulled out while we were sitting in the bay so I guess they were late leaving since I'm sure it's not typical for them both to be passing in the harbor. We were unloaded and on the road by a little after 7 pm so it wasn't bad (but of course we'd picked up a half hour with the time change from Newfoundland Time back to Atlantic Time).
We had a reservation for 2 nights at the North Sydney/Cabot Trail KOA about 15 miles from the ferry terminal. We arrived a little after 8 and they took us up to a spot with a gorgeous view. AND an abrupt edge on the road that made getting into the spot a real challenge. We had a few heart stopping moments—made worse by the fact that it was way past dinner time and we were both really tired—but we got parked okay without any mishaps.

This is not a cheap place to stay. KOA's seldom are. We got a full hook up back-in site with WiFi that only worked decently in the afternoon when everyone was gone for $46 a night tax included. And Walter found 2 TV stations over the air—one a snowy analog station.
Monday July 31st, it was foggy early in the morning but by 8 am the sun was out and the trailer was heating up. We did grocery shopping and errands in North Sydney and made reservations for the next few nights (the coming weekend is a holiday weekend for Nova Scotia Day). August begins on Tuesday and it is high season here so we actually found a couple of places that were full. I took a shower in the shower house and had lots of hot water and the shower area was nice.