Sunday March 19th was another hot humid day at Copper Lake State Park near Sulphur Springs, TX.
There were what I think were wild raspberries in bloom along the edge of our campsite. We'd seen a lot of them along the roadways on our way into the park. The flowers are pretty large and the leaves look more like raspberries than blackberries.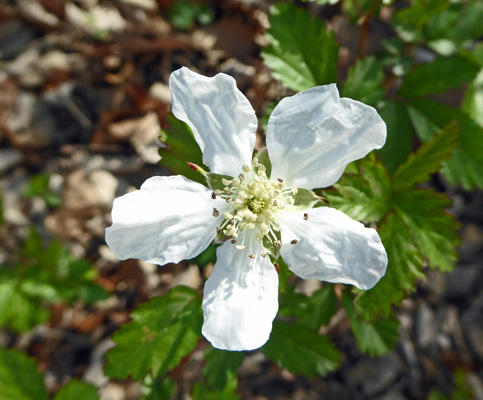 We took a driving tour of the state park since it was way too hot to go for a hike (it was humid and 85 degrees by noon). Unlike Possum Kingdom where we'd stayed on Thursday and Friday, Copper Lake was heavily treed so that getting a view of the lake was a challenge. There were only about 5 campsites with even partial water views while just about every site at Possum Kingdom could see the lake. We got a peek at the lake from the boat ramp at the Honey Creek Day Use Area.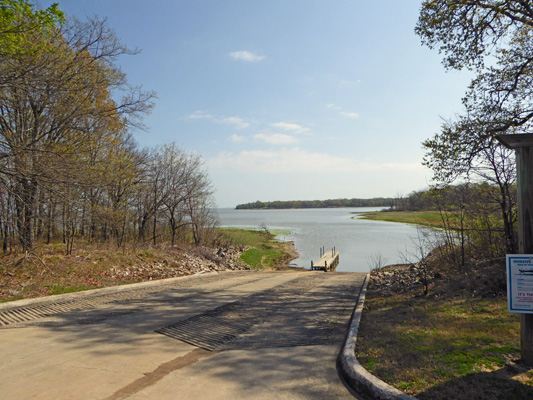 They have an equestrian camping area in the Buggy Whip Equestrian area and folks actually had their horses with them.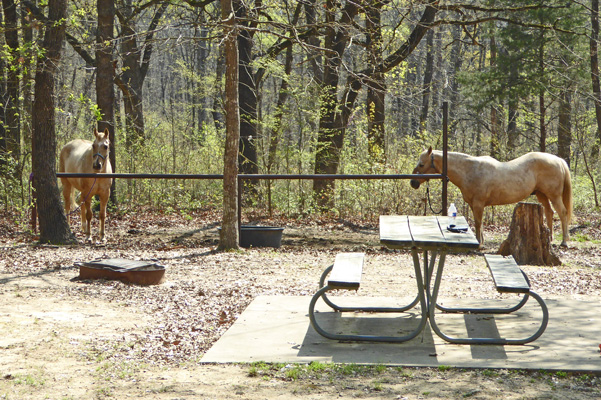 People were packing up to go home since it was the last Sunday of Spring Break so I can't say how many horses had been here at the peak but there were still 8 to 10 when we drove through at about 11.
There were wild fruit trees in bloom here and there. My guess is that they were plums (definitely not cherries).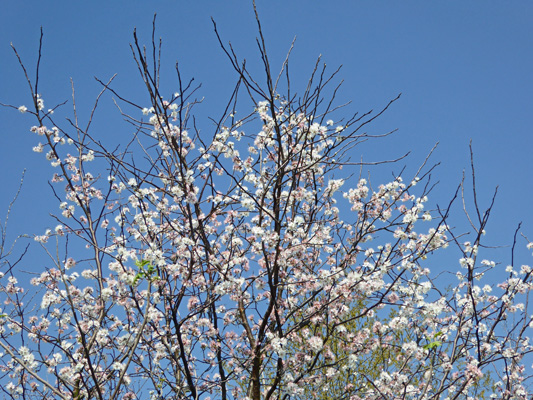 And there were lots of these shrubs with white flowers—members of the viburnum family perhaps?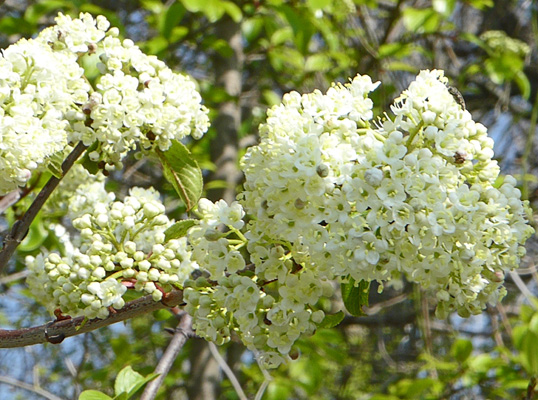 They have one loop of the strange screened shelters that we saw last year at some of the state campgrounds north of Houston and then another loop of very nice cabins (complete with kitchens and bathrooms). Some of the cabins had nice water views too. By the time we drove through all of them were empty—check out time was probably 11 for the cabins.
On the east end of the park there's a large Day Use Area where we parked to get out and walk a bit. The Heron Harbor Day Use Area had a playground, a trail head for a 2.5 mile long trail (5 miles round trip) and a swimming beach.

The Gulls Bluff Day Use area just across the way had another boat ramp (which you can see) and picnic shelters.
There were little white flowers growing in the grass. They are clearly a bulb so they're probably in the lily family. And they may form a small umbel so they might be in the onion family. But they weren't in my new Eastern Flower Book.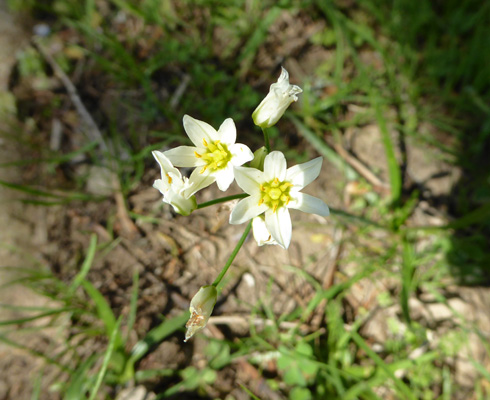 Up at the Gulls Bluff Day Use Area there were more of the flowering plums in bloom.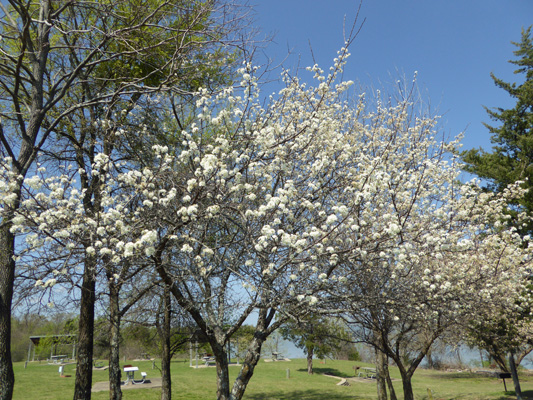 Anyway I think that given the bark and the flowers that's what they are.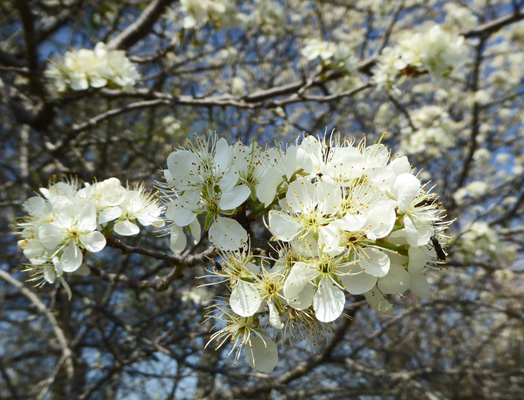 And out by the edge of the grass I found what look like they may be phlox of some kind.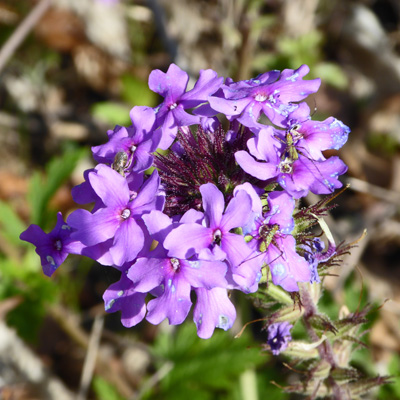 There were lots of redbuds in bloom in the woods but I didn't fulfill my quest for a good shot of a whole tree here. But I did get a nice close up shot of the flowers.
Here and there in the woods there were flashes of red that turned out to be Trumpet Honeysuckle (Lonicera sempervirens).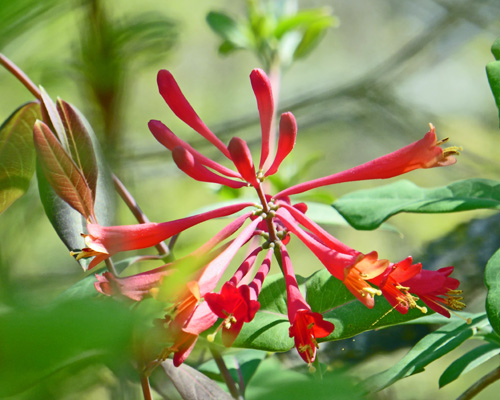 The campground emptied out enough so that our section of the loop was empty for Sunday night. It hadn't been noisy the night before but there'd been steady foot traffic as folks went up to the bathrooms just past our rig. Sunday night we had one dog walker walk by and that was it.
Monday morning March 20th, we packed up and headed northeast on the blue highways up through the southeast corner of Oklahoma and into Arkansas. We stopped to switch drivers in a rest area and there were lots of Spring Beauties (Claytonia virginica) carpeting the ground.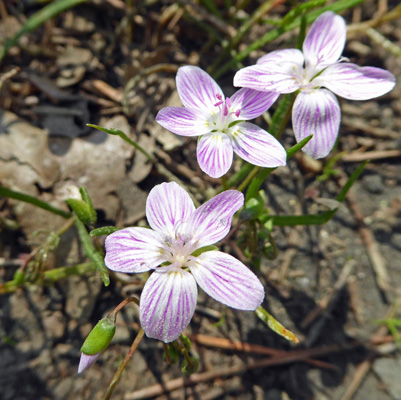 In fact we continued to see them all the way across Arkansas (and into Mississippi) too. They grow along the roadsides, in people's lawns and in the woods.
Having switched drivers we continued east to Hot Springs National Park and the Gulpha Gorge Campground. We rolled in at a little before 3 and there were only two spots left. One was nice and level and we grabbed it! Gulpha Gorge is an unusual National Park campground because it has full hookups. On the whole the National Park Service doesn't usually provide full hook ups but they've just recently converted all the sites here to full hook ups. With our Senior Pass we got this great site for $15 a night. Such a deal. Our hot spot worked well as did both of our phones though that wasn't a surprise because Hot Springs National Park is surrounded by the city of Hot Springs (and goes down the middle of it actually like sand through a hour glass. It was in the high 80's so we opened all the windows to let the breeze through.
Tuesday morning March 21st, we headed from the campground back toward town and then up Hot Springs Mountain. On the way we got stuck in a traffic jam and I had the chance to take a photo of a wisteria vine run amok through several trees. Wisteria isn't native to the area but it clearly loves it here. It has escaped from gardens and grows up in trees all over the place. Here you can only see 3 or 4 of the trees. It was draped over about 8 trees.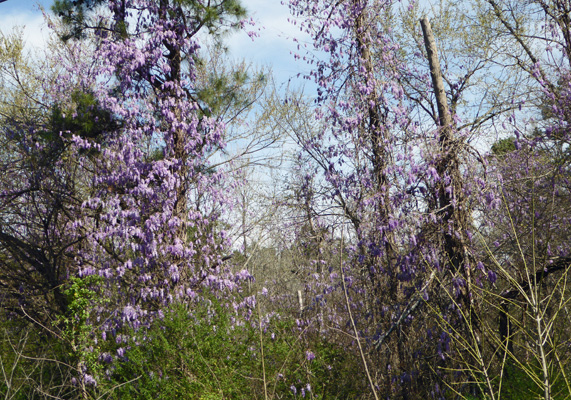 It really was lovely wisteria and I was thrilled to see so much of it in bloom everywhere.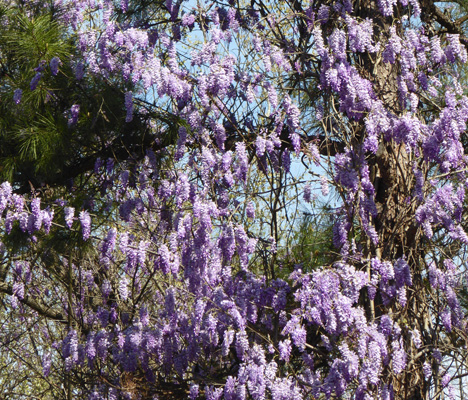 There's been a observation tower of one kind or another up at the top of Hot Springs Mountain for years and years. The current one is pretty spiffy and is run by a concessionaire. They charge folks $8 to ride the elevator up to the top.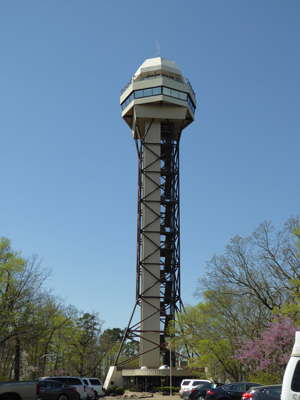 Given that this mountain is only 1060 feet high we didn't see the need to take an elevator another 100 feet up. The view from the overlook nearby was plenty for us.

This is looking south and as you can see there's town down there. The only direction that you don't see town is east towards North Mountain and Indian Mountain which are in the park.
There was Spiderwort (Tradescantia virginana) in bloom in the grass.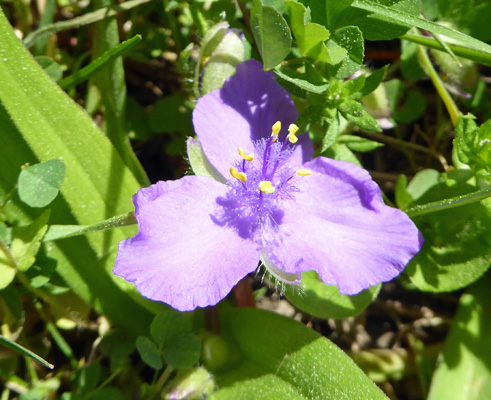 The Hot Springs Mountain Trail runs right past here so we took it a ways to see what it was like. The trees closed in immediately even though only some of them had leafed out. Here and there I saw more of these little white bulbs in bloom.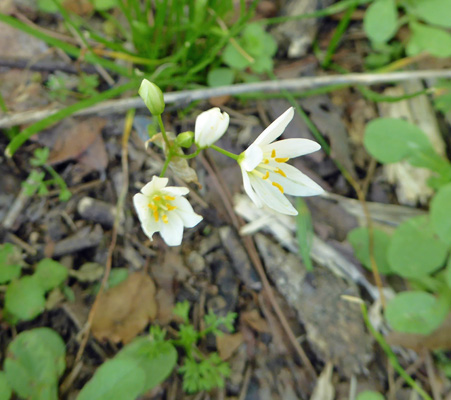 We hiked a ways and weren't real excited with the trail and since it was getting hot (it was already over 80) we turned back and found the car again.
We took the road out towards North Mountain where I spied some Violet Wood Sorrel (Oxalis violacea).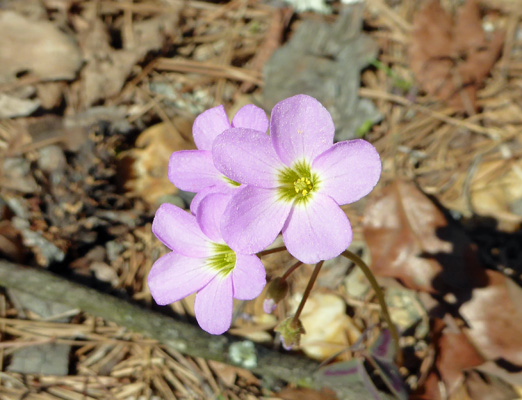 And I finally got a photo of the Golden Ragwort (Senecio aureus) that I'd seen along the highway on our way across Arkansas. From a distance it looked like Tansy Ragwort but up close and personal it's much nicer.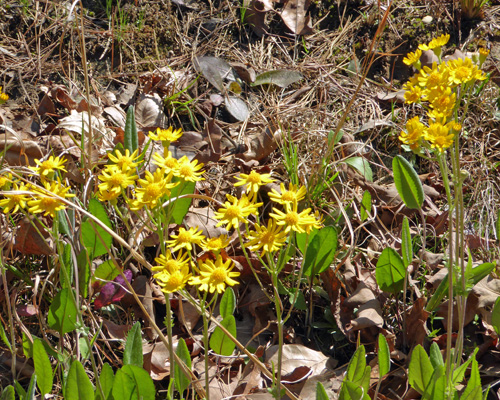 I had to climb up an embankment to get a photo of these lovely blue Birdsfoot Violets (Viola pedata).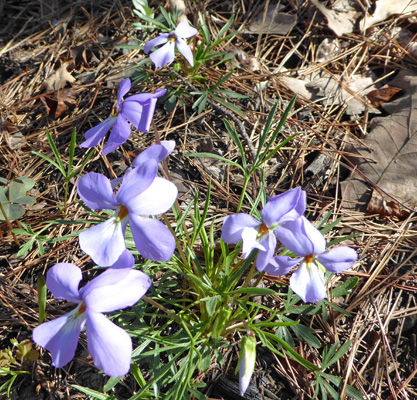 Having driven the roads on the east side of the park we came back into town and parked in the public parking garage across from Bath House Row. From parking level 2B we got a great view of the Buckstaff Baths (in the foreground with the blue awnings) and the Hot Springs Rehabilitation Center (which I think used to be the VA Hospital) up on the hill.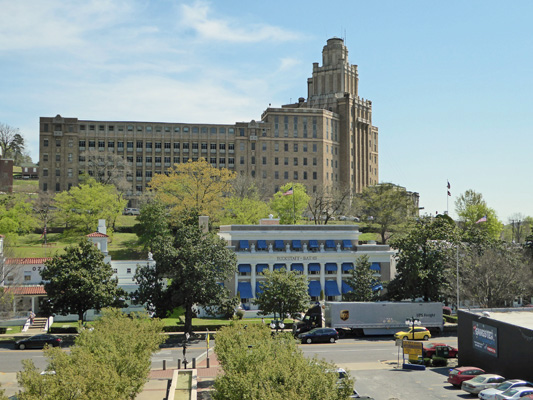 Bath House Row began its life as a series of tents over hot springs back in the 1830's. The US Government was convinced of the value of the springs and they were set aside as a Federal Reservation in 1832. The tents morphed into wooden bath houses which tended to burn down or rot with all the steam. When the National Parks System was formed in 1916, they made Hot Springs Reservation a National Park and it became the 18th park in the system. At that point, they created a master plan to make Hot Springs into a world class Europeans style hot spring spa. There were plans for many new bath houses, all made of brick or stone. Eight of these bath houses were built and still remain. But Buckstaff (built in 1911) is the only one that remained open from the time it was built through the low years of the 60's through the 80's when all the others closed. Buckstaff is still open and offers traditional steam and hot water baths.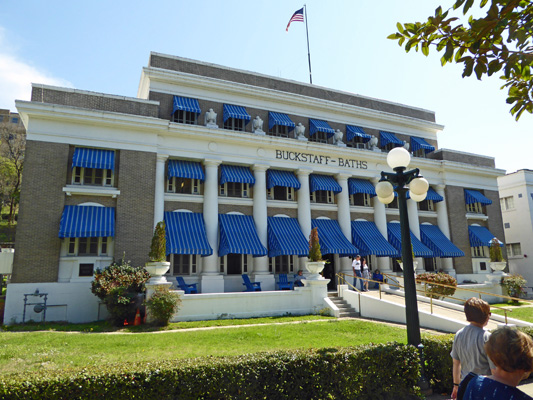 Next door is Lamar Bath House which was completed in 1923. It now houses a store selling bath salts and those kinds of goodies.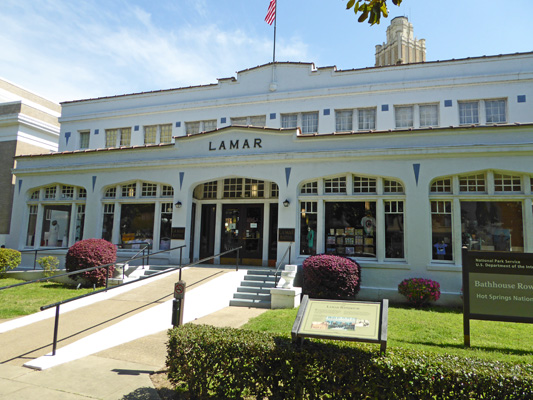 It has a series of Art Deco murals that are pretty nice.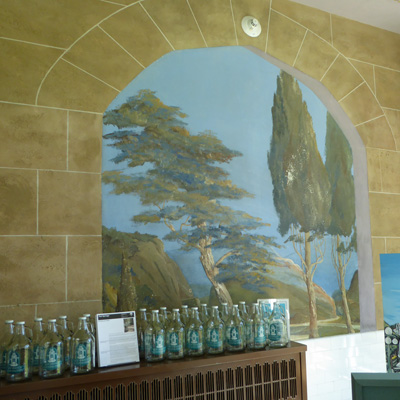 The Ozark Bath House next door has become a Cultural Center. The Park Service did the restorations of these buildings and has now made them available for other uses.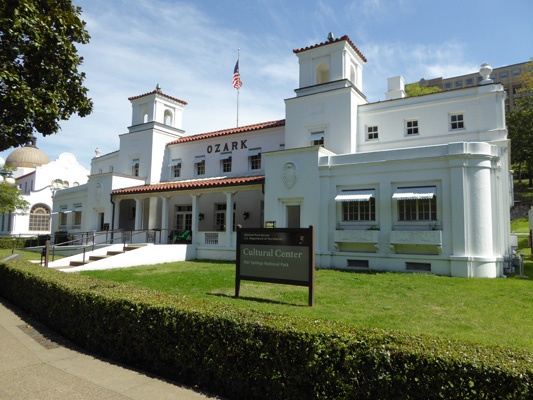 The Quapaw Bath House was completed in 1922. It's named for the Quapaw Tribe who along with the Caddo and the Choctaw Tribes used the springs in the 1700 and 1800's.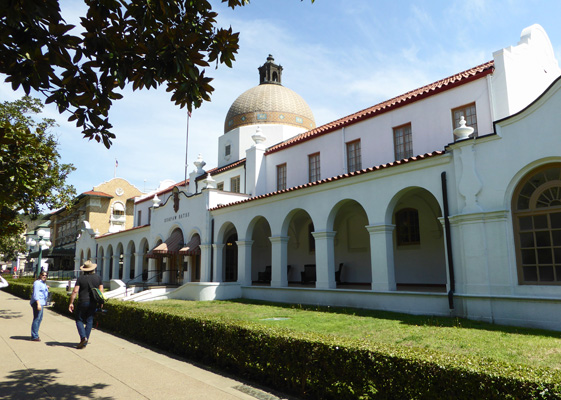 All of the bath houses are Historic Buildings and on the historic register so they have been restored to their original states if not uses.
The Fordyce Bath House is now a combination Visitors Center and Museum. They have restored the whole place to it's original state with displays of nearly all the baths and special function rooms. It was built in 1915 and is full of stained glass, marble and marvelous tile work.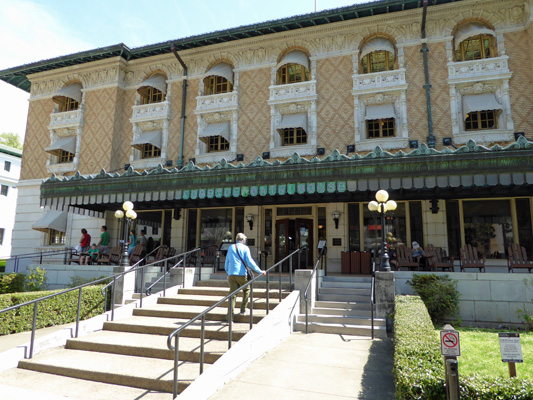 The lobby is now used as a Visitors Center but it still has marble walls, tile floors and cool fountains on both ends.
There's a self guided tour of the three floors of the bath house plus the basement. The tour starts on the ladies side of the baths. Each tub was in its own marble and tile enclosure.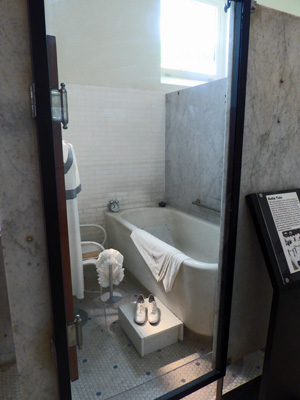 And there were lovely stained glass windows (this is one of 4 or 5 in one room) up above eye level.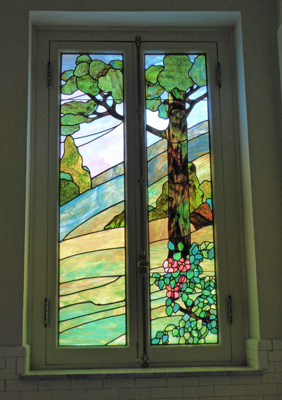 There were hydrotherapy rooms besides the baths. Here there were steam boxes and other interesting contraptions.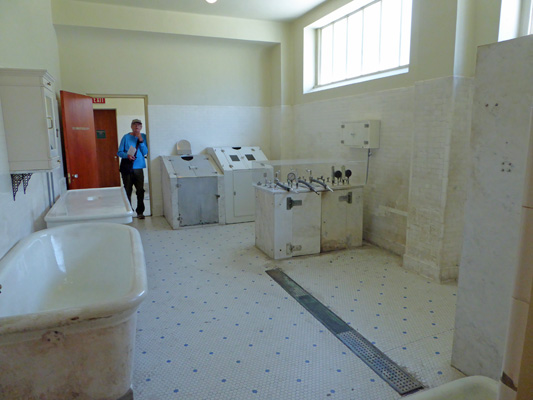 And amazing showers with nozzles everywhere.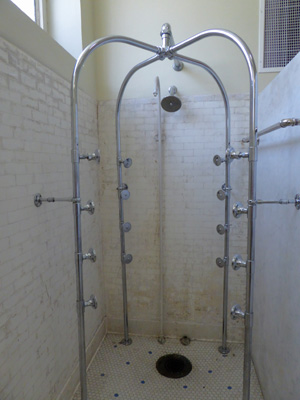 The water in the springs at Fordyce was 130 degrees. All the springs in the park are in the 130 to 150 degree range—that's HOT water.
The Men's baths had this amazing stained glass ceiling.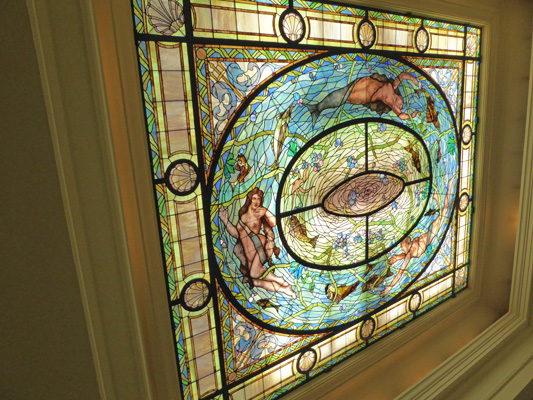 The men had all the same selection of tubs, showers and steam boxes. We came out of the men's baths and discovered an elevator which we took up to the 3rd floor where there was a marvelous Hubbard Tub. The Hubbard Tub was designed so that a physical therapist could be in the tub with a non-ambulatory patient.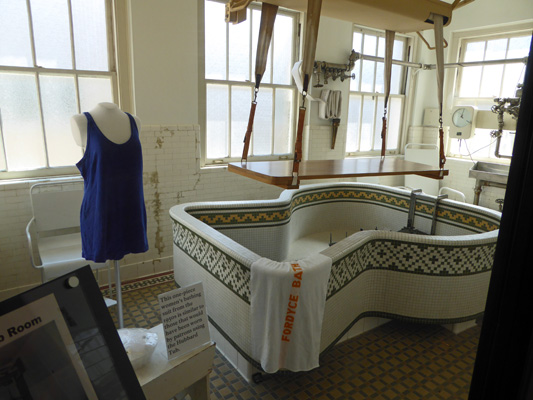 The front portion of the 3rd floor was devoted to a huge central parlor full of wicker furniture, a grand piano and the men's parlor on one end complete with a billiards table and the ladies parlor on the other with writing tables and lounge chairs all siting on a gorgeous tile floor.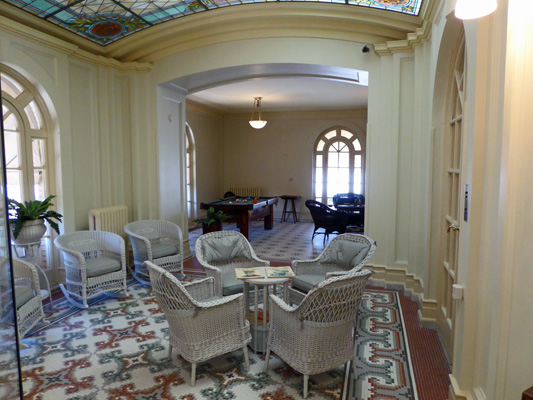 Here's a detail of the floor--note the marble baseboards.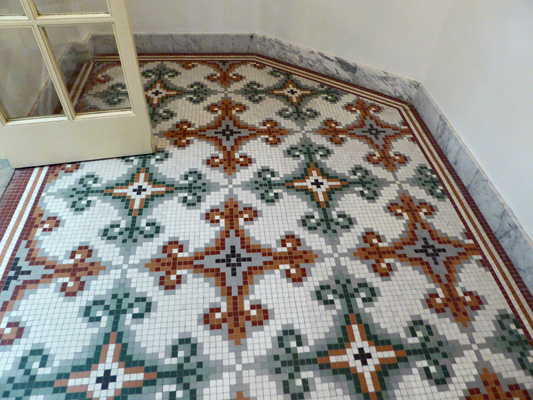 And to top it off it had this stained glass ceiling.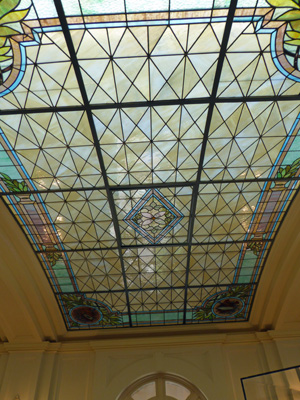 We wandered past the ladies beauty parlor, ladies massage rooms (complete with strange electrical equipment to use during massages), ladies staterooms (small like a cruise ship single room) and on to the gymnasium.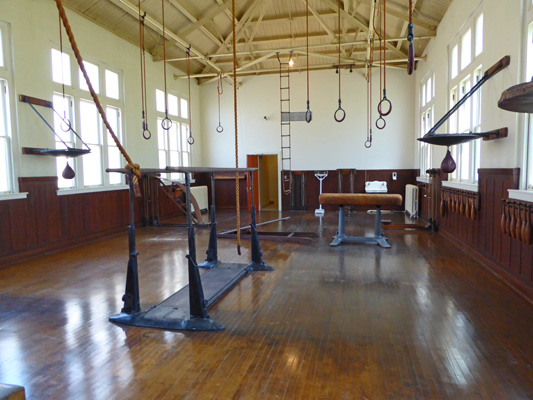 Hot Springs was a health spa. People came to take the waters (drink them), soak in them and to improve their health generally. So there was emphasis on exercise and physical therapy too. There were even walking trails of various difficulty that started at the bath houses and went on up the mountain.
We wandered on down to the second level and explored men's dressing rooms (a fancy locker room with wood paneled stalls with doors), the men's massage and physical therapy areas and the ladies' dressing rooms.
Then we headed down to the basement to have a look at the actual Fordyce Spring. They installed big quartz crystals around the mouth of the spring in the 1950's to jazz it up but it basically a hole in the ground with steam coming out of it and white tile all around it.
Having spent a good deal of time exploring this great museum in air conditioned comfort we went back out into the heat and up past the Maurice Bath House with that amazing greenhouse roof. I can't imagine how hot it must get in there in the summer!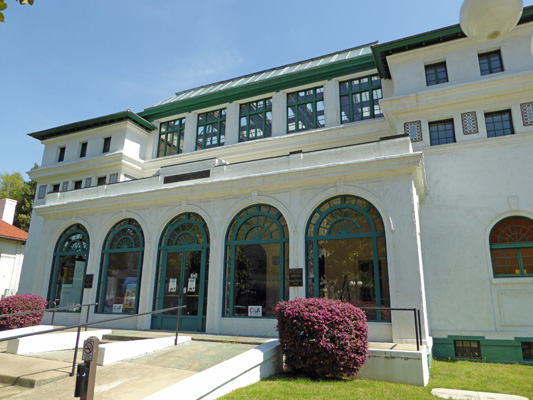 The Hale Bath House is next door.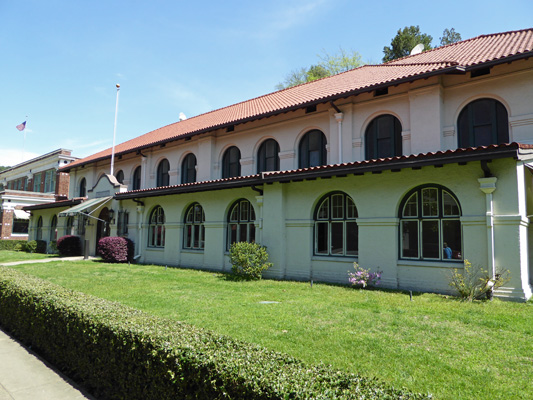 And last in line is the Superior Bath House that now houses the only brewery in a National Park. They make their beer from Hot Springs water. Their IPA is supposed to be pretty darned good. I suspect their tasting room gets more and more popular as the days get hotter.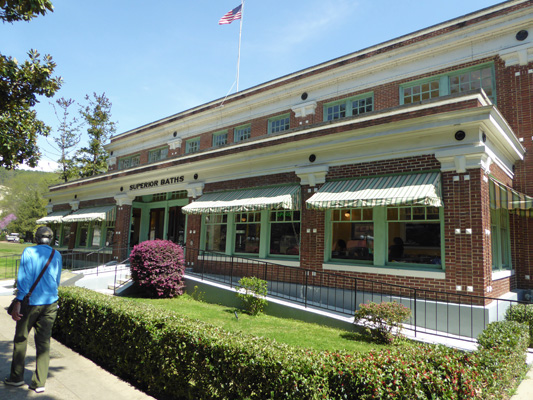 Most of the springs in the park are now capped with these green concrete collection boxes so that they can control the purity of the water and make sure nothing foreign ends up in it.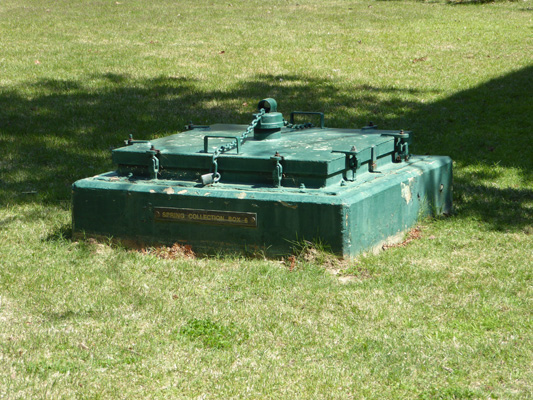 They collect 700,000 gallons of water a day for the bath houses and the free spring water drinking fountains (they put out HOT water) in the park. There are also two cold water springs with dispensing stations where you can collect water for free too. Most of the springs arise at the foot of the mountain and you can see a bunch of the green boxes scattered across the lawn and up the hill here.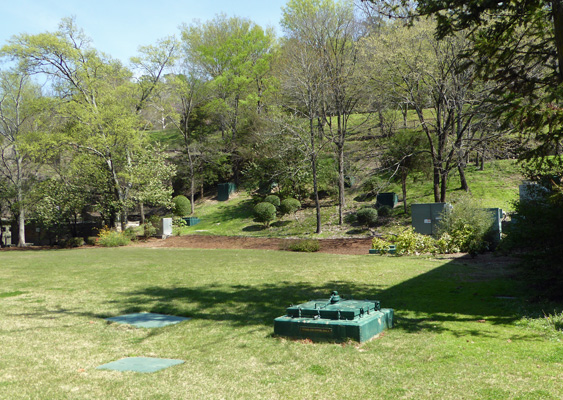 We walked on northward through this lovely little park and I spied a trio of nice redbuds in bloom.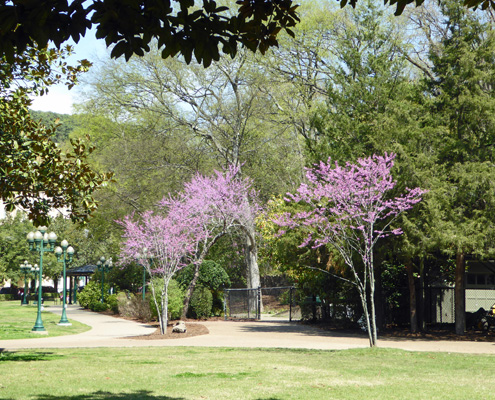 At the north end of the park you come to the Hot Water Cascades where they've left one spring open to run down the rocks and collect in a tile pond at the bottom. With an average temperature of 143 degrees there was steam rising off of these rocks even in the 83 degree heat and humidity.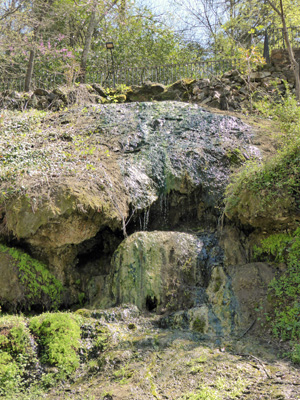 We climbed up the hill a ways to find the beginning of the Grand Promenade and followed this lovely brick walkway back down the hill to the south end of Bath House Row.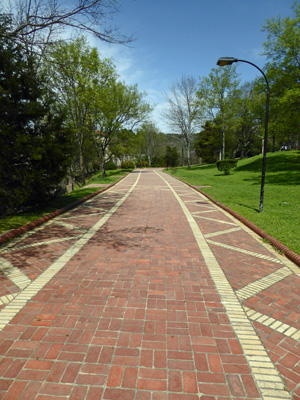 It was lunch time and we headed back to the parking garage and then drove out Prospect Avenue and up West Mountain Summit Drive for a picnic lunch. The dogwoods were in bloom in this part of town and along West Mountain Summit Drive and I found a pull out where I could take a photo of one of them.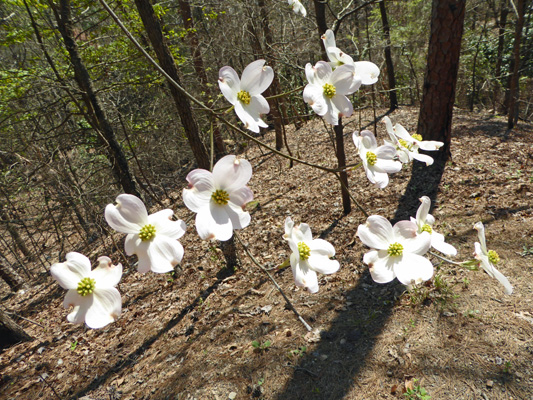 Many of the trees in the woods had light yellow or beige flowers but these were definitely white.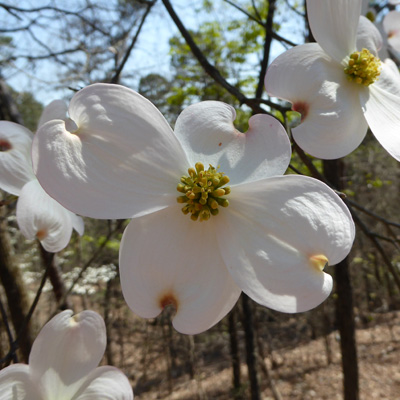 We had a picnic lunch up on the mountain and then followed West Mountain Drive down the north side and back towards town. There were trees with bright red 'flowers' hanging down. I was pretty sure they were maples so I stopped and took a photo. And sure enough those a maple seeds (helicopters to those of you who grew up playing with them) that were so bright they looked like flowers.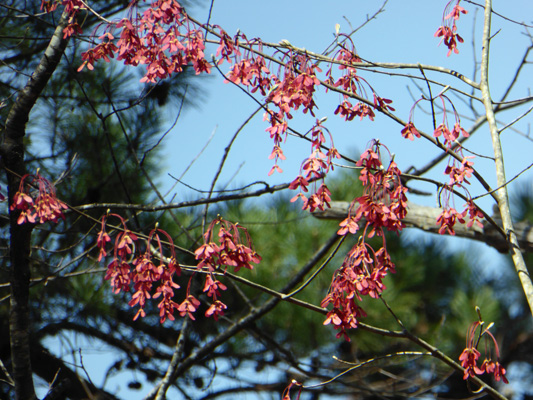 When we got back to the campground I was still seeking the perfect redbud photo and stopped to take this shot of a tree in the picnic area next to the campground. I think she'll do.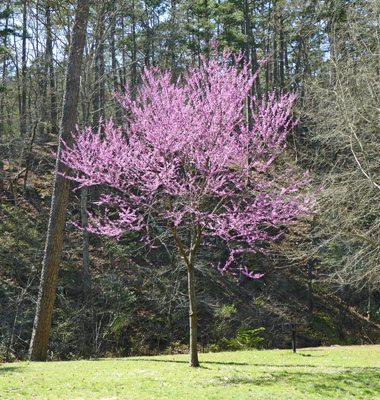 The pines and oaks and other trees in the area were in full bloom and EVERYTHING was covered with pollen. We had the windows of the trailer open because it was hot and every surface was covered with a yellow coating. The truck was no longer grey, it looked yellow! Thank goodness neither of us seemed to be allergic to whatever all was in bloom.
We had a high of 86 that day but the weatherman was predicting a big cool down. Clouds came in late in the afternoon and we had about 20 drops of rain—just enough to water spot all that pollen. And it did cool off that night down into the 50's—the first time in about a week. It was cool enough we both put on our fleece in the morning when we got up.
We packed up and motored about 80 miles north (up past Little Rock) to Toad Suck Park on the Arkansas River.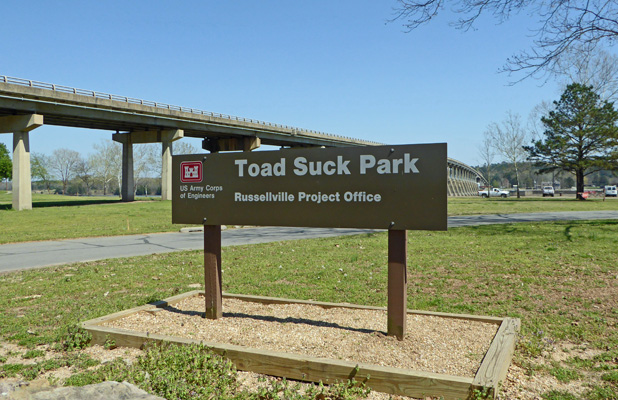 Yes, you read that right, this place is called Toad Suck! It's won first place for several years as the place people didn't think they would like to live because of the name (beating out Belchertown, MA in second place). It's not a real town, it's just a place on the river. It supposedly got it's name because there was a bar on the river where the river boatmen would get so drunk sucking on bottles of booze that they swelled up like toads.
In any case, it was a nice Corps of Engineers park right on the river with a view of a working lock that the big barges use to navigate past a shallow area in the river. These 4 barges pushed up river by a tugboat came through headed for the lock just as we were setting up camp. The process of getting it lined up properly in the lock took a good 1/2 hour or more.

We got a view site (that photo was taken standing by our back windows) with water and electricity for $10 a night with our Senior Pass since this place is run by the Corps of Engineers. We had a high of about 64 degrees and the trailer warmed up nicely in the sun when it broke through after noon. Our hot spot worked fine and so did both of our phones. Walter got 22 channels over the air on the TV from Little Rock so we were in fat city.
On Thursday we made the journey back over the river to the town of Conway to do grocery shopping—always a adventure. There was a really nice Kroger's in town that even had a Fred Meyer Jeweler! It wasn't as big as a Freddie's but it was way nicer than many of the Kroger's we've shopped in. The cold front had passed and temperatures were back up into the low 80's.
Friday was laundry day and it was mostly cloudy with a prediction of thunder storms that evening. The white pelicans we'd seen out on the river the day before were now all huddled on a gravel bar near the entry to the locks along with some cormorants.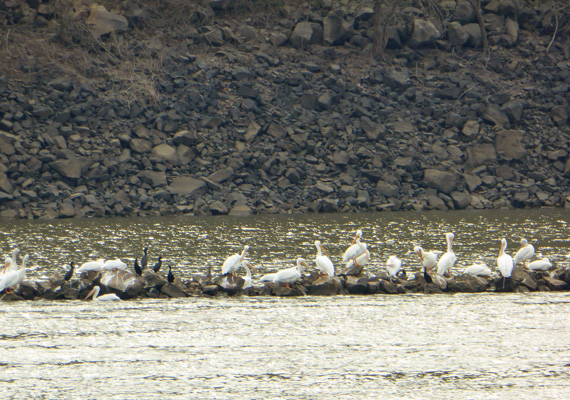 We had a quiet afternoon and then it began to rain in the early evening. By 11 pm it was blowing and we had thunder and lightening and it poured for an hour or so. By midnight it had quieted down and we went to sleep.
Saturday morning it was still cloudy but the truck and trailer had been washed clean of all that pollen—yippee! We packed up and headed back towards Little Rock and then east to Memphis Tennessee. We turned southeast at Memphis into Mississippi and the town of Holly Springs (home of University of Mississippi aka Ole Miss) and Wall Doxey State Park. The hook up camping portion of the campground was mostly empty and we found a nice quiet spot with electricity and water. There was a Boy Scout Troop up in the primitive camping area with tents all over the lawn but otherwise the place was quiet.
There's a small lake here but once again no views from the campground. The trees were really thick and since it was cloudy (and raining lightly) we didn't much care. Our hot spot worked and both the phones. Walter managed to find 2 TV stations, one of the PBS. And we settled in for quiet night.
On Sunday, Walter went back to the park entrance area to try to pay for our site since the booth had been closed when we arrived at about 4:30 the day before. The booth still wasn't open but he found the office and paid for 2 nights—$13.91 (tax included) per night for seniors. What a deal! We lolled around and then went a few miles into town and picked up a few things at the local Walmart. Then on the way back I stopped and took this photo of a very nice dogwood in bloom.