On Saturday July 1st, it was raining when we got up but it let up enough so that when we broke camp we didn't get too wet. We drove east on Hwy 104 from Antingonish, Nova Scotia and then went over the Canso Causeway to pick up Hwy 105 on Cape Breton Island. That took us along the shores of Saint Patricks Channel. There were fishing weirs in the shallows but we don't know what they were fishing for.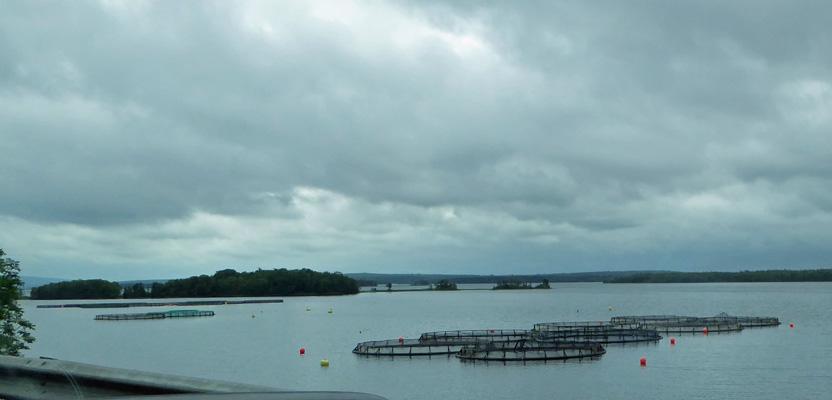 Continuing northward, we picked up the Cabot Trail, a two lane winding road that circles the top of the northwest section of the island. We followed it through forests with an occasional glimpse of St. Ann's Bay and the Atlantic. We went UP over Cape Smokey, through the fog that gives it its name and on to Ingonish and the entry to Cape Breton Island National Park. We checked in at the kiosk where they gave us not only our usual free entry because it is Canada's 150th Birthday but because it was Canada Day, we got FLAGS and stickers to celebrate the day, along with the usual park brochures and map.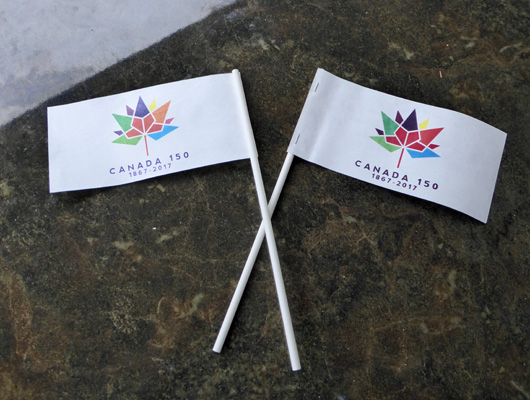 They also told us that there would be fireworks at Ingonish Beach that night and that they would be especially great because there was a wedding that day and the father-of-the-bride had put in big money to make sure it was a great display! But they didn't know if the bar-b-que down at the beach was still going at this point or not. Welcome to small town Canada Day.
We drove on and checked in at Broad Cove Campground just about 3 miles outside of Ingonish (not to be confused with Ingoish Ferry or Ingonish Beach which are further south) where we had a 4-day reservation for a full hook up (called a 3 way here) site. They tried to give us more flags and we waved ours at them to show them we didn't need them and then went and set up. While it had rained off and on the first half of our drive, the sun was out for much of the time on the Cabot Trail and it stayed that way for the afternoon. We enjoyed ourselves watching the Canadians celebrate (very sedately, politely and with lots of flags and a few firecrackers) and enjoyed an afternoon off. I put our flags up by our door to celebrate too.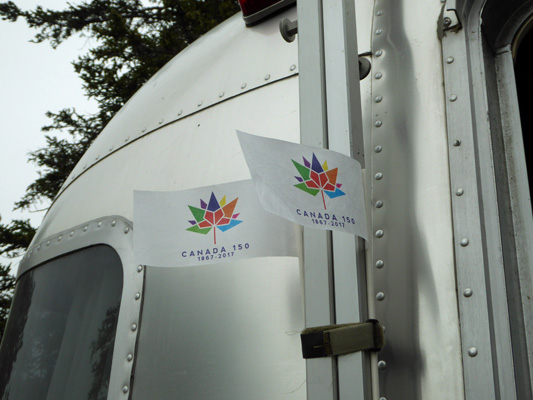 When we checked in they told us there was WiFi in the campground but that we probably wouldn't be able to get it at our site (which was true) so that evening after dinner we drove over to the activity center (where the nearest node was) and checked our email. It wasn't a very fast connection but considering the fact that the campground was full and folks we heading indoors at that point in the evening, it worked pretty well. Our phone also had a weak signal (one bar) but there's no TV over-the-air out here on the back of beyond.
Sunday July 2nd, we awoke to rain. The clouds had come in, the evening before and we knew that the forecast wasn't great. Even when it let up it was only a brief break before it started to rain again. We took the morning off and then packed a picnic lunch in hopes that the rain might stop long enough for us to take a hike.
We headed south back to Ingonish to get gas and then on to Ingonish Beach to the Visitors Center to ask about hikes and the location of the free Ceilidh (pronounced kay-lee) that was to be held at the campground on Monday evening. They confirmed that the Middle Head Hike that we were considering was indeed the best one on this side of the park and that it shouldn't be too muddy after the rain. So we headed just a ways back north to the turn off for the Keltic Lodge and drove past the big hotel with its cottages (and Highland Links Golf Course) out to the parking lot for the Middle Head Trailhead. Before we set out I stopped and took a photo back towards the lodge from the parking lot.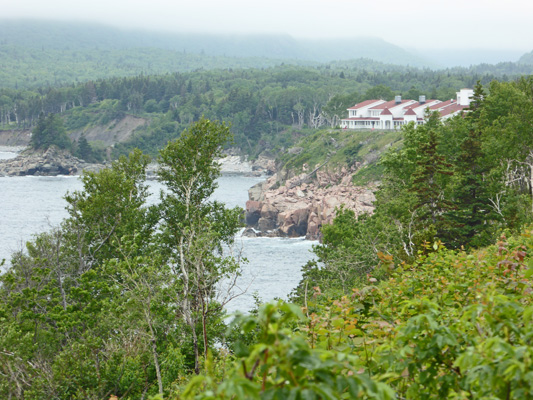 The trail has a loop at the start of the trail and then a linear section for the second half. The look-outs (overlooks) were on the longer portion of this loop so we took that on the way out to be sure we saw the views. This section of the trail doesn't get as much traffic so it's narrower and rougher than the other part of the loop but we had it to ourselves most of the way.
It wound through the woods carpeted with bunchberry (Cornus canadensis).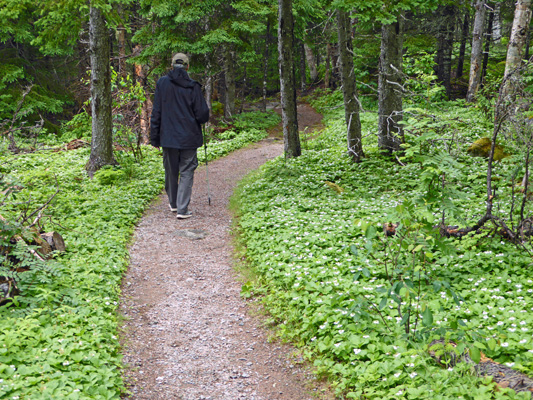 There was tons of it. I've been totally amazed at the amount of bunchberry here in the Maritimes.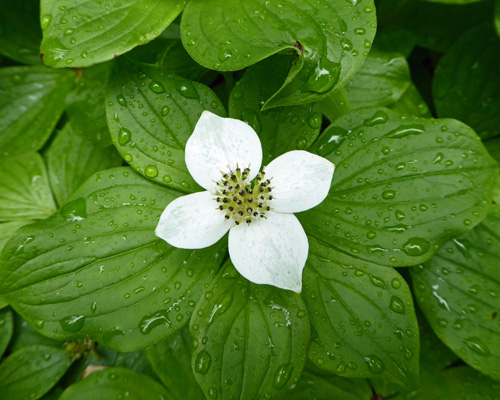 There was also huge patches of Twinflowers (Linnaea borealis) another flower we saw a lot of in Alaska.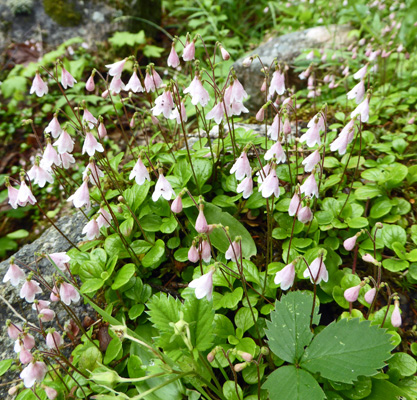 We met some folks from Holland on the trail who had just seen their first Pileated Woodpecker. They were very impressed with how big it was and even more so when he flew up while we were talking to them and I could confirm that it was indeed a pileated. They only have small woodpeckers in Holland so they thought this guy was pretty special. And of course they are.
The first look-out, gives you a view of Ingonish Island.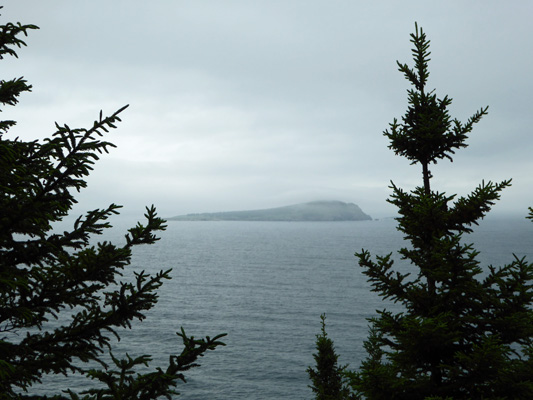 And provides a nice bench next to the rocky hillside.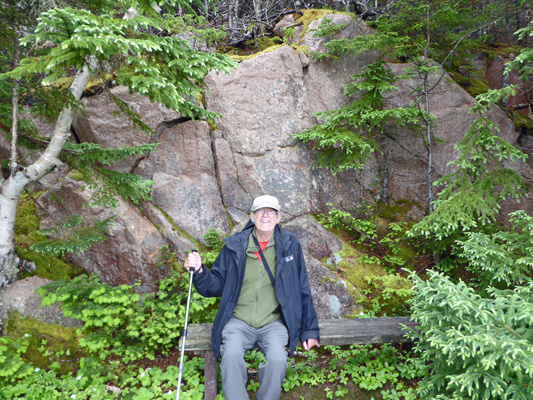 The trail goes up hill for much of the way but it wasn't a difficult incline. The hard part was watching for the tree roots and rocks in the trail so you didn't trip.
There were little blue flowers in bloom here and there. They aren't in my flower books so I don't know what they are. No doubt they're a weed.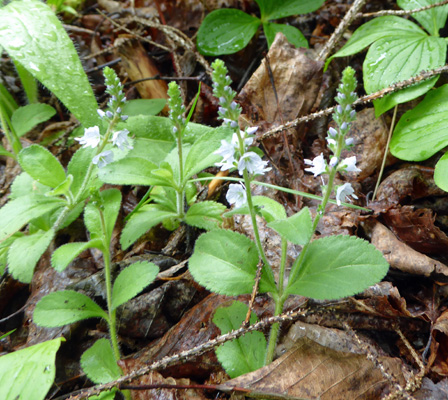 Our next look-out gave us a glimpse of Cape Smokey and an indication that we were coming up on completing the loop.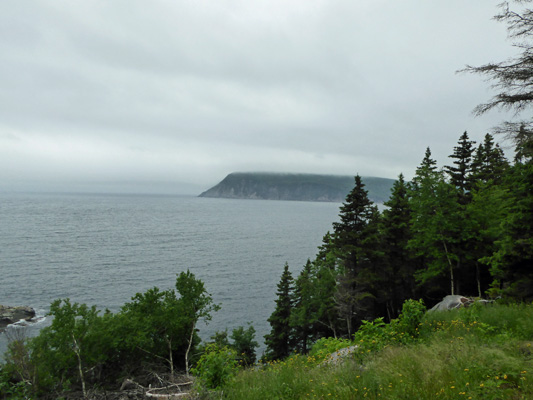 At this same point we got our first views of Middle Head and its rocky shoreline.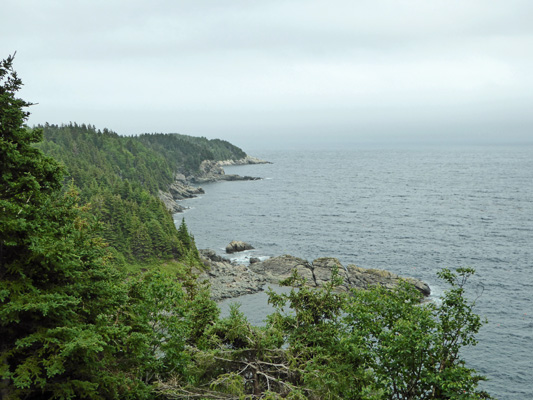 Shortly after this we completed the loop and discovered why this trail is rated moderate. There is a very steep portion that goes DOWN a rocky uneven section. There are benches so folks can stop and rest on the way back up and Walter enjoyed using them both ways. At the bottom there is a wide grassy area with great views along the coast of Middle Head on the north shore.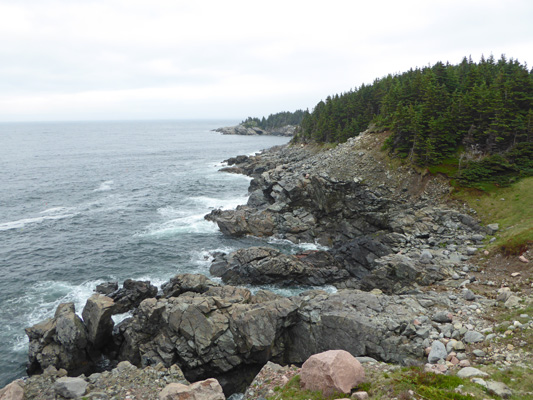 With lots of surf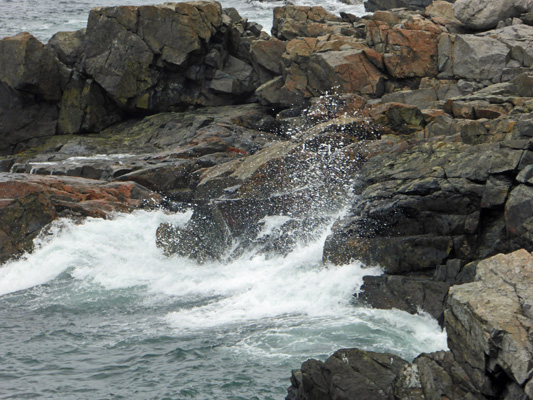 And a nice view across to the south to Cape Smokey.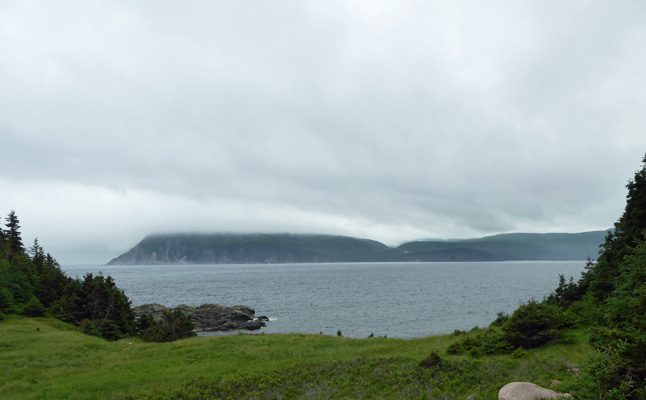 There was a sailboat out along the end of the cape.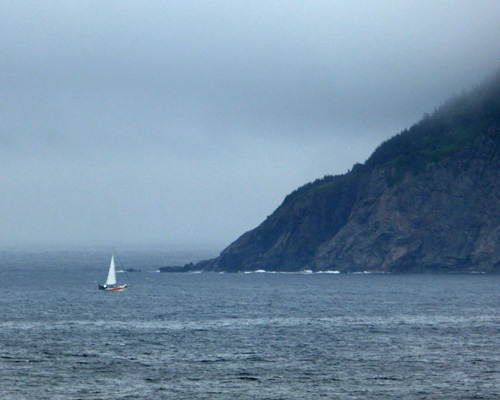 Walter was feeling a little dizzy (nothing serious but enough to have him decide he'd had enough) so I went ahead to the next overlook. On the way I stopped and shot a photo of the southern coastline of Middle Head looking back towards Ingonish Beach.
By the time I was on my way back, the sailboat had made its way into the bay and was heading along the shoreline of Cape Smokey.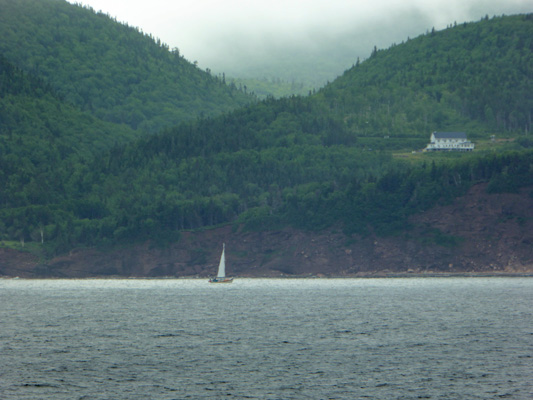 We made our way slowly back up the steep section and by the time we hit the flatter sections of the trail Walter was feeling better—praise be. There are a few small ups and downs on the more direct portion of the loop back but it is most certainly an easier trek than the longer section of the loop that we started with. It was past our lunch time by the time we got back but we decided we'd rather not sit and have our lunch in the now full parking lot (it had been about 1/2 empty when we started out). So we drove back out to the Cabot Trail and north to a little wharf we'd seen on our way in.
The lovely bright colors of the boats and folks playing fetch with their dogs on the beach below us gave us plenty to enjoy watching as we ate our lunch.

There were lupine and white rugosa roses in bloom across the road.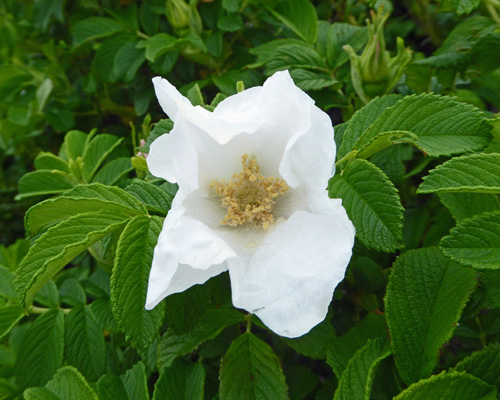 By early evening the clouds had cleared off and the sun was out. The temperature which had been in the high 50's all afternoon, warmed up quickly and we had a high in the low 70's.
Monday July 2nd, it dawned clear and warm. We made our lunch and got going by mid-morning since our plan was to drive the Cabot Trail counterclockwise over to the famous look-outs on the west side of the cape AND do a couple of short hikes on that side too.
The road hugs the coast for about 10-15 miles north of Broad Cove (we'd stop and visit those the next day) and then turns inland to climb up to the Highlands portion of the park and then down again. It's a pretty winding road and not one either us of would want to haul the trailer over.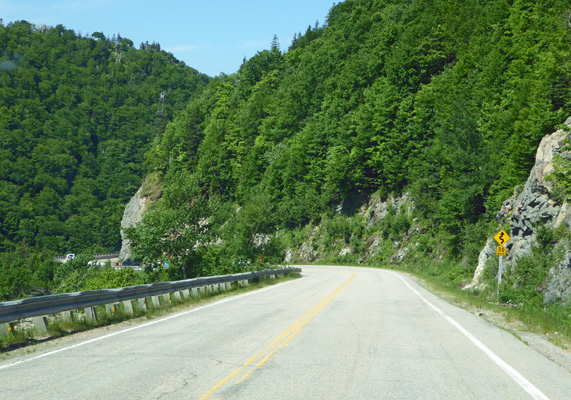 There were lots of construction zones but no active construction since Monday was the official day off for Canada Day. From up on the Highlands you get an occasional view of the ocean, including this view of Fishing Cove. There was a fishing village here until the turn of the century when the folks all moved to larger villages up and down the coast. There's a trail now that drops 1100 feet in elevation over its 5 mile length that takes you down to the campsites where the village once was.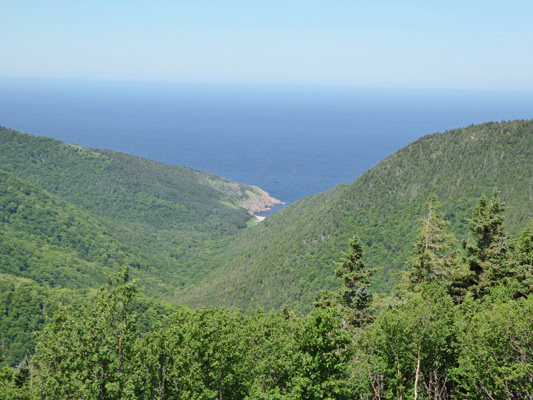 The road swings further inland here and we stopped to take the short (.3 mile) Bog Trail.
There was lots of Labrador-tea (Rhododendron groenlandicum) in bloom along the boardwalk trail.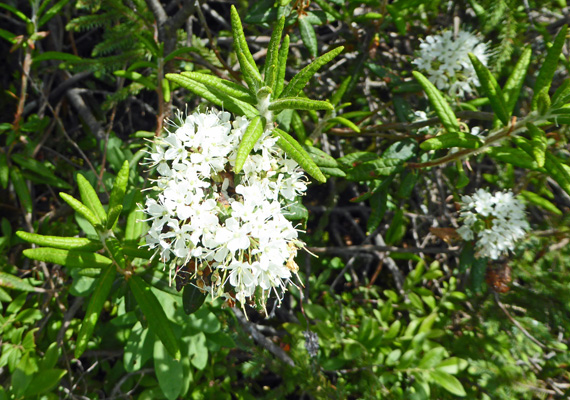 And tons of Pitcher Plants (Sarracenia purpurea) in full bloom too.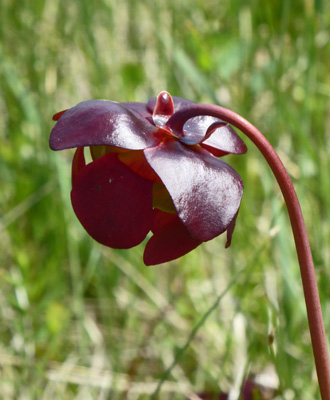 Here's what the look like from underneath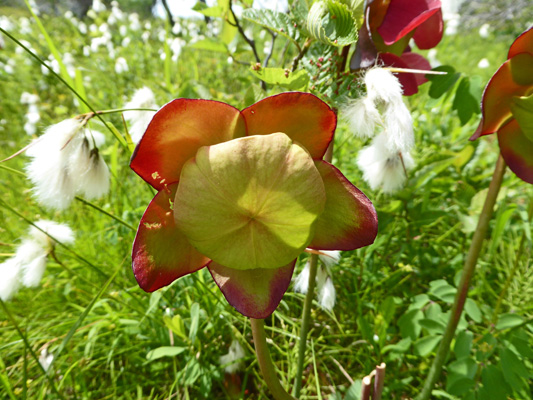 And here's a 'pitcher', which is a curled leaf structure, in which insects are caught and digested!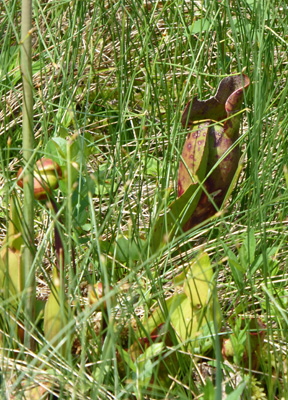 There were puffs of cotton grass all along the way.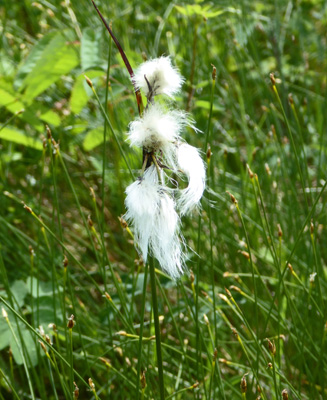 And I saw a couple examples of these interesting white flowers but I can't find it in any of my references.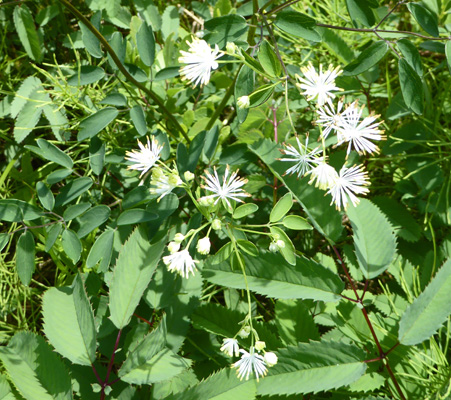 There was a nice little pond with Yellow Pond Lilies (Nuphar variegatum) in bloom.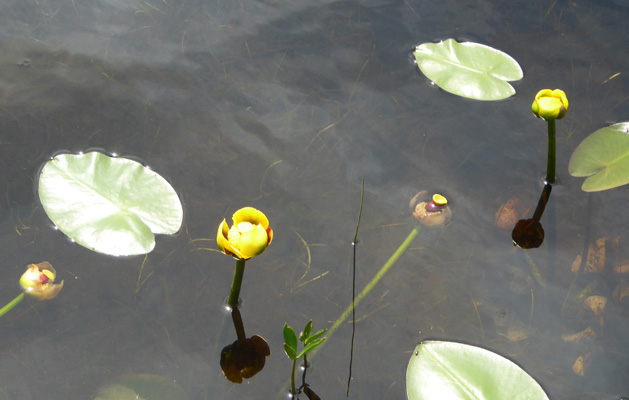 And Bog Buckbean that was past flowering and had beans on them.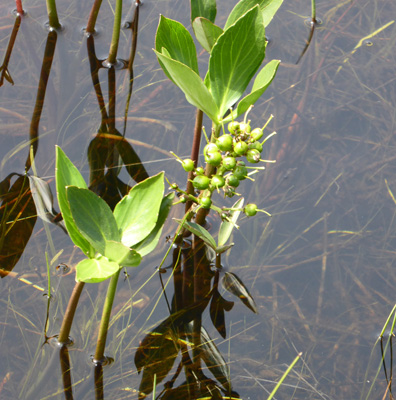 But most important on the second half of the hike (it's a loop and we were going counterclockwise) there were Dragon's Mouth (Arenthusa bulbosa) all over the place. Needless to say they are a lovely little member of the orchid family.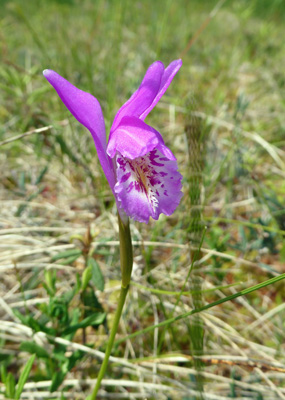 Having had our bog flower fix, we drove on down out of the highlands and out onto the coast to the number one most photographed view in Cape Breton Highlands National Park: The Veterans Memorial Look-off.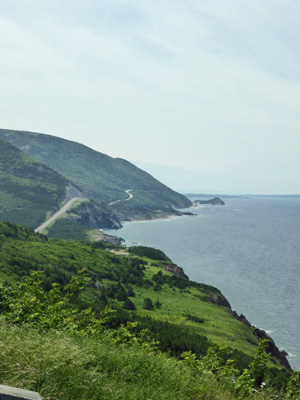 By this point it was in the mid 70's and with a breeze it was glorious.
We continued southward to the little beach at La Bloc.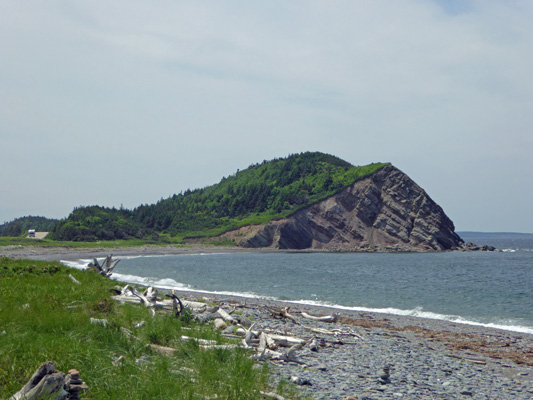 Here's the view back where we'd come from (northward).

There were lots of fishing boats out in the glorious sunny weather.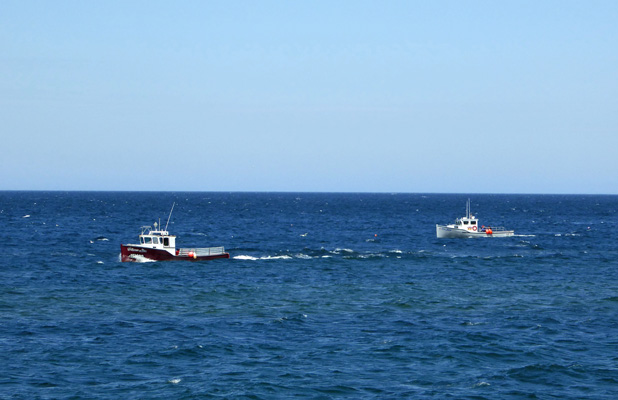 And the cairn makers had been really busy on the beach since it was FULL of flat stones perfect for stacking.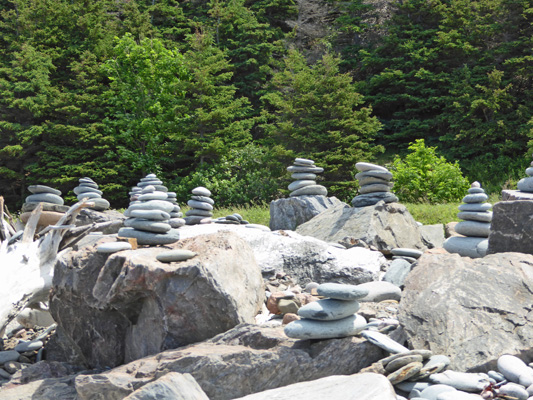 There's maybe one more overlook south of here before you leave the park and enter the town of Cheticamp. We turned back here and stopped at a lovely un-named lookoff.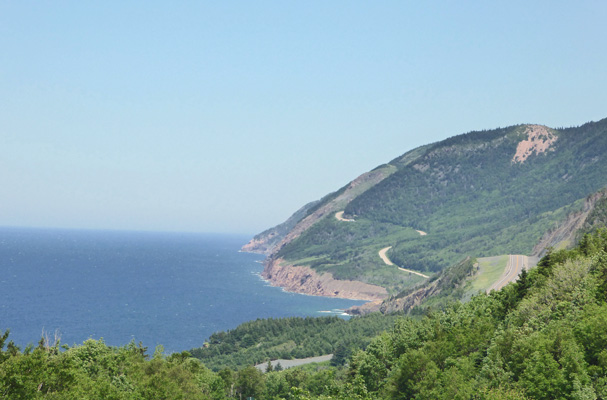 And then pulled over at Cap Rouge.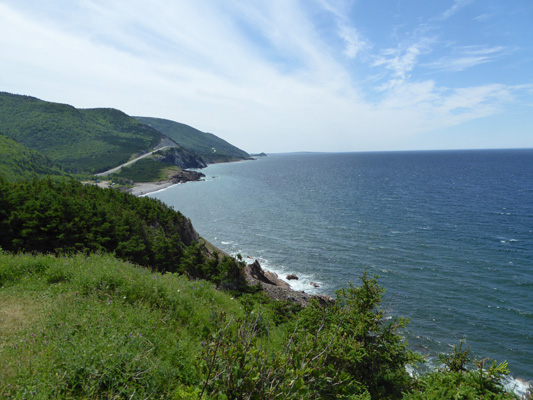 Where there was another Red Chair where you could sit and enjoy this lovely view.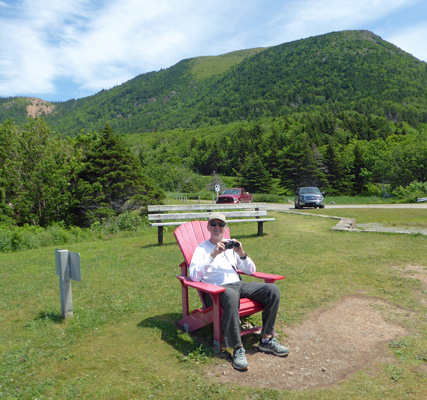 We continued on back up into the Highlands and stopped for a longer hike (1.9 miles) out to Benjies Lake and back. There was a lot of sheep laurel (Kalmia angustifolia) just coming into bloom along the trail.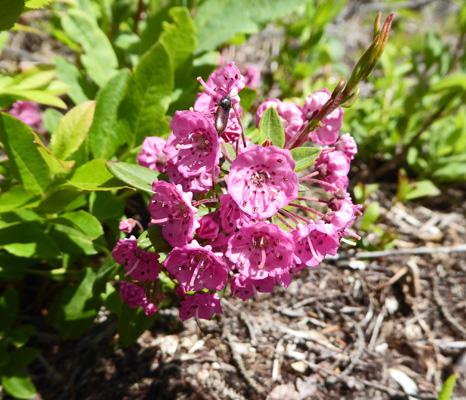 But it wasn't flowers that we were looking for. This is an area known to be a major moose hang-out and sure enough, there was one standing out on the far side of the lake when we got there.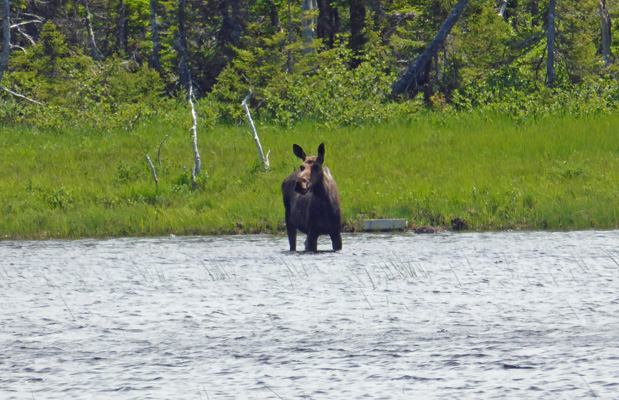 Walter had spotted her from the top of the hill so we hurried down to see her before she wandered off. It wasn't long before she started heading out—with water streaming from her mouth from feeding on goodies on the bottom of the lake.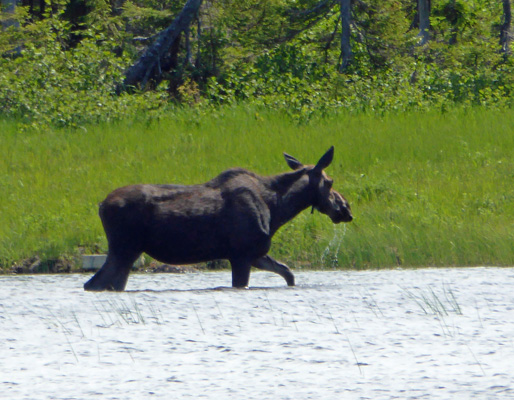 Funny how something like a moose sighting can make your day!
We sat and enjoyed the lake (hoping the moose would make another appearance).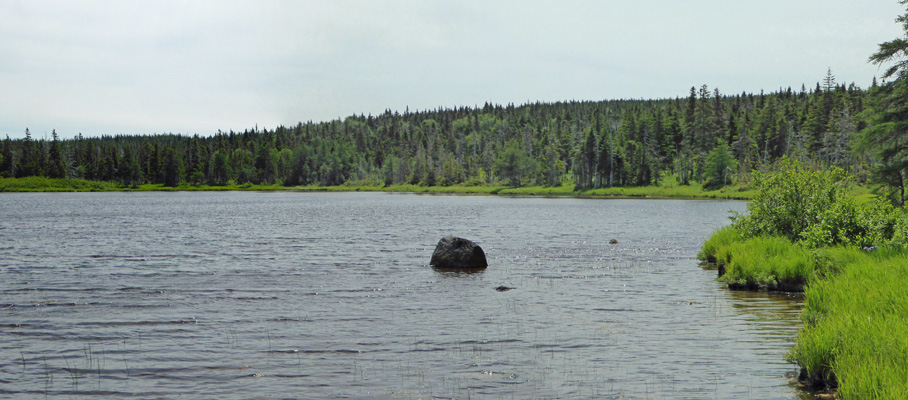 But no luck. So we finally turned back and I even took a moment to enjoy the nice boardwalk we'd hurried down on our way in.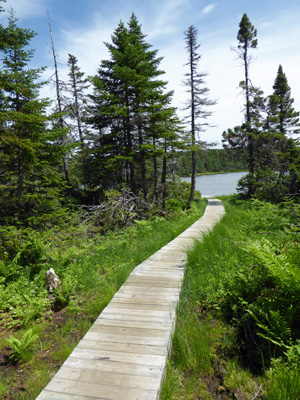 Having completed our hike we drove on back up towards the viewpoint to Fishing Cove and found a turn out where we could sit and eat our lunch.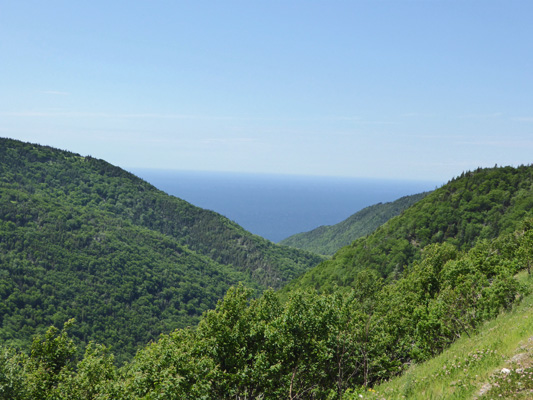 After lunch we continued back north and stopped at the MacKenzie Look-off which looks back UP a deep river valley in one direction and out towards Pleasant Bay in the other.

From here, the road twists and turns and goes DOWN to sea level. There are several really nice look-offs along the way.

We drove back up the coast, across the highlands and back down towards Broad Cove. And the view was so gorgeous late in the afternoon that I couldn't resist stopping at the last look-off before the campground to take a picture.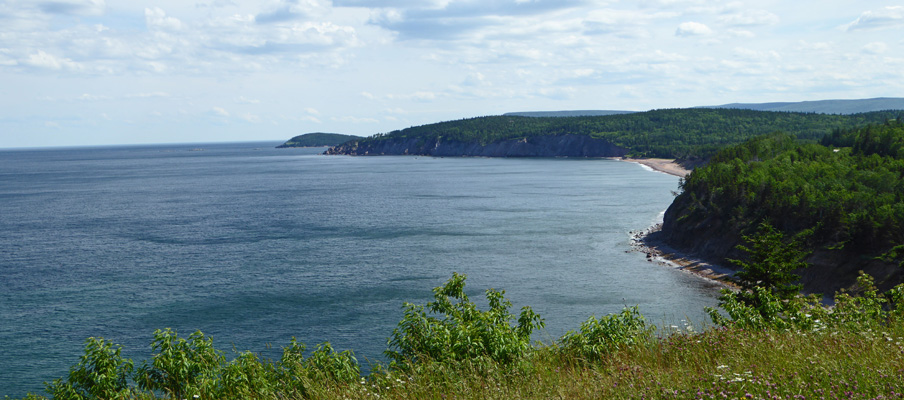 There were people out on that sandy beach (which is about a 1/2 hour hike from the campground) and it was over 80! Summer!
We rested for a while and had dinner and then drove over to the little amphitheater in the campground for the Ceilidh that was part of the KitchenFest music festival happening all over Cape Breton for the next week. They were slow setting up so we enjoyed talking with our neighbors while they did sound check and tuned up. At last they got down to it. They were very accomplished musicians playing traditional Scottish tunes, mostly reels and jigs. The bulk of this portion of Cape Breton was settled by the Scots in the 1700's. There are Acadians on the west shore (near Cheticamp) to add a little spice to the mix.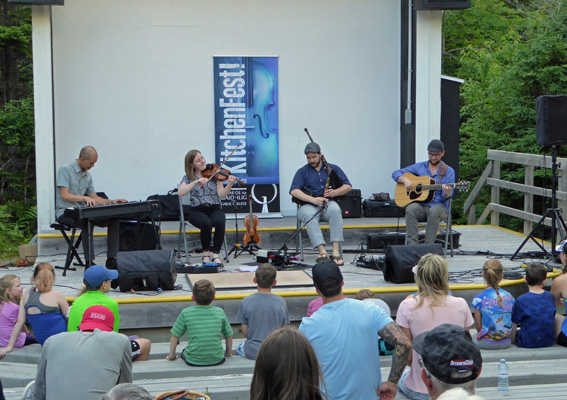 If I recall correctly the fellow on bagpipes was playing Northumbrian small pipes. They had a nice sound and weren't as loud as the tradition Highland Bagpipes.
The closed out the set with a little step dancing.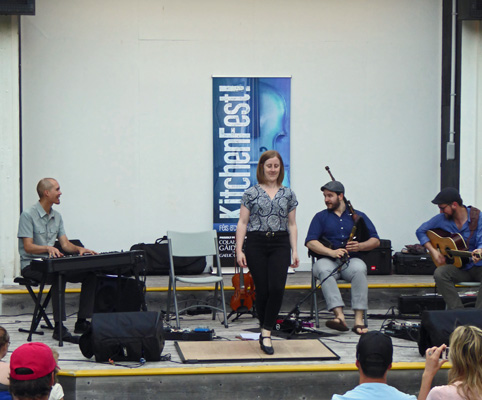 We headed home after the first set, full of fiddle tunes.
Tuesday July 4th, dawned clear and sunny though not as warm as the day before. But by mid morning huge black clouds come racing in and we got it in gear to head out before the sun went away.
We drove just a little ways north on the Cabot Trail and then took the dirt road up into the hills to Mary Ann Falls. The parking area is a ways from the falls so you walk down a closed portion of the road, over an old roadway bridge (closed with a boulder) and then down about 50 wooden stairs to get a view of the falls.
There was tons of Sheep Laurel (Kalmia angustifolia) in full bloom along the way.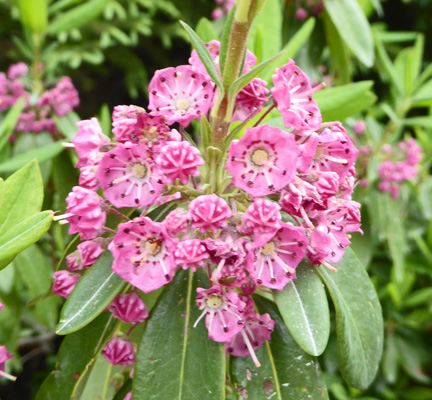 And down at the bottom of the stairs there were people all over the rocks climbing around trying not to fall in the water.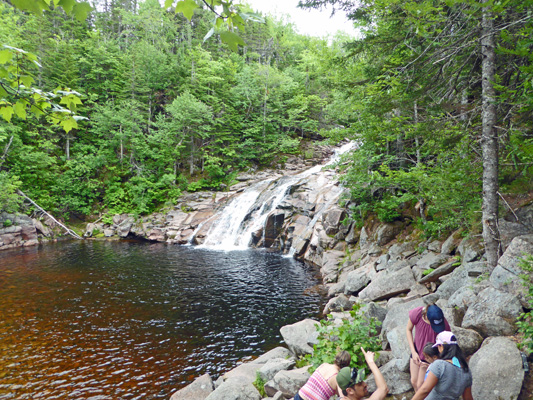 These falls just looked wrong to me to start. In time I realized what the problem was. The water was the color of deeply stewed tea—probably stained by the peat bogs in the highlands. And the rocks the falls were crashing over were mostly pink. It just wasn't what my eyes were expecting color-wise. Nice falls though.
It was fully clouded over by the time we headed back down the hill for our drive north along the east coast of Cape Breton Highlands National Park. We stopped again at the look-off at Broad Cove. What a difference the sun makes. There weren't any people out on the beach but there were lots of lobster boats out working.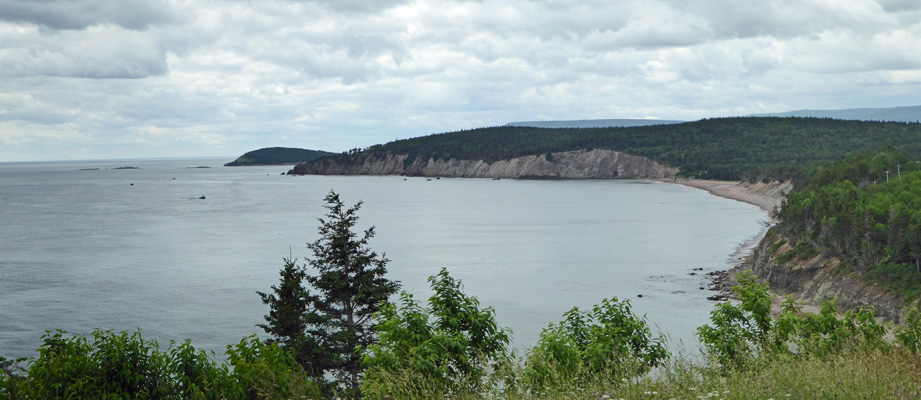 Next stop was Lakies Point where you can climb out onto the rocky point—if you can keep your balance on rocks that are narrow and turned on edge. The view was nice though.

There wasn't much surf but there were warning signs about rogue waves here so clearly there are times when the surf is up.
The view northward was nice and there was even a lobster boat for accent.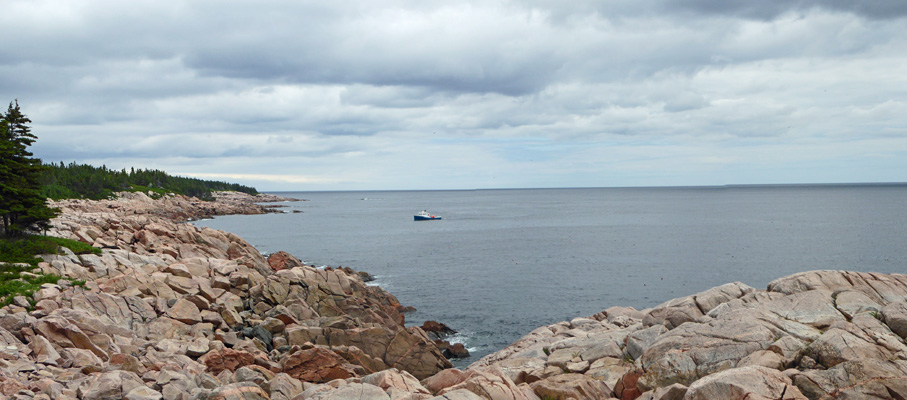 There were a few little patches of Harebells (Campanula rotundifolia) growing in the cracks between the rocks.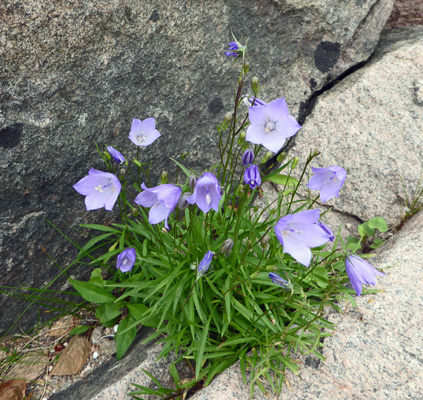 We drove on to Green Cove where there is a nice big rock just a ways off shore where there were cormorants.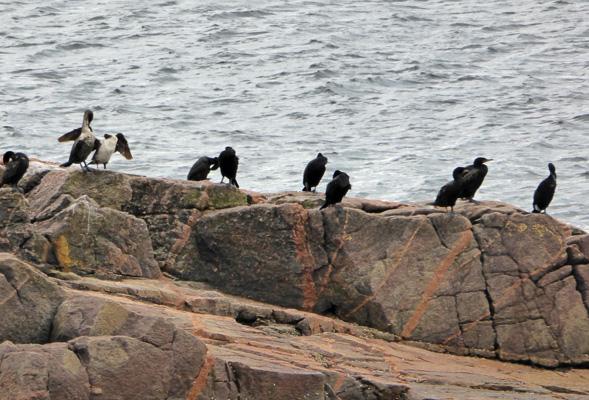 And there were Three-toothed Cinquefoil (Sibbaldiopsis tridentata) in bloom among the rocks.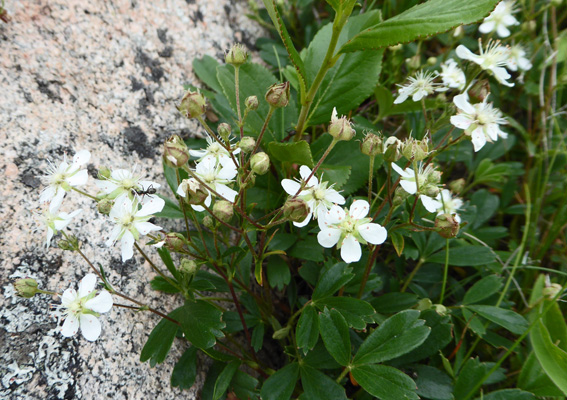 Southward the view gives you a taste of how rocky this section is.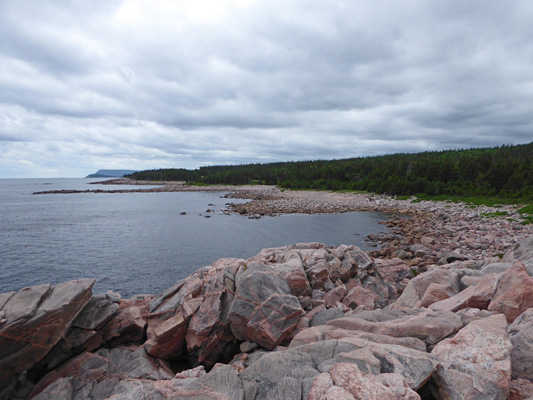 And northward you get a nice view of Green Cove itself.

The rocks here were easy to walk on—smooth with easy transitions from one to the next. And the grey gneisses and pink and white granites were crisscrossed with wonderful orange/pink intrusions.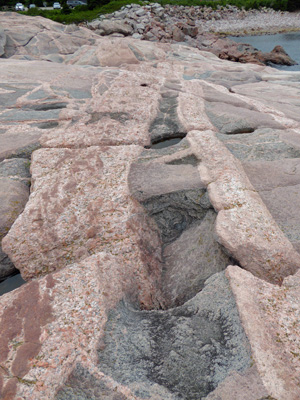 And I got a nice shot of one of the Blue Flags ( Iris versicolor)--there had been many others—growing in little depressions in among the rocks.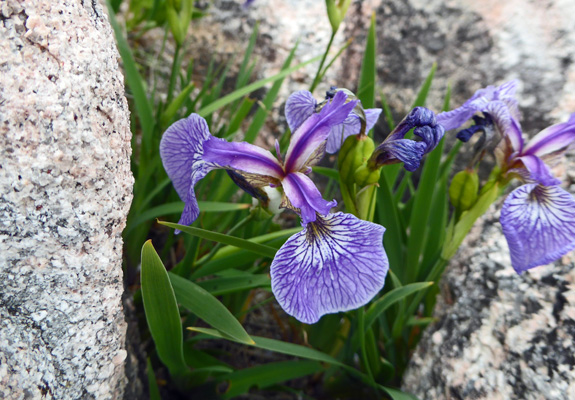 We drove on up to the look-off just before Black Brook Cove where the rocks reminded me of those in Acadia National Park in Maine.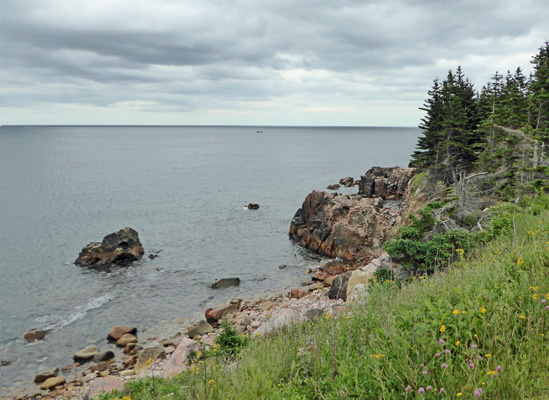 There was a lobster boat out picking up pots.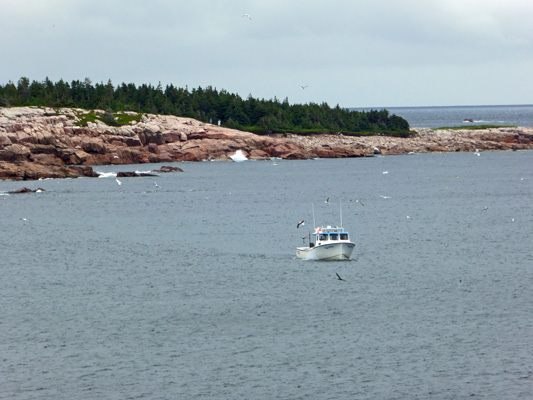 And there were Northern Gannets dive bombing into the water to catch fish. They circle for a while and then when they see fish they plunge headfirst into the water creating a little mini-geyser (big splash) and then come up and fly off. They eat the fish while they're underwater so they don't even come up with a fish sticking out of their mouths –one less thing to fight the gulls about!
Having gotten our fill of the gannets, we drove on to the little village of Neils Harbor which is just outside the park on the north end.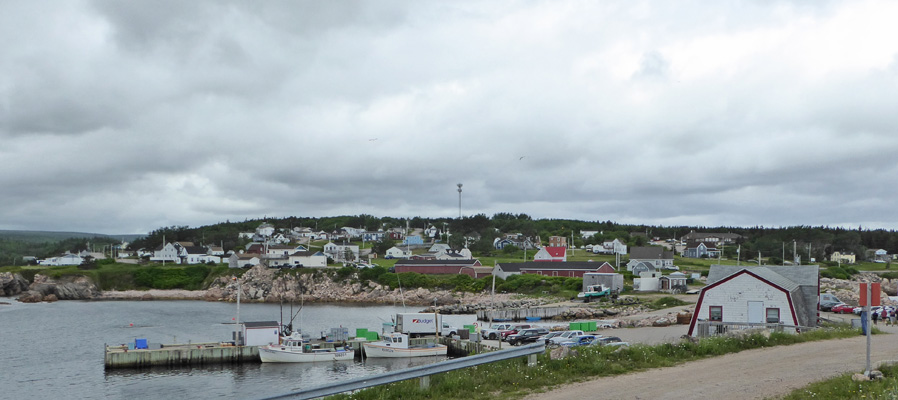 There's a lighthouse here that has been converted into an ice cream store.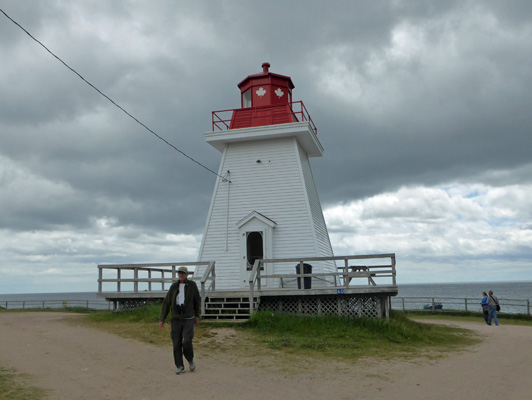 Out past the lighthouse along the railing I got a view out to the rocks with lobster boats threading their way through to pick up their pots.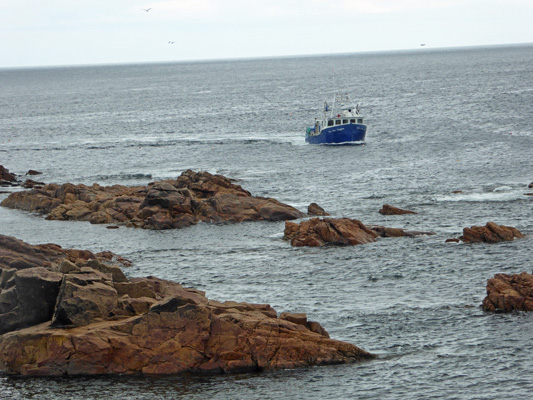 I took a whole series of shots of this boat picking up a lobster pot and all I ended up with was a photo of the line that they use to pull it up with! They use a wench to crank in the line, then pull the pot out of the water, toss the crabs and lobsters that don't meet spec back into the water and put aside maybe 2 or 3 lobsters that are big enough. It's a lot of work for not a lot from each pot.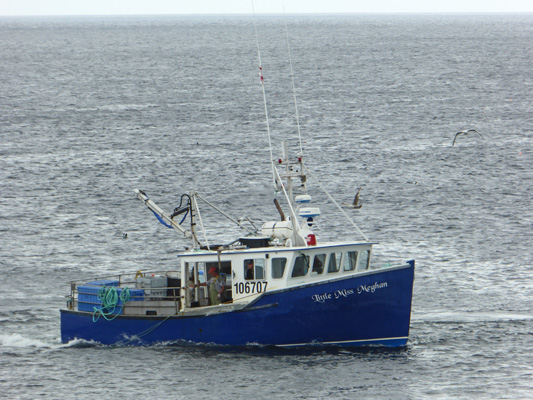 But clearly the prices must make it worth it to them because there were LOTS of boats out pulling pots.
On our way out of the harbor we noticed these big round traps. I did a search on the internet and they appear to be a kind of crab pot.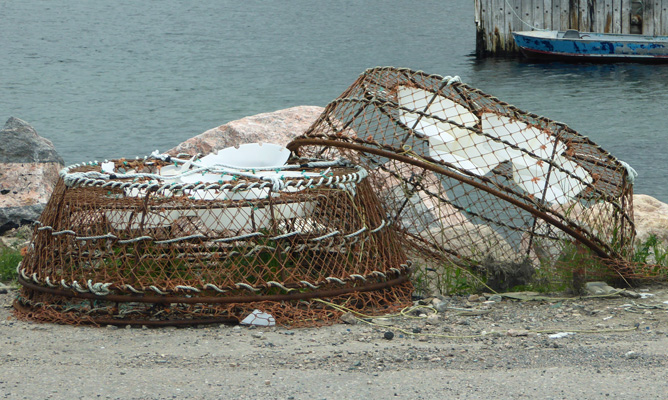 Here in Neils Harbor we saw both wooden and metal lobster pots, so unlike Prince Edward Island, these folks have at least begun to use metal lobster pots.
With all those dark clouds we had expected that we'd get rain but we never got more than a light sprinkle the whole time we were out. In the late afternoon, the clouds had all blown through and we had sun. And a bit of a sunset.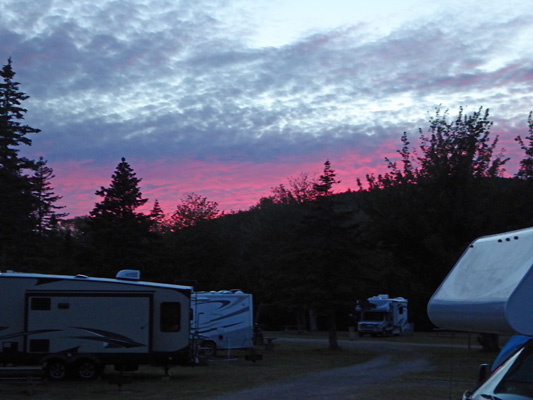 It was clear and in the 60's on Wednesday July 5th, when we packed up to leave Cape Breton Highlands National Park. We thoroughly enjoyed our visit and highly recommend visiting if you ever get the chance. We drove back south along the Cabot Trail until it met Hwy 105 where we turned north towards Sydney. This took us to a viewpoint of the a lovely inlet which is un-named on our map.

Up to the far right there's a bridge across the inlet. The road takes a big hairpin turn so you end up crossing it on said bridge.
We continued on to the outer reaches of North Sydney to Arm of Gold Campground in the town of Little Bras d'Or, Nova Scotia (Arm of Gold = Bras d'Or). We'd made a reservation here for two nights so that we could do laundry and grocery shopping before catching the ferry to Newfoundland on Friday morning. This campground is only about 6 minutes away from the ferry terminal which seemed like just the ticket when we had to check in at around 9 am on Friday morning.
It's a very nice open campground (very few trees) on St. Andrews Channel which appears to be an arm of Bras d'Or Lake—a huge lake that takes up the heart of the south portion of Cape Breton Island. We got a pull through full hook up spot with a bit of a water view for $39.95 a night (tax included). Their WiFi worked fairly well in the afternoon but as the park filled up late in the day it became useless. This is normal for park WiFi and we've just learned to use it when it works and not sweat it otherwise. Walter found 2 TV stations over the air and our cell phone worked.
I did laundry after getting more loonies. Just one more thing that is different in Canada—you need loonies to do laundry and mostly not quarters! That evening the mellow sunset turned the waters of St. Andrews Channel peach.

Friday July 7th we drove to North Sydney Harbor to take the ferry to Port aux Basques, Newfoundland.