The last week or so have been focused on seeing old friends. It's been an interesting experience meeting up with folks I hadn't seen for over 30 years. We're all still the same, just a little older with lots of experiences under our belts that make us different but also seem to emphasize how we are the same still. The good news is that all these trips down memory lane haven't left me melancholy or longing for the days gone by. In fact, they seem to have reinforced for me what an absolutely fantastically perfect life I have right now as Walter and I explore the world 'out there'. No need to go back to the good old days. The days of now are so very very wonderful.
On Monday May 29th, it began to rain in the early morning hours. By the time we were ready to break camp it was coming down pretty good. It wasn't as wet as it had been a week earlier at Four Mile Creek but we were both glad to get out of it once we were hooked up and on our way. We drove on blue highways from Schodack Island State Park just south of Albany, NY to Westhampton, MA (just west of Northampton). We rolled into the Northampton/Springfield KOA in the earlier afternoon and got a back-in spot with a full hookup for $48.31 a night. The northeast is not a cheap place to camp at least partially because there are so few places to choose from. This was an old campground that they had been working on renovating. The front section was cleared and graveled for pull through sites for big rigs and a series of long back-ins. Their Wifi worked pretty well most of the time (really well late at night and in the morning) and they had good cable TV. And since we were so close to town both of our phones and the hot spot worked too.
We got set up and had lunch and rested for a while and then drove to Northampton to meet our friend, Deborah, who was a housemate of ours in 1983-4 back when we lived in community in Shutesbury, outside of Amherst. We had a wonderful dinner at Paul and Elizabeth's, a natural foods restaurant that's been there since the early 80's at least. Since it had been a long long time since we'd been in Northampton, we took a little tour with her to see a house she had owned before moving into her current condo. We've been lucky enough to see Deborah the last couple of years in Tucson and it's always wonderful to spend time with her.
On Tuesday May 30th, the heavy rain had stopped and we just had mist off and on all day. Our campsite was really squishy but there was enough grass to keep it from being muddy. We spent the day doing errands with stops at Whole Foods, Trader Joes, Dicks Sporting Goods and a local grocery store. It took me an hour to put everything away when we got back! But it was worth it because now we were stocked up for a good 3 months which should get us through our time in Canada.
Wednesday May 31st, was laundry day. I know, it's so exciting I can hardly stand it. This KOA had 3 laundry rooms but the one closest to us only had one washer and 2 dryers. I loaded that washer up with half our laundry and then we drove up to the top of the hill in the park to the other laundry room (with decent parking) which turned out to have 2 washers. Ah well, the other one was already chugging away. I loaded one up and then headed back down the hill to move that washer load to the dryer. When it was time to move the 2nd load, the washer wasn't even half way through the cycle. The timer had said that it would take 28 minutes to do the cycle. In the end it took about an hour. Meanwhile my other load was nearly dry. We spent a couple of hours driving around and around (the roads are all one-way) the campground until everything was dry and folded. The older portion of the park is all in trees and they have many seasonal spots (folks who have their trailers there for the summer). I'd say 3/4 of their spots in the trees were already occupied and some looked like the same folks had been using them for years. But none of them were winterized so clearly folks don't spend the winter there.
The night before I had done some searching and we decided it was time to bite the bullet and get a reservation for the July 1st weekend which is Victoria Day in Canada—their big summer holiday. I searched around and we got a reservation (with electricity and water) for 4 nights at the Broad Cove Campground in Cape Breton Highlands National Park in Nova Scotia. With this set in concrete, I spent the afternoon on Wednesday looking at camping availability for our first 2 weeks in Canada and planning out possible routes. We've got lots of options and won't need reservations aside for that one weekend at least into early July. Ahhhh. I do so love having permission to ramble at whatever pace we desire.
We had sun for an hour or so in the afternoon and then big black clouds began to roll in from the north. We drove north to Greenfield to have dinner with our old friend, David Farkas, and managed to get inside before it started to pour. Thank goodness Walter had seen a weather forecast and we had buttoned up the trailer because it really rained and blew with a vengeance for a while. We met David back in 1980 in California and then he was one of our housemates in Shutesbury in 1983-4 too. We hadn't seen him since 1988 or so but we stay in touch so it we didn't have to start from scratch. We had a great evening catching up and just being together. And it didn't rain too hard on the drive back to Westhampton either.
It was sunny and warm (mid 70's) when we broke camp the next morning and headed east to I-91 and then north to Hwy 2 which took east across Massachusetts to I-495 up into New Hampshire and the little town of Lee just east of Durham (and Portsmouth). When we researched camping in this area we didn't find much. There are two older campgrounds that are mostly used by seasonal folks. Neither had great reviews so we took the one that sounded better and headed to Forest Glen Campground. They had a spot for us with water and electricity in an open grassy area for $40 a night—did I mention that camping is not cheap in New England. After a few minor delays we got set up and had our lunch. Then headed back the way we'd come to go to the Walmart in Epping about 15 minutes away to get Walter's prescriptions filled so he'd have a 3 month supply to take with him into Canada. We'd tried to get these filled back in Virginia but the insurance said it was too soon and to wait until June 1st. This time we were successful—yahoo! Just one more of the interesting things that make our otherwise simple life complicated.
I was really happy to be in New Hampshire. I don't know what it is about the energy in Massachusetts but it doesn't agree with me. It's like listening to someone run their fingernails on a blackboard 24-7. Literally my teeth begin to hurt. I began to notice the change in energy in Ohio and it got steadily more irritating as we went across New York. Schodack Island was okay but not great. Three days in Northampton was hard on me. New Hampshire still was a bit irritating but way way better—ahhhh.
There were what I think were Bluets (Houstonia caerule) in bloom in the grass at the campground. Flowers, hooray! The rhodies were in bloom in the Northampton area but I saw nary a wildflower while we were there.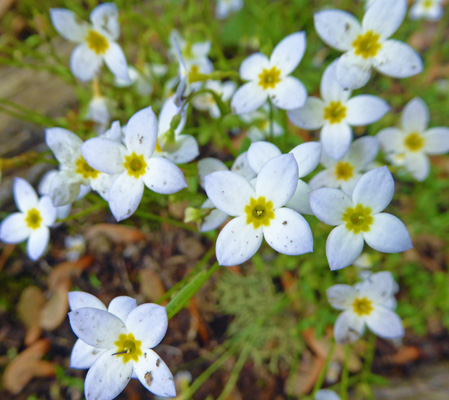 Before dinner we took showers in their shower house. The water was hot and plentiful but that's all you can say. It was dark and they had redone the walls in chip board and hadn't repainted. You had to put a quarter into a timer to get the water going. It said you only got 5 minutes for a quarter but I did just fine with one quarter—maybe I'm just getting really really fast taking showers in the trailer.
On Friday June 2nd we drove west a few miles to Durham to have lunch with my friend Becky, who was my graduate school roommate at Harvard. We hadn't seen her since about 1986 or so. But she is still her wonderful self—just a little older. She made us a delightful lunch and we got to get to know her lovely Italian greyhound, Bennie, while we caught up a bit on life.
It was a partly cloudy day that ended with a few showers in the night.
On Saturday June 3rd, we packed up and headed northeast on blue highways until we hit Hwy 1 and the coast in Maine. We had a momentary view of the Atlantic before the highway headed inland and we wandered through small towns on the Maine coast until we came to Freeport, just outside of Portland Maine. We had a reservation at Cedar Haven Family Campground because we thought it might be crowded for the weekend. We had a full hook up back in spot in the nearly empty campground for $49.60 a night. Their wifi worked most of the time and Walter found quite a bit of over the air TV. This is a newer campground (at least it looks new) that is run by the Seventh Day Adventists so the office was closed when we arrived on Saturday. No problem there, our reservation packet was up on the bulletin board waiting for us. We got parked okay using an empty space across from us and began to have a sun break or two as we had lunch.
After lunch, we headed into Freeport to the Bow Street Market (very upscale and classy) for a couple of things and then made our way to the LL Bean flagship store on Main Street. Freeport has become a shopping destination. It is full of high end outlet stores (Orvis, Polo Ralph Lauren and LL Bean) in addition to the two HUGE LL Bean stores—one outdoor store and one home store. The flagship store is huge (maybe twice Seattle's downtown REI store). This shows you about 1/3 of the store. The rest goes on and on to the right.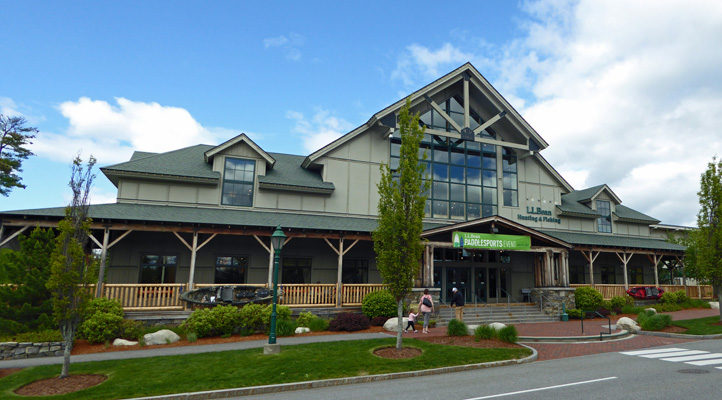 It's like a Cabela's on steroids with taxidermy everywhere and everything that is in any of their catalogs all displayed beautifully. With the wet muddy weather we've had of late Walter had decided he needed some new mud shoes. And when we realized we'd be in Freeport we knew the place to go was LL Bean, the home of the mud shoe.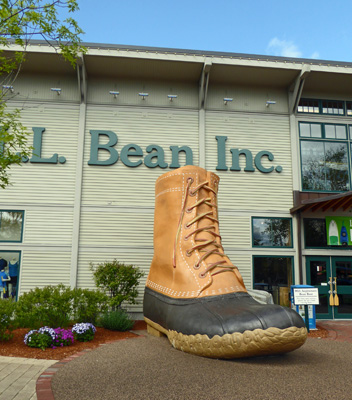 He got a very nice pair of mud shoe moccasins and then we wandered around the store. Oh my, it was way too big. We both got overwhelmed in no time at all. When I stopped to take a photo of the giant shoe, I couldn't resist taking a photo or two of the pretty Cineraria too.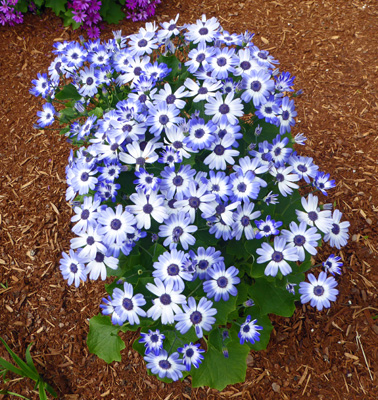 My mom used to love growing these in southern California in the spring but boy did the snails love them.
It cleared off almost entirely by the end of the day and we were thrilled to be greeted by nearly clear skies on Sunday morning. We packed a lunch and headed just a few miles east to Wolfe's Neck Woods State Park, a 200 acre park along Casco Bay. We took the White Pines Trail through the woods out towards the shore. Along the way we saw lots and lots of Bluebead (Clintonia borealis).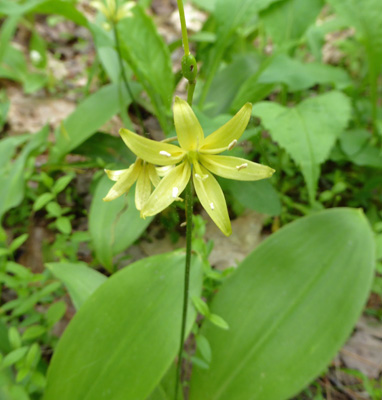 And here and there I saw a few of what I think were Three-leaf Solomon's-seal (Maianthemum trifolium).
We also saw a patch of about 5 Jack-in-the-pulpit (Arisaema triphyllum).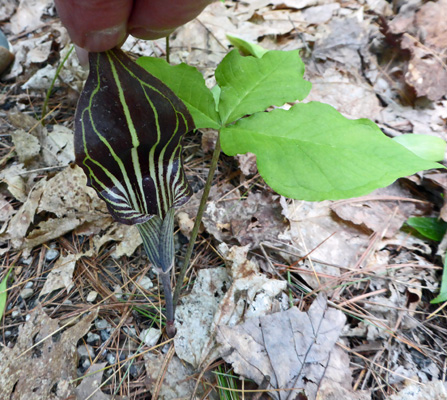 And here and there a few Baneberry (Actaea rubra).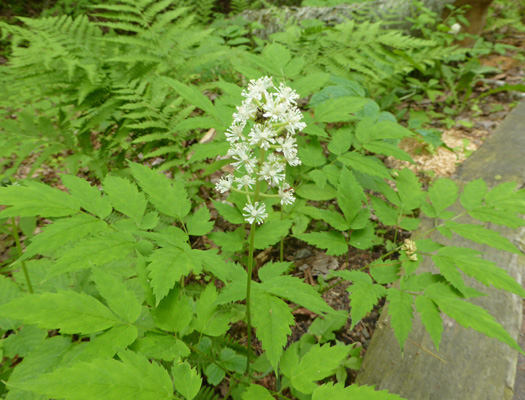 The trail takes you out for your first few glimpses through the trees of Casco Bay. We continued on along the trail where we found this really cool brown fungus.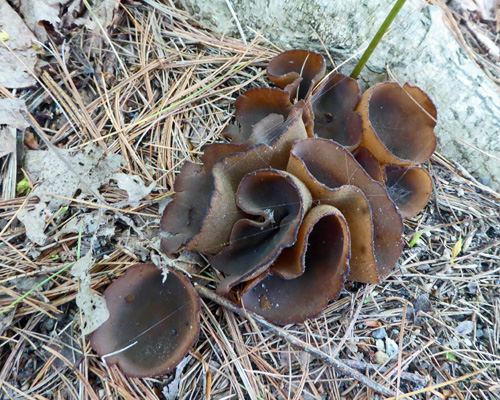 And a HUGE patch of Bluebead (Clintonia borealis).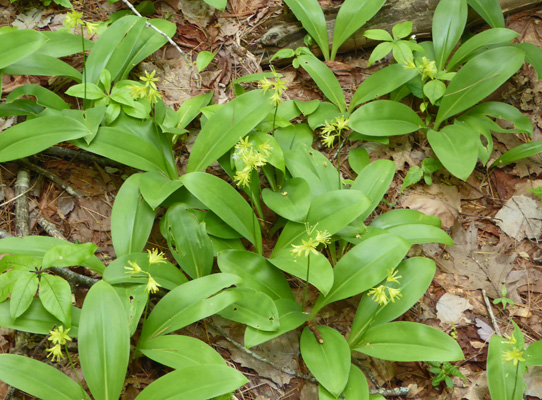 At last we came to a good overlook where you could see out across the bay. That's Goggins Island on the right.

There are stairs that take you down to the edge of the shore but things were pretty muddy through here with the tide out.
We continued on and began to see Pink Lady's Slippers (Cypripedium acaule). I had seen one years go when we lived in Massachusetts but we say over a hundred on this hike. It was amazing.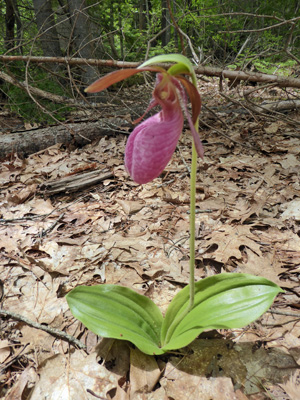 The White Pines Trail joins the Casco Bay Trail and gives you a wonderful view of the Osprey nest on Goggins Island. With my telephoto lens I even got a shot of an osprey in the nest. This time of year they're taking turns sitting on their eggs.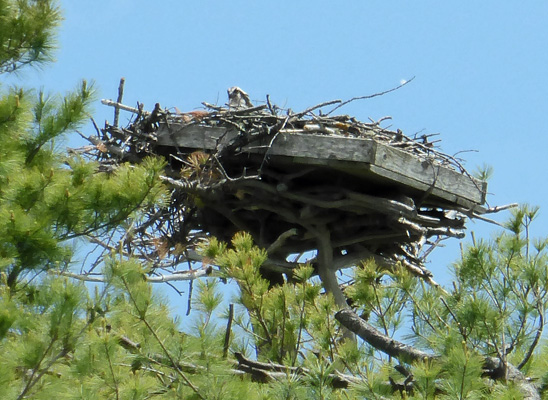 A little farther along you come to some stairs that take you down to the rocky beach and a great view of the island.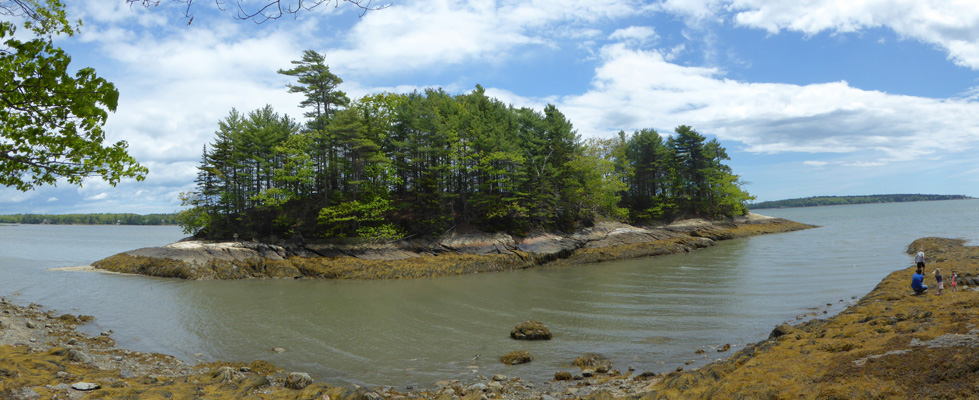 The tide has about a 10 foot swing here and we were clearly close to low tide—as you can see on the water line on the island.
The rocks here aren't easy to climb on because they have eroded in vertical layers—clearly some geologic force tilted things sideways at some point.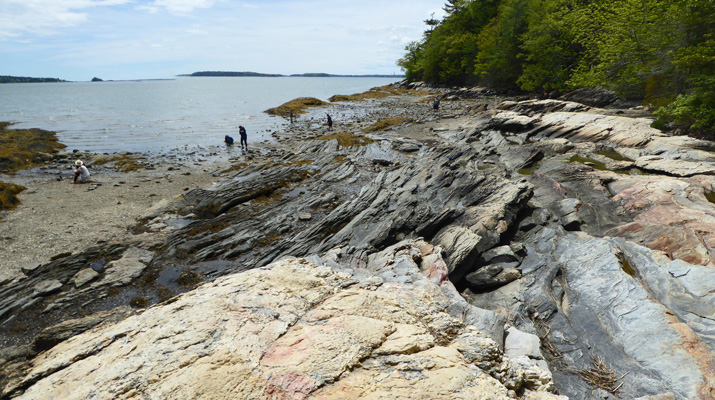 The Lady Slippers were really thick through this section. We met a family who were counting the ones they had seen and they were at 275 along through here. I'm sure they hit 300 by the time they were done. They come in all shades from light pink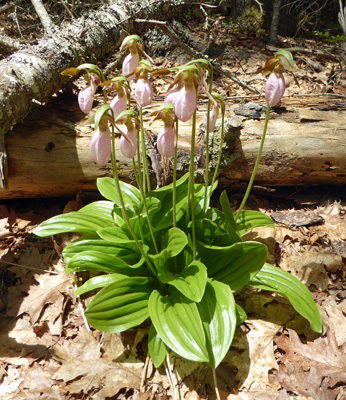 to deeper pink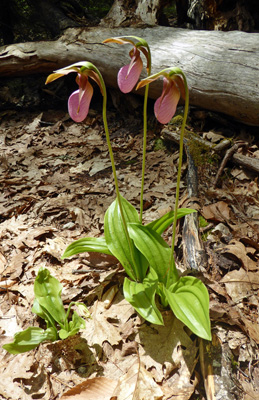 And even white (we saw about 3 white ones).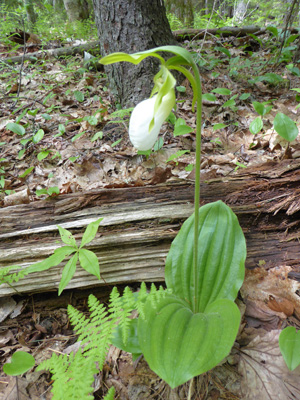 There are two more nice overlooks and at the last one you get a view from the rocky beach out across the bay at the whole mess of islands.

From here you can either turn around and retrace your steps or you can go inland on the Harraseeket Trail which connects up with 3 other trails that will loop you back to the parking lots. We took it up through the woods past more Lady's Slippers.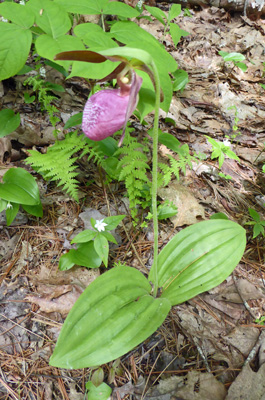 And a sprinkling of Northern Star-flowers (Trientalis borealis).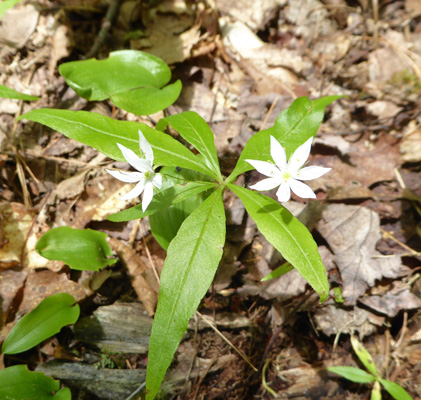 There were even a few Canadian Bunchberries (Cornus canadensis) along the way.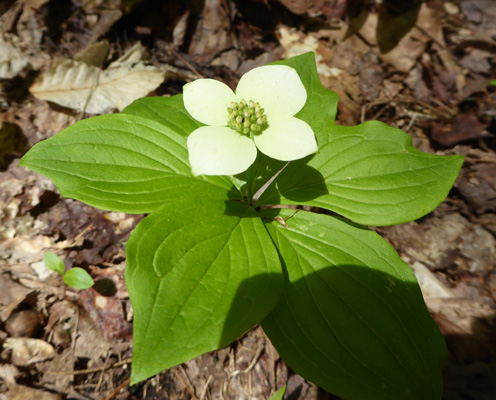 Here and there we'd see patches of these interesting purple flowers. They turned out to be Gaywings (Polygala paucifolia).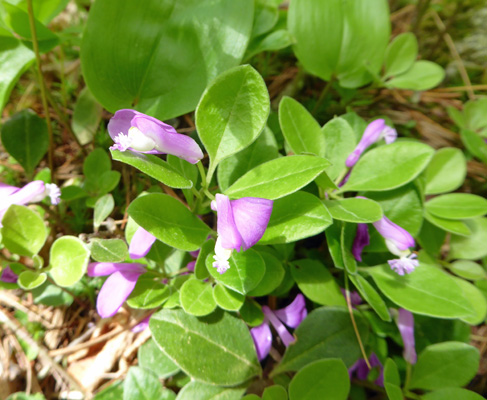 We also saw a couple of Wild Sarsaparilla (Aralia nudicaulis) which I now recognize after learning about them back at Shenandoah National Park.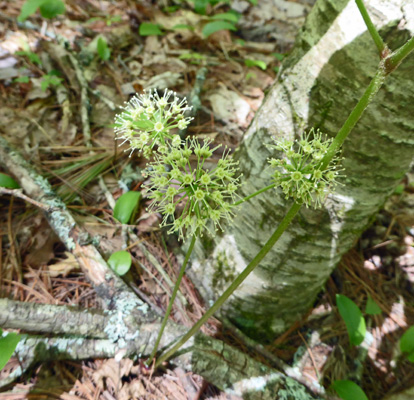 It was a great walk. There was a little elevation gain on the Harraseeket Trail before we jointed the Old Woods Road Trail to get back to the parking area but on the whole it was flat and pretty even walking.
We had our lunch in the truck because the mosquitos were pretty thick and then went back to the trailer where I spent a happy afternoon doing flower ID!