On Sunday April 2nd while we were staying at Raccoon Valley RV Park outside of Knoxville, we made the journey to nearby Oak Ridge Tennessee. Nearly the entire upscale town is now a National Historic Park.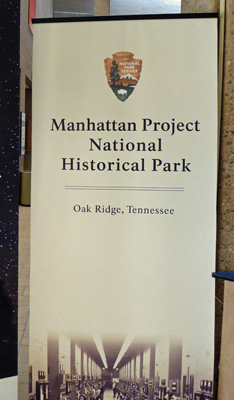 Oak Ridge was created during WWII as part of the Manhattan Project. The farmers living here were displaced and a swath 17 miles long and 7 miles wide was fenced in as the site to produce enriched uranium for the first atomic bomb. The uranium went from the production plant here to Los Alamos, NM where the bombs were made and tested. Originally the bomb production was going to be located here too but they decided it was prudent to separate them. This is also the home of the first nuclear reactor—the prototype for the reactors at Hanford, WA where plutonium was produced for the bomb that was dropped on Nagasaki.
Initially they thought they were creating a facility (and town) for about 15,000 people. By 1945 there were 75,000 people here—so many that many of them lived off-site. Between 1943 when the facility was opened and the summer of 1945, they produced enough enriched uranium to make the first test bomb and the bomb that they dropped on Hiroshima.
They used 1,150 calutrons run by women who had no idea what they were producing. All they were trained to do was turn the dial one way or the other when the needle moved.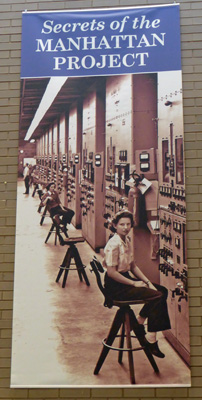 It was only after they dropped the bomb on Hiroshima that anyone here knew what they had been working on.
We spent an interesting hour or so exploring the American Museum of Science and Energy that presents the history of Oak Ridge and the development of the uranium enrichment program that led to the first atomic bomb. It's another piece of American history you wish hadn't had to happen but it was interesting and well presented. They have a nice movie about the town and the production facilities here and while we were at it we watched the film on the Enola Gay (and its crew), the plane that was used to drop the bomb on Hiroshima.
Another section of the museum talks about coal and oil and alternative energy. I got this great shot of Walter next to a blow-up dinosaur at the end of that section. He thought petting the T-Rex's belly was fun.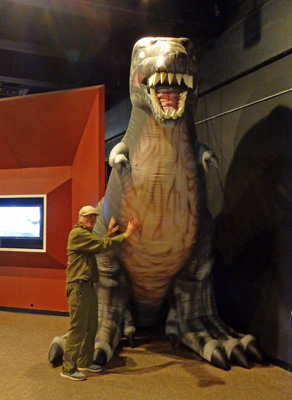 In a section about bombs and rockets they had a full scale model of "Little Boy" the bomb they dropped on Hiroshima.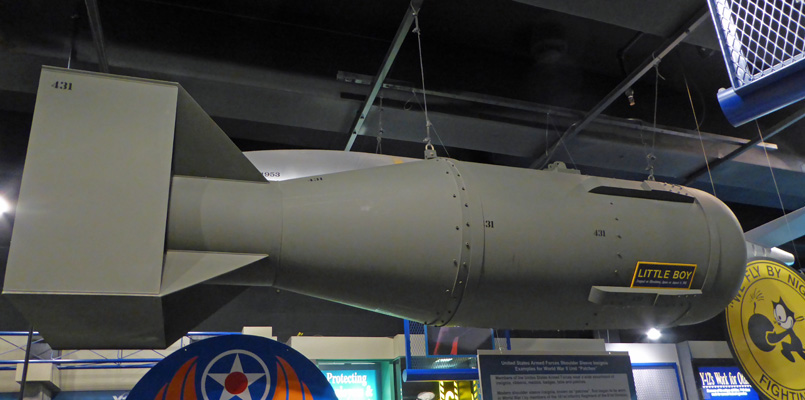 For lunch we went down to the Melton Lake Greenway, where the Clinch River forms a nice wide still section. We took our folding chairs out along the river and sat and had our lunch. It turned out that we were right next to the Oak Ridge Rowing Center and there were high school age kids out with their boats. It wasn't quite a regatta but we got a nice show nevertheless.
There were girls in 8's along with a couple of folks in rented kayaks going the opposite direction.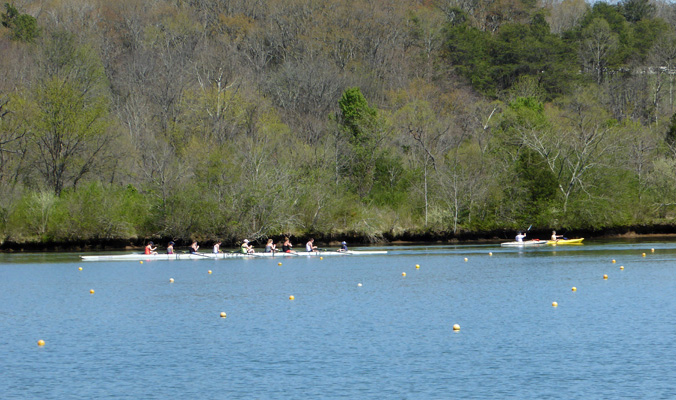 A family launched a pontoon boat to go out for a cruise and they mixed in with the rowers.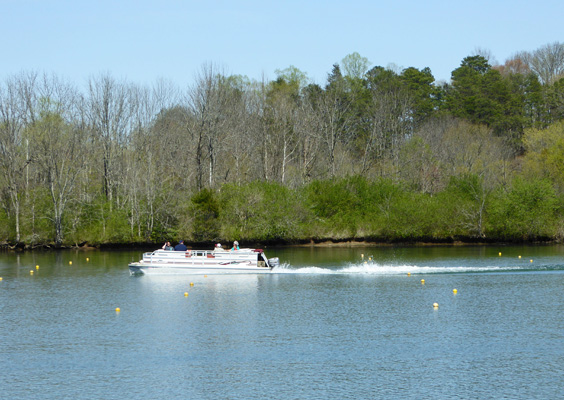 There was one boat of 4 and then a couple of single sculls came by in the opposite direction of the 8's.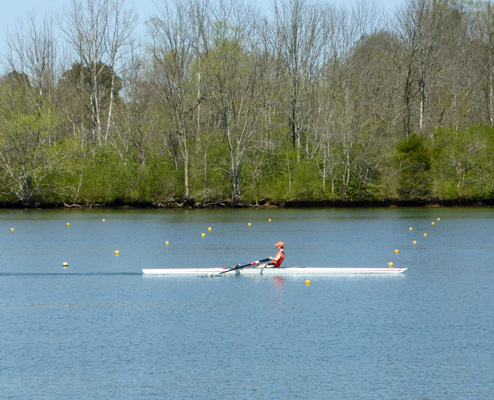 After lunch we took a stroll along the lakeshore past the staging area for the rowing gathering. A trailer loaded with these boats is really something to see. I don't think I'd want to pull it from Michigan (which is where this one was from) to Tennessee.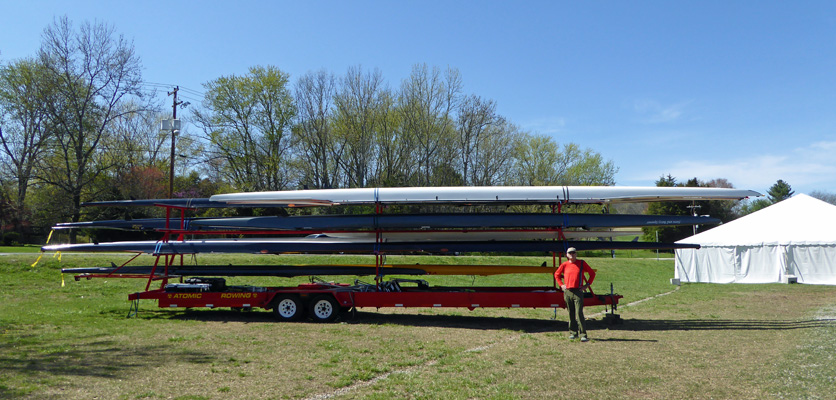 It was in the mid 70's and while it wasn't particularly humid we both still got warm on our walk. Here's a nice view of the lake from a bend in the river.
There were folks out fishing and they said that they'd been catching lots of fish but most of them were doing catch and release.
Walter found a butterfly in the grass. It wasn't flying too well so we decided it might have something wrong with one of its wings.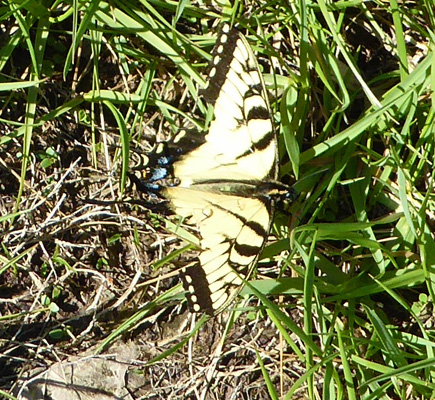 The trees along the lake-side road we leafing out in so many different colors (along with the redbud flowers) that it looked a bit like autumn.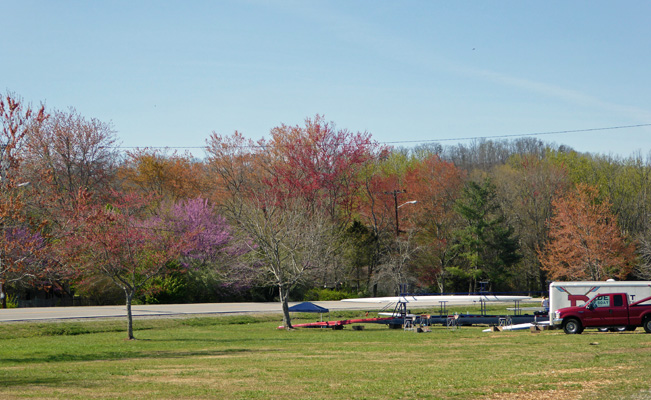 We haven't seen very many displays of either daffodils or tulips on this trip so far. But there were some nice narcissus in bloom in the parking lot at the lake.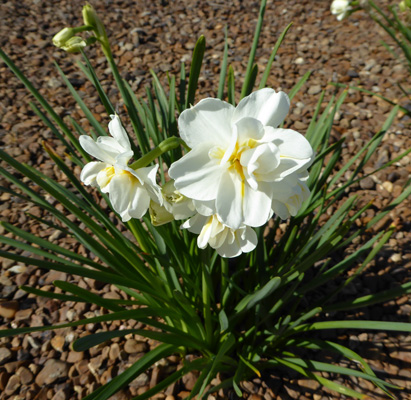 Monday morning April 3rd, we awoke to pouring rain. We debated a while about staying put but given the forecast we decided it would be better to take the drive down to Great Smoky Mountains National Park in the rain since the next day was supposed to be nice and we didn't want to waste it driving. So we packed up to head out and in the process got soaked to the skin even with our raincoats on. It was raining so hard that water kept sheeting of the front of my coat and down onto my thighs every time I bent over. I had water trickling down my shins by the time we were done. If we'd realized how heavily it was raining we might have put on our rain pants but by the time we thought of it, it was too late.
The good news is that it had pretty much stopped by the time we got to Cades Cove Campground in Great Smoky Mountains National park just outside of the town of Townsend on the Tennessee side of the park. One of the loops of the campground hadn't been opened up yet, and the other was only half open and we still had plenty of sites to choose from. We got a pretty level long back-in site and got set up—and our clothes changed. And then went back and paid our $8.50 for the night (this is a National Park so our senior pass meant we only paid 1/2 price of an already inexpensive site). Of course you don't get electricity or water and there's no cell signal here but it's in a National Park!
This is a kind of strange campground in that it doesn't have any water spigots in the campground. There's water at the dump station and the bathrooms but no water spigots for the tent campers which is odd. They have black bears in the park so they are very strict about having everyone put their food in their cars any time they aren't eating. Unlike bear country in the west, they don't provide bear-proof food vaults for folks either. They want you to keep your food in your trunk.
On our way back from paying, we spied 5 wild turkeys pecking their way across the campground.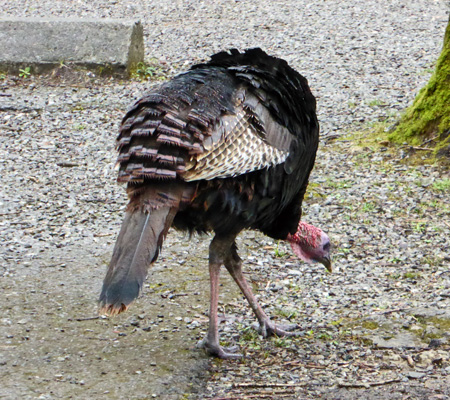 We had lunch and curled up for a quiet afternoon in the trailer. Then late in the afternoon the sun came out. Since Cades Cove is known for its wildlife viewing we decided we'd take a drive on the 11 mile one-way loop road which is known as the most popular drive in the park.
There's a riding stable next to the campground where you can take trail rides, hay rides and carriage rides. The horses were out in their pasture and there were folks out greeting them.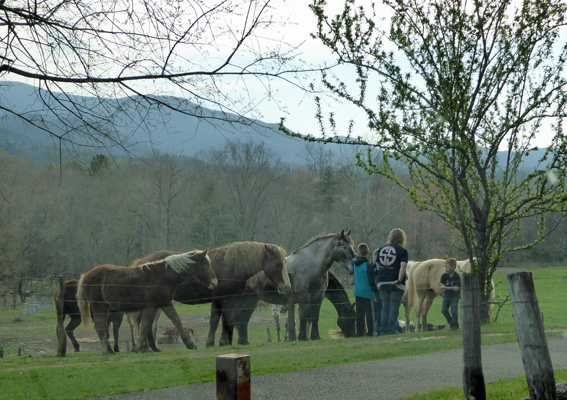 There was a flock of wild turkeys out across the cove.
A cove is a mountain valley. Cades Cove was settled by farmers in the early 1800's and when all the land owners were bought out in the 1930's they left their houses, churches and other buildings behind when they left the cove. All of Great Smoky Mountains National Park was private land before it became a park. Folks in Tennessee and North Carolina helped to buy all the land to set aside as a park. 85% of the land belonged to timber companies and much of that had already been logged but not all of it. The park holds the largest track of old growth timber in the eastern US.
Back in the day, the narrow loop road was an unpaved two-lane road. It's narrow as a one-way road so I can imagine what it was like when two wagons met on it. It crossed a couple of streams and since it had just rained the crossings were a pretty good splash.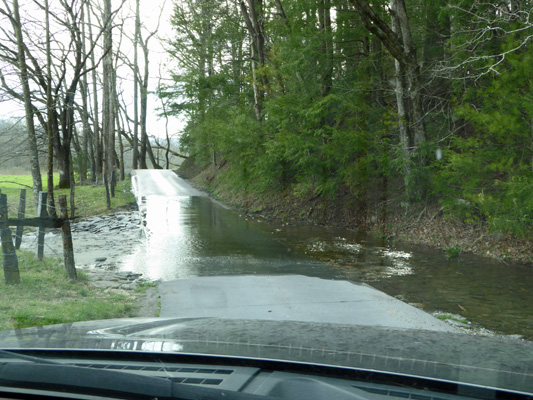 There weren't a lot of cars out (something that we discovered later was a rarity) so we could slow down and enjoy the drive. There's a large parking area near the southern end of the loop where you get a great view of the Great Smoky Mountains.

The park service maintains this cove as open country which gives you one of the few places where you get a large expansive view of the mountains.
There weren't a lot of flowers along the road but I did spy some happy yellow flowers that turned out to be Roundleaf Ragwort (Packera obovata).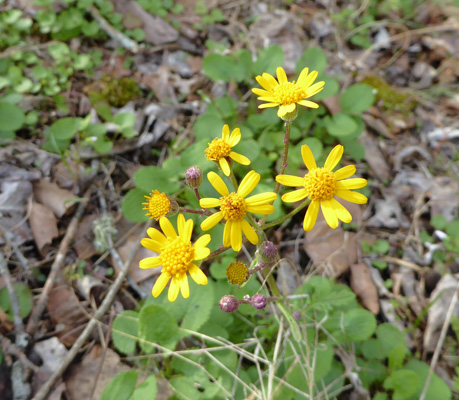 And the ever-present Spring Beauty, this time with slightly longer stems than those I'd seen growing in the sun.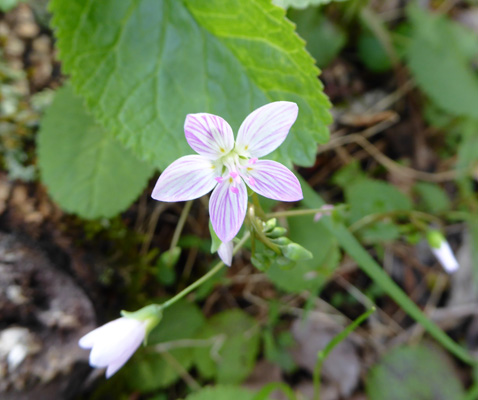 In an open area on the return section of the loop we got a nice view of some deer.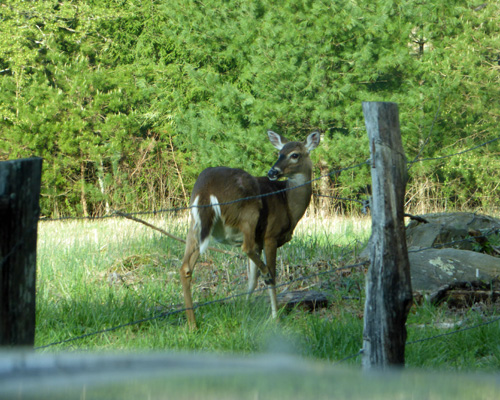 And one of them was kind enough to cross the road and give me a nice view. They're not very big deer because the forage isn't very good in the mountains but they appear to be very healthy.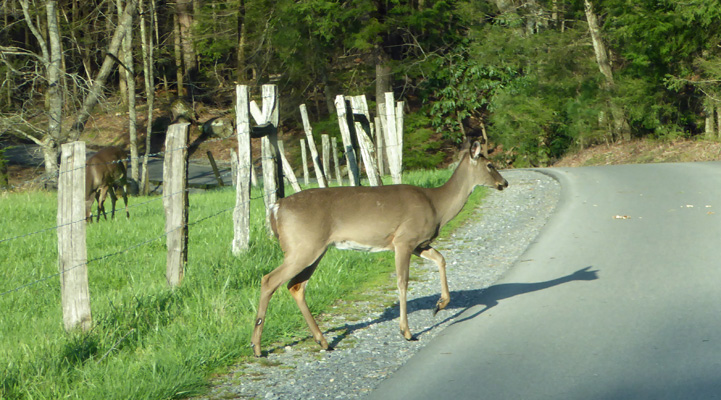 At the time the park was created there were estimated to be only 30 deer left in the Great Smoky Mountains. Their numbers have rebounded as have those of the black bear in the area.
The drive took longer than we expected—11 miles may not be very far but if you're driving 20 MPH and you're stopping all the time it can take a couple of hours!
Tuesday April 4th dawned clear and beautiful. Since we were dry camping, we needed to run the generator to recharge our battery so we had a leisurely morning while we did that for an hour and a half. It was a little before 11 when we set out, planning to drive the Cades Cove Loop again, this time stopping to see the historic buildings. Wrong. The road starts just past the campground, and the traffic was backed up (and not moving) all the way to the campground when we came out. Time to punt! Did I mention this was the most popular drive in the park?
Instead we headed down Laurel Creek Road (the road you take to get to Cades Cove). This is a winding mountain road the follows Laurel Creek as it cascades down the canyon. There were lots of flowers in bloom including masses of Common blue violet (Viola sororia).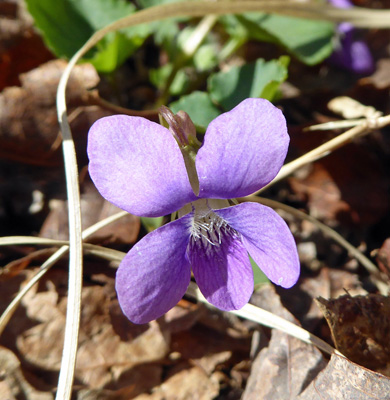 And huge swaths of Creeping Phlox (Phlox stolonifera).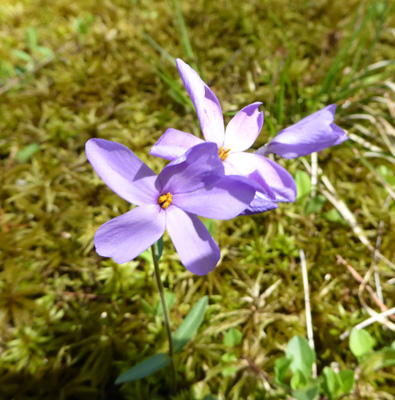 They covered the whole verge in some places.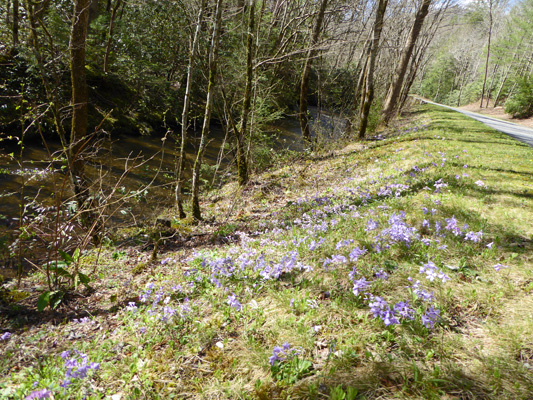 When I went to get back into the truck after taking this shot, there was a lovely butterfly resting next to our front tire.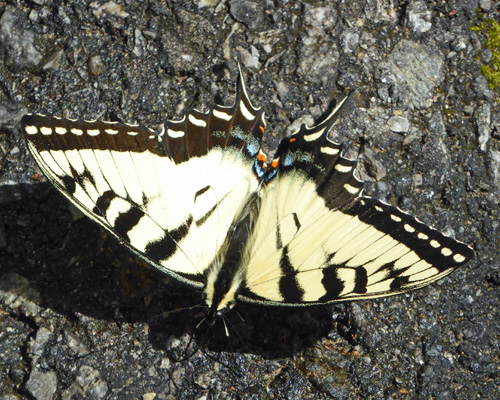 There were also big patches of Robin's Plantain (Erigeron pulchellus).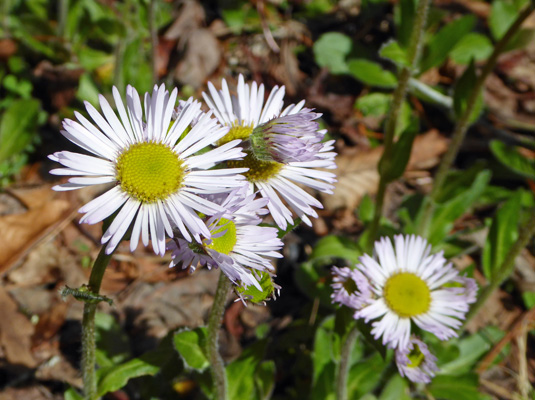 And the creek was pretty too.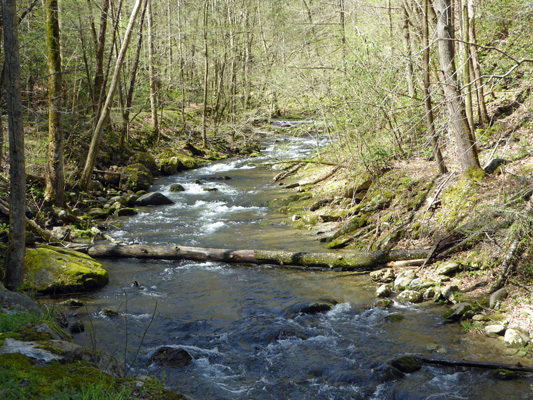 A bit further down the canyon there were big sections of the hillside covered with Large-flowered Trillium (Trillium grandiflorum). This is a close cousin of the Western Trillium you see in the Pacific Northwest. But the flowers are much bigger and the centers are fancier.
It'd never seen them before and was really excited—I have a special fondness for trillium.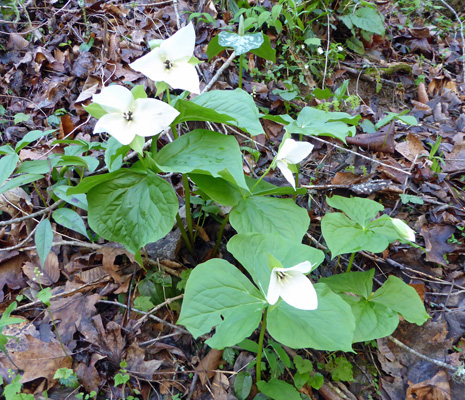 There's one small tunnel on this road (right where we stopped so I could photograph the trilliums) and so I took a photo of it while I was at it. With the steady flow of cars both up and down the road I was happy just not to get run over.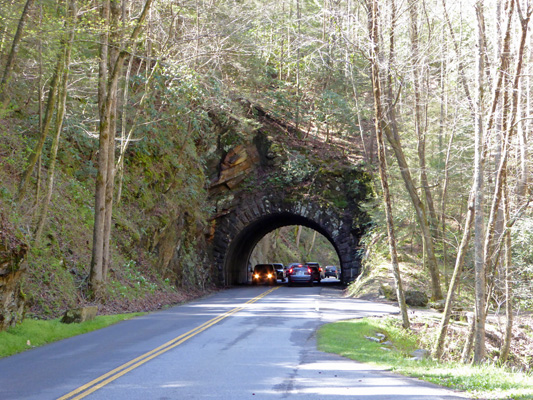 At the bottom of the hill (where the road comes in from Townsend) we took the Little River Road northward. This road is even windier than Laurel Creek and the Little River provides some lovely views.
There are little waterfalls here and there.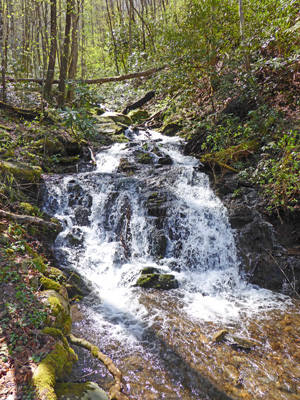 And of course where there's water, there are flowers. In this case, Northern white-violet (Viola macloskeyi).
Rue Anemone (Thalictrum thalictroides).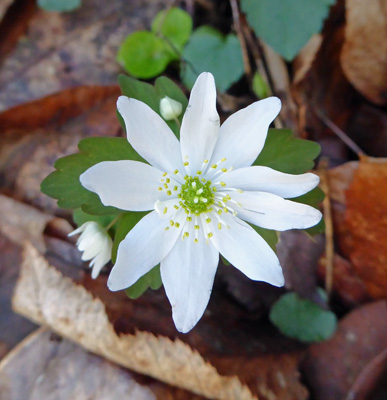 And Forkleaf Toothwort (Cardamine dissecta).
We wound our way through the canyon and ended up at the Sugarlands Visitor Center where the parking lot was overflowing with cars. On the way we'd passed the trailhead for the hike to Laurel Falls (only 1.3 miles each way) and there were cars parked all along the road for a mile each way. Nothing like a sunny day during Spring Break to make things crazy.
We found a spot to park in the Sugarlands parking lot and went into the Visitors Center to watch the movie (can't miss a National Park movie!). It was nice and very informative. I stopped and asked about flower hikes and the crowds and the ranger told me that the eastern side of the park was much quieter and that would be true into early May. She said that the west side is always much busier because of the tourist towns of Gatlinburg and Pigeon Forge.
There were Virginia Bluebells (Mertensia virginica) in front of the Visitors Center.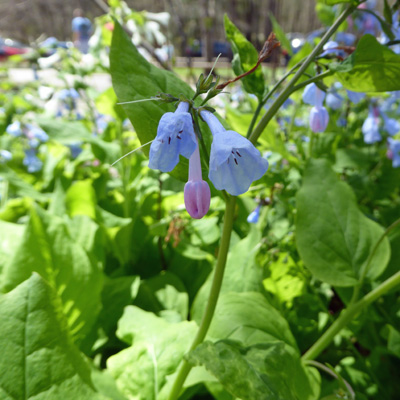 And some Wild Geraniums (Geranium maculatum) too.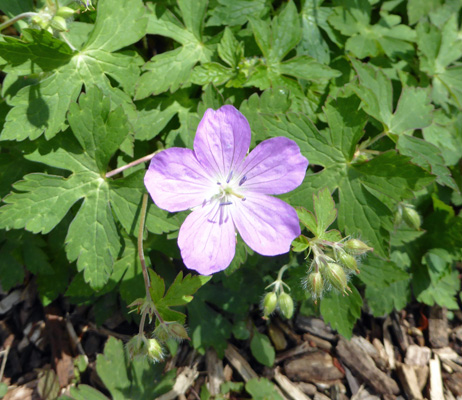 We decided we had time for the 1/2 mile hike out to Cataract Falls before lunch so we set off on the trail that starts just behind the Visitors Center. There were Yellow Trillium (Trillium luteum) in bloom along the trail. I'd never seen these before either.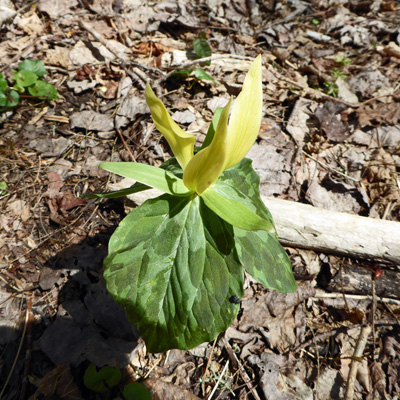 The trail follows Fighting Creek out through an area that was all corn fields in 1925. It is now entirely treed though they are relatively young trees. But you'd never guess that this had been all cleared less than 100 years ago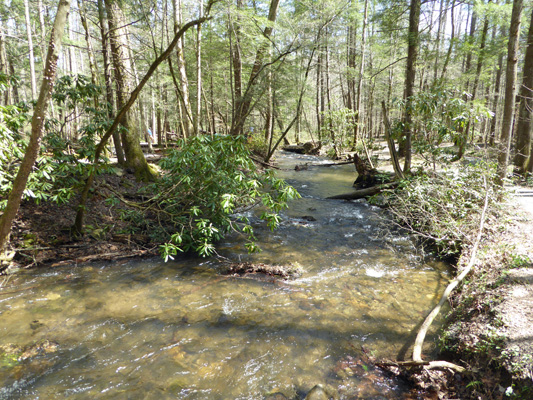 There were Foam Flowers (Tiarella cordifolia) in bloom along the creek.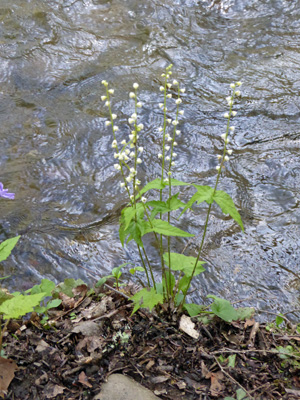 And the sweet little Doll's-eyes (Actaea pachypoda) were just starting to come into bloom.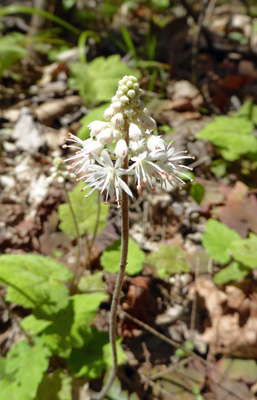 Cataract Falls isn't very high and of course it attracted every kid in the place just asking to be climbed (even though the signs say not to).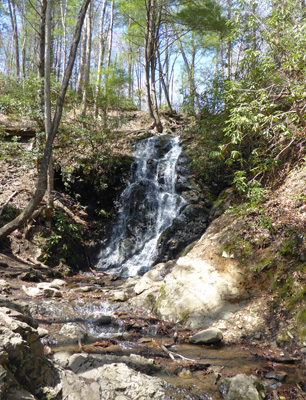 The creek was pretty in here too.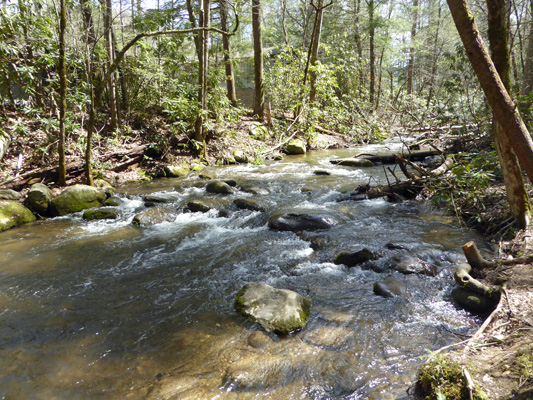 There was a lovely dogwood tree right next to a bridge along the trail.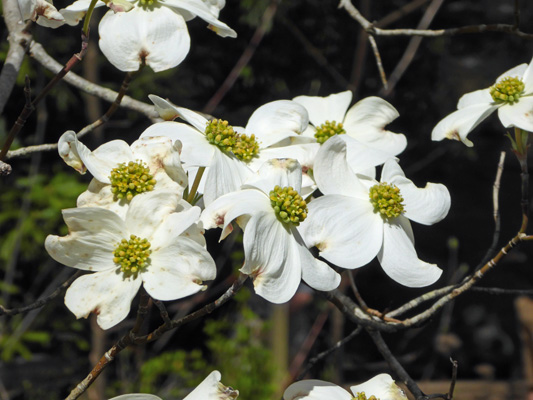 And just as the trail began to head back away from the creek I spied some Downy Yellow Violets (Viola pubescens).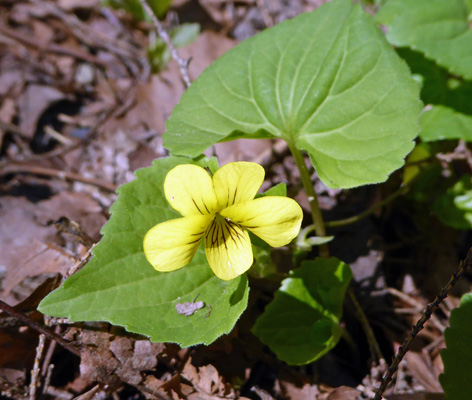 Not a bad day—three colors of violets and two new kinds of trillium!
We headed back to the truck for lunch only to discover we had left the cooler sitting on the kitchen table! Oops. So we headed back up Little River Road towards home. This time the parking area at The Sinks wasn't full. It was coming on 3 pm and folks start heading back to town at about 2:30.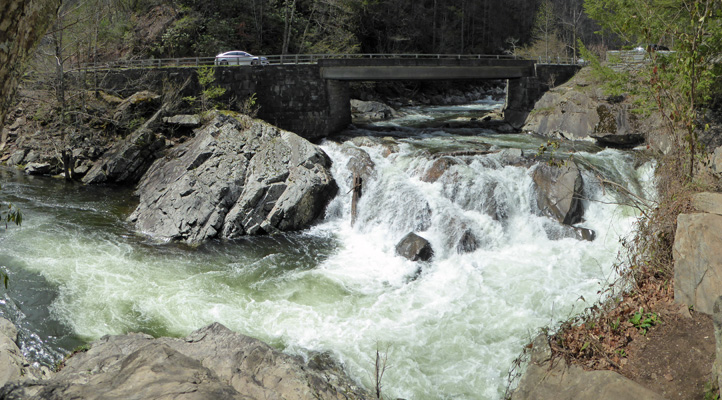 This is a manmade waterfall. In the late 1880's there was a huge logjam here—loggers had used the river to float timber down into town. So they used dynamite to blow it free, and got more than they bargained for. When they were done they had blown a deep hole in the riverbed and it was named The Sinks. It's a very dangerous place for swimmers and kayakers and of course that means folks have died here.
A little further along the way we both spied what looked like Sitka Columbine. It turns out to be what they call Wild Columbine (Aquilegia canadensi) clearly a close cousin.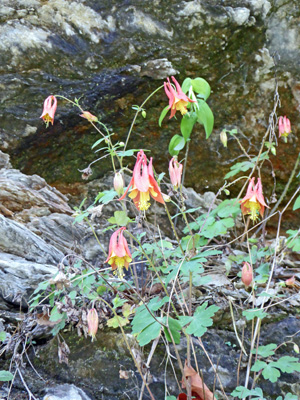 Laurel Creek makes some nice cascades through here too.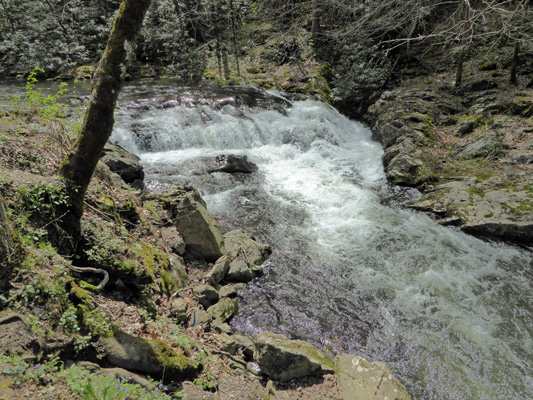 We got home at last and had lunch sitting at our picnic table in the sun. And as a bonus a pileated woodpecker came and worked on the trunk of a nearby tree.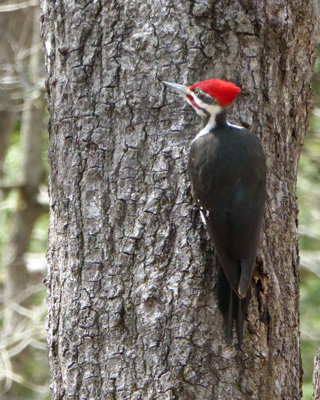 Tuesday night clouds came in and we awoke on Wednesday morning to deep overcast. We decided we'd take the drive through Cades Cove early and when we were done come back and run the generator. We've discovered over the years that when a National Park is crowded the best way to deal with it is to get up early and do the one thing you really want to do before everyone arrives from outside of the park. So we were out on the loop by about 9:30 and had it pretty much to ourselves.
There were deer leaping across the road and the barbed wire fence early in the drive. They continued to leap about in the meadow—something I'd not seen before. We saw a lot of deer that morning—over a dozen before we were done.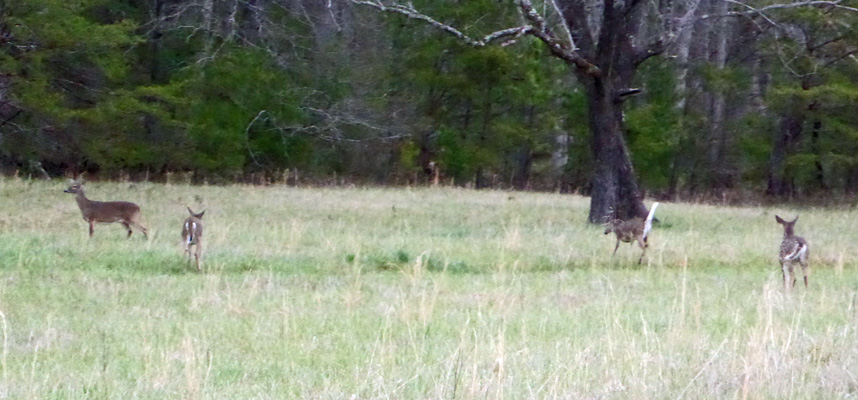 We continued on to the Methodist Church which is perched on a rise next to the road. This church was built in 1902 for $115. J. D. McCampbell, a blacksmith and carpenter, built it in 115 days. He was the minister here for many years. It has two doors because they used the plans from a church where the men and women sat on opposite sides of the church. They didn't do it here but hey the plans had two doors so there they are.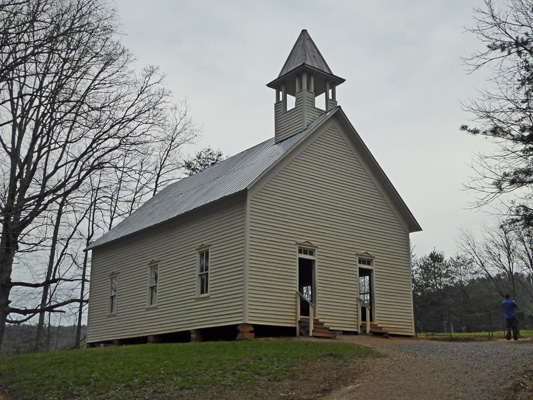 Not much farther along is the Missionary Baptist Church. This church was built in 1915 and continued to be used until 1944. All the farmers had sold out to the park in the 1930's but some retained the right to live on their land for their lifetimes. Many didn't stay that long and most were gone by the late 1940's.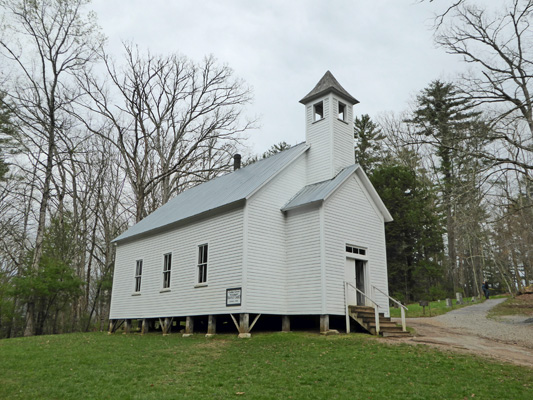 There are several homesteads along the road and you can stop and explore them if you want. That extends the trip around the loop to over 3 hours. We opted instead to stop at the Cable Mill Area where there are lots of things to explore. There's a nice old fashioned Visitors Center that fits right into Cades Cove.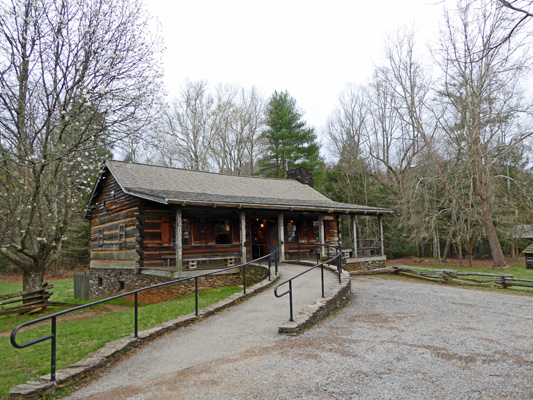 There's an old Blacksmith's shop—which seems to be very well ventilated. I don't know if it's just missing it's chinking or whether the fire from the forge made it so hot inside that it was better not to have any.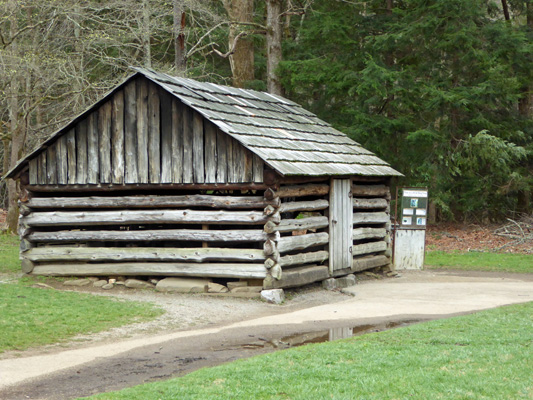 John P Cable bought land in the Cove in the late 1860's and built a water-powered grist mill and sawmill in about 1870. The flume takes water from Mill Creek (which is dammed to form a pond and has a gate you can open to send water down the flume) down to the mill.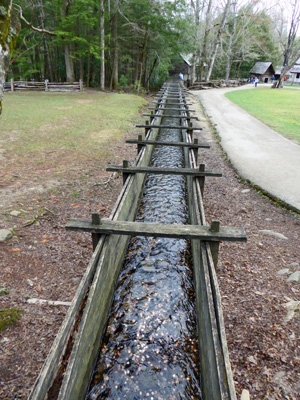 There's a collection of wonderful old mill stones on the way to the mill.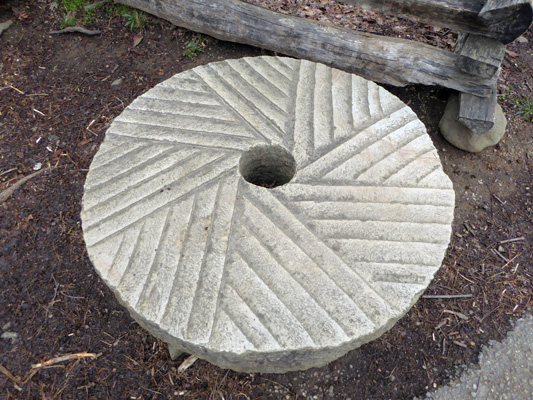 And then there's the mill itself which is operated by the Great Smoky Mountains Association. They sell corn meal that is ground in the mill. And the miller is a very talkative fellow. I asked a question about what kind of corn they used (White Field Corn to us northerners) and got a complete lecture not only on corn but on corn bread, corn cake, hoe cake and grits. Then he moved on to general cooking and the hill folks' diet. It was all I could do to escape having even gotten the recipe for hoe cakes. I know! Someone who could out-talk Sara!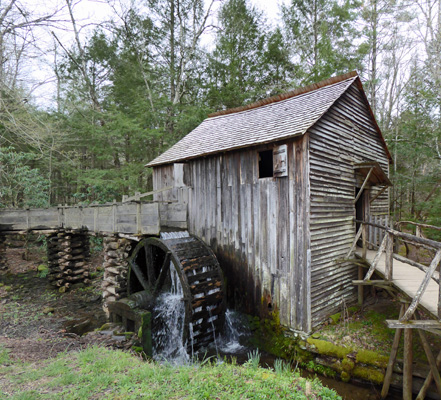 LeQuire Cantilever Barn is a European style barn that I'd never seen before.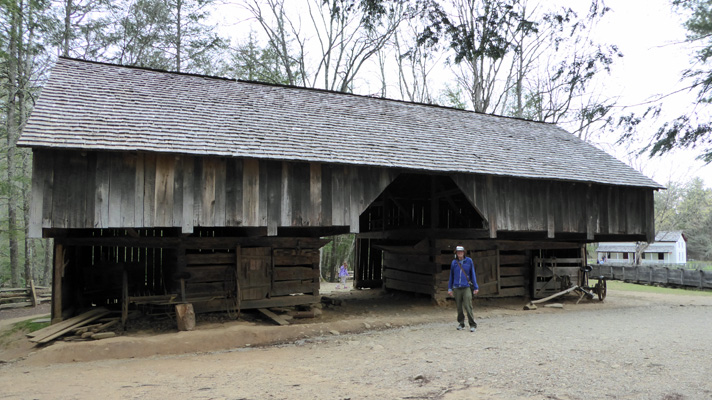 The erosion patterns along the Mill Creek were such that I wondered how much longer these trees would hold on.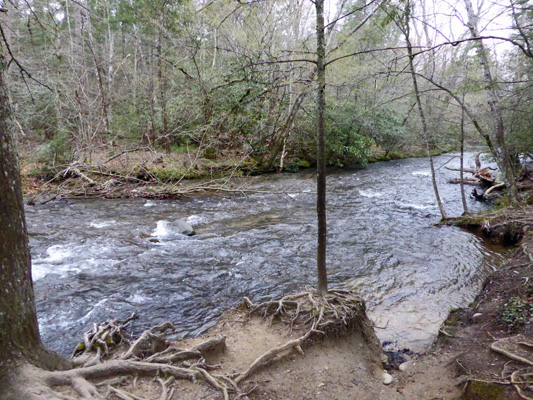 Out past the mill there's a smokehouse.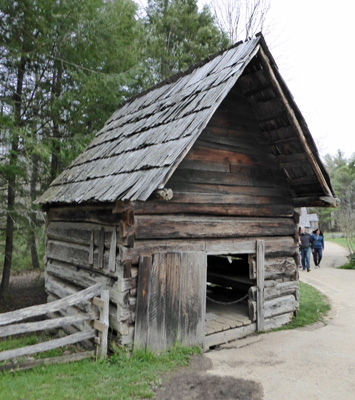 The main source of meat in the Cove was pork—because they were easier to raise than sheep. All the fields were used for raising corn so there wasn't much pastureland unless the animals were taken farther up into the mountains. Besides that smoking and curing preserves pork such that it keeps much longer than beef or mutton.
I thought that the corn crib looked like a really interesting design. The lack of chinking between the logs is on purpose to help dry out the corn. I guess the overhang keeps everything dry and gives you some place to park your equipment too.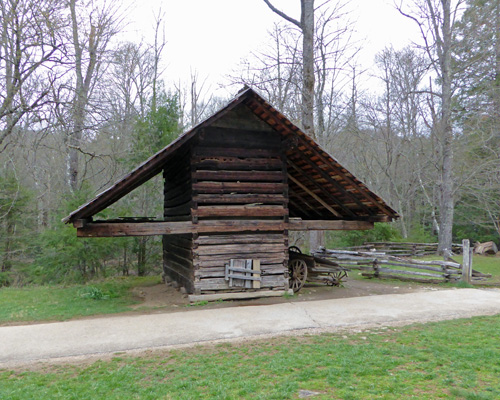 The Gregg-Cable House was built in 1879. It was the first all-frame house built in the Cove—before then everything was either log or squared log. Aunt Becky was the last person to live in the house. She raised her brother's children, ran a boarding house, took care of farm and cattle-raising chores and lived to be 96 years old. She owned more than 600 acres of land and died in 1940. The house was moved from Forge Creek Road to this location after her death.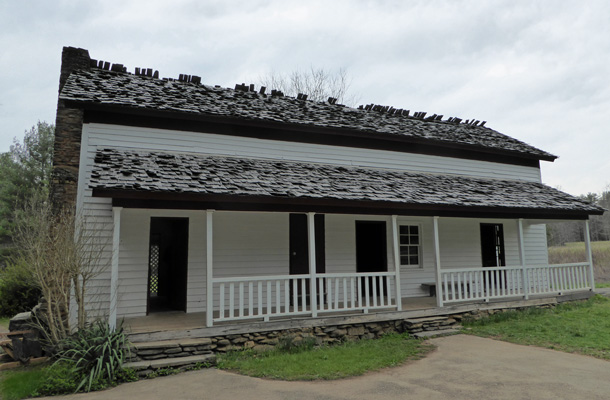 This drive-through barn was more typical in East Tennessee than the cantilever barn we saw earlier.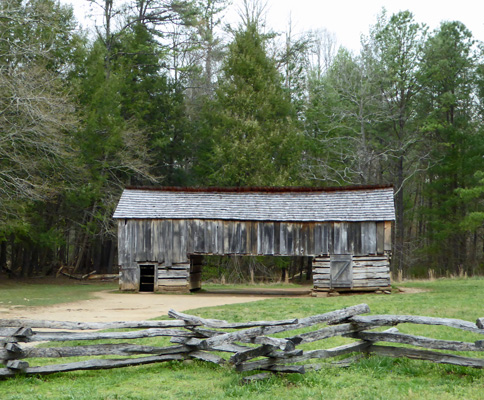 It began to sprinkle as we finished our tour of the Cable Mill Area and we hustled to the truck in time to not get wet. It continued to rain for the rest of our drive though we saw many more deer and several wild turkeys. This one was standing right next to the road along the fence line.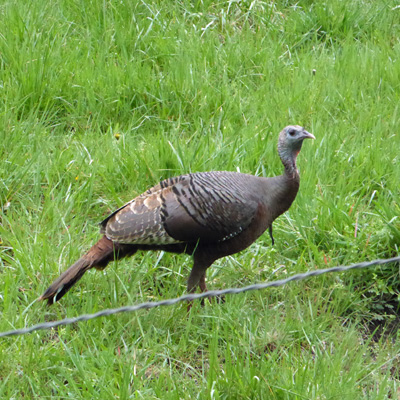 It was raining pretty heavily by the time we got back to the trailer so we just settled in to watch it for a while. By a little after 1 it let up enough so we could drag out the generator and put it under the picnic table while we ran it to top up our batteries. Once we turned off the generator we settled in for an pleasant afternoon reading. Along about 3:30 pm, the five turkeys we'd seen on Monday worked their way through the campground. At one point 4 of them spent quite a while pecking through the sand in our tent pad. I took this photo through our back windows.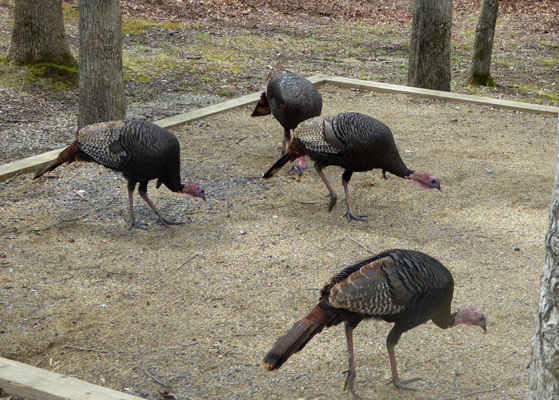 It was still in the 60's even with the rain and in fact made it up to 68 that afternoon. Then the wind kicked up and a number of folks who had been huddled in their tents gave up and broke camp and left. But one family came in about 6 or so and tried to put up their tent in the wind. They were still at it at 8 pm having had the box take off several times and the whole thing take off at least once. When we got up the next morning they were gone so we don't know if the wind got to them or the fact that it got cold and wet. Because by morning it was 39 degrees and raining lightly.
We broke camp—boy did my hands get cold in the process--and drove back to Raccoon Valley RV Park north of Knoxville again. It was time to do laundry and grocery shopping and Raccoon Valley is reasonably priced, has nearby shopping and a nice laundry room. I did laundry that afternoon and then at 7 that evening we went off to the Acoustic Jam Session. It turned out to be a bunch of locals who hold their song circle in the club house. Mostly they sang and played bluegrass and gospels. Walter brought his harmonicas and once they saw his collection they invited us to perform. I sang Summertime with Walter on the harp and that was well received. We really haven't been singing or playing much for the last year so we were pretty rusty and didn't have another song ready at that point. But later in the evening when they came around to us again we sang our old favorite "Before I Met You" which is genuine bluegrass. Folks came up to us afterwards to tell us 'you done good'.
It was fun evening, though their gospels were not the fun uplifting sort. They closed the evening by singing "Have you been bathed in the blood of the lamb?" Ick. But they were a kind and good hearted crew. There was a 90 year old fellow who sang and was just wonderful. I sat out in the audience and sang along with him and he started to flirt. We had great time. He sang "I'm too old to cut the mustard anymore" for his second round. He was a hoot.
I've never been to a song circle where there were people who just stood up and sang and everyone played along behind them. We can now say we've been to a REAL hill country jam session. We were pretty wired up afterwards and it took us both a while to get to sleep!
Friday April 7th, we did grocery shopping, visited the very nice library in town (it looked like an old stone Episcopal Church) and then when we got back I defrosted the refrigerator—all this humid weather has been hard on it. We may not have weeds to pull or gutters to clean but there are a whole other set of strange chores to do living in a trailer.
On Saturday April 8th, we packed up and got ready to leave. As we were pulling out we both noticed that one of our trailer tires looked a little low. Walter checked it (after we'd pulled out since we were hoping the gravel was just making it LOOK low) and announced it was dead. So we set up at the exit of the park and changed the tire. It's actually easier than changing a car tire but it's still a production and then of course we needed to add air to the spare. We have a compressor that Walter uses to inflate the tires but now we needed an electrical outlet. We found on next to the bar b que pit and finally after about 45 minutes we were ready to go.
We drove north up I-75 to Hwy 90 in Kentucky and then east to Cumberland Falls State Park to see Cumberland Falls. This is a big resort style state park with a lodge, cabins and a restaurant in addition to a campground, picnic areas, trails and the falls. With some difficulty we found the parking area for the falls and followed the signs to the bus and RV parking—and there wasn't any! We drove over into the picnic area and nearly got stuck in the parking lot but with a bit of arm waving Walter got us backed up so we could get out. We had lunch and then drove back to the entry to the falls. He dropped me off and drove two loops of the parking lot while I hiked out and took pictures of the falls. He's such a sweetheart!
The entry to the falls take you out to the top of the falls so I had to hike down river a ways to get a decent view.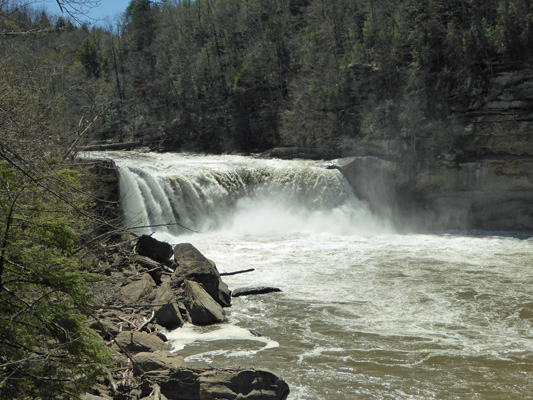 Then I hustled my way back up and caught Walter just as he was coming around to start his third trip through. Whew. We drove eastward on blue highways to Conley Bottom RV Resort on Lake Cumberland. It's off season here so the office was closed and there was a note to just pick a spot and they'd come and get our money.
With a bit of jockeying (we pulled into what we thought was a pull through but wasn't and had to back out again) we found a decent pull through and set up. We got water, electric and sewer and they had WiFi that worked! There's a cell tower just up the hill and Walter's phone worked but our hot spot didn't.
There's a big marina here and the parking lot at the boat ramp was busy. Lake Cumberland is the houseboating capitol of the world—or so said the sign as we came in. The view from our side door was pretty good and down by the water it was even better.

There's a lot of covered moorage which makes this part of the lake really smooth.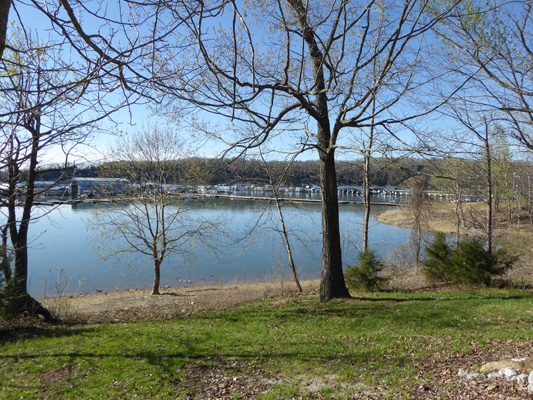 Sunset hasn't been a big feature of our adventures since we left Arizona but we had a nice one that evening at Conley Bottom.