On Sunday March 12th, we drove from Deming, NM down towards El Paso, TX and then east toward Guadalupe Mountains National Park. As we drove along, the mountains got bigger and bigger. From this side of the range you can actually see that Guadalupe Peak is the highest mountain in the range. It's the highest point in Texas at 8,751 ft and the second peak from the right in this photo.

The campground at Guadalupe Mountain National Park was full when we got there mid-afternoon, so we went on north and got a dry camping spot at Whites City just outside the entrance of Carlsbad Caverns National Park because their campground was full too. By late afternoon even the dry camping area was full and folks were heading further north to the town of Carlsbad where there are several more RV Parks. All this because it was Spring Break in Texas and nearly all of the state's schools were on vacation.
We got a bit of a sunset that night.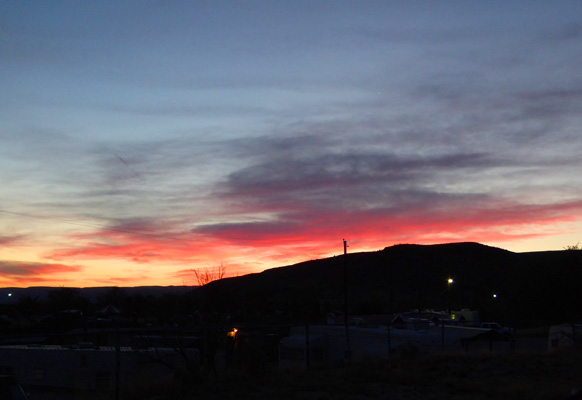 Then on Monday March 13th, we got up early and were at the Carlsbad Caverns National Park Visitor Center shortly before it opened at 8 am. We'd head that the lines the day before had been hours long so we did what we've learned works well at crowded National Parks, we got there EARLY. We got in line with the scattering of other folks who were there and got our ticket for the elevator down into the Big Room of the cavern (it comes with your entry fee but you do have to stand in line to pay it). Then we got in line for the elevator which doesn't start running until 8:30. Wonders of wonders we were in the first group of folks (16 people) to get to go down so we literally had the place to ourselves for a while. It's dark and extremely quiet when no one is around—which was simply marvelous.
There are restrooms and a snack bar and gift shop down where the elevator lets you off—750 feet below the surface (think 75 stories). And if you turn away from them you go directly into the dark. There are stainless steel hand railings to hang on to which is really helpful when you can't see where you're going to start and the trail is paved to protect the people and the cave. In the first section you go through, the walls are covered with a feature called popcorn—which makes everything look like it's chenille, but it's not soft and fuzzy.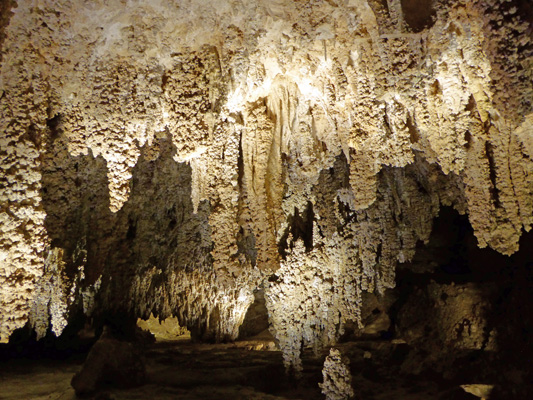 The Big Room is the largest limestone cavern in the Western Hemisphere—big enough to hold 8 football fields. It is full of incredible features like this huge column.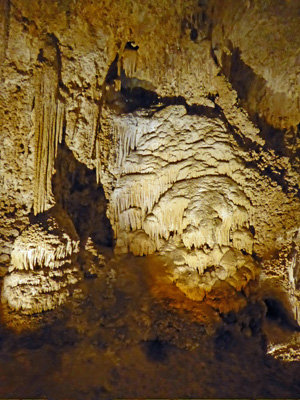 And it is decorated with wonderful draperies of all sorts like these that looks like hanging knives.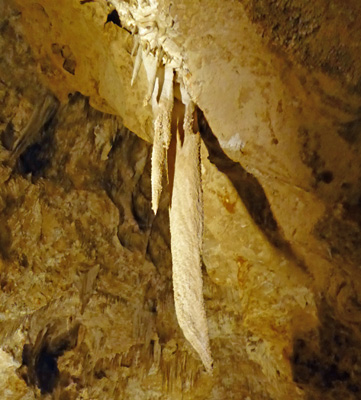 The first named feature we came to was the Lions Tails. Popcorn on the end of a stalactite sure does look a bit like a lion's tail hanging down from the ceiling.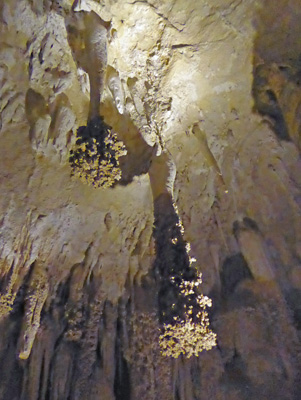 There are groups of these huge columns all through the cavern. I think that the big one is Giant Dome with the Twin Domes behind it.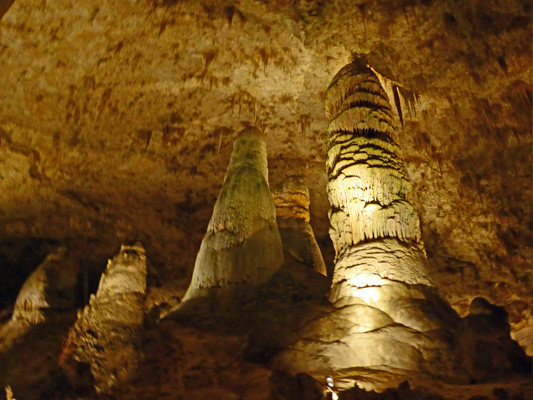 I found that getting good photos of the small stalactites that decorate the ceiling was really a challenge in low light.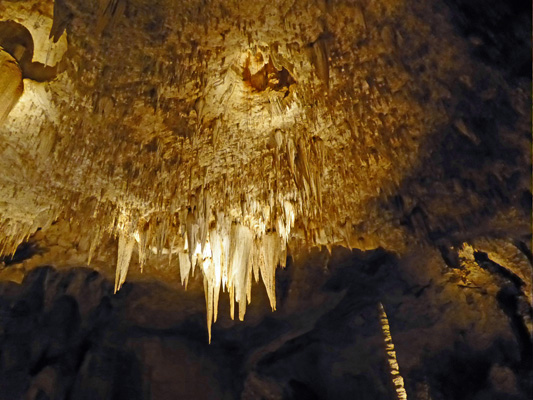 The larger 'chandeliers' were much easier.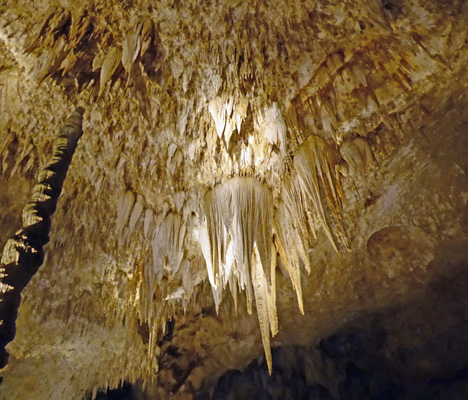 I didn't use a flash for any of these. Instead my camera used it's night-time settings to make multiple exposures and I tried to stand really still. There was one fellow with a tripod who we saw off and on setting up perfect photos but hey, we were here to walk the 1 1/4 mile trail and enjoy ourselves not for me to get perfect photos.
When we toured Karchner Caverns in Arizona a number of years ago, they told us about a kind of drapery that they called cave bacon because it had stripes in it like bacon. I thought that this looked like bacon.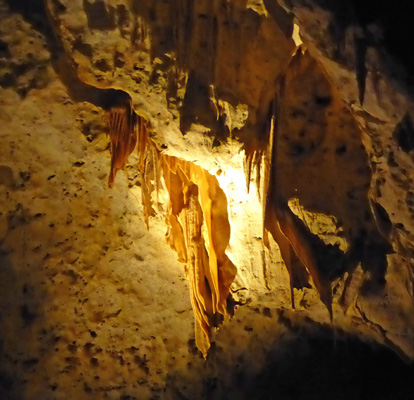 This stacked column looks like a wedding cake run amok to me.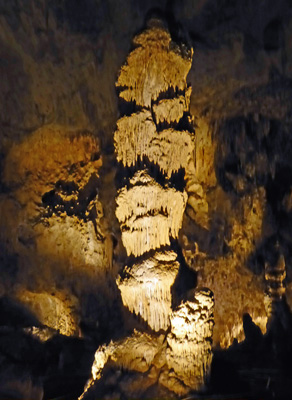 The trail is unlit but they focus lights on interesting features. Some make perfect little windows into fairyland.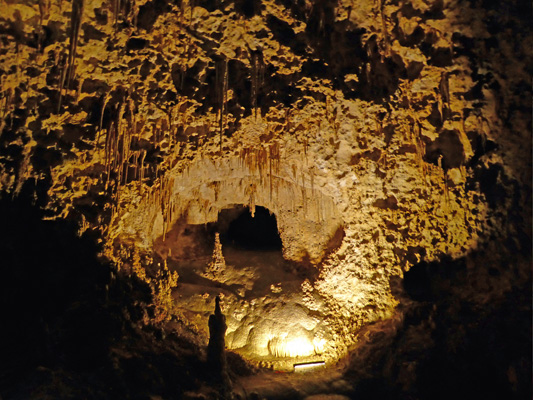 Carlsbad Cavern is mostly a dry cave but there is still a bit of water percolating through and thus there are little pools and a couple of formations that still are forming. You know me and reflections so I had to take this photo of some flowstone reflected in a small pond.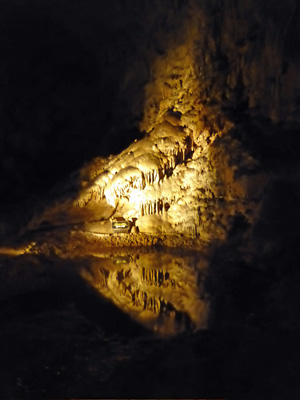 These back-lit stalactites came out nicely.
The really thin long stalactites are called soda straws because usually they're hollow at least to start. It's amazing to think that all these formations were laid down by drop after drop of calcite saturated water—Mother Nature at her most painstaking.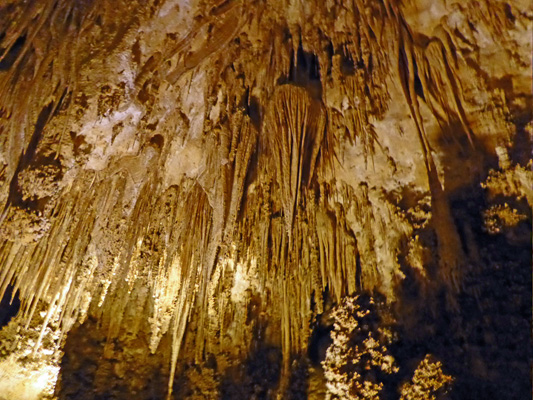 Here are some more draperies that look like cave bacon to me.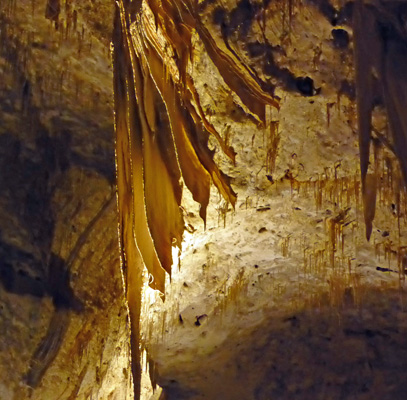 And some super soda straws.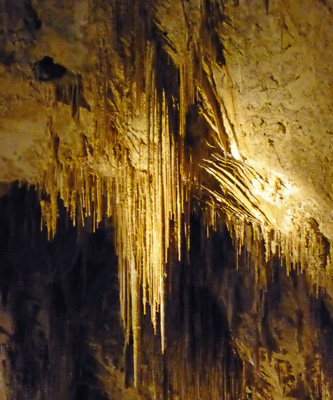 This monster column is called the Rock of Ages.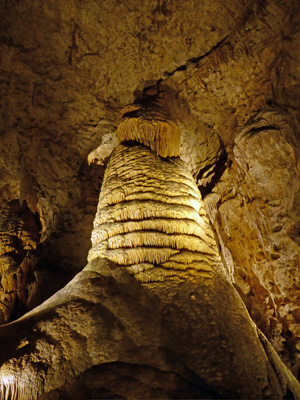 This bit of drapery and flow stone was only one of several all clustered in the same area.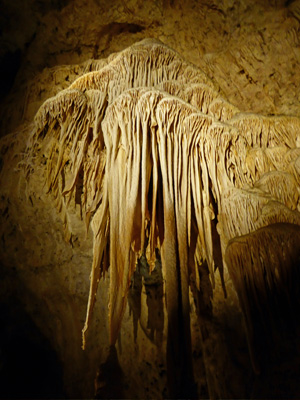 Here are several more.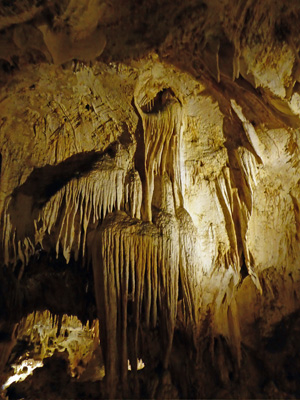 Then you come to several little side rooms that you can view easily from the trail. There's the Painted Grotto.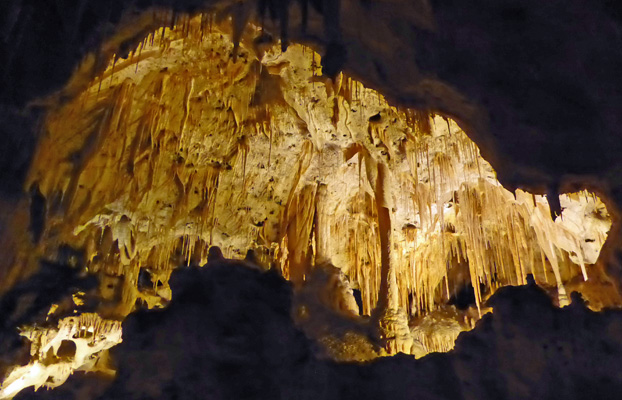 The Doll's Theater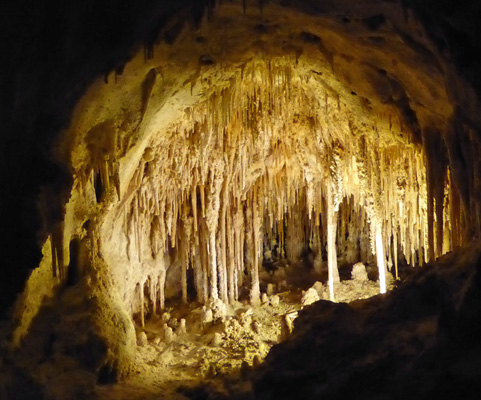 And the Chinese Theater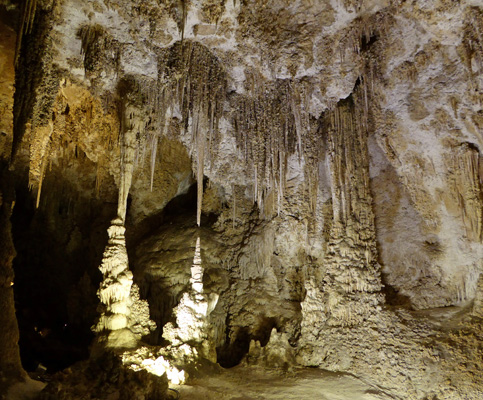 We spent about an hour and a half down in the cavern. Most of the time it was very quiet and we saw only a few people. But there was a point when a large group of people (may 10 or so) marched by at a rapid pace. We figured they'd hiked down from the Natural Entrance (a 1 mile hike with an 800 ft drop) and were just still hiking apace from that. It seemed a shame to me not to be stopping and enjoying what you could see but hey there are always folks who just want to run through.
There are ranger-led tours of other sections of the cavern but needless to say you needed reservations during Spring Break. We were both fine on it. I'd taken over 150 photos and we were both perfectly satisfied with all that we'd seen. When we came out of the elevator a little after 10 am the line for tickets stretched all the way back through the Visitor's Center and the parking lots were full. It had definitely been a good plan to get up early.
The Torrey Yuccas were just coming into bloom along the road in the park and so I stopped in a pull out to take some photos.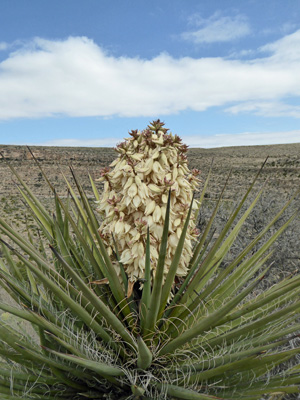 They're lots of them along the roadside.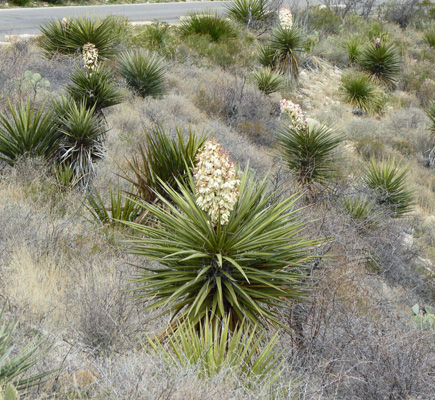 We spent the afternoon hanging out and watching the steady stream of cars heading up the road to the caverns and then in the late afternoon heading back down again. I suspect on busy days like this one, they have a heck of a time getting everyone up the elevator and out of the cavern at the end of the day. We saw lots of cars coming down well after 5 pm when the Visitor Center is supposed to be closed and the cavern is supposed to be empty. Aside from this one busy week during Spring Break, Carlsbad Cavern is busiest in the summer when in addition to the Caverns, folks come to watch the thousands of Mexican Free-tailed Bats fly out of the cavern's natural entrance each evening at dusk. The bats spend the winter in Mexico and arrive at the cavern in mid-May and then head south again in mid-October.
Tuesday morning March 14th, we packed up and headed north to Carlsbad, NM and then east into Texas and Central Time. Between Daylight Savings Times starting Sunday morning, getting up really early on Monday and then losing another hour on Tuesday we were totally confused about what time it was. We drove 200 miles to the town of Big Spring, TX in I-20. We got a spot at the Whip On In RV Park for just $25.50 a night with our Escapees Membership. It wasn't anything fancy but neither were any of the other parks in the area so we took it. They had WiFi that sometimes was great and sometimes was slow. And Walter never did figure out how to make their cable TV work. But their showers were nice.
Tuesday morning, we had called around looking for a place where we could get both the trailer and the truck inspected since we had 3 days to get it done once we were back in Texas. Nobody did them both so on Wednesday March 15th, we took the truck to the local quick lube place and waited in line to have them inspect the truck. These folks actually took the truck through its paces (which the guy last year in Livingston didn't bother with). It took about 45 minutes (most of it waiting in line) and then we paid our $7 and got our paperwork. Then we did our grocery shopping at the local HEB, which wasn't a particularly nice one. They didn't have a few things on our list so we went on down to the Walmart and finished up. Exciting day, huh?
Wednesday afternoon, we did some research looking for state parks where we could stay as we finished our trip across Texas. We got a one-night reservation for a full hook up site at Possum Kingdom State Park just north of Mineral Springs, TX. Then we found a second night in their dry camping area. For Saturday and Sunday we got a reservation for a full hook up spot for 2 nights at Cooper Lake State Park just outside of Mt Pleasant, TX. From there we'll be heading to Hot Spring National Park in Arkansas where the campground doesn't have reservations—and it will be Spring Break in Arkansas! Wish us luck.
Both days in Big Spring it was in the low 80's by late afternoon so we had the windows open along with the door. It sure felt like summer to me.
Thursday March 16th, we packed up and headed into town to the local RV repair shop to have the trailer inspected. There was no line there so it went quickly. They checked our lights and had us demonstrate that our brakes worked and then we gave them $7 and they gave us our paperwork. And we were legal again! From there we headed east on I-20 to Abilene, TX. We stopped at a Lowe's to pick up my birthday present (a new weather station since the old one is falling apart and seems to have gotten its brains cooked) and then headed NE to Possum Kingdom State Park north of Mineral Spring, TX.
We got a lovely water view site (for one night initially) on Possum Kingdom Lake where we backed right up to the picnic shelter.

We set up camp, paid our money and then settled in to enjoy the view. Our hot spot worked well though it wasn't particularly fast. Walter managed to get a few TV stations over the air but it was all religious—even the weather channel! Walter's phone worked but of course my Sprint phone didn't. In the early evening, a Northern Mockingbird came and sat on a branch outside our window and serenaded us beautifully—twice. Considering the fact that I took this through a window screen I think he came out remarkably well.
It didn't cool off in the night and was already in the 70's when we got up. We had breakfast and then headed up to the office to see if there might have been a cancelation in our campground section. And wonders of wonders there had been! Since you don't reserve particular sites in their system, just the type of site, we didn't even have to move! What a wonderful stroke of luck.
We paid our money and came back and opened up all the windows and set out to take a hike before it got too hot. There's only one trail here, over on the far end of the park near the primitive campsites. It was a loop and we took it in the counterclockwise direction while everyone else on it appeared to go the other way. The trail loops around a little peninsula and we stopped at the end to enjoy the breeze and the view.

This is a reservoir, as are all the lakes in Texas. It's called Possum Kingdom because back in the early 1900's there was a fellow who bought animal skins down in Mineral City and he called the area Possum Kingdom because it was the best source of Possum hides around. The name stuck and when the created the reservoir they named it Possum Kingdom.
There weren't a lot of flowers in bloom but I did spy these little white daisies in amongst the rocks. They were the size of English Daisies, the ones that grow in the lawns in the NW.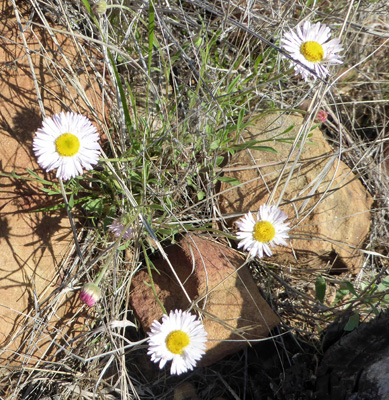 There were also a couple of little alliums (wild onions of some sort) in bloom too.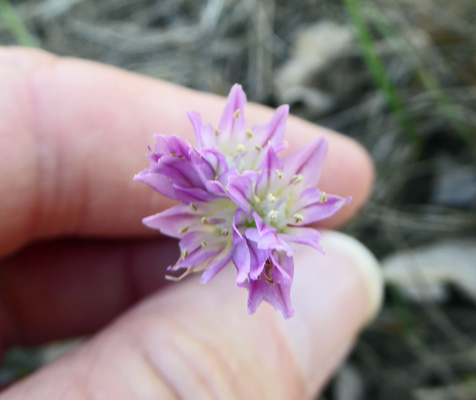 And on the south side of the loop there were a lot of these small yellow daisies.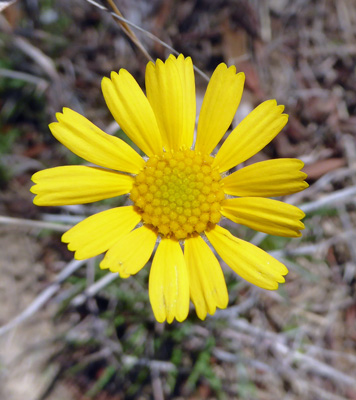 Instead of having little wooden signs with arrows on them someone had made up pieces of fence stake with bent rebar welded on top and painted yellow.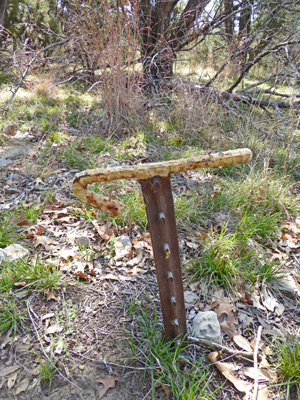 They had a very bad fire year in Texas in 2011 (it burned an area the size of Connecticut) and 90% of Possum Kingdom State Park burned then—but not the trail arrows. We saw some burned trees but a lot of them clearly survived at least near the lake.
Near the end of the trail we saw a number of these tiny white daisies which are clearly different from the English daisy look-alikes.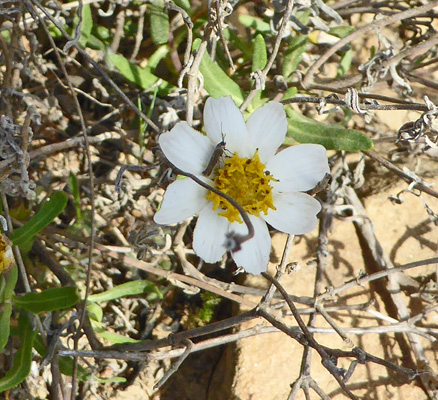 And the purple verbena (that looks like the sand verbena we saw in California and Arizona) was just starting to bloom too.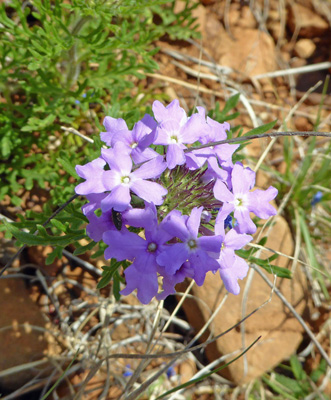 It was in the low 80's by the time we got back and the humidity was about 50%. Thank goodness there was a breeze. We sat in the shade of our picnic structure and cooled off. A lizard scampered up along the road while we were watching, always doing push ups when he stopped to case the joint.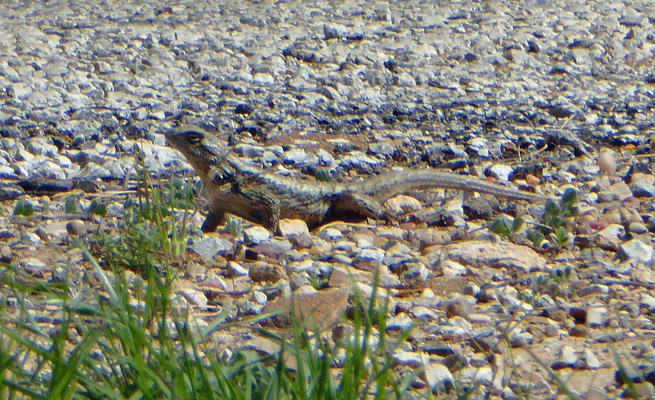 And the Northern Mockingbird came back and sat on the same limb and sang.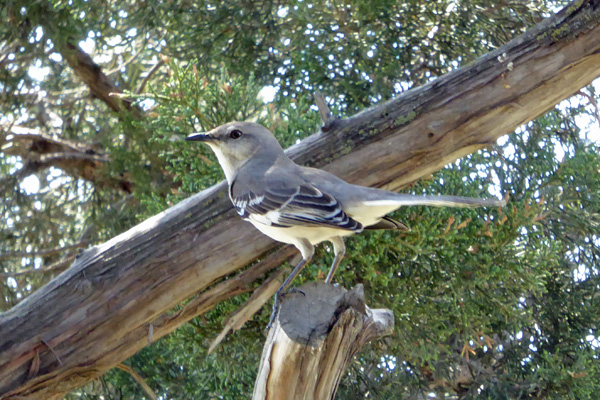 The temperature hit 87 in the afternoon and stayed that way for hours so we had all our windows open. It was supposed to continue to be that warm for the weekend but we were heading east where it was a bit cooler.
There weren't a lot of boats out on the lake (the water was still really cold) but this sailboat did come by a couple of times.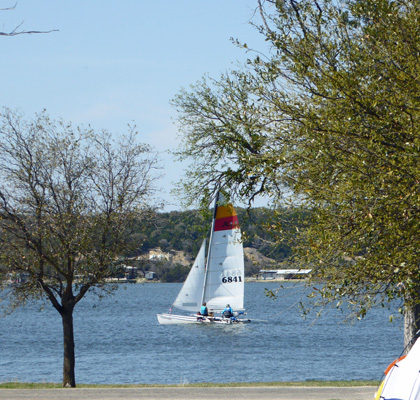 And it was hot enough that the kids were out standing in the lake in the swimming area late in the afternoon but I didn't see any swimming going on.
We had enough of a sunset to light up the lake but it didn't last long.
The birds here were really nice. I spotted a mountain bluebird and a cardinal up in the trees outside our windows and of course we had the mockingbirds singing their hearts out all day.
On Saturday morning we packed up and headed northeast through the city of Denton, TX and then east to Cooper Lake State Park. We could have taken the interstate but that would have meant driving through the heart of Dallas/Fort Worth and neither of us was interested in that even on a Saturday. So we drove the blue highways and aside from the areas directly north of Dallas/Fort Worth things moved along just fine. We arrived just before 5 pm and they assigned us a nice side pull-through site in the Bright Star Camping Area. It's along the lake but only about 3 of the spots actually have a like view.
It had been over 80 when we left Possum Kingdom and it slowly cooled off as we went east. There were scattered clouds and it was about 74 when we arrived but it was fairly humid. The trailer was hot from being in the sun as we drove so we opened up the windows and it slowly cooled off. By 8 pm it was 66 outside (and 85% humidity).