Saturday June 10th, we moved from
Blackwoods Campground in Acadia National Park
on Mount Desert Island to Schoodic Woods Campground on the Schoodic Peninsula also in Acadia National Park. It's about an hour and a quarter to hour and a half drive between the two campgrounds because you have to drive off of Mount Desert Island and inland a ways and up the coast and then out a ways on the Schoodic Peninsula to get there.
Schoodic Woods is a brand new campground designed by someone who really understands that even folks with larger rigs like to camp in the woods in sites that are well spaced yet not so deep in the woods that you can't see. All the RV sites have water and electric and are pull throughs. We got a looooong site (155 feet) with water and electric for $25 a night with our Senior Pass (normally it's $45 a night). And to top that off they had free WiFi that worked most of the time (it just got real slow in the evening when too many people were using it). We set up camp and had lunch and then took the drive on the one-way road that goes around the tip of the peninsula counterclockwise from the campground.
The first stop on the drive is Frazer Point. Until 2005, this was as far as folks could drive on the Peninsula. The Navy had a facility out on Schoodic Point and the whole area was closed to the public. They moved out in 2005 and the land (which had been donated to the National Park by Rockefeller and some of his friends to get the Navy to move off of Mount Desert Island) reverted back to the National Park.
There's a nice picnic ground here and a pier that goes out a ways. I walked out on the pier and shot this photo looking inland.

And this one looking into the bay.

Winter Harbor is the small town just right of center. In the far distance on the left is Cadillac Mountain over on Mount Desert Island. The lumps in the foreground are islands in Frenchman Bay.
We drove on and got one nice view after another from little overlooks along the bay.
At one overlook we got a look at Turtle Island behind Bird Rock and its lighthouse with Cadillac Mountain looming over it all.

There were Beach Peas (Lathyrus japonicus) in bloom here and there.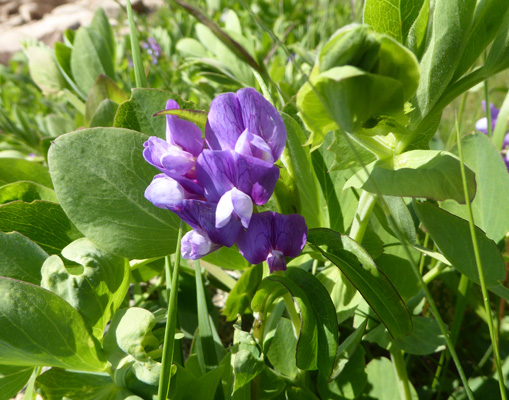 And the inland side of the road was lined with bunchberries (Cornus canadensis). I have never seen so many in one place before. They went on for miles.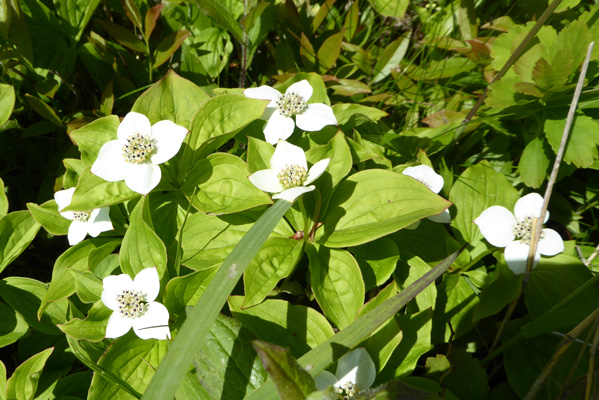 As we drove out the Peninsula the Egg Island Light got closer and closer.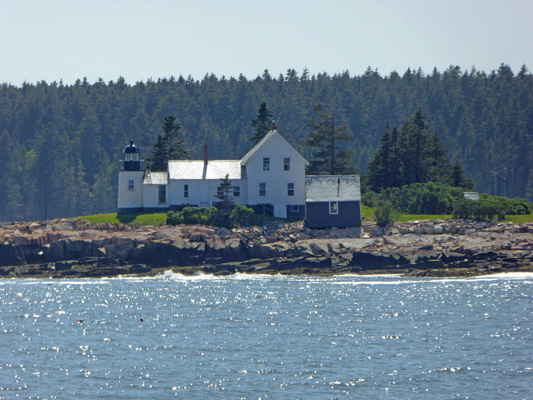 Schoodic Peninsula Granite has smaller crystals and more fractures than the Cadillac Mountain Granite that makes up most of Mount Desert Island. These fractures allowed newer flows of magma to intrude into the Schoodic granite to form Diabase Dikes. These dikes are dark colored and they're softer than the granite so they erode faster forming nooks and crannies for soil and for interesting places for the ocean to intrude.
Here's a Diabase Dike in Schoodic Peninsula Granite—out on Schoodic Point.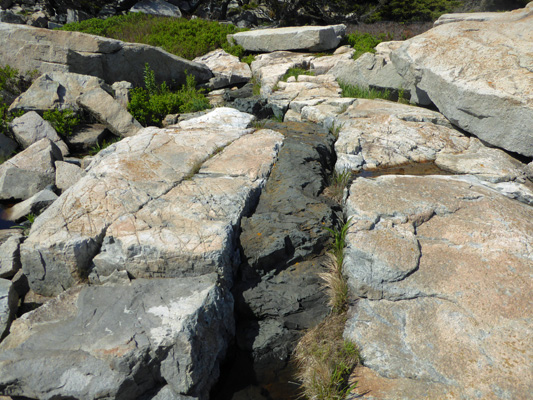 Schoodic Point is a gorgeous place. You've got views out across Frenchman Bay (it sticks quite a ways further out into the ocean than Mount Desert Island) and lots of great surf on the rocks.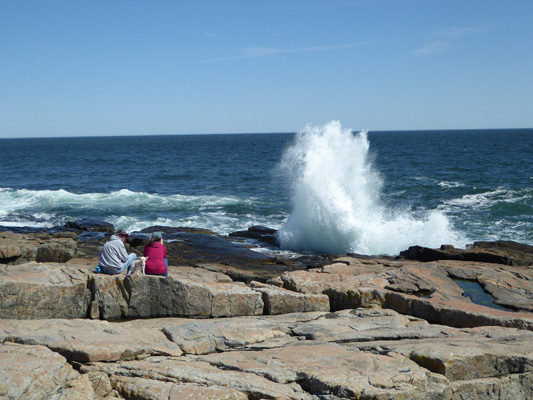 It was pleasant inland but a little brisk out on the point even with a fleece. But who cares when you've got these kinds of fireworks to watch?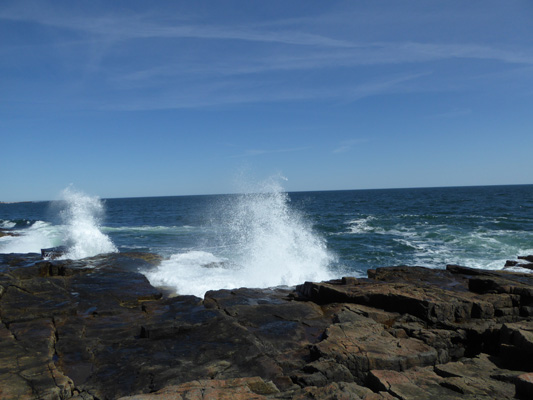 There's a great cleft in the shoreline (eroded Diabase Dike perhaps?) where the water crashes up with great gusto.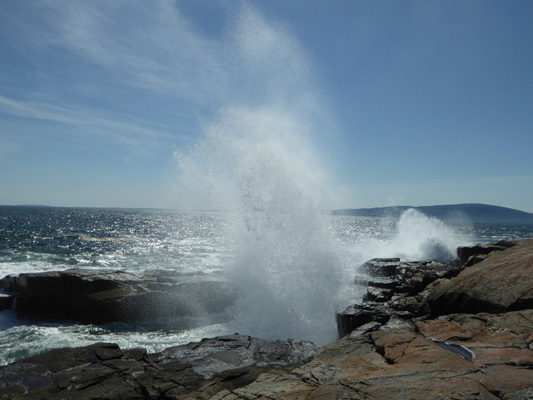 One of the little local tour boats came by while we were there. It looked a little cold and rough but folks were having fun.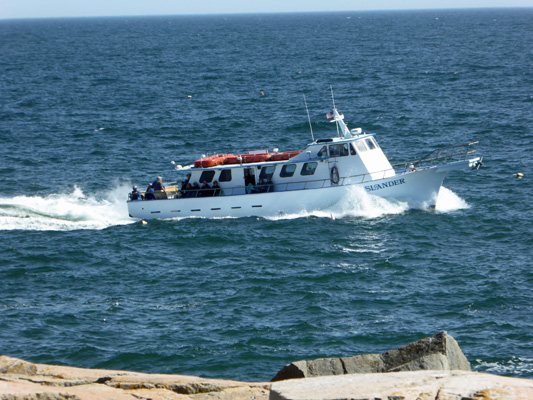 I could have spent the whole afternoon shooting pictures and watching the surf but I took pity on Walter and we hiked back to the truck. There was a large patch of Field Chickweed (Cerastium arvense) in bloom in the parking lot. It's such a pretty weed.
Sunday June 11th, we had yet another gorgeous sunny day. After having a quiet morning at home we set out to visit the Schoodic Research and Education Center Campus out near Schoodic Point. This campus was part of the Naval Station that was here until 2005. It's now been converted to a really nice facility for education programs, research scientists and conferences.
The original officers' quarters (which Rockefeller had had designed) remain as a museum and visitors center. It was built by the park service in the 1930's and the navy used it as an apartment building for years.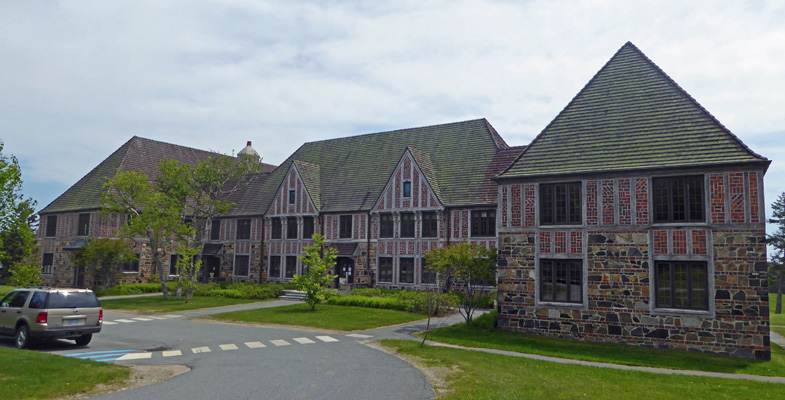 We got a parking spot up by the Eliot Hall (which looked like a meeting room building) and took the Sundew Trail out into the woods.
All of Schoodic Peninsula feels much wilder than any part of Mount Desert Island that we visited. That is of course because much of it has never been inhabited—or at least not for over 80 years. These woods were full of Northern Starflower (Trientalis borealis).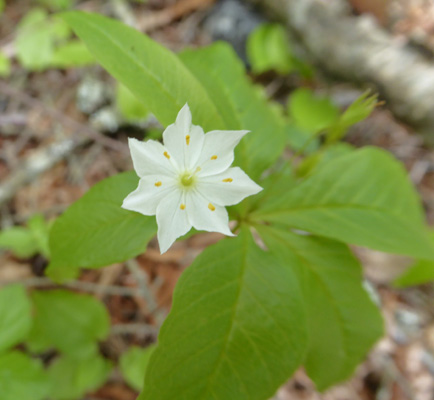 And more bunchberries (Cornus canadensis).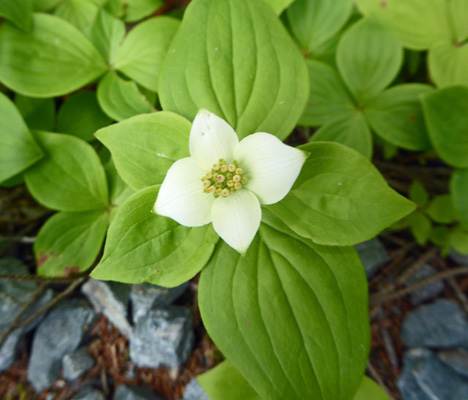 The moss was rich and deep.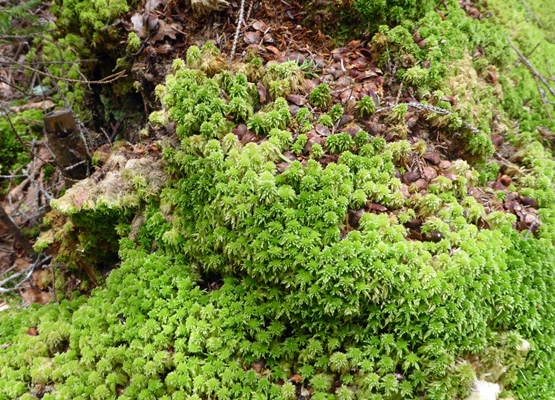 And there was tons of Reindeer Lichen (Cladonia rangiferina) everywhere (even in our campsite back at the campground). We saw lots of this in Alaska where the caribou like to browse on it.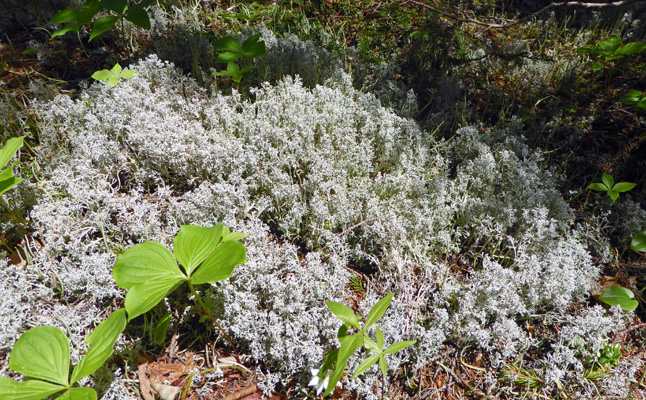 We took a side spur (which was pretty muddy in places) out to the shore for more views of Frenchman Bay and lovely pink rock with more black intrusions.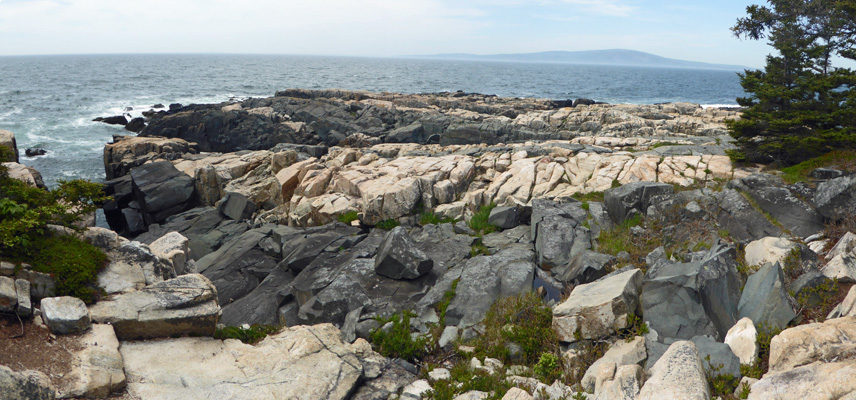 And surf.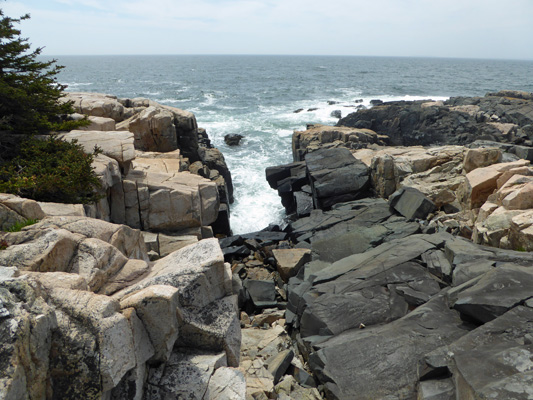 There was a pair of nice benches to sit on and enjoy the view.
And there were flowers too, including Red Chokecherry (Aronia arbutifolia)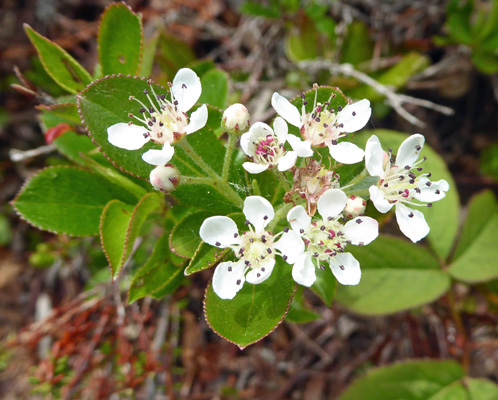 And masses of bunchberries.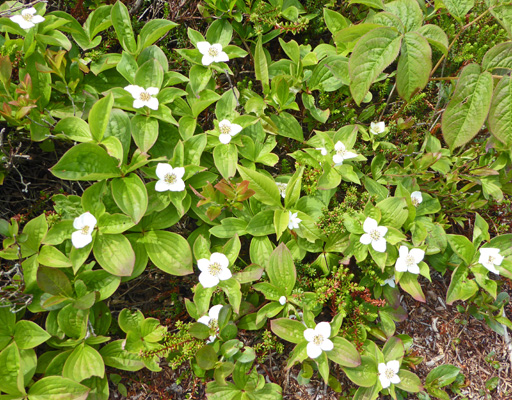 You get a great view of Cadillac Mountain from here.

And more surf

We both liked the shoreline at Schoodic much better than at Mount Desert Island. It's more accessible and the surf is super.

We returned to the trail and passed up the last a side trail (that turned out to not be very long but oh well) that gave you a view of West Pond Cove and continued on over a long boardwalk. We didn't see any sundews on the trail but I did spy some Sweet White Violets (Viola blanda).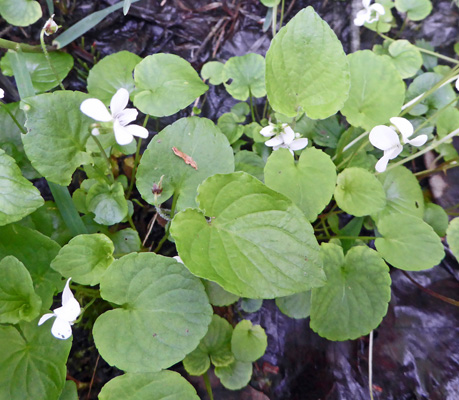 And several good-sized patches of really cool fungus.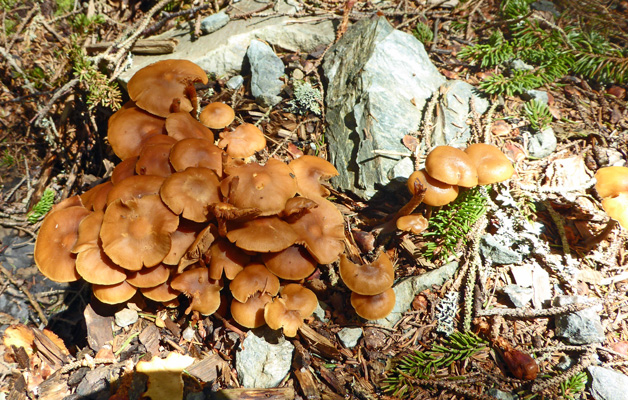 the END of the trail we found a great map of the trail. We'd asked for one at the Gatehouse when we arrived and they didn't have one. But if you start the trail at the Picnic Pavilion and the Heliport there's this very nice map to show you where you'll be going.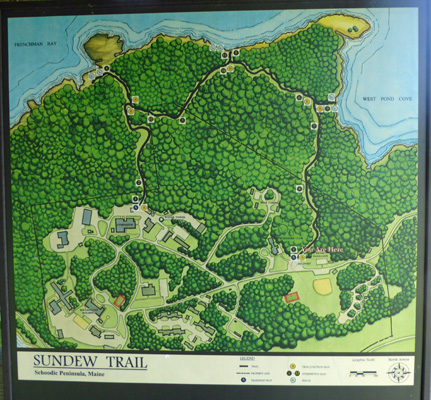 We walked on back to Rockefeller Hall and talked with the folks who are volunteers there. They'd done a number of other camp host gigs and were really enjoying this job manning the information desk. The second half of the summer they were going to be interpretive hosts at the National Historic Site on San Juan Island in Washington State!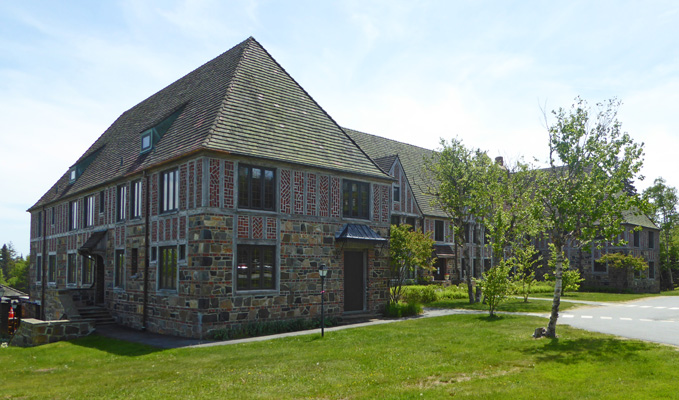 The museum here tells you a bit about Morse Code and Navy communications (which was the focus of this base) and has a bunch of great kids' hands on displays about being out in nature.
From here we hiked back up the hill just a ways to our truck and then continued on the one-way road around the peninsula again (the only way out) and back to the campground. There is a shuttle bus that you can take on this road (and out to the little town of Winter Harbor where there's a passenger-only ferry to Bar Harbor). It was running already—because the ferry was running—but it was only running once an hour. And since parking wasn't a problem anywhere we went we didn't bother with it. You can hike or ride your bike on the one-way road and when you poop out you can wait for the bus and they'll pick you up—bike and all.
That afternoon, we dragged our bikes out of the pick-up (a major process) and pumped their tires up since we hadn't had them out for nearly a year. It only took about 1/2 hour but you know how it is. If the first thing you have to do to go riding is do 1/2 an hour of set up and when you're done do 1/2 hour worth of fussing to get them folded back up and loaded back into the truck, you think twice before you even do it at all. We used our bikes a lot when we were camp hosting the first year at Lake Cascade but we haven't used them that much since.
It was warmer on Sunday with temps in the high seventies and we enjoyed a nice brisk breeze that kept things pleasant even in the trailer. It had gotten hot in the trailer first thing in the morning since we'd had all the windows closed so we left the awning out that night (and the windows open) and that helped some on Monday morning. But it was in the high 70's to start the day and it just got warmer.
We took the bikes out for a spin around the campground since those roads were paved, but neither of us were nuts about taking them on the gravel bike paths. I had gotten a very flat tire on gravel our first year and we're both aware that our bikes really are just street bikes not off-road bikes. So having toured the campground we came back and had a down day—what a concept! We sat outside for a while and discovered that the blackflies liked the warmer weather. Juicy morsel that I am I got eaten alive and ended up with several large lumps the size of 50 cent pieces that itched like the devil—for days.
Tuesday June 13th, it was yet another sunny day. It hadn't cooled off much in the night and we'd left all the windows open and it was still in the 70's inside when we got up. Check out time was at 10 am so we hustled to break camp and hit the road. We drove back to Mount Desert Island and Blackwoods Campground where we had a reservation for 2 more nights.
We got another pull through no hook up site (they have no hook ups at Blackwoods) for $15 a night and set up camp. Then we headed to the little town of Southwest Harbor to do laundry. Southwest Harbor is on the west half of Mount Desert Island and since we hadn't seen that half we decided we'd combine an outing with doing the laundry. The only problem was that the Laundromat that I'd found on-line was closed for remodeling. But we were lucky enough to be directed to another one in town (it just took us a while to figure out where it was) up by the grocery store. It was an odd place that looked like it had been a gallery or a high end real estate office that had now been converted to a laundry with high efficiency machines. By this time it was just plain hot outside (88 degrees) and the air conditioning in the Laudromat wasn't working so it was 85 inside. But we got it done and had our lunch sitting in the shade while the clothes dried. It wasn't a very clean place (the floors were badly in need of mopping) but hey the clothes got clean.
Once the clothes were done we drove south along Hwy 102 and 102A to visit the Bass Harbor Lighthouse in yet another section of Acadia National Park. The lighthouse isn't open for touring. In fact it's the residence for the local Coast Guard Commander. It must be hard having all those tourists troop past your house.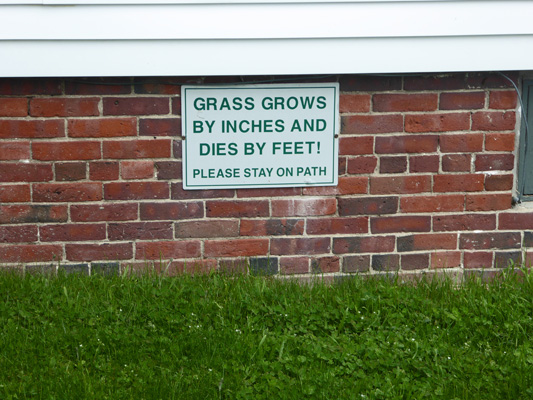 There are two paths to view the lighthouse. One takes you down a paved path and right up to the lighthouse (and keepers house which is attached). It's only 32 feet tall and it wasn't electrified until 1949!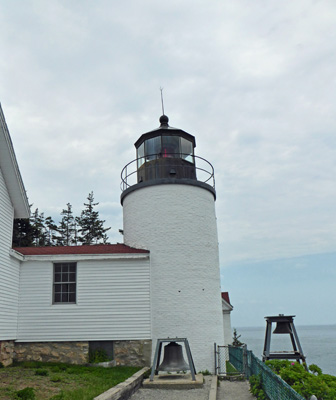 A tour boat motored by while we were there.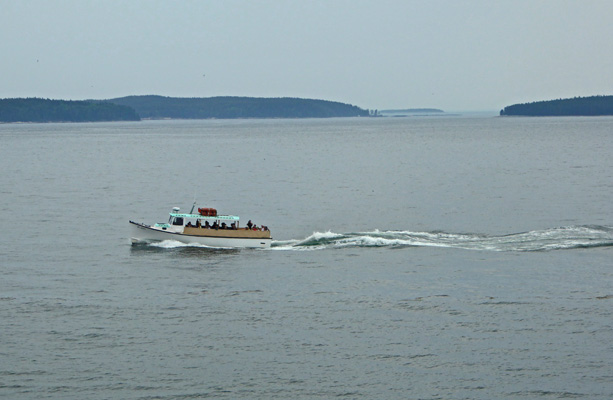 And the first of the rugosa roses I've seen everywhere were in bloom with the heat.
The more picturesque view of the lighthouse comes if you take the path on the east side of the parking lot which isn't paved. It goes through the woods, down several flights of wood stairs and then several flights of stone steps and out onto the rocks.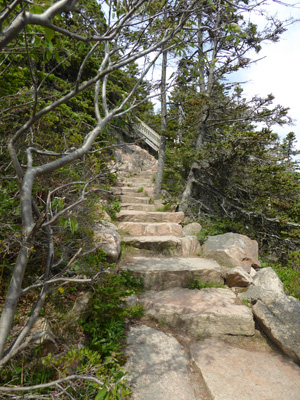 I scrambled out onto the rocks, raised my camera and a kid up hill from me stepped right in front of my view of the lighthouse. So I yelled out him, "Hey, you're in front of the lighthouse!" and he moved a bit.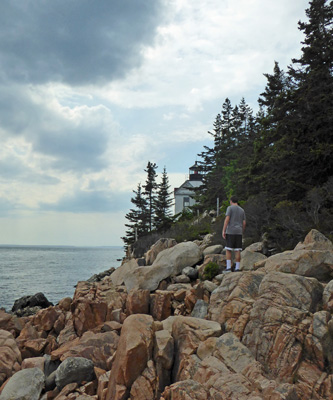 Here's the view zoomed in a bit.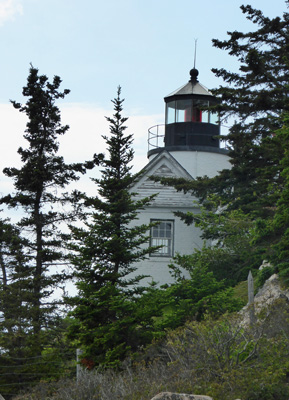 This light flashes red for 4 seconds and then pauses the same amount of time before it flashes reds again.
It was genuinely cool here with the temperature a very pleasant 78. Everyone was thrilled since it had been so hot everywhere else. I met someone who said it had been 93 over on Mount Desert Island. By this point we were tired so we turned back towards Southwest Harbor rather than completing the loop of the island on rural roads.
Between the time we arrived at Schoodic on Saturday and departed on Tuesday morning, the lupine had come into bloom along the roadsides. On our way back I stopped by the field of them overlooking Southwest Harbor.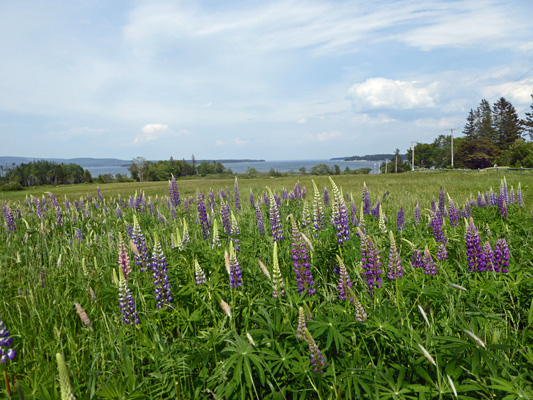 Mostly they were purple but here and there you see a white one or a pink one.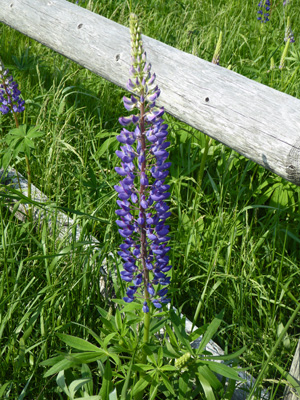 This is lobster fishing country and not all of the traps are out in the water. We drove by this driveway FULL of lobster pots(traps). They're stacked 4 high and line the whole driveway.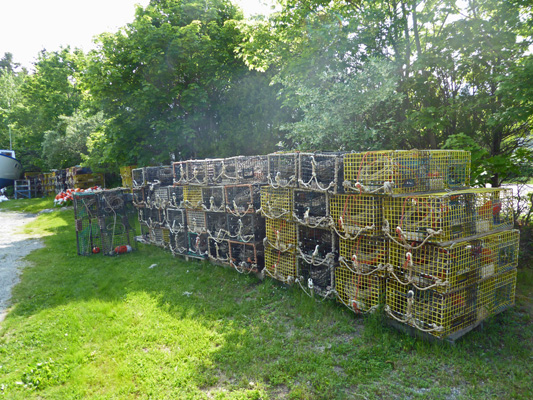 And directly across the road there were more.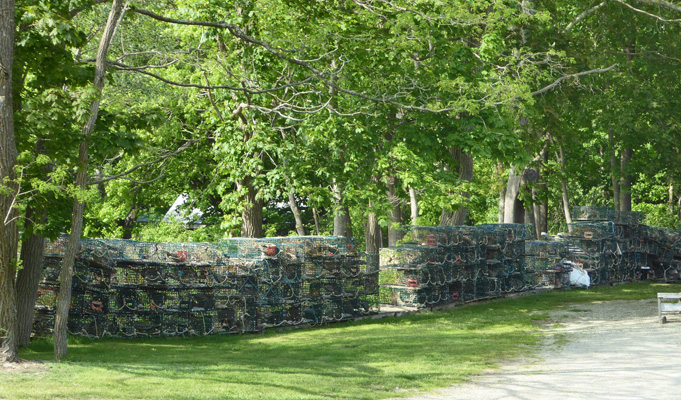 As we drove back the temperature slowly rose until it hit 88 again before cooling down to 85 at Blackwoods.
It was still 69 when we went to bed that night but the weather turned over night and it was much cooler on Wednesday June 14th. We had appointments to have our teeth cleaned in Bar Harbor so we were up early to get there before 10 am. We were early enough so we had time to drive through town to the Post Office and pick up our mail (General Delivery really is wonderful) and still get back with time to spare. We had a great visit with Dr Reznik, DMD who had a brand new office (which she'd had built). She'd gone to school in Portland OR so we could chat about east vs west coast and what it was like to be French (which she is) living in the US.
Having finished with the dentist (look Ma, no cavities) we went on and did our grocery shopping and were back at the campground by a little after 1 pm. The high was only in the low 70's which was a major relief after the heat the day before.
Thursday morning June 15th, we packed up one more time and headed northeast up through Maine to the Canadian border crossing in Calais. We got across the border without a hitch, even learning that the limit on bringing alcohol into the country is per person so we were allowed to bring in our 4 remaining bottles of Trader Joe's 3 buck Chuck without a problem.
We drove just a few kilometers farther east to New River Beach Provincial Park in New River New Brunswick where we got an electric only site in the campground there for $27.90 per night (they cost $31 per night but there's a 10% senior discount). We set up camp and then took glorious hot showers in their shower house. The place was clean, the water was hot and the water pressure was good AND it wasn't cold and drafty.
It was cool and a little cloudy in New Brunswick but we were happy since it wasn't HOT. Our phones don't work in Canada and neither does our hot spot—none of them have international roaming. So we were thrilled to discover that they had free WiFi at the office that we could use.
On Friday we'll drive into Saint John, NB and get a Virgin Mobile Canada pay-as-you-go phone that will at least provide us with an emergency phone while we're in Canada but no data. We're going to be dependent on free WiFi as we were when we traveled back before we went full time.