We awoke on Sunday August 6th to rain. It poured for a while in the early morning hours but by the time we broke camp mid-morning it was only raining lightly with big drops coming mostly from the trees overhead. We had planned to drive Highway 3, The Lighthouse Trail, along the coastline but it was foggy and visibility was poor so we opted instead to take Hwy 103 south for a little over 55 miles to the Lunenburg area.
We had a reservation at Little Lake Family Campground for 3 nights at $38 a night plus tax (making it $43.70 a night) for a 3-way (full hook up) site. Their WiFi was unstable. It would work for a while and then not at all most of the time. There are a lot of folks here for the season and all it takes is one person streaming to take the system to nil... Even when it seemed there was no one around we wouldn't even be able to sign onto the network. But as usual our phone worked just fine. Walter found a couple of TV stations over the air too.
The rain had stopped by the time we arrived and while there were clouds off and on the rest of the afternoon it didn't rain again. Instead it got hot and humid. We opened up all the windows and had a quiet afternoon. I even took a nap. Yes!
That evening we had a nice rosy sunset.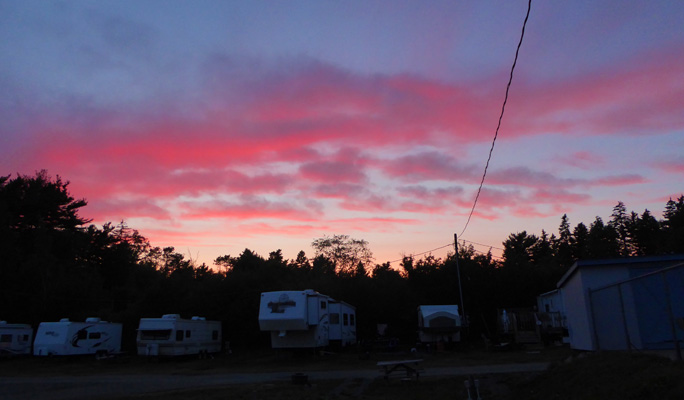 Monday August 7th, dawned sunny and beautiful. We puttered around the house for a while and then packed a lunch and headed to Historic Lunenburg. First stop was the neighborhood-style hardware store where we picked up a few things we've been seeking for quite some time. Then on into the historic section of town. We found a parking spot just down from the post office but there was a parking meter and we didn't have change. So Walter drove around the block while I hiked to the post office to get postage for a card and to get change. But the post office was closed! The federal and provincial employees had the day off for Halifax's Natal Day. I stopped in a coffee shop to get change and our parking spot was still there when Walter came back around. We fed the meter 50 cents and then realized we probably didn't have to since it was a holiday!
Historic Lunenburg is a UNESCO World Heritage Site and a Canadian Historic District. It is considered the best surviving example of a British Colonial grid-pattern street layout in the Western Hemisphere and is also recognized for it's authenticity as a working town. The British recruited folks from the Upper Rhine region to settle the town and in 1753, a group of 1,453 German, Swiss and French farmers landed here to start a new life. Lunenburg may be laid out like a British Colonial town but it sure doesn't look like a typical one. The settlers had a whole different view of how to paint houses than your normal Brits—no brown or gray here. And now the town is known among other things for it's brightly colored buildings.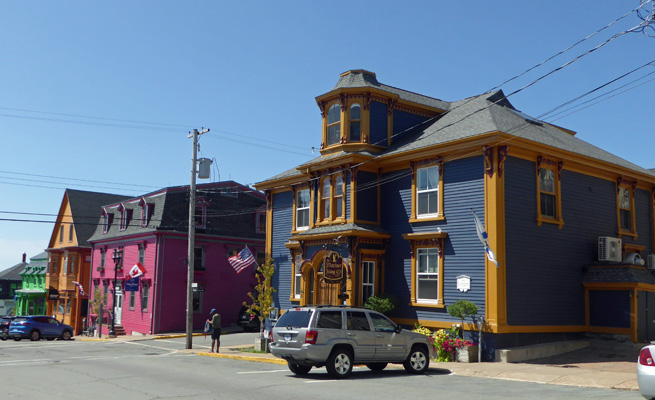 We headed down hill through town with me snapping photos as we went.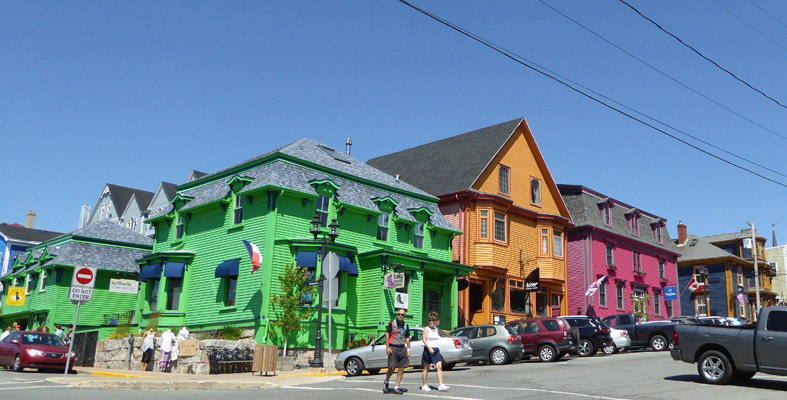 All roads lead down to the waterfront and the Fisheries Museum of the Atlantic.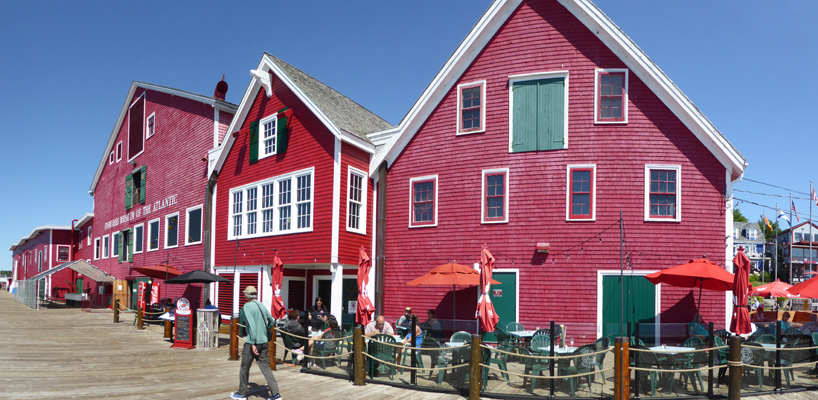 They have a number of ships docked in front of the museum including the Cape Sable, a side trawler. These ships replaced the schooners that fished the Great Banks until the early 1940's.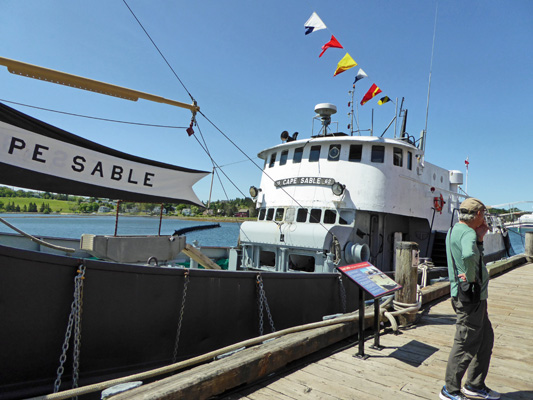 Normally the Bluenose II, a replica of the Bluenose (the fastest schooner of the 1920's and 1930's), would be docked here too. But she was out with the other tall ships completing the summer racing season.
Lunenburg is a very upscale town with lots of very nice restaurants, galleries and shops. And the harbor is home to a fishing fleet and a lot of very nice pleasure craft.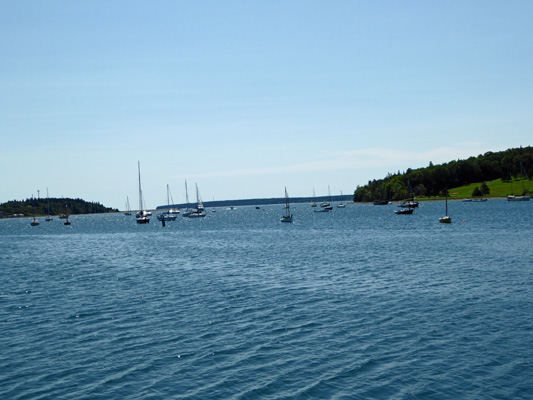 They have the upper jaw of a Fin Whale lying on the wharf but the lower jaw is up on the wall of the museum, calling out to have its picture taken.
We wandered back through the colorful streets and came upon this chalkboard menu—perfect for our beer-loving friends. Look at all that fun stuff along with the IPA's—Holy Mackerel Pale Ale!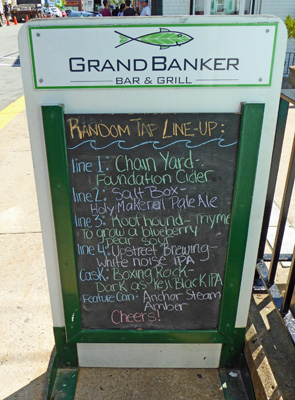 The houses from the 1700's are smaller but they're still colorful.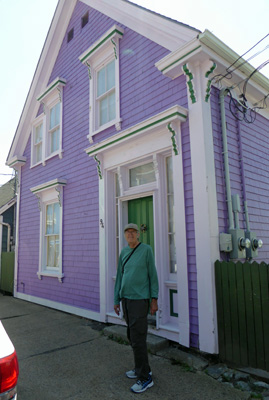 In 2002, the town of Lunenburg commissioned a set of 44 fish (the top 20 fish and shellfish landed by the area's fisheries) to hang from the light posts of town. Laurie Fisher—I kid you not—was the artist who produced them. They add a delightful extra flare to everything, even though I don't know what they all are. These may be mackerel.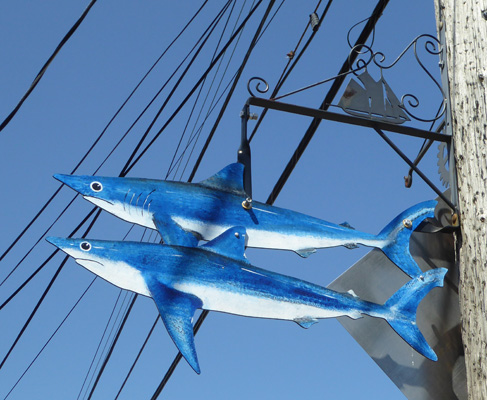 We followed Montague Street back through town. There is not a beige or white building in the lot.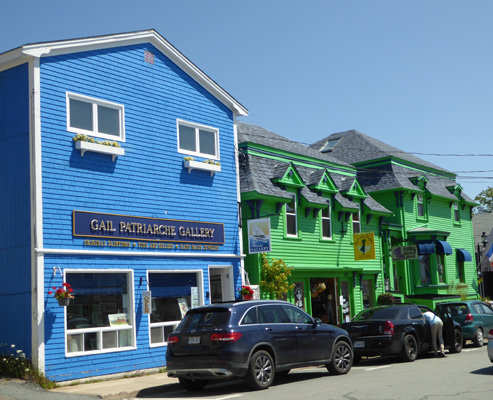 There were scallops on the light posts and on the menus. They are in season right now.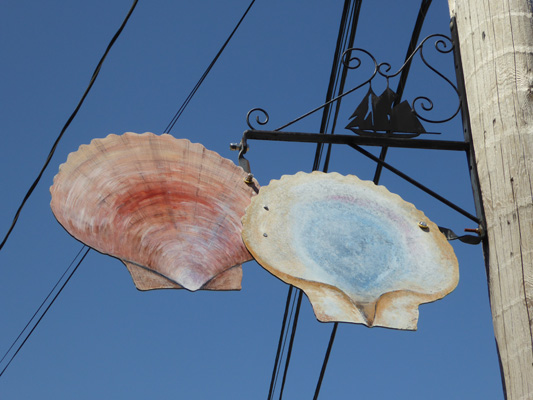 And a squid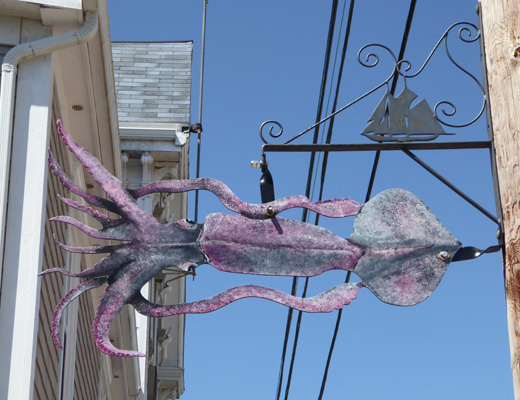 We made our way back up the hill past this lovely house.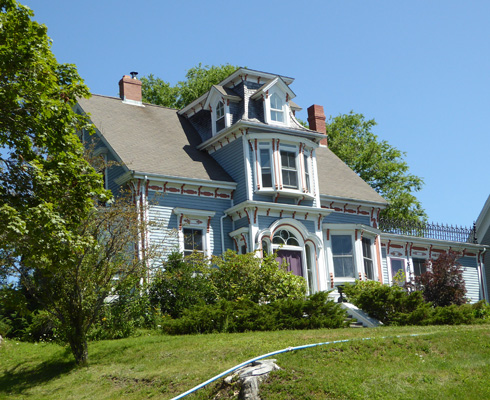 And one more catch of the day.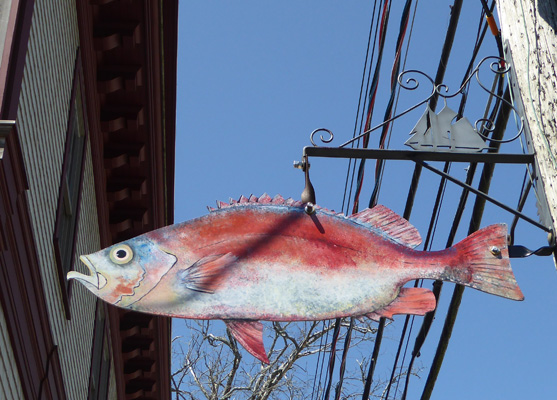 From Lunenburg, we drove out a winding little road to Blue Rocks, a small community with lots of water views and nice houses.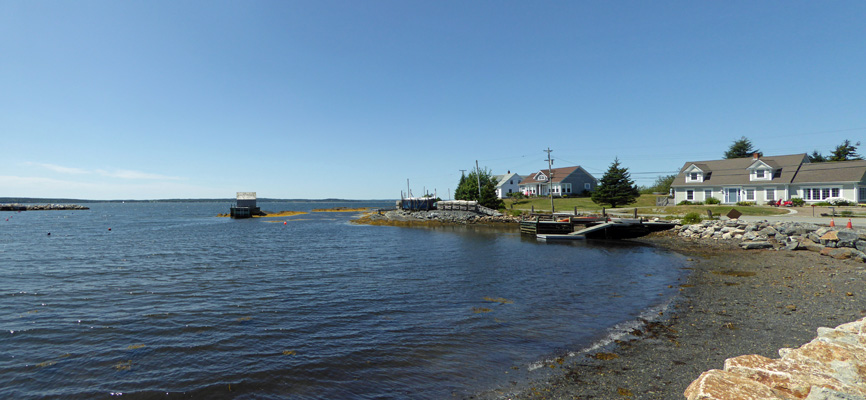 The rocks aren't very blue—they're gray slate—but they are picturesque.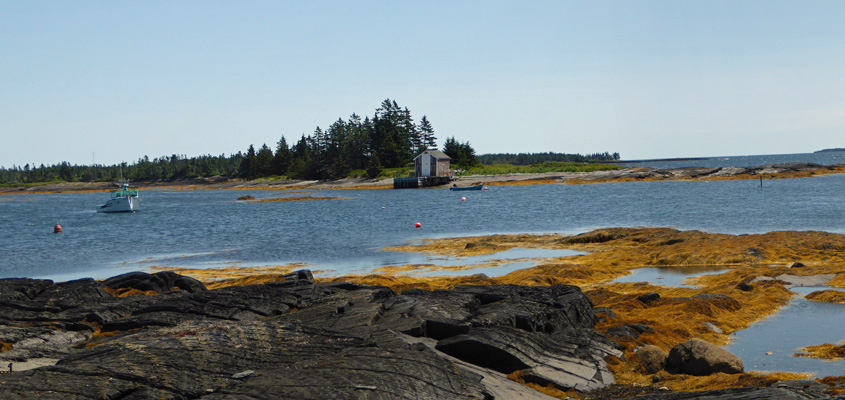 And at the end of the road there's a little bay that's popular with sea kayakers.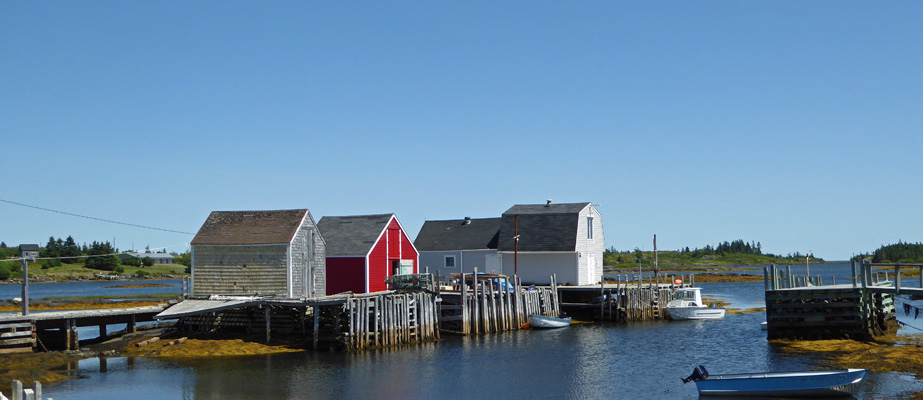 We drove on back towards Lunenburg and then swung north a short ways to Mahone Bay. This bay has over 100 islands in it and a really nice marina area with tons of boats at anchor. Here's just a little slice of the view as we came into town.

There were more pleasure craft here than we'd seen our whole time in the Atlantic Provinces combined. The town was crawling with people too, just as Lunenburg had been. Parking was at a premium so we drove on through town past the crafts market and the restaurants and galleries and around the end of the bay out towards Indian Point. There was a little pull out where we stopped so I could take an iconic photo of the Mahone Bay—its three waterfront churches.

We followed the road on out to Indian Point past lots of high-end summer homes until we came to the public pier. There was parking there so we stopped and had our lunch and watched the sailboats and motorboats cruise on by and a couple of guys fish off the pier. We followed the road its end and when we turned around I stopped to take a shot of this portion of the bay.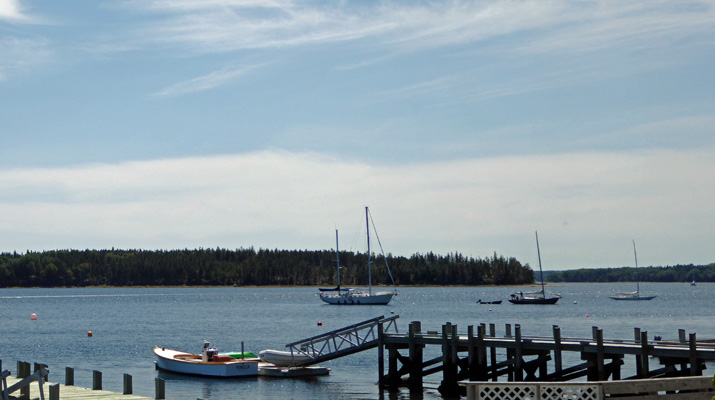 Clearly, the area between here and Halifax is a popular place to have big beach houses. And the folks who own them bring lots of money into these towns too—along with the tourists.
That evening we had just enough clouds for another nice sunset but a few too many for anything but a smudgy view of the full moon.
Tuesday August 8th, it rained pretty much all day. Folks here were glad since the lawns had begun to turn brown and there'd been a burn ban on over the weekend that surely will be lifted with the rain on Sunday and Tuesday. We made reservations for our next 6 days of camping and then set out for a drive. We headed northwest on Hwy 3 to Bridgewater where we managed to find the OLD post office before we eventually made it to the new post office where I finally got the postage for my card. Happy Birthday Brian Donaghu!
Bridgewater is the big town in the area and they had all the expected shopping none of which we needed for a change. We drove back south out of town on Highway 3 and then took Hwy 332 along the LaHave River through the towns of Upper LaHave, Middle LaHave and LaHave Ferry. There's a cable ferry you can take from LaHave Ferry over to the actual town of LaHave but we decided that we didn't need to do that in the pouring rain. We continued down to Riverport and found a place to pull off the road and have our lunch overlooking the water. Then we took the side roads down to Kingsburg and out to Hirtles Beach. This is a lovely sandy beach with nice rocky cliffs and boardwalks. But it was really wet so we stayed in the car and wondered about the pile of bicycles abandoned in the parking lot—all with plastic enclosed directions on their handlebars. I guess the sag wagons had taken the riders off and would return for the rest of the bikes.
Here we turned back and followed the road along the shore and back to the campground. All in all this was a lovely way to spend a rainy day. The houses facing out on the river and the shoreline were lovely—many older homes with nice architecture. They had colorful Adirondack chairs out on their docks and there were lots of nice gardens to look at. But I have no photos because it's hard to take photos of things like that as you drive by in the rain!
On Wednesday August 9th, we packed up in warm humid sunshine and drove about an hour south on Hwy 103 just past Liverpool to Hunts Point on Hwy 3. We had a 3-night reservation at Fisherman's Cove RV and Campground. They gave us a 2-way site (electricity and water hook ups) near the office for $37.95 a night. We were grateful that our spot had some shade and we opened up the windows to keep things cool. Then we headed back to Liverpool to do the grocery shopping. Having completed the scavenger hunt that is grocery shopping in a smaller town (two grocery stores and the provincial liquor store) we went home and had a late lunch.
The WiFi at Fisherman's Cove was wonderful. It worked the entire time we were there and it was always fast and available. No doubt it didn't hurt that we were right next to the office. But in any case we were grateful after 6 days of spotty WiFi. Our phone worked here but there was no TV.
On Thursday August 10th, we had mostly sunny skies when we set off south on the Lighthouse Trail (Hwy 3) following Carmine the Garmin's directions. Nova Scotia has clearly not given Garmin an update of its highway changes for a number of years because she tried to have us get onto Hwy 103 on an entrance that was closed off by boulders. Back in Antigonish she tried to have us get off at an exit that no longer existed. The good news is that Walter had noticed a sign just a few km back that pointed to Hwy 103 so we turned back and sure enough there was a nice new connector road taking us onto a new section of Hwy 103. We continued south until we came to the signs indicating the exit to the Seaside adjunct of Kejimkujik National Park.
We followed the signs pointing us to the park which took us on a rather degraded paved road that became dirt for a while and then was poorly paved again. When we arrived the parking lot was nearly full but there was still room for our big truck. This section of the park preserves a bit of wild coast that includes a nice sand spit that is a nesting area for the Piping Plover. The only way to access the park is on a trail that heads out through the very dense coastal thicket that is mostly about head high but has a few trees mixed in too.
There were Roundleaf Orchids (Platanthera orbiculata) in bloom along the edge of the trail.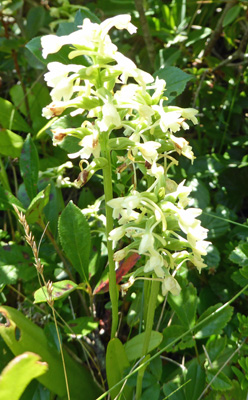 And tons of wild roses (especially out along the coastline).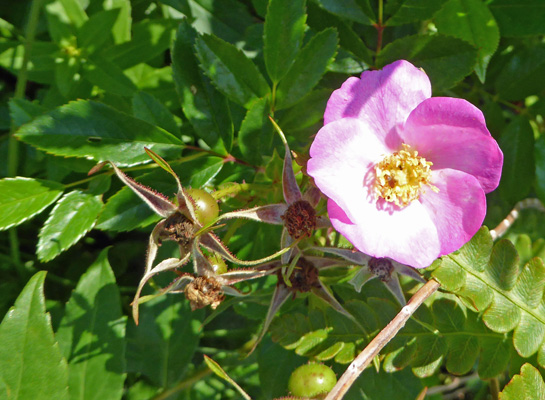 Here and there we saw New York Asters (Symphyotrichum novi-belgii).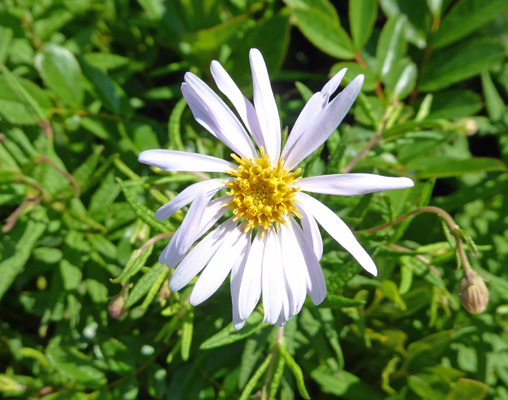 The trail itself was lines with Meadowsweet (Spiraea alba) in both white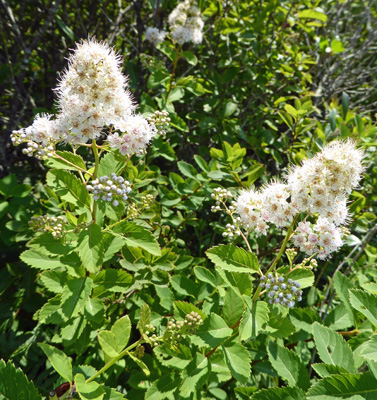 And light pink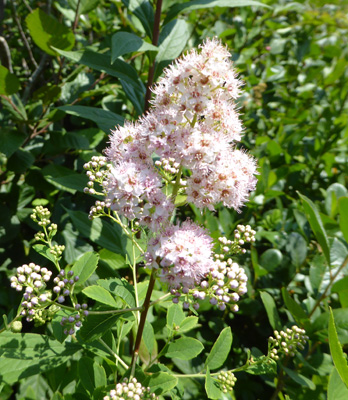 The trail had a very gradual upward incline and when we reached the top there was a nice bench in the shade that we sat and to enjoy the quiet. There were bunchberries (Cornus canadensis) full of berries growing in the shade.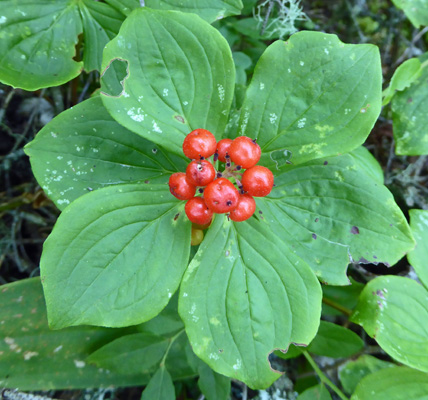 As the trail heads downhill it goes through a boggy area where there were Pitcher Plants (Sarracenia purpurea).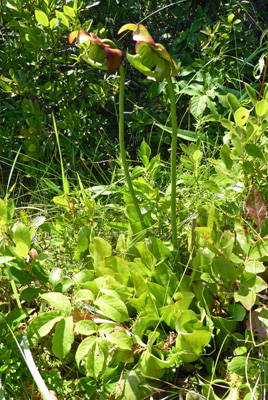 Rusty Cottongrass (Eriophorum chamissonis)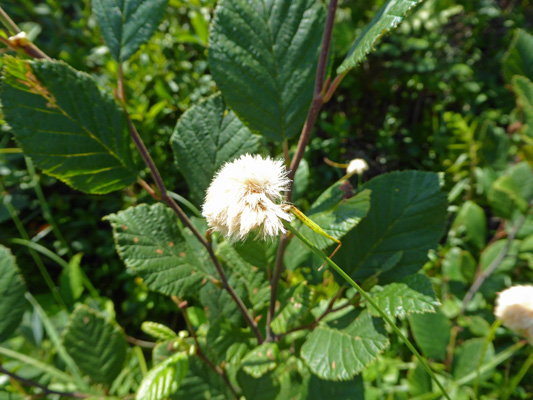 And White-Fringed Orchids (Platanthera blephariglottis).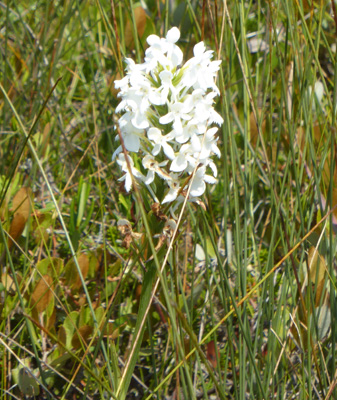 Here's a close up so you can see the fringe on the edge of the lower petals.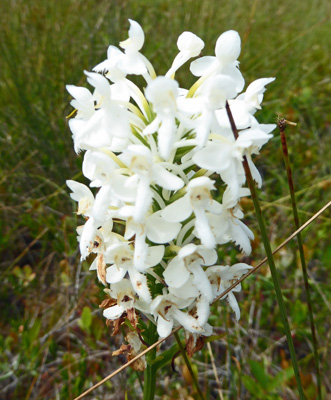 There's an look off not far from the shore, though the view is slowly being lost to trees blocking it. It was a pleasant place to sit and enjoy the breeze on the way down and watch the fog rolling in on our way back up.
We got a better view from the trail as it descended. The park includes that entire gorgeous expanse of white sand.

After about 2.2 km the trail arrives at the shore. There's a nice little sandy beach to sit on.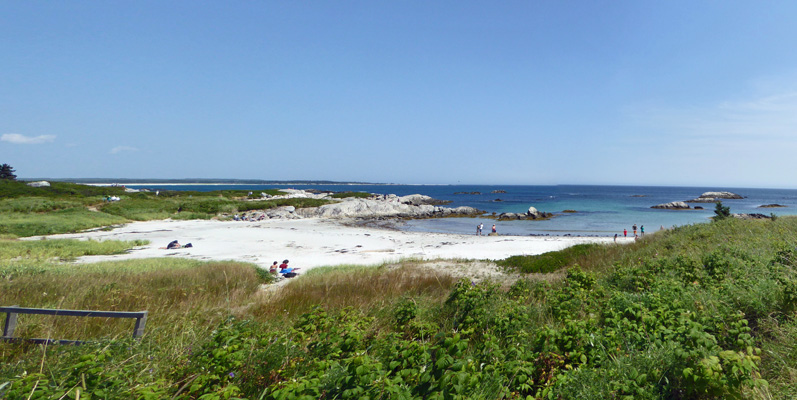 And the kids were out in playing in the shallow water.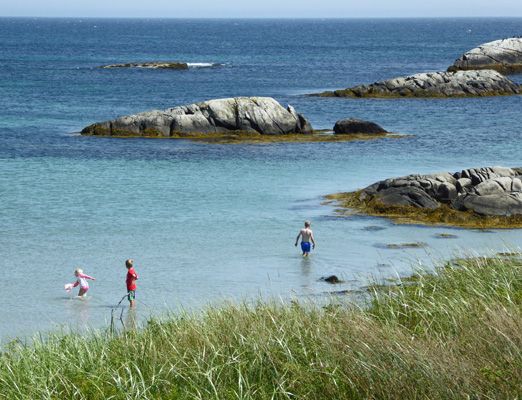 The trail is called Harbour Rocks and guess what? Those rocks out there are the Harbour Rocks.

The rounded rocks in the far distance was covered with a flock of cormorants.
We followed the trail across the beach and up over the rocks to a lovely look off complete with red chairs.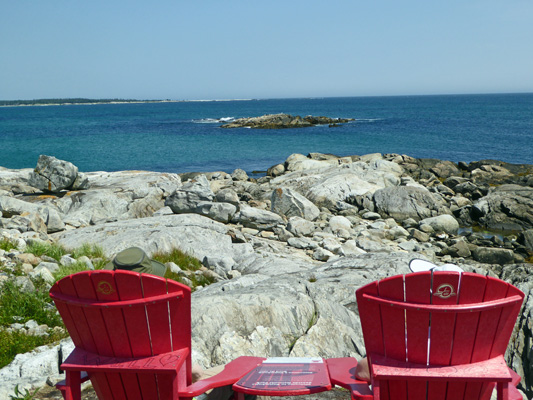 The rock straight ahead had Harbor and Grey Seals on it.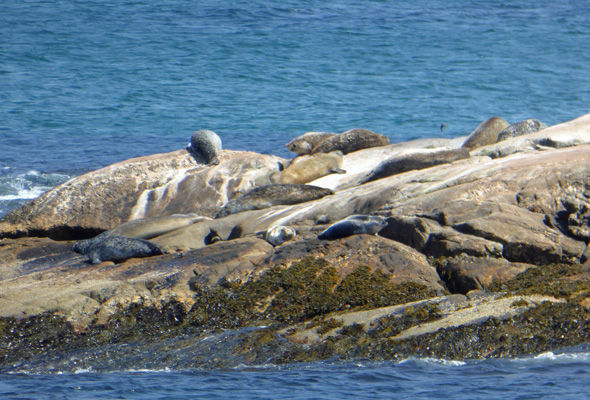 There was a good-sized grey seal lying on top of a rock that was just below the waterline so it looked like he was floating along. They're kind of funny looking and distinctly different from the harbor seals.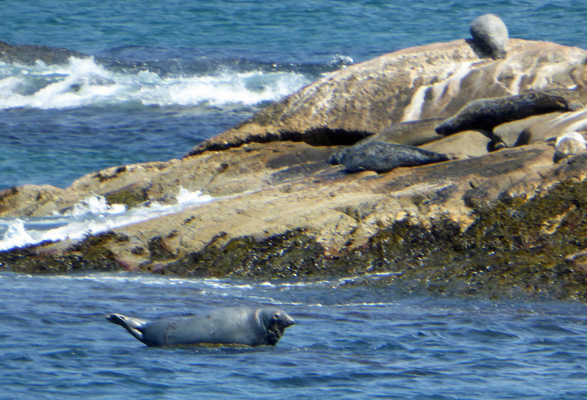 There were two or three seals out playing in the water but it was such a nice warm day that most of them were just basking and not moving at all.
Here's a shot of the view southward where the seals (and the people were playing).

We waited a while and finally got a turn sitting in the red chairs.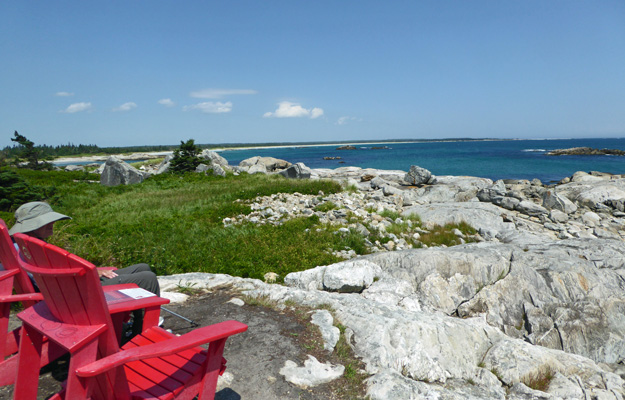 It was just a perfect day for it. It was warm but not hot and the breeze off the water made it perfect.
After enjoying the view and talking with folks about the seals we headed on back up the hill where we welcomed the break at the look-off where we watched the fog come swirling in.
On our drive back to the trailer we found a nice little pull off with a view of the water where we had our picnic lunch before completing the journey home.
On Friday August 11th, we drove about an hour inland to the main portion of Kejimkujik National Park just outside of Caledonia. It's a pleasant drive through a few little towns but mostly just second and third growth forest. Keji, as it's known by the locals, is both a National Park and a National Historic Site. It protects the Mersey River and Kejimkujik Lake plus an important Mi'kmaw Cultural site that includes petroglyphs. In addition, it's home to many lakes in a wilderness area that you can access by canoe or kayak.
We stopped at the Visitors Center and watched their movie (we had the theater to ourselves) and looked at the displays and then continued along the park's main road to a series of look offs over the Mersey River.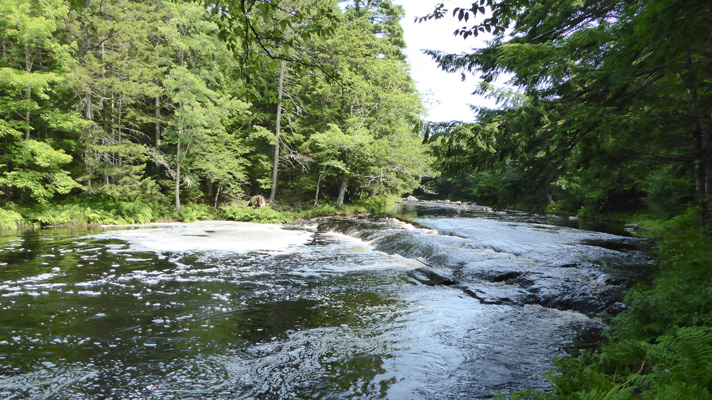 The Mersey is clear but dark brown, stained by the tannin in the water. And there's lots of foam formed as the river heads over small rapids because there's saponins in the water.
The water was moving at a pretty good clip but the trees sheltered it enough to make for great reflection photos.

This is all second growth forest but there is a stand of old growth hemlocks deep in the park.
We drove on to the next look off where it was even more peaceful.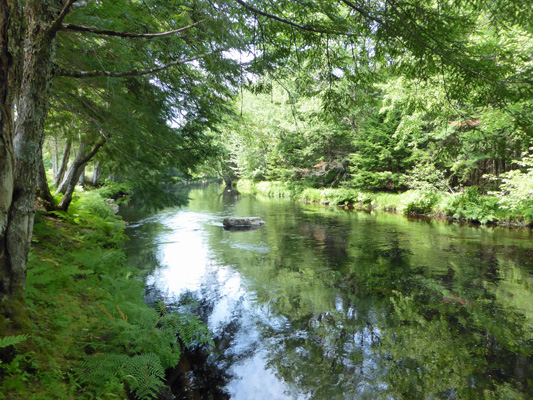 And on to one last stop along river.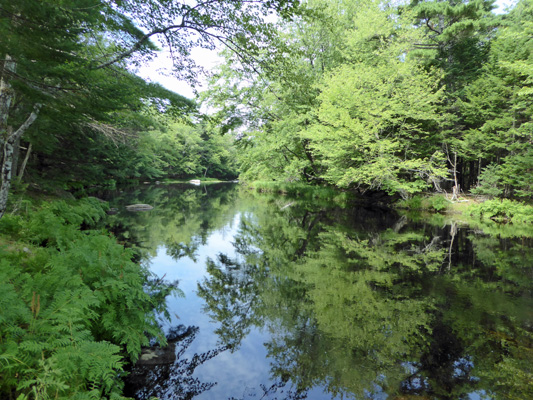 Where the reflections were stellar.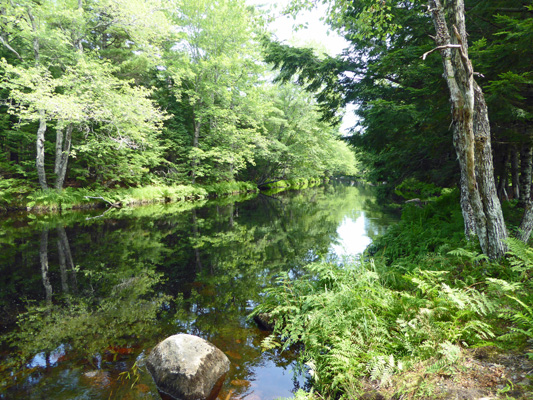 Later in the day when we drove past this area again, it was full of people in inner tubes and inflatable rafts. So I feel really lucky that we got it to ourselves!
We drove out to Jakes Landing where they rent canoes and kayaks. It was a perfect day to be out on the water. It was 80 degrees and hardly any wind. But we weren't dressed for kayaking so we left the boats in the back of the truck.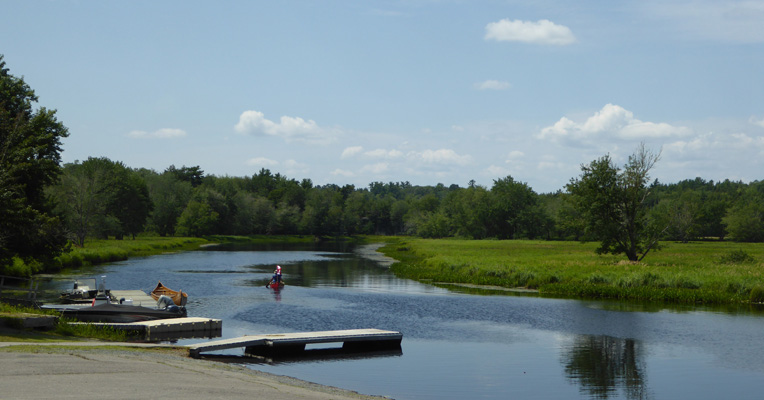 Then we stopped at a turn off where there was an observation tower and while the view was mostly obstructed by fast growing birches there was this nice mushroom nearby.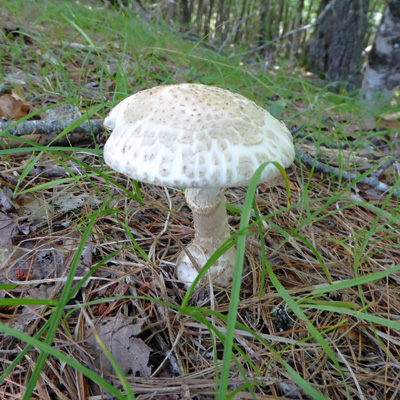 We ended up at Merrymakedge Beach where we found a picnic table in the shade and had our lunch watching kids play in the lake. The water was pretty warm—a result of the fact that it's so dark so it absorbs the heat pretty well. Besides the beach are is pretty shallow too.

There were folks out on the lake in kayaks and canoes and we enjoyed just sitting and watching it all for a good long while.
There are two gravel roads that can take you further out into the wilds of the park but one of them was closed for repairs on a bridge. We decided to skip the other bumpy drive and simply stop for a short hike at Mill Falls on our way out.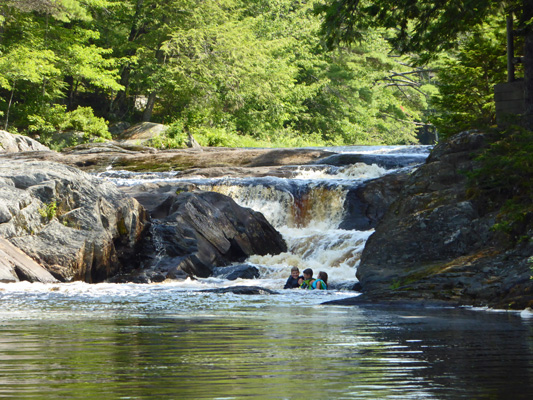 The place was full of people—most of them sitting in the water like these kids.
I headed down stream and caught this fun swirl of foam caught near some rocks.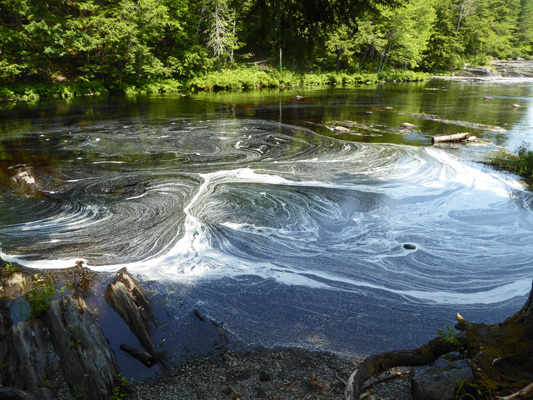 The river heads down a small cascade.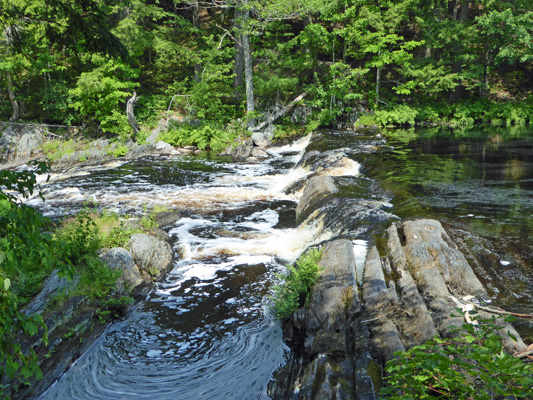 Which gets bigger as it goes on.

And then opens out into a wonderful quiet patch of still water.

I had this area all to myself and I was far enough away that I couldn't hear the kids screeching with delight up river. Ahhhhhh.
Having enjoyed my moment of quiet nature I turned back to get another shot of the rapids.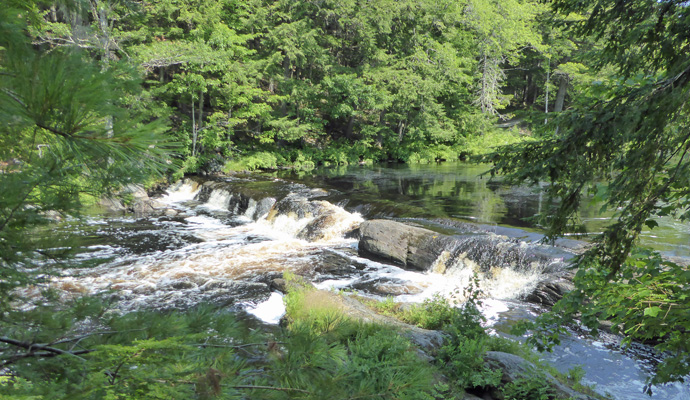 And the falls.

There's a pretty good-sized campground in the park but it'd been booked full since I first started looking back in the spring. There was a one day opening here and there but nothing more than that. It's too bad. It would be fun to stay here and paddle in the morning when there aren't so many people out.
We drove on back homeward having enjoyed our visit to our 7th Canadian National Park in the Atlantic Provinces.
Late in the afternoon, clouds began to come in so I took a quick hike down the road to take a photo or two of Fisherman's Cove. We could see a little slice of it from the campground and we'd enjoyed passing it by on the road but the only way to actually photograph it, is to walk. You can get a nice view of the fisherman's pier.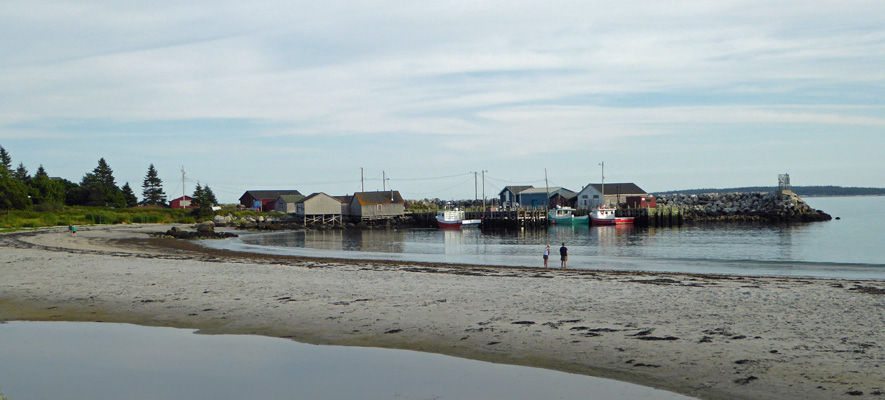 And the view southward give you a sense of the rest of the cove.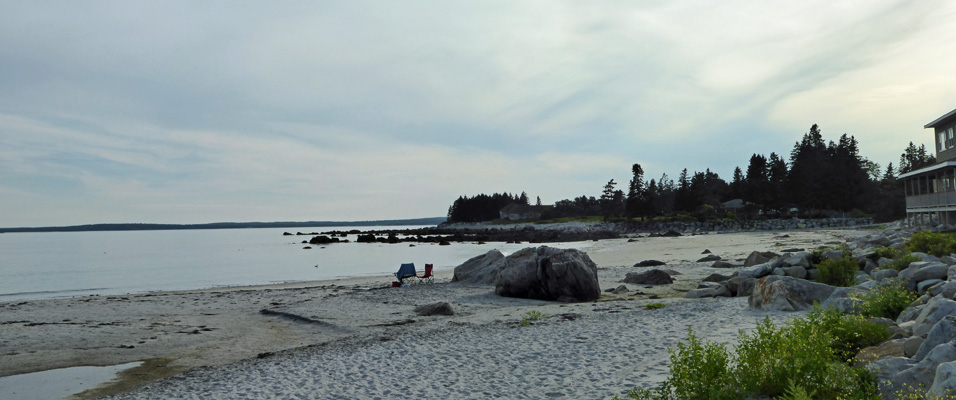 It has a nice sandy beach and on the warm days we were here there were folks out sitting on the beach.
It being Friday night, the cottages were all full and people were out on their porches watching the clouds come in and enjoying the warm evening air.

The folks who had come for the weekend had better have enjoyed the sun while they could. It started to rain in the night and was pouring when we got up in the morning. It let up so that it was pretty dry as we broke camp but it was really foggy as we set out southward on Hwy 3 and then Hwy 103 to Yarmouth about 2 hours south.
It poured really hard off and on during the drive but it had pretty much stopped by the time we arrived at Camper's Haven Campground just outside of Yarmouth. We had a 3-day reservation with them for a 3-way (full hook up) site that turned out to be a pull-through! ($45.57 a night tax included). We set up camp without getting too wet and then had lunch. This is an older park so the trees between the sites are mature and give you a nice sense of privacy. I had to use our longer hose because the water spigot was on the wrong side but hey, the power connection was convenient and while the site wasn't level side to side we managed to get the trailer level okay.
We had a weak WiFi signal but when we could get connected it was a fast connection. Walter found 3 TV stations over the air and our phone worked too. We have laundry and errands to do here and that's good since the forecast is for showers and overcast for our full stay.
We've both enjoyed having a slower paced week with time to relax and recharge. In a few more days we'll reach the decision point as to which way we'll go when we've finished with Nova Scotia but for the moment we're enjoying our slow exploration of this part of Nova Scotia.