On Monday January 16th, Walter had a doctor's appointment to have his eyes evaluated. A year ago, he noticed his vision starting to degrade and we had his eyes checked. The optometrist we saw in Texas said he had Posterior Capsule Opacity which is also known as a secondary cataract. We didn't have time in Texas to have it dealt with so this winter we've set out to handle the situation. We started in December looking for an appointment with an ophthalmologist. We ended up with an appointment in Tucson. After hopping through the usual eye appointment hoops the doctor confirmed that Walter did indeed have Posterior Capsule Opacity and that both of his eyes needed surgery. The good news is that it's a super simple procedure that only takes about 3 minutes. And since it's so quick, they had space in the surgical schedule starting on February 1st. So he'll have his right eye done on February 1st and his left eye done on February 8th. Two weeks later he'll have his eyes checked and get a new prescription for his glasses. So we should be able to hit the road as planned in early March. Whew. We now have campground reservations for each of these appointments in February and are ready to roll. Have I mentioned that there are times this is a very complicated way to have a simple life?
We'd had some rain on Sunday at Picacho Peak State Park and it was still cloudy in the early afternoon when we set off for Walter's appointment. Here's the view that we had out our kitchen windows.
This is the view just out our back door across the freeway to the east. The top 1/3 of these mountains were lost entirely in the clouds on Sunday.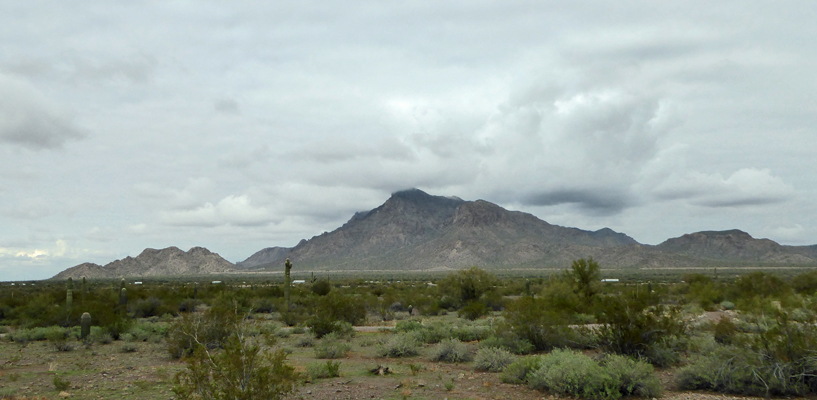 And here's the view out our side windows of Picacho Peak itself. The double pointed mountain is Picacho Peak. It's been a landmark that folks have used to navigate this area since back before the Spaniards arrived in the 1500's.

It's early yet for flowers but we had a little bit of Desert Marigold (Baileya multiradiata) in bloom at the edge of our campsite.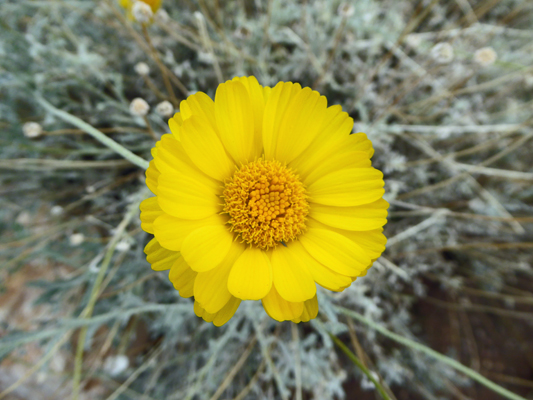 And we had a nice little sunset as the clouds began to clear away.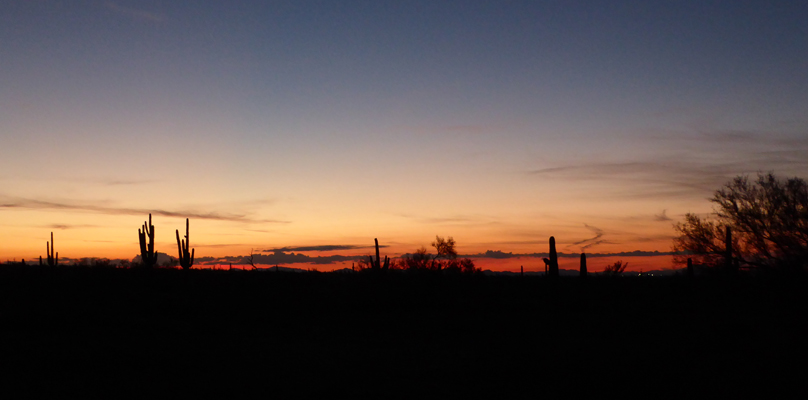 After spending the evening making reservations for the February doctor's adventure and looking at the weather for the coming week, we decided to spend one more night at Picacho Peak before moving on. The next morning it was sunny when we got up! It had been down to 39 early in the morning (much colder than it's been of late) but it warmed slowly up into the low 60s as the day went on. We had mail to pick up at General Delivery in Eloy, the next town north of here, so on our way out, I stopped to take a photo of the view to the east across the freeway so you could see what a difference a bit of sunshine makes.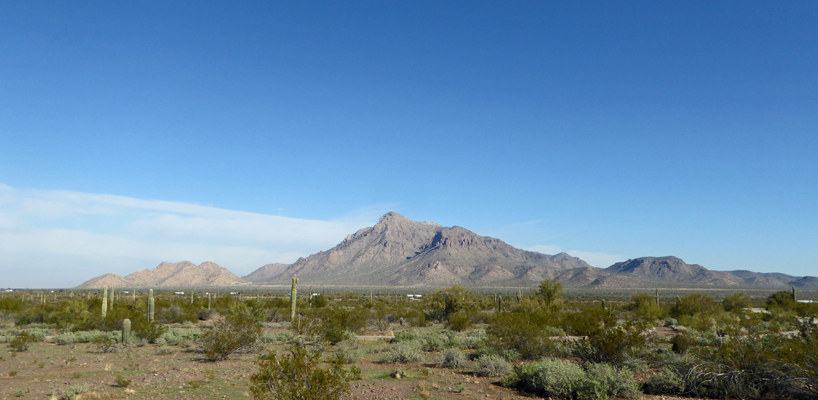 After having gone through the mail and dealt with the few things that needed handling, we decided it was time to take a hike. We drove to the end of the road in the park and hiked the first section of the Sunset Vista Trail. It takes you on the west side of the mountains gradually climbing along the base toward Picacho Peak.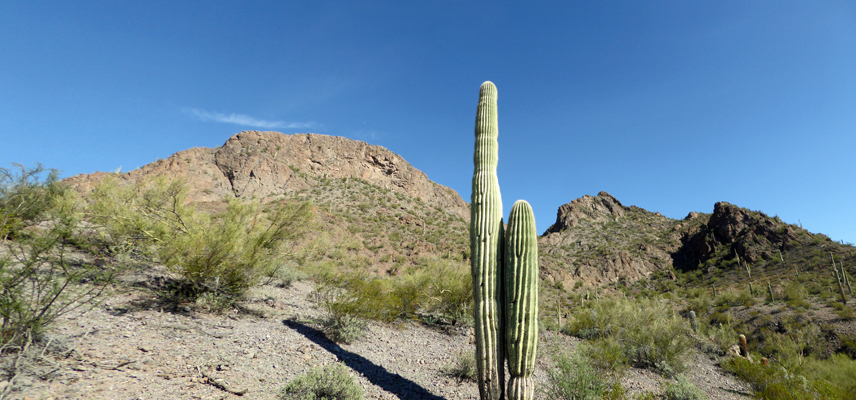 If you hike the full 3 1/2 miles out you can reach the top of the peak (using steel cables). Clearly that wasn't our goal. We just planned on hiking a ways to see what we could see.
You get a nice view to the northwest out across the valley to the mountains off in the distance—I think those are just south of Phoenix.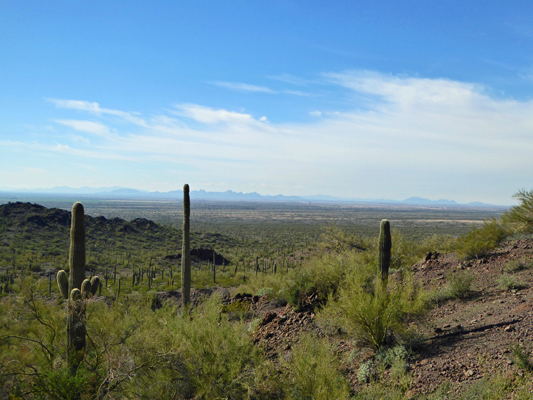 We hiked far enough that we could just see the top of Picacho Peak over the top of the ridge.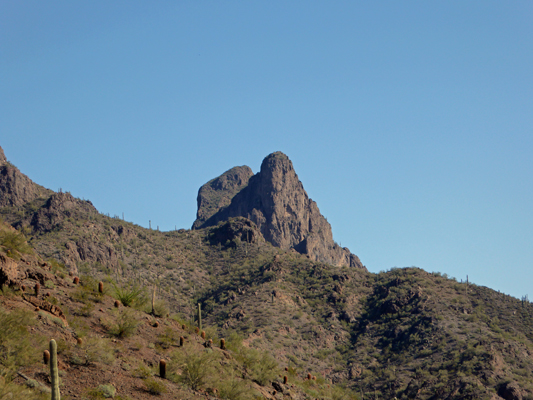 It was a nice hike though it was pretty rocky and there was a lot of loose gravel. We did it in tennis shoes and next time I'd do it in hiking boots instead.
We had clouds start to come in late in the afternoon and they made for a wonderful sunset.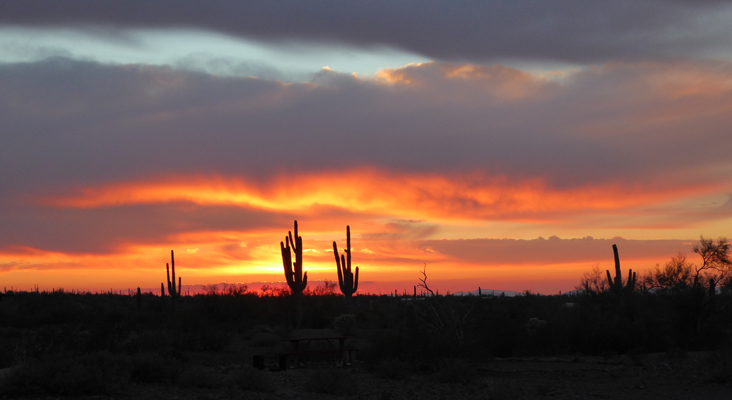 Just when I thought it was beginning to pale out it would get better.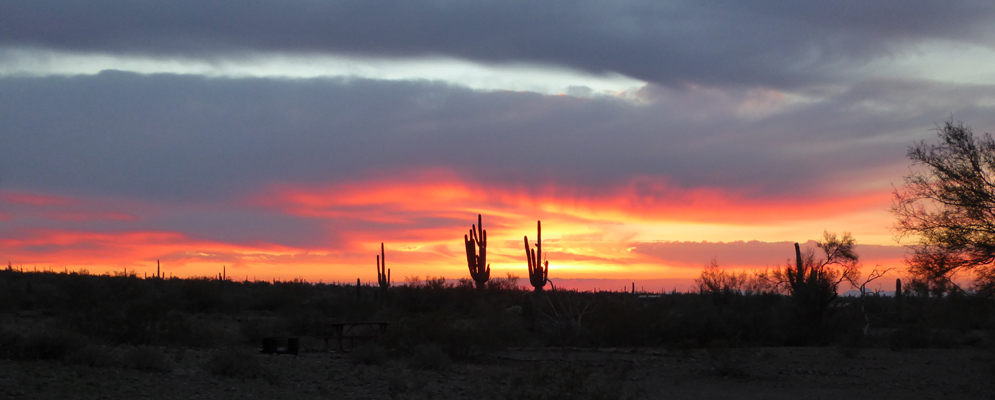 Saguaros make such wonderful foils for sunset photos—almost as good as palm trees.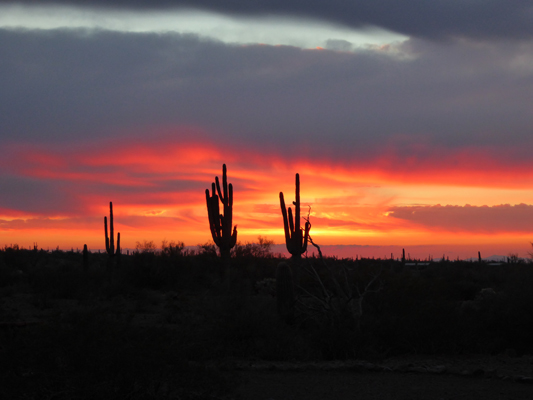 As I turned to head back into the trailer I stopped and took one more shot of Picacho Peak in the twilight.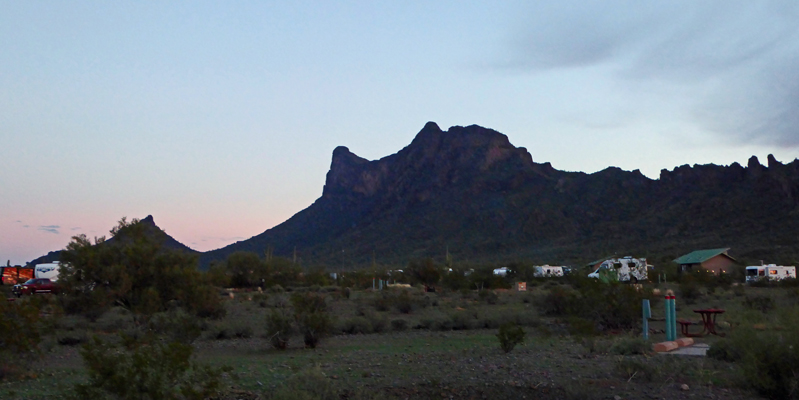 We'll be back here again in a couple of weeks for the beginning of the medical adventure and maybe by then there will be wild flowers. There are tons of little seedlings sprouting everywhere because of all the rain this winter. It could be a pretty fantastic spring.
On Wednesday January 18th, we packed up and drove south on I-10 to the turn off for Saguaro National Park (just north of Tucson) and then west a ways and then on south to Mile Wide Road (don't you just love that for a name of a road?). Your drive along the western border of Saguaro NP and through a bit of it before entering Tucson Mountain Park, a county park that runs adjacent to the National Park.
We arrived at Gilbert Ray Campground about 1 pm or so and got a nice back-in spot with electrical hook up (once again no water hook up just like Picacho Peak) with a nice view all for $20 a night. This park doesn't take reservations and only takes cash or checks for payments. You can only stay here for a maximum of 7 days so there's usually a spot if you get here early enough. But they were already pretty full and were commenting on how much busier they'd been this year. This is a story we've heard a lot of late. There are LOTS of folks on the road these days.
We got parked in our spot first try—yeah team! And were set up without a hitch—except for me stepping in a pile of dead cholla balls that attached themselves to my shoe. It took a bit to get them off but no fingers were pricked in the process.
This is a gorgeous park. Here's the view out our back windows.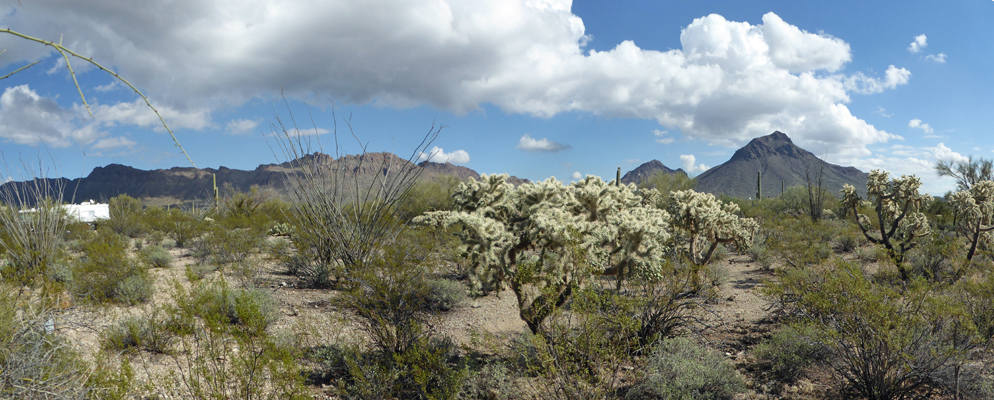 We settled in and checked our phones—they both had a signal—and the hot spot, which needed the booster but worked way better than it had at Picacho Peak. Walter set up the TV antenna by pointing it towards the peak that had a cluster of towers on it and got nearly as many stations as he had at Picacho Peak—this is pretty good since Tucson is on the far side of those mountains.
Meanwhile the folks moving into the spot next to us were having a terrible time trying to back in. He was a blustery type who didn't seem to want help (that turned out not to be true after a long while) so we let them struggle on as we had lunch. They actually spent over 2 hours trying to park before one of the other neighbors took pity on them and helped them out.
Meanwhile, we hiked on down to the Visitor's Center to get a trail map so we could go for a hike on Thursday. On our way back I spied this cactus wren on top of a saguaro cactus. I had to take a bunch of shots before he turned the right way but this one came out pretty well.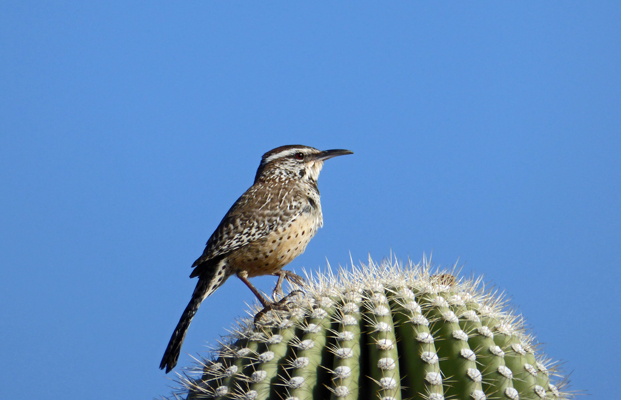 Late in the afternoon the mountains out our back windows began to light up orange and I ran out to take a photo.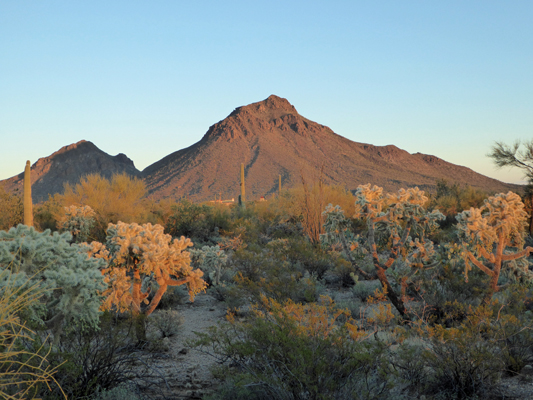 The sunset was pretty too but there were too many palo verde trees in the way in our section of the campground so I took a pass on trying to capture it.
Thursday January 19th, we awoke to clouds and a few sprinkles. Rain was due late that evening and we thought that perhaps the storm had arrived early. The sprinkles stopped so we quick set out on a hike through the desert just south of the campground. There was a trail that started just one spot down from our campsite—though it didn't have a name.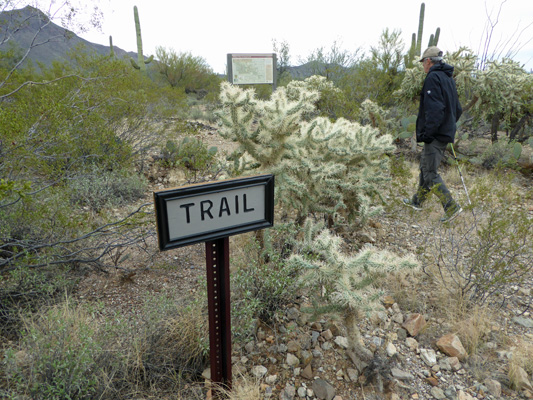 Our nameless trail was on the trail map so we knew it was the real deal and we set out following it out through the desert. There were lots of Engelmann Prickly Pear here (there had been very very few prickly pear up at Picacho Peak).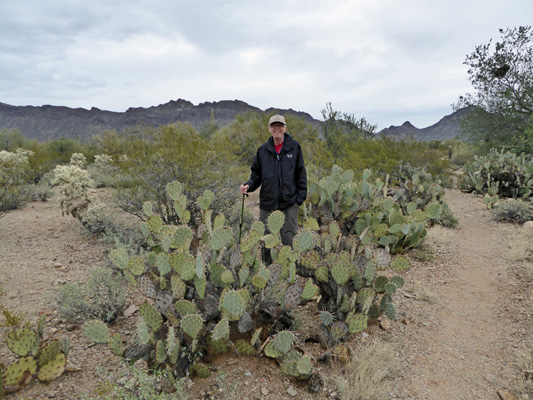 We finally got out into an area clear of trees so I could take a photo of the mountains to the east.

There are lots of saguaro cactus here though they are not as dense as in the section of Saguaro National Park that we had driven though the day before. It seems to be a very healthy population though. There are lots of young saguaros just starting to sprout their arms and many many young ones that are only a few feet tall.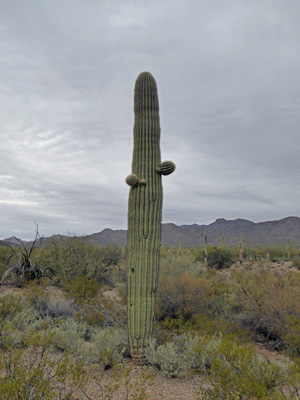 The trail is fairly flat but you get a bit of variation because it goes across a number of arroyos and you have to go down into them and then back up again to get across.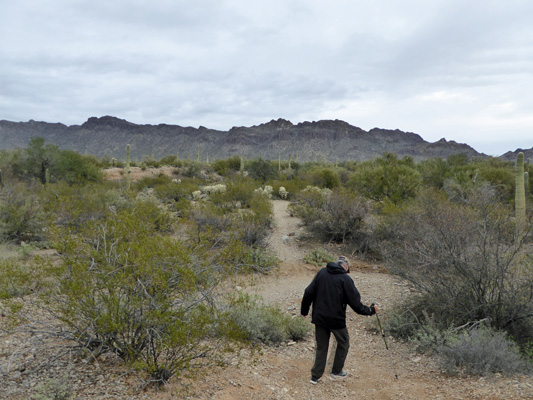 The jumping cholla here are big and healthy too.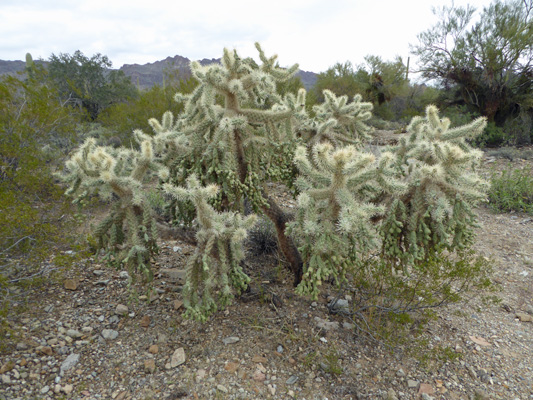 We came to a point on the trail where it hit another very straight trail. If we continued on you could tell we'd hit the main road and you could see bits of Old Tucson, the old film lot that is just south of the park. This is where many westerns were filmed including the old classic, Stagecoach. If this mountain looks familiar it's because it was a backdrop for many many westerns back in the day.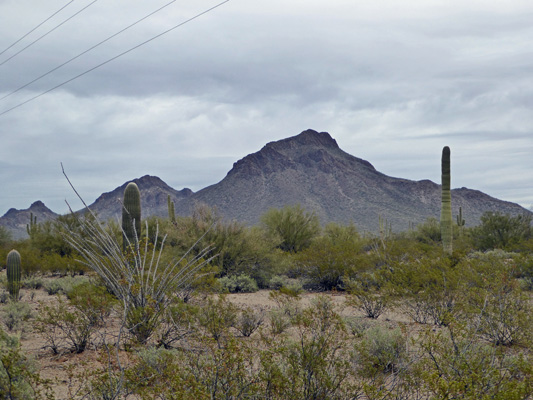 Looking at our map we decided we'd follow the new trail back towards the campground. It followed power poles so it wasn't as picturesque as it might have been but it was a well maintained track to walk on. I spied a phanopepla hanging out at the top of an ocotillo. These guys are pretty easy to ID because of their nice high crest.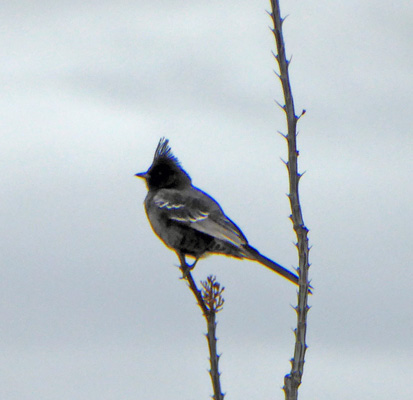 The fishhook barrel cacti in this area were huge. This guy was at least 3 feet in diameter and we saw a few that were 4 or 5 feet tall.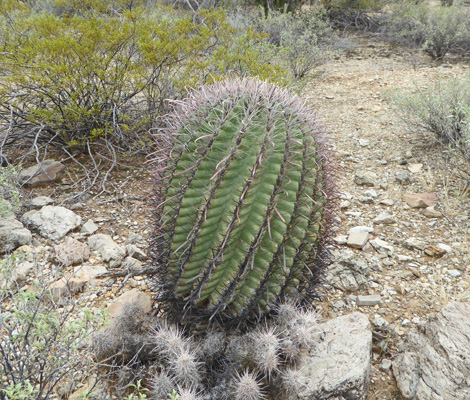 There were tons of small saguaros in this section including this entire family of them that had grown up in a nursery under a pair of Palo Verde trees.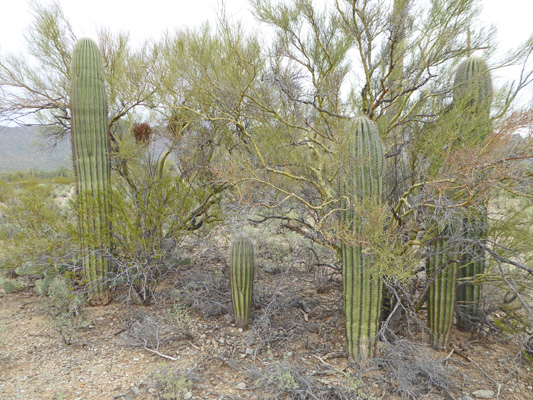 All these young saguaros are wonderful news for this section of desert.
The buckhorn chollas were another matter. There were lots of them that were very sorry looking but this one was in great shape—and was purple which makes it even better as far as I'm concerned. This photo gives you nice selection of the plants in the area: Saguaros, 2 kinds of cholla, ocotillo and creosote bush.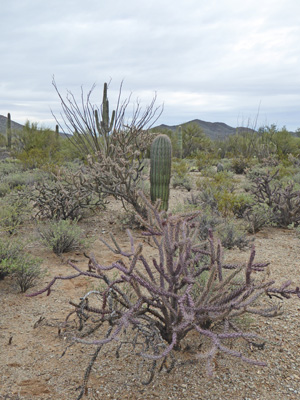 After a while we came to a connector trail. It didn't match the one on the map since it took us back to the road in the campground but it got us home so what the heck. We sat for a while in an empty campsite to watch the birds. There were lots of little black throated sparrows pecking for seeds in the gravel out in the desert.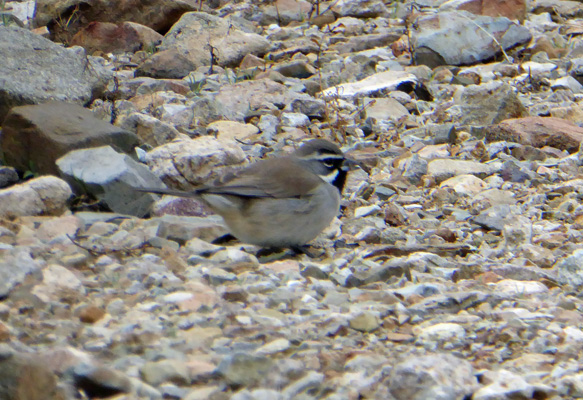 We began to have sun breaks in the early afternoon and of course since we did our hike in the morning, we had big patches of blue by late afternoon. Ah well, we enjoyed ourselves even in the cloudy weather and the sun was a nice gift in the afternoon.
The breaks in the clouds gave us a super duper sunset. In person it was brighter than this but you get the idea.

Then if I zoomed in on the horizon it went out of this world.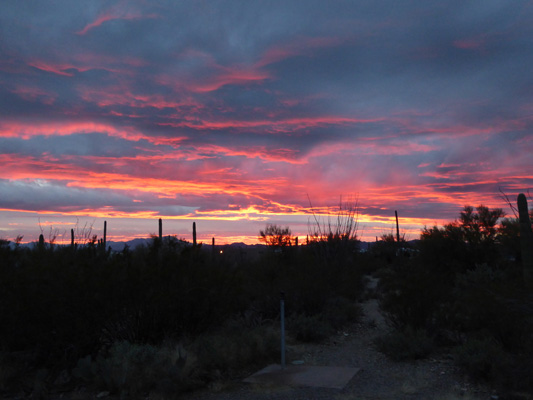 And got really intense before it rapidly faded away.
Friday January 20th, we packed up in the cold wind (it was 51 and really windy) and headed south on I-19 to the little town of Amado just north of Tubac, AZ. We got a spot at Mountain View RV Ranch for a couple of days so we could do grocery shopping and laundry. This is an old park and they take Passport America (for 3 day stays) so the rate is only $15 a day for a full hookup with cable TV. The WiFi was minimal—only in the club house but our hot spot worked—green with our booster.
We set up camp and then headed back up I-19 to Green Valley and an up-scale Safeway to do our shopping. By the time we'd unloaded the groceries and had lunch the rain had begun. The wind blew and then it poured for several hours (at least) in the night. We awoke on Saturday morning to broken clouds and sunbreaks but the wind was still blowing pretty hard. It was laundry day and surprise surprise all the washers in the laundry room were available on Saturday morning! Wow.
We had showers off and on all day but by late afternoon the clouds had all cleared away making way for a cold night. It got down to 32 in the early morning and we stayed and bed with the heater running waiting for it to warm up—but hey it was Sunday morning. It was sunny to start and then we had high clouds come in and we thought the sunshine might be over for the day but it cleared off again in the late morning.
We headed south a few miles to the little town of Tubac to do a bit of exploring. Tubac was the first European settlement in Arizona. It began as a Spanish Presidio in 1752. The ruins of the Presidio constitute at small State Park here (run by volunteers because the state has withdrawn funding for the place). The town nearly disappeared several times after the Presidio was abandoned but in the 1950's artists began to settle here and there is now a large collection of galleries and restaurants that has attracted high end houses and a golf course.
In addition to the high end galleries and jewelry stores there are the usual places carrying tourist 'art'.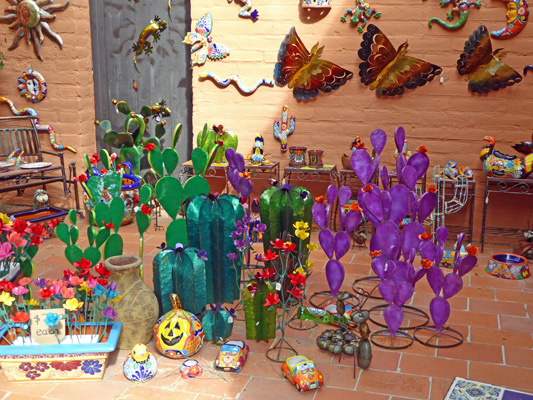 And places with chilies hanging from their eaves.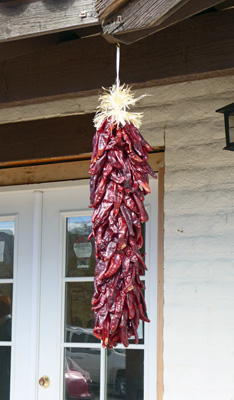 We walked down on of the lesser streets (more galleries, fewer restaurants, fewer people) and spied a building or two with a nice mural on it.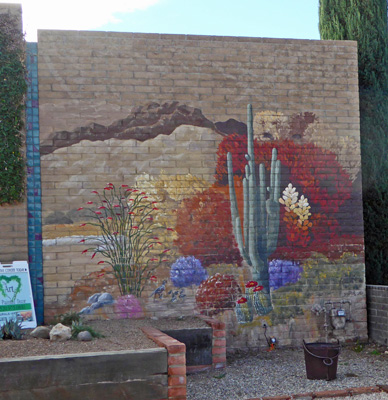 Of all the tourist stuff this frog band was my favorite.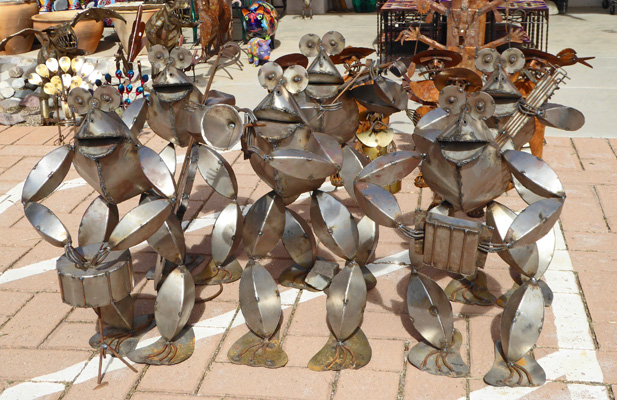 We stopped by the Visitor's Center at the state park and watched their movie and then took a little walk along part of the Juan Bautista De Anza National Historic Trail and got a nice view of the snow on the mountains to the east—snow fell down to about 7,000 feet on Friday night.

On the way back we got a nice view of the hills to the west.

We strolled back through Tubac and then drove through the rest of town, glad that we'd walked through the quieter part without realizing it. Then we turned south a few miles to visit the Mission San Jose de Tamacacori National Historic Park, the site of the first Spanish Mission here in Arizona. It was built in 1691 at the invitation of the indigenous people, the O'odnam (Pima Indians) and served the village here until it was abandoned in 1848 because folks had be decimated by measles, small pox and Apache attacks.
The Visitors Center is very nice with a little bookstore and garden. They are doing a great job of preserving (rather than restoring) the mission and it's buildings. The main church still stands (they redone some of the stucco and replaced the roof) even after nearly 160 years of abandonment. They have services here once a year.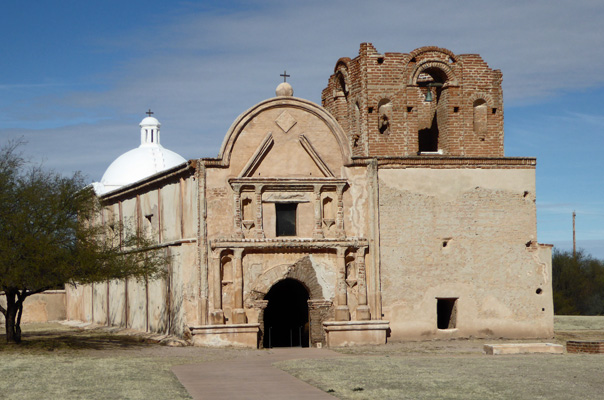 You can go inside—it's wider than this looks but you can see that a lot of the plaster is gone—no doubt there have been floods of the Santa Cruz River which is nearby.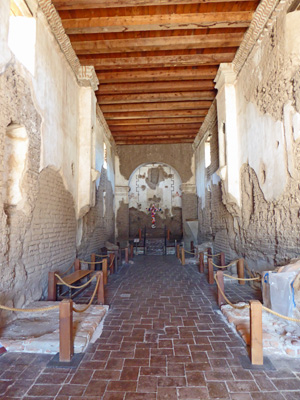 There is a lovely dome over the alter.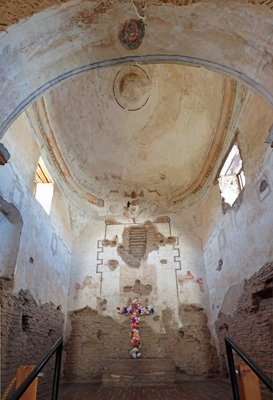 I don't remember what this old outbuilding was but it gave me a chance to get the mountains again.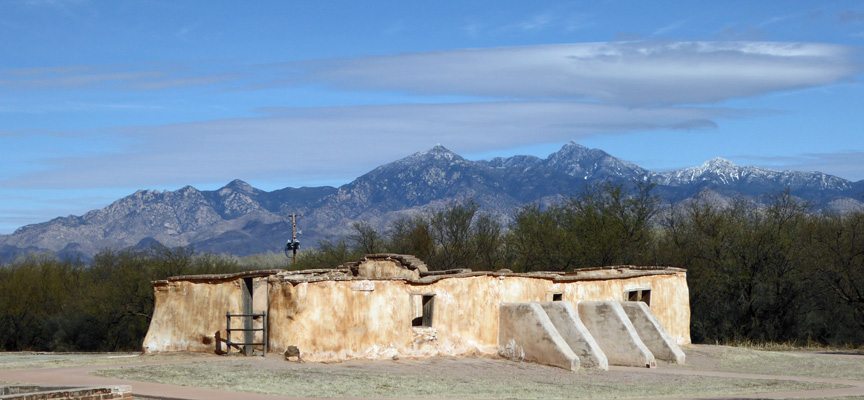 They had a very nice lady making handmade flour tortillas over an open fire and she sweetly let me take her photo with her fire.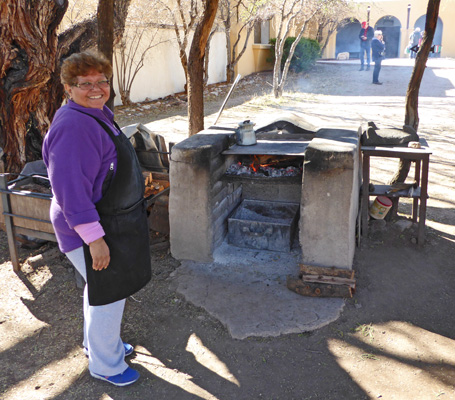 Walter had one with some beans and salsa—yum.
Having done our tour we took our lunch out into the picnic area and sat in the sun. It got up into the mid 60's and was lovely.