It was sunny and humid (and about 73 degrees) when we broke camp at Marmora KOA in Marmora, Ontario on Monday September 5th. The campground had been nearly full over the weekend but now it was Labor Day and by the time we motored out at noon the place was nearly empty. We drove east a ways on Hwy 7 and picked up Hwy 62 which took us north. Clouds appeared and they got darker the farther north we went. About half way through our 3-hour drive it began to rain. And rain. And then pour. We turned west on Hwy 60 until we reached Algonquin Provincial Park. We stopped at the east gate and I went in to find out if we needed to pay an entry fee in addition to our campsite fee. The parking lot was awash and even with my raincoat I got pretty wet. I learned that we didn't need to pay an entry fee and waded back to the truck.
We checked in at Canisbay Lake Campground where we had a 3 day reservation for an electricity hook up site ($54.80 a night including taxes and reservation fee). They informed me that we were due for 40 mm of rain (over 1 1/2 inches) and that they thought this was all due to a remnant of Hurricane Harvey—which they accused me of bringing with me since I was from Texas. We found our site only to discover it had two enormous puddles in it (small lakes perhaps) with a dry area way back in the back.
I went and put on my rubber shoes (ducks) and stood out in the puddle attempting to guide Walter into the spot. But this was a spot where you have to use your right hand rear-view mirror ("Attention objects looks smaller than they really are") which was rain streaked. He could hardly see me even after I'd cleaned the mirror and he'd lowered that window. It took us several tries and I had water washing into my shoes at times but in the end we got the trailer into the spot. Then we discovered that the electrical hook up was off in the woods over on the side away from our input. So we put the trailer as far back as we could get it and hoped for the best. This put the hitch right over the deepest puddle, of course. So we decided we'd not try to drop the trailer since it was level side to side and not far off front to back. And hope that by the next morning it wouldn't be so wet.
This was 'one of those days'. When we'd broken camp back in Marmora we discovered that the adapter we'd used to hook our extension cord up to the pedestal at the KOA had been singed a bit and we had to pry it off the cord. Then the ATM machine at the office wouldn't give us any cash. When we arrived at Canisbay Lake to check in they pointed out that we had a tube hanging down from the undercarriage of the trailer—the tube we keep our sewer hose in had come loose and of course our sewer hose had gone missing. Now we were parked in the middle of two puddles (with the tube hanging down into a puddle of course) and the electrical pedestal was so far away I needed to use the slightly singed extension cord. When I plugged in the cord a little light came on at the outlet and it clicked. And once we had it all hooked up we had not power. With some investigation we discovered we'd tripped the ground fault interrupter (it lit up with a white light instead of red). Walter got out his meter and sure enough there was a little sneak path to ground in the cord. Oh goodie. So we dug out an indoor extension cord (since we didn't have another outdoor one) and used it to hook up. We wrapped the plugs in plastic bags and hoped for the best—and all was well.
It continued to rain and we had thunder and lightening off and on until about 9 pm. By morning it had cleared off some and we had a low of 46. Walter had discovered that there was a General Store that was a combination hardware store and grocery store that was about 50 km away (about a 50 minute drive). He called them and they said that yes indeed they had outdoor extension cords in stock. Yippee! The water had soaked into the very sandy soil and we managed to drop the trailer and set the stabilizers without a problem. And we made an outing of it and drove west on Hwy 60 to Hwy 35 and then south to the town of Dorset and Robinsons Country Store—considered the best General Store in Canada.
They had outdoor extension cords but not real heavy duty ones. We got what we needed and then explored the store which was great fun. If you ever need socks or a sweater or coat with a moose on it, this is the place to go. They had a big black bear at one entrance but over at the other Walter found a true friend: Mickey Moose.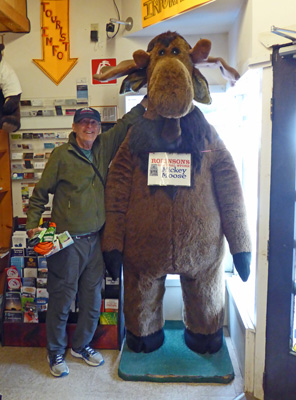 There were more trees along the drive starting to turn color. Hwy 60 must be magnificent at the peak of fall color at the end of September and the beginning of October. This area is dotted with lakes of all sizes from oversized ponds to huge miles-long lakes fed by multiple rivers. You don't get big sweeping views of them because the forest is pretty dense but it's still a pretty drive.
We came home, switched the indoor cord for the new outdoor cord and then had lunch. After lunch we did some chores around the trailer including Walter crawling under it to take off the dragging tube. It had broken off at the plastic fitting that holds it to the trailer and then the door holding the hose in had broken off. We have no idea how that could have happened. We certainly didn't hit anything on the drive up but it may just have cracked over time. Who knows. We have a back up sewer hose so we were okay for the moment.
It was mostly cloudy and we had a sprinkle or two in the afternoon. It crawled up to 60 degrees but didn't stay there for long.
Wednesday September 6th, we had a bit more blue sky as we drove west again on Hwy 60 to the Peck Lake Trail. There are 15 'interpretive trails' along Hwy 60 ranging from 1 to 11 km in length. They all have nice interpretive booklets and numbered signs along the way to go with them. We picked this hike because it went all the way around Peck Lake and was 2.3 km (just under 1 1/2 miles). It was rated moderate and we would agree with that rating. The trail surface was full of roots and there were rocks to scramble over and LOTS of muddy areas to circumvent. The interpretive booklet taught you all about the life cycle of the lake and the critters who live in it and depend on it.
The trail heads around the lake in a counterclockwise manner. First off we came to a little rivulet running out of some rocks and down to the lake, creating the first of many muddy patches for us to cross.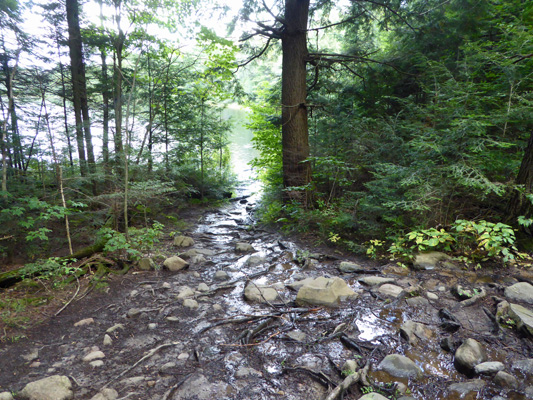 Here and there I found leaves like this that we changing color a step at a time.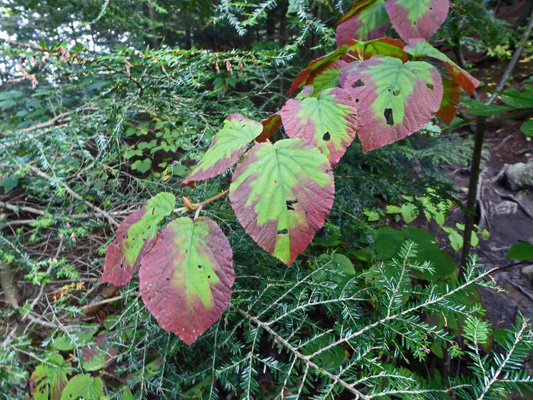 After a short while we came to our first view of the lake.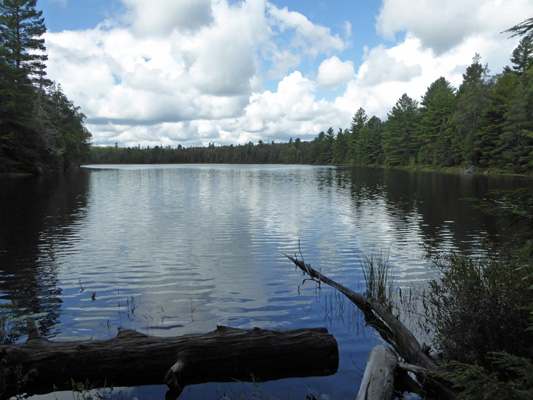 And while we were watching a loon popped up on the right hand side and then dove in and over 2 minutes later came up way over near the shore on the left. He stayed up just long enough to shoot a quick photo. He of course turned his head away as I hit the shutter—it's not great but it's my first loon. We've heard them a number of times but FINALLY we got to see one.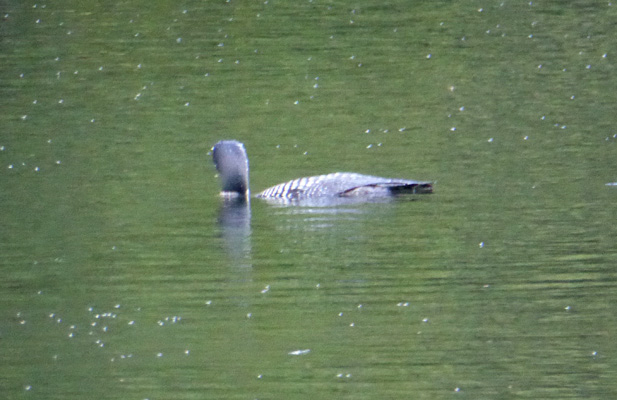 There were already bright red leaves which had fallen onto the trail.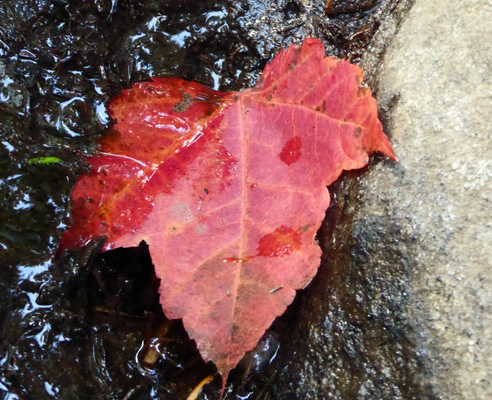 We made our way along the trail taking detours around huge water-filled muddy patches until we came to another nice view of the lake. It was still enough to get a decent reflection of the big white puffy clouds too.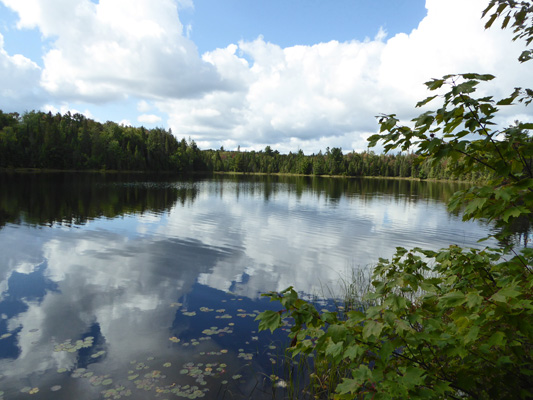 We saw lots of mushrooms that had just come up in the woods—nothing like fall rains to bring out the fungus.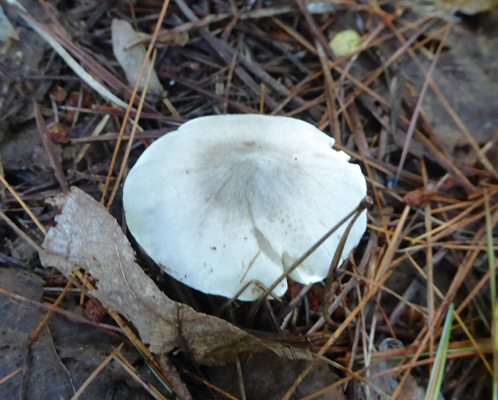 There was a nice boardwalk that took us across a marshy area.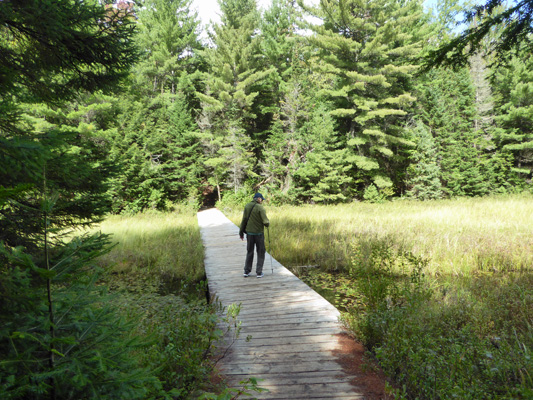 With a little stream leading out to the lake.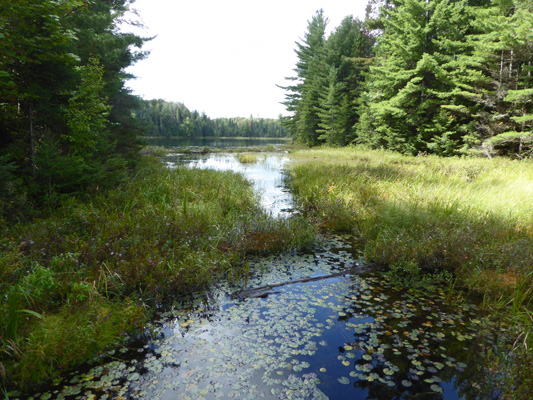 Here and there we saw orange leaves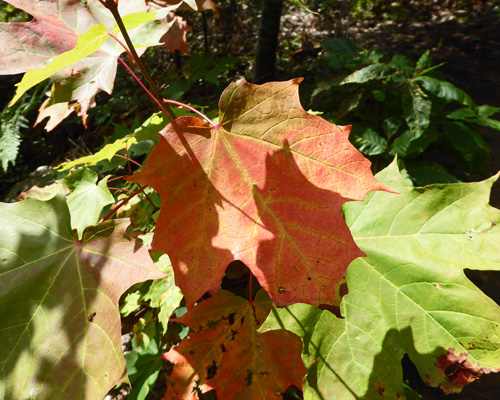 After working our way around more mud we came to a great open area with a super view of the lake.

And the clouds filled the lake.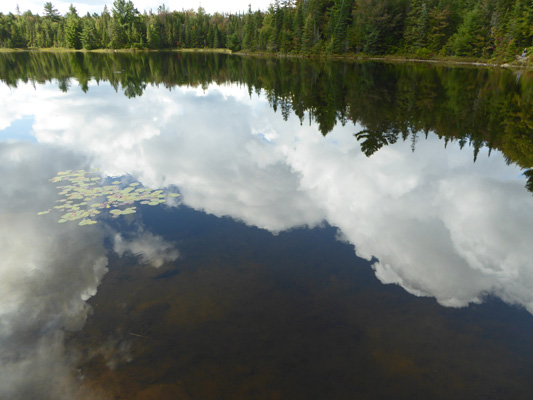 As we were leaving this spot, Walter pointed out this view saying he thought it would make a nice picture. So here it is.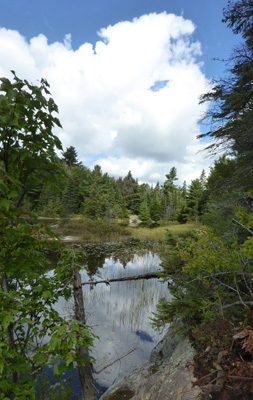 The mushrooms just kept coming in all shapes and sizes. From big pancakes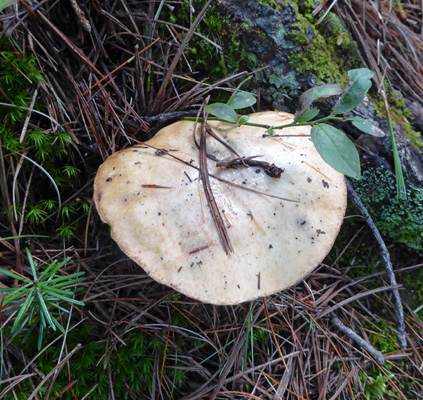 to swathes of smaller ones.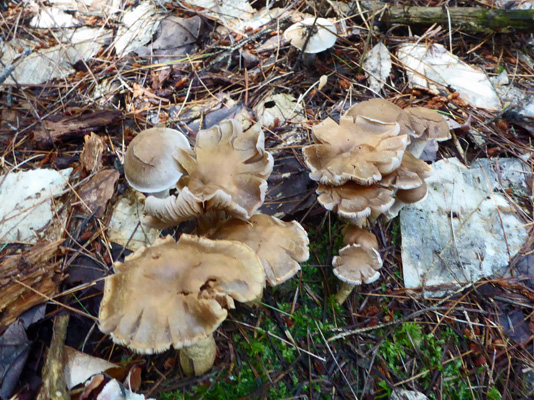 And along the way there were maroon leaves too.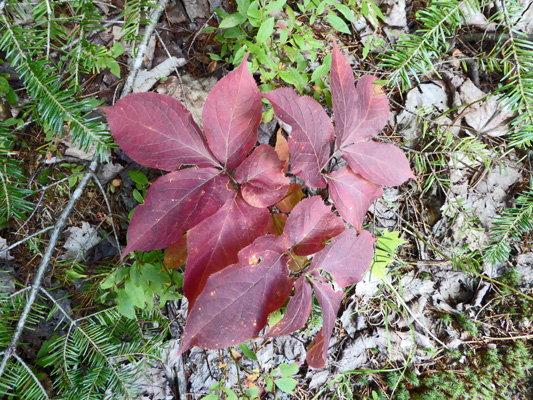 There was a fallen tree that the tree fungus had taken over from head to toe. It was amazing and pretty too.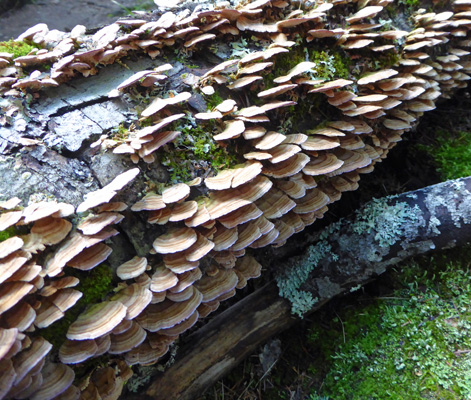 Mother Nature outdid herself painting leaves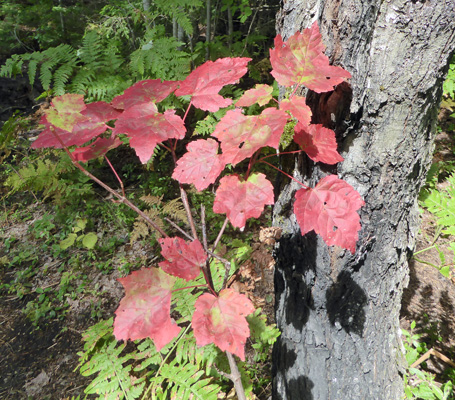 And I think that this just might be a yew berry!
At last we came to the far side of the lake where there were more boardwalks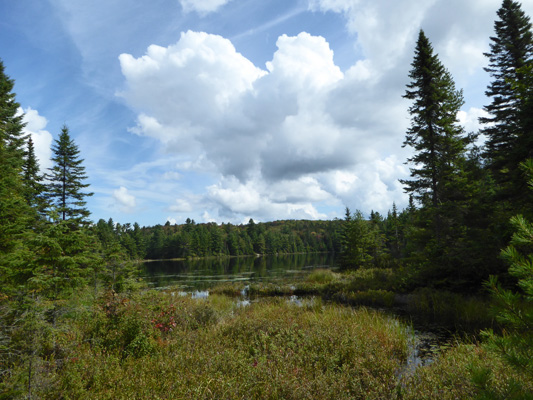 And one last nice panorama view.

In this last stretch Walter noticed some movement in the leaves next to the trail. It was a Northern Leopard Frog! Doesn't it look like he's got eyes on the back of his head? I had to ask what he was at the Visitors Center later in the day and they said that those spots on his back made it certain that was what he was. They're fairly rare in the area around Hwy 60 so they thought we'd really scored.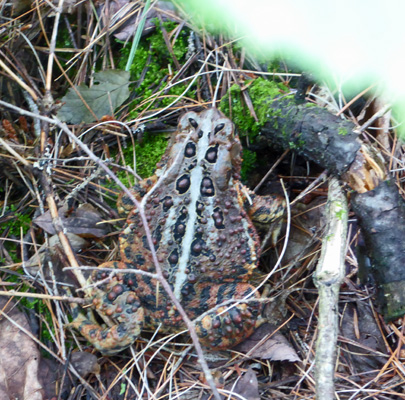 This was a very satisfactory hike though I will admit I could have done without the mud.
We went home and had lunch and then headed east about 20 km to the Visitors Center to use their WiFi. It was satellite-based and was pretty overloaded and useless. I got a little bit of my email and the Google News headlines and Walter actually got all his email and got to Facebook!
We finally gave up on the WiFi and then did the short walk out to a reconstruction of an old fire tower alongside of the Visitors Center.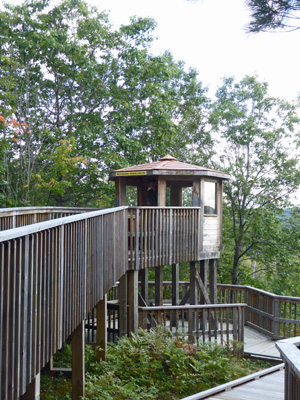 Unlike the fire towers in the west where they were on mountain tops and the guys lived in them, these towers were set 100 to 150 feet in the air and the guys lived up to 2 1/2 km away in a cabin and just spent the day up in the tower watching for smoke.
We went back into the Visitors Center and explored their displays. They had nice dioramas with flowers and birds and mammals including this lovely moose pair.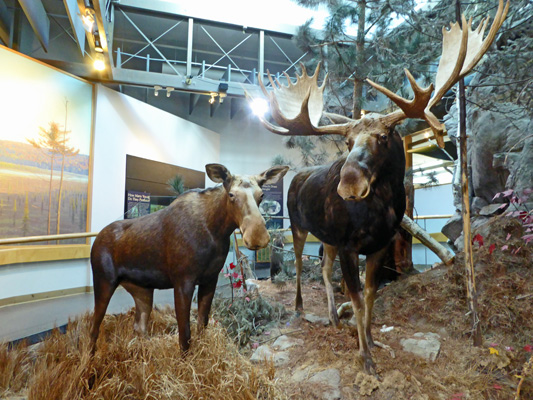 They had an aquarium with very bored trout in it too.
Out on the back deck you get a view of Fork Lake to the east.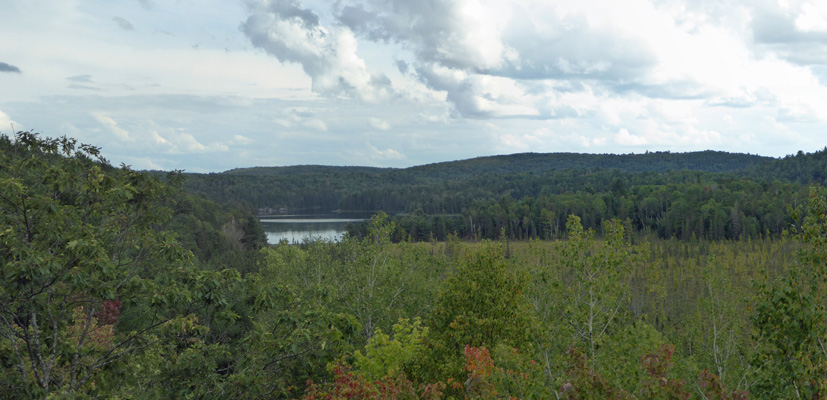 And Sunday Creek to the west.

To top all this off we watched their 12-minute movie about the history of the park and its uses. This was Canada's first Provincial Park, created in 1893 to save the forests of Ontario from being totally wiped out as farmers began to settle the area. They continued to log the area (and still do) so there is very little virgin timber left—but then by 1893 that was already true. The park is huge with 7,635 square kilometers and thousands of lakes.
By the time we headed home things were clouding up fast. By 7 the thunder boomers were at it again and it was raining. The rain didn't last which was good but everything was pretty wet the next morning when we broke camp and headed west on Hwy 60 to Hwy 11 where we went south to the town of Gravenhurst and the Gravenhurst KOA. Along the way we had sun breaks, light rain and downpours. None lasted long which made it highly entertaining.
We got a pull through site with water and electricity for $49.83 (taxes included) a night after our 10% discount with our KOA card. It rained a bit when we stopped to drain our tanks at the dump station but it stopped before we were done and we got set up without getting any wetter. It rained off and on all afternoon. The Wi-Fi in the main part of the campground wasn't working so we drove down to the office and used it in their recreation area—a marvelous old barn with a stone first story. It was good to get caught up again after 3 days without any internet.
We awoke the next morning to clouds and a great clatter on the roof. There was a squirrel (no doubt) dropping very large pine cones from the tree above us. Walter went out to look and the squirrel left after dropping three very noisy cones on us. It was cloudy all day and while it started out at 52 it gradually made it up to 56. Whoopee. We drove north to the town of Bracebridge to the Walmart to get a new sewer hose and of course we picked up a few other things in the process. We finally found an ATM machine that would give us some Canadian cash (we'd tried 4 others before we found this one) so that I'd have money to do laundry the next day –among other things. Then we drove south to the local Sobey's, a grocery store chain that we've found to be very nice from Newfoundland to Ontario. We were back and had our groceries stashed before lunch and then took the afternoon off.
The sun actually peaked out for a while late in the afternoon and we took a stroll around the park. But the clouds came back in again. In the night they finally cleared off and it got down to 40 degrees on Saturday morning. We did laundry and used the Wi-Fi in the recreation hall which was wonderful and fast. Then we came back to the trailer and made a lunch and set out to find a drug store because we were running low on a couple of supplements we take. We visited two stores before we gave up and headed on our afternoon drive on the loop around Muskoka Lake. It was lunch time when we reached the southern end of the lake in Gravenhurst and we found a parking space in the lot with a great view of the lake. As soon as we pulled up a steamship sailed by!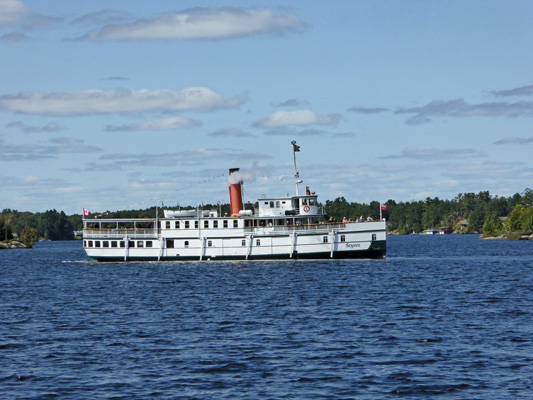 Steamships played a big role in the development of this area both as a timber center and a tourist area and they disappeared off the lake in 1959. But now they Segwyn plies the waters of Muskoka Lake again taking passengers on a tour of the lake.
It was beautiful and sunny and about 60 degrees. Simply lovely after several cold dark days. We ate our lunch and then drove up through the lovely summer cottage communities that circle the lake. The folks on Toronto TV call this the 'cottage region'. The towns are artsy and there are lots of small lakes lined with houses in addition to Muskoka which is a big lake. We came back to a nice warm trailer and took showers in the shower house—lots of hot water and adequate shower facilities.
It was sunny again on Sunday September 10th when we broke camp and headed south on Hwy 11 to Hwy 26 where we went west until we hit Lake Huron and followed the coast a ways through lake resort and ski resort communities (some are both) with lots of high end houses. It's only about 150 kilometers to Toronto so this is a perfect area for summer cottages and ski cabins. We picked up Hwy 6 and followed it north up the Bruce Peninsula to Tobermory at the northern end of the peninsula. This was a lovely drive through farmland but nary a view of the lake.
We ended the 4 1/2 hour drive at Tobermory Village Campground where we got a full hook up pull through site for $53.11 a night (taxes included). Our site was level and really long and their Wi-Fi worked wonderfully. Our Canadian Virgin Mobile phone had worked great in Gravenhurst and we had plenty of bars at Tobermory too.