Monday March 27th, we packed up and left Wall Doxey State Park in Holly Springs, Mississippi. It was one of those days. You know the kind, where weird stuff happens. It's just when you're on the road those weird things are just a little bit weirder.
First off we discovered that the pull handle on our black water tank had dropped off. It was there on Saturday when we left Toad Suck but had clearly rattled loose and fallen off on the way to Wall Doxey. We thought we had a replacement, we just had to FIND it. It wasn't where it was SUPPOSED to be, but in the end (several days later) we found it stashed away with the extra screws.
Then on the way to Tupelo we got hit by a rock from a gravel truck and got a nice little star crack (the size of a quarter) in the windshield on the passenger side by the wiper. There's no crack leading out of it so it may be okay for a while. But oh goodie, something more to get fixed.
We headed east to Tupelo and then turned northeast onto the Natchez Trace. The Natchez Trace, which is 444 miles long, is a two-lane road that winds through the countryside from Natchez, Mississippi all the way to Nashville, Tennessee. There are no trucks allowed, no stop signs, very few crossroads and the speed limit is 50 mph. So it's a lovely road to drive. Historically it was a travel route first for the native peoples of the area and then the 'Kaintucks', folks primarily from Kentucky but also from Ohio and Pennsylvania who brought their crops and trade goods down the Mississippi River on wood flatboats to Natchez and New Orleans and then walked or rode on horseback up the Natchez Trace home again. The Trace became a well worn route in the late 1700's and early 1800's and was designated a Post Road in 1801. By the mid 1800's it had been abandoned because the steamboats could take folks back up river quickly and easily rather than hiking for 18 plus days up the Trace.
In the early 1900's, the local DAR chapters in Mississippi and Tennessee began to worry that the Trace was going to disappear. They organized the building of a road along the route (it follows it pretty well in Tennessee and not so faithfully in Mississippi). In 1939 that road became a National Park. It winds gently through the countryside with an occasional turnout or picnic area and a couple of campgrounds.
There's a Visitors Center just north of Tupelo and we stopped and watched the movie (which was great) and picked up maps and brochures about things to see along the Trace. Their lawn was FULL of Spring Beauty (Claytonia virginica).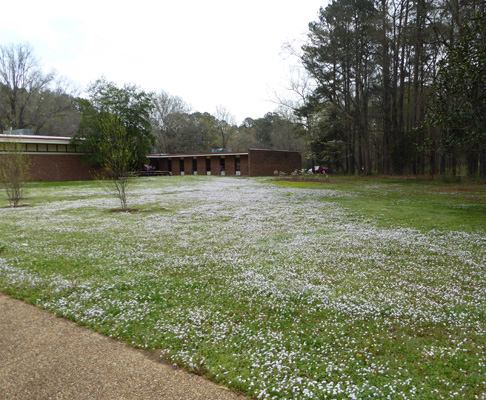 They are such sweet little flowers.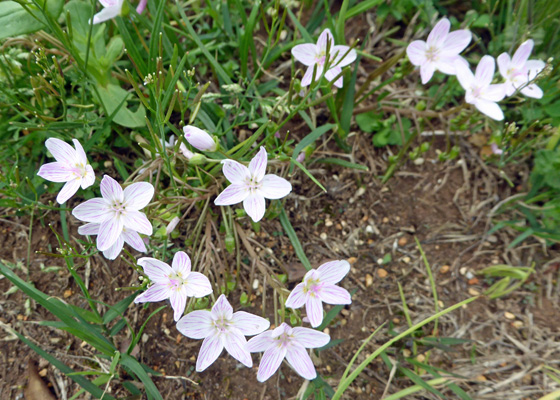 The dogwoods were in bloom along the Trace but we didn't see very many redbuds on this section.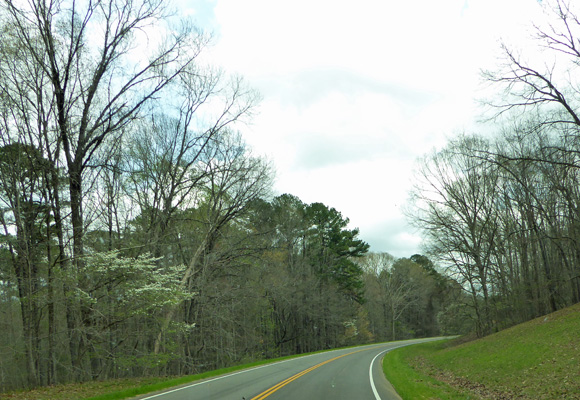 Mostly the Trace runs through woodlands along through here, but occasionally it comes out into open farm country.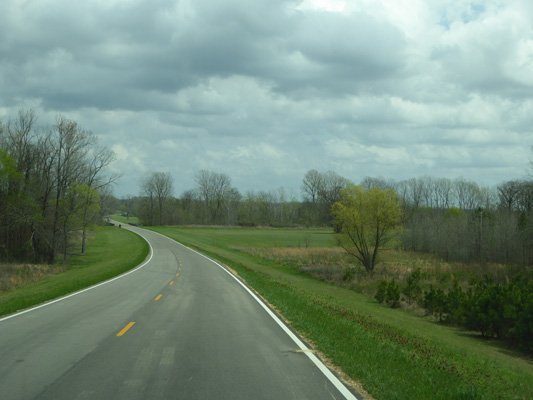 At its narrowest, the Trace is 800 feet wide and its neighbors are farms and wood lots whose owners work to keep the area bucolic. We saw a few houses off in among the trees but mostly it's just open country.
Here and there along the way there are Indian Mounds built by the indigenous people of the area. These are the Pharr Mounds which were built 1,800 to 2,000 years ago in what was called the Middle Woodland Period.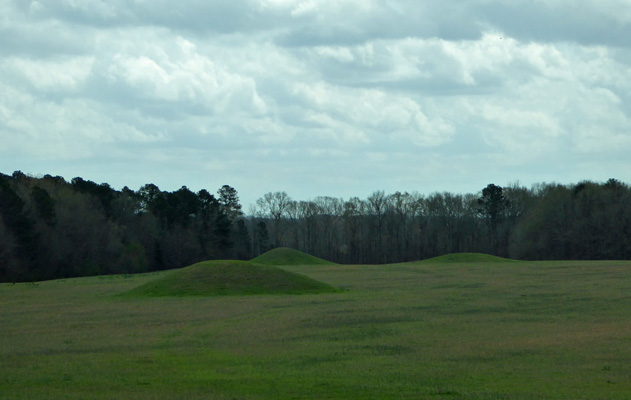 We drove for another hour and then stopped for lunch at the Bear Creek Mound turn off. This mound is a flat top mound that would have had a ceremonial building on top. It was built in the Early Mississippi Period about 500 years ago.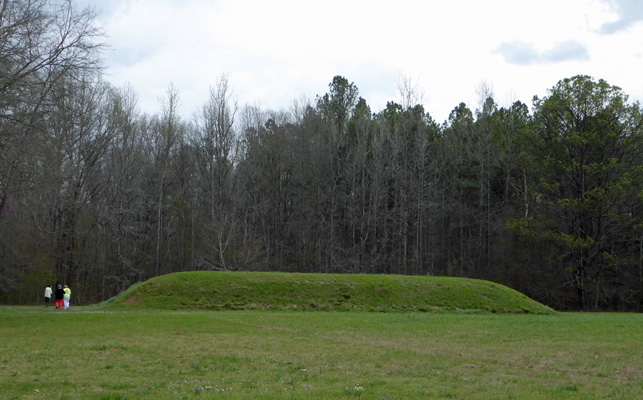 There were dark clouds off to the west and by the time we had finished lunch it had begun to rumble and rain. It was my turn to drive and as we entered Alabama (the Trace crosses the northwest corner of the state) it began to pour. For the next 45 minutes it was like driving through a car wash, it poured so hard. To make matters even more exciting, we had chunks of ice falling out of the sky. These were not round pieces of hail. These were jagged pieces of ice crashing down on the roof. At one point we spied a turn out and I pulled in and turned off the engine and covered my ears because it was just so loud.
Driving an aluminum trailer through a raging hail storm is a wonderful way to stir up fears of serious dents and destruction. I admit I was pretty worried and scared for a while. The good news is that as always my fears were way worse than reality. Genevieve came through just fine and eventually we drove out the other end of the storm and onto a dry roadway. Whew.
At milepost 370 (we started at milepost 265 in Tupelo) we turned east on Hwy 64 and drove 15 miles to David Crockett State Park. We arrived just before the office closed and got a nice water and electric site for $20.65 a night (with a 25% senior discount!). We set up camp and were happy to discover that the hot spot worked pretty well and that Walter could get TV over the air both from Tennessee and Alabama. His phone worked but mine didn't.
Just after we finished dinner, we had a knock on the door. A park ranger was letting us know that there was a severe weather warning until 8 pm and there might a tornedo. He wanted us to know that if the wind kicked up we should go shelter in the bathroom. Oh goodie. In fact, there was no tornedo warning but there was a severe thunderstorm warning with the possibility of dime to quarter-sized hail. The storm made it's way through, the wind barely blew but it did pour and we did have a little bit of very noisy hail. All good.
Tuesday March 28th, we drove from David Crocket State Park west to the town of Waynesboro to pick up our mail at the Post Office. It's a small town and there really wasn't much to see. We drove back to the Trace and drove north about 5 miles to do the Old Trace Drive since it had gotten a star on the map as being a Don't Miss site. It turned out to be a narrow one lane one-way road through the woodlands. There were two little turn outs with no information signs. Supposedly you can see the original Trace here but it was less distinctive that the wheel ruts of the Oregon Trail which as you may recall require considerable imagination to see.
Having had our thrill for the day we turned back to Lawrenceburg and David Crockett State Park. We took a turn through Lawrenceburg. It was a bit more exciting than Waynesboro but we didn't find much we were looking for.
Upon return to the park we decided we'd take a drive through and see what we could see. It's really a nice park. There are trails (including one with exercise stations) and you can follow part of the Trail of Tears here too.
For those who aren't familiar with it, the Trail of Tears was the route (as it turns out there were a number of routes) that the US Army took the Seminoles, Creeks, Choctaw and Cherokee Indians who were removed from their lands in the southeastern US and made to walk to western Arkansas and Oklahoma to take up residence there. About a quarter of the Indians who were removed didn't survive the removal. It is a very shameful piece of American history. I admit that I was NOT interested in walking the trail. Way too much very sad energy for me.
In addition to the trails and two campgrounds there are picnic shelters, a group of very high end cabins (complete with satellite TV dishes), a big outdoor pool (still drained for the winter), and a restaurant (open Wednesday through Sunday for lunch and dinner). We drove the loop road and stopped to see Crockett Falls. They might have a drop of 2 feet but my guess is it's closer to 18 inches.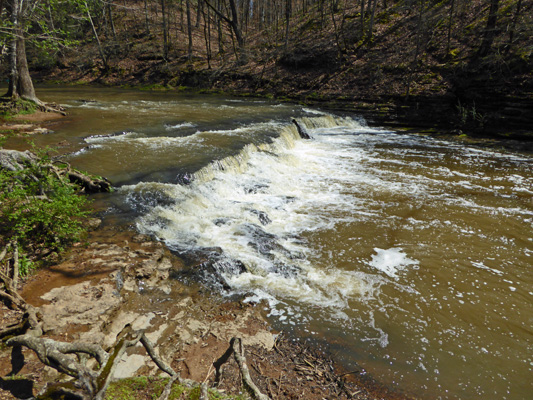 After the falls you cross this lovely little covered bridge. I think it's modern but hey it's rustic looking.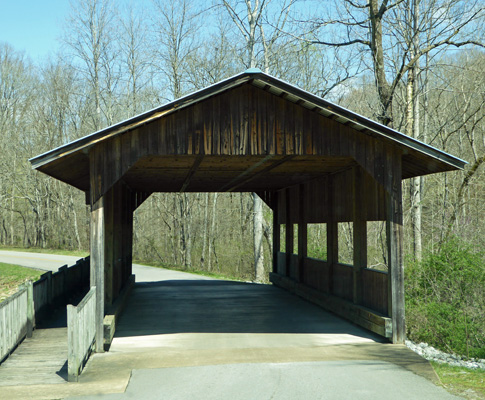 And we stopped at Lindsey Lake to have a look. A number of the cabins are on the lake and the rest are up the hill (by the restaurant) and I suspect they have a view of the lake too. You can't swim in the lake or have a motor on your boat but you can fish and rent paddle boats.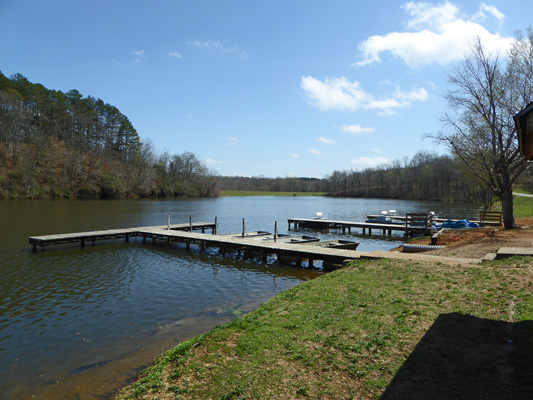 Having finished our big exploratory expedition, we went back to the trailer and read our mail. I'd had a package waiting for me from our daughter, Tracy. And in it (in addition to a large package of giftwrapped Costco TP which was part of an inside joke) was a pair of Star Wars cup tops. Just what every girl needs for her birthday: Jar Jar Binks and Sebulba. Their arms move so my inner kids had great fun posing them for this photo.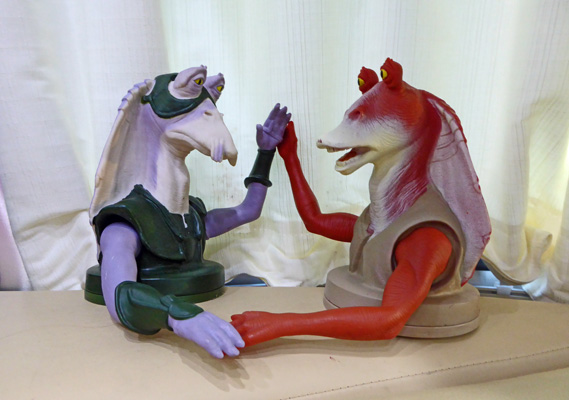 I know you all might be really jealous but hey some of us are just lucky. It turns out Tracy didn't put these guys in the box! The box had been damaged during its trip from San Diego to Texas and then on to Tennessee and my guess is that another box came open at the same time. Someone out there is missing Jar Jar and Sebulba plus a cute little pink dress (with petticoat) and a pack of learn your psalms flash cards in Spanish! You can imagine Tracy's puzzlement when I wrote her to thank her for all these fun things and sent her the above photo. She had no idea how they had gotten into the box. I guess you could say that it was just one more bit of weirdness for us.
On Wednesday March 29th, we packed up and headed back to the Natchez Trace on our way to Nashville. I decided that Jar Jar and Sebulba could stay behind for the next campers—maybe there would be some kids who'd enjoy them. And I left them posed on the picnic table as we left.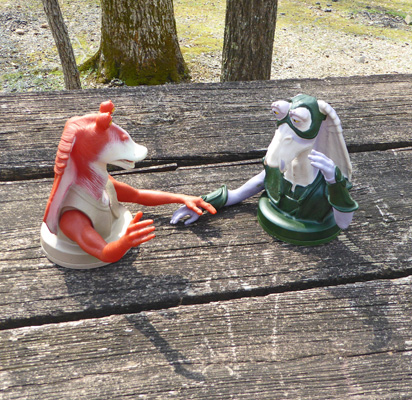 Shortly after we rejoined the Trace, there was a detour that took us out through the countryside for a few miles. We ended up behind an Amish farmer's buggy.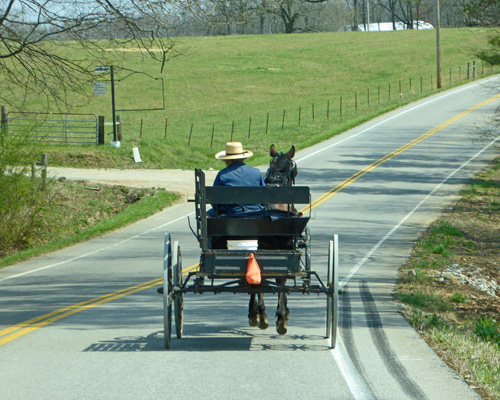 He was clip clopping along at about 15 mph and eventually pulled over on the verge and let us by.
We rejoined the trace and stopped at Fall Hollow. There was a short trail that led down the hillside a ways to give you a view of a nice little waterfall.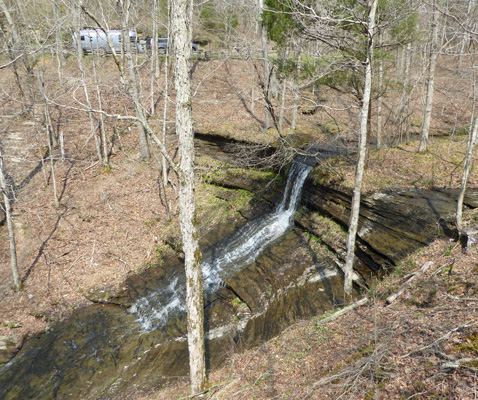 It dropped off again for another fall but I couldn't get a decent photo of it for all the trees.
There were lots of wildflowers in bloom along the wet trail including lots of Wild Blue Phlox (Phlox divaricata).
Here's a close up of the phlox flower.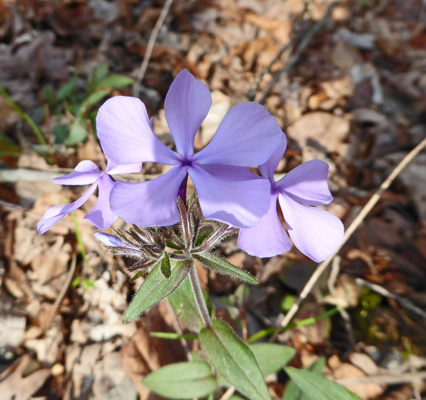 There were also Early Saxifrage (Saxifraga virginiensis) in bloom.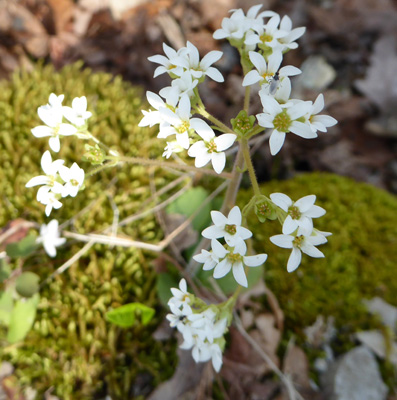 And another little white bell that I can't identify. I think this one is different than the ones we saw in Arkansas because it's stem is purple and the others had a green stem.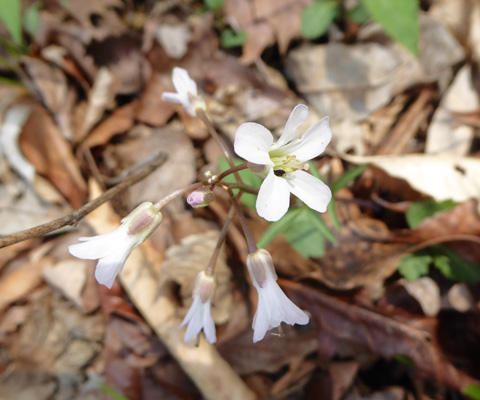 There were lots of what looked like black butterflies flitting about on the trail. When I got back to the trailer Walter pointed out a whole group of them gathered on the ground in the sun. They actually appear to be brown. I've never seen anything like them before.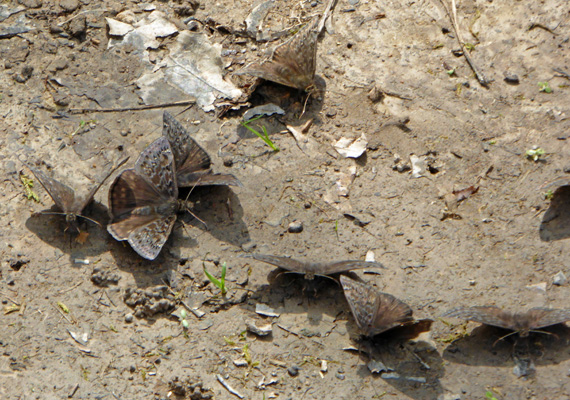 We drove on and stopped at the site of the Gordon House along the Duck River. This is one of the only surviving buildings from the era of the original Natchez Trace. The Gordon Family built it in 1819. They farmed here and ran a ferry across the Duck River for the travelers on the Trace. The ferry continued in use until 1896 when it was finally replaced with a bridge.
The house is listed as an Historic Building so the Park Service restored it in the 1970's at least on the outside.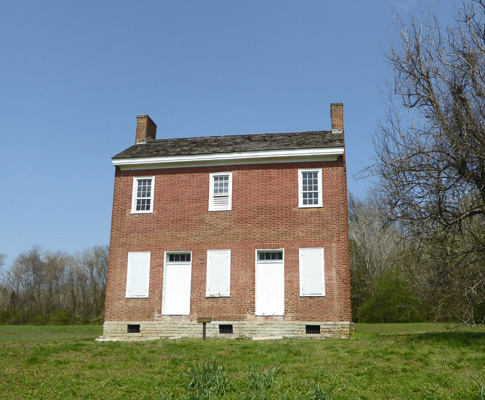 The lawn here was full of what is called Ground Ivy (Glechoma hederacea).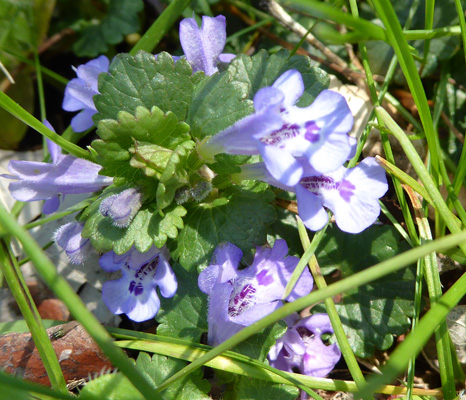 With a few Dovefoot Geranium (Geranium molle) thrown in for good measure.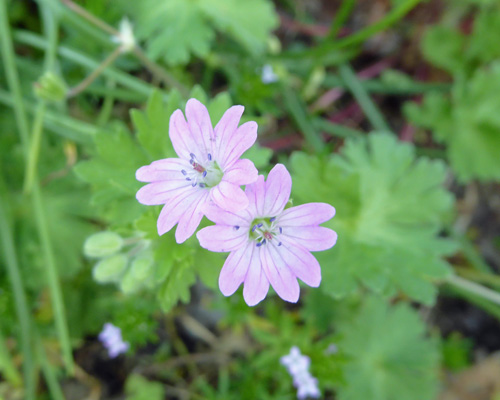 We took the trail out across a grassy area and across a little bridge where I spied Dog violets (Viola labradorica).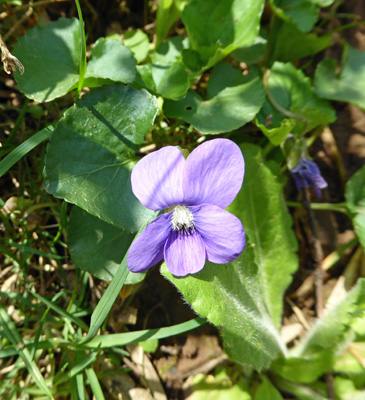 Across the creek, there is an actual section of the original Natchez Trace. American soldiers cleared a pathway through here in 1802 (probably as part of it's designation as a Post Road).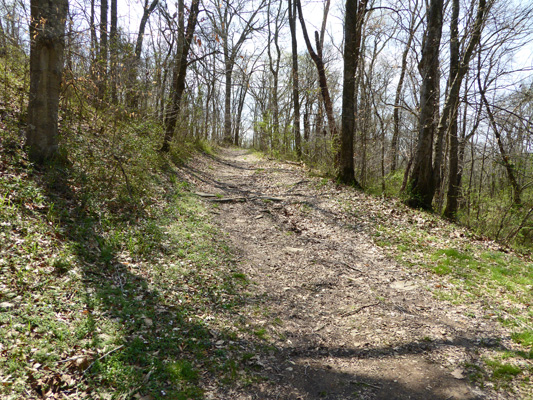 We followed it up the hill and through the woods a ways. Along the way we saw a big patch of Spring Larkspur (Delphinium tricorne).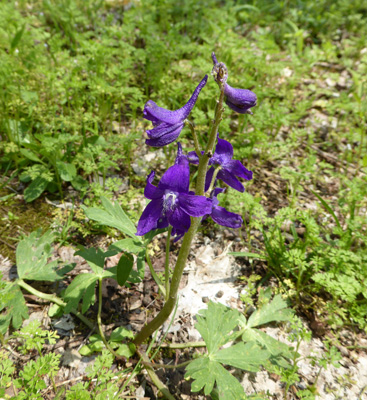 And lot of Persian Speedwell (Verionica persica) a sweet little flower in the grass.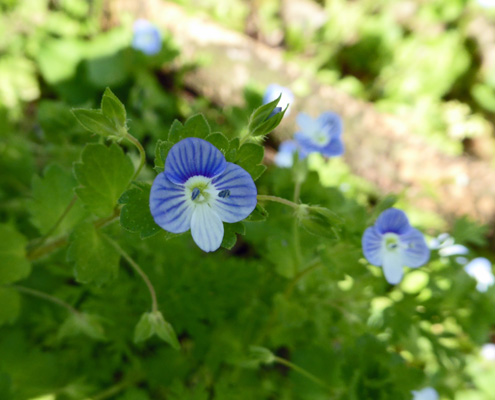 There was also a big patch of the little white bells I'd seen in Arkansas complete with the green stems.
The trail led you all the way down to the Duck River to the site of Gordon's Ferry.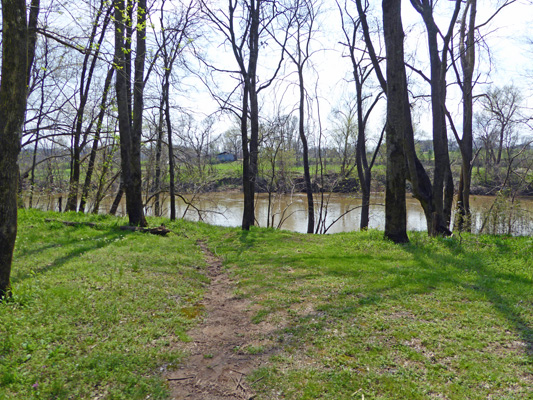 On the way back I surrendered and took a photo of the Henbit (Lamium amplexicaule) growing in the lawn. This is a weed but it's a very pretty one.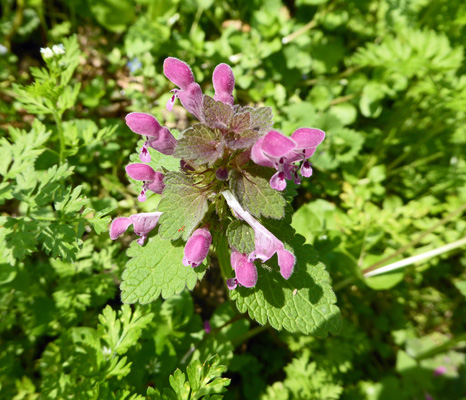 There was also a lot of Starch Grape Hyacinth (Muscari neglectum). I doubt this is native but I could be wrong.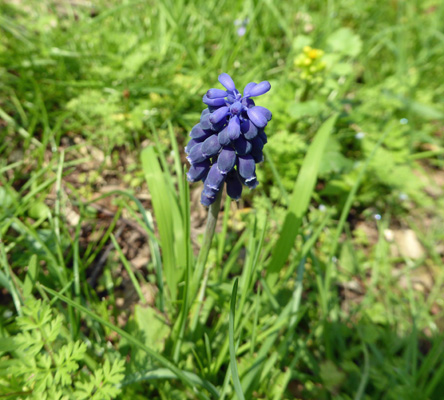 In the lawn by the house I spied a lot of what they call Field Pansy (Viola bicolor).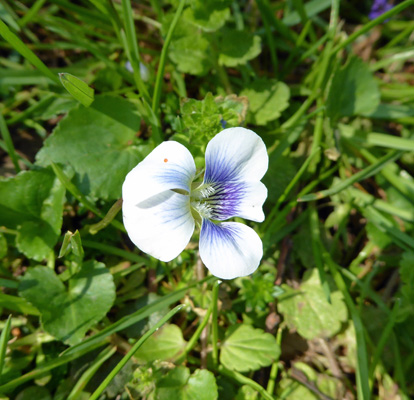 And here and there the Daisy Fleabane (Erigeron strigosus) had started to bloom.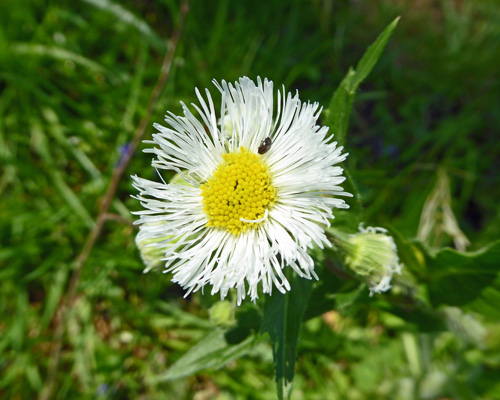 There was a big old Redbud in bloom in the parking area.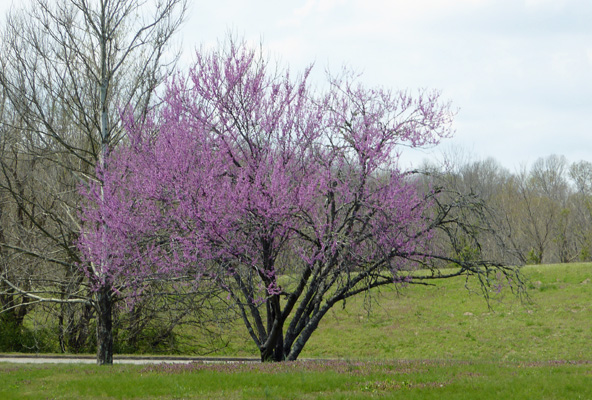 We drove on up to I-840 (a ring road around Nashville) and took it up to I-24 and the Nashville I-24 Campground where we'd made a reservation for 3 nights. They put us into a nice pull through spot with a full hook up for just $31 a night (but with the high taxes on campsites and hotel rooms it ended up to be $34.62). That's still a deal since the places closer into Nashville were $45 to $65 a night.
It was warm and humid and we opened all our windows and enjoyed the sunshine while it lasted. The forecast was for thunderstorms on Thursday so we opted to do laundry and grocery shopping (and errands) that day. The rain held off until about 6 pm and then it poured but not for very long. There were tornedos up in Indiana and warnings in Kentucky but we escaped anything serious.
Friday March 31st we drove north up I-24 up towards Nashville and Opryland. We parked in the Opry Mills Mall parking lot (which is HUGE and free and was pretty full at just before noon). We got a spot not far from the Grand Ole Opry and headed onto its grounds.
There were nifty banners on the light posts.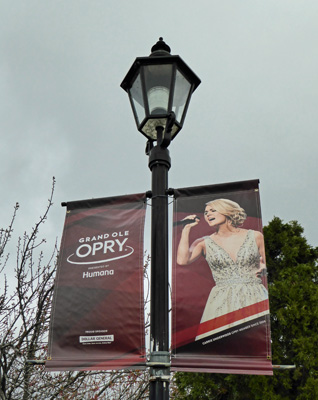 We came in from the south so our first view of the Grand Ole Opry was a side view.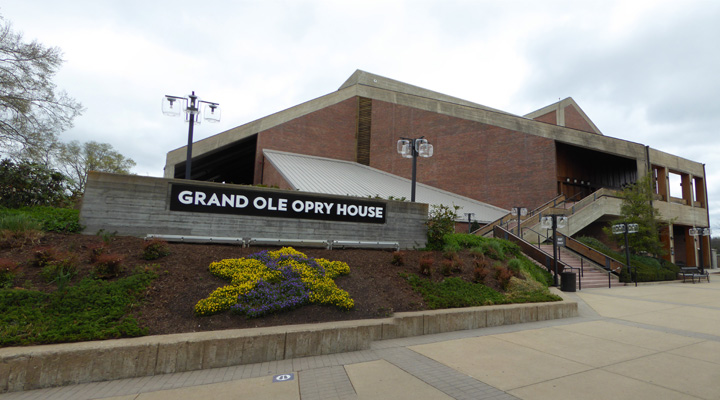 The flowering cherries were just coming into bloom.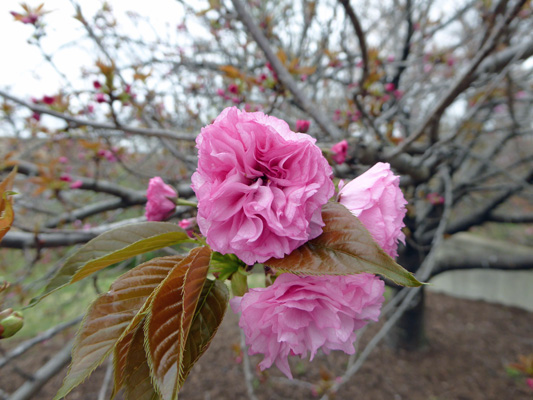 I have a fondness for Garth Brooks so I took a photo of his light post banner.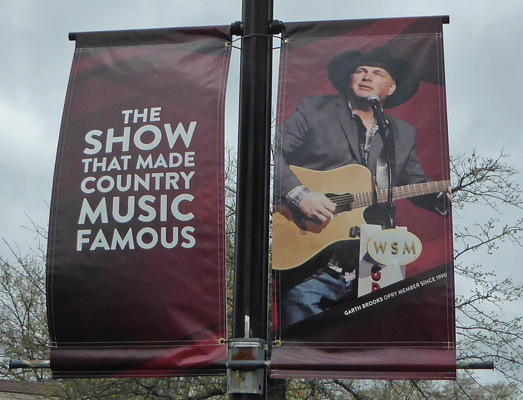 We followed the walkway around to the front of the theater. And there it is, the Grand Ole Opry House.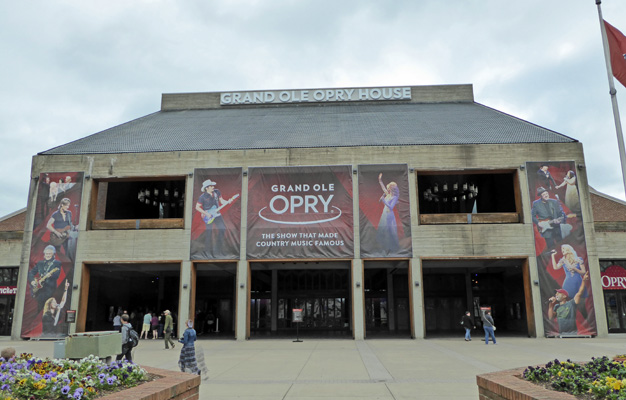 You can take a tour of the place for $26 a head. Neither of us needed the experience so we walked on through the grounds. The azaleas were in bloom.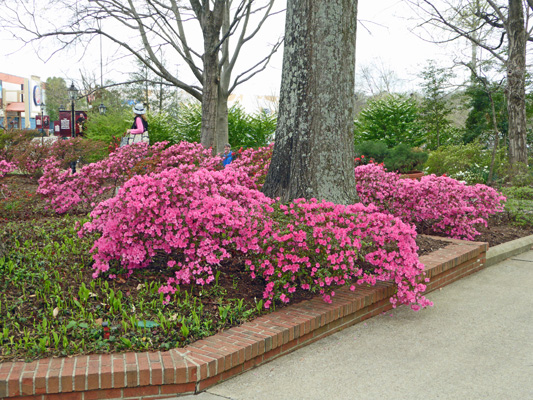 We wandered northward along the sidewalk to Gaylord Opry Hotel and Convention Center. This is a HUGE hotel with a wonderful inner courtyard enclosed in glass. The central area is called the Delta.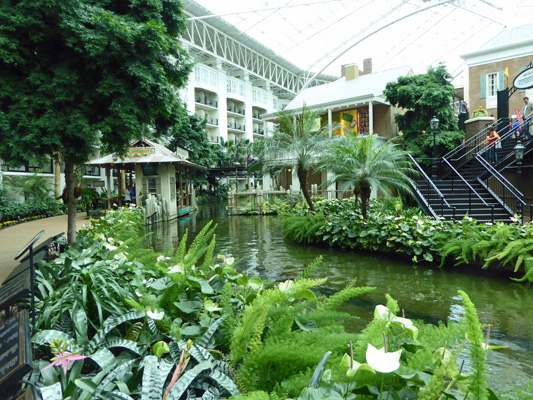 We took one look and both said it reminded us of the River Walk in San Antonio—just not as big and of course not outside.
I took this panorama shot so you could see the ceiling of the place.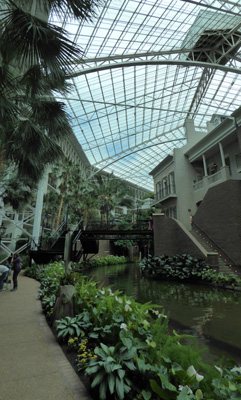 There are small boats in the canal just like at the River Walk. But it's only a quarter of a mile ride.
There's a nice waterfall in the middle.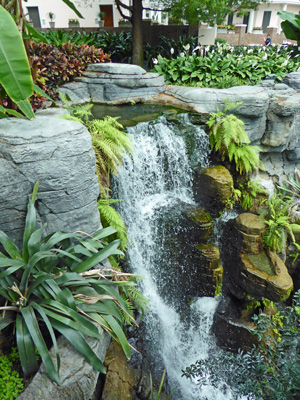 The white building in the distance is the convention center.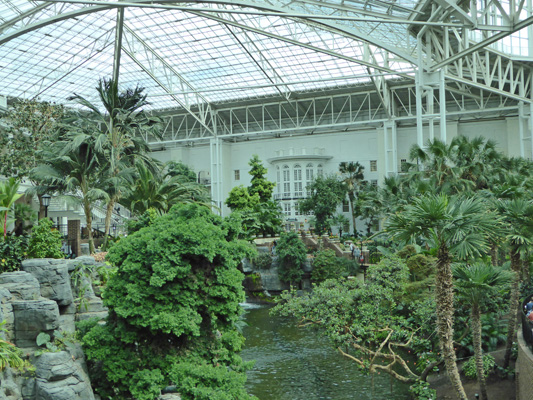 There's an 'island' in the south end of this atrium and it's made up to look a lot of the French Quarter at Disneyland (not quite New Orleans but it has that feel).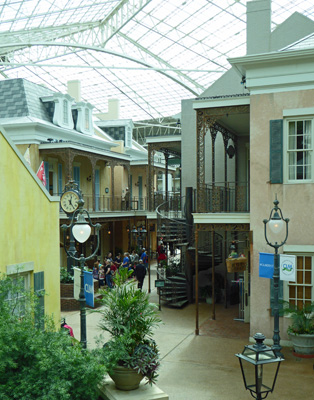 The plantings are all meticulously taken care of. These begonias and Easter Lilies looked freshly planted. And I saw flats of coleus ready to go in too.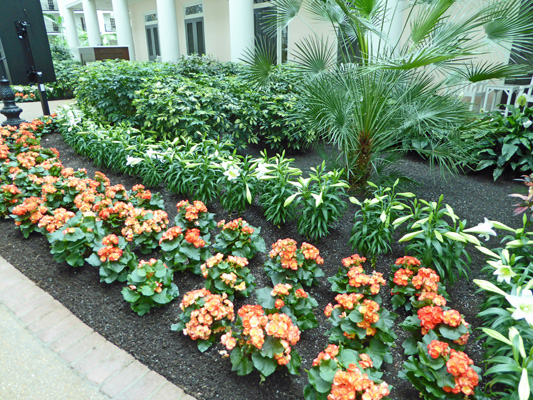 To the west of the main atrium is another glassed in area called the Garden Conservatory. It's not as big as the Delta and so it seems to be more about the hotel rooms overlooking it.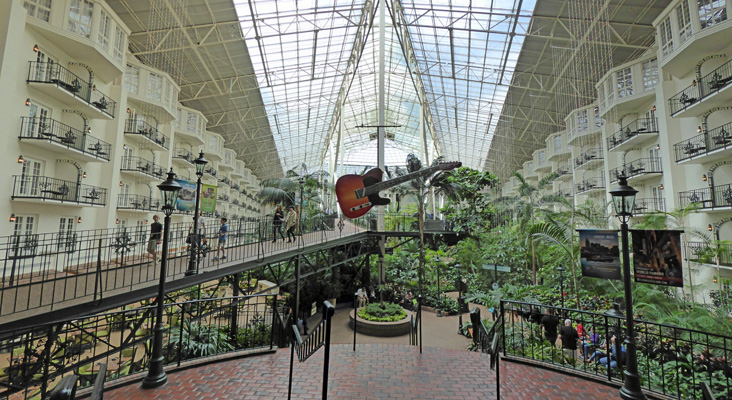 South of it is yet another glassed in area called the Cascades. We didn't hike down to see it.
We made our way all the way around the hotel and through the convention center. There are lots of high end restaurants and shops. And it was FULL of people. We sat for a while in the Delta area and people watched and then hiked over to the Opry Mills Maul. I'd read in one of our guidebooks that the Gibson Guitar folks had a shop/factory in the mall. It may have been there originally but it's not now. The mall does have an IMAX theater, a restaurant with an huge aquarium around it and of big trampoline for kids to jump on.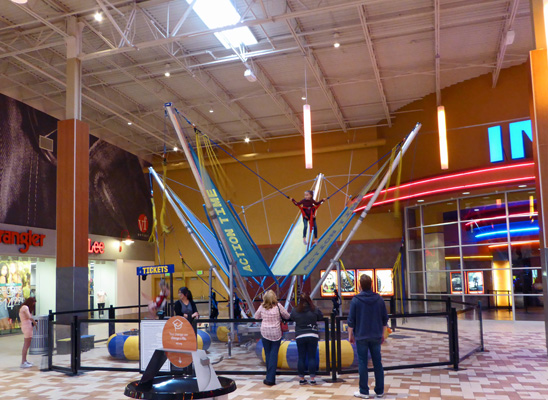 Once upon a time this was a high end mall. Now it is mostly outlet stores. We had thought we'd have lunch here but we walked and walked and didn't find anything that appealed to us. So instead we headed back to the car and asked Carmine the Garmin for a place to eat. In tune with our Country Music theme we had lunch at the Cracker Barrel just on the north side of the hotel. We were both pretty tired by the time we found lunch. We'd walked for a couple of hours and I was frankly peopled out! The longer we spend on the road and out in the countryside the lower is my tolerance for cities and crowds.
Traffic on the drive back south was a bit heavy but nothing too bad for mid-afternoon on a Friday.
Saturday morning April 1st, Walter called the SKP park just outside of Knoxville to see if we could get a reservation for a couple of nights. They had a pull through full hook up site for us. YES! So we packed up and headed east on I-40 to Knoxville. There were lots of redbuds in bloom along the way. Just before we got to Cookeville there was a stretch with redbuds on both sides of the road. Walter was driving so I managed to get a photo of them.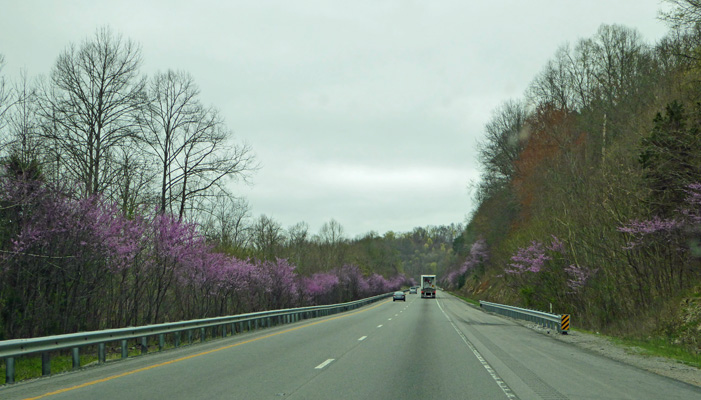 It went on like this for many miles—lovely.
We lost another hour as we neared Knoxville and entered the Eastern time zone. Funny how that works—you when you keep heading east all the time. So it was close to 3 pm when we rolled into the Raccoon Valley RV Park in Heiskell, TN just north of Knoxville. We signed up for 2 nights at $20 a night (tax included) and settled in for the day. Our hot spot worked as did both of our phones. And Walter got both the local PBS station and whatever station it was that was carrying the Final Four games of March Madness.
As we drove the clouds that had been really thick burned off and we had a nice sunny afternoon. The temperature stayed down in the 60's and it got down to 39 that night which was a real novelty. We awoke to condensation on the ceiling in the bedroom—something we hadn't seen since back in late November in Sierra foothills in California.