On Monday August 21st, we packed up camp at Moose River Campground in Saint Johnsbury, VT and drove south on I-91 until we reached Hwy 302 where we went west until we found our way to Lazy Lions Campground in Graniteville, Vermont.
This is a lovely campground with really nice landscaping. We got their biggest (and easiest to get into) full hook up back-in spot for $40.28 a night taxes included. Our spot came with a large grassy area with a fire pit and a pair of Adirondack chairs.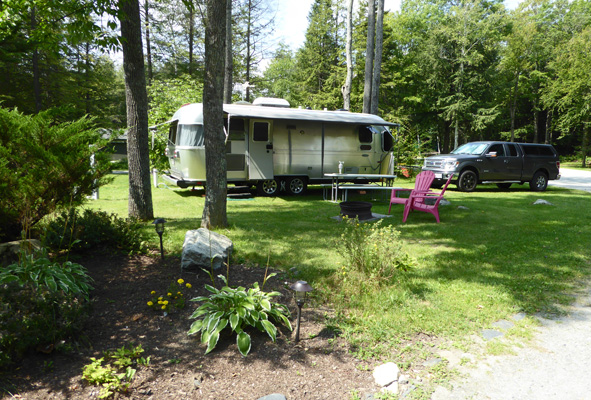 It was sunny and warm (and humid) so we put out all the awnings and opened all the windows. No cable TV here but Walter got a decent selection of over-the-air TV and they had great WiFi that worked pretty well. On occasion it would either dump you off or get real slow but all you had to do was sign off and sign back on and it worked again. Walter's Verizon phone worked fine but my Virgin Mobile (Sprint network) phone only had one tiny bar. The landscaping here was very nice with big chunks of granite arranged nicely here and there and lots of perennials in bloom.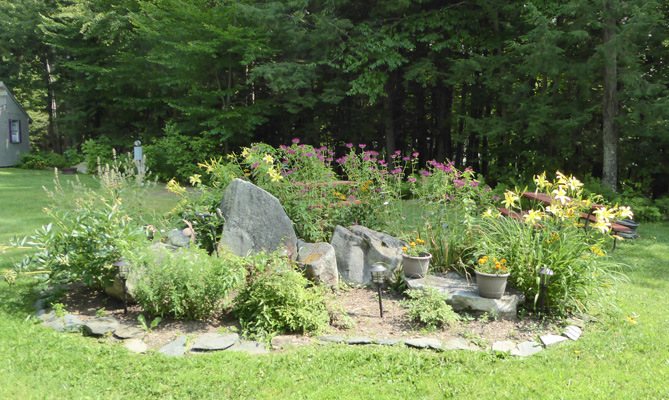 Having gotten settled in we drove over to the Graniteville Post Office (which has rather skimpy hours) and picked up two months worth of mail. And then spent the bulk of the afternoon wading through it all. That evening we made our plans through Labor Day and managed to even get a reservation up in Ontario for the big holiday weekend.
It was hot and sticky with a heat index close to 90 that afternoon—a perfect day to stay indoors and veg. On Tuesday August 22nd, the forecast was for more heat and then thunder storms so we went into the town of Barre, VT early to take a walk. It turned out not to be what we thought it would be but it was still interesting. Graniteville, where we were staying, is home to one of the largest (if not THE largest) granite quarries in the world. This whole area is full of old quarries. Barre was the commercial center for all this activity. Most of the quarries have closed so the town has shrunk in population but it's still going pretty strong for being out in the middle of nowhere. All the parking (including most of the lots) is metered so we dug around in our wallets to find enough dimes to give us an hour and a half to explore the town. Then we began to walk the main drag downtown.
It's an old downtown with lots of brick and stone buildings.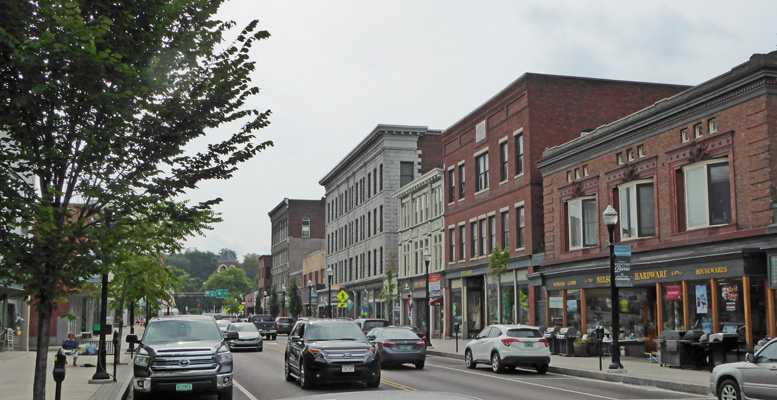 Here and there through town there are granite sculptures. The first one was a set of 4 benches. One had a HUGE old cell phone on it. One had a real live lady sitting and using her phone and these two had a purse and a lunch bucket.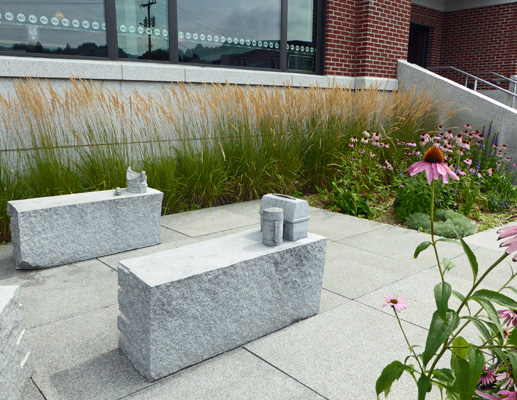 In amongst the big hulking buildings we found this one lovely little antique shop. We'd kind of thought that the whole town would be this sort of thing but that turned out not to be so.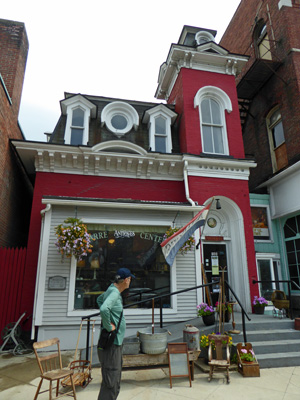 At the far end of town there was a complex intersection and in the middle of it there was a war memorial with this carving.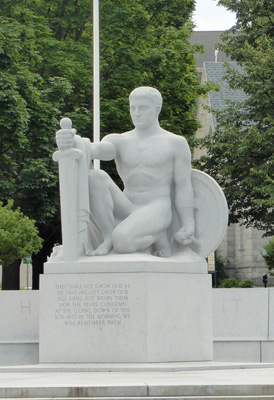 We crossed the street and made our way to the other end of town. And there in front of a gas station we found this lovely granite sofa.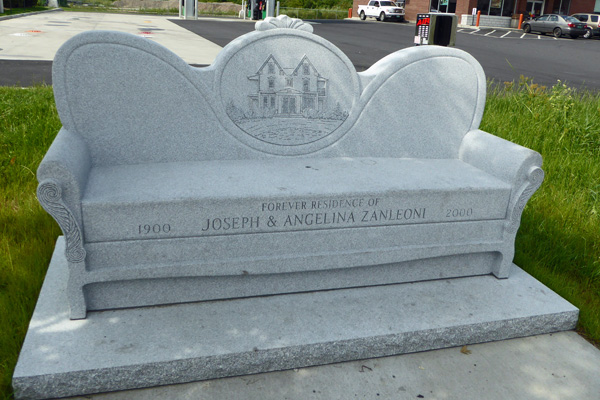 It was a pretty deep seat—it could have used a few throw pillows.
At the far end of the downtown area there's a lovely statue in honor of the Italian immigrants who came here to work as stonecutters and sculptors.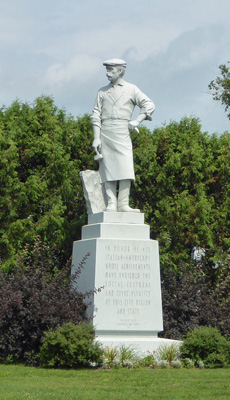 By this point it was starting to get hot and sticky and we were happy to complete our loop and make our way home. We had thunderstorm and high wind warnings all afternoon and we had plenty of thunder, lightening and rain before the storms were over at midnight. The rains brought the temperatures down outside but it rained hard enough we had to close up all our windows and vents (several times) so it stayed pretty warm inside.
Wednesday August 23rd, it was much cooler with lots of clouds left over from the storms the night before. We did our grocery shopping and stopped in at the very nice hardware store in town to pick up a replacement screw and of course ended up with a bunch of other goodies while we were at it. After lunch, we headed west on I-89 to Waterbury, VT for the scenic drive up Hwy 100 to Stowe. The view from I-89 as you come towards Waterbury is lovely.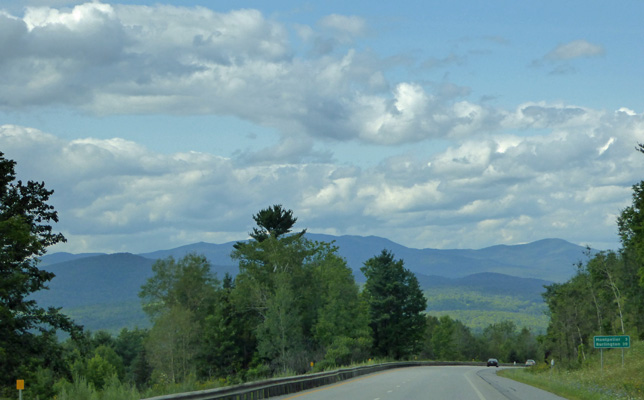 The drive up Hwy 100 is great even with the tons of traffic produced by all the folks sightseeing in the area. This is part of the Bellyache Tour that runs all the way over to St. Johnsbury. There are Sugar Houses with maple sugar goodies. There's a winery and a distillery. And a cider house that carries both hard and regular cider.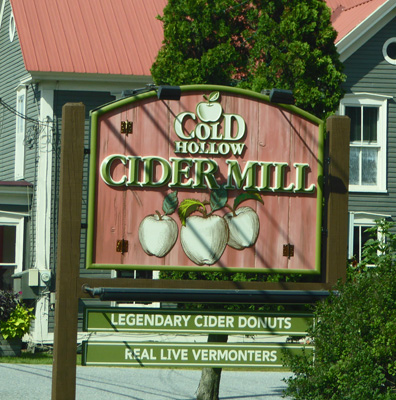 There are also creameries and a couple of big cheese factories too. We drove up to Stowe which is a ski/tourist town and through one neighborhood before heading back. It's a great place to window shop if you're into art galleries and antique places and you can find a place to park. All my photos were full of cars and power lines so I've left them out.
On the way back to Waterbury, I stopped to take a couple of photos at the Ben & Jerry's Ice Cream Factory. And Walter decided he'd like to do the tour as our outing for the day. So we found a parking spot up in the huge guest parking area where they also have a large solar farm.  

We headed down the hill towards the factory. From the top of the hill you get a great view of the Green Mountains along with the factory and it's big tanks of milk, cream and sugar.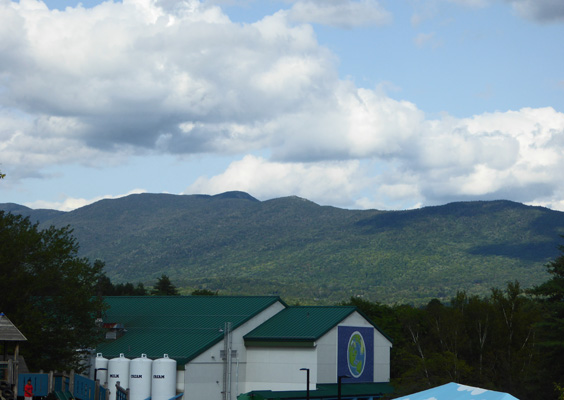 A path leads you down the hill past a kids playground and across to the factory.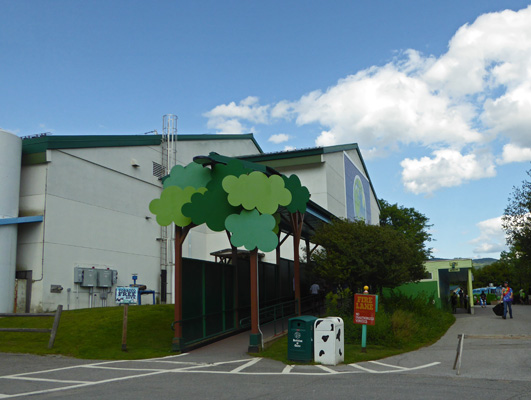 This is the original factory and it is very much focused on tours and greeting the public along with developing new flavors and making ice cream. True to the Ben & Jerry philosophy there's a mural of mother earth on the side of the building.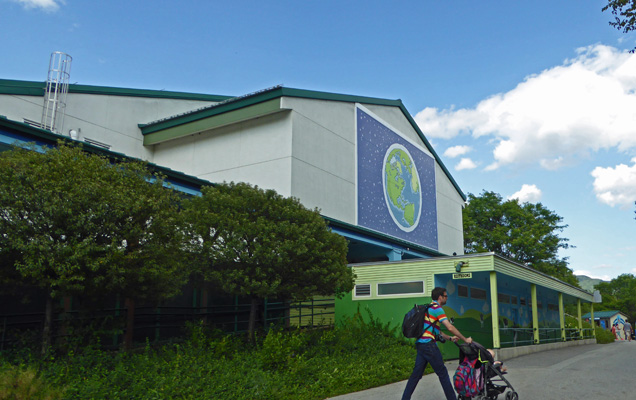 There were still tons of folks here at 4 in the afternoon and the lines at the ice cream stand were long. Inside there is a gift shop and a place to sign up for tours. They charge adults $4, seniors $3 and kids under 12 are free. We paid our money and sat down to wait for the 4:30 tour. The tour takes you upstairs to watch a movie about the history of Ben & Jerry's—yet another business which started in a garage and has grown to have factories all over the world. Then they take you to a viewing room above the factory floor and explain how they make ice cream. They get their milk from dairies in Vermont and homogenize and pasteurize it themselves before making their basic ice cream mix which they store in huge refrigerated tanks. Then they make ice cream and add swirls and chunks and pour it into pint containers which travel upside down up through a super cold silo and then are packed in 6 packs for shipping on pallets.
The last stop of the tour is the actual room where Ben and Jerry used to formulate ice cream. There they present everyone with a pretty good-sized scoop of one of the flavors they're working on—in our case it was a caramel swirl with chocolate chunks. I even had some which my body didn't appreciate but my mouth LOVED. The tour takes about a half hour and you end up back at the gift shop, of course. I would have bought one of the classic tie-dyed t-shirts if they'd had them in women's sizes but they didn't.
We stopped at the photo op spot and I took a shot of Walter on the lid of Half Baked Ice Cream (their current number one flavor having replaced Cherry Garcia which was number one for years and years).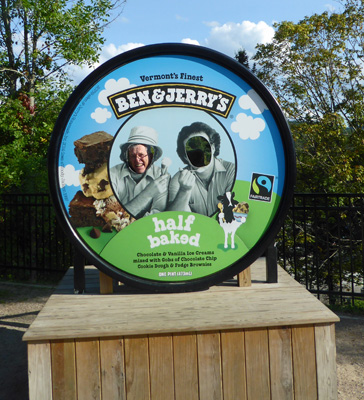 Ben and Jerry are both 66 years old and live in Burlington VT now. I guess they don't drive around in the Cowmobile anymore since it's parked here at the factory.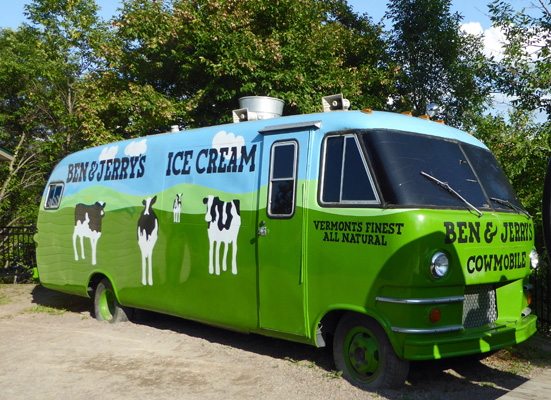 I noticed signs for the Flavor Graveyard on the way back to the parking lot and had to stop and see what it was.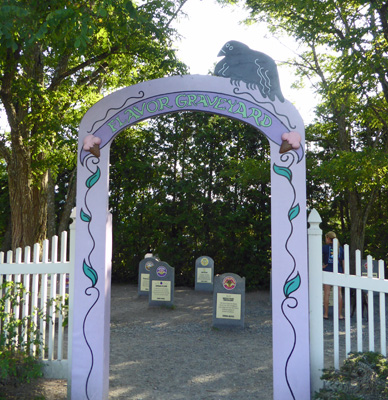 They had headstones—with funny epitaphs—for all the flavors they've retired. Here's just an example.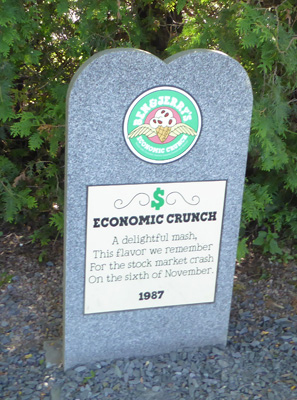 The temperatures had been much milder this day—in the low seventies and that was a nice relief after several days of hot and humid weather. It even cooled down into the low 50's by early the next morning. Whoo hoo!
Thursday morning August 24th, we broke camp and drove just an hour west on I-89 to Colchester, VT just north of Burlington. On our way to the freeway we topped the hill outside of Graniteville and I got a nice shot of the area.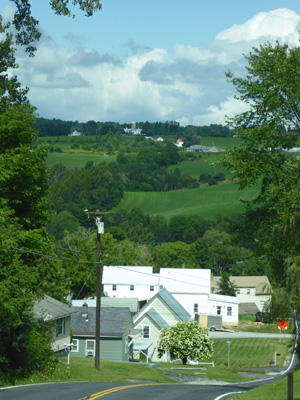 We had a sprinkle or two on the way and the temperature stayed in the low 70's. We'd made a reservation at the Lone Pine Campsites for a water and electric back-in site. They are a Good Sam park so we got a 10% discount which helped defray the $3.50 they charged us for an on-line reservation (unusual for a private park). So in the end we paid $41.52 a night taxes and reservation charge included. They charge extra for WiFi but our hot spot worked here just fine. Both our phones worked and Walter found LOTS of TV over the air.
The back-in spot was in a grassy area that was very easy for us to get into. We set up camp and I had to use our longer hose because the water spigot was on the wrong side—but hey, that's why we have that hose. It was sunny when we arrived so we put out the awnings but a pretty thick cloud bank came in and the sun went away fairly early on. I tried out their showers (since we didn't have a sewer hook up) and for 50 cents I got a nice hot shower that lasted well over the 7 minutes it said it would. Before dinner we took a walk around the park. One whole section is devoted to seasonal folks many with park models. They pay $4600 a season (May to mid October) and then can leave their units in place over the winter. Part of this section is pretty near the freeway so we were glad we were up on the hill and couldn't hear it.
Friday August 25th, we made a picnic lunch and set out to do the drive up the islands in Lake Champlain. Our first stop was Sand Bar State Park just north of Colchester, VT. The Vermont State Parks have a per person Day Use Fee of about $4 per person. They sell a punch ticket of ten entries which we thought we'd need to visit the 5 parks along the drive. But it turns out that we only had to pay once since our Day Use Fee was good at any park that day. Whoo Hoo. So we paid our $8 and went and found a parking spot so we could take in the view.
There were only a few folks out on the beach because it was still pretty cool. From here you could see some of the smaller islands that dot Lake Champlain.

We walked the beach a ways and found this great all terrain wheel chair next to the canoe and kayak rentals. Walter of course had to try it out. Where's the ignition on this thing? Go Daddy Go!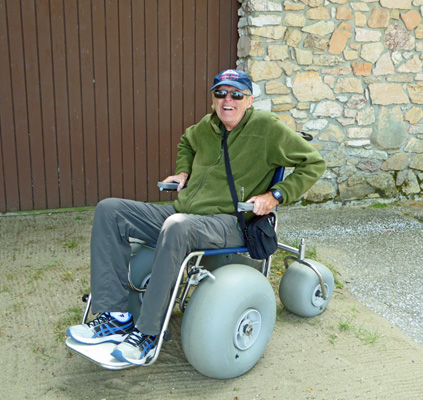 From here we drove across the bridge to South Hero Island and the town of South Hero. Several heroes of the Revolutionary War were given land grants on the islands and so they were named for them.
Grand Isle State Park is just north of South Hero in the town of Grand Isle. They are the only state park on the islands that has a campground. They have no hookups but they have a lot of small cabins and lean to's you can rent. We showed our Day Use Pass and drove down to the boat launch to have a look at the view.   

There were folks out fishing and kayaking too.

We drove through the campground and came across this lovely flower bed.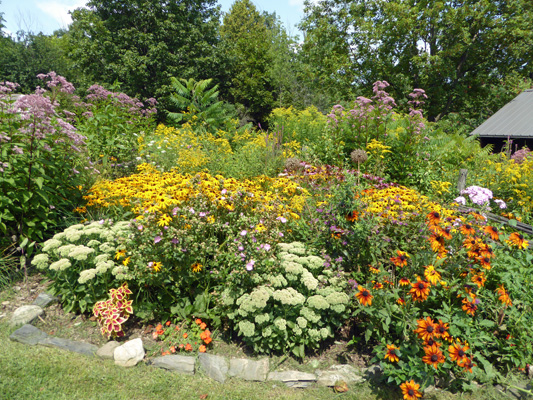 This was a really big display but there were lots of smaller plantings all over this park. A nice touch really. We saw other plantings at a number of other parks too—very civilized for a state park. A lot of the camp spots were good sized and had lots of privacy while others were out in the open. There was one loop with these odd lean-to structures. They were closed in on 3 sides and open in the front. And they had a storage shelf on the outside of the back.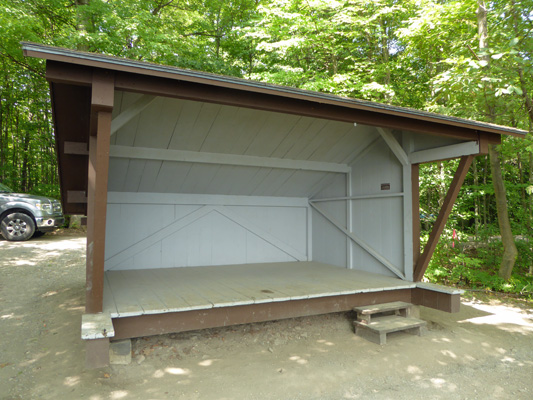 The advantage of these? They all had water views.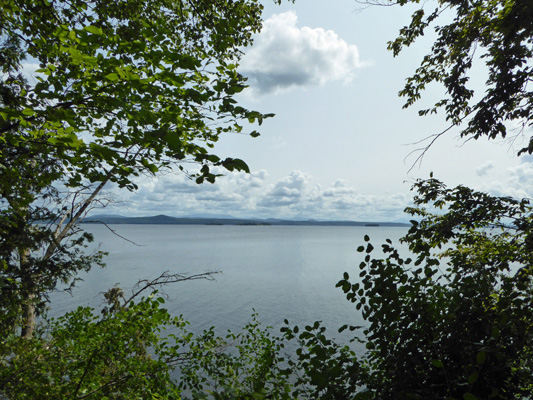 If you zoom in on the middle of this photo you can see a number of small islands and the Green Mountains in the distance.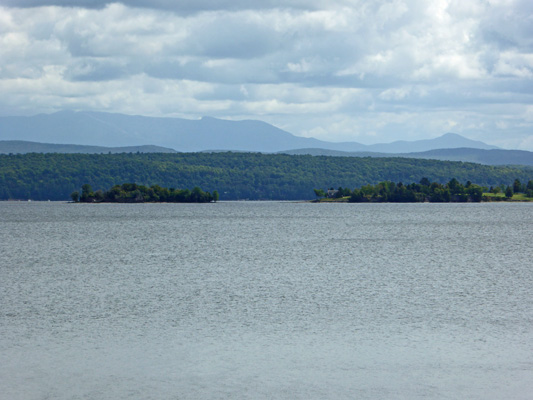 We drove on north over a drawbridge that connects South Hero Island to North Hero Island. The view here was great but there were power lines everywhere so I did the best that I could.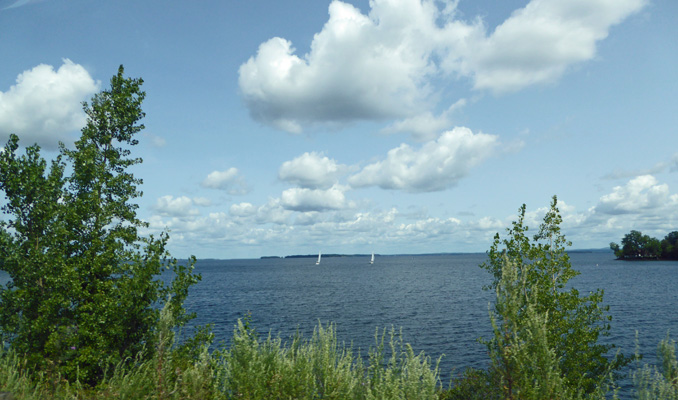 Our next stop was Knights Point State Park just over the drawbridge. It has a big parking lot and a wide sandy beach.     

Having seen two of these sandy beaches it looked to us that they power racked them every night and in this case someone had dragged a couple of canoes up over the sand that morning.
There were a few folks out sitting in the sun on the grass but it certainly wasn't crowded.
Our next stop was North Hero State Park. There used to be camping here but the mosquitoes got so bad that folks stopped coming so they've let the park revert to nature. There are two small picnic areas along the water and we stopped at one so I could take a picture.

On the way back to the truck I found my first fallen leaf—oh no! Summer is almost over.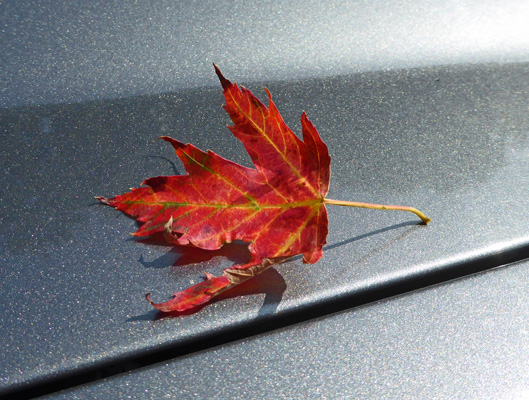 Our last stop took us over yet another bridge onto a small peninsula that sticks down into Lake Champlain from Canada but this part is still in Vermont. We wound our way through an area of summer houses and on to Alburg Dunes State Park. These are not big dunes but they're important in maintaining the wetlands here which are part of the migratory bird flyway. The sandy beach here stretches along a long arc.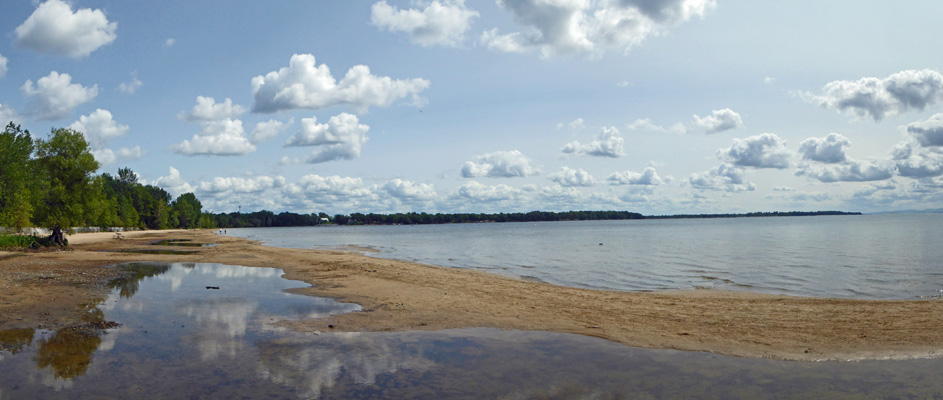 There were lots of kids in the water and people walking along the sand.

Those are the Adirondack Mountains off in the distance in New York.
We had lunch here overlooking the water enjoying the gentle breeze and the sunshine and pleasant temperatures in the high 60's.
We retraced our route (without the side trips to the parks) and stopped for a moment at the historic marker on the bridge from South Hero to the mainland. There they tell you about Samuel de Champlain who was the first European to see the lake back in 1609. He claimed it for the King of France. It was then ceded to Britain in 1763 after the French lost the American Indian Wars and it became part of the Royal Colony of New York. In 1783 the area joined the Free and Independent Republic of Vermont which of course eventually became part of the United States.
The view of the Adirondacks from here was pretty nice.

This was a nice drive and as good a way to explore the lake as any if you don't have a good sized boat.
We came home to a rapidly filling campground (it was Friday after all) and were both glad that we knew we were leaving the next morning. In the early evening I heard a fire engine's siren and the dinging of a bell. I looked out and saw kids running towards the road. The Lone Pine Fire Engine had arrived to give all the kids a ride.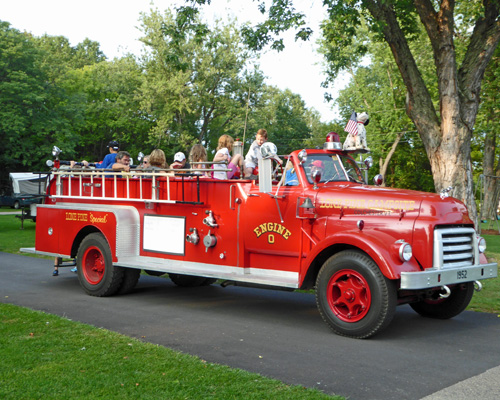 I stood and watched the back fill with even more kids and then they drove off ringing their bell. About 1/2 an hour later they were back delivering the kids back to their campsites. They came through the next morning too.
Saturday morning August 26th, we packed up under sunny skies and temps in the mid 60's. We drove north along I-89 and then headed west along the Canadian border into New York. We went west on Hwy 11 and picked up Hwy 37 to Massena, NY where we turned north and went through a tunnel UNDER the Eisenhower Lock (in the Saint Lawrence Seaway) and into Robert Moses State Park. The Park is located on the mainland and on Barnhart Island. We drove onto the island and found the registration station with some difficulty. They gave us a list of electrical hook up sites that were available. We drove the loop on the island and found a spot that suited us and went back to the registration station to pay our money—$31.25 a night (including the $5 per night out of state fee) and then went and set up camp.
We had our own private wetland out our back windows plus a tiny bit of blue that is the St. Lawrence off between the trees.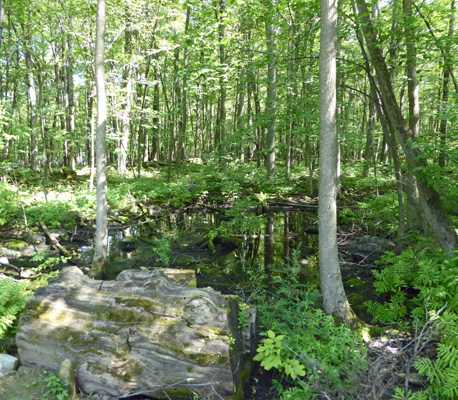 Sunday August 27th was another beautiful sunny day with temperatures in the low 70's. We spent a while in the morning watching the news on Hurricane Harvey in Texas and the flooding in Houston and then went out to enjoy the beautiful peaceful day in upstate New York—being ever so thankful that we don't actually live in Texas and have nothing stored in Texas and have few friends in harm's way.
We stopped by the Registration Desk to get a map of the hiking trails in the park and went out to take a photo of the beach area—which was basically empty since they don't allow you to swim there if there's no life guard (and they're done with life guards for the season).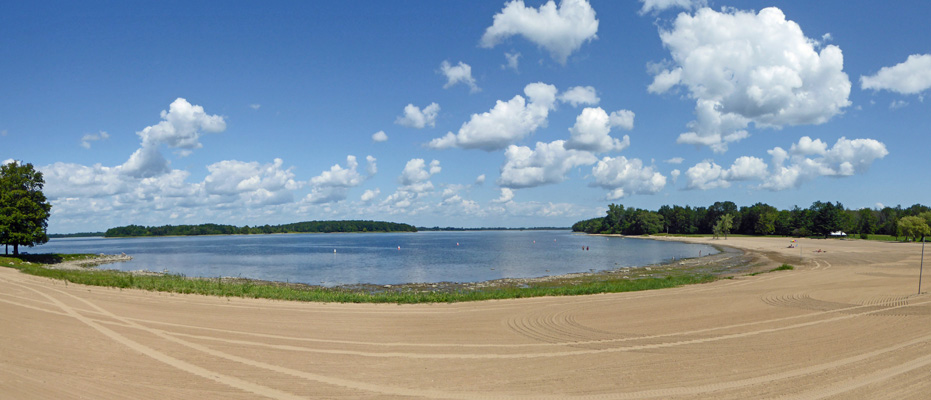 We wandered out onto the point to get a look a look out across the Saint Lawrence. That's Quebec off in the distance.

We hiked back to the truck and then drove back off Barnhart Island and over to the Nature Center parking lot where the trails begin. On our way out Robinson Bay Road we spied some wild turkeys.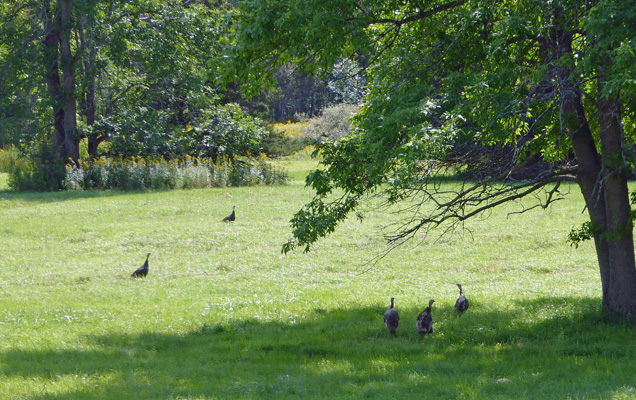 It's been quite a while since we've seen any and we were both pleased.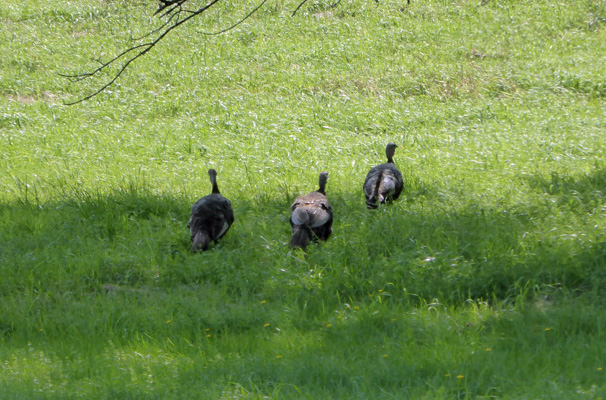 We parked and then tried to decide which way to go. We decided to take the Upper Loop (aka the River Loop) out through the forest. We took a paved path a ways and it eventually joined the main trail. It's a nature trail so there are fun signs along the way about the trees and the history of the area.
Along the way there is one overlook where you get a nice view of the St. Lawrence.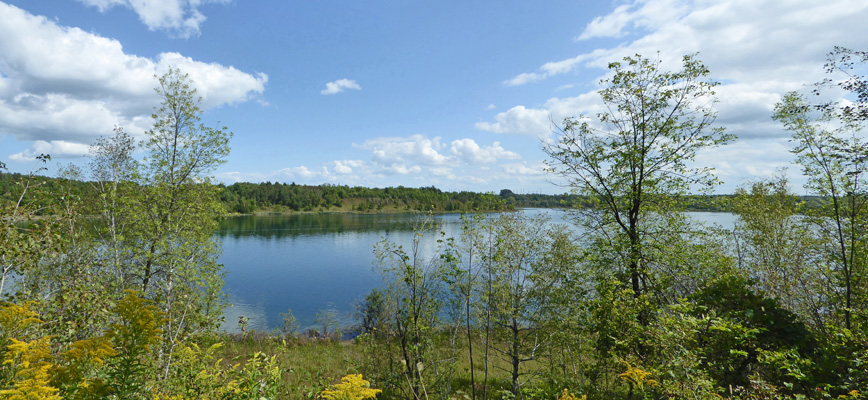 There were lots of flowers in the open areas including Joe-Pye Weed (Eupatorium maculatum)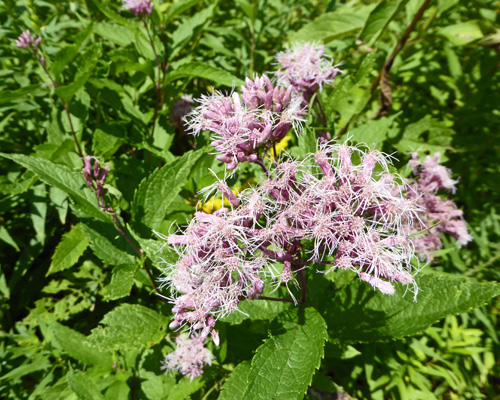 And lots and lots of goldenrod.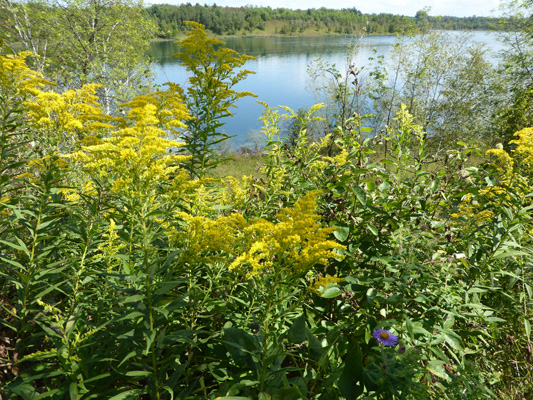 There were huge Paper Bark Birches all through the mixed hardwood forest.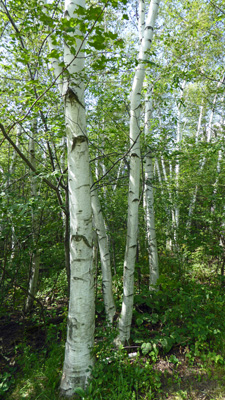 There were also big sugar, silver and red maples which don't have pretty trunks!
But the stand of big old beeches in the climax section of the forest did. Here's Walter standing in front of one of the bigger beeches.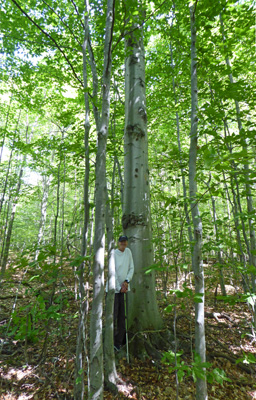 Along the way I spied a few interesting fungus including this little orange guy.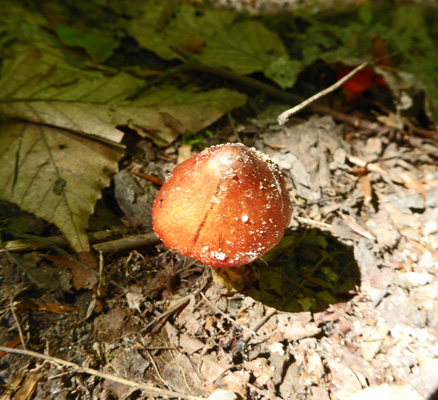 And right next to the trail there was a little plastic sign (placed by the Nature Center staff) pointing out this cool pair of trees which had grown together at their bases, then apart and then back together again. It's called an inosculation. So cool.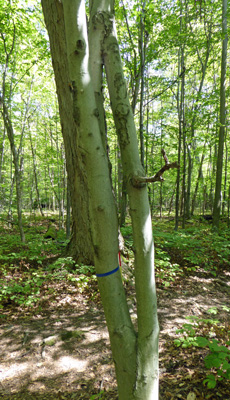 The trail leaves the old growth climax forest and reenters an area that was farmland until the 1960's. The trees get smaller and the understory gets denser.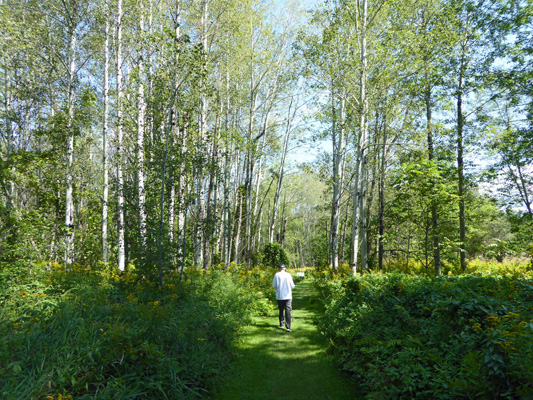 And there are more flowers.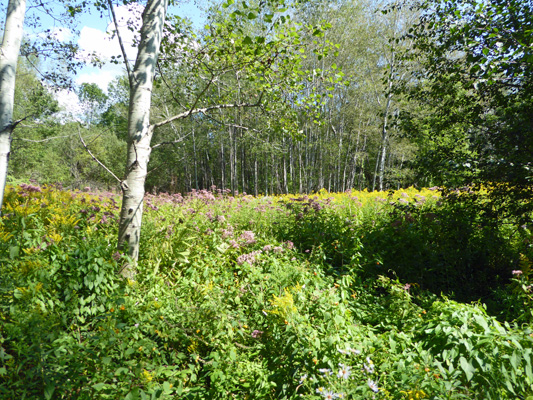 Including Spotted Touch-me-not (Impatiens capensis)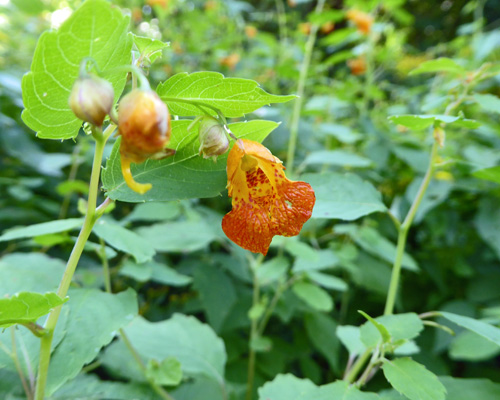 And New York Asters (Aster novi-belgii)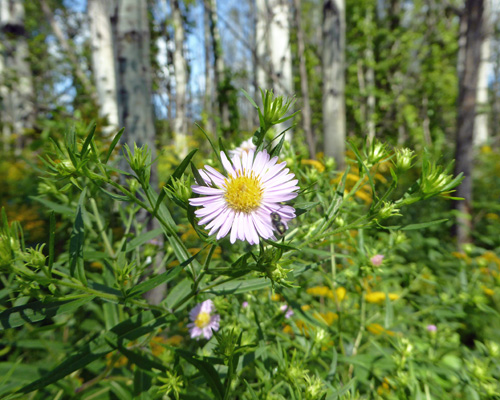 The trail finally takes you back to the Nature Center.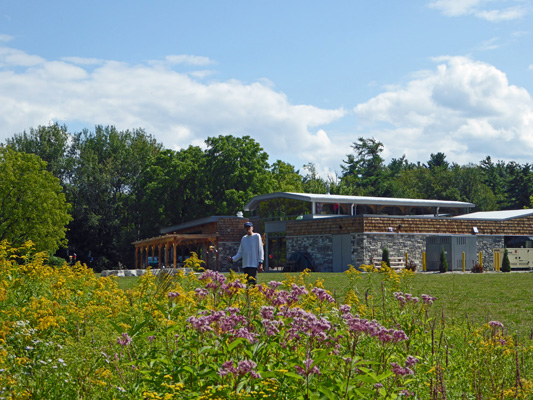 Inside I talked to some very nice interpretive staff about squirrels and walnuts and then joined the presentation in the youth area on owls. There was a really animated fellow talking about a pair of wonderful birds: Scooter, a Great Horned Owl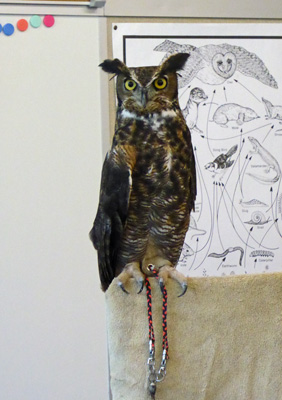 And Morrie (or perhaps is Maurie) a Eurasian Eagle-Owl with a wingspan of 6 feet!
He wasn't as wide awake as Scooter but when a lady walked by outside with a young German Shepard they were both VERY attentive.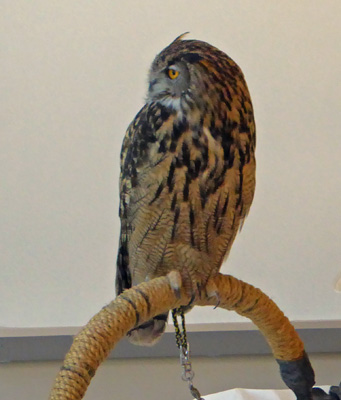 This little walk and the Nature Center were just perfect. It had been too long since we'd been out in the woods and I really needed it.