On Sunday February 12th, we packed a lunch and headed out to do the Ajo Mountain Loop Drive in Organ Pipe Cactus National Monument. We had mixed sun and clouds and temperatures in the mid 60's when we set out. The Ajo Mountain Loop is a one-way dirt road that takes you across the monument towards the Ajo Mountains. There are lots of Organ Pipe Cactus along the way and they provide a nice little booklet that gives you information about the monument at each of 18 stops. We've driven this loop several times before and it's always lovely.
About 1/3 of the way along the drive you come to the first walls of the Ajos. The yellow on these rocks is due to lichens.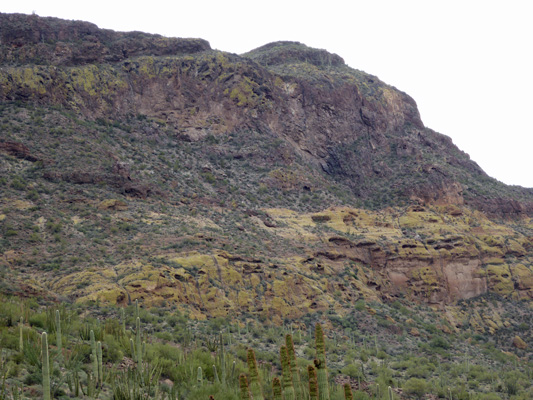 In amongst the Organ Pipes there are really nice patches of Engelmann Hedgehog Cactus.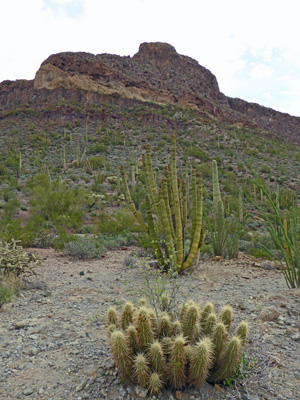 One of the stops in tour booklet was this huge old Organ Pipe Cactus.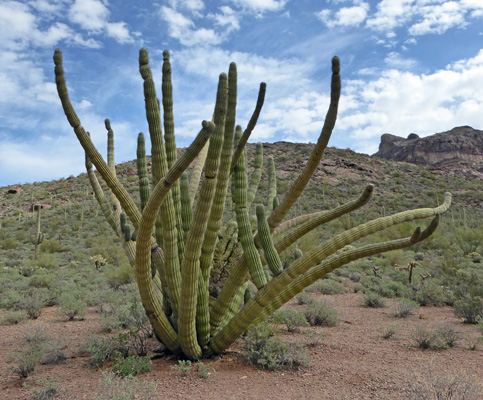 It's pretty unusual. First it has new columns branching off of the main columns—something you don't see often. But more important it has this huge crest growing in it's heart.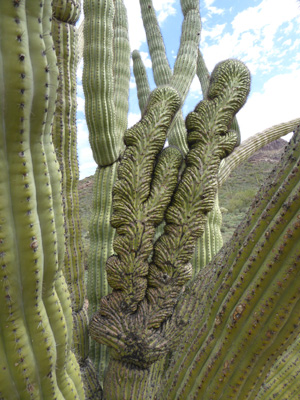 Biologists have lots of theories about what causes these crests but no one knows for sure why some cactus form them. You see them on the tops of saguaros too.
Our goal in making the drive was to take the Arch Canyon Trail hike out through the desert.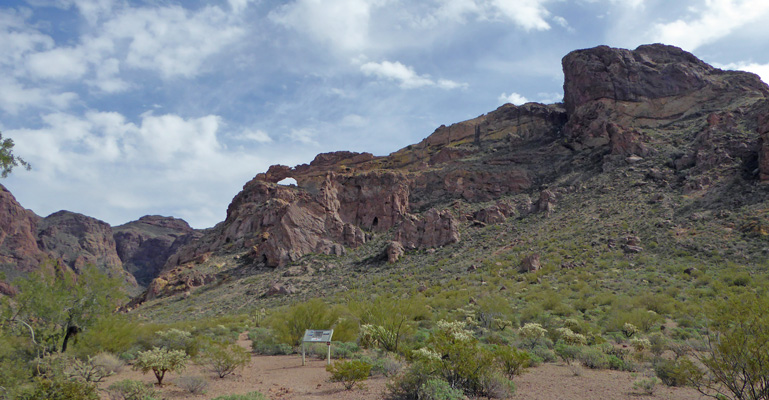 The first mile takes you through the desert out past the arch. Then you hit the end of the formal trail and the beginning of a very steep trail that folks have made to make their way up the back side of the mountain to the base of the arch. It has a 600 foot gain in just about a mile and it's basically a scramble straight up the rocks. Needless to say that wasn't what we had in mind.
We had a nice walk through the desert with great views of the north canyon walls.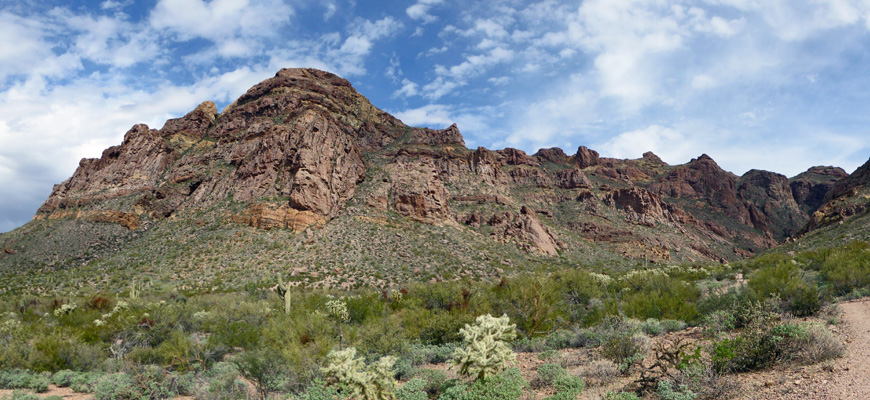 There are lots of teddy bear, chain fruit and buckhorn cholla mixed in with creosote bush and saguaros and organ pipes. And a great view of the arch.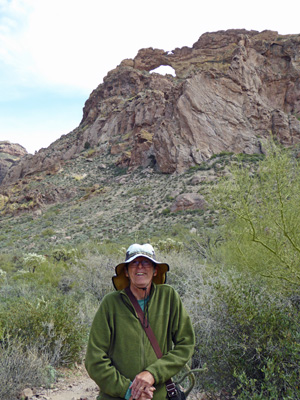 The jojoba bushes were just coming into bloom.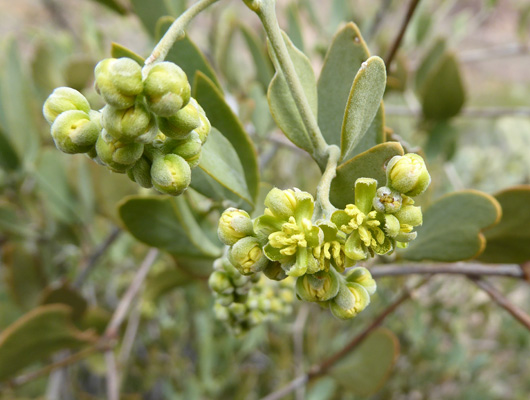 And the wolfberry bushes had tiny little purple flowers on them.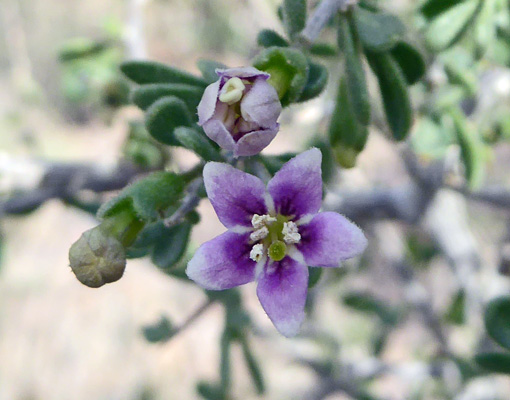 Way up on the ridge you could see a set of balancing rocks.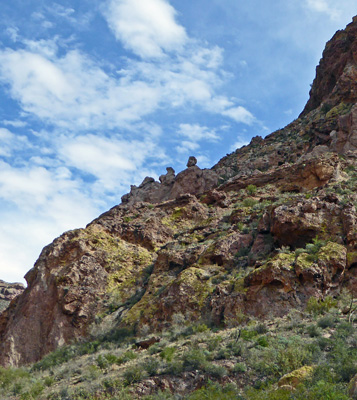 The lichens on the rocks looked as if someone had been out splashing them with paint.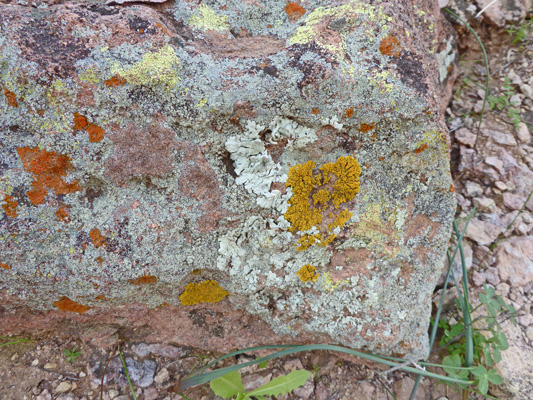 The trail ends as it reaches the mouth of the canyon.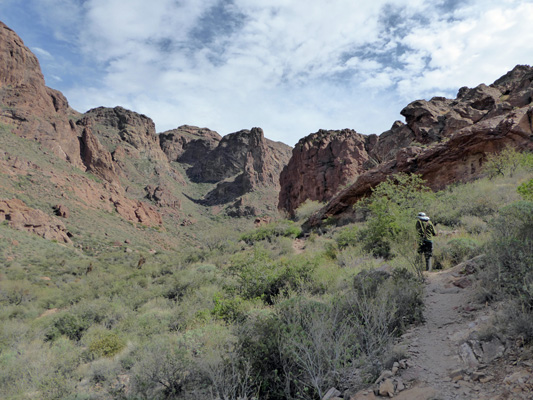 Here you can even see the sign that marks the end of the maintained trail.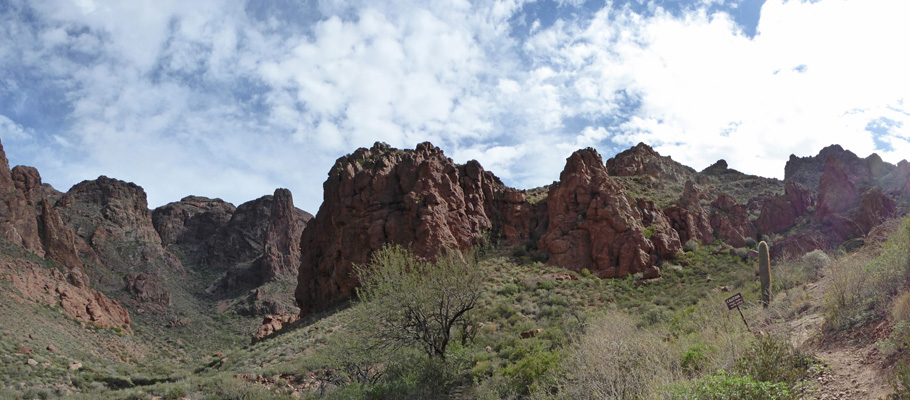 And here's the view from back where we came from. This area is made up of layers of volcanic rock. The bulk of the rock in this section is ash-fall tuff mixed in with rhyolite and breccia.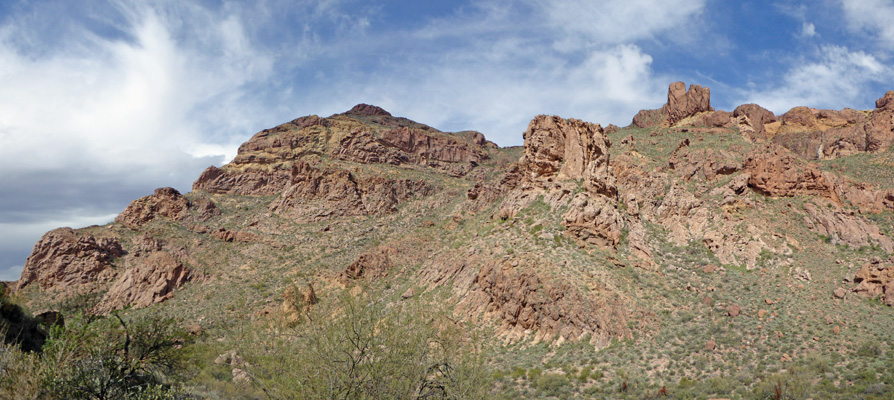 The whole canyon is a big folded jumble of the stuff.

Walter found a nice rock to sit on while I wandered around and took pictures.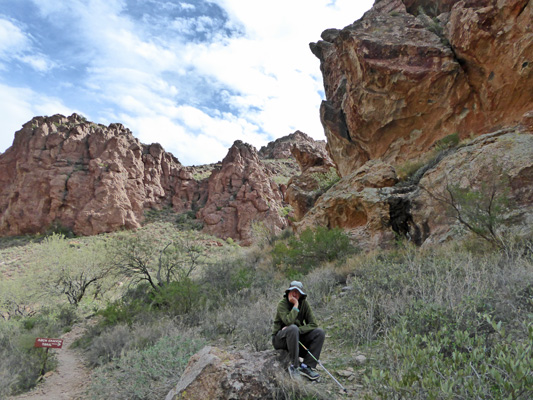 He especially requested I take a picture of him trying to hatch this rock.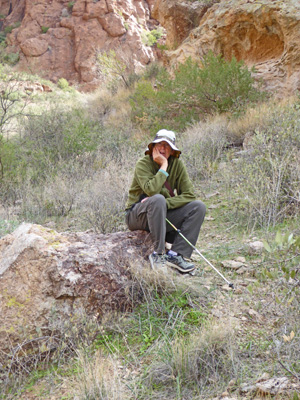 At the end of the canyon you can see spires of magma which has been revealed through erosion.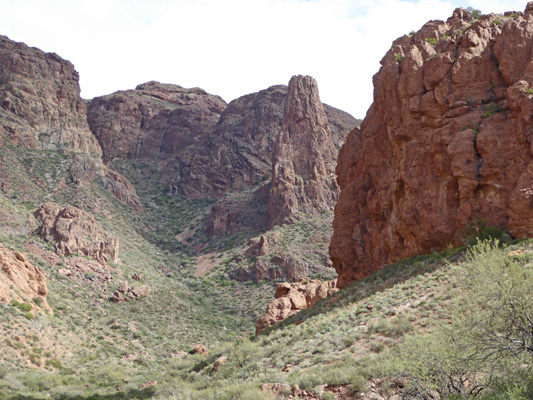 On the way back I spied this plant trailing across some shrubs. It looks like it's a member of the deadly nightshade family but I couldn't find it in any of my flower books.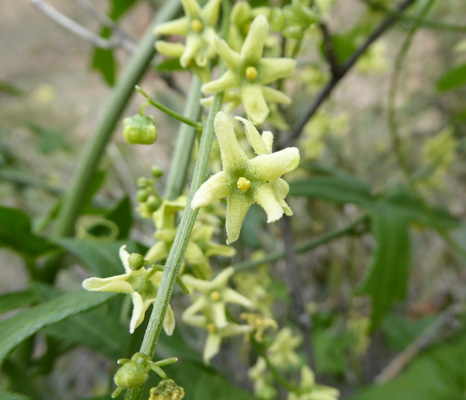 It gets these fun round little sputnick fruit too. They look like one of the Manroot fruits (genus Marah) but then it also looks like a Jimson weed fruit too. My guess is that this has worked its way up from Mexico since we're so close to the border.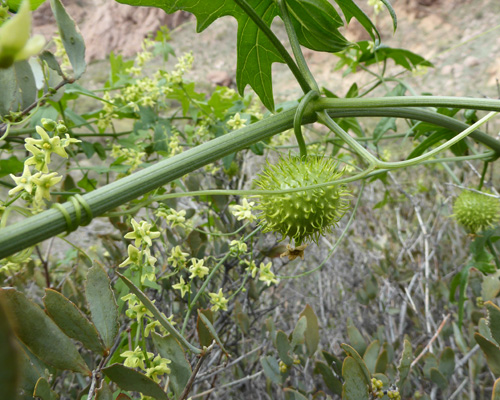 It was time for lunch when we got back and warm enough so we could happily sit at the picnic table near the trailhead. It had a great view of the arch.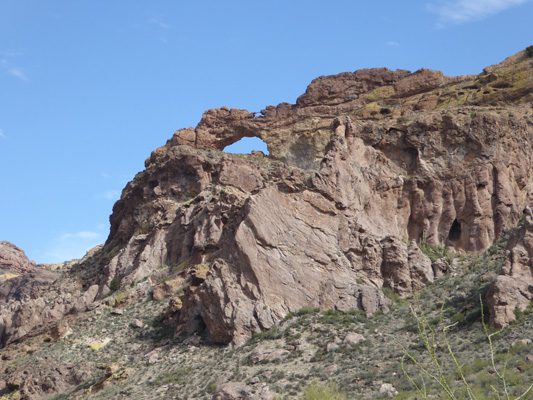 And with my zoom lens you can easily see the little arch above it. That little one looks pretty fragile but maybe the top of it is thicker than it looks.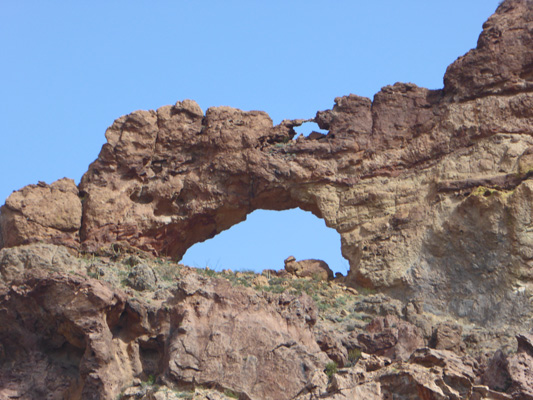 After lunch we headed on along the Ajo Mountain Loop. Along the way I spied some Palmer's Indian Mallow (Abutilon palmeri).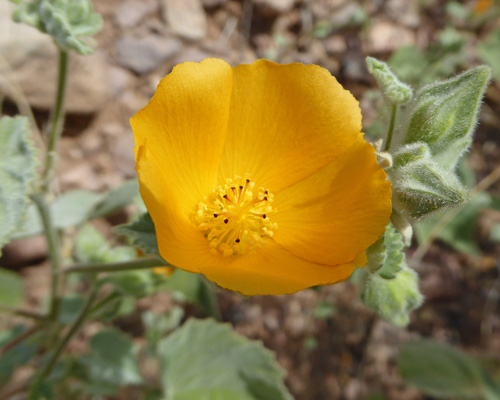 Further on, there was a scattering of Mexican poppies in bloom—the first of the season. Spring has sprung at last.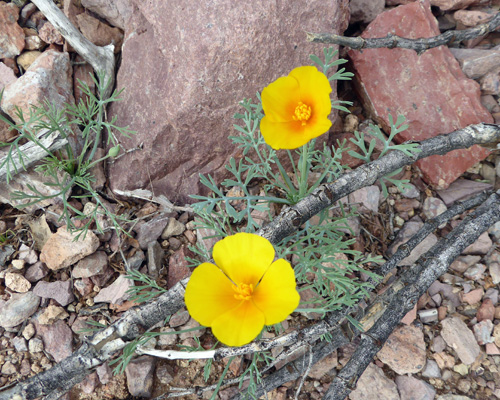 Just past the poppies we stopped to take in the view of Diaz Peak and Spire. The peak is the tall mountain on the left and the spire is the little guy on the far right.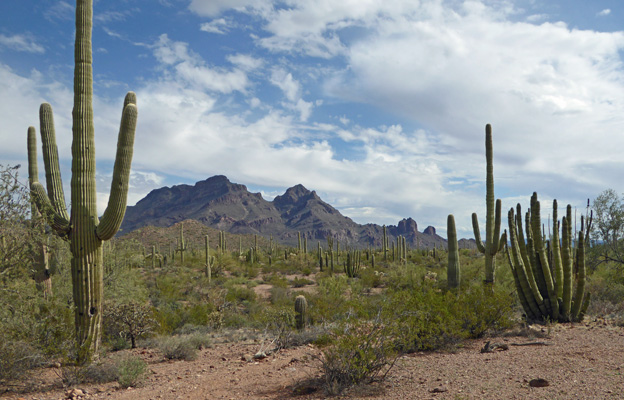 The view to the north from here was pretty special too.

Monday was sunny to start so we put out the solar panels again in hopes that they could do their job so we wouldn't have to run the generator again. As it turned out they did their job even though we had mixed clouds and sun in the afternoon. Next, we headed out to drive part of the South Puerto Blanco Road out to Senita Canyon. We got about a mile down the highway when this awful dragging noise started underneath the pickup truck. We stopped thinking we had a flat tire. But no, the tires were fine. I got down on my hands and knees and could see that there was a panel hanging down from the center of the truck between the front tires. I scooted under (on the gravel verge) and managed to hook the thing back up though it was clearly missing a couple of screws. We turned around and it started to drag again. So we got the duct tape out and I went under the truck again and taped it up. Then we drove back to the trailer to see what we could do. Our parking spot at the campground was a nice concrete pad which was way easier to maneuver on than the gravel on the highway verge. Walter got under one side and decided that cinch ties would do the trick. So we dug out some and we each did one side of the panel and it's been fine since. We've got over 55,000 miles on the truck and we've driven a lot of bumpy dirt roads so we guess the screws just worked their way loose and dropped out.
Having rested for a bit, we climbed back into the truck and started out on our drive again. No problems this time, though South Puerto Blanco Road is gravel and a bit bumpy. From it you get a nice view of the border fence.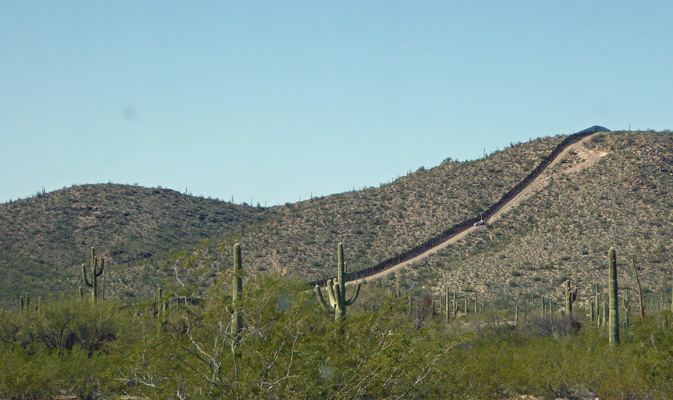 Here's a close-up of the border patrol's camera system.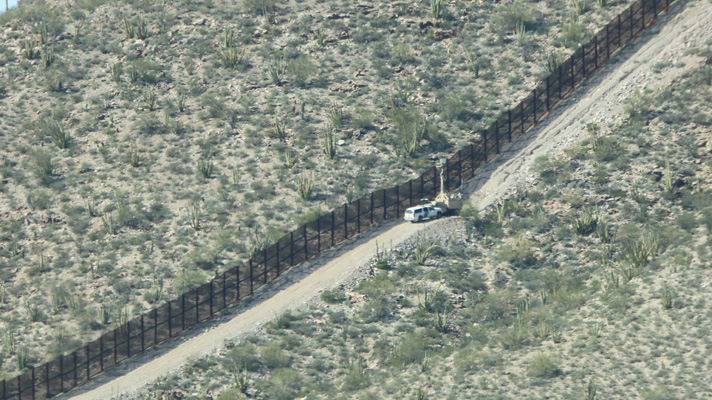 On the other side of this hill the fence turns to a metal rail fence and you can see cars and trucks on Mexican Highway 2 (a very busy freeway) buzzing by at high speed. There's a house that backs right up to the rail fence along through here too. The Border Patrol has a big presence in this part of the park and as a result contact between visitors and the migrants and smugglers is very rare.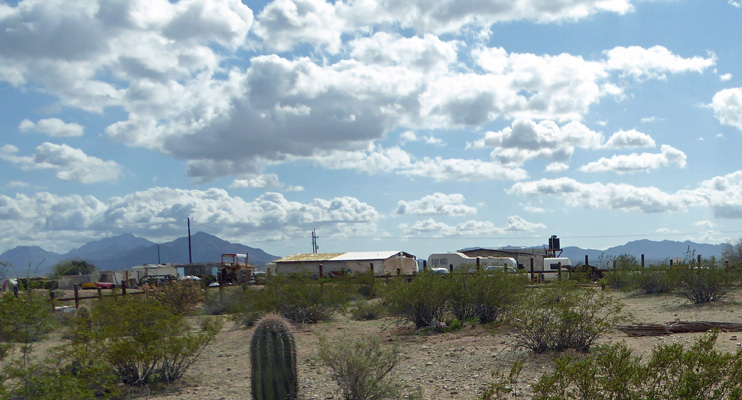 Aside from the border thrills, we spied a red tailed hawk sitting on the top of a saguaro.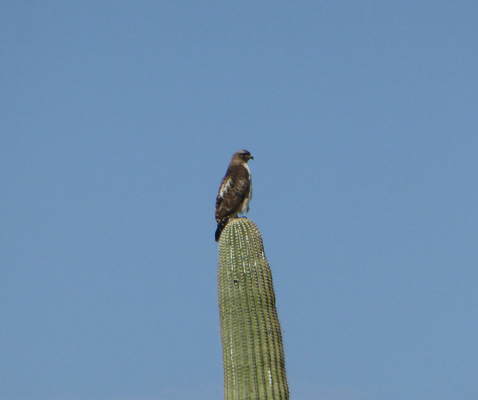 We drove about 7 miles on South Puerto Blanco and then turned north on Sineta Canyon Road all the way to where it ends at the Senita Canyon Loop trailhead.
The trail was described as a great place to see Sineta Cactus—a fairly common plant in the Sonoran Desert in Mexico but very rare in the US. In fact, almost all of the sineta cactus in the US are in Organ Pipe National Monument with the bulk of then in this section of the park. You can see lots of them as you drive in along the road. They are the blockier looking columnar cactus in the foreground—clearly related to the Organ Pipe Cactus behind them.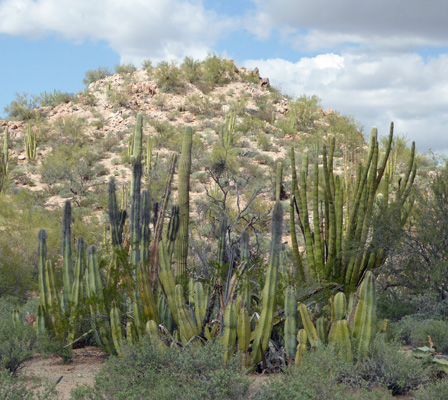 I'd say there are at least 30 of them if not more along the roadside.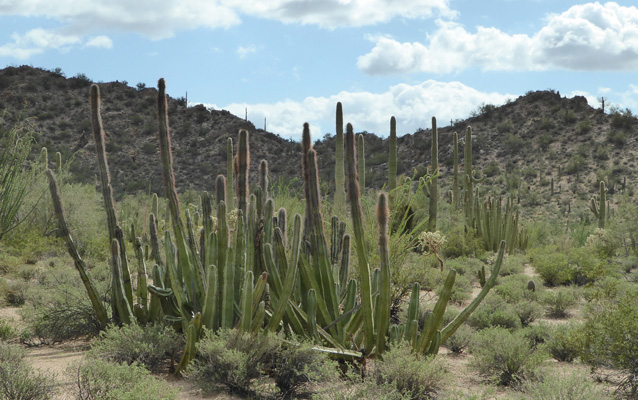 They're called sineta after the beard-like collection of spines that grow at the top of the columns.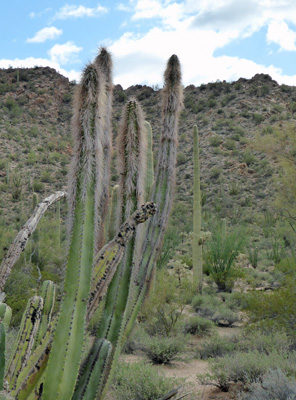 We figured we'd see way more of these along the trail. So we set out on the 3 mile-loop going counter-clockwise. Not very far along I spied a baby sineta.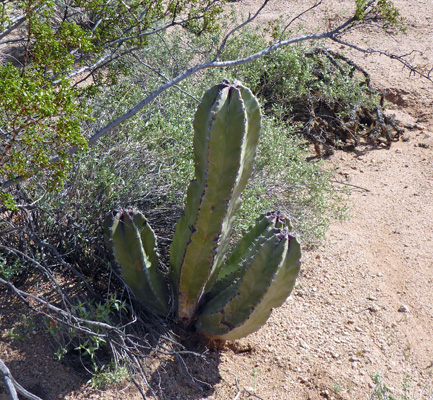 And that was the last one we saw for the hike!
But we did find a wonderful outcropping of quartz.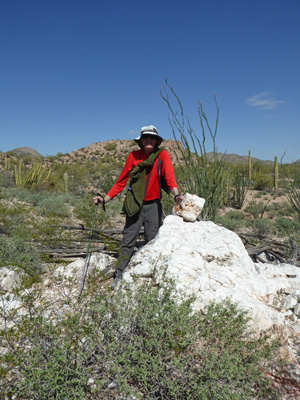 And an old mine exploratory hole (which of course was fenced off with danger signs).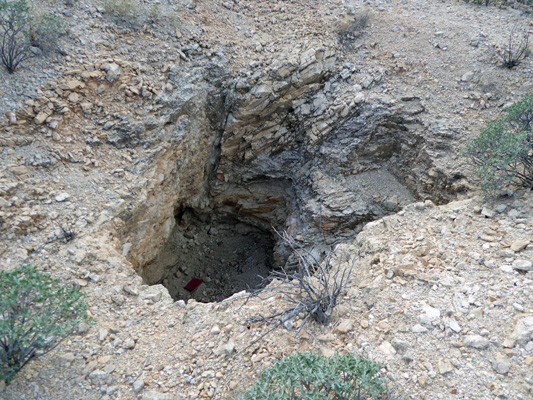 It was warm in the sun (low 70's) and it wasn't very interesting terrain compared to the gorgeous area we'd hiked through the day before.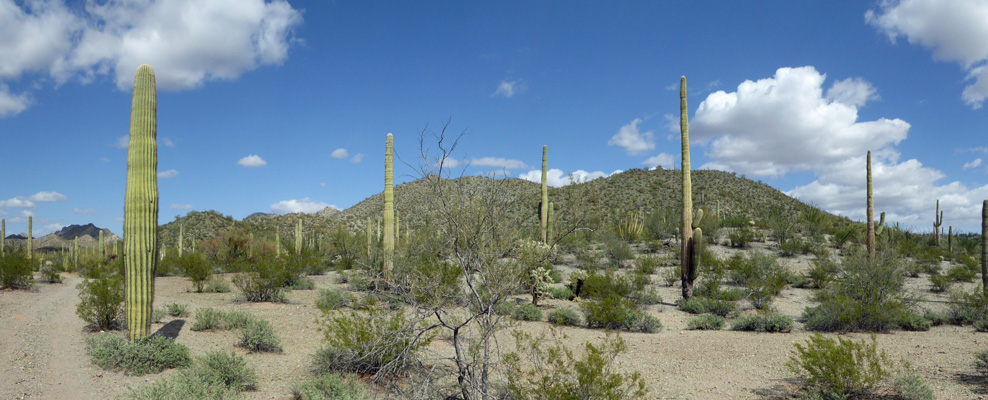 So instead of continuing on for another 2 miles we wimped out and turned back after about a mile to give ourselves a 2-mile hike for the day. We hiked on this side of the park 2 years ago and I wasn't very impressed then and this hike confirmed my impressions. The east side of the park is much prettier.
We stopped at the Visitor's Center on our way back and checked our email on their nice new free Wi-fi (this is new since we visited here 2 years ago). Our hot spot didn't work here, though Walter's phone did have a signal so he could check voicemail—though no calls came through. There is a big cell tower just across the border and most folks with Verizon phones pick it up. The problem of course is that you may get billed for International Calling. We'll see what happens.
On Tuesday morning February 14th (Happy Valentine's Day), we packed up and headed back towards Tucson and Catalina State Park for Walter's second eye surgery. On the way, Walter called one of the repair shops we'd visited week before for a quote (the one who had actually sent us a quote on Friday unlike the other 2 we visited). The repair guy had said he was going to try to get in touch with the Senior Claims Representative at Louisiana Farm Bureau so he could send her his quote. He hadn't managed to reach her, but while we were we entering Tucson he called back to say that she said she'd cut us a check for $2100 (way less than it would take to repair even just the bumper let alone the rest of the damage) and not to bother to send her the quo. Oh oh.
We set up camp in our nice spot at Catalina State Park and I checked my email to see if I'd gotten anything from the insurance company. Nothing. Then I got on the phone to talk with the Claims lady. Indeed, she'd had a check cut (without bothering to contact us about it at all) and had it sent to our Texas address. But the repair shop could contact the appraiser and have the claim re-opened since the appraiser knew there was more damage than he couldn't see. Then they would give us another check for whatever else he approved. Duh! So I called the repair shop back and he had already called the appraiser's office based on his conversation with the claims lady.
The repair guy, who has been in business for 30 years, said that this was the strangest procedure he had ever seen. As far as he was concerned the Claims Representative had it all backwards. But oh well, he'd send his quote to the appraiser and then we'd have to bring the trailer down to his shop to meet with the appraiser (again). Fun, huh? My guess is that we will get our money in the end but what a process!
On Wednesday February 15th, we had coyotes trotting through the campground totally unconcerned by the people (and dogs) everywhere. I managed to get a shot of one of them just as he turned to trot away. There are large numbers of ground squirrel/prairie dogs in the campground and I guess that's what they're after. Mostly we saw them in pairs or singly and we could hear them howling all through the day.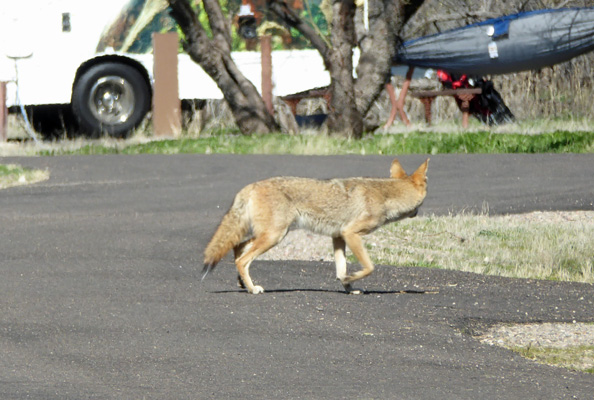 In the morning, we did our grocery shopping and then Walter had his second eye surgery in the afternoon. His original appointment this time was for 3:55 but they called back and changed it to 3:00. They weren't as fast as the first time but he was still done in about an hour or so. By evening the blurriness was starting to go away and by morning he was good as new. Success!
The light was gorgeous on the mountains when we got back from his surgery appointment and I took this photo of the view from our back windows. Catalina is really a pretty park.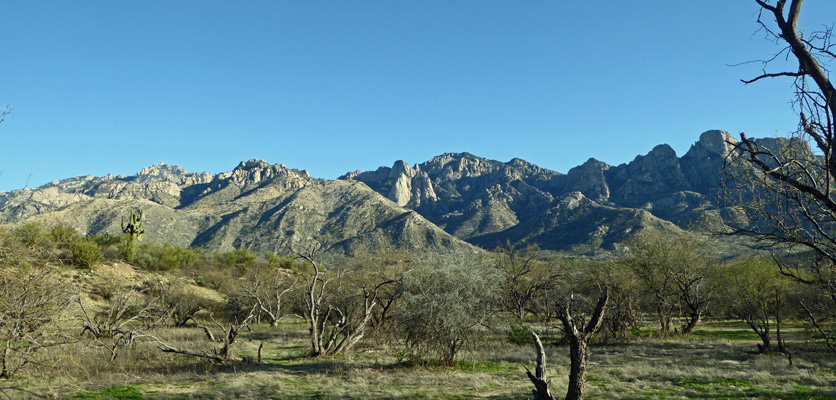 We'll be back here again the last week of February (unless of course the trailer is in the shop in which case we'll be in a motel room) so that Walter can have his last post-op appointment and get a new eye glass prescription (and order new glasses which we hope will come through in 24 hours or so).
On Thursday morning February 16th, we called our repair guy to find out if he knew when it was that we'd have to bring Genevieve in for the new appraisal. And of course he wasn't in yet. It was time for us to move on and we'd hoped to have some information to guide us in deciding where to go. But since we didn't, we opted to move to Gilbert Ray Campground in Tucson Mountain Park on the west side of Tucson. This park is fairly close to the repair shop and you can stay for a maximum of 7 days so we figured it would be a good home base while we waited.
We broke camp, topped up our water tanks and emptied our holding tanks (Gilbert Ray has electrical hook ups but no water or sewer hook ups) and as we left the campground loop we spied another coyote staring off into the grasses. He stayed still long enough for me to get a great shot of him.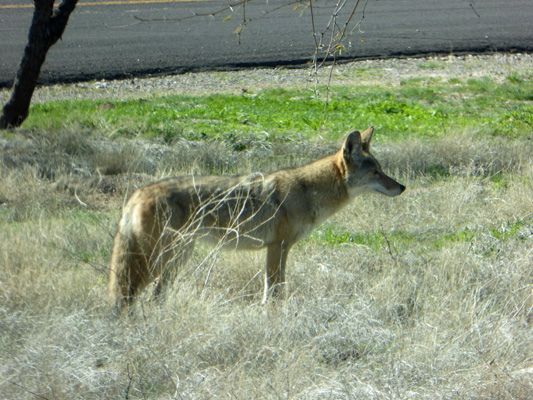 Then we headed west on Tangerine Rd towards I-10. We took I-10 south for one exit and then got off at Avra Rd and went west to Sandario Rd where we went south to Mile Wide Rd and then on to Gilbert Ray (this may sound familiar since we did this a month ago when we moved from Picacho Peak State Park to Gilbert Ray).
While we were en route, we heard back from our repair guy (back on Tuesday we told him he had the job so now he's OUR repair guy). He'd just gotten a message from the appraiser requesting his quote and would be sending it in. Another baby step achieved. He couldn't say when we'd need to bring the trailer in but his did say that it usually only took a couple of days to get to that point. So we decided to continue on to Gilbert Ray. They only had 10 openings when we checked in and they gave us a loooooong narrow spot that we managed to get into on the second try. It was sunny and in the 70's so we put out the awnings and settled in. We paid for 4 days and could extend another 3 if we need to. And so the wait continues.
We were glad we had moved on Thursday because they were full by noon on Friday and by 1:30 on Saturday.
Here's the view from the trailer's back windows.

I got restless in the afternoon so we took a walk through the campground on down to the office. The prickly pears in this park are really big.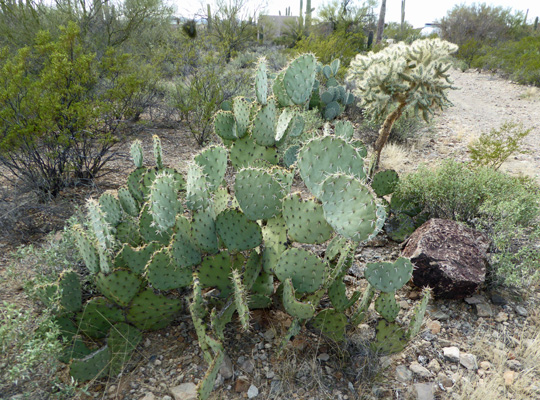 The office was closed—they close up when the last spot is filled. But we explored their native plants garden and I found a little penstemon growing next to the concrete in the walkway. It's probably a Parry Penstemon (Penstemon parryi).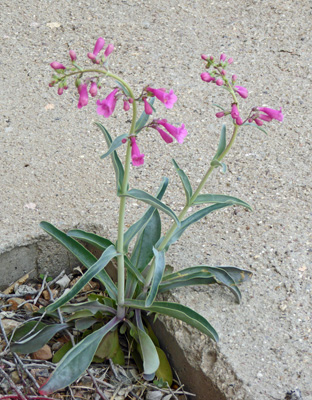 There were also Fairy Dusters (Calliandra eriophylla) in bloom. We'd seen a few along the road in the park so I was happy to see them here too though we didn't see any in the campground itself.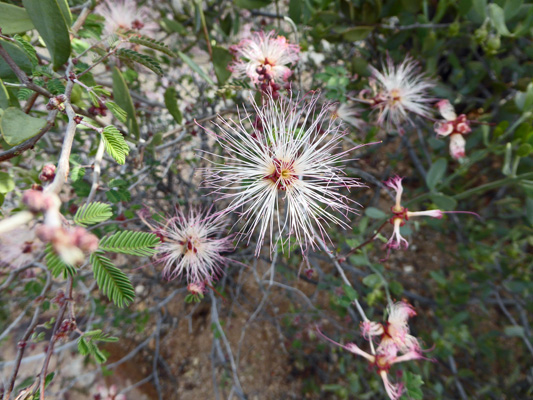 That evening we had a bit of a sunset with the first high clouds coming in with the next front.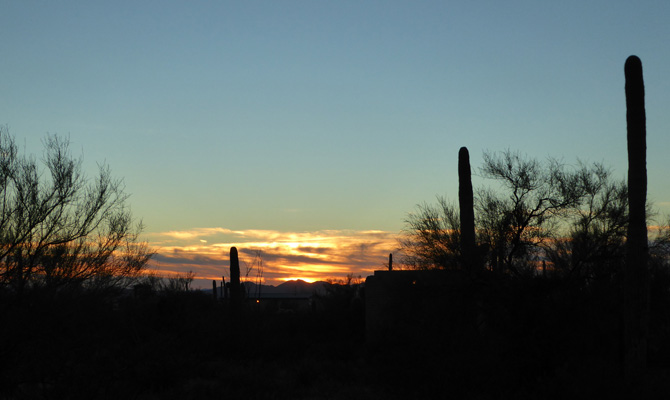 It painted the southern sky pink too.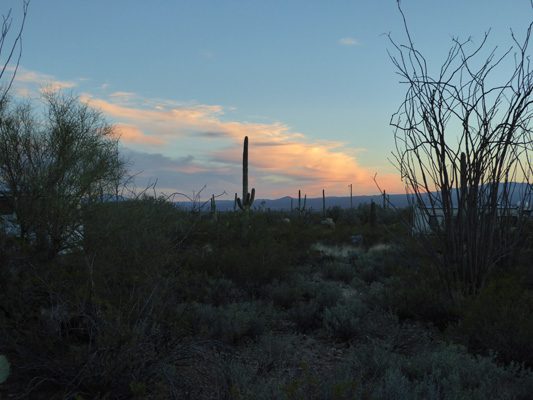 Friday February 18th, we headed up the road to the Red Hills Visitors Center in the west section (Tucson Mountain District) of Saguaro National Park. We got a map and asked about possible hikes and then watched their movie. It was a nice movie but the best part was that at the end, the curtains pulled back and the screen rolled up and you could see a wonderful view of the park. It was such a nice surprise that we all clapped.
We went out on the back patio to see the view of the desert. We had mixed clouds and sun but still the visibility was well over 40 miles.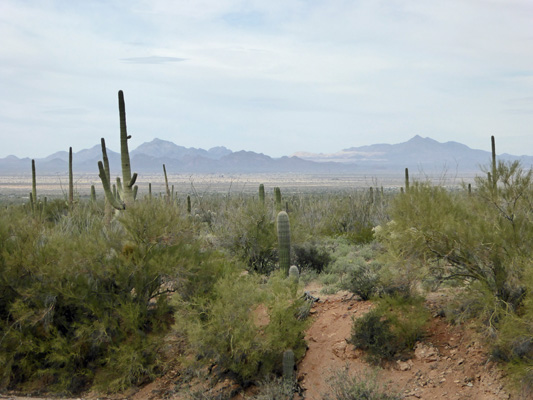 From the visitors center we drove north to the Bajada Loop Drive, a five-mile dirt road that makes a loop through the desert.
We had an option of taking two hikes. The parking area at the first one was totally full and folks were parking along the side of the very narrow road. Neither of us wanted to leave the truck (which is wider than your average car) parked with it hanging out in the road that much so we continued on. We were really lucky to find an open spot in the parking area of our other trail option. Folks were parked on the road here too but someone had just pulled out leaving us a nice big spot for the truck. Clearly this was the hike for us.
We took the Valley View Trail out across a wash and then through the desert. There are tons of saguaros here growing really close together. Some of them are very old—like this guy who has way more arms than you usually see. They don't start to even put out arms until they are over 50 years old so you can guess that this fellow is OLD.
Mother Nature has done a really nice job of designing the gorgeous desert garden here.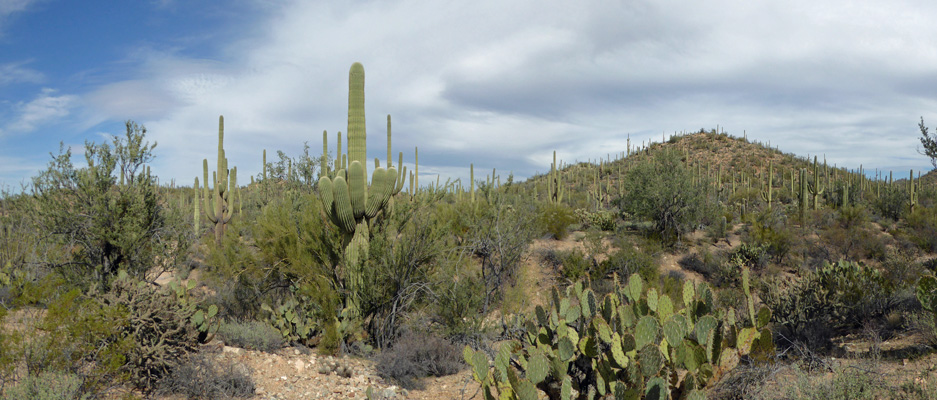 The dominant cholla here was the Arizona Pencil Cholla—one that we've seen very rarely before.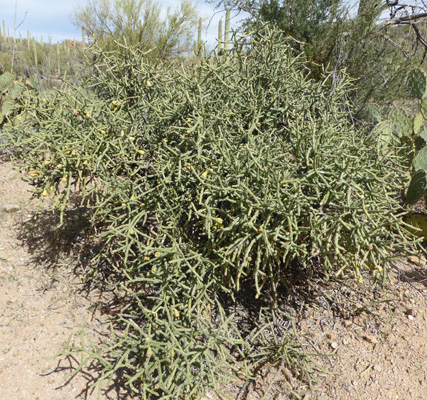 Some of them were huge like this one and had fruit too. They can reach 5 feet tall but the biggest we saw was about 4 feet.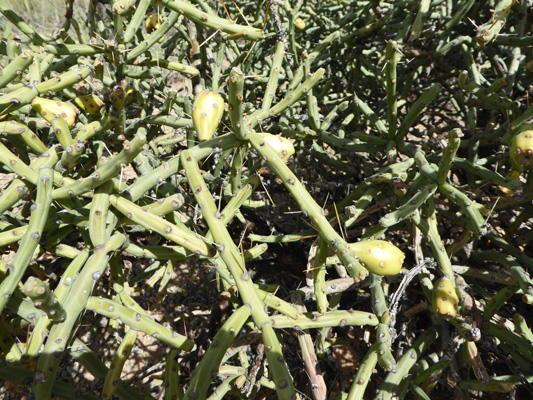 Along the way there were more Fairy Dusters (Calliandra eriophylla) in a wide range of pink.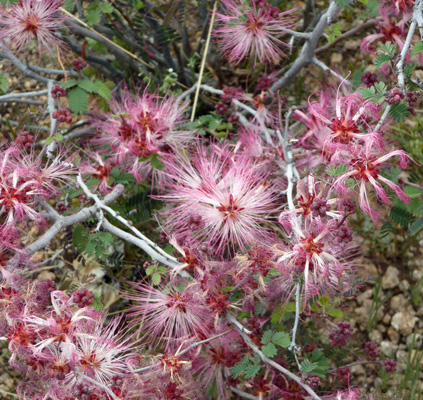 The trail ends at a viewpoint where you can see out across the valley to the west and north.

All that green in the foreground is a forest of saguaros.
Off to the north we could see Picacho Peak too.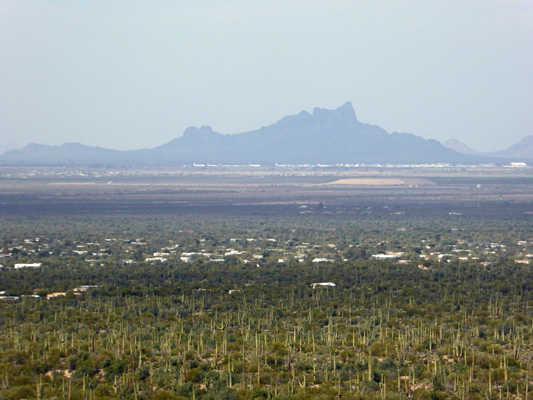 We met a couple from Mount Vernon, WA along the way who were down for a week's vacation. And at the viewpoint there was a fellow from Missoula who had grown up in Seattle and gone to Evergreen State. We had a bit of a Washington reunion and then turned to head back down the hill.
The Engelmann Hedgehog Cactus seemed to be very happy here.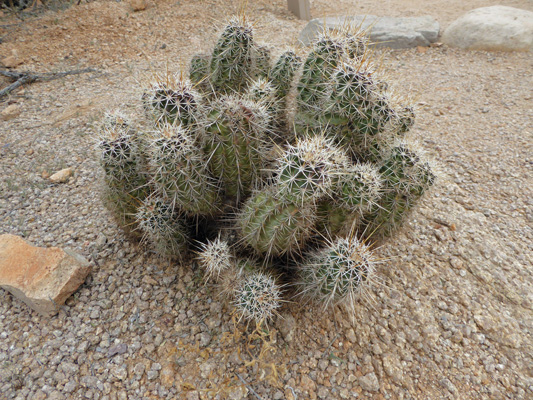 This was only about a .7 of a mile hike so when we came to a fork in the trail we went north on the Wild Dog Trail to see what we could see. There were some nice rock formations.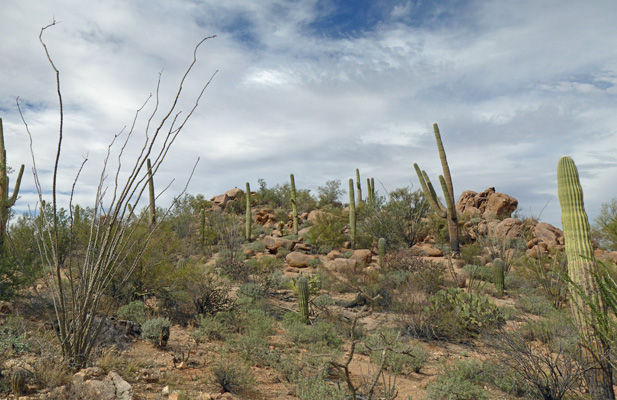 And a few balancing rocks to enjoy too.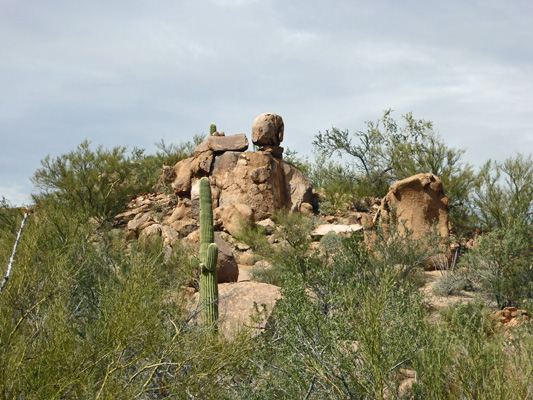 Walter found a place to sit and rest and I went on over the ridge to get the view around the next bend.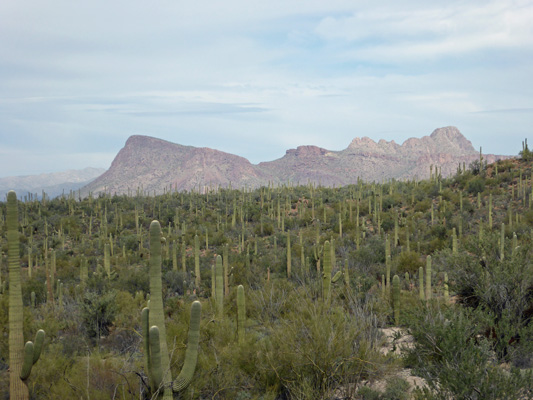 I went down to the bottom of the hill and then turned back. The rock here is really crumbly and it made for an unstable surface to hike on both up and down. On the way back up I came upon a strange little plant. It had what appeared to be both orange and cream colored flowers. It turns out that this is Hoary Indian Mallow (Abutilon incanum). The cream colored 'flowers' are actually seed pods.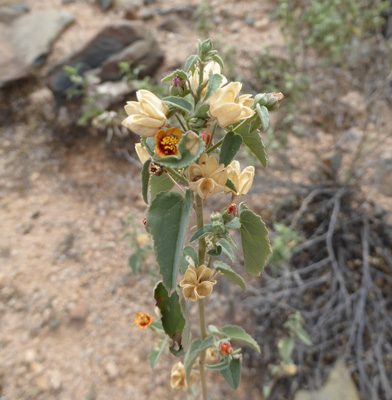 It was pretty breezy on this hike and downright windy up at the viewpoint. We headed home for lunch and then watched as the clouds came in and the wind whipped up. The next day, we got the edge of the HUGE storm that had dumped enormous quantities of rain on California on Friday. It blew and we had a bit of rain now and then on Saturday but no big deal. It even still got up into the high 60's. We did laundry at a nice Laundromat in Tucson that had fast free Wi-fi and then took the afternoon off.
Next door at Old Tucson (the old movie studios where they filmed tons of westerns back in the day) they were having a Civil War reenactment and we had booms and bangs off and on all morning and afternoon. They were at it again on Sunday morning for a while too.
We had rain in the night on Sunday morning and while there were sun breaks now and then we were still having showers. Since we hadn't heard anything about the re-appraisal situation on Friday we figured we'd need to stay at least through Monday so we extended our stay with the office. We can stay until Thursday morning before we have to find a new place to go.
We figure that by the time we get the trailer repaired we will have seen the greater Tucson area really really well...