Sunday February 19th, we were still camped at Gilbert Ray Campground in Tucson Mountain Park on the west side of Tucson. It was a cool day (high of 58) and we had showers off and on all day. Late in the afternoon, we had some sun breaks and we went out and had a walk around the campground loop but it was sprinkling already by the time we got back and it rained heavily soon after.
Monday February 20th, we awoke to clear skies. Hooray! We checked in with our Airstream repair guy but he still hadn't heard back from the appraiser yet. Since it was President's Day we didn't know if he was working or not. And so the wait continued. We hooked up the trailer and took it to the dump station in the campground to dump the tanks and refill our water tank. We rarely stay anywhere more than 3 or 4 days so staying for a week someplace with just electricity is something new for us. We got to park again in our funny narrow spot (it still took 2 tries but oh well).
Having set up camp once again, we packed a lunch and headed up to Picture Rocks Road on the north end of Saguaro National Park. There's a trailhead just at the boundary of the park where several trails branch off. It's a pretty area. Even the view from the parking lot was nice.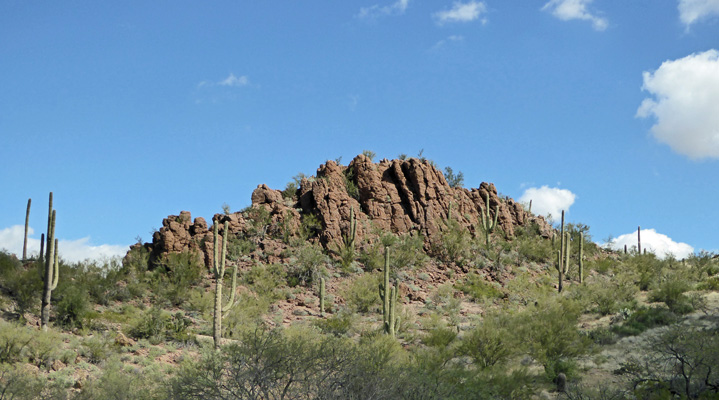 We took the Ringtail Trail out through the desert heading south. The first part of the trail followed a wash and was loose sand. But after a couple tenths of a mile the trail moved out of the wash and onto more solid ground. There were a few Small-flowered Globe Mallow (Sphaeralcea parvifolia) just coming into bloom.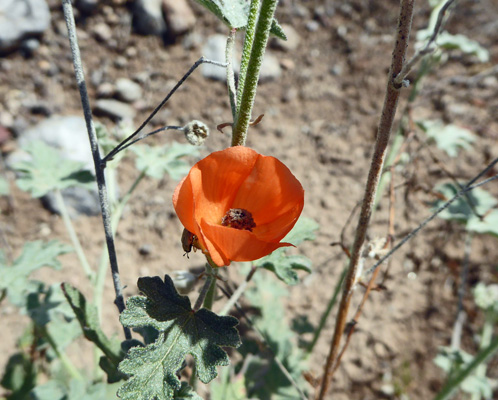 And there were California Poppies (Eschscholzia californica) scattered here and there.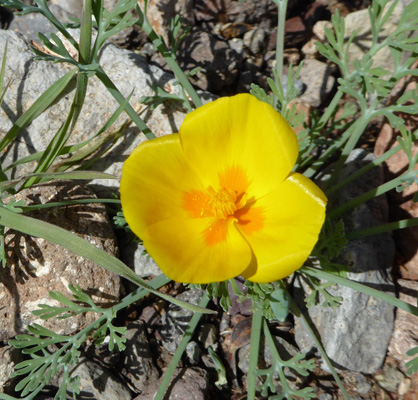 We also saw small yellow flowers that I've been fooled before into thinking might be mustard. In fact they are Desert Bladderpod (Lesquerella tenella).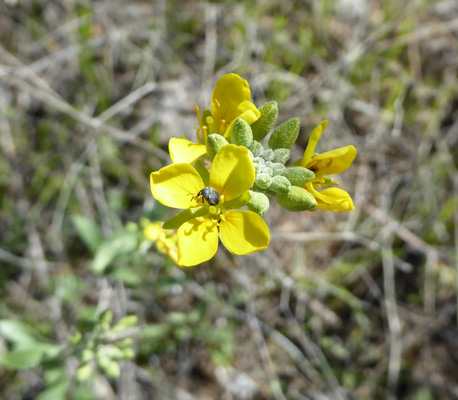 The trail leads you past a pair of hills to the east.
It's a mostly flat trail but there were a few little rises that took us around small hillocks.
There were lots of strange cholla along the way that had red fruit like a Desert Christmas Cholla but with thicker branches and shorter spines like a Arizona Pencil Cholla.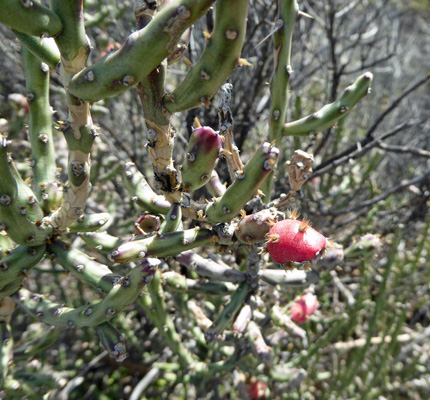 It turns out that these two chollas readily hybridize so these chollas are a cross between the two. Thus you get the Arizona Pencil Cholla stems and spines with the Desert Christmas Cholla fruit. Isn't biology wonderful? There were lots of Compass Barrel Cactus, many growing in clumps.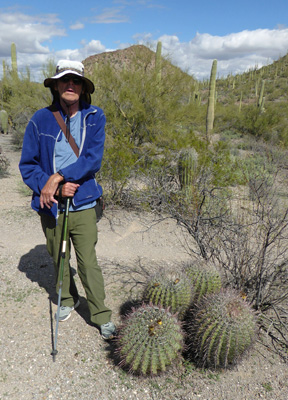 And some of them bigger than we've seen anywhere else. They're called compass barrel cactus because they tend to bend southward into the sun.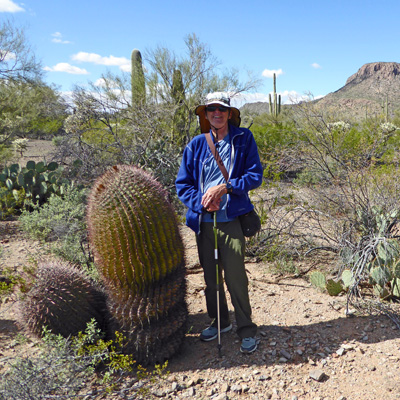 Our turn around point was a large Ironwood tree. These are relatives of the mesquite but unlike the mesquite they aren't deciduous. They have extremely hard wood, thus their name.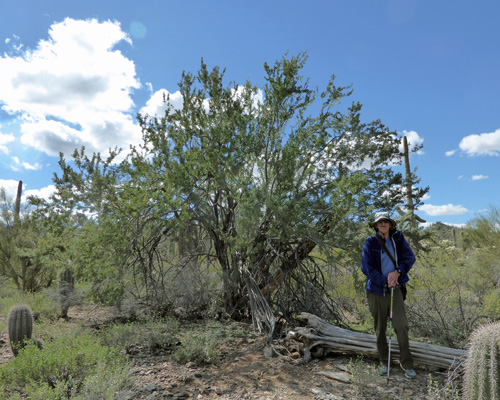 For the botanists in the crowd here's the foliage of an ironwood.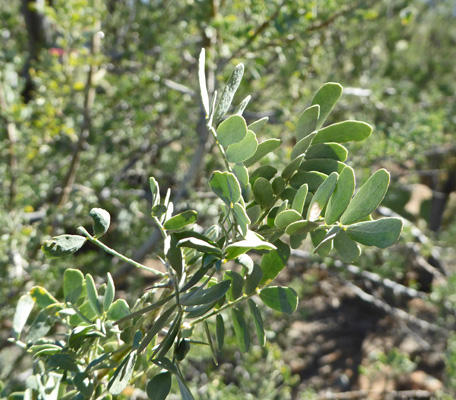 And this is the foliage of a mesquite.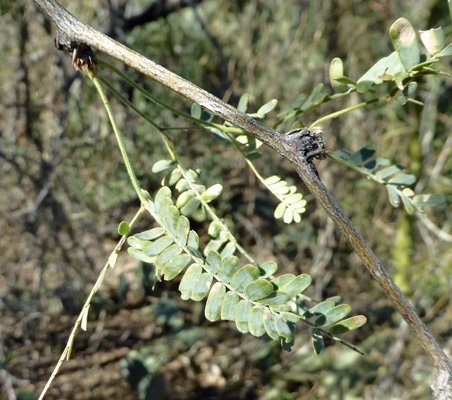 Walter rested on the old dead saguaro trunk (it's really woody and hard) while I took a panorama shot of the area.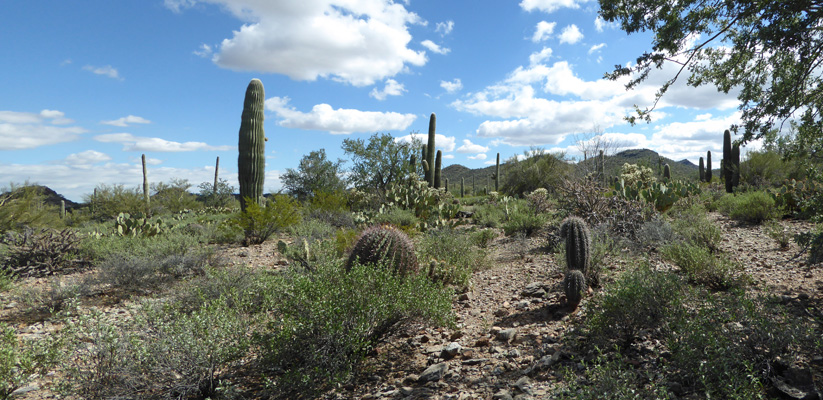 We took the roundabout route back taking the Mule Deer Trail over to the Ironwood Forest Trail and then hooking up to the Cam-Boh Trail which took us back to where we started.
There were more California Poppies along the Mule Deer and Ironwood Forest Trails.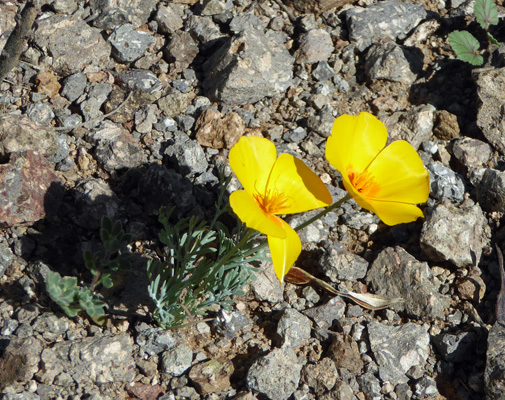 And there were nice views of the nearby mountains from the Ironwood Forest Trail.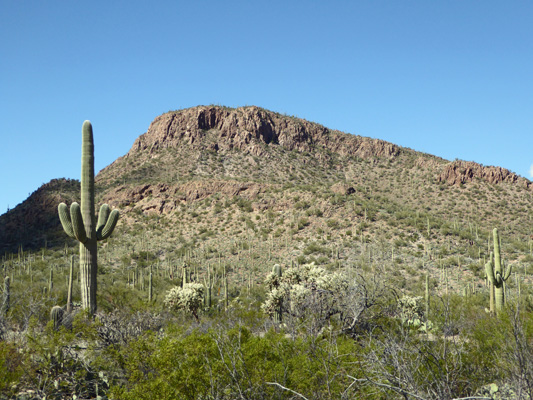 And some wonderful big old saguaros too.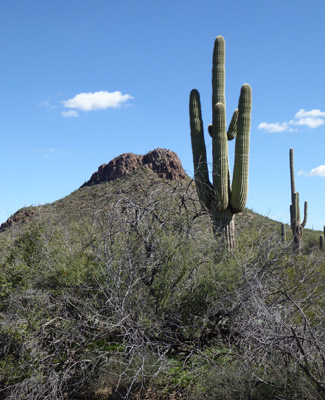 We drove on back to the Cam-Boh Picnic Area for lunch. It was a near perfect day to sit outside for lunch with a high right around 70.
Tuesday February 21st, we still hadn't heard anything more on our bumper repair. I hiked down to the office to extend our stay another day and on the way back I noticed a Palo Verde tree that was starting to leaf out. These trees shed there leaves during drought and photosynthesize via their bark which is green. But when there's enough water around they push out their leaves. They're in the same family with the Mesquite and the Ironwood but it's super easy to tell them apart since Palo Verde's stems and bark are green.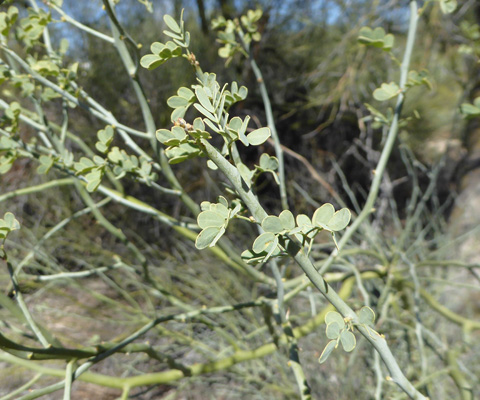 After lunch we decided we'd take a short drive south to Mission San Xavier del Bac, a mission constructed by the Franciscans in the 1700's. It's a very impressive baroque cathedral. In fact, it's the northernmost example of this sort of baroque cathedral built by the Spanish. All the others are in Mexico.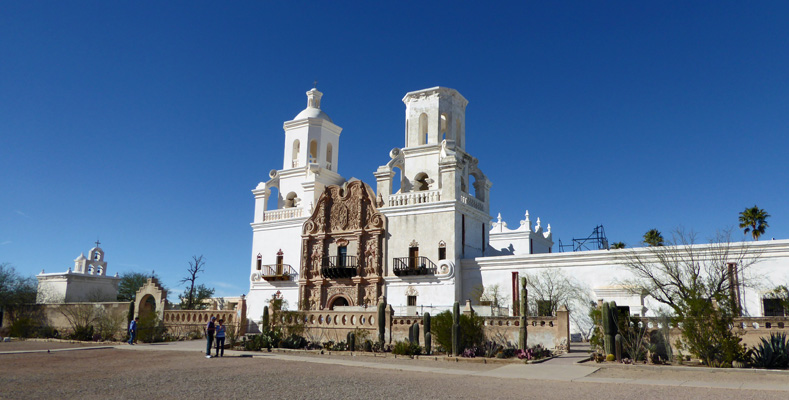 It's located on the San Xavier Reservation. The folks who live here are O'odham (Pima). And they have a series of fry bread stands between the parking area and the mission that you get to walk by. Some people say that the best part of visiting here is the fry bread. The cathedral reflects the Moorish styles of pre-Renaissance Spain.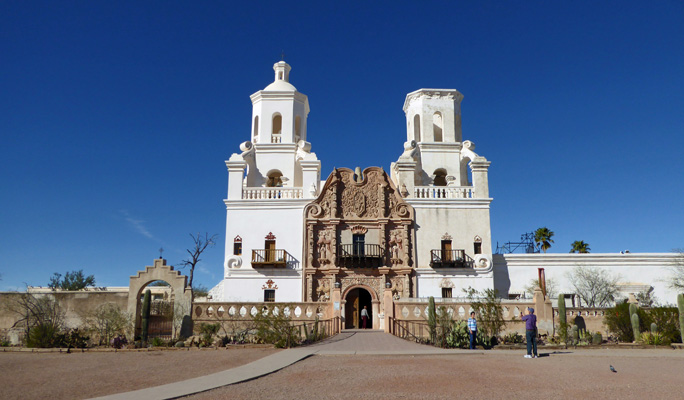 The church was built with the idea of impressing the local peoples to join the religion. They certainly put a lot of energy into decorating the inside.
Nearly every surface was painted from the ceilings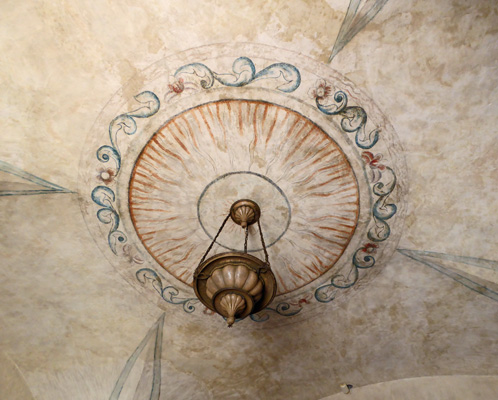 To the side chapels. This one is dedicated to Mother Mary.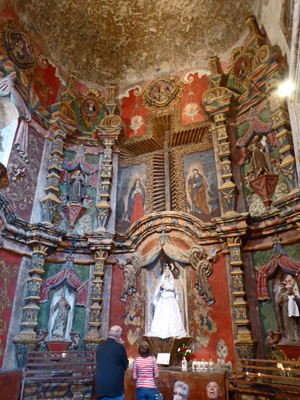 And this side chapel is dedicated to San Xavier.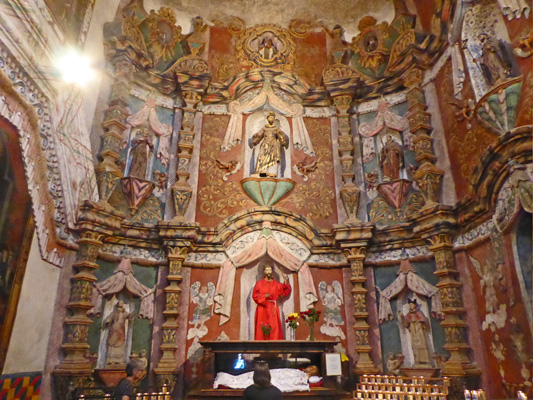 The interior decorations had begun to seriously deteriorate by the 1990's and a foundation was organized to raise the money to restore the place. It has taken years but now the entire interior has been restored by professionals from Europe who have now trained a group of locals to maintain the work.
The main altar is just as ornate.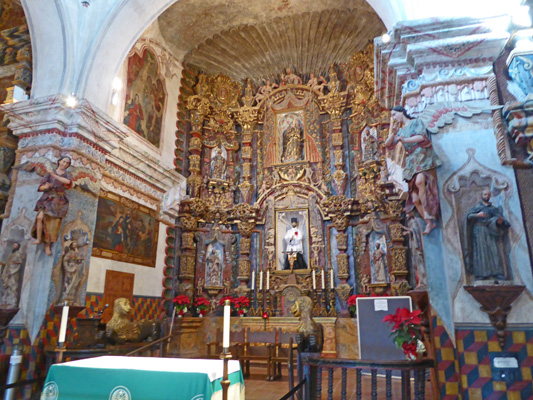 There are lots of statues that had to be restored too. 200 years of candle soot and dirt had to be removed and then all the chips and flakes had to be replaced. They have a very nice PBS video about the restoration in the museum.
The ceiling over the main dome is pretty swell too.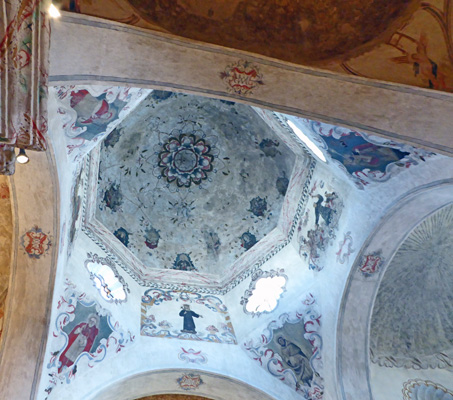 I took a panorama shot of the main altar to give you a better look.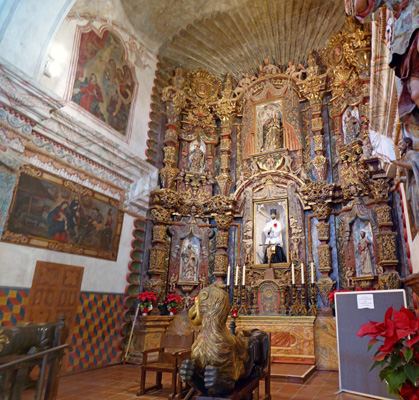 Outside and across a courtyard is separate little Madre chapel. It was so full of burning candles that it was too hot to enter.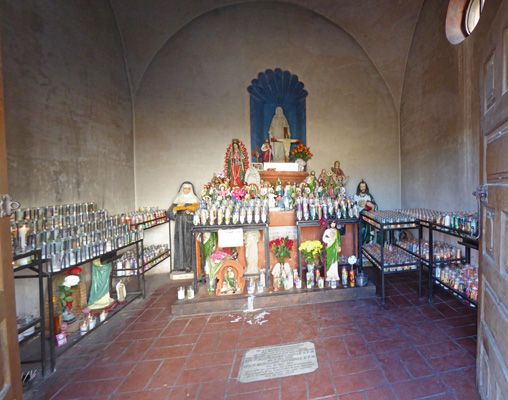 We went over to the museum and watched the movie and looked at some of the exhibits. And then got a nice view of the inner courtyard (even if they won't let you out into it.)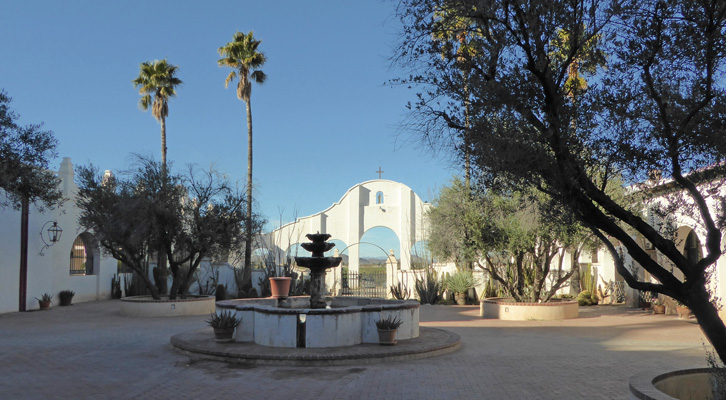 This is a very impressive place and a great photo op. I can understand why folks consider it a 'must see' for Tucson visitors. In this shot you can see that the left hand side of the church has just received a new coat of plaster and paint while restoration of the right hand side is still under way.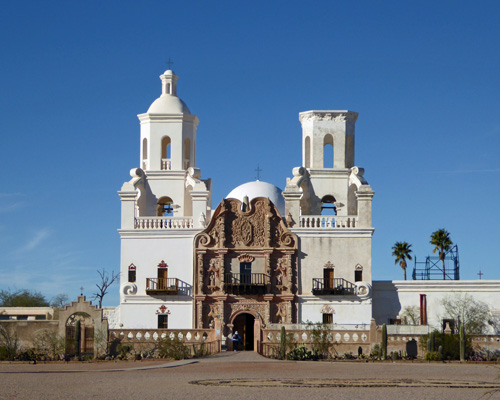 It had been a warm day, with highs in the upper 70's and just the right number of clouds came in for a great sunset.
It started out gold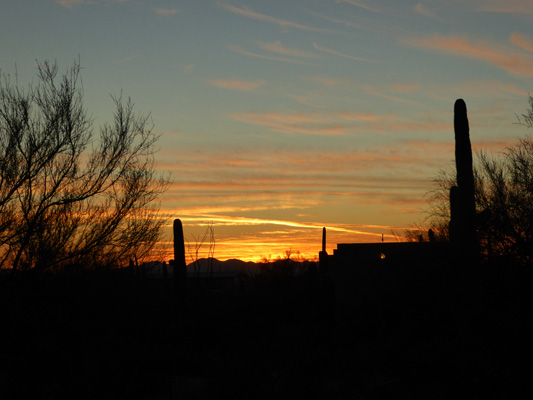 And then shifted to pink

And then pink and orange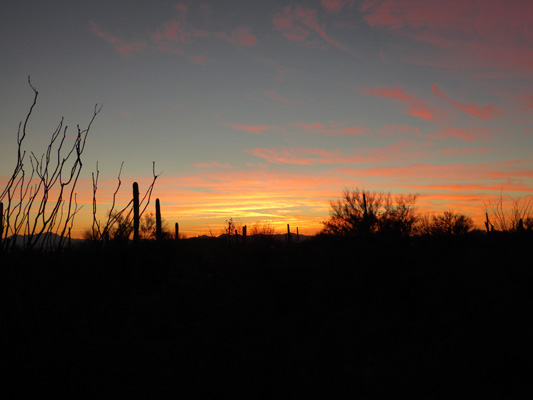 And finally orange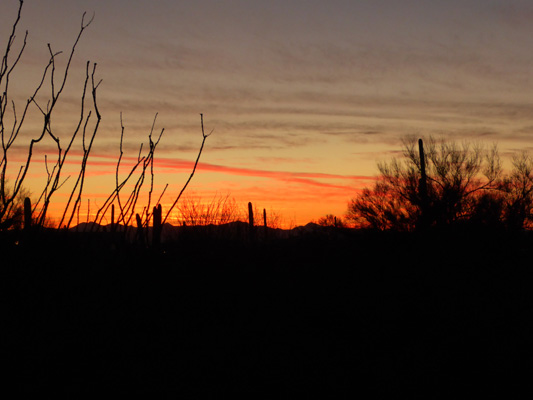 Wednesday February 22nd, we extended our stay for one more day since we hadn't heard from anyone yet. Then we discovered that not only had the appraiser not finished his part of the process but that our repair guy was going to be out of town until Monday. I tried calling the Claims Adjuster but of course didn't get her. So with a bit of a sigh we opted for distraction and headed over to the Arizona-Sonora Desert Museum just a couple of miles north of us. We've visited this place of couple of times and have always enjoyed it. And today was no different.
Near the entry we spied a saguaro with a crest.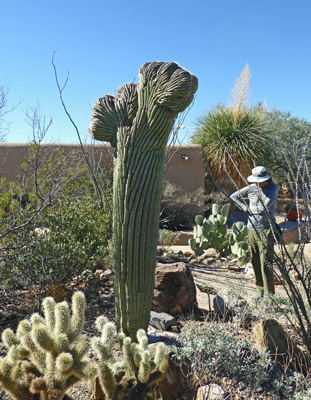 Its sign said that the crest will continue to grow and become more and more convoluted.
There was a docent with an American Kestrel out in the entry courtyard.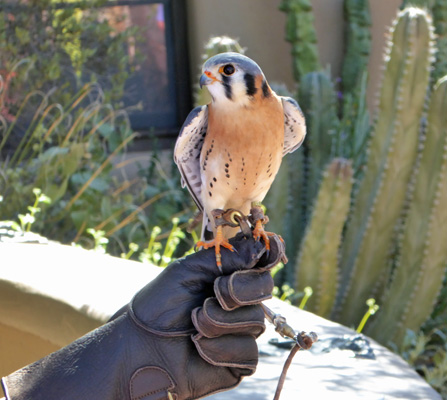 Such a pretty bird. He even spread his wings for us.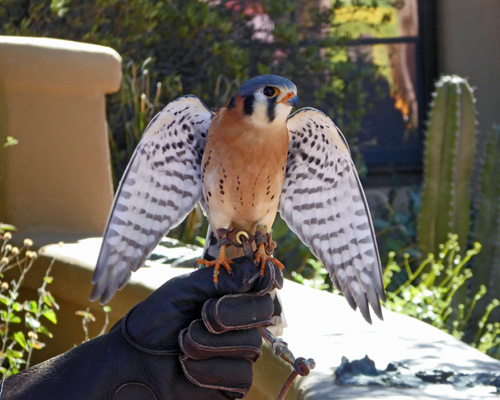 We paid our entry fee ($18.50 a piece for seniors, $20 for adults) and headed out on the main trail. The museum is a great combination of a natural history museum, aquarium, zoo and botanic garden. The main trail takes you through the part of the indoor museum that is made up to be a very dark cave. Eventually you come into a chamber full of mineral displays—all from sites in Arizona.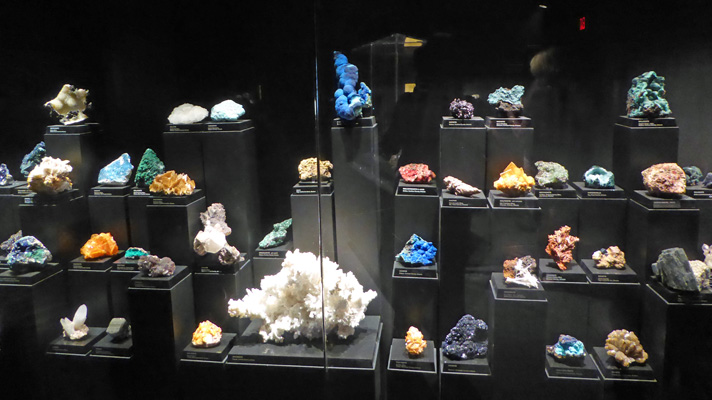 I'm particularly fond of azurite.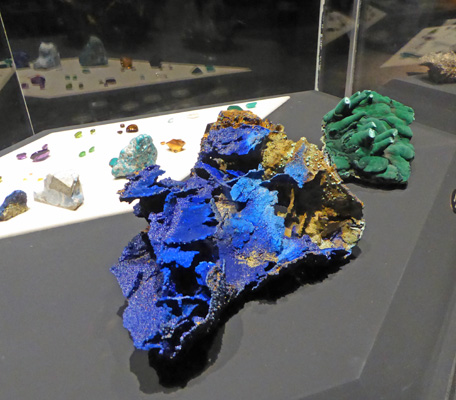 We eventually come out the other end of this part of the indoor exhibits and went along through the zoological portion. The black bear was out roaming around.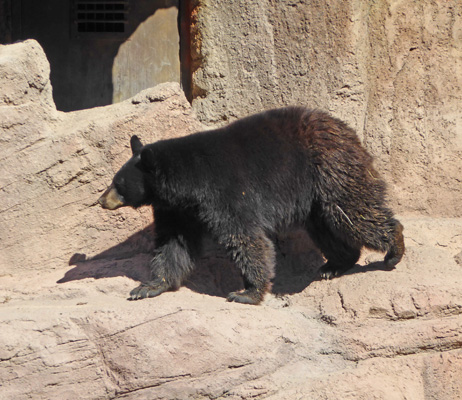 One of the Mexican wolves was pacing a route around half of the perimeter of the enclosure passing by the other one who was resting in the shade.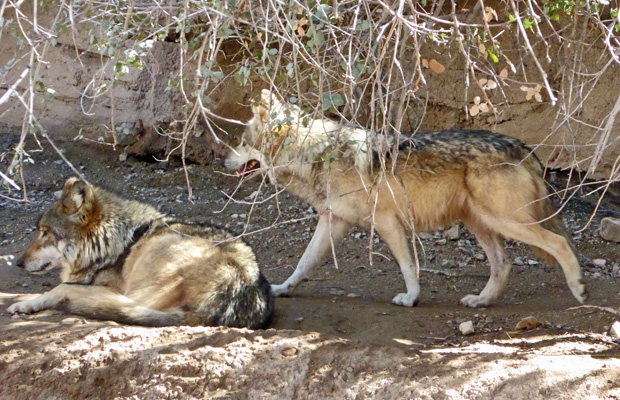 Don't you just love those golden eyes?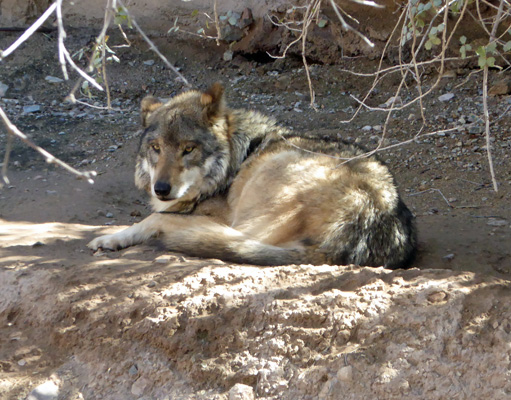 We moved from the Desert Grassland area (with the bears, cougars and wolves) out into the Desert Loop where the coyote was busy patrolling his enclosure too.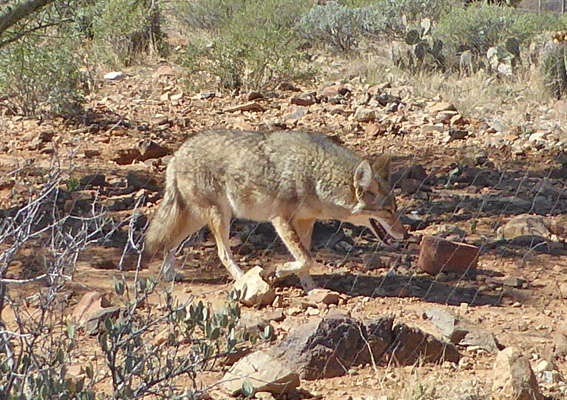 The Desert Museum is inside the Tucson Mountain Park which abuts Saguaro National Park. So funny thing, there are lots of saguaros to see.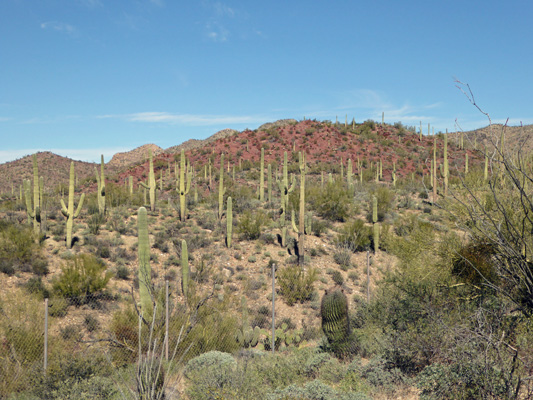 We wound our way through the desert loop and actually spied a couple of javelina, though they were hiding under a tree so they didn't make a good photo. And the cats and foxes were asleep but I did manage to get a nice shot of a roadrunner.
Having finished the desert loop we made our way back to the grasslands to pay homage to the prairie dogs. Our daughter, Leslie, is particularly fond of this prairie dog village, so these shots of for you, Leslie!
We had a pair going at it and I managed to get a photo of them in mid air as they dashed at each other.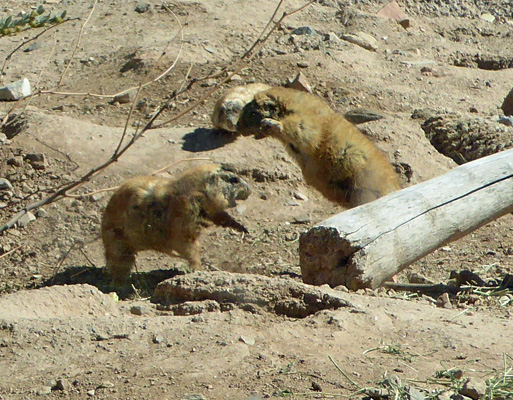 One little guy came out of his hole and stretched out in the sun—prairie dog yoga?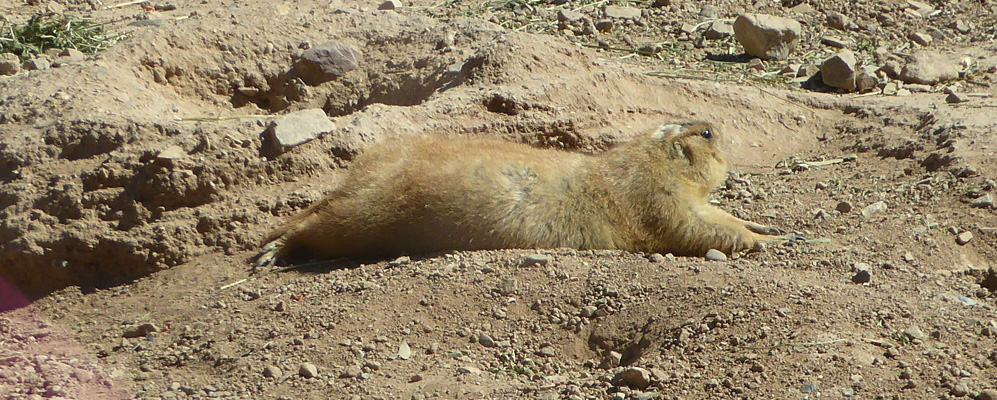 This guy looks so wonderfully fluffy nibbling on something.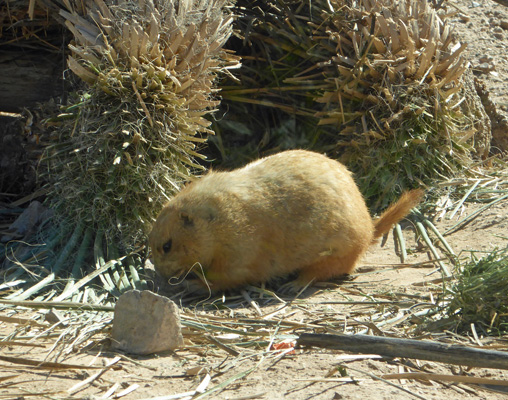 And of course there was one little fellow on alert, chirping away.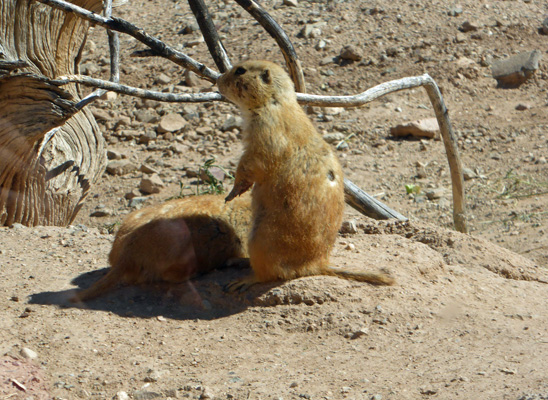 We wandered our way out past the cactus garden and there were little Arizona Fishhook Pincushion Cactus in bloom.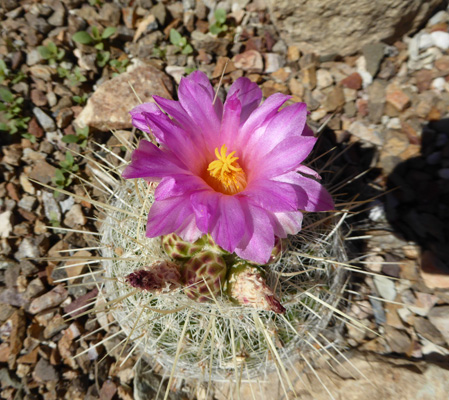 And then I went into the Hummingbird Aviary (packed with people) while Walter found a nice bench in the shade. The aviary is FULL of hummers. This is a Black-chinned hummingbird.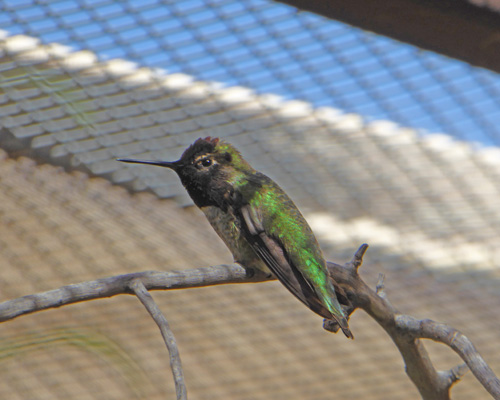 And I managed to catch this one with it's tongue out. I think he's a Broad-billed hummingbird.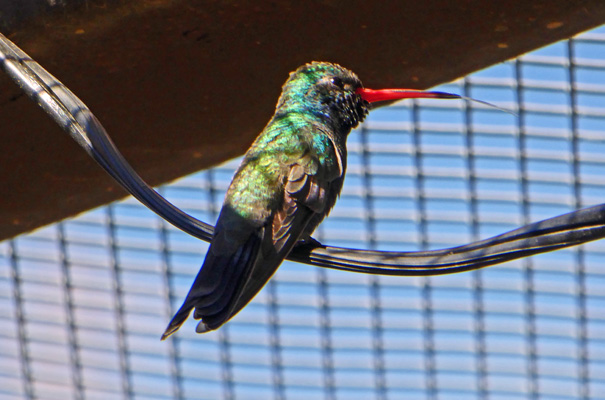 It's nesting time and this little lady built her nest right near a feeder so she didn't have far to go to eat.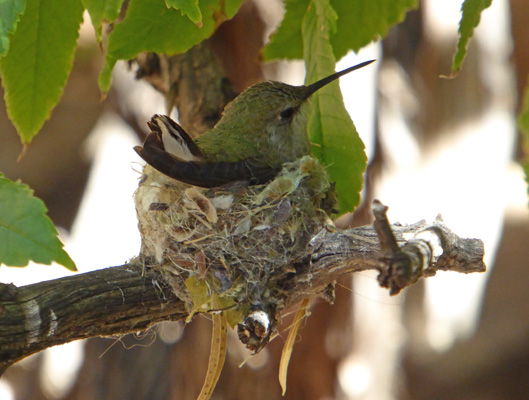 There was a woman trying to get this hummer to sit on her finger ("They do it in Costa Rica") but the bird ignored her and flew away.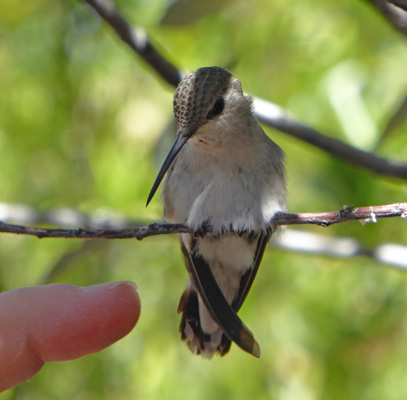 Nesting hummingbird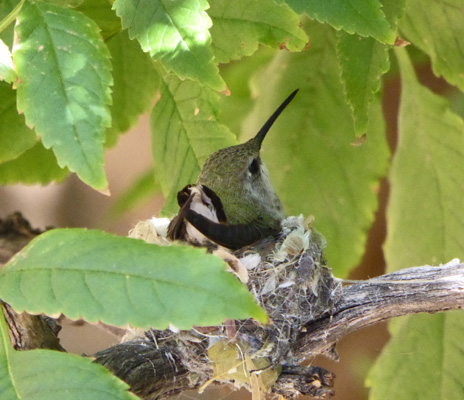 We came home for lunch and wonders of wonders the Claims Adjuster actually called me back. She's still trying to figure out if they will reimburse us for our hotel stay once the repair process starts. At this point (a week after I asked her about it) she still needed to talk to her supervisor. She had never heard of anyone living in their RV and traveling before. I guess folks in Louisiana don't become full timers. But when I told her we had spent an entire week waiting to hear from the appraiser she actually tried to reach him and then sent him an email to ask him to expedite our appraisal (but on course when she left me a message the next morning she just said she'd asked him to contact us and coordinate the process of seeing the rig again since it isn't at the shop—sigh).
Since the repair guy was going to be out of town, we could now head out of town ourselves! So we spent some time that afternoon figuring out where to go (all the state parks were fully reserved already for the weekend). And in the end we decided we'd go south the Amado.
It had been in the high 70's again but a few more clouds had come through with the next front (no rain expected but a major cool down was in store). And with the clouds we got another nice show with the sunset.
No gold that night. It started pink.

And then went orange.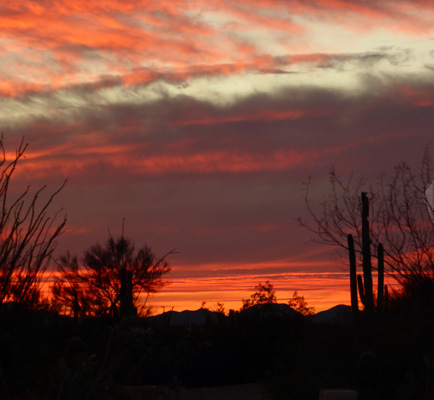 On Thursday February 23rd, it was much cooler than it had been. In fact, it was only in the high 50's when we packed up and left Gilbert Ray Campground at 10:45 am. We drove south on I-19 to the town of Amado and pulled in at Mountain View RV Ranch at about 11:45. We stayed here in January and it's inexpensive ($15.99 for the first 3 nights with Passport American and then $30 each night thereafter) and in a convenient location for laundry and grocery shopping. We decided we'd head back down this way since it wasn't that far from Tucson and there were a couple of places for us to visit that were new for us. We got parked and set up and then headed back up I-19 to Green Valley to do grocery shopping. The temperature made it up to about 68 in the afternoon but it was breezy. Still we had the vents and the door open which isn't bad when you know that it was snowing in Seattle!
It got down below freezing in the early morning hours (I'm not sure if it really got down to 28 since our weather station is getting kind of unreliable) and it was slow warming up in the morning. We packed a lunch and drove north back up I-19 to Green Valley and then east to Madera Canyon Recreation Area. This is a Forest Service recreation area with a narrow paved road that takes you up from the valley floor at about 2500 feet to the beginnings of the local sky island at 5,500 feet. We took the road to the top where the temperature was only about 45 degrees. Here you could see that there was still snow on the upper reaches which are above 9,000 feet.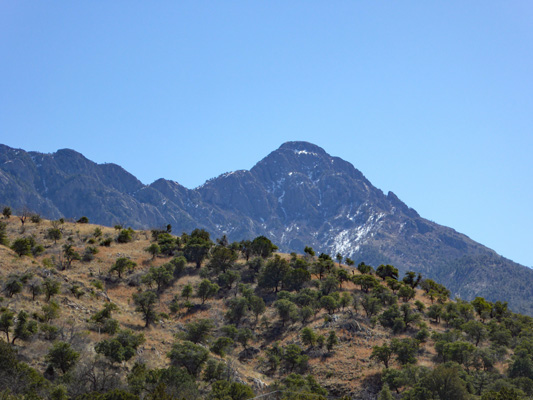 There's a very steep trail called the Old Baldy Trail which starts here and gains 4,000 feet in 5 1/2 miles to take you to the top of Mt. Wrightson at 9453 feet. There was snow on the mountains to the southeast too.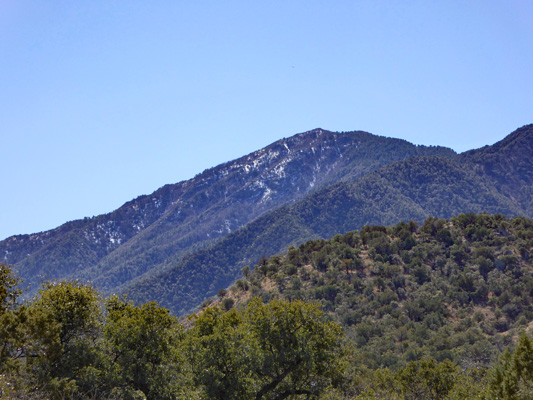 To the north you could see the juniper studded hills and the valley below.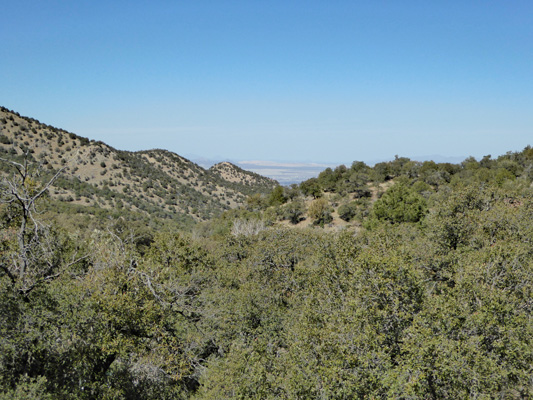 That's the town of Green Valley out there in the valley below—the light beige is the Asarco Copper Mine which is several miles long.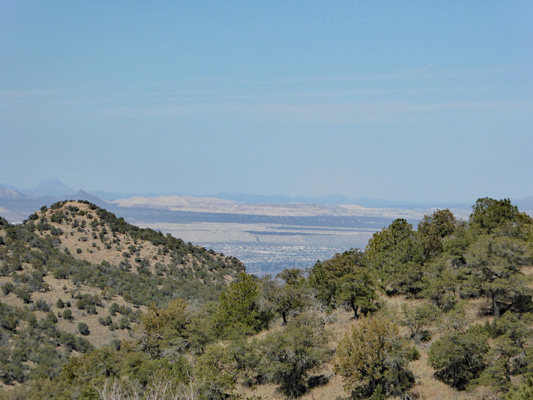 Some of the mountains are nobbley and low enough that they didn't have snow.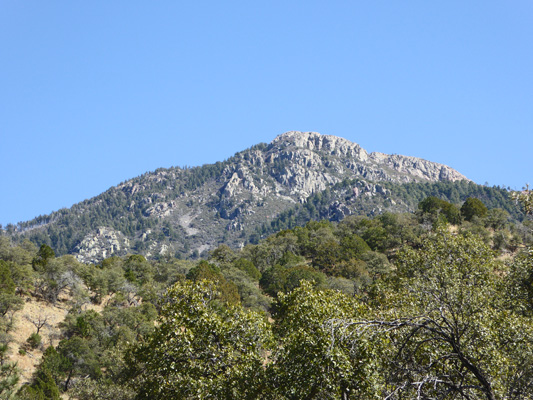 On our way up at about noon, nearly all the parking lots were full. It turned out that the kids were out of school (it was Friday) for Rodeo Days in Tucson and clearly there were folks taking advantage of the nice day to come up for picnics. There were plenty of parking spots up at the top but it was pretty cold and we weren't interested in hiking straight up so we headed back down past the Chuparosa Inn (one of the 3 B and B's located in the canyon). They had a bird feeder hanging in a tree that had attracted a group of greedy goldfinches.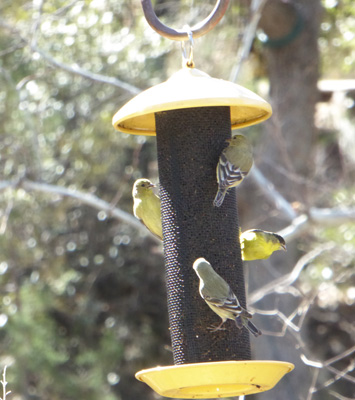 By this point it was well after lunch and we found a place to park in the first lot we came to—the amphitheater trailhead at 5,000 feet. We studied the map and decided we'd take a stroll down the canyon along the trail that followed Madera Creek. There was a nice bridge to take us across the creek.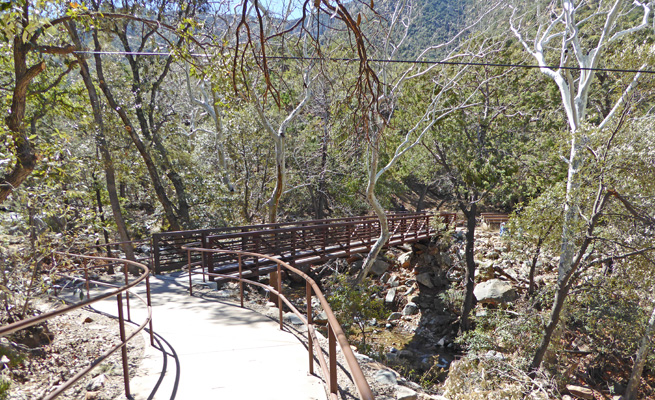 There were a lot of lovely sycamores growing along the creek. They hadn't leafed out yet but the smooth white bark shone in the sun.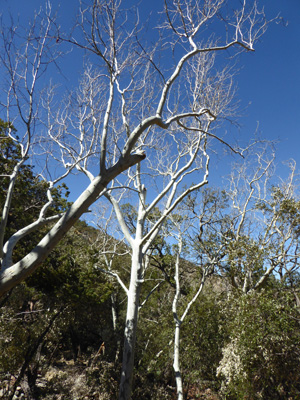 There were kids out playing in the rocks as the creek flowed down the hill.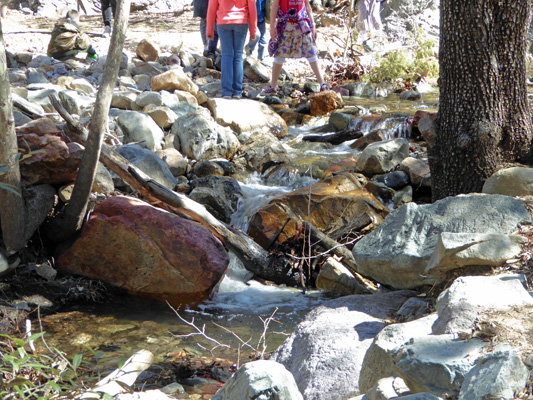 The trail follows the creek as it chortles along.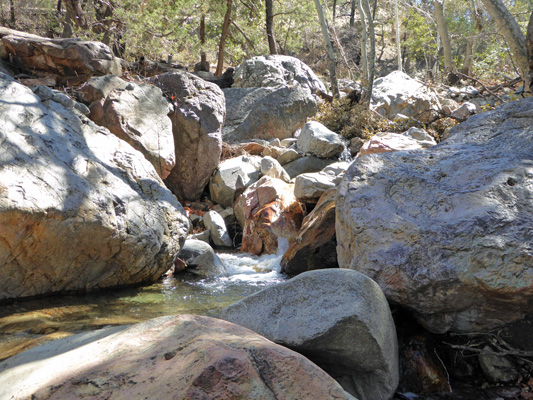 No big falls but lots of little drops to make for a delightful water music. It was so nice to be in among the trees with running water after so many weeks in the desert.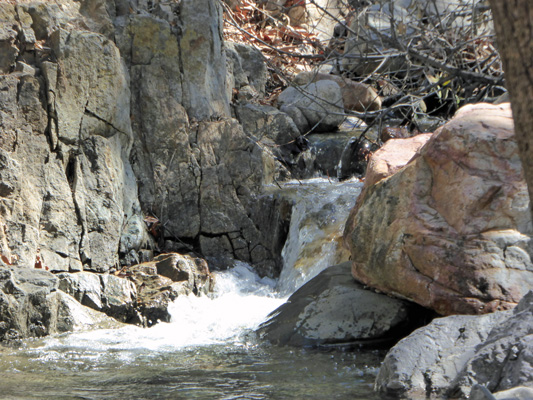 We strolled downhill for about 1/2 mile to the creek crossing at the Madera Picnic Area.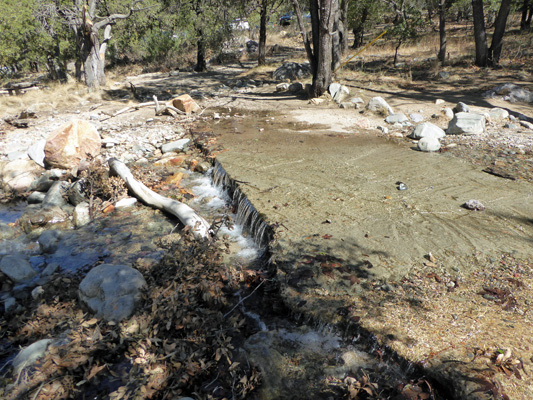 It wasn't deep but it provided a lot of entertainment to the folks (many of them teenage girls) who needed to get across.
There was a big old Alligator Juniper (the main evergreen in this part of the canyon) across from here. Their bark looks like alligator hide and thus their name.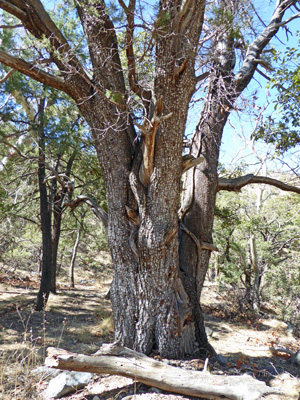 We turned back here and climbed the hill (we'd dropped about 150 feet in elevation on the way down).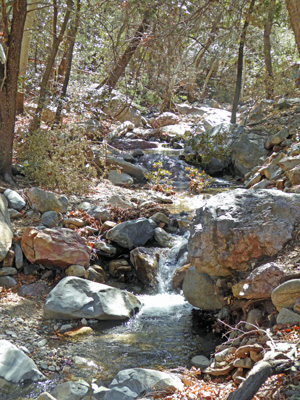 There are nice benches here and there to sit and watch the water and listen to the birds. We saw some acorn woodpeckers high in a sycamore and you could hear tons of other birds singing way in the trees.
This was a lovely stroll. It was cool (we left our fleece on the whole time) and a pleasure in the dappled sunshine along the creek. I stopped and got a shot of the mountains to the east from the parking area.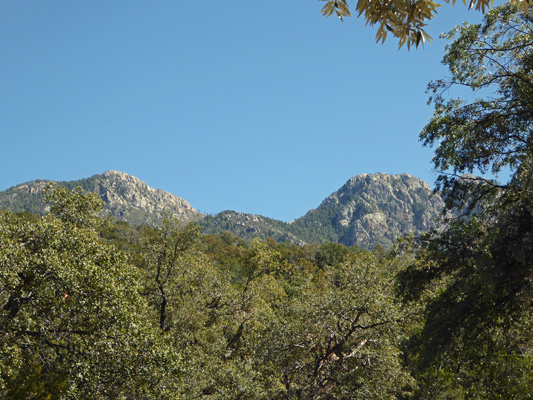 It was nearly lunchtime for us when we got back so we drove on down the hill (and toured the campground on the way) to the Whitehouse Picnic Area where there were lots of places to park and lots of nice picnic tables in the dappled sunshine. I took a quick trip out to see the view of the canyon at this level. By this point you're down at 4,600 feet elevation and the Oak Woodland we saw up at 5,000 has given way to Chaparral.

By the time we got back down into Green Valley the temperature was in the low 60's. You can imagine how popular this canyon is when it's in the 90's down in the valley and 20 degrees cooler up at the top.
We had another cold night with the temperature down to 28 again in the morning. Walter decided he really wanted to go on the Asarco Mine Discovery Tour up at the big copper mine. They only have tours Tuesday through Saturday so we rearranged our plans for the day so we could do the tour on Saturday. I'll leave that for my next missive since this one has gotten pretty long.