Sunday morning April 9th, Walter noticed that there was finally someone in the office at Conley Bottom Resort in Central Kentucky, so he went over and paid for our spot. They only charge $24 a night for a full hook up site—in this case it had 50 amp service that we didn't need but what the hey. If we'd known where to go we could have gotten a spot with 30 amp service (all we need) for $20 a night. But we were happy with the spot we had. Their WiFi worked really well which was an unexpected gift and we had a nice view!
We packed up and headed north up to Somerset and then east on Louie B. Nunn Cumberland Parkway. Carmine the Garmin had a heck of a time pronouncing the name of this road. She insisted on calling it the "Lowie (rhymes with wowie) Bee-nun (emphasis on the first syllable) Parkway". Ah the joys of life on the road, even your GPS can make you laugh some days.
Mammoth Cave National Park is in Central Time so we picked up an hour on the way and were at the Mammoth Cave National Park Campground by noon. They had lots of spots including a choice of side pull-throughs! We found one we liked and set up camp. As with all good National Park campgrounds there were no hook ups but there was a water faucet just across the road from us. We hiked back to the check-in kiosk and paid them $20 for 2 nights (with our senior pass). If you are 62 or older and have not bought you Senior Pass, do it. On October 1st 2017, the price will go from $10 (for a lifetime pass) to $80. It's still a deal at $80 since it's good for life but why not get the deal of your lifetime and only pay $10? It allows you to get into all National Parks for free (including National Seashores and National Forest parking fees). Plus you get 50% off of most camping (only concessionaire run camping in some National Parks isn't covered) and you usually get 50% off things like cave tours too.
We had lunch and then drove over to the Visitors Center (which in only about 1/2 mile from the campground) to see if we could pick up our tickets for our tour the next day (and of course watch their movie). The parking lot was pretty full but not overflowing and the Visitor Center did have a lot of folks prowling around. But there was no wait to pick up our tickets—we just had to show them our senior passes and our ID's and presto, the tickets we'd paid for on-line were ours.
We wandered around the museum (which is kind of dark since it's set up to look like a cave) until we found a small seating area (surrounded by displays and people joking and talking) with the movie running. We watched the movie which was interesting but not particularly great, and wandered some more until we found yet another movie—this time about the slaves who worked in the cave as tour guides from about 1815 until they were emancipated at the beginning of the Civil War. One of the rangers in the park is a descendent of one of the prominent enslaved explorer/guides of the period which made it really interesting.
I stopped and got a wildflower list while we were at it since I'd seen some flowers in the campground that I didn't recognize. A list at least can help me narrow down my choices since my one flower book right now covers all of the Eastern US and isn't as comprehensive as it might be.
There was a huge patch of Bluets (Houstonia carolea) along the road in the campground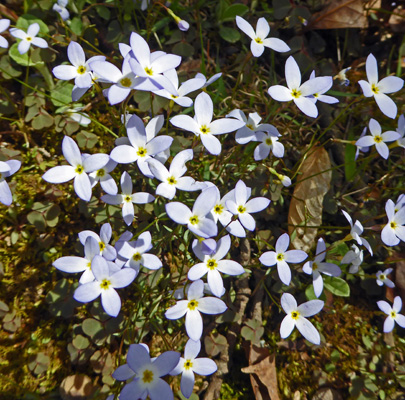 with one single Plantain-leaved Pussytoe (Antennaria plantaginifolia) growing in the middle of them.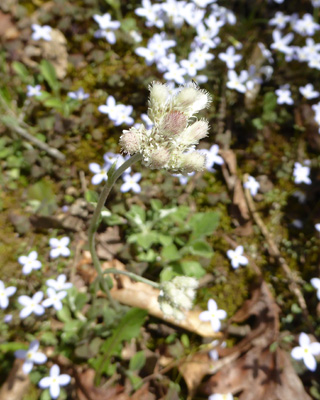 And here and there were single Hispid Buttercups (Ranunculus hispidus).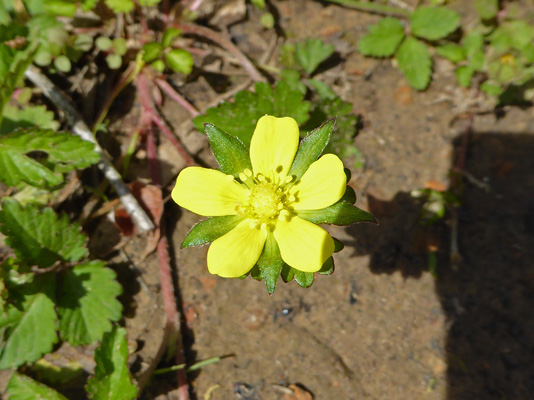 And all through the campground there were Common Blue Violets (Viola spp.) which seem to be a lovely weed in this part of the country since they grow everywhere.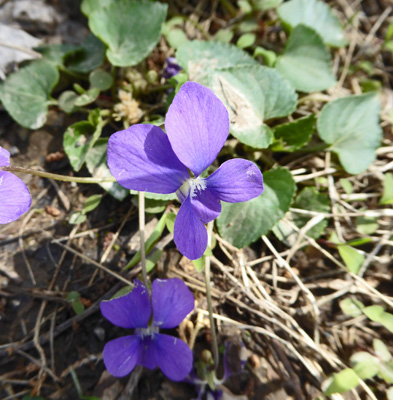 We'd put the solar panels out when we arrived and they did an okay job of keeping things charged up even with lots of shadows from the branches of the trees that hadn't leafed out yet. We kept moving them to try to catch as much sun as possible especially since we had a few clouds drift in late in the afternoon. It was in the low 80's but it wasn't humid for a change—what a gift.
Monday morning we puttered around home and then drove over to the Visitor's Center just before noon so we could report in at 12:10 for our 12:15 'Domes and Dripstones Tour'. There weren't a lot of different tours available for the cave partly due to the time of year and partly due to the fact that they had a paving project going on that meant they had a section of the cave closed off that is usually available for tours. We picked this one because it was about 2 hours long and rated moderately strenuous. Our other choices were either too short (just a 1/4 of a mile) or they were 4 hours and rated strenuous. With our Senior Pass we only paid $15 for the two of us—what a deal.
They gave us a brief orientation and then the 100 people on the tour piled into 3 buses and they drove us about 15 minutes to a remote entrance of the cave. Mammoth Cave is the longest cave in the world by at least a factor of 2. By 2015 they had surveyed over 400 miles of interconnected passageways in the cave. Geologists think there may be another 600 miles yet to map. When it was dedicated as a National Park in 1941 there were only 40 miles of mapped passageways. In 1972 they discovered that Mammoth Cave was connected to the Flintridge Cave System—most of which is outside of the park--and at that point it became the longest cave in the world. The cave map that I had indicated that there were 5 entrances to the cave plus an elevator entrance. One of those is the Historic Entrance near the Visitors Center. The others are scattered around the park.
The entrance to the cave that we entered through was discovered back in the early 1900's. The owner of the land had found a sinkhole (the whole area around Mammoth all the way down to Bowling Green to the south is covered with sinkholes) and blasted a hole in the side of it to see if he could find a cave since most sinkholes in this area are collapsed caves. He found a passageway and a 200 foot plus deep pit. We took 280 stairs down into the pit. Along the way you could get interesting views of the cave walls.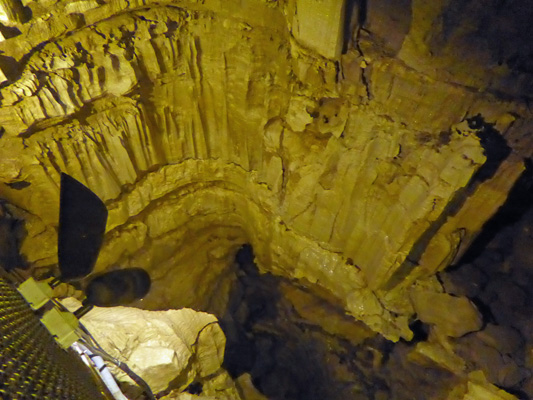 And a view now and then all the way to the bottom.
All the caves that we'd visited thus far had been highly decorated caves with lots of stalactites and stalagmites, flowstone and other cool formations. It turns out that Mammoth really doesn't have much decoration at all. It is a limestone cave that was formed as underground rivers eroded away layers of limestone. Most of the cave is protected from the kind of dripping water that forms decorations by an overburden of sandstone that serves as a roof to keep the cave passages pretty dry. There are areas where rainwater flows pretty quickly through (which is too fast to deposit calcite to create pretty formations) but very few places where there is the slow drip, drip, drip that makes caves pretty.
Instead this cave has lots of breakdown--piles of rocks that have fallen from the walls and ceilings.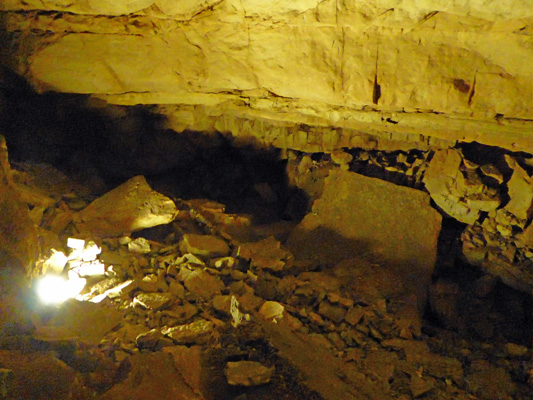 And here and there a larger room with a smooth ceiling.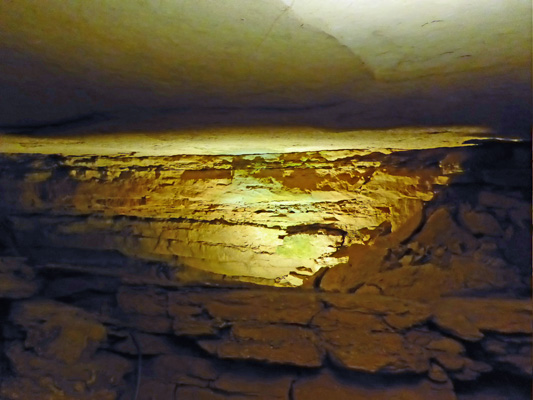 We trooped through narrow passageways and up ramps and stairs. Many heads were knocked on overhangs that stuck out and here and there we all had to scoot sideways to get past things jutting out of the walls. There were two places where the space was big enough for rows of benches for us to sit and listen to the ranger talk about the cave. The cave has 5 levels with the lowest levels still being eroded away by active underground rivers. There are tours in the summer when they have lots of visitors (and staff) where you can actually get a view of a couple of these rivers.
We never figured out what the Domes part of the tour actually was—the ranger never explained it or pointed any out. My guess is that the big high ceilings were 'domes' or that the big pit we went down into at the beginning might be considered a dome. In any case, we did get to see a bit of dripstone at the end of the tour.
There's a extra set of 49 stairs that you can descend to the drapery room where there is dripstone and drapery.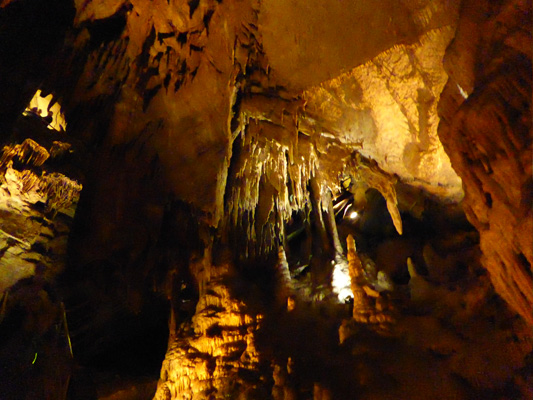 It's close quarters and with 75 people (some folks opted not to go down) all wanting to go down the stairs and back up again if wasn't the best of photo ops.
This is part of a formation called Frozen Niagara—I think. Again the ranger didn't point it out and I was just trying to get a decent photo of something interesting so I may have missed it.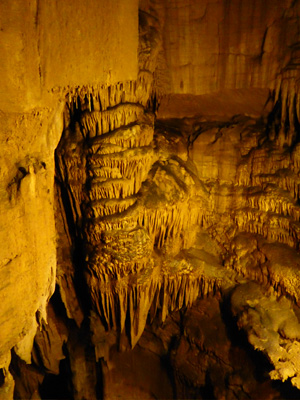 There was an area we walked by in a cramped passageway that had some more dripstone and nifty formations where you can see where the water stood to form little dams on the floor.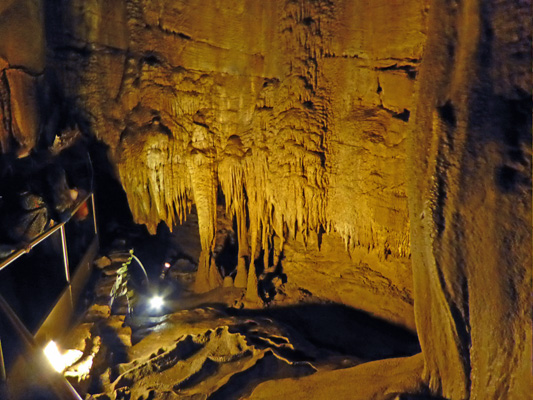 The big excitement on the tour was that they were having electrical problems and we had about 200 yards of passageway without any lights. They set up Coleman lanterns to light our way and everyone turned on the flashlights on their phones and it was brighter than it had been in the other lit passageways.
Being on a tour with over 100 people (a full tour is 116 people and I don't know if this one had sold out or not) with a not very informative guide wasn't ideal but it was still fun. We walked about 3/4 mile through the cave and climbed 500 stairs (280 down and another 210 up plus the 98 up and down in the drapery room which were extra). I admit I liked Carlsbad Caverns much better but then we had the place almost entirely to ourselves AND it's a very heavily decorated cave. 'Pretty' wins over 'long' any day for me.
On the way back to the truck I stopped in the museum again to take a photo of the current map of the cave.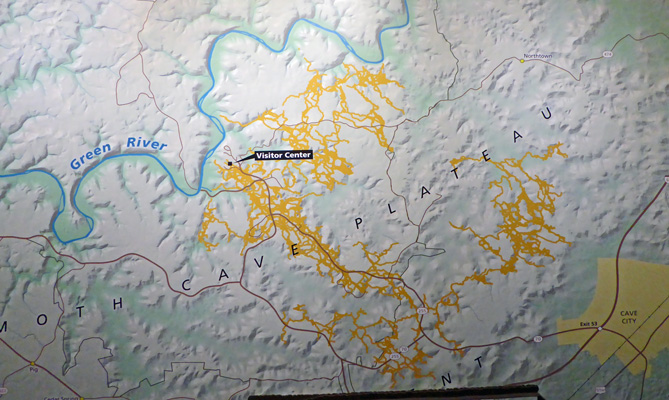 As you can see, it goes on and on and on—squiggle, squiggle, squiggle.
And here's a shot of the 3-D model of the 5 levels.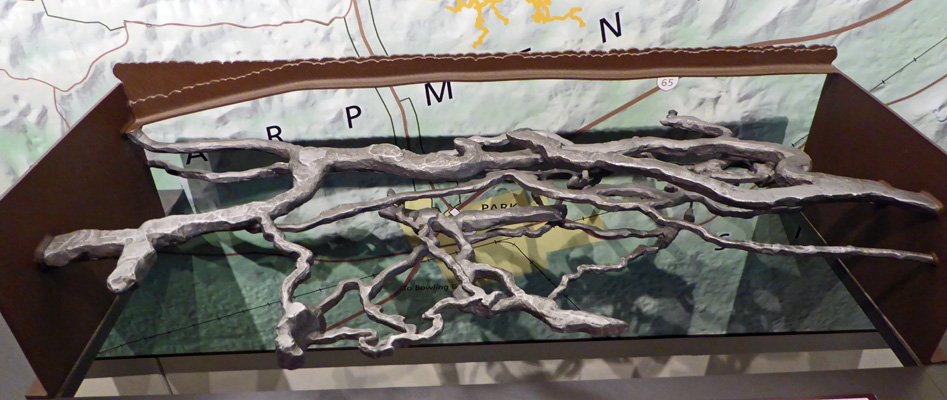 We went home and had lunch and enjoyed another warm sunny afternoon moving the solar panels around.
The clouds came in late that evening and it started to rain lightly in the middle of the night. It continued to rain until about 10 am but it was dry when we broke camp and headed south to Bowling Green and Discount Tire to get new tires for the trailer. Walter had called them on Saturday and they had assured him they had them. And they did; they just wouldn't put them on the trailer! The Airstream has some interesting quirks and one of them is that they tell you, you can't jack it up or put it on a lift. You have to use a ramp (or a set of leveling blocks) to raise one tire so you can change the tire next to it. The Discount Tire manager did not like this at all. He thought it wasn't safe. So he sent us to Camping World. And Camping World didn't have the tires. But they would put them on the trailer following the proper procedure and they said they'd order the tires and they'd come the next day. Okay. So we paid for the tires and headed to the Beech Bend Park Campground just about 5 miles north. It's home to a racetrack and an amusement park both of which are closed this time of year, thank goodness.
We got a full hookup pull-through spot for $30 a night and set up camp. Our phones worked but the hot spot didn't. There's a huge portion of Kentucky where there's no Straight Talk coverage—clearly Verizon has a coverage agreement with a local company here that Straight Talk didn't buy into. We had lunch and then made a trip to the bank (there aren't any Chase Banks in Tennessee) to deposit the insurance checks we got a couple of weeks ago when we picked up our mail along the Natchez Trace.
It had been dry for several hours but big black clouds were gathering to the east. It started to pour and then rained hard off and on the rest of the afternoon. We made a trip to the local Ace Hardware and did our weekly grocery shopping. Exciting, no?
On our way out to go to town we noticed a little pond in a depression (a sink hole).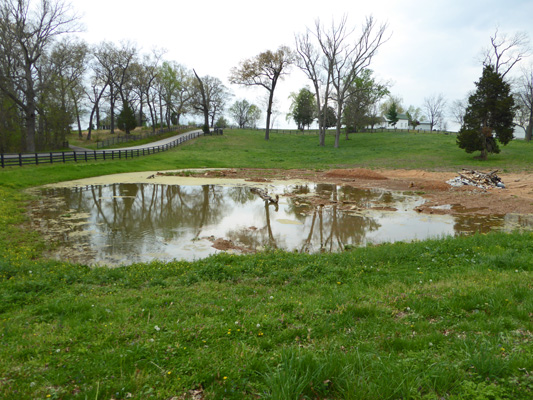 And I spied a row of 12 turtles sunning themselves on the log in the middle.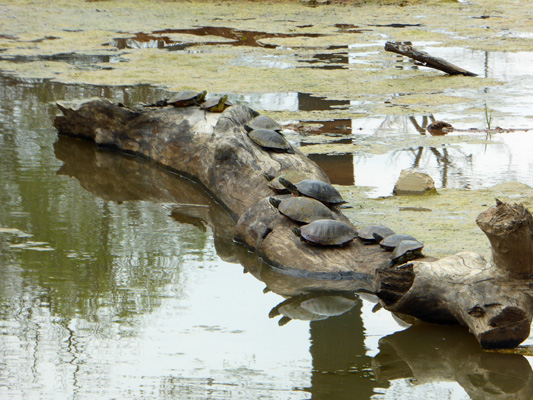 They were gone when we came back later in the rain.
Walter managed to find a few TV stations over the air (including a very decent PBS station and ABC) and we watched the news and hoped we'd hear from Camping World the next morning.
Tuesday morning we got up early hoping to hear from Camping World. No joy. We both took showers in the shower house. There was lots of hot water but no place to hang your clothes or to sit down to put your shoes on. In the Ladies shower area someone had left a folding chair and I used that to put my stuff on. But in the Men's shower area there wasn't anything. This place was as utilitarian as you can get.
At 11, Walter broke down and called Camping World to see what the story was. No tires yet. And they weren't expected until afternoon. So we went to town and Walter had his hair cut.
On our way out we stopped to extend our stay and I got a chance to take a photo of the very nice salmon pink Dogwood growing near the entrance kiosk.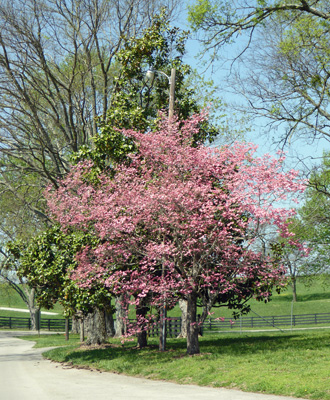 We also followed Carmine the Garmin's directions to the local library but there was nothing there. Ah well, it was lunchtime anyway so we went home. Camping World called while we were making lunch to say that the tires had arrived but they needed to check with someone about when we were supposed to come in to have them installed. An hour later they called back to say they could do it at 10 am the next morning. Ah well, we'd already re-upped at the campground anyway. I did laundry and Walter had a nap. He tried to sign up for the fee-based internet in the park but neither of us could get it to work. Spared again. That evening Walter did some reading in the Airstream Manual (they give you a book for Dummies and the official Manual and we've been using the Dummies book mostly). And in it he found information on how to use a jack to change the tires!!!!! We took our flashlights out and sure enough, if you crawl under the trailer on the passenger side behind the stairs there's a little label with an arrow that says "Jack" and a small square plate where the jack goes. On the driver's side, they are just behind the wheels. Ta Da! You still shouldn't have it put on a lift but there is a way to use a jack.
Thursday April 13th, we got up and broke camp and made it to Camping World at 9:45 for our 10 am appointment to have the tires installed. The regular tire guy was off on a training day so the Service Manager was set to do our tires. Except his daughter was sick and he had to take her to the doctor. They told us to go sit in their waiting room and they'd let us know when they were ready for the trailer. I saw him leave a little after 10 and neither of us was optimistic about a trip to the doctor not taking very long.
We sat for an hour in their waiting room before we asked if it would be okay if we went out to hang out in the trailer where it was more comfortable. At about 12:45 when we were talking about making lunch, we got a phone call saying they were ready for us to bring the trailer back to the service bays. So we grabbed some snacks and drove around back. And went back to sit in the waiting area. Needless to say, the process wasn't fast with the Service Manager on the phone off and on and being dragged off to do one thing or another all the time. Half of the time when Walter went back to check on progress the guy wasn't even there. But finally at 3:45 they said he was done. I went and made myself some lunch while Walter waited for the final paperwork—which of course got interrupted too. We finally rolled out at 4:15. So it took us over 6 hours to have the tires installed and the whole process took us over 48 hours longer than we'd thought.
This was a much less stressful wait than our time in Tucson waiting for the bumper repair but it fits a pattern of us having a lot of 'waiting practice' this year. At least we'd had the sense to not plan on a full day of driving. Instead, we drove east from Bowling Green to Barren River Lake State Park which is only about 30 miles. The drive wasn't bad and there were plenty of empty sites in the campground. However, the campground is really hilly and very few of the sites were level. There were lots of pull-through sites where there was a tiny little flat spot on top of a hummock. The roads around the campground were very narrow and one-way so it was really difficult to figure out how to get from one section to the next. In the end we found a spot that was moderately flat and set up camp.
We got a water and electric hook up site for $13.50 since they give you a 10% discount if you are a AAA member or a senior (over 62) and it wasn't the weekend. The price goes up $9 to $10 on the weekend. The registration kiosk is a long way from the campground proper and since we weren't dropping the connection between the truck and trailer we hiked back. It was hilly and the last bit was pretty steep—guess who got to do that final bit on her own? All good, it was a good workout and my knee only complained a little.
We'd decided to only spend one night here since it was a pretty strange place and we'd spent way longer in Bowling Green than we'd planned. After dinner the campground manager stopped by to check our ID since I'd written a check and we had a really nice visit with her. She'd just taken over the campground and had lots of adventures to relate and we shared some of our experiences from camp hosting.
Friday April 14th, Walter took the time to check the air pressure in the new tires (2 were right and 2 were low) and make sure all the lug nuts were tight (they were good) before we set out. We took blue highways southeast across Kentucky and down into Tennessee before picking up I-40 near Cookeville. We continued east to Crossville and then went south a short ways to Cumberland Mountain State Park. We don't like to take back roads every day since they're slow and it's often not easy driving but they sure do give you a different view of the countryside and so we enjoy using them every now and the. This was a really pretty drive. And there were fields full of and streams lined with what I think is Blue Ridge Phacelia (Phacelia fimbriata) also known as Fringed Phacelia.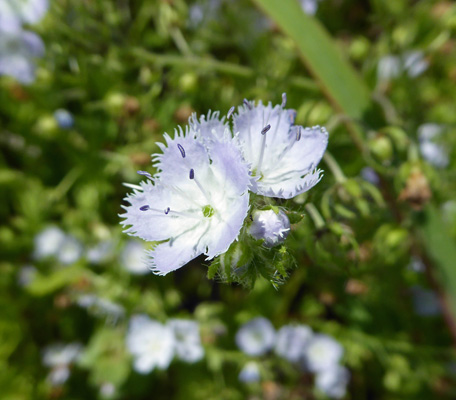 We were happy to discover that Cumberland Mountain State Park had lots of openings even though the weather forecast for the weekend was good. We found a nice water and electric site that was fairly level left to right and level enough front to back as long as we dropped the truck. We paid for two nights and set up camp. Tennessee gives Seniors a 25% discount so we only paid $28.22 a night (tax and reservation fee included).
It was in the mid-80's and we opened all the windows up and had lunch. They had just installed WiFi in the park and they gave us a coupon for 200 MB of usage (good for 4 days). Our hot spot worked (not really well, but well enough). Since we hadn't picked up Email for 5 days there was a lot waiting for us and I managed to use up all 200 Megs in about 2 hours reading my mail and make a few posts on Facebook. It was a pretty fast connection so I guess I shouldn't be surprised but still... We pay $10 a Gig to Straight Talk for 3G coverage. There are times we have gone through that in less than 2 weeks and others when it's lasted a whole month. It depends on how fast the connection is and how often it bogs down and is no use at all. Now you may understand why we try to find a library regularly to update things like Norton and Windows that think nothing of having you download half a Gig to update their software which can take a looooong time with a slow connection.
On Saturday April 15th, we took the morning off and then went for a hike in Cumberland Mountain State Park. We had a trail map that seemed to indicate that we should be able to pick up the Pioneer Short Loop by the Recreation Lodge and Swimming Pool so we headed over there. Folks were just starting to arrive for a wedding while we wandered around looking for the trailhead. After a couple of false starts we decided it would be easier to drive to the other side of the park where there clearly was a place to park at what looked like the trailhead. But before we left I stopped to take a photo of the nice dogwood that was in bloom there. The redbuds were still in bloom here and the dogwoods were just starting to come into their own.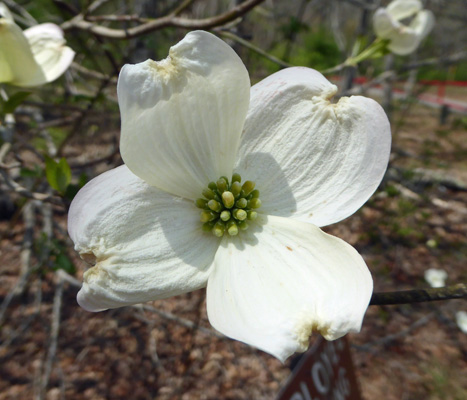 The other side of the park was way busier. There's a large restaurant here along with 30 cabins, a boat dock and a big picnic area. We found a parking spot and sure enough there was a sign with a lovely map of the trail system here. We decided to take the loop trail in a counterclockwise manner which meant that we headed across a short bridge to start with. At the end of the bridge this apple tree was in full bloom.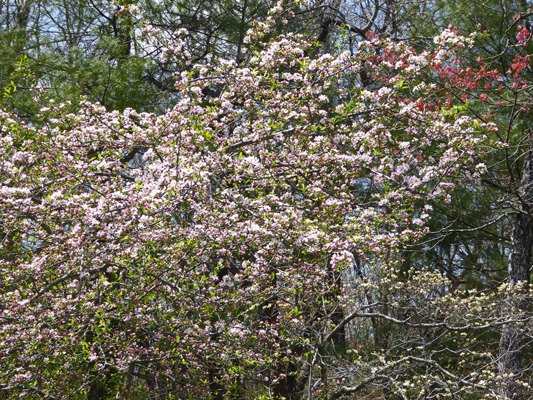 Each of the trails is marked with a different color blaze on the trees. In addition they have these nifty little shields on the trees along the way.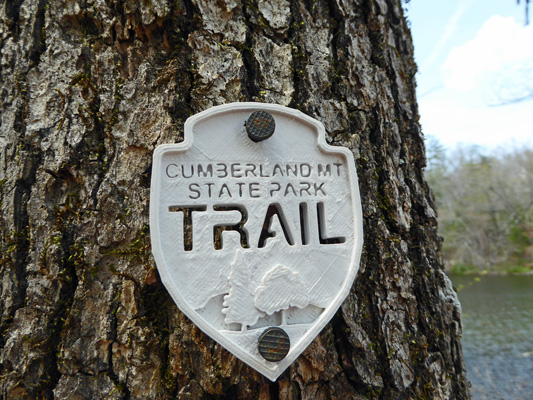 This was a pretty flat trail that followed the lake shore but it required lots of attention because there were tons of tree roots and lots of large rocks sticking up here and there. If you didn't watch your feet all the time it was easy to trip.
I saw several of these white-flowered small trees along the lake. It turns out they're Allegheny Serviceberry (Amelanchier arborea).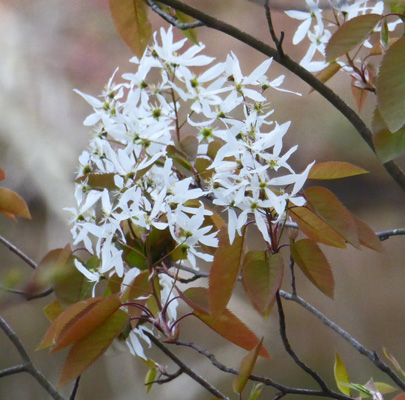 I found one patch of Ground Ivy (Glechoma hederacea) along the way.
And a number of Halberdleaf Yellow Violets (Viola hastata). I liked the variegation on the leaves.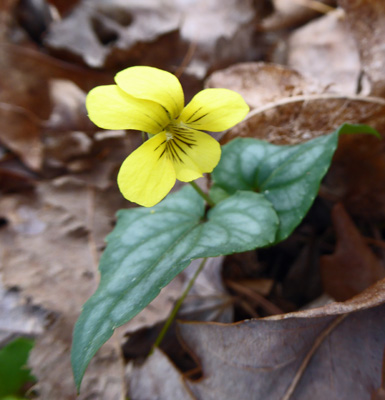 We came to a break in the trees where the still lake water reflected the sky.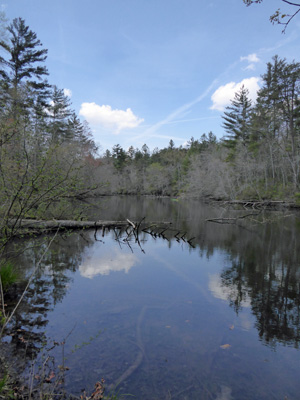 And a fly fisherman was plying the waters in his kayak.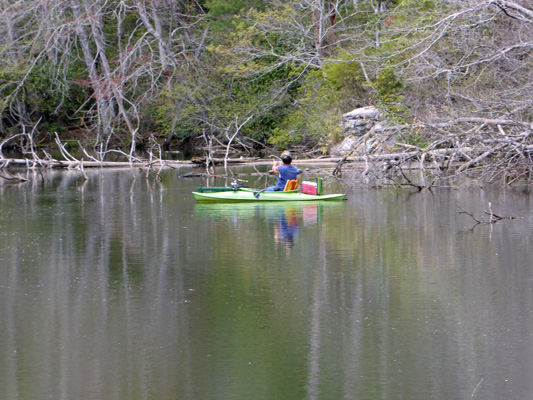 There were a pair of ladies across the lake up on a big rock ledge.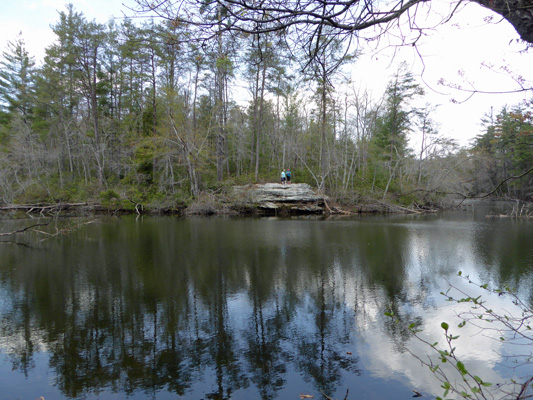 At a turn in the trail we came to a little waterfall in a creek that feeds into the lake.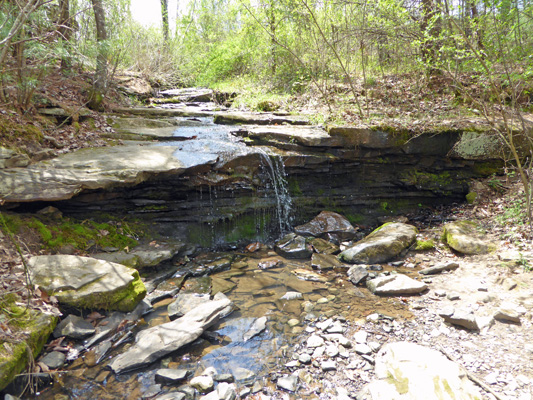 Behind us was a ledge of layered rock that was pretty cool. The area is known for its sandstone so I figure that's what this is.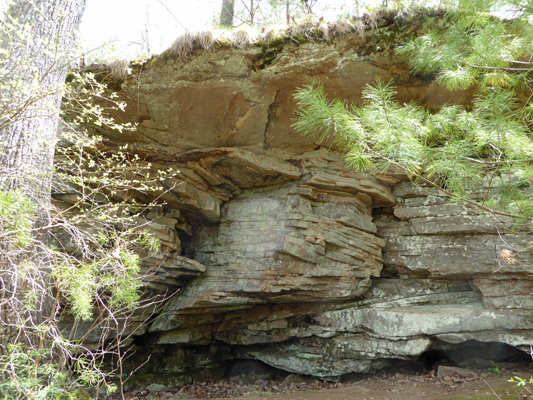 The map said that we'd come to a bridge to cross over the lake (which wasn't very wide at this point) and when we came to this log we were relieved to meet a fellow hiker who assured us that indeed there was a suspension bridge not much farther along.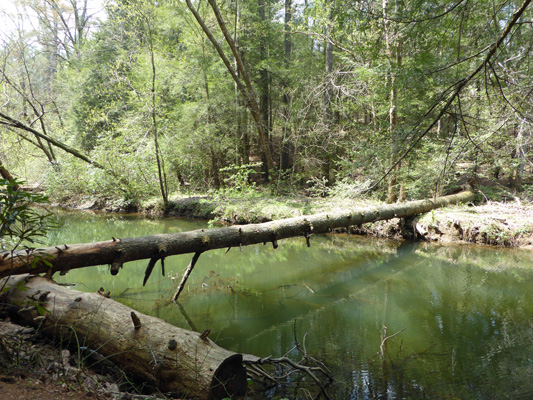 Just before we got to the bridge I spied one lonely Wood Anemone (Anemone quinquefolia) on the bank.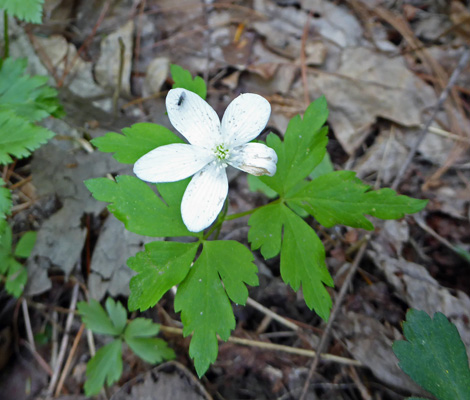 We hiked up a series of stone 'stairs' and came to a trail sign which indicated that at this point we should cross the bridge. So we went down 30 stairs to the bridge.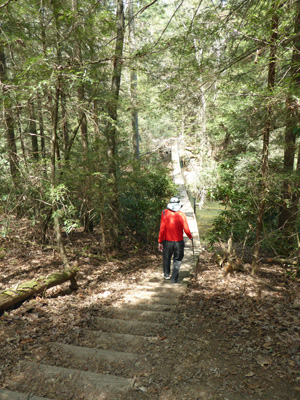 And then I called to Walter to say "Cheese" and he turned and said "Ta da".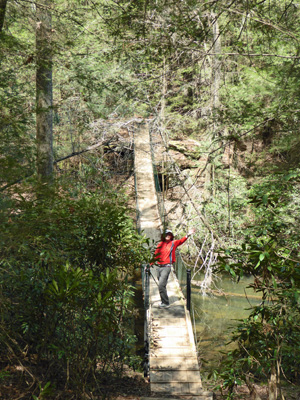 I let him cross on his own because I didn't want to have to deal with the jiggley suspension bridge with him bouncing along.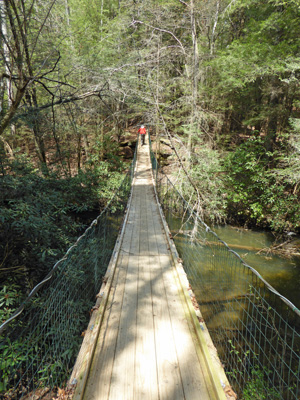 The trail back was much shorter than the trail out. It didn't follow the lakeshore as closely and went through the woods instead. I stopped and took a photo of the lake from the stone shelf that we'd seen earlier.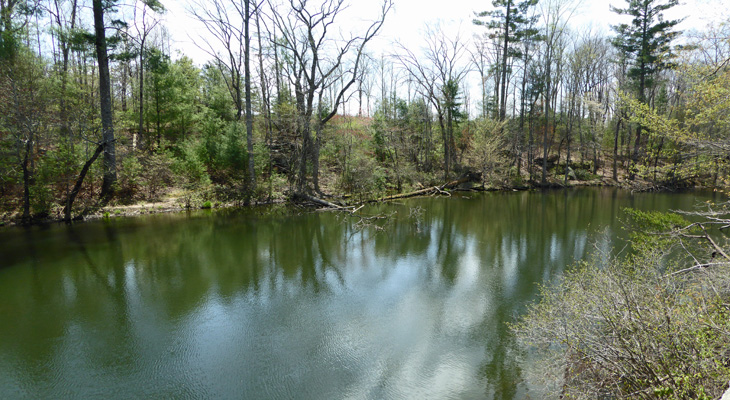 Just as we entered the area where the cabins were I spied a single Dwarf Violet Iris (Iris verna). The leaves were 5 or 6 inches tall but the flower grew right at ground level.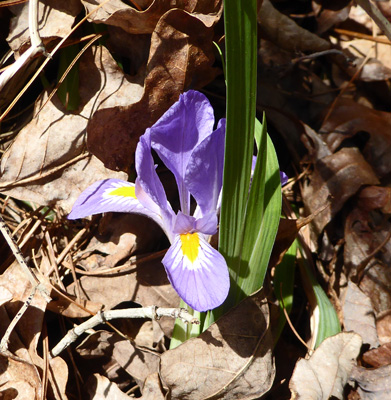 Next to it was a Sessile Bellwort (Uvularia sessilifolia).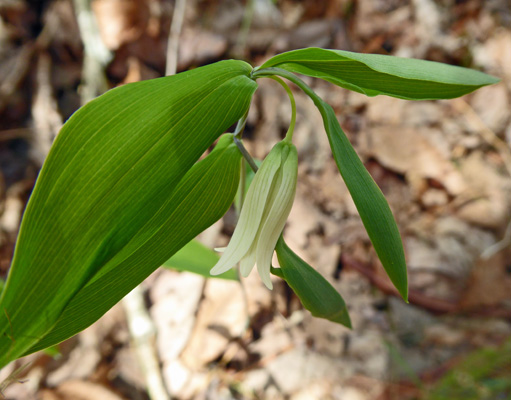 We made it back to the truck and I decided I'd hike over to the area by the restaurant because I wanted a photo of the historic bridge there. On the way I spied some Common Wood Sorrel (Oxalis montana).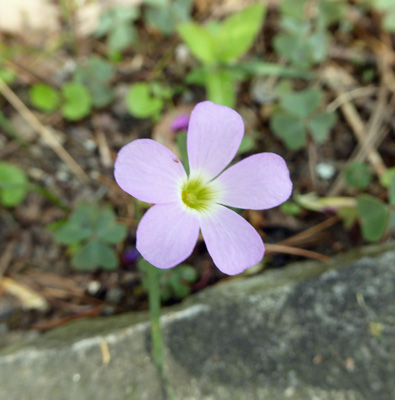 And some more Spring Beauty (Claytonia virginica).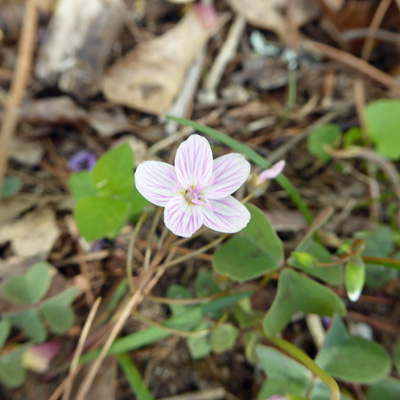 There were Canada Geese settled down in the grass under the trees by the restaurant.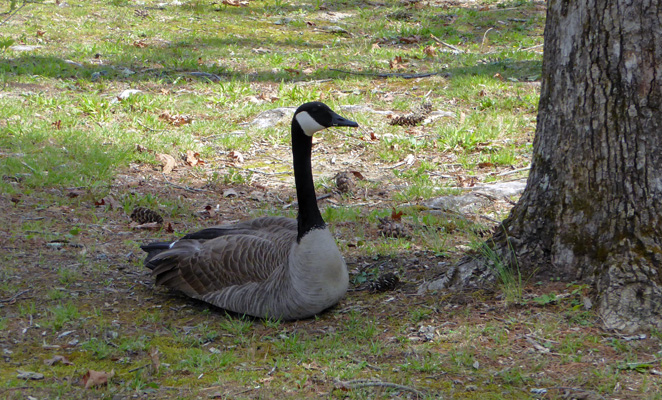 And out on the lake.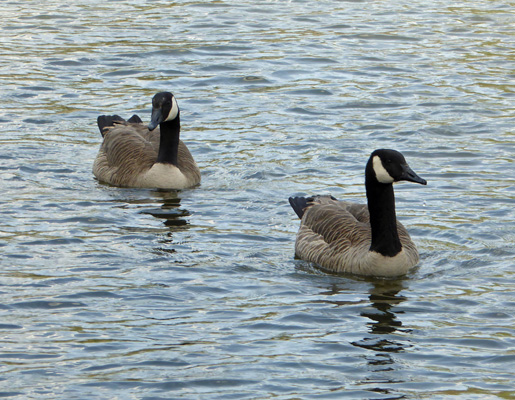 The CCC built this lovely bridge (which is on top of the dam that forms the lake) back in the late 1930's. They did the full development of this park and used a lot of this lovely sandstone which is called Crab Orchard stone.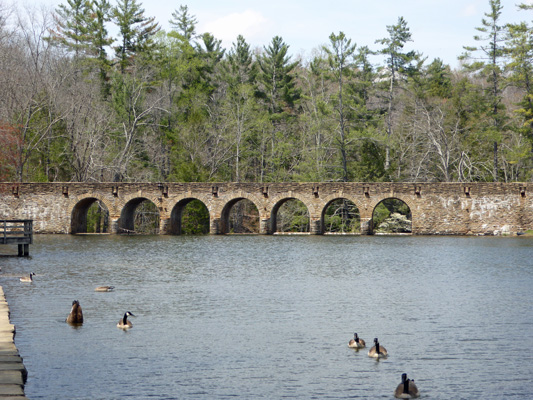 The dam and bridge are the largest masonry structure ever built by the CCC. The restaurant is perched on the shore overlooking the lake and the bridge.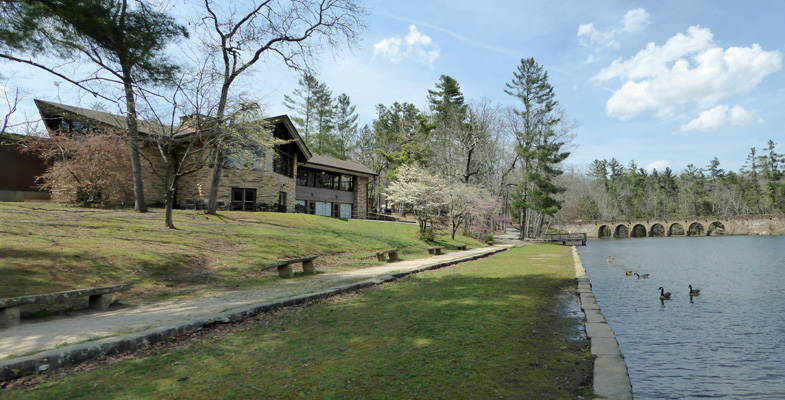 It has lovely sandstone paved patios where you can eat your picnic lunch outside (maybe they serve out there later in the year, I don't know).
It was in the low 80's and about 35% humidity which we both thought felt pretty hot. So we headed back to the trailer to cool off and have lunch and then had a quiet afternoon at home.
On Sunday April 16th (Happy Easter) we packed up and headed east on I-40 over the north end of the Great Smoky Mountains into North Carolina and on to Mama Gertie's Hideaway Campground just outside of Ashville, NC. It had been cloudy most of the day (we had a little shower early in the morning) but we had only a spit or two of rain on our drive.
We got a full hook up spot with great free WiFi and good cable TV for $36 a night with our Good Sam Club discount (10% off). We settled in and enjoyed the amenities. The view out our back windows included this lovely vibrant salmon pink dogwood tree.