On Monday January 23rd it was cold and breezy when we packed up to leave Mountain View Ranch RV Park in Amada, AZ. But the sun was out so the car at least was warm! This butterfly settled next to the faucet as we were disconnecting and stayed snuggled in the gravel out of the wind.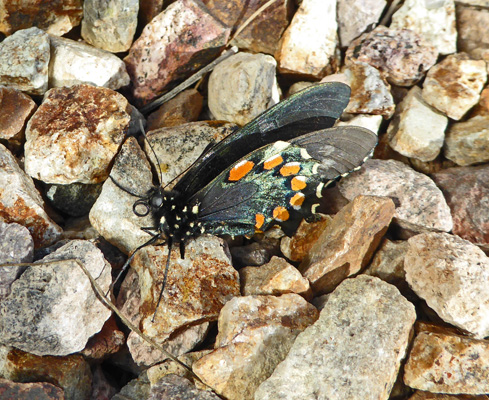 We drove south on I-17 towards Nogales and then took SR-82 northeast to Patagonia Lake State Park. This wasn't a very long drive so we were there just a little past noon. They had plenty of sites open and we drove around and found one that had a nice view out our back window (though we wouldn't take this spot if it were warm and busy since we had to look across the Day Use area to see the lake).

We got a water and electric site (with this lovely view) for $30 a night. Our hot spot worked with the booster and Walter's phone had a signal. There wasn't any TV over the air though.
After lunch we walked over to the Visitor's Center to get a trail map for a hike the next day. The next storm was on it's way and it was WINDY and a little cool. Patagonia Lake is a popular place for birders. This is one of the only places in the US where you can spot Elegant Trogans, fancy red, yellow and green parrot-like birds. Someone had seen one the day before on the birding trail and already the daily tally of species was up to 99. At high season they have 150 different species of birds seen each day.
We didn't walk out on the moon bridge because it was so windy but I did take a photo of it.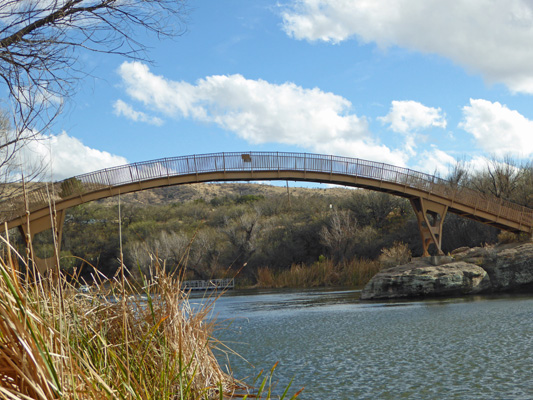 On the way back to the trailer we spotted an Olivaceous Cormorant, a fairly rare bird that's smaller than the usual ones we see.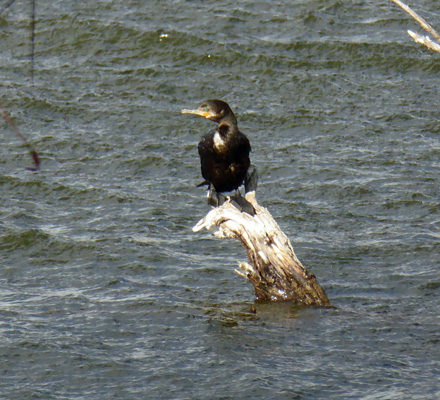 The lake was pretty choppy so there weren't a lot of ducks out but there were a trio of lesser scaups.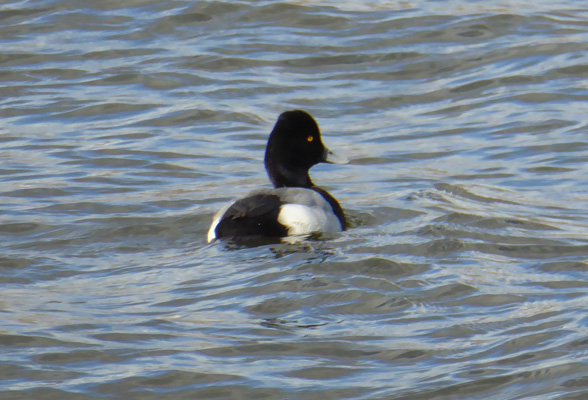 Before heading in for the afternoon and I strolled over to the bench overlooking the lake next to the beach and took a photo of the lake looking east.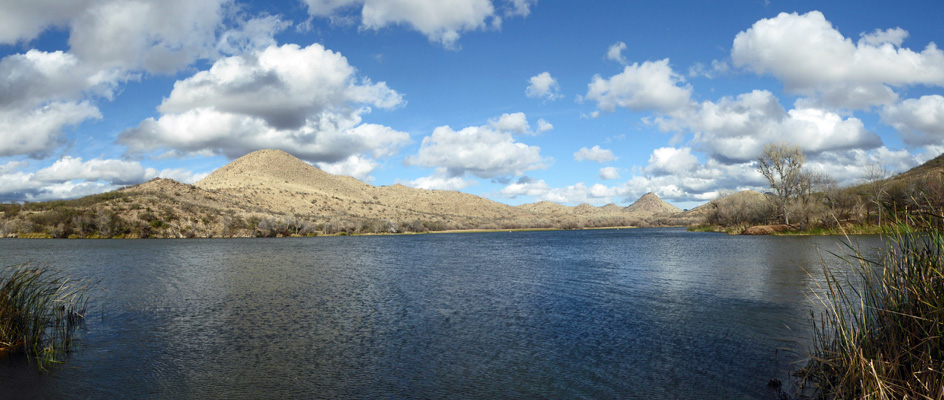 Late in the afternoon the clouds began to really boil up on the horizon and they provided a magnificent sunset.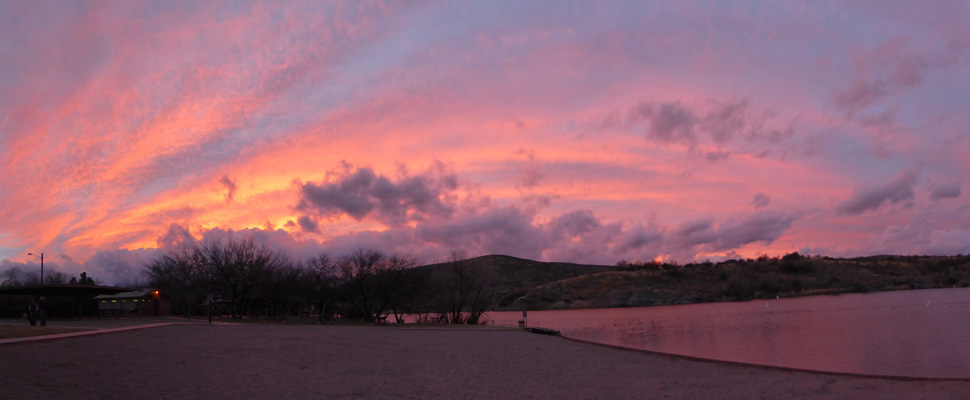 It rained pretty hard in the night but come morning it cleared out and the temperature dropped into the 30's. It was a little slow warming up so we bundled up (me in an extra fleece) before heading out on our hike for the day. The sun was out and the wind had died down and it was nice in the sun. We stopped by the Visitors Center to pick up our hiking permit to enter the Sonita Creek State Natural Area which is adjacent to the state park. To get there we drove out of the park and then took the first right hand turn into the gated natural area. We bumped along the dirt road (lots of pot holes) out to the parking area at the trailhead. The view to the east out across the grasslands was pretty nice.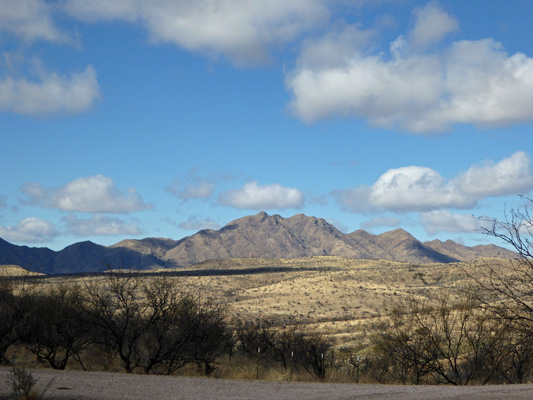 The trail here is a loop trail but it has a couple of water crossings that can be hip deep after a rain. So we decided we'd take the long portion of the loop and turn back before we hit the creek or the spillway (from the lake). We wandered around a bit with our map until we found the trailhead. Don't you just love the map on the sign? It's so informative.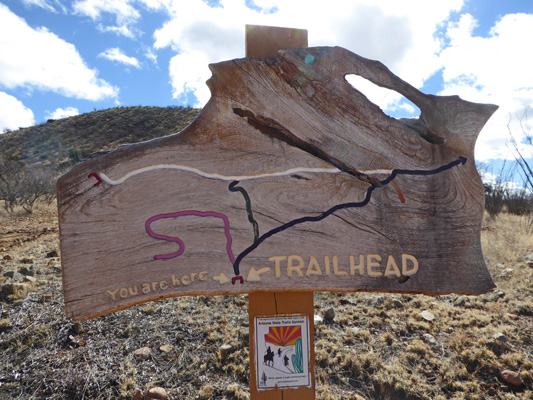 The trail heads out across the grasslands gently down hill. Eventually it comes to a wash that had a little bit of water in it and lots of hoof prints from the cattle that graze nearby. When they've had really heavy rains this can be impassable.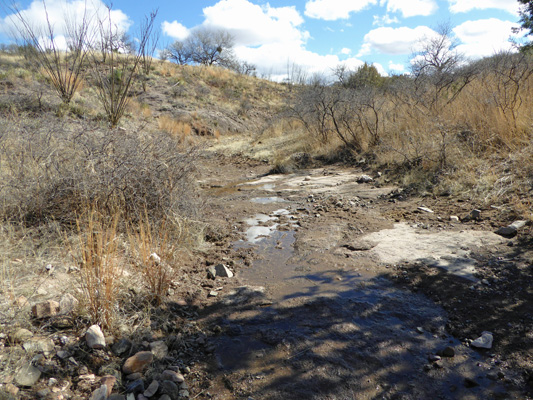 Down in the shade growing out of the rocks I found some strange little ferns. I learned later that these are Cochise Cloak Ferns. There are about 7 different species of cloak ferns that grow in Arizona in very dry conditions.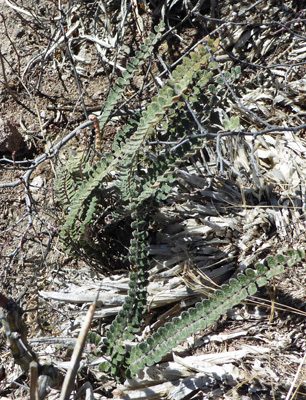 From the wash the trail starts to climb. We followed it for a while and finally began to hear running water. I followed the sound out to an overlook and sure enough you could see water rushing along in the spillway out towards it's confluence with Sonita Creek.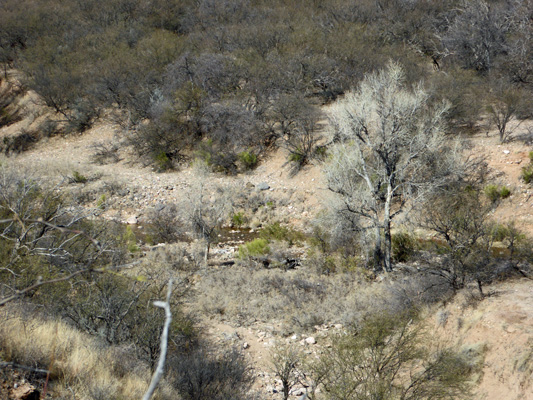 We'd been out for nearly an hour at this point so we turned around. If we'd continued on for a bit we'd have ended up having to cross the creek at full flood and then the spillway up near the lake before returning to the parking lot. That was more adventure than we needed!
On the way back we spied a little cave along the face of the wash along with one of the about 3 junipers we saw here. There were cottonwoods and mesquite down near the creek but otherwise this is a treeless area.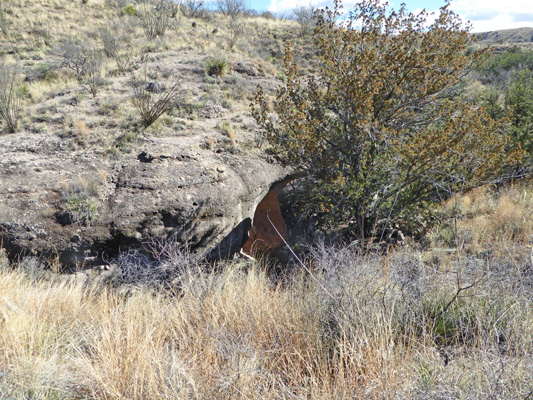 Here and there was saw evidence of some critter (javelina perhaps?) digging up the Schott's Agave.
The Schott's Agave is a small scraggly cousin of the bigger agave that you see all over the southwest.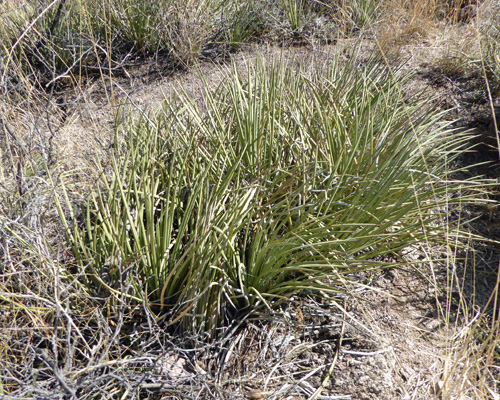 Once we crossed the wash the trail began to climb steadily back up the hills. It's only about a 250 feet elevation gain so it's not a big deal but we did stop part of the way up to rest and I took this photo of the view through a forest of ocotillo.

There were hundreds of ocotillo along the trail and only one of them had any blooms yet.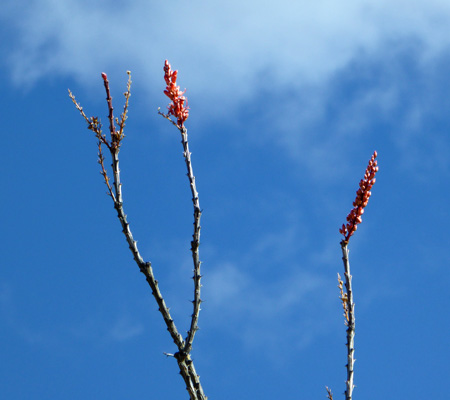 The cane cholla were decorated with lemon yellow fruit which stood out brightly in the beige terrain.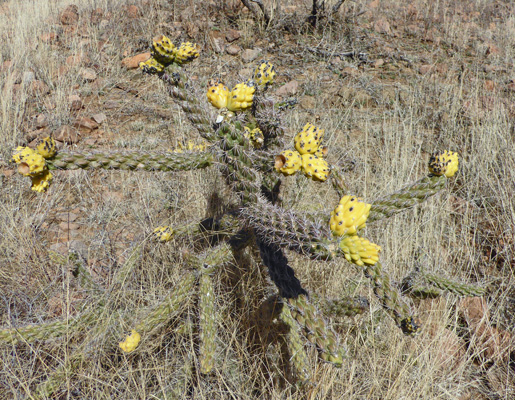 Many of the fruit on the lower portions of the plants were gone but the higher branches still had nice big fruit—so it's not the cattle who eat these.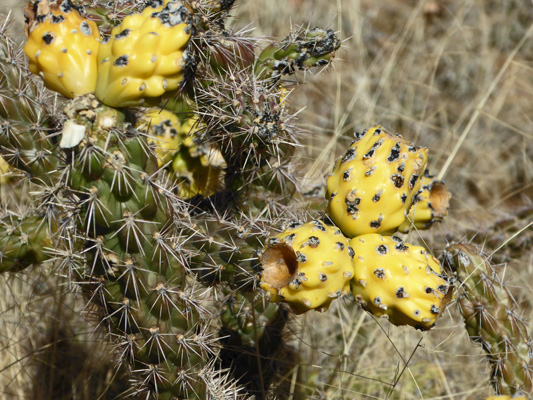 By the time we'd made it up the hill I was hiking in shirt sleeves enjoying the sun. On the way back to the trailer we stopped at the Visitors Center and the volunteers helped me identify the Schott's Agave and the Cloak Fern but they didn't know what had been digging up the agave either.
That afternoon we learned that Walter's second eye surgery appointment needed to be delayed a week (the surgery center was going to be closed) so we spent a good deal of time changing appointments (both the surgery and the post op appointment had to be changed) and then changing our campground reservations to match accordingly. I had just finished the rough plan of our trip east the night before and now that all needed to be changed too since the surgery changes delayed our departure. Ah well, flexibility training is definitely in full swing again.
Late in the afternoon I went out and unhooked our water hose and stowed it away. They were forecasting lows in the 20's and I didn't want to have to fight with a frozen hose in the morning when we broke camp—besides it's not a good idea to have a hose connected to your rig when it's that cold. This turned out to be a really good idea since it made it down to 26 that morning. It was clod when we broke camp but we didn't have any ice to deal with on the windshield which was good.
We drove north on SR-82 heading to Huachuca City. There was construction just west of Sonoita and we sat for a long while in a long line waiting for the pilot car to come. Finally the traffic began to move a little and I started up the engine to go forward. And of course right after I moved up, it stopped again. So I stopped and the lady behind us didn't quite make it and hit the back of the trailer. Oh goodie.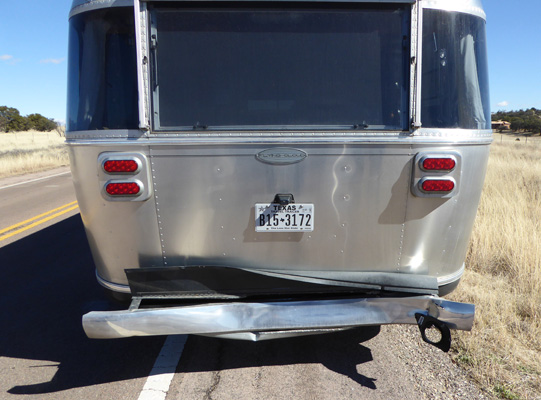 She was in a rental car and it moved faster than she expected when she put her foot on the gas. The black thing hanging on the bumper on the right is the surround from her headlight. Her bumper got scratched and the area around the headlight got bent but it didn't look as bad as Genevieve for sure. The back storage compartment just collapsed under the pressure. And you couldn't get it to close back up of course.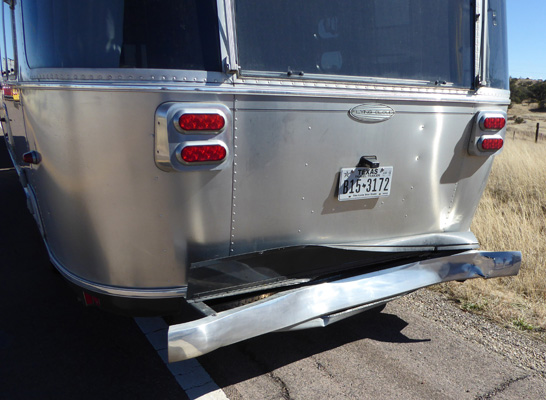 The right hand side was completely flattened so that the bumper was pierced by the hardware holding it on. It's gonna be interesting getting it off when it comes time for it to be repaired.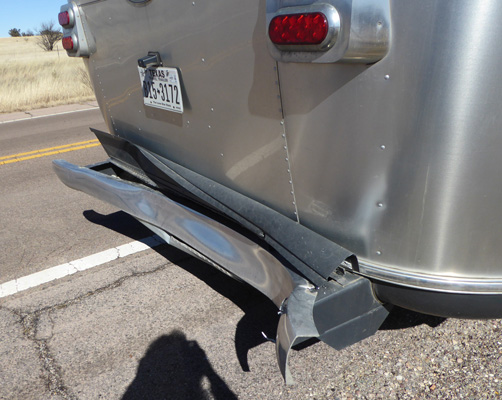 The good news is that she was going pretty slow so the trailer itself doesn't seem to have been hurt (except for a gentle fold in the aluminum on the bottom of the trailer) and none of us was injured at all. I admit that my heart was racing pretty fast when I heard and felt that bump but we were all fine.
An Arizona State Highway Patrolman arrived while we were starting to exchange information. And so we got to stand around in the sun (and the breeze) for about 1/2 an hour while he wrote everything up. In Arizona, they are required to give the person who rear-ends someone a ticket. So the lady who hit us got a ticket for not being able to control her vehicle. Meanwhile, I took a picture of the snow on the mountains to the northwest of us.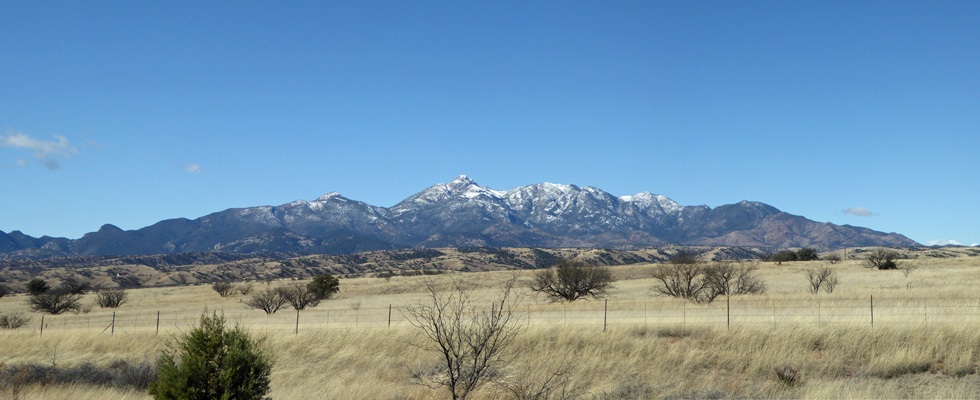 The lady who hit us was from Louisiana. And we have Texas plates and insurance. And we were all in the middle of nowhere in Arizona. Fun huh? She was super nice and very apologetic. And made sure we had her contact information so that we could contact her if the insurance stuff got hung up.
Eventually we motored on and arrived at Quail Ridge RV Resort just north of Huachuca City. This place is half price for anyone with Passport America or Good Sam. Which means it costs $10 a night (plus tax) plus $3 a night for electricity (no tax on that) so it's under $14 a night for a full hook up site. We stayed here 2 years ago when it was nearly full for a Cowboy Poetry festival. This time it was about 2/3 full and we got a nice back-in spot with a view of a hedge where the birds liked to perch. We got parked without a problem. The hot spot worked with the booster (though it was a little slow) and both of our phones worked.
I got on the phone to our insurance company and was told that when you're rear ended that you shouldn't file a claim with your own company. Instead you should call the insurance company of the folks who hit you. You only file a claim with your own company if there is a problem getting paid by the other people's insurance company. Okaaaaay. So by hopping through several hoops I managed to file a claim with the other lady's insurance company in Louisiana. Fun huh? It's really just another adventure. But it's one that frankly I could do without at this point. Ah well, the universe doesn't always check with me first...
We didn't bother to hook up the water hose at Quail Ridge because it was supposed to be even colder the next two nights. And it was. It was 20 degrees on Thursday morning! We'd left the heater on in the dining area so it didn't get too cold but it was still pretty cold when we got up. We had errands to do in Sierra Vista just south of Huachuca City so I hustled my bustle and got the laundry done and put away before 11. Then we drove down to Sierra Vista and did the errands and were back before mid afternoon. It got up into the high 50's so the trailer warmed up so much we had to open the vents when we got back. But the temperature began to drop quickly once the sun went down and we had another cold night with a low of 22 degrees.
On Friday January 27th, we packed up and drove north on SR-90 up to I-10 and then turned west to Phoenix. There was no traffic through Tucson but the traffic was stop and go through parts of Phoenix even though it was still before 2 pm. It's getting to be a big city so the traffic never ends.
We arrived safely at Destiny Phoenix RV Resort in Goodyear where we had a reservation for 3 nights. We've been staying here off and on for nearly 15 years and each time we come it's more crowded. It used to only be full in March for Spring Training but we got one of their last spots when I made the reservation several weeks before. We set up camp without a hitch since this was a pull through spot and then had lunch and took showers—lots of hot water and a warm private shower area what a treat. They don't have cable TV and their Wi-fi is Tengonet which you have to pay for but there's LOTS of over the air TV.
That evening we met our niece, Amy and her dad, Mike, for dinner and on Saturday we hung out puttering in Amy's yard doing battle with a large bougainvillea bush that needed to be whacked back since it was crawling over the wall into her neighbor's yard. It was fun to be climbing a ladder with loppers in hand—this is the time of year I used to prune the fruit trees at Winterhaven and it was in the low 60's which is just perfect gardening weather.
Sunday we visited the Japanese Garden in downtown Phoenix. It's a little garden that you could easily miss as you drove through the neighborhood of high rise condos and older homes. It's built with the basic design of a classic Japanese Garden but since the plantings aren't very mature (it was dedicated back in 2003) it doesn't feel quite like a traditional Japanese Garden yet. They have the tea house and all the appropriate buildings but I couldn't help but think about how much water it must take to keep this place green in the summertime.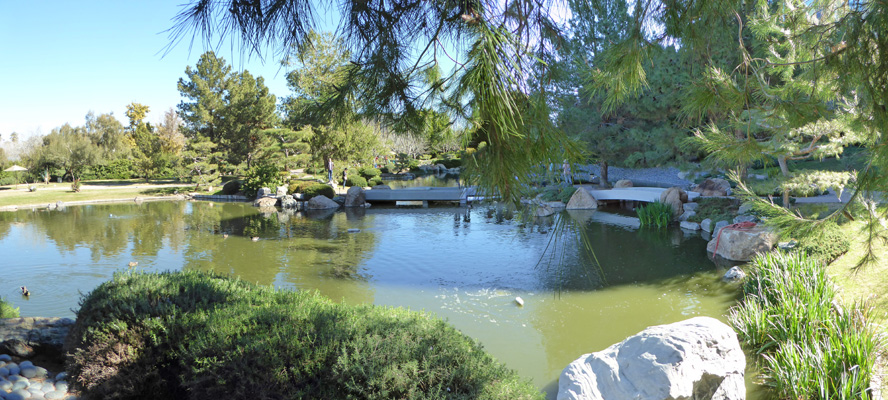 They have a couple of nice traditional stone lanterns in among the pines.
They were having an Ikebana display going on for the weekend and there were artful flower arrangements all over the garden. Some were hung from tree branches.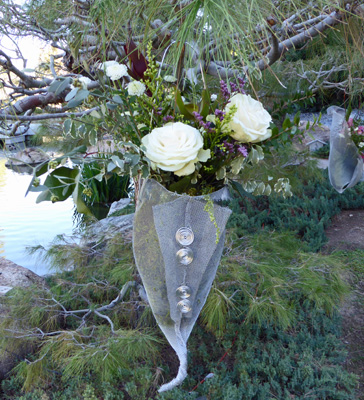 While others were out in the graden near the walkways.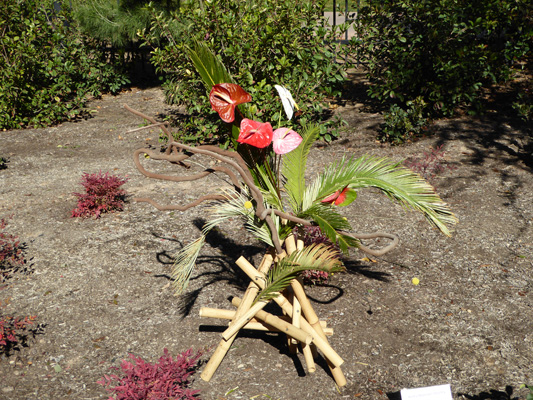 They were large and small.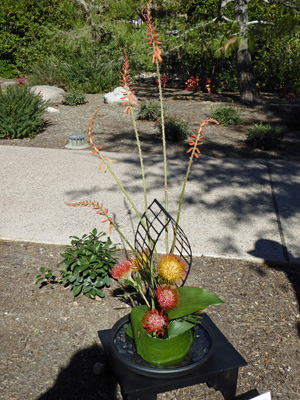 Traditional and very non-traditional.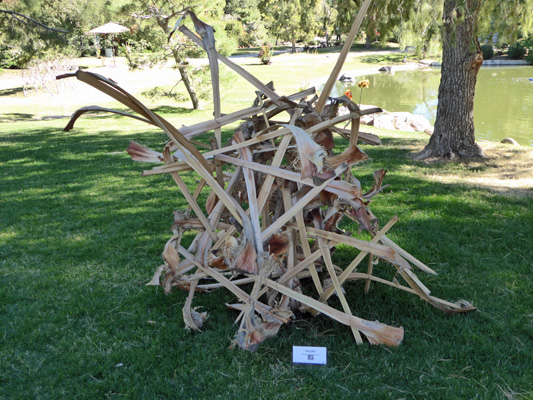 We walked the path around the lake enjoying the waterfall and the flower arrangements.
There were several of these interesting statues that were a cross between a fish and a dragon.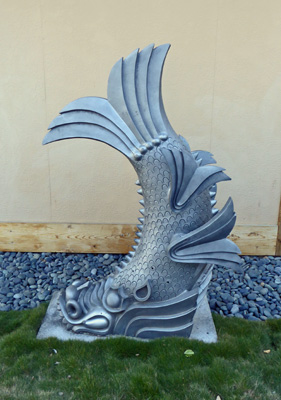 And of course there were koi. There's a low walkway/bridge across the lake and the koi have figured out that visitors buy koi food and thus are the source of food. They swarm along the edge of the walkway.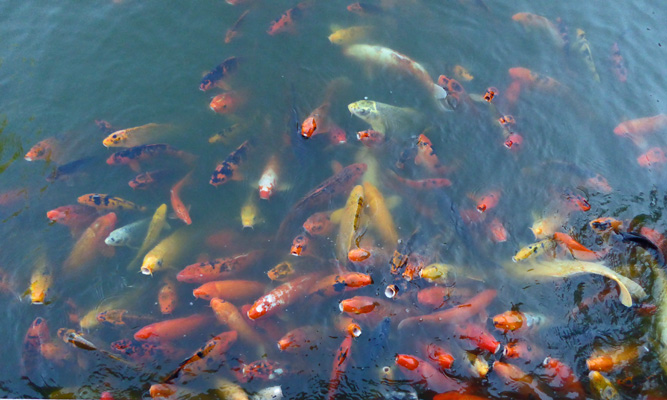 Some of them were huge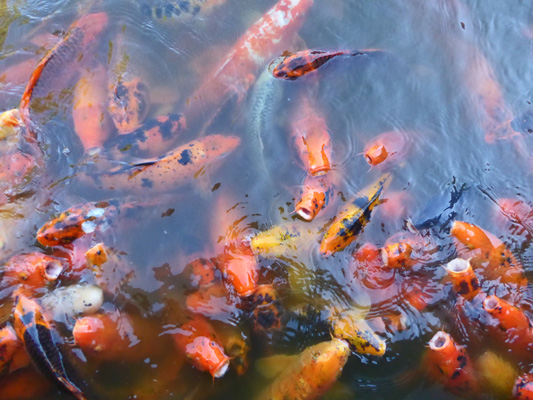 And when a child arrived and started to drop food in the water there was just a huge swarm of big mouths.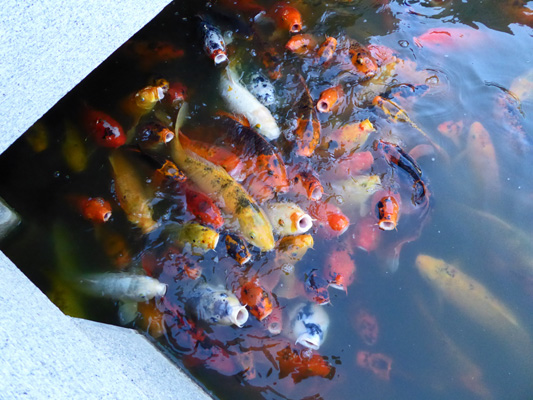 Since it didn't take us that long to walk the garden we decided we had time for another outing so we headed out to Papago Park near the zoo and the arboretum for a little hike. They had a great map showing all these different routes each in a different color. However when we set out to hike there were no signs to show you the way and no way to know which trail you were on--only an occasional steel post with the number 5 on it (every post had a 5). So we just followed a trail out towards the buttes.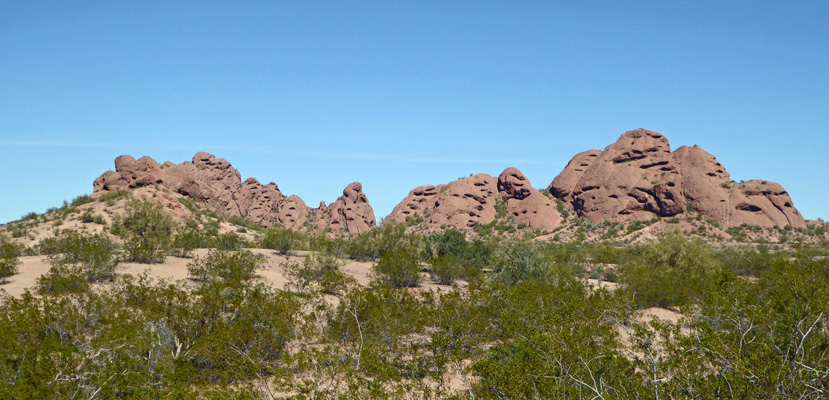 People hike out and then climb on al over the tops of them. We took a route out in front of the smaller one on the left and then across so we had a view of them from another angle.

We had a nice little hike that didn't strain any of us but had enough up and down to give us some exercise.
We had a great weather (it was in the 70's on Sunday) and a wonderful visit with Amy and Mike. Thanks for the great time guys!