On Friday July 7th, we got up early and made our way to the North Sydney Ferry Terminal to check in for our 11:45 ferry to Port aux Basques, Newfoundland. They require that you be all checked in by 9:45 so of course we arrived at about 8:35 prepared to sit in line for check-in. No line. We drove up to one of the 4 open booths, gave them our booking number and our ID and presto we were checked in and had our bordering passes, all in less than 5 minutes.
From there we drove to the assigned lane and sat. While Walter went and turned off our propane tanks, I went out and tried to take a photo of the ferry, but there was too much equipment in the way. On the way back, I stopped and talked to some nice folks from Ontario who helped me pass the time. Along about 8:45 the ferry from Argentia, NL (on the St. John's side of the island) arrived and disgorged its load of semis, RVs and passenger cars. Finally at about 10:30 they began to load our ferry. It wasn't long before we were driving up the ramp and into the open hatch in the front of the ship.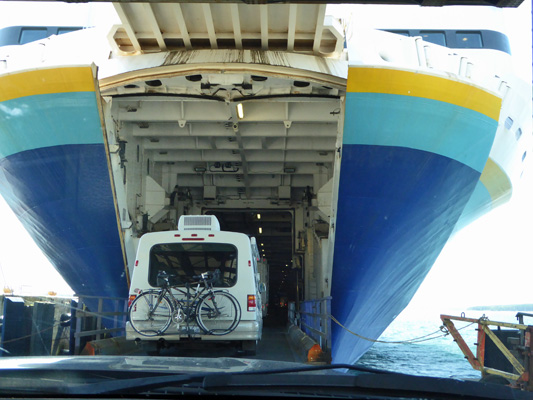 They pack everyone in like sardines so that it's kind of challenging to find your way between the vehicles and over to the stairs and elevators that take you up 4 floors to the passenger deck. We opted for the stairs and found our way into the main cabin. On the two floors above there are cabins (they cost an additional $60 or so in the day time but $126 on the nighttime ferry) and reserved seating. Reserved seating appears to be simply a quieter place to sleep and thus isn't very popular on the daytime ferry.
We settled in and we discovered that one of our neighbors was a retired school teacher who now is a tour guide in Newfoundland. We all picked his brain for a while and then I went out and took a photo of the ferry across the way that looked just like ours.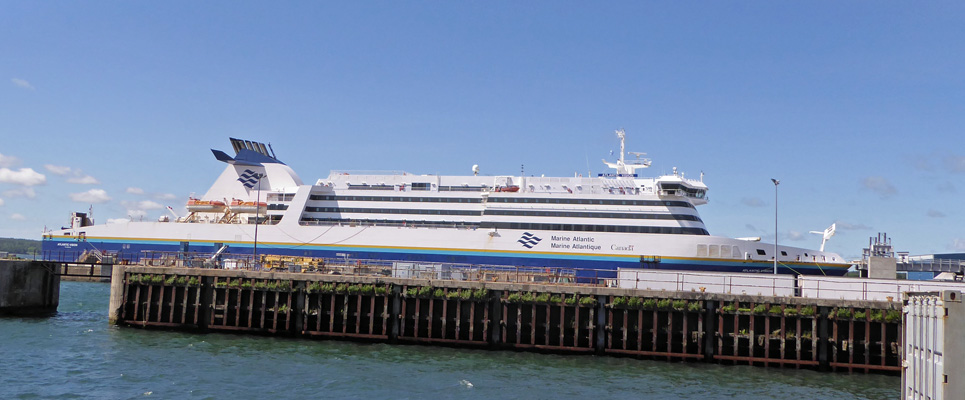 These are big ships. There is a large bar behind those curved windows on the third level and then a restaurant. Behind that there were rest rooms, an internet lounge with computers, the reception desk for the folks with cabins (that looked like a hotel lobby), a deli/coffee bar and then the main lounge with TVs and reclining seating which was actually pretty comfortable.
The time went fairly quickly. I'd take a break every hour or so and walk out onto the small outside deck at the rear end of the ship and wander around inside just to stretch my legs. We both read and Walter had a nap. They had the History Channel, Mash and old movies running on the TVs. Next time Walter will bring his headphones.
Along about 6:00, we started to enter into the harbor area near Port aux Basques and folks began to gather out along the railing outside.. First there was this small islet with a light house.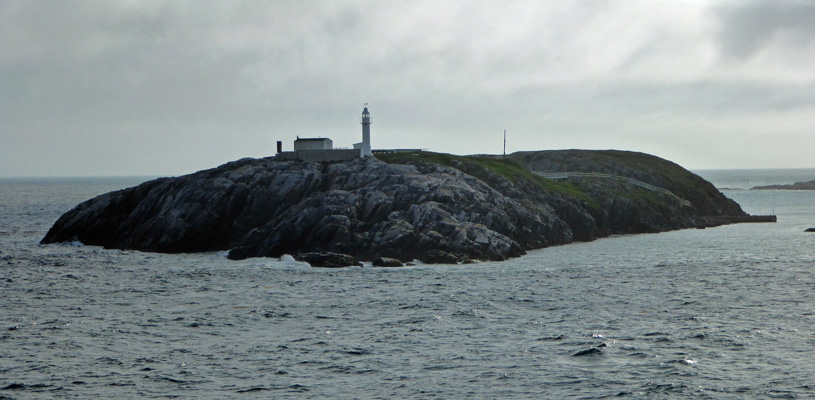 And then as we entered the harbor proper there was another lighthouse on the headland.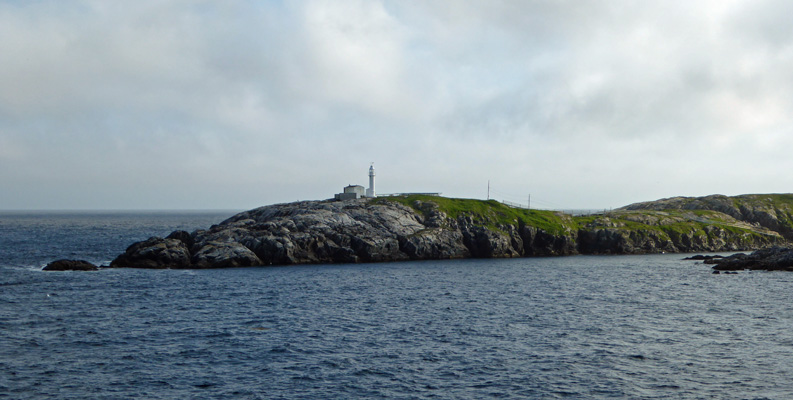 A little further along houses began to appear along the shoreline.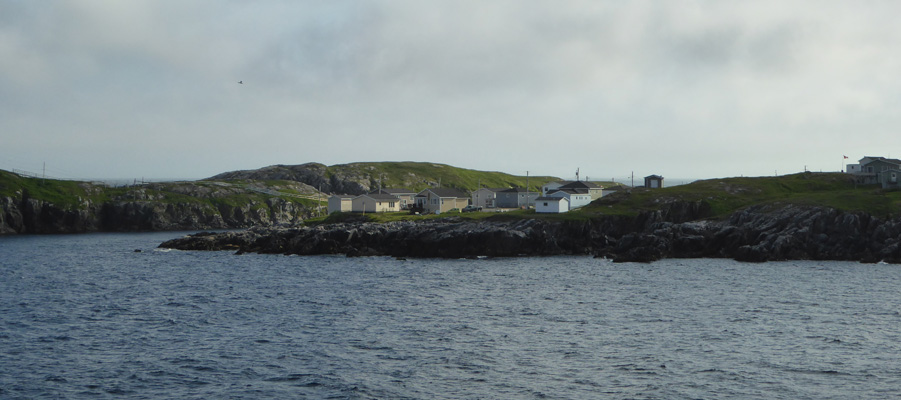 And we even got to see the house where the lady standing next to me along the rail lived. It's the green one on the right with the blue patio right next to the water's edge.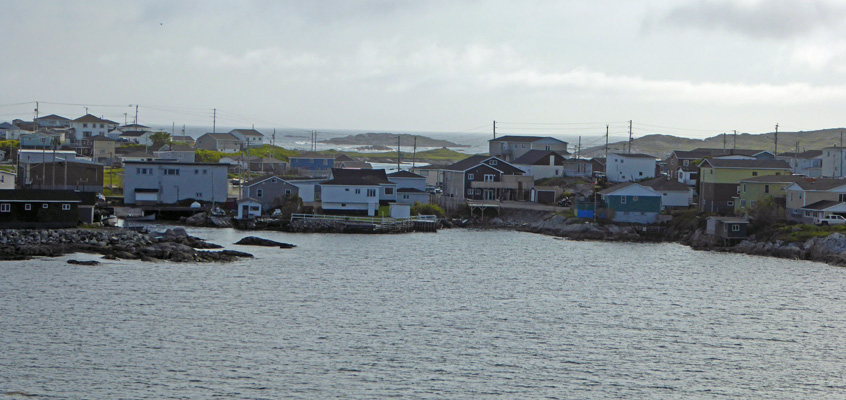 She said that when the tide is low that the ferry pulls the water right out of this little cove down to the sand.
Along about here they began to turn the ship around so that she was berthed rear in, so we could all drive out through the back decks. Once she was tied up, they announced we could head down to the car decks and we opted for the stairs again since those lines were moving. We wove our way among the vehicles and finally found Genevieve and François waiting for us. We didn't have to wait long before we rolled off down the ramp and into Newfoundland.
We had reservations for 2 nights at J.T. Cheeseman Provincial Park just about 6 miles out of town. It's right off the Trans Canada Highway (TCH) and we found it with not problems. There were a number of rigs in front of us in line so we had to wait a bit to check in but it wasn't long. We got checked in and found our spot complete with a little wooden reserved sign next to our site number.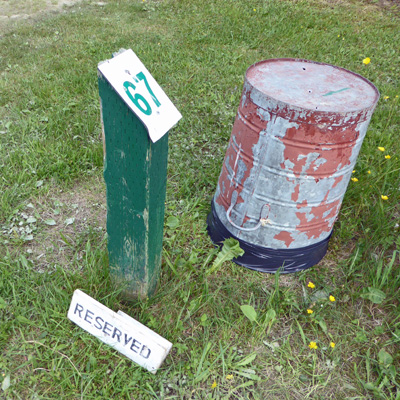 Each site also comes with its own trashcan (upside down to keep the rain out) AND a blue recycling bin. This was an electricity only site which was nice and level both directions—always a help. It was close to 8 pm by the time we got settled in. We'd hoped to have dinner on the ferry but they shut the restaurant down at 4 pm! So Walter bought himself a sandwich in the coffee bar and I ate some gorp. Thus I began making dinner at 8 pm. Note to self, figure out something really simple to make for when we come back.
Newfoundland (rhymes with 'understand', so said the local teachers) has it's own time zone. It's a 1/2 hour earlier than Atlantic time. So at this point we were 4 1/2 hours earlier than the west coast! Newfoundland didn't become part of the Canadian Federation until 1949. Up until then it even had its own currency. They get all their food via the ferry so when there are bad storms the store shelves begin to get bare. Our guide/school teacher said that they have about 3 days worth of food on the island and then they start to run out of things.
It was still clear and lovely when the sun went down at about 9:30 that evening but it began to rain in the night. Ah well, we'd had a few nice days at least. Showers continued the next morning but by noon they'd let up and we decided we'd go try the park's WiFi (available at a little building in the center of the campground--you can sit at a picnic table or in your car). We sat in the truck and it worked great until a gentleman came up with a small netbook and poof there went the signal. We call folks like this 'internet vampires.' There are some devices that just suck bandwidth! After getting our email etc., we took a drive out the one and only road in the park and ended up at the beach. There's a small dune to climb and then you have a great view of the little bay.

There was no one else out on the beach. But there were ATV's along the road. They aren't allowed on the beach because this is a nesting area for Piping Plovers and they nest right in the sand. There were Blue Flags (Iris versicolor) growing in the marshy area between the beach and a large pond.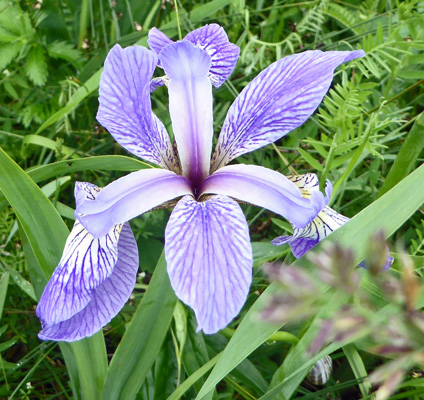 And what I think might be wild caraway (Carum carvi).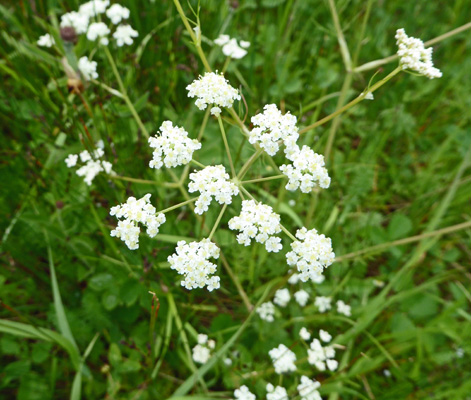 We followed a short trail across a grassy area to an overlook. I'm sure it's a fantastic view when it's clear but it was kind of foggy.

There was Red Twig Dogwood (Cornus sericea) in bloom near the platform.
We wandered back towards the truck and I stopped and took a photo of the pond.
Along the edge of the pond there was Cow Parsnip (Heracleum maximum) an old favorite from the NW and Alaska both.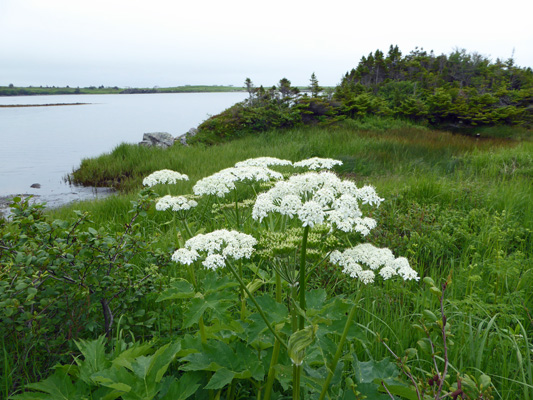 We went back and had lunch in the trailer and then drove north to the Codroy Valley and visited a strange little Wildlife Museum (on a dirt road) that had a marvelous collection of really high quality taxidermy, including a 1500 pound moose.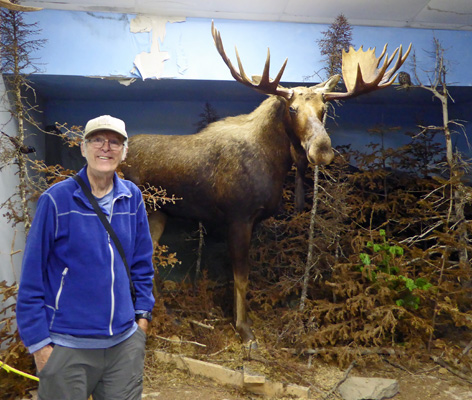 The place is in an old dairy barn (at least it's one of those long narrow barns that I think of as dairy barns) and it costs $7 per person to view the collection. It was worth it just to look eye to eye with this big guy.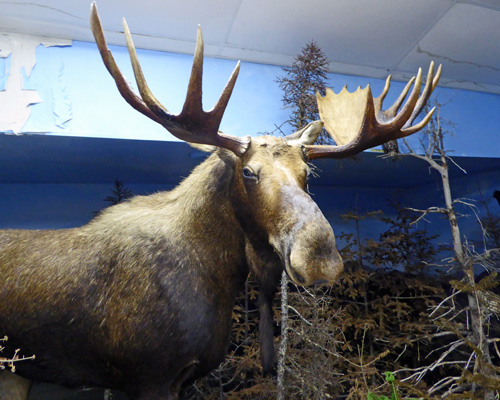 There were birds, bears, mink, beaver, fox and coyotes too. And this very impressive white tail deer.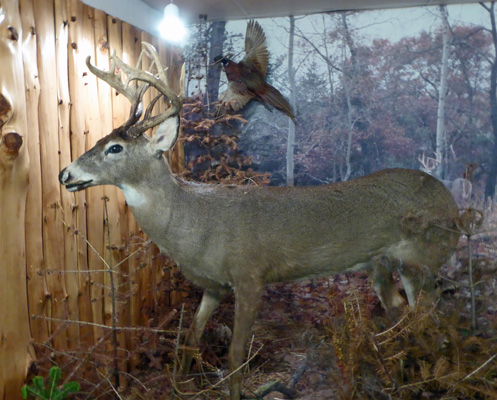 We drove on from there and stopped at the Wetland Interpretive Center which was billed as a place with trails with unusual plants. It was raining pretty heavily at this point and once I saw photos of their plants I knew I didn't need to go hike in the rain. It was a nice little center and the college kids manning it were helpful and friendly. Having had out outing for the day we drove home and had a nap!
Sunday morning July 9th, we hit the road at about 10:30 and drove north along the Trans Canada Highway to the town of Deer Lake (on the north end of Deer Lake—duh).
Along the way I managed to get one shot of the Long Range Mountains as they peeked out of the clouds.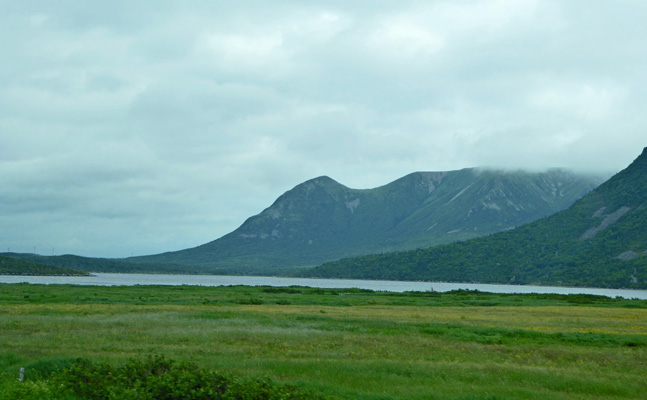 We got a pull through full hook up site at the Gateway to the North RV Park in Deer Lake, NL right where the Viking Trail turns off TCH to head north to Gros Morne National Park. This is not an elegant park but it served the purpose of a place to stay for one night in route to elsewhere and it had decent WiFi! All for $39.35 a night with our Good Sam discount. We set up camp, had lunch and then enjoyed an afternoon of catching up on our internet surfing right at our own kitchen table for a change.
It had been cloudy (with a bit of mist here and there ) on the way up but most of the clouds blew through in the afternoon and it cleared off and was in the high 70's!
We awoke on Monday July 10th, to sunny skies as we packed up and headed east on the Trans Canada Highway across Newfoundland towards the central section of the island. Our intention was to stay at an RV park in Bishop's Falls. But when we got there they were full except for a spot that was too small for us. So we headed back onto the TCH another 30 miles or so to Notre Dame Provincial Park just west of the town of Gander (where they landed all the US-bound planes that couldn't land because of 9/11). We got their last electricity site—'aren't you lucky!' and set up camp with the temperature in the mid 80's! By late afternoon it was 88 outside and 85 inside—who would have thought it would be hot in Newfoundland? Not us!
This was a really nice park. Our cell phone worked. They had a WiFi hotspot out by the entry kiosk (actually up the hill a bit by the administration building) that worked great. And it's located an a nice little lake. Many of the sites are actually right on the lake. I took this photo from a serviced site (they're all electricity only and half of the sites have no hook ups) right on the lake.

Around the corner there was another site with this view which makes it look like their own personal little lake! It's name however is Junction Pond. I'm not sure how big a pond has to be before it's called a lake, but it's pretty darned big.

We had just the right mix of clouds that evening to have a spectacular sunset! I walked down and found an empty (unserviced) site next to the lake to try to capture Mother Nature's art.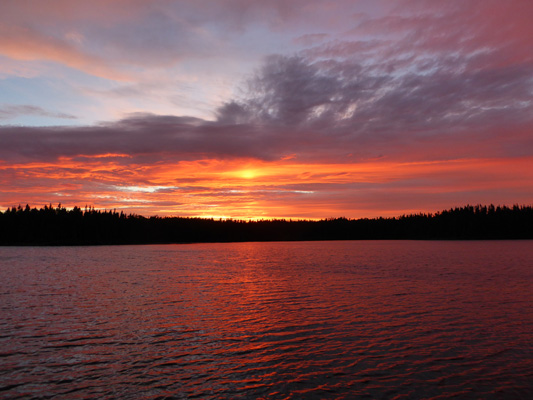 And decided it was gorgeous enough to warrant a panorama shot of the whole pond. Yum.

We had a bit of rain in the night but we awoke to clear skies on Tuesday July 11th. Before we broke camp I went out and took a photo of the Kinnikinnick (Arctostaphylos uva-ursi) that I could see in bloom out our kitchen windows.
We broke camp and headed east once again on the Trans Canada Highway. The central part of Newfoundland reminds both of us of the Yukon and the area around Fairbanks in Alaska. There are miles and miles and miles of boreal forest and muskeg bogs. The trees are oddly stunted from moose browsing on them when they are young and from the growing in very wet conditions in the muskeg. The whole central area of the island is covered with ponds of various sizes. When we came to the top of a hill (there are lots of relatively low rolling hills too) and could see yet one more pond spread out before us I grabbed the camera to try to give you and idea of what it all looks like.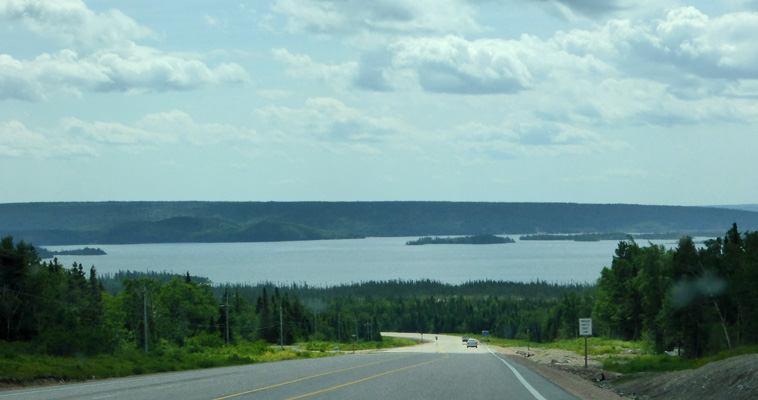 I know, I wouldn't call that a pond either—it looks big enough to be called a lake but this one didn't even have a name on the map! It's just outside of Middle Brook—no creeks here, all the small rivers are brooks.
We continued on until the highway made it's way into Terra Nova National Park (it continues right on through it) and then we turned east on a side road to Newman Sound Campground where we had a reservation for a electric only site (no water or sewer hook ups in this campground) for 4 days. We checked in and followed the signs through the campground to our site only to discover that they'd put it in at the wrong angle so we wouldn't easily be able to back into it. So we drove the loop again, found a cul-de-sac to turn around in and then drove in the wrong way on the one-way road so we were lined up nicely and got into the spot first try without a hitch. By this point it was 82 degrees outside and about 50% humidity—so it felt warmer than it had the day before when it was only about 35% humidity.