Sunday October 15th, we did laundry in Norman Oklahoma at the Hollywood Laundromat. It was cool (only in the 60's) after it being in the 90's the day before. I sent my last missive on their free WiFi and we loaded up the laundry and drove back to the campground where I discovered I didn't have my purse! I'd put it on the floor next to my chair where we were using the internet and forgot it. Oh goodie. So I turned around and drove back (it takes about 20 minutes or so). I was hoping it was still sitting where I left it. I went in the side door and it wasn't there. And then I looked up and there it was in the arms of the attendant. And she had the most amazing look on her face. She was SO HAPPY to see me.
I had mentioned to her while we were there that we were traveling. So when a young couple brought my purse to her she was afraid we had hit the road and I wouldn't even notice I didn't have my purse until we were out of Oklahoma. She couldn't find my phone (it's just a little flip phone in a pocket in my purse). So she went through my wallet and called Well Fargo to ask them to call me! Then she called her boss to make sure that he'd know that she had put my purse in the safe. THEN she found a copy of one of our 'business cards' that has my email address on it. So she sent me an email and one to Walter while she was at it. She had been frantic! And then I waltzed in.
Needless to say I was immensely relieved. Once I'd heard her story, she let my use their phone to call Wells Fargo to take the hold of the credit card. I got off the phone and her boss called and he insisted on talking to me. He had been all upset about me losing my purse too and was SO GLAD that it had all come out okay. I told him she was a hero and he said all his ladies were wonderful and he'd make sure she heard what I'd told him. I got off the phone and told her that her boss thought she was wonderful. THEN I got to go and thank the young couple who had turned in my purse. They were all done with their laundry and had sat in their truck until I could come out and thank them. They were delightful and turned out to be MAJOR travelers—they'd even been to Newfoundland for goodness sakes. They love National Parks and he'd been to Yellowstone 13 times. We had a great time talking and then I drove back to the campground.
All of this had taken enough time that Walter was now worried that I hadn't found my purse. So he was super relieved when I arrived with a smile on my face and my purse in hand. So you see, you can do something idiotic and still have it turn out okay and even have it be a fun and entertaining adventure as long as it's in a safe place like Norman Oklahoma.
It was in the low 50's when we went to bed and by morning it was down to 46. I awoke a little after 7 am to a pearly pink sunrise with wispy fog drifting over the lake. I turned on the heaters and went back to bed so it was nice and warm when we got up an hour later.
It was in the 50's by the time we broke camp on Monday October 16th, and it warmed steadily as the day went by ending up at about 73 degrees. We drove on surface roads until we picked up I-35 north towards Oklahoma City. Then we went west on I-240 (their ring road) and then north on I-44 (the signs said east but it was north) until we picked up I-40 westward. We drove about 100 miles (it was a short driving day) to the turn-off for Foss State Park and went north about 7 miles to the park office. The last 2 Oklahoma State Parks we had visited had had you register in the campground with the camp hosts but we always like to check in with the office when we can. And this time it was the right thing to do. We checked in and the nice lady in the office assigned us a lovely pull through site with electricity and power for only $27 a night ($25 with our senior discount). We paid our money and while we were doing that I looked out the window of the office and there was a bison! They have a herd here and you can view them from the area around the office.
We went out to the parking area and I got photos of these guys. There were several more farther off to the east too.
Having had our photo op, we drove across the road and found our campsite and set up. Here's the view from our picnic table. Not bad, eh?

Walter's phone had 1X with 4 bars but our hot spot had no internet signal—my guess is that Verizon is buying coverage from someone and when that happens Straight Talk isn't always in on the deal and then the hot spot doesn't work. Walter found quite a bit of TV over the air including the local PBS station. My phone of course didn't work—too far off the Interstate and way to much like the middle of nowhere!
The western part of Oklahoma is much flatter than the eastern portion but it still has a few rolling hills—much more varied than Texas. It's not been bad driving across it at all.
Late in the afternoon we took a drive to explore the other areas in the park. This park is a bit like Lake Cascade in Idaho in that it has a number of small campgrounds scattered around the lake with private property in between. Most of the other campgrounds were closed for the season but we got a good look at them all. The Sandy Beach Campground across the inlet from Cedar Point where we were camped was especially nice with a number of waterfront spots that were back-ins so we'd have a view out our kitchen windows which would have been nice.
Along the way I spied a HUGE spider (tarantula perhaps?) on the road. He was moving pretty fast but I still managed to get a decent photo. He's fuzzy like a tarantula...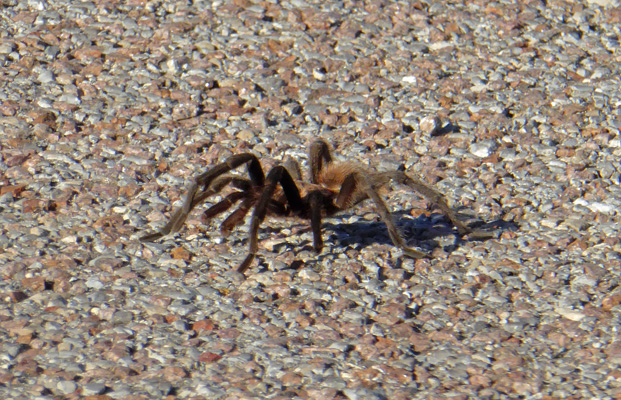 On our way back we stopped at the Cedar Point Marina. Here you can see the red rocks of the area that are layered with white lines. This is probably gypsum like we saw at Cap Rock State Park in the Panhandle of Texas. At this point we were less than 200 miles from Cap Rock so I'd guess the geology is similar.
There were three geese out in the parking lot when I got out of the truck and they followed me back to the truck and basically chased me back into the cab. We drove down to get a better view of the marina itself and they followed us. In fact, they ran right up to my window!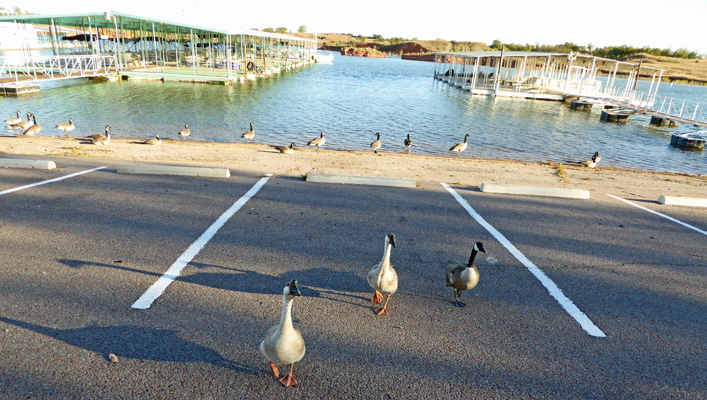 Along about dinner time the view out to the east across the lake got a nice pink tint to it.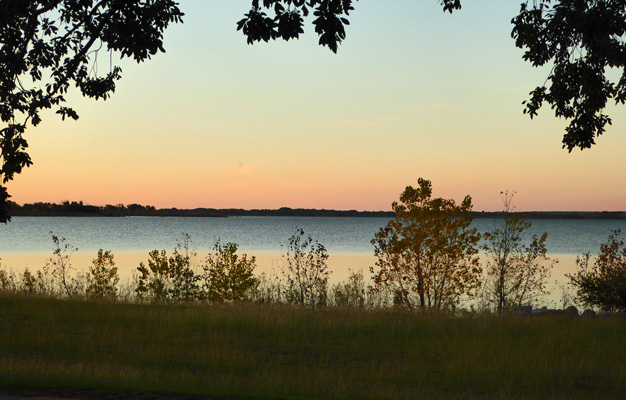 It wasn't as cold that night but just cold enough to be comfortable. The next morning we were greeted with a beautiful sunshiny day with a bit of a breeze. We had a lazy morning, including a visit with our next door neighbors who were on their maiden voyage in their new Casita. Eventually we got it together to make the short drive over to the Cottonwood Campground just up the hill from us where we found the trailhead for the Great Western Trail.
It's always nice to realize you're starting at mile 0! The first part of the trail was really an old dirt and gravel road.
It went in and out of the trees and at one point there was a cluster of yellow flowered daisies that were full of flitting butterflies. One of them stayed still enough for me to get a half decent photo of it.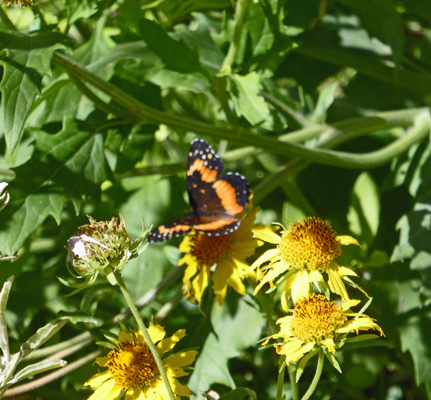 The trail went out to a point where we could see across the inlet to the Cedar Point Campground where Genevieve was parked.

That wall of red gravel in the background is the Foss Lake Dam. When it was built in 1962, it was one of the largest earthen dams in the country. It's 134 feet high and 3 miles long. The road runs across the top of the dam and that's a car you see along the top.
Past this point the quality of the trail went downhill. They had just taken a tractor mower and mowed a wide swath through the grassland. It hadn't been long since they'd mowed it and everything was covered with 2 to 3 foot long pieces of grass. The ground underneath was really uneven but you couldn't see that for all hay laid over it. We trudged on though. Our intention had been to hike the loop back to the truck but heading out we hadn't seen the loop back and we were concerned that maybe we'd have to trudge through the open grassland.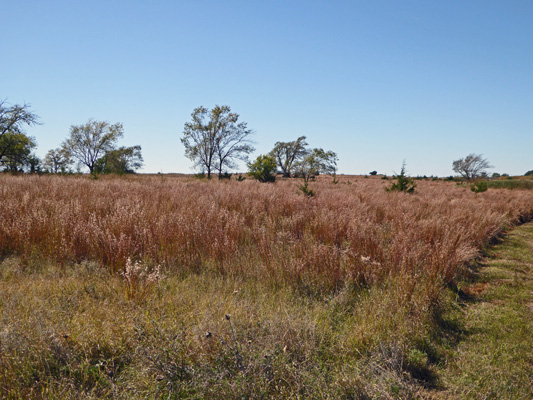 So after about half an hour we turned back to give us an hour of walking. Along the way I spied some sunflowers with some interesting yellow and black spotted bugs on them.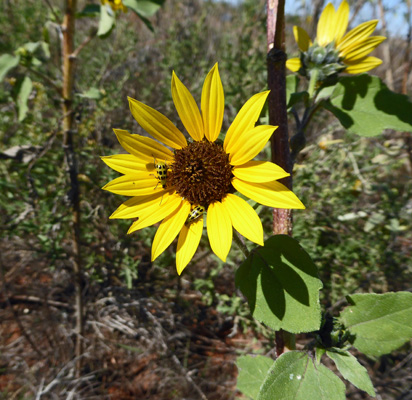 Along the way there were a few purple verbena in bloom in the middle of the trail too.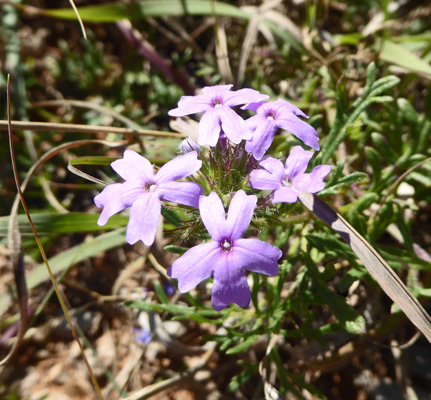 This was not a mind boggling wonderful hike. It was a nice excuse to get out and get some exercise but it's really a horse trail and not all that pretty. But since there have been no trails at most of the parks we've visited on this leg of the trip, it was a welcome change nevertheless.
That evening we had a great sunset off to the west and I ran out as I finished making dinner to grab a photo.

And then I waded out into the grassy area near the water's edge and got a bit more of the flashy orange part of the display.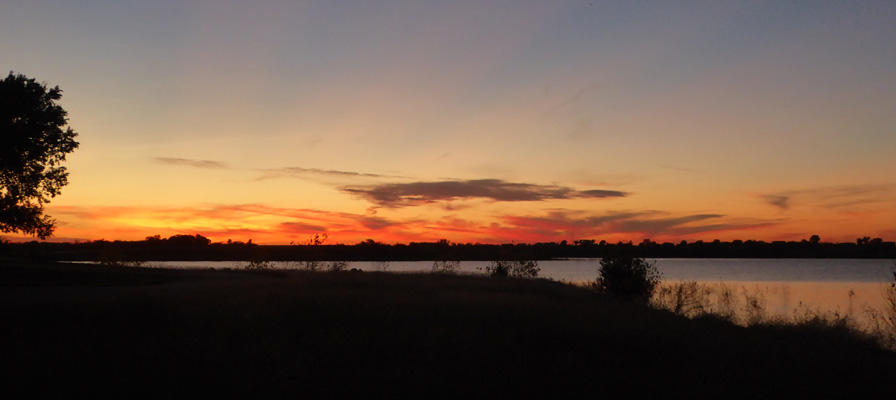 Wednesday October 19th, we packed up and headed back down to I-40 where we went west for nearly 200 miles through Amarillo and on to Vega, Texas in the middle nowhere. Of course everything in the panhandle pretty much feels like the middle of nowhere but Vega is even more so. We ended up at the Walnut RV Park on Old Route 66. The office was closed and all they had was night registration. So we picked a spot and wrote them a check for $50 for 2 nights of a pull through with full hook ups. The park gets it's name from the cluster of walnut trees planted in the front part of the park. We parked next to one of them and set up camp.
This is a no big deal park not far from I-40 so there's pretty steady freeway noise. But it was only in the mid 70's and it cooled off nicely so we could close up all the windows and vents that night and block out most of the noise. They were supposed to have free WiFi but I couldn't get any internet on it and Walter could get a little and then it went poof. So we used our hot spot which worked great. Walter found a place in town to have the truck's oil changed (the change oil light had come on at about Amarillo) and went and had that done in about 1/2 an hour late in the afternoon. Score! Walter's phone worked and wonders of wonders so did mine with lots of bars. Sprint does usually work along the interstates.
It got down into the high 40's over night and was only 50 when we got up. It was sunny and breezy and warmed into the mid 70's during the day. We drove into town and got gas and then drove through the main part of town to see what we could see. Vega is on the old original Route 66.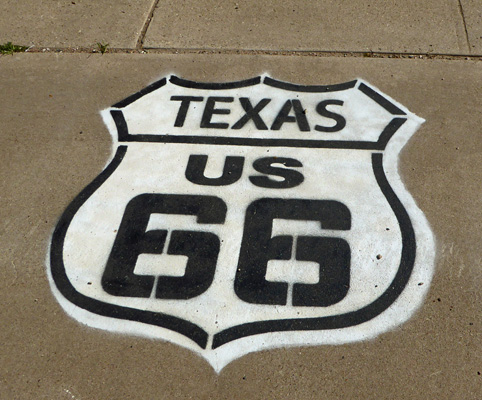 They have restored the historic Magnolia Gas Station next door to the courthouse.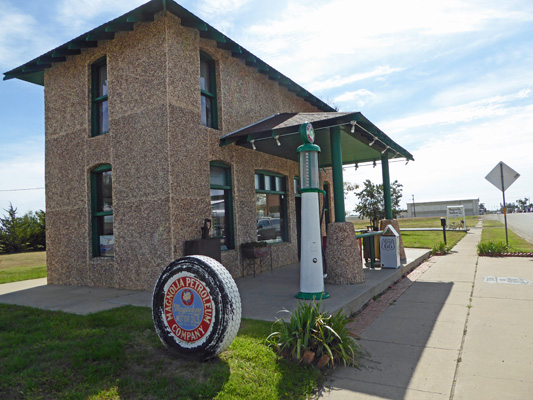 The old original gas pump stands ready along with a flat tire that says "we fix flats."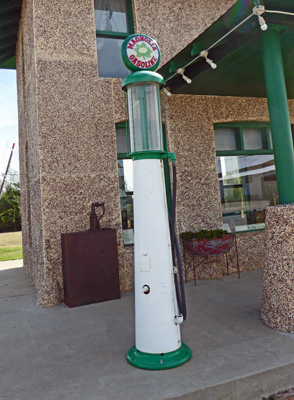 It wasn't open but you could look in the windows and see old original oil cans and a lovely old cash register. Walter posed in front of their sign.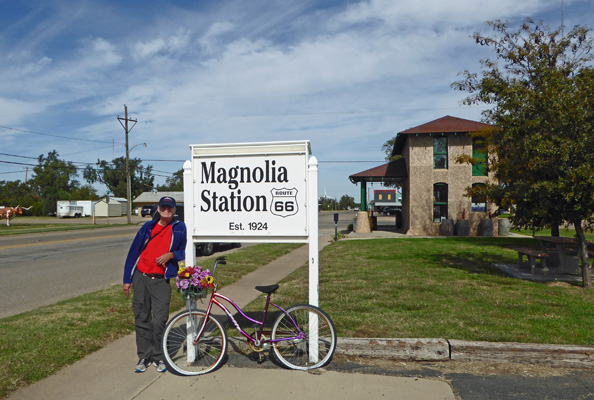 Before the station opened, they sold gas from a barrel in back of the feed store. Once the station came into being, the farmers bought their gas by the barrel and took it home.
Across the street is the Longhorn Feed and Farm Store the oldest remaining feed store along the original Route 66.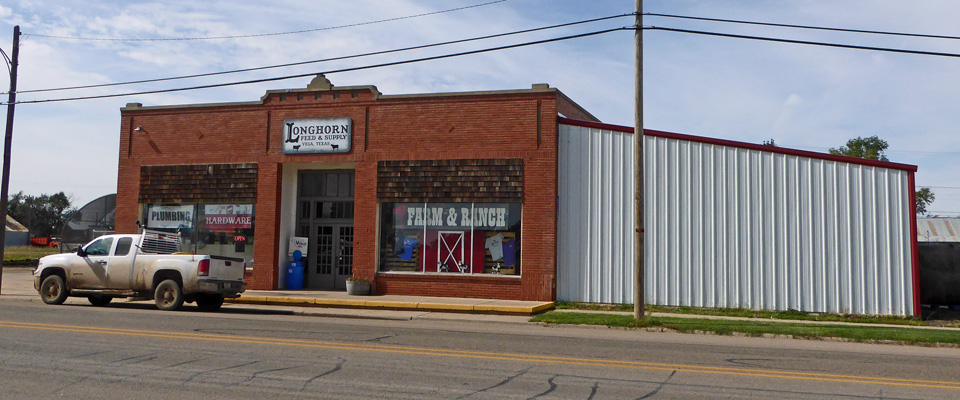 They have this fun Longhorn in their side yard across from the station.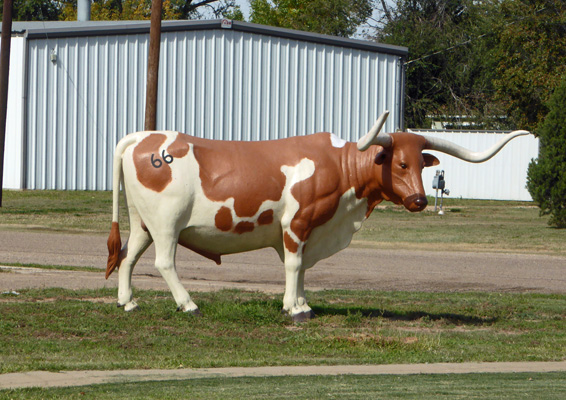 We followed the signs for the original route and ended up after a few blocks on a rutted semi-paved road so we turned around and went back to the park. Vega isn't a place I'd recommend as a stop for anything more than a night. But at this point we're tired enough that we really need not to drive every day so we stayed our second night. That gave us a quiet afternoon to just hang out. Walter checked out their showers and said they were old and not set up well so we gave them a pass and used our own.
Friday October 20th, we packed up and headed back onto I-40 west out of Texas and into New Mexico! The terrain changes almost immediately from prairie to buttes and red rocks. We'd been going slowly uphill since we left Ohio and by the time we got to Santa Rosa, NM that afternoon we were at 4600 feet—it was 4,000 feet in Vega. We changed time zones when we crossed into New Mexico from Central to Mountain Time so we arrived at Santa Rosa Campground and RV Park pretty early. They gave us a nice water, electric and cable TV spot for $31. 79 (after Good Sam discount, taxes included) a night. They had WiFi that worked pretty well except at dinner time when the park had filled up with over-nighters. Both our phones worked too. And the cable TV had ESPN and ESPN2 which made Walter happy since that meant lots of college football to watch on Saturday. This place is clearly popular with folks heading cross country because it filled up pretty well both nights.
We settled in and had lunch and then took a drive to see the Blue Hole, Santa Rosa's claim to fame. This is an artesian spring that is 81 feet deep and pumps out 3,000 gallons of water a minute. It's also fairly pretty.

This a popular scuba diving spot and those buoys have white platforms hanging from them. We watched two groups of divers head into the spring in the short time we were there.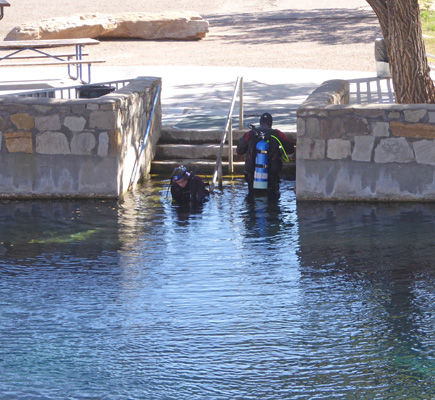 The water is a constant 61 degrees so while it's open for swimming there weren't any takers on this 72 degree day.
We walked the perimeter and in the end I think this gives you the best view of the deep blue color of the pool.

They have a lake just up the road that has water slides in it but nobody was there when we went past. We got gas (we try to do this without the trailer as much as we can now) and headed back to enjoy the fast internet service.
Saturday I did the laundry and Walter spent the day watching football. It was super windy and in the low 70's. Just getting the door the trailer open and then closed again was a challenge in the wind. There was a front heading across Texas and Oklahoma with tornedo warnings and in the end they had LOTS of hail in Oklahoma City. That's where we'd been just a week before. Boy did we feel like we'd dodged a bullet since all we got while we were there was some rain and a bit of wind.