On Friday January 6th, we pulled into Santee Lakes Recreation Area for a 4-night visit with our daughter, Tracy. We set up camp and settled in. My cell phone worked but Walter's barely had a signal! It's very unusual for my Sprint-based phone to work when Walter's Verizon phone doesn't. Our hot spot barely worked either. However the WiFi in the park worked that afternoon though it got slower and slower as the afternoon went on and the park filled up (it worked in the late evening and on Monday but didn't do much on Saturday or Sunday morning.)
That evening we had dinner with Tracy then opened Christmas presents! Yes, I know we're late but hey, we've always believed in stretching out the holidays.
On Saturday, January 7th we met Tracy at her house in Poway and then rode with her (she gets 35 mpg!) up to the San Diego Safari Park—a favorite place for all of us. Tracy is a member of the San Diego Zoo so her membership gets us all in for free—yippee! It was a beautiful sunny day with temps in the low 70's. Just what we wanted.
As we entered the park we came across the end of a cat show with serval.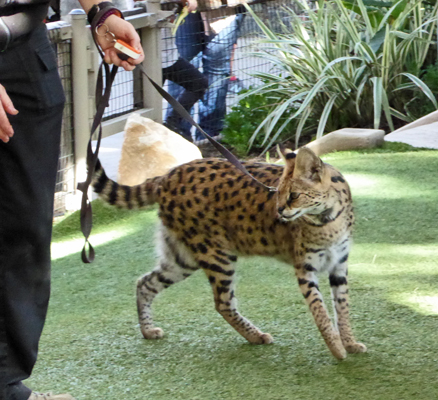 The San Diego Zoo Safari Park (previously known as the San Diego Wild Animal Park) was developed on 1800 acres near Escondido, CA in the late 1960's. It was meant to be a place to breed endangered species (mostly African but they've played a major part of the recovery program for the California Condor too) in an open natural environment where the animals could roam free as much as possible. By the early 1970's the public was clamoring to have access to the park and they opened it to the public in 1972 and it's become a wonderful revenue source for the park enabling them to do amazing things to help species on the brink of extinction.
They've always had a nursery near the entrance where you could view the latest babies. On Saturday there were baby cheetahs in a basket next to the window.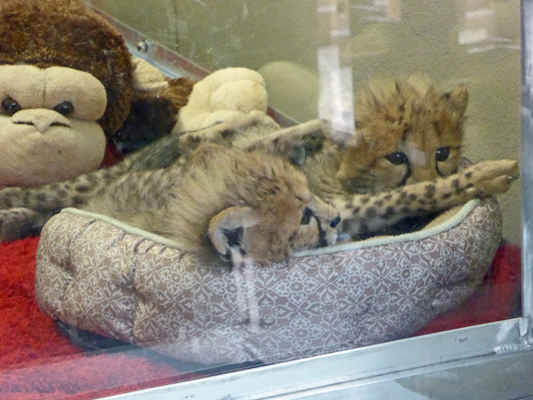 Some keepers had a pair of prehensile tailed skinks out on a stand so they could weigh them (and show them to all of us gawkers).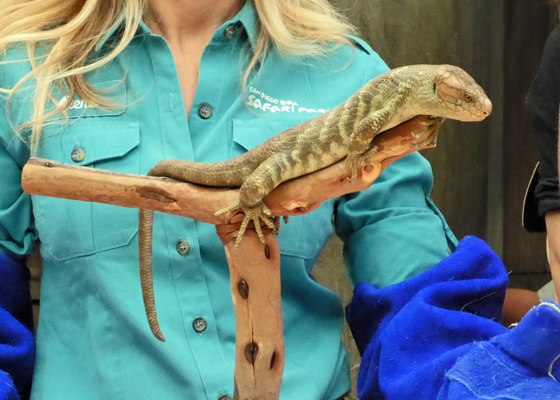 We wandered on past the petting zoo and on down the hill to catch the tram that takes you out around a portion of the park set up as the African Savannah. We didn't have to wait at all to catch a tram which tells you the place was NOT crowded.
First stop, the juvenile cheetahs from last year's litter, out lolling under the trees.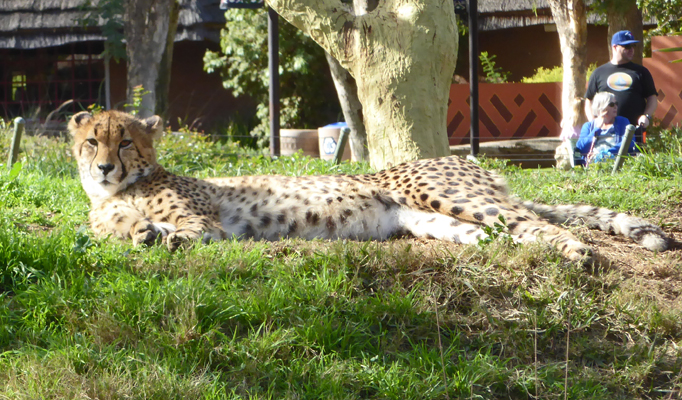 I restrained myself and didn't take photos of every antelope in the place (there are LOTS) but I couldn't resist this pair of males with their horns locked having a bit of a tussle over something.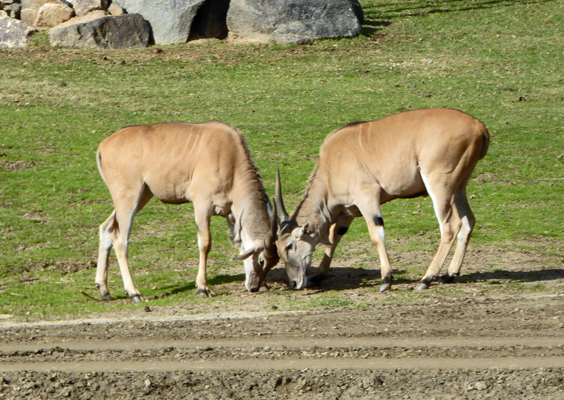 There were lots of birds out on the various ponds and the hills were just beginning to green up from the rain that they have had the last month or so.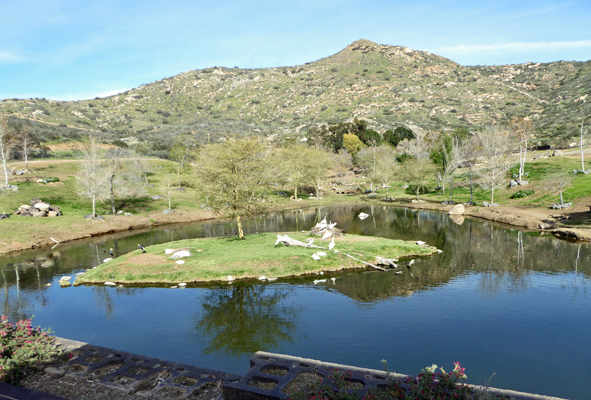 Over the years, the park has been exceptionally successful breeding southern white rhinos—93 babies have been born here over the years. I don't think that I've ever been here when there wasn't at least one youngster. This year was no exception. This little guy was out with his mom, heading over the visit his aunts who were having a snooze on the hill.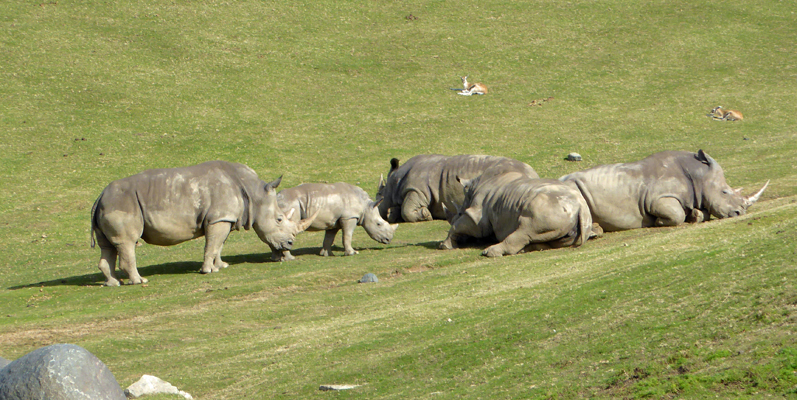 They hope to bring the northern white rhino back from the brink of extinction by using IVF (in vitro fertilization) using one of these ladies as a surrogate for the embryo. The park had 3 northern white rhinos and two of them have died in the last couple of years leaving a lone female. There are only 5 northern white rhinos left in the world now and they clearly don't like to breed in captivity like the southern ones do.
The last stop on the tram ride takes you past the giraffes. This big guy was being fed by the folks who had ponied up the money for a special trip out onto the savannah.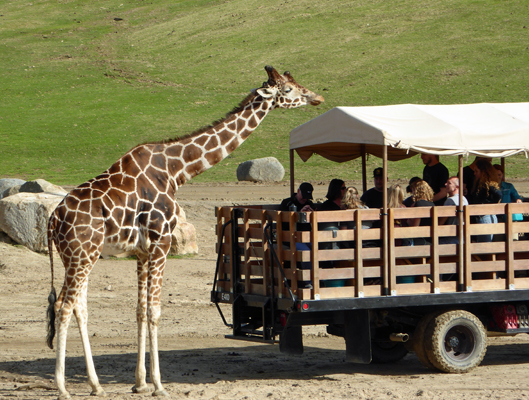 After our tram ride we wandered over the lion enclosure (they don't mix predators and prey here for obvious reasons) to see if the 4 young lions (3 females and a male) might be awake. Whoo hoo! They were all awake and wandering around. The three females look so much alike that the docents can't tell one from the other.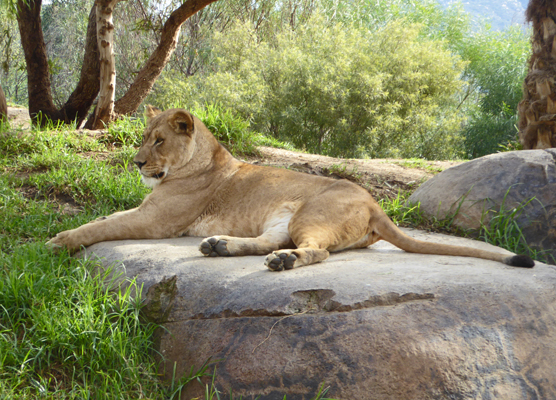 But of course it's not hard to pick out the young male—especially making a 'stink face'. They do this to take in lots of air through their noses so they can smell things.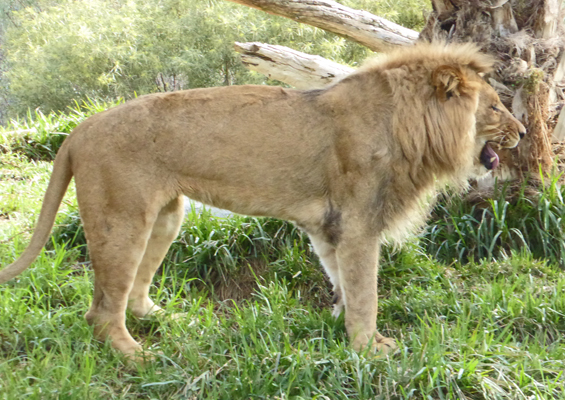 Having finished making faces he turned and stuck his tongue out, making him look pretty darned cute.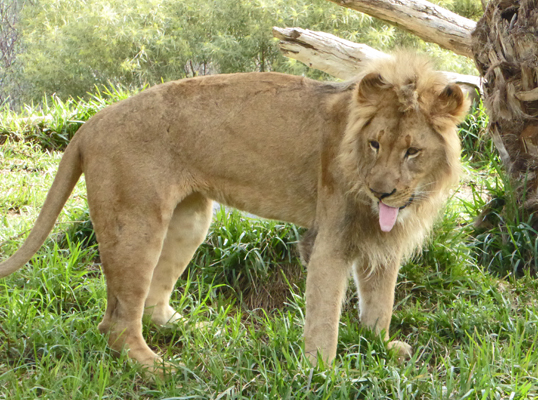 He then proceeded to roar up a storm which just added to the fun since the females had to roar back. These 4 are siblings and now make up a family unit since the rest of the pride has rebuffed the young male (as is natural). They are the only cats that like to hang out as a group so they've put the 4 siblings together (though the male has had a vasectomy so there won't be any inbreeding) so he won't be lonely.
We wandered over to see the elephants and most of them were pretty far away. But we had a nice talk with a docent who had a HUGE elephant tooth to show us. They only have 4 teeth—each weighing 12 pounds or more! Instead of just having baby teeth and one set of adult teeth, they have 6 sets of teeth they go through in their lifetime. We also had a nice discussion regarding how fast elephants can run (somewhere between 15 and 25 mph). But the real question is, are they actually running since they never really get all 4 feet off the ground—so maybe they're just moving fast.
We had lunch overlooking this pond which was full of ducks. A keeper came to feed them and they all moved over towards her giving me a great shot.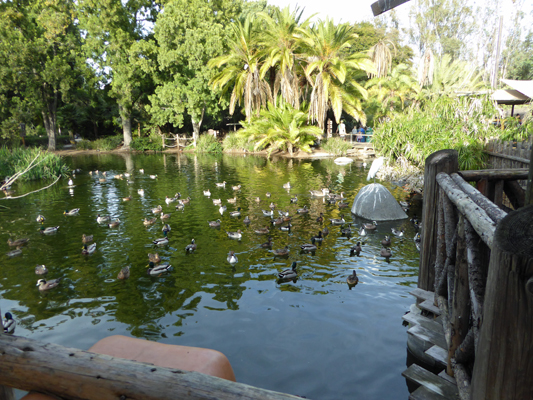 It was mid afternoon by the time we finished lunch and began to head out to see the tigers. Walter decided he'd had enough and he found a bench so he could watch the people walk by while Tracy and I made our way to the wonderful Tiger Trail exhibit. First you walk though a bamboo grove with this wonderful tiger statue.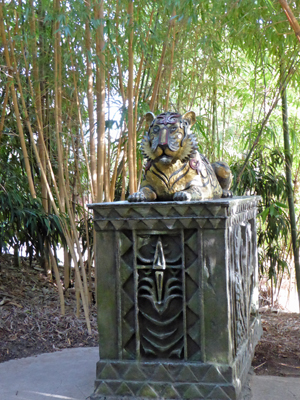 And then wonders of wonders there were tigers awake and prowling too. I guess the temperatures were just right for the cats that day. There were places where you can take photos through the glass but of course all the tigers were out in the bigger areas where there is chain link fence. I got some great photos of fence. But wouldn't you know when this big buy decided to come and trail his tail in the pond (no I don't know what he was doing, you decide. At one point his entire rear was in the water), of course the photo came out.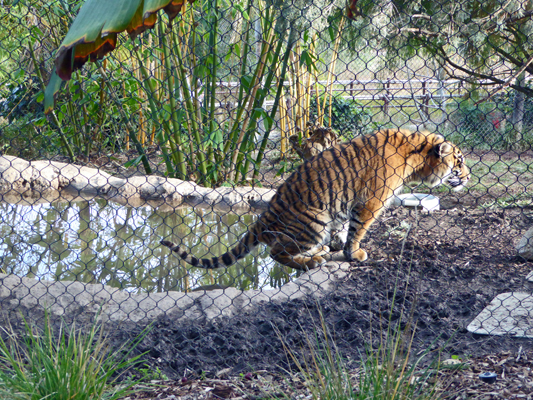 This was an all around wonderful day topped by opening our Christmas stockings in the evening. For us, Christmas just keeps on giving and giving.
The plan for Sunday January 8th, was to go hiking at Torrey Pines State Preserve overlooking the Pacific in La Jolla. But when we got there, there were hundreds of people hiking up the road (the parking lots at the top were full) and the place was just crawling with people. The lower lot still had spots (folks park along the highway and hike in to save the $15 parking fee) so we parked and walked on the beach—with 10,000 of our newest friends.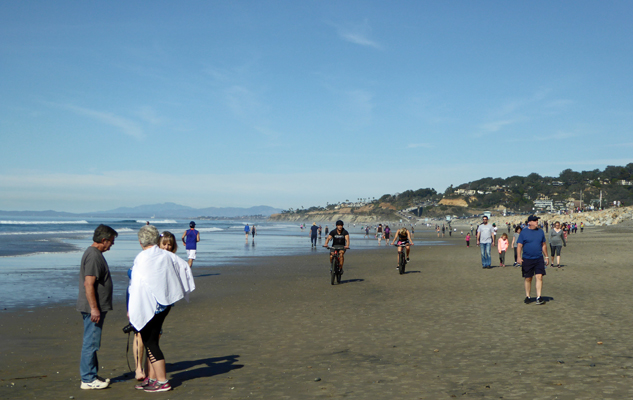 We hiked north along the beach to the creek.

And then hiked back. It was a glorious day with the temps in the high 70's. There had been rain the week before and there was rain in the forecast for the next week so I guess everybody decided to head to the beach while it was so warm and glorious—summer in early January really. Walter opted to find a picnic table and rest while Tracy and I hiked a ways further down the beach and back. We found him sitting and watching the hordes of folks make their way through the parking lot and on up the hill into Torrey Pines. None of the trails up there are particularly wide so I can't imagine what hiking up there must have been like. Definitely not my cup of tea. The beach is nice and wide so it can handle the crowds.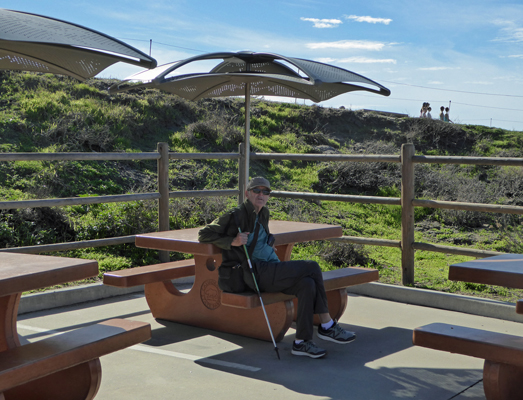 We had lunch here and then headed home for a quiet afternoon and evening. That evening our grand-kitties opened their presents. Rizzo attacked one of his while Tracy was at work later in the week and successfully removed the bell and some of the feathers.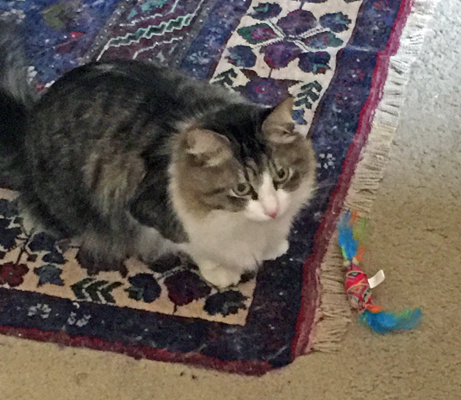 Monday morning it rained! Yes, rain, the day after it was nearly 80 at the beach. Amazing. We headed back to La Jolla to the Birch Aquarium at the Scripps Institute of Oceanography. We hadn't been here for 10 years and it was a good indoor activity. And I forgot my camera at Tracy's house! It's a great aquarium and the view from the back deck is pretty spectacular. The rain had stopped by the time we got to this point and Tracy whipped her iPhone out to take a photo of the view looking south.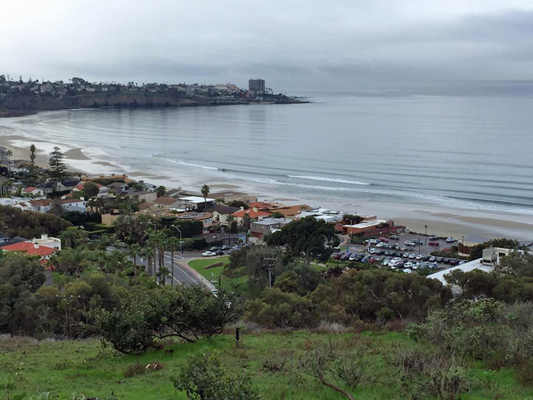 And here's a shot of the Scripps pier. Even in the rain, La Jolla is beautiful.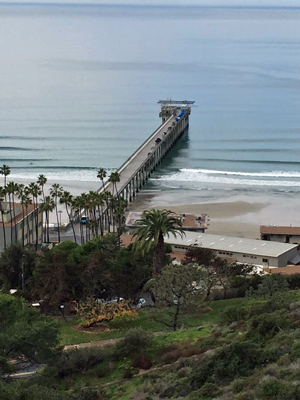 Tracy's good friend, Karen, joined us and we had a great time looking at the fishes. We really enjoy Karen and she seems to like us so we were very happy to get to spend some more time with her.
Having had our fill of fishes we went and had tacos (I even had fish tacos!) at Gallery Taco in La Jolla Shores—yum. We got home in time to avoid the commuter traffic and then in the evening Walter got to watch the College Football Championship game which was a cliff hanger until the last second. Way to go Clemson knocking off Alabama that way.
It's always great to spend time with Tracy, and this visit was no exception. Thanks again for a wonderful time.
Tuesday January 10th, we packed up and headed into Santee to do some grocery shopping and then meandered our way to I-8 and on east to Ocotillo and then north on S-2 to Agua Caliente Regional Park. They were pretty empty so we had a nice choice of spots and found one with a great view of the mountains to the northeast.

There's no cell signal here (and no Wi-fi) and no TV signal so we had a couple of quiet days without 'the world' intruding. It was sunny and warm and a great afternoon to just hang out as the wind whipped the trees and the clouds scuttled by.
There were clouds hanging just over the tops of the mountains to the west when we got up on Wednesday January 11th, so we hustled to get our hike in before it rained. The joke here is that an hour or so later when we returned the clouds were in the exact same place even though you could see them moving really fast in the wind. They were just evaporating as soon as they got over the desert!
In any case, we set out across the campground to site 140 and the beginning of the Moonlight Canyon Trail.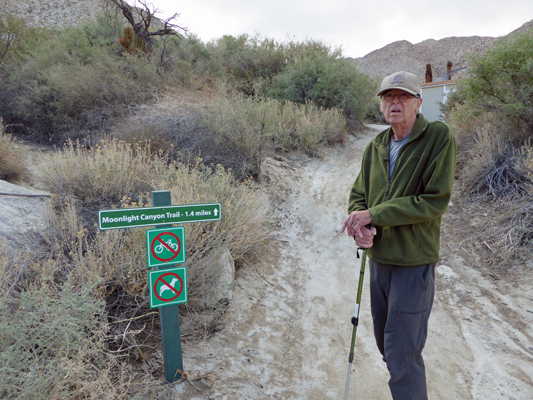 This is a loop trail and back in March 2015 (when it was in the 80's), we attempted this hike from the other end and got stymied by a wetland (there are springs here) and LOTS of rocks. At the time we thought that we might be able to manage it coming the other way so we decided that this time we'd start at the other end and see what we could do.
There is quite a bit of scrambling UP rocks in the beginning.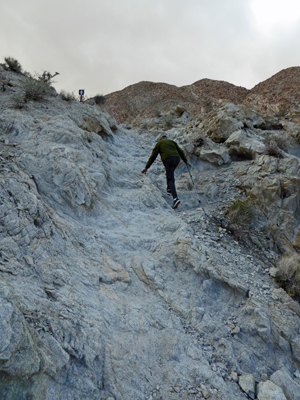 But we made it okay and were rewarded with a great view of the valley below including the campground.

Down near the park there aren't many cactus but as you gain elevation more appear. I think this is a young Teddy Bear Cholla but don't hold me to it.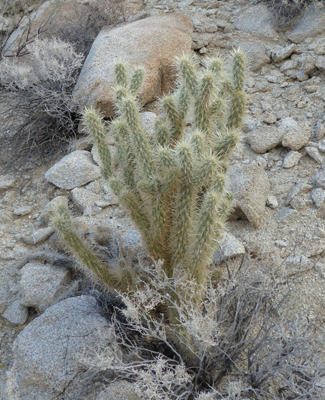 These are most certainly Teddy Bear Cholla—a whole forest of them.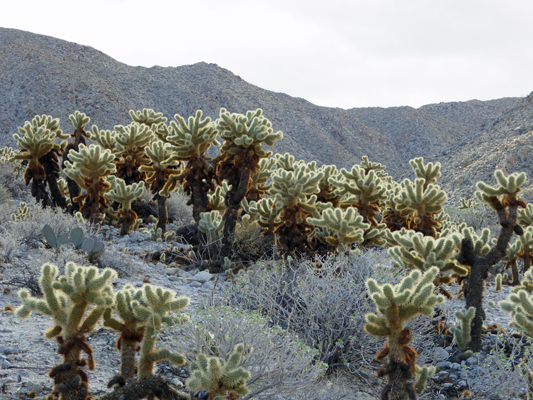 And the view off to the northeast got better as we went up because the sun came out.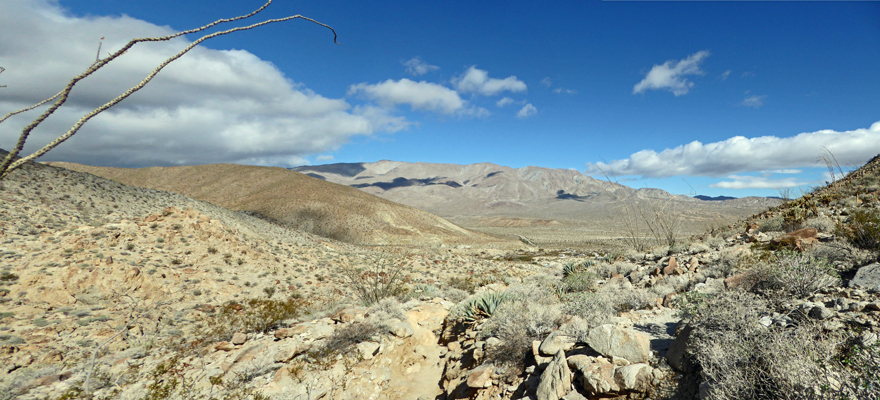 The trail continues to go up through the canyon.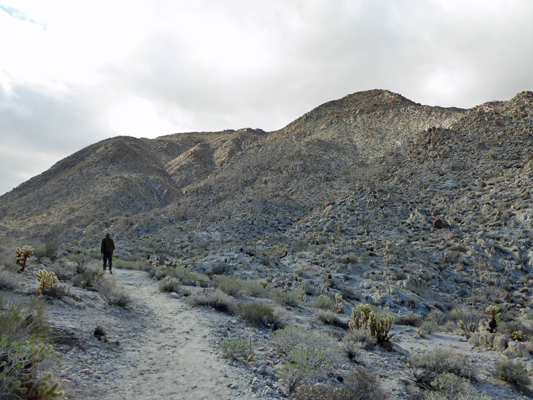 And the barrel cactus started to look healthier—clearly this section of the mountains gets a bit more rain.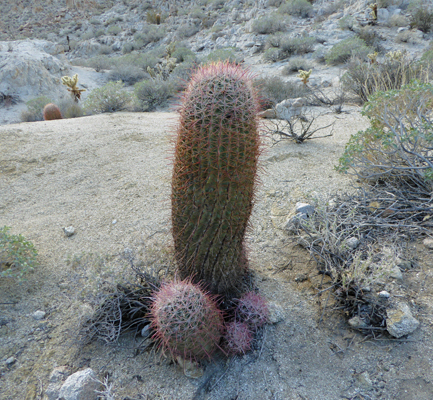 The trail curves around and then begins to go steadily downward—with lots of scrambles over lots of rocks. This last scramble DOWN was a challenge but we both made it okay. I don't know if we could have made it up it so it was good that we'd decided to try this hike counterclockwise.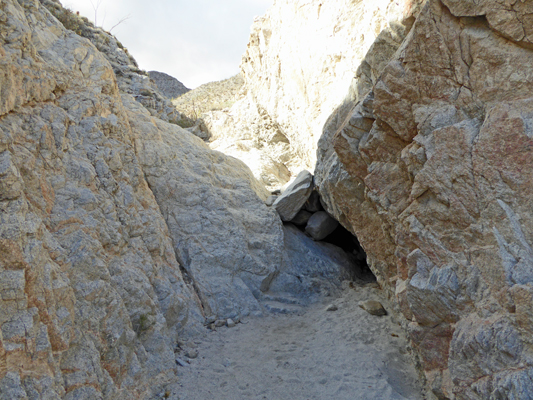 The area that had stopped us last time was muddy but not too bad to come down and then we were out into the nice wide sandy wash where these interesting bushes were in bloom.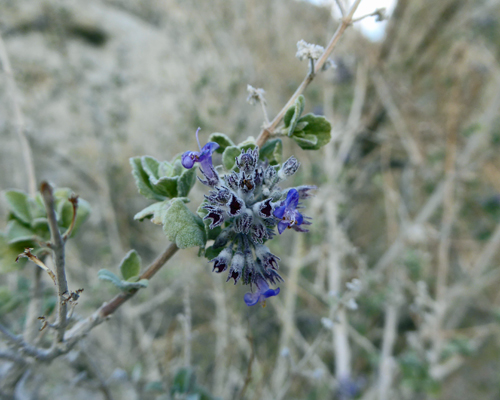 And a few chuparosa were just starting too bloom too.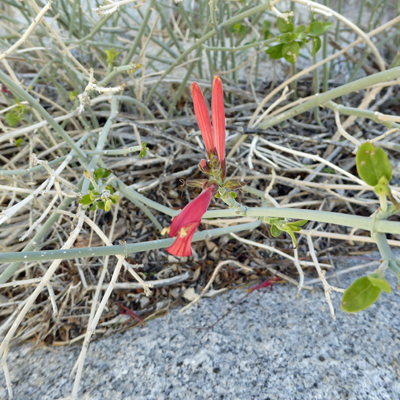 After a bit of a rest, we headed over for a soak in the hot pool (they don't call this place agua caliente for nothing) and then showers. The showers here used to be free but now they run on quarters—50 cents gets you 6 minutes. We put in 75 cents to take care of the warm up time and we both managed to get clean with no problem—save water, shower with a friend.
After lunch we drove up S-2 a ways to Valecito County Park to call about a place to stay in Yuma for Thursday through Saturday.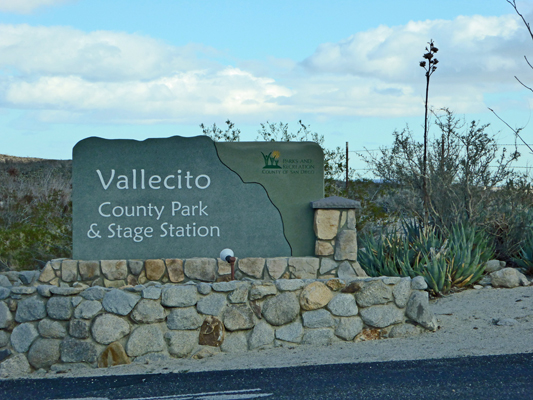 They have a spot here where you can park just outside the entry to the park where you can pick up a cell signal. We're moving into high season now and the best Passport America Park in Yuma in January (most of them don't honor Passport American in the high season) required a reservation.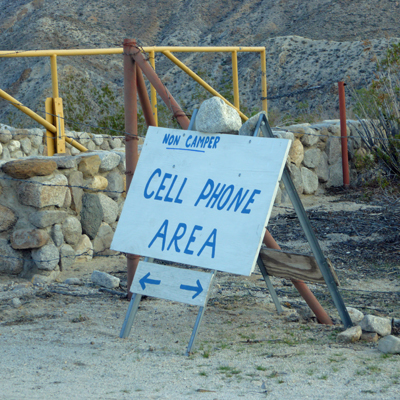 Walter had lots of bars on his phone (mine of course had none) and we got a reservation at Westwind RV and Golf Resort for $25 a night (plus tax). Having to drive a few miles to get a cell signal is just another example of how full timing is a complicated way to have a very simple life.
That evening the nearly full moon came up just as the sky was turning pink to the east.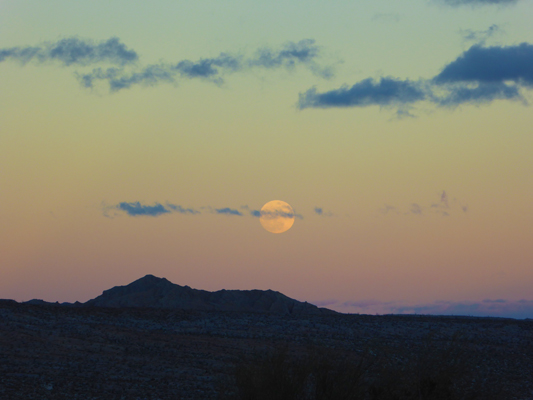 On Thursday January 12th, we packed up and drove back down S-2 to I-8 and headed east to Yuma, AZ and the Westwind RV Resort. They had us all checked in already and led us to a nice back-in full hook up site surrounded by park models. Clearly the big parks here in the Yuma area specialize in park models for snow birds. Our hot spot worked and their Wi-fi (which was free the first day and cost $3 a day after that) worked okay for the first hour or so and then bogged down and didn't do much. I could get email and that was about it even at 11 pm. Even our hot spot was slow late in the afternoon but it recovered. The free cable TV worked but was pretty average.
Friday we spent some time replacing the fancy European cabinet hinges on my closet with a pair of piano hinges. The cabinet hinges work just fine for smaller doors but that big closet door has bent two of the things already and I was tired of having the bottom hinge pop off every time I opened the door. So, with a bit of research we found that folks had been replacing them with piano hinges (and looking at the parts list for our Flying Cloud it says that Airstream used them too but not on ours). Back in La Quinta we'd bought two 30" hinges to give us 60 inches of hinge for the 62 inch door (they come in 15", 30", 48" and 72" and we decided using two 30's was easier than cutting down a 72").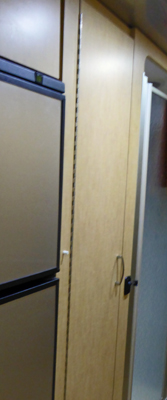 It was quite the project (30 screws per hinge) but it worked like a dream when it was finished. Another big victory, yeah team.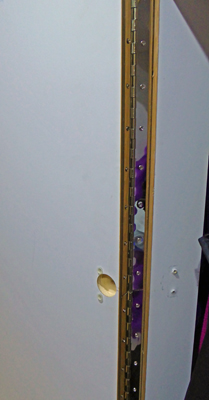 Once the home improvement project was complete we went and did laundry. This place required that you buy a laundry card ($5) that you then loaded with money ($5, $10, $15 etc) to use in the machines. We've stayed at one other place that had these cards, but they had a loaner card that we could borrow and load up with money. Maybe they have loaners at the office but what the heck, I bought the darned card and now we have one. Wash was $1.85 and dry was $1.35 (for 45 minutes) so the cards let them set the prices in increments other than 25 cents. Let's just hope I can find the silly thing the next time I need to use it—which could be months from now.
Saturday January 14th was another sunny warm day. And we had errands to do. We made our way to the local Walmart and managed to find all but one thing on our list—not bad at all. Walmart is not my favorite place but in this case it allowed us to avoid making 5 stops all over the place so it was good. Then we headed to the local library to download a copy of the restore program for Walter's computer just to have it ready in case he needs it someday. And their Wi-fi was so slow it was going to take 3 hours! This is the same program (of course a different version for a different model) that we downloaded in about 10 minutes at the library in Parker back before Christmas. Sheesh. So we bagged it and went home. It was in the low 70's so we had the windows open in the trailer. I certainly understand why folks settle for the winter in Yuma—it's nearly always sunny and usually pretty warm. It's just not a very exciting or pretty place.
On Sunday January 15th, it was sunny and 65 as we took I-8 east to Picacho Peak State Park about 40 miles north of Tucson. As we went east we ran into clouds and then rain! And the temperature dropped in to the low 50's. We managed to get the trailer set up in our side-pull through spot in Loop C without getting wet. All the sites in this park have just electricity—no water or sewer. We topped up our water tank before we left Yuma so it was all good. Our hot spot worked (though it was much faster with the booster) and Walter's Verizon phone had 3 bars and my Sprint based phone had 4! There was LOTS of TV over the air too.