Monday August 28th, we did exciting things like do the laundry, go to the post office and spend some time in the library in Massena, NY so we could use their WiFi. Massena turned out to be a pretty good sized town and their library had great WiFi—plus our phones worked in town too.
Tuesday August 29th, we packed up at Robert Morris State Park and drove about 2 hours west on scenic Hwy 37 which follows the St. Lawrence River. There aren't very many overlooks but it's pretty country nevertheless. We took I-81 north and paid our $5.25 (cars are just $2.75) toll to take the bridge to Wellsely Island out in the St. Lawrence. We had a 3 day reservation for an electricity hook up site for just $32 a night including taxes, out of state fees and the reservation fee. We set up camp in our large grassy spot. It was sunny but we not warm enough for us to need our awnings to keep things cool.
My phone didn't work but Walter's Verizon phone had lots of bars and our hot spot worked great. Walter also found lots of over the air TV. This state park has over 400 campsites and will be full for the Labor Day weekend. But on a Tuesday in late August there were lots of empty sites and we had lots of open space around us, just as we had had at Robert Morris State Park. The trees were touched with yellow here and there and the light had begun to change. You could tell that autumn was just around the corner.
Wednesday August 30th, we drove to the Nature Center in the south section of the park and took the Eel Bay Trail southward through the woods. We've seen tons of chicory (Cichorium intybus) along the roadsides but this was the first we'd seen on any of our hikes.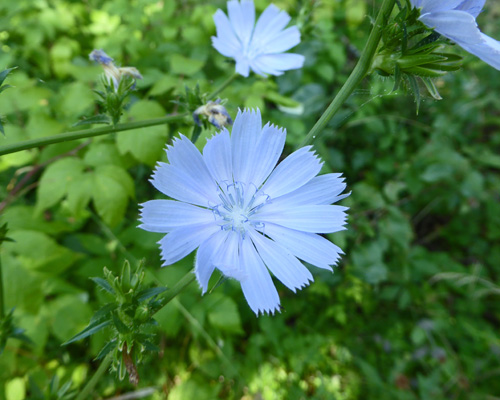 There were also patches of what I think is Common Blue Wood Asters (Symphyotrichum cordifolium).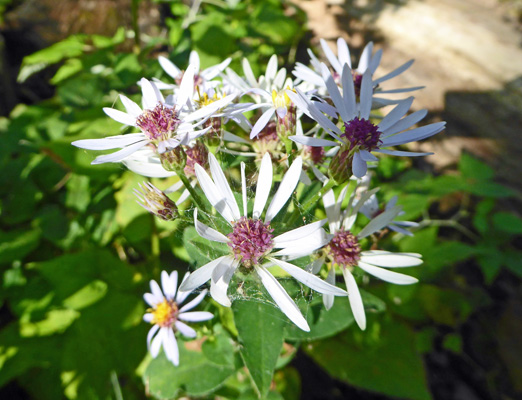 Once in a while we'd get a glimpse of the river as the trail went through the woods.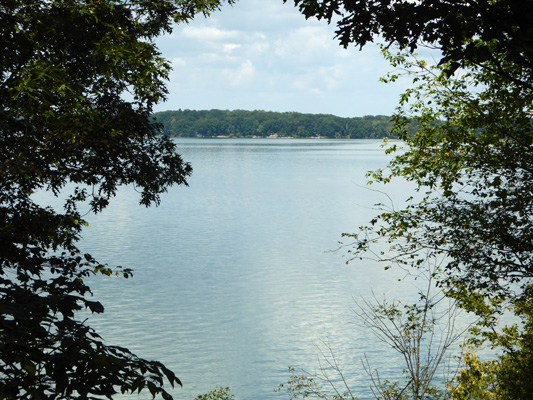 After about 1/2 mile the trail went down hill and came out right at the river's edge where we got a nice view of one of the nearly 2,000 islands (many of them not very big) that dot this section of the St. Lawrence River.

We sat on a bench and enjoyed the view and a Hairy Woodpecker joined us making quite the racket working on a fallen tree. He's got a small red patch on his head which means he's a male.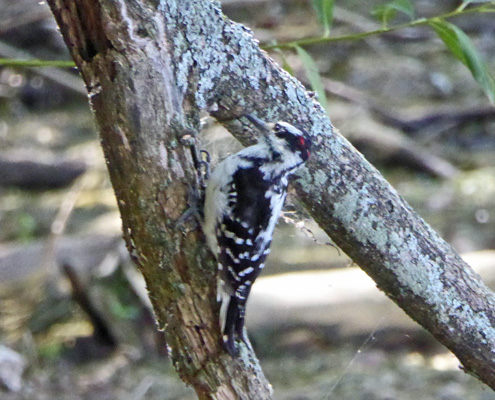 There was a family out with their speed boat working helping their kids learn to waterski. We never saw any of them actually get up, but they sure spent a lot of time trying.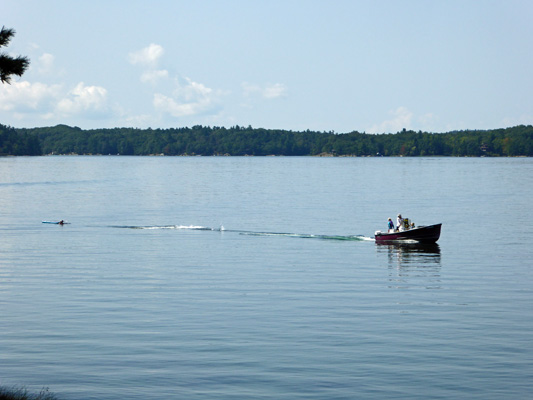 In time we came to this wonderful large chunk of granite. I don't know if it is a glacial erratic or just a park of the hillside that is sticking up. Certainly the top of the hill here was a big mass of granite.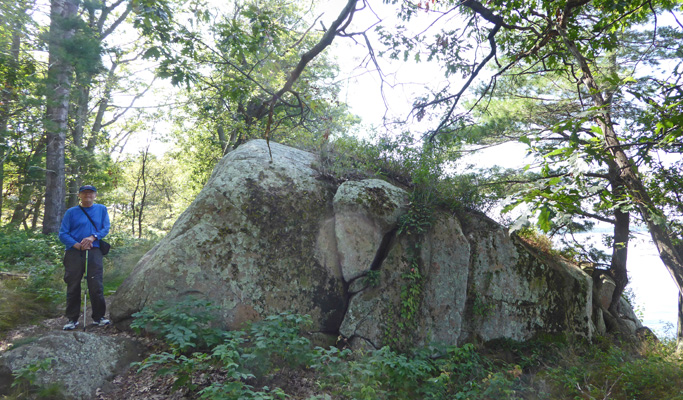 The area also has 4 potholes formed by the glaciers in the last ice age. Two are over 6 feet deep and are screened off and thus not very photogenic. But two of them are shallower and so just out in the open.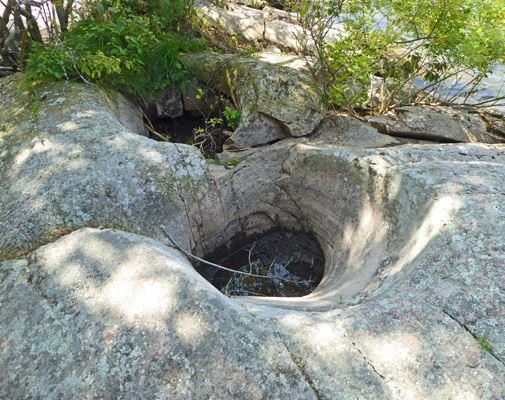 The area is dotted with these little islands (and big ones like Wellesley too). This one has a house and two docks on it.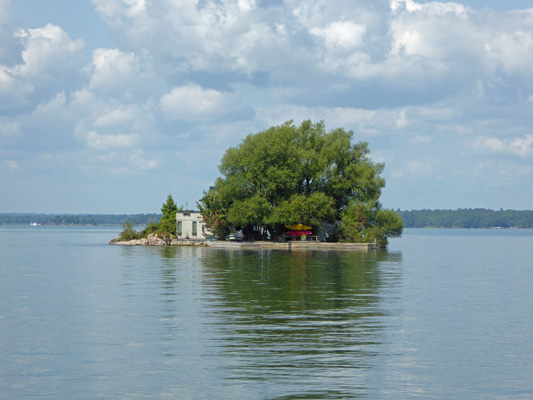 Ontario is just across the river and I spied a tour boat along the shore on that side.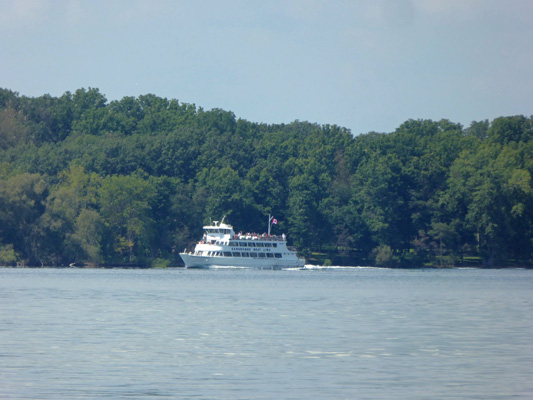 There are several islands in the area that have early 1900's era castles built by robber barons and you can take boat tours to visit them.
The Eel Bay Trail ends at the Narrows, a little passage at the end Wellesley Island.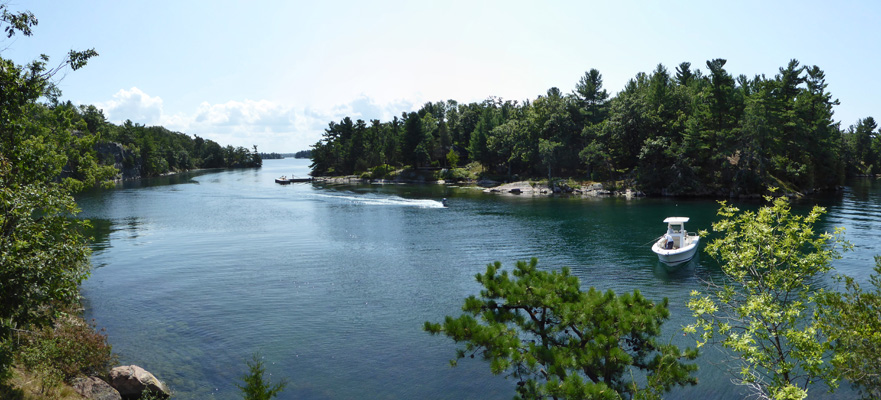 We debated taking a number of possible routes back and decided to take the Eel Bay trail back to the Sand Bay Trail and on to the Middle Trail which then goes back to the Nature Center.
Along the way I spied some Woodland Sunflowers (Helianthus divaricatus).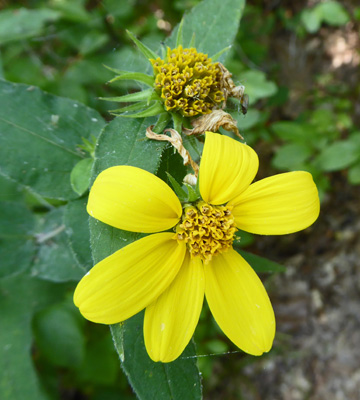 And some White Turtleheads (Chelone glabra).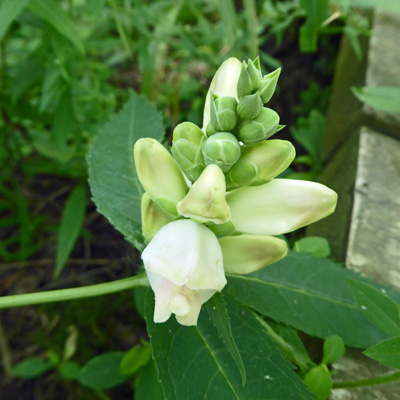 Along the Sand Bay Trail we spied this tree that had not only engulfed the tree next to it (which seems to have died) but part of the boulder next to that.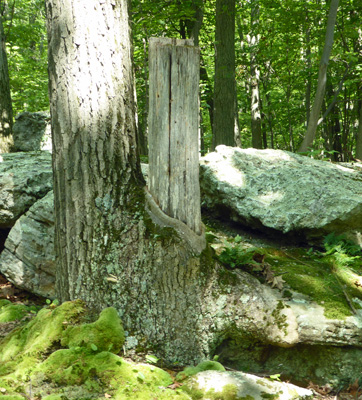 We joined the Middle Trail and spied a nice little nuthatch and yet another Hairy Woodpecker. His red patch was much bigger than the other one we'd seen. And look at that big hollow next to him that all the woodpeckers have made.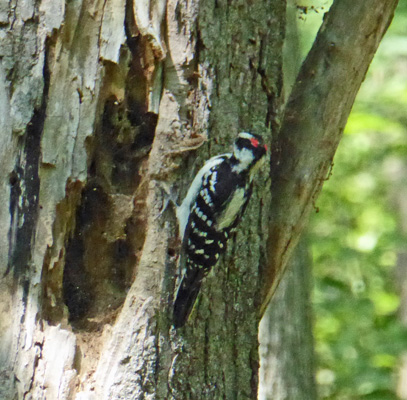 Last but not least I saw one more patch of Queen Anne's Lace (Daucus carota). Like chicory we've seen tons of this along the roadsides but not much along the trails.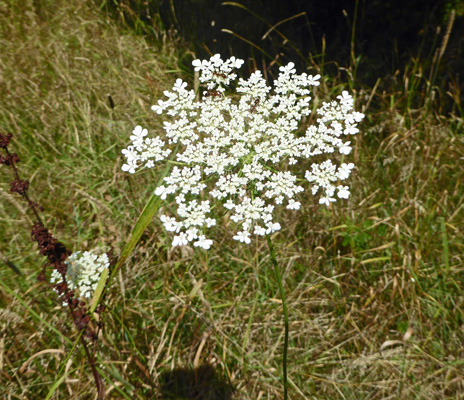 Our campsite was in Loop H which is on the south end of the park near the Nature Center. So after lunch we took a drive to explore the other half of the park where most of the campground loops are and where the marina and camp store are too.
The view from the marina area gives you yet another view of one of the little islands.

Off in the distance the streak of white is a large marina over in Ontario.
We toured the campgrounds and were glad we had a site over in H Loop where things were more spread out and there weren't as many people.
On Thursday August 31st, we drove south to Watertown, NY to the Walmart to pick up a few things (my computer mouse had died) and then did the grocery shopping at a very nice Hannaford. On the way back up I-81 I saw a whole bunch of trees in the median that had turned bright red already—another sign that summer is coming to an end.
On Friday September 1st, we packed up one more time and went north on I-81 and across the Canadian Border and then west on Hwy 401 to Hwy 62 north to Madoc and then west on Hwy 7 to Marmora and the Marmora KOA. We had looked far and wide for a place with an opening for Labor Day Weekend and this place had a back-in spot with water and electric available for us so we'd pounced on it. It's an older park with new ownership and they're working hard on it with a long way to go yet. It was a KOA so it wasn't cheap—they never are. Even with their 10% discount card we paid $49.81 a night taxes included. Our spot was level both directions but it shared the power connection pole with the spot next to it and it was too far away for our regular cord. So we used our extension cord to run 20 Amps over to the trailer and then connected that with one of our 'dog bones' (an adapter from 20 to 30 amps) to our regular cord and its 30 amp connectors. We had to use our long hose for the same reason.
At first our Canadian Virgin Mobile phone didn't work but with a restart we had lots of bars. Walter found one TV station over the air—an Ontario public TV station with lots of kids stuff. They had WiFi but you only got an hour (actually less) for free and then we paid $5 a device for the next 2 days.
It had been sunny but only in the low 60's when we arrived and it started to cool off early. It was in the high 40s when we went to bed and got down to 37 the next morning. Brrr. We managed to pop the power breaker by running both of our space heaters the next morning (well they both ran for about 1/2 an hour and THEN it popped so maybe it was the water heater or frig coming on). So we got up and Walter had to trip all the breakers to get it to work again. After breakfast we went over and bought our WiFi passes and then walked the loop to see the campground. They weren't full but there were LOTS of folks camping here and lots of kids
We spent some time surfing the internet while it was working well and then packed a lunch and drove northwest about 30 miles to Petroglyph Provincial Park. On our way into the park we spied a turtle out on the dirt roadway. I pulled over and we both got out and his only response was to pull his head and legs in for a minute.
He was still sitting there when we drove off. We parked in the regular lot (there's a seniors and disabled lot too) and hiked the short distance to the Visitors Center and paid our $11.50, the senior rate for a carload of people. Then we settled in and had our picnic lunch at a table in the shade.
After lunch we went through the displays in the Visitors Center (it was dark like a long house) and then took the short walk to the petroglyph site. They don't allow photography at the site because it is considered sacred by the First Nation People of this area. The petroglyphs are carved into a large (30 by 40 feet maybe) white marble boulder that isn't very high off the ground. Most of the petroglyphs we've seen in the past were on cliff faces or the sides of large rocks. Instead here they are all over the large mound of this rock. It is the largest concentration of petroglyphs in Canada. They've build a protective building over it to prevent further erosion and the accumulation of algae that began in the 1970's. The boulder was well known to the tribes in the area but they kept it secret until local prospectors found it in 1953. The building was constructed in 1983 because there was so much erosion in just those 30 years.
It's a wonderful collection of glyphs. I went back to the Visitors Center on the way back to the truck and took a photo of one of the displays just to give you a sample of them and their density. I'm particularly fond of the heron on the left—just look at those knobbley knees.
Along the trail there were lots of Common Blue Wood Asters and here and there a few Black-eyed Susans (Rudbeckia hirta).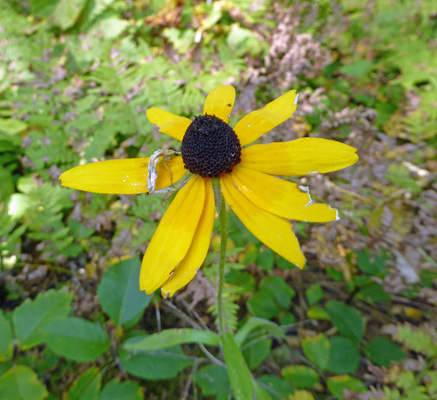 On the drive back we stopped for gas and I went in and bought what I was sure was a new Ontario map since we didn't have one. When we got home it turned out to be a map of Canada but the Ontario section on the back will do the job for us. I think I must still be pretty tired!
The internet was overloaded when we got back in the late afternoon. This is not unusual. There is something about late afternoon and early evening that seems to attract folks to get on-line. By later in the evening it was better—I guess folks switch to sitting out by their campfires.
It began to rain a little before midnight and rained all night long. By morning it had turned to a light rain so mostly all we heard was the occasional plop from the trees. I did the laundry which is always a win and then after lunch when the rain had stopped for a while we did the Marmora Miners' Loop Drive. Our first stop (the 4th on the actual tour but it's a loop so who cares?) was the Marmoraton Mine. This was an open pit iron ore mine that opened in 1953. The iron ore deposit was discovered by a areomagneto survey after WWII. Mining Engineers had to remove 120 feet of limestone to reach the iron ore deposit. After two years of preparation they began removing iron ore. In the end they created an open pit that was 1700 feet by 1200 feet by 700 feet deep. They had a pump system that ran continuously to remove the water that filled it. When mining stopped in 1979 the pit filled up with water.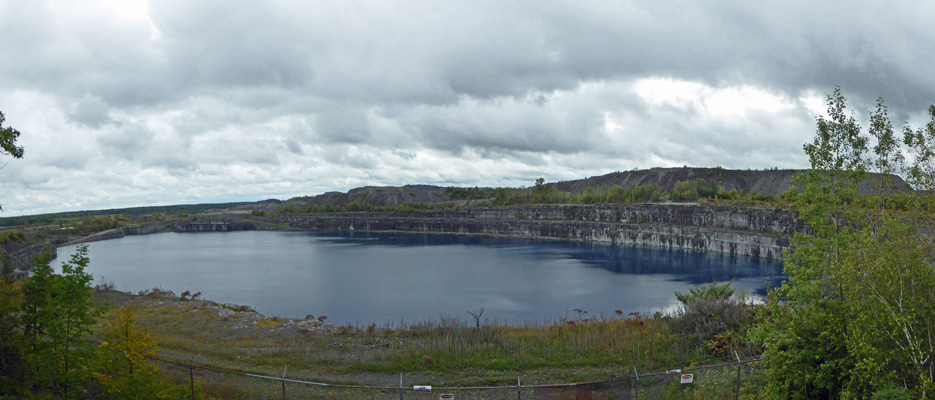 We drove on and stopped at the Visitors Center in town (which had been closed the day before when we stopped there) and got our real live Ontario map—hurrah--and other information abut the area and then drove the rest of the loop which consists mostly of signs. The Birthplace of Ontario mining is here in Marmora. They began mining iron ore nearby in 1821.
There was a gold rush in Deloro area in 1866. The Deloro gold mine eventually became a manufacturer of arsenic pesticides and also produced cobalt, silver and nickel. It is now a major Ontario Provincial Environmental cleanup site. We saw wild turkeys working their way up the side of some of the reclaimed area.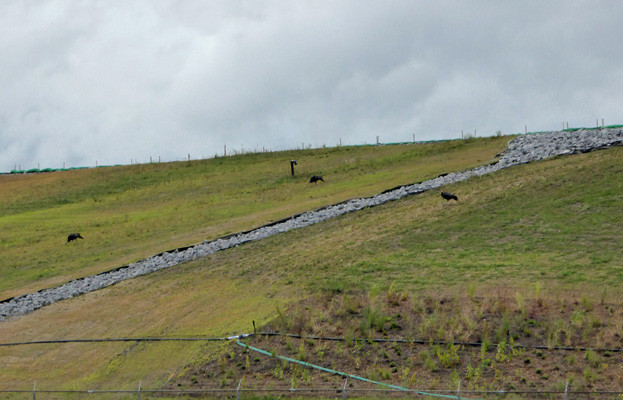 The cold weather Friday night has begun to bring out even more of the fall color. The staghorn sumac has begun to turn red along with some of the smaller trees.