On Monday February 6th we spent the day doing appointments. In the morning we took a little walk through the campground at Picacho Peak State Park where we were staying. There were Cactus Wrens out making their distinctive crocking sounds and I caught one of them in action. Just look what he has to do to his throat to vocalize.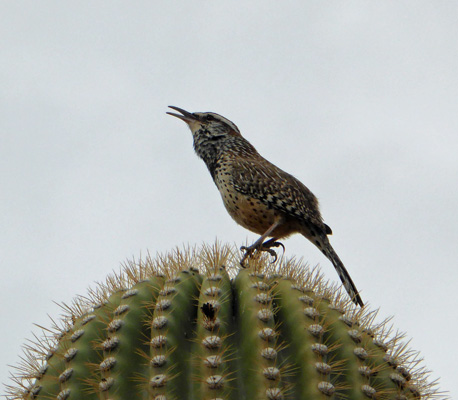 In the afternoon, Walter had his post op appointment for his right eye—"Everything is looking good. Let's do the other one." And then I had my eyes checked ("Your eyes are stable and nothing has changed") and ordered new glasses. I went to Eyeglass World, a chain that will make up your glasses with one-day service at no extra charge, since we wanted to try them to see if it would work to get Walter's glasses done quickly when he finally gets his new prescription at the end of the month. They have nice inexpensive (and designer) frames and you get your second pair free. Such a deal. They were out of the lenses for my bifocals but they thought they'd have them ready nevertheless by 5 pm the next day since they had a shipment coming in the morning. Not bad at all given that it was after 5 pm by the time I ordered them.
Tuesday February 7th, Walter had a dentist appointment to have his teeth cleaned. While the office did honor his Delta Dental Insurance, once again they insisted on doing X-rays even though it wasn't time yet. We've found this to be the norm out here on the road. Only once have we found a dentist who was willing to just clean Walter's teeth even though we've got copies of his digital X-rays from 2016 available for them. Ah well.
Having gotten that done, we had lunch and then drove back up the hill to the trailhead we'd visited the week before to take the Nature Trail hike—the only hike left in the park that we were capable of tackling since we were not going to climb the mountain.
We followed the first part of the Calloway Trail (the one we did last week) and then turned down hill to follow the Nature Trail. There were nice examples of what I think are Pink-flowered Hedgehog Cactus here and there.
And there were lots of Buckhorn Cholla.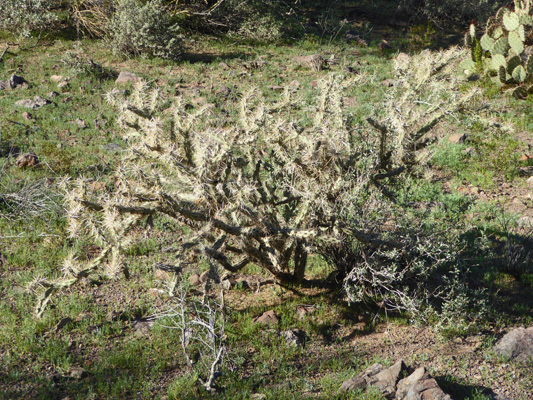 Most important, this appeared to be a saguaro nursery. There were young saguaros all over the place. This was the smallest one we saw.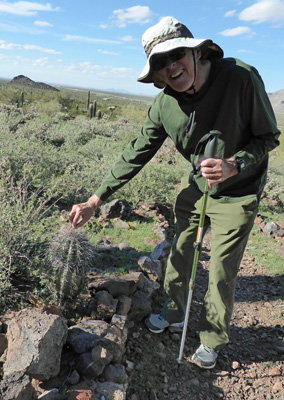 Saguaros can live to be 150 years old and they don't put out arms until they're about 50 (later in drier parts of the desert) so who knows how old this little guy is.
Near the bottom of the hill there was a great example of Arizona Pencil Cholla.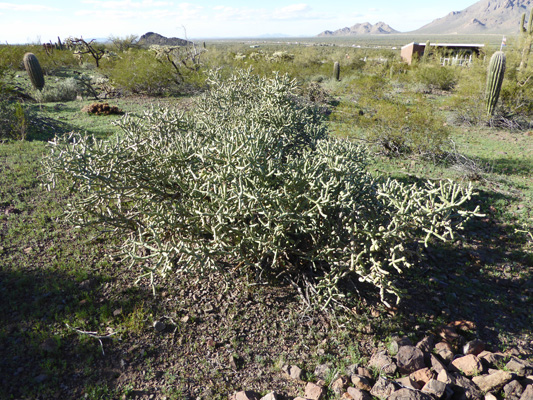 These guys are really smooth looking (even though they do have a few spines) unlike most very prickly cholla.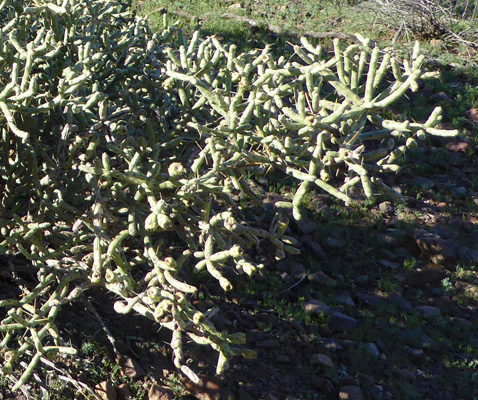 We followed an unsigned route back up the hill which took us past the amphitheater (which looks like they don't use it much any more) and finally back to the parking area and the truck. It wasn't a spectacular hike but it did allow us to stretch our legs some.
That evening we had another super sunset.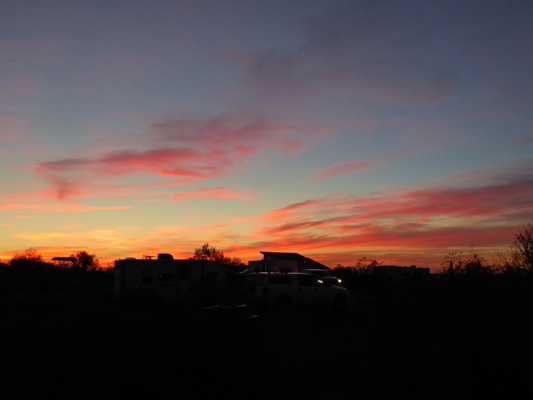 And when the pink started to go the orange got really intense.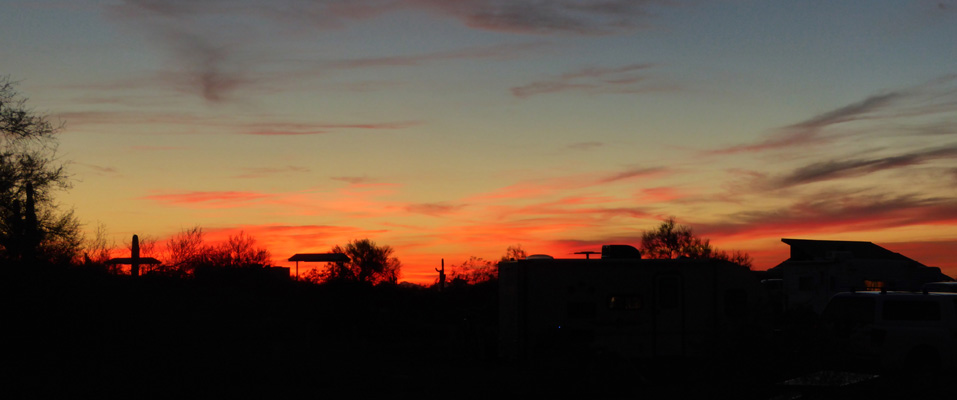 We initially thought that we would go visit several of the repair shops where we might get Genevieve's bumper fixed on Wednesday. We called them and they all wanted to see her in person rather than see photos so we made appointments for Thursday morning instead. So we just drove on back down to Tucson and picked up my new glasses and had lunch out. I got one pair of wire-rimmed glasses and one fun purple pair. Hey they were free and they're PURPLE!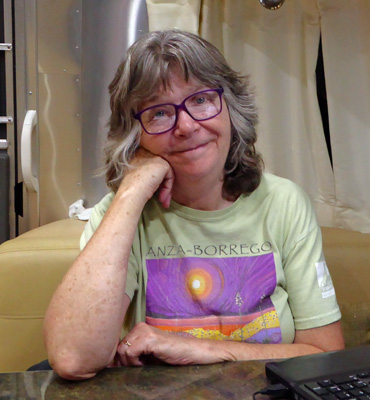 Thursday morning we got up at literally the crack of dawn (7 am) so we could break camp, dump our tanks and make the 45 minute drive south to the first of the 3 places we were visiting to get quotes on our bumper repair. It was a real adventure and we learned that not only were the bumper and the panel under the trailer damaged but the frame was bent a bit and had come loose from the end of the trailer—or joy. We finished up the morning at Lazy Days RV which is the Tucson Airstream dealer. They own a HUGE KOA campground right next door. We needed to do laundry so we bit the bullet and paid $60 to spend the night there.
We got a nice back in spot with decent free Wi-fi and better than average cable TV. We checked in by noon and were done with the laundry by a little after 2. After lunch we drove over to the nearby Camping World to see if we could buy a new awing tool so we could pull out our awning. You see, it was in the high 80's (yes, you read that right) and our awning tool is trapped (and probably bent) inside the smashed bumper compartment. They didn't have one that would work for our awning but we did get new stair covers and some of Walter's fancy hitch grease. Then we drove back to Lazy Days and I checked at the parts department and sure enough they had one for our Airstream awnings. It wasn't cheap but it works! As soon as we got home I pulled out our west facing awning and boy did that help with the hot afternoon sun.
That evening we had a nice little sunset.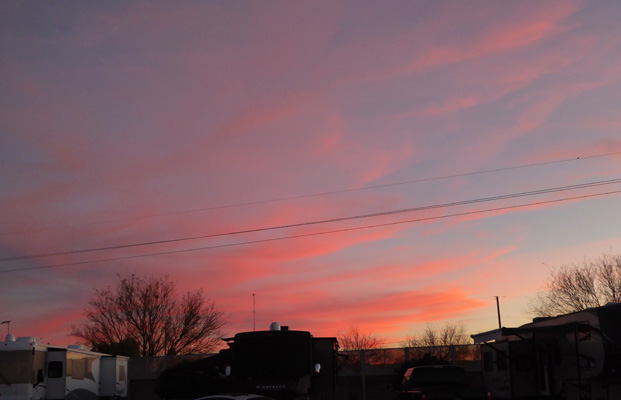 On Friday morning, February 10th, we packed up and headed west on the Ajo Highway out to the little town of Why (named for the for Y in the road there since the state wouldn't let them name it Y) and then south on Highway 85 to Organ Pipe Cactus National Monument.
We got a nice spot (all of their spots are wonderful pull throughs with nice spacing between them) with a great view of the lush desert.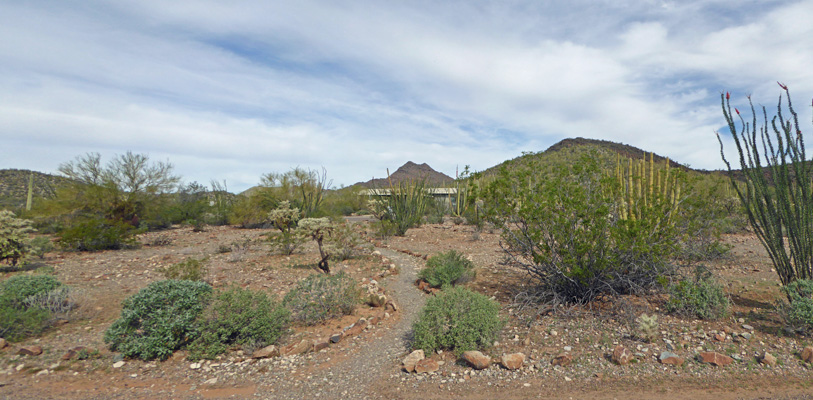 That's Twin Peaks in the distance which is the namesake for the Twin Peaks Campground.
All the ocotillos were fully leafed out, proof that there's been plenty of rain this winter. And the one out our back windows was in full bloom.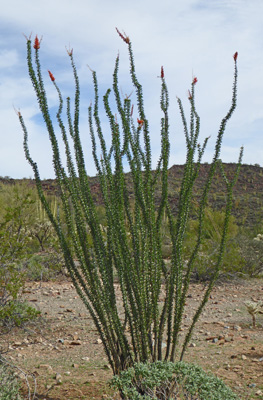 We had hummingbirds visiting the flowers into the evening and more the next morning.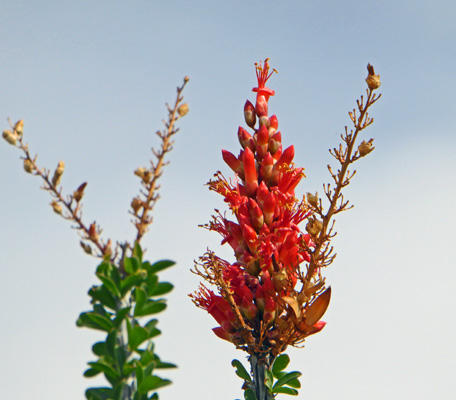 It was in the high 80's (as in 88 degrees) by the time we had the trailer set up and we opened up all the windows and vents and had a nap.
At dusk it began to cool off and we went out to watch the full moon come up. Unbelievably it came up RIGHT at the nob of Ajo Peak.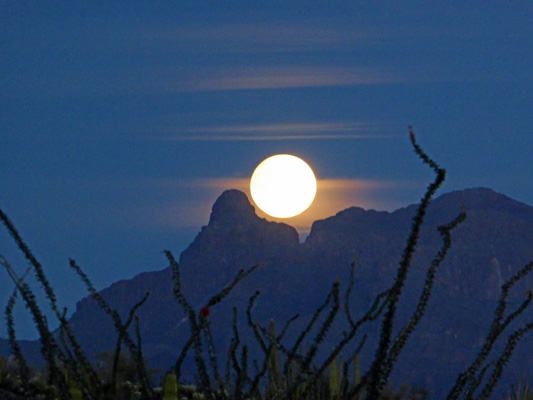 I took a million photos and had a wonderful time as it climbed into the sky.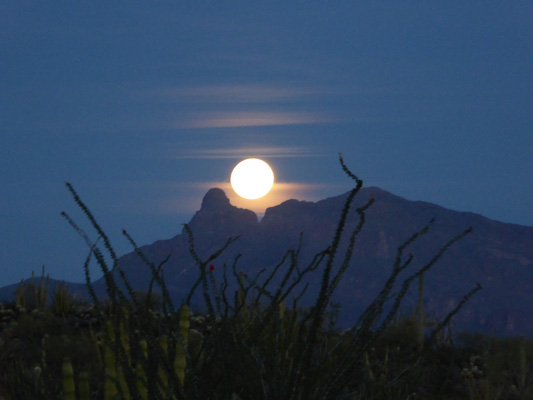 Meanwhile we had a lovely late sunset to the west.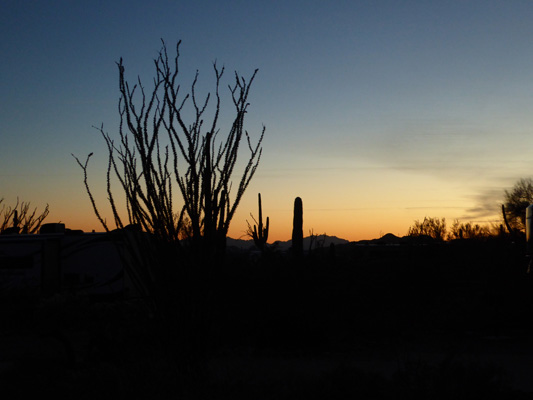 And then the moon lit up the few clouds to the east.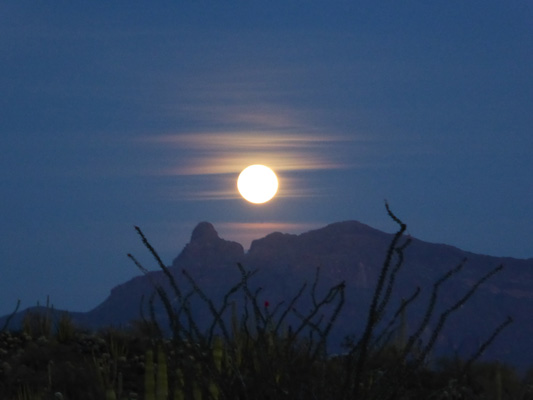 We saw no evidence of the eclipse that I'd read about but I think we were just too far south for it. And we didn't spy the comet either.
It cooled off some in the night but not much and was already 70 by 9 am the next morning. We headed down to the Visitor's Center to figure out what we wanted to do this visit and I stopped at the entrance to take a photo of this very happy and healthy Organ Pipe Cactus.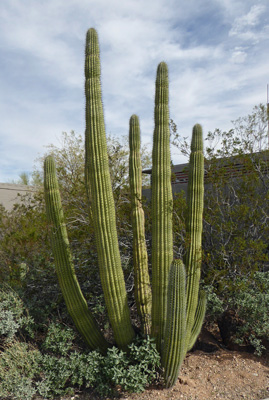 We spent some time looking at their displays and then sat through a nice little Ranger Talk about the Sky Islands in the Southwest. The ranger had been at Acadia National Park the last 2 summers so I got a chance to talk to her about our impending visit there and she confirmed that early June would be a great time to avoid the crowds but still be not plagued by bugs.
Over in the patio area of the Visitors Center the parks folks, in conjunction with the local Middle School kids, have built a pond for the Quitobaquito Pupfish, which are only found in a pond at Quitobaquito down in the southwest corner of the park on the Mexican Border. The pond was built as a refuge habitat to ensure the survival of the fish in the U.S. They planted 239 of these endangered fish here back in 2005 and they are thriving here and continue to be monitored by the Middle School classes in nearby Ajo.
There were enough fish that we could sit and watch them from the bench next to the pond. They're only an inch or so long and the males have a blue caste while the females are brown.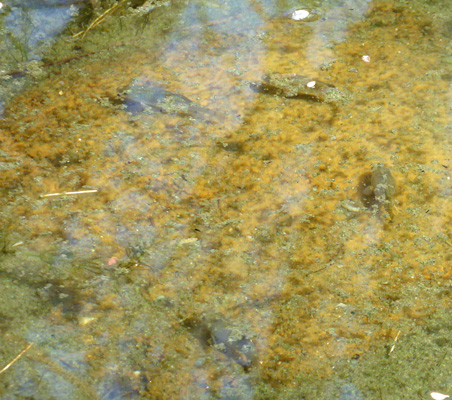 From the patio we wandered out along the Nature Trail (one of the few trails we haven't taken here). It gives you a nice view west to the Ajo Mountains.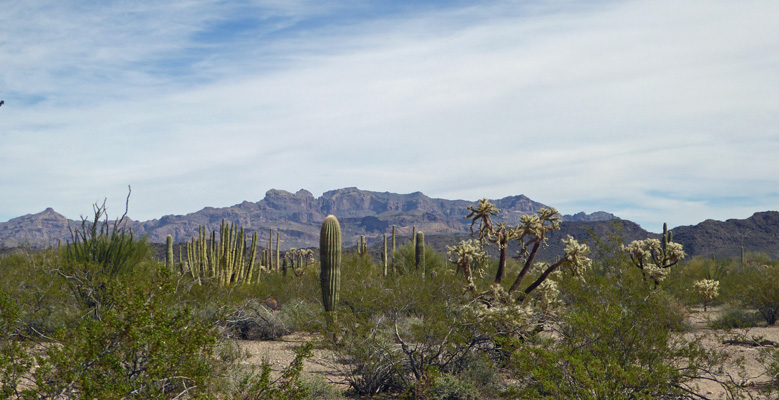 It's brick trail that wanders through the desert with nice examples of Organ Pipes, Saguaros and Chollas. In addition, I spied several Engelmann Hedgehog Cactus.
And two small patches of Arizona Fishhook Pincushion Cactus.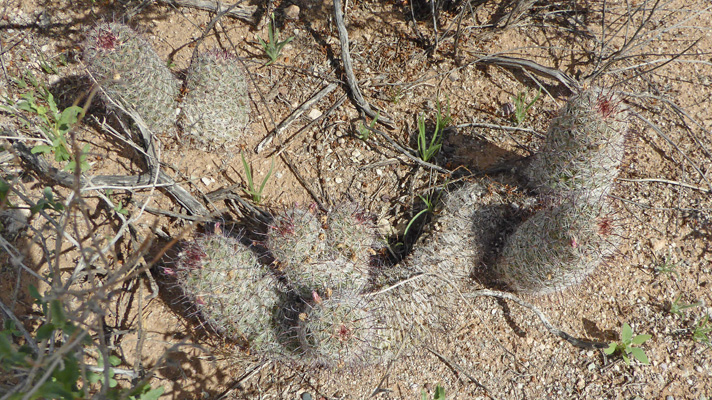 By this point, even with the high clouds, it was 78 degrees and pretty hot in the sun. Neither of us really wanted to go for a long hike in the sun—especially since it was supposed to be much cooler the next two days. So we took a drive down to the border (about 5 miles away) to the little town of Lukeville, where we had to wait in line with the folks who wanted to go over the border, just so we could turn around and come back.
It was a great day to hang out and rest after several very full weeks of running around.
In the late afternoon we decided to take a drive out the first portion of North Puerto Blanco Road. It goes out to the Pinkley Peak picnic area where the road becomes one-way (and you have to drive 37 miles to get back). Pinkley Peak isn't an old volcano, though it looks like one. Instead, it's part of an old lava flow that was uplifted millions of years ago.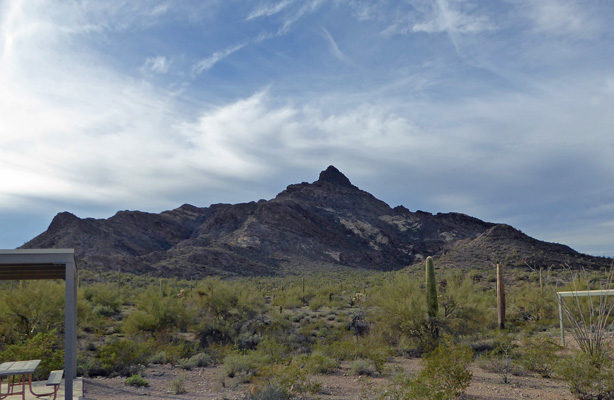 The view to the east gives you a bit of a sense of the Ajo Mountains and the lush desert.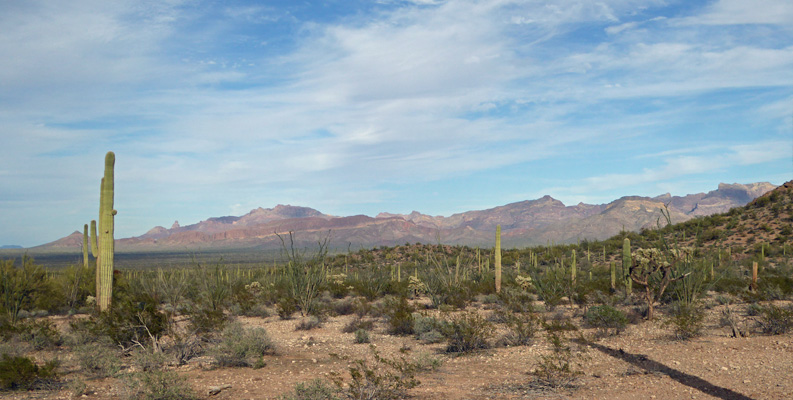 We drove on back and stopped near the trailhead to the Red Tanks and I got a great panorama shot of the mountains to the east.

Right along in this same section there was a blue flag flying. It was attached to a blue 50 gallon drum—no doubt water for anyone who is wandering around in the lost in the desert. This is clearly an early version of the very fancy towers they've no installed all through the park with radios to call for help.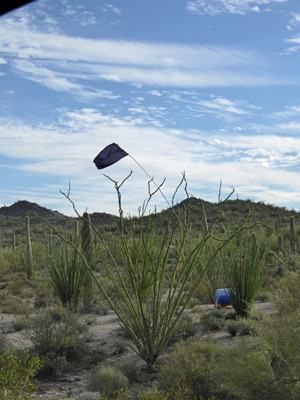 The clouds were coming in at sunset so we didn't have spectacular show but we did get nice color to the south.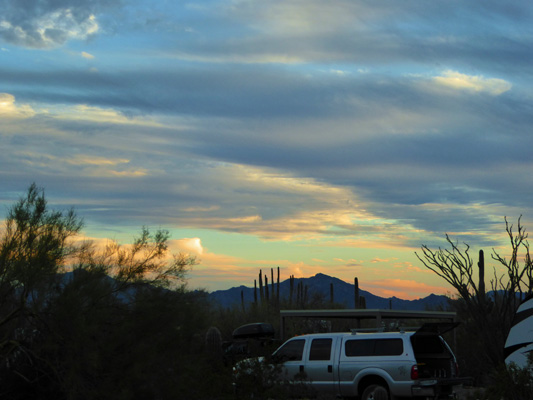 It got windy enough that I brought in all our awnings and then in the night it rained a bit. On Sunday morning February 12th, we had clouds with patches of blue here and there and breezy conditions. We had to get the generator out to charge up the batteries because clearly there wasn't going to be enough sun for the solar panels to do their job. The generator started okay—which was a nice surprise since it's been quite a while since we've used it. We haven't done much dry camping this winter because it's mostly been too cold.
The flowers are late. Usually by this point there are poppies and lupine and globe mallow in bloom everywhere in the park but we haven't seen a one. The only things in bloom are a few brittlebush and the ocotillo—another indication of the cool weather we've had since there has been plenty of rain. When they start to bloom no doubt there will be LOTS of flowers, they're just late.