On Saturday February 25th, we drove north from Amado, Z up I-19 to take the Asarco Mineral Discovery Tour. We arrived at 11:30 hoping to take the 12:00 tour but it was full already. So we watched their very informative video about the Asarco copper mining operation and how they go from large truckloads of rock out of an open pit mine to fully refined 99.9999% pure copper. Then we took a stroll through their outside museum. Back in the day when they first began mining here in the 1880's they used little one-tone ore cars to transport the raw ore.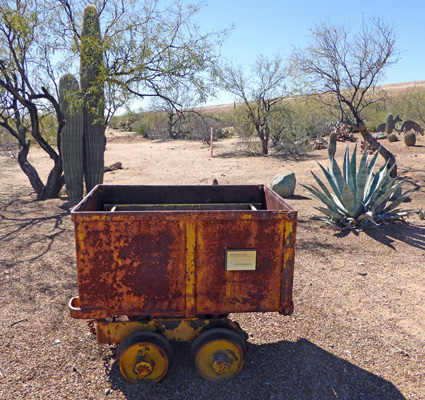 They started out with shaft mines and thus had little rail cars. Now there is an enormous pit mine that has eaten up all 5 of the shaft mines here (literally dug out all the earth around them so they no longer exist). They use big shovels and even bigger trucks. This is one of the trucks that they've retired because it's too small. It only holds 120 tons.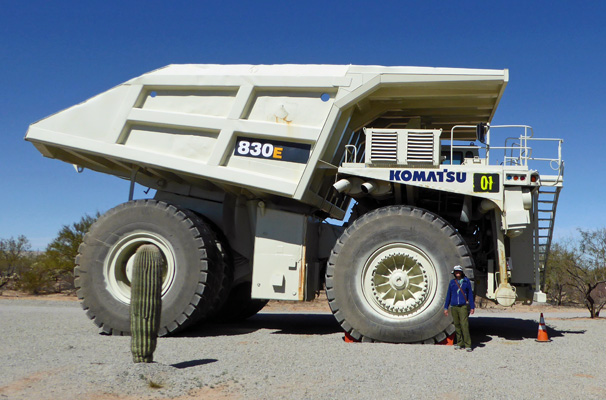 They've replaced it with 320 ton trucks!
The grounds are strewn with old pieces of equipment slowly rusting away.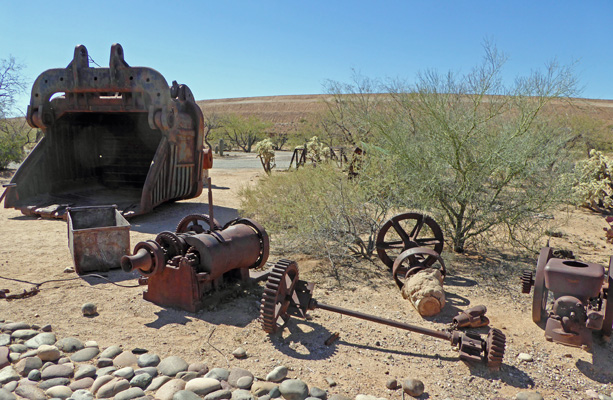 There was a pair of ravens up in one of the original head frames from one of the old shaft mines.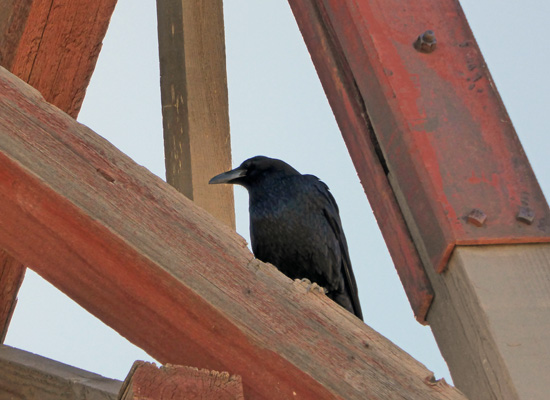 They also had a nice cactus garden with these marvelous barrel cacti that grown into these great mounds of barrels.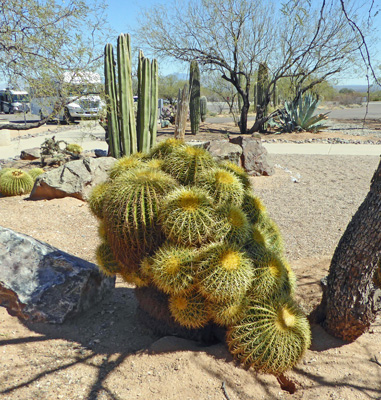 We had our lunch in the picnic area and watched the grounds squirrels run around.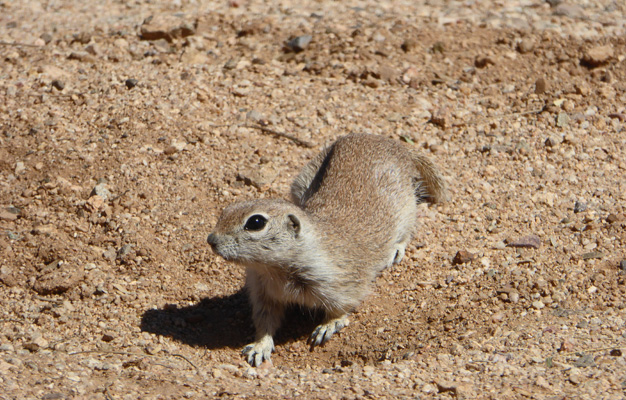 At long last 2:00 rolled around and our tour began inside the Discovery Center where our guide once again explained how they had to pull out 2 truckloads of overburden (plain old rock) to get to one truckload of ore. The ore is taken to a mill where it's sent through a series of crushers to get it down to a fine powder. Then it's put through a chemical process to extract the ore from the rock. The resulting product is now 58% copper. The dried powder is shipped by truck to Hayden AZ where it's smelted to make anodes which are 99% pure copper. This is anode weighs 750 pounds. It's sitting beside a very sizeable piece of iron pyrite that came out of the mine.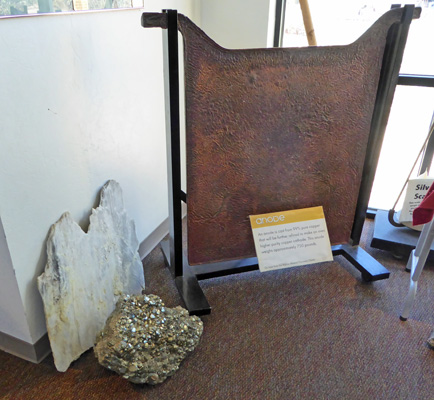 The anodes are shipped to Amarillo TX to be refined through a electro-chemical process into sheets of 99.99999% pure copper. That is made into wire, pipes, electronics and other goodies.
26 of us piled into a bus and they drove us down to the Miller Mine about 6 miles away from the Discovery Center. There's an overlook where you can view the entire open pit (miles and miles of it).

They work the mine 7 days a week. Most of the workers work 12 hour shifts. They have huge shovels digging out the overburden and ore and loading it into the 320 ton trucks.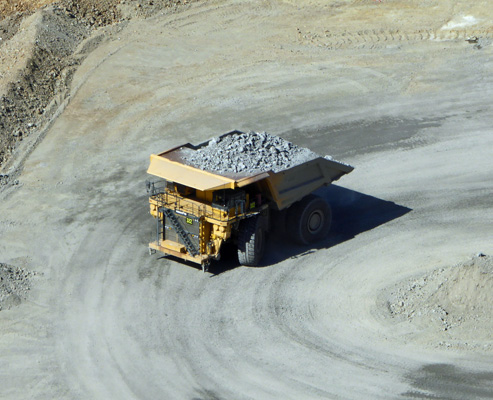 They have vertical drills taking core samples so they know how much overburden to take out before they hit the ore. There are times when they have to pull out 3 truckloads of overburden to every one truck of ore. Right now they are mining a particularly rich seam so it's 2 to 1.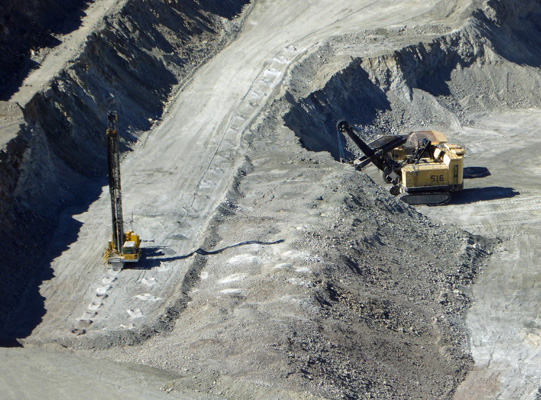 They also use the vertical drills to make the holes for blasting to loosen the rock so they can shovel it out. Here they've already blasted the section in the foreground and are drilling the holes to blast the area behind it.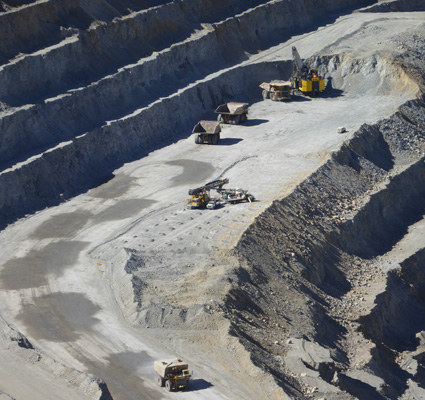 From here we went on down to the South Mill to watch the milling process. However, the mill was shut down because literally someone had fallen asleep on the job and one of the big vats of ore and chemical mixes had overflowed all over everything. They were digging things out and cleaning it up so they had the whole mill shut down. That was fine with me because that meant it wasn't noisy at all.
On one side of the mill they use ball mill crushers to take the ore down to a fine powder. This is a 3 or 4 stage process.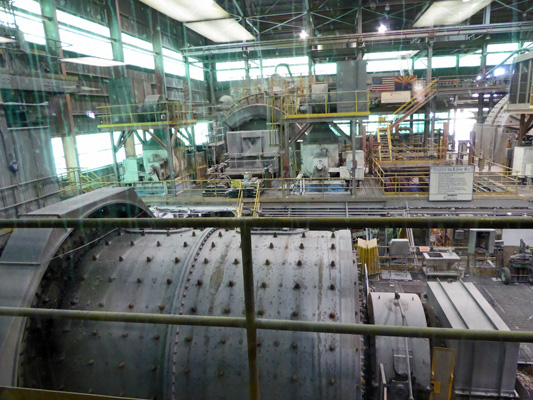 Then on the other side of the mill they add chemicals and air to create a frothy mixture where the copper and other metals (plus sulfur) are separated from the rock—they end up in the bubbles while the rock sinks to the bottom. That mixture goes out into the thickening ponds where they remove as much water as possible before it goes to the drying area.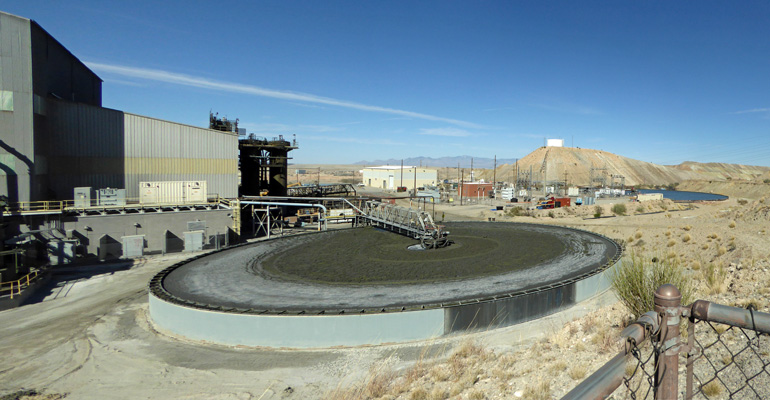 They also have big settling ponds for the tailings (the rock dust that has been separated from the ore) where they pull off as much water as possible in multiple stages. Since water is pretty scarce here in the desert they put a lot of energy into recycling it.
If it weren't for Walter's interest in mines and mining I'm sure I wouldn't have gone on this tour. But we both found it really interesting—especially the intricate multi-step process they have to go through to get from the mine to pure copper. If you like BIG trucks and big holes in the ground this tour is for you! Otherwise just stopping in and watching their movie and roaming through the gift shop might be enough.
Sunday February 26th was a down day. We did laundry and then did exciting things around the trailer like flushing out our water heater! It was a mostly cloudy day but we didn't have any rain and it wasn't too windy so it was a good day to be handling stuff around 'home.'
Monday February 27th, we put in a call to the Airstream repair shop and of course our guy wasn't in. Ah well. We decided that we'd spend another night at Mountain View RV Ranch since it wasn't all that far up to Tucson. I extended our stay and then we began the drive up to south Tucson to pick up our mail. Along the way, we actually heard back from the repair shop. Would we be available to bring the trailer into the shop on Tuesday morning at about 10 am to meet with the appraiser? You betcha! Progress. Yippee.
We picked up the mail at the Post Office, exchanged a couple of things at Camping World that we'd bought a couple of weeks before and then headed home via the Titan Missile Museum on the north side of Green Valley.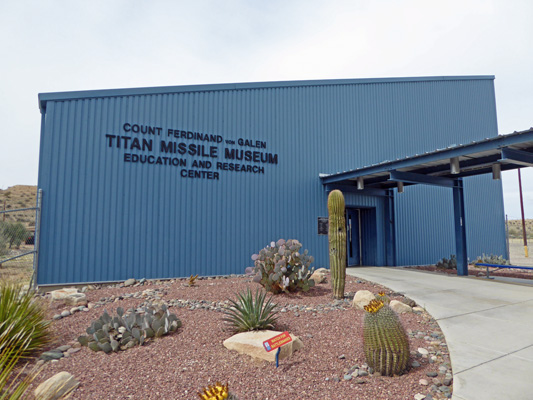 Back in the 1960's during the Cold War, the US Air Force built 48 Titan Missile silos—16 each in Wichita, Kansas, Little Rock,, Arkansas and Tucson, Arizona. They served as part of the Cold War 'Peace through Deterrence' program until they were replaced by the Minute Man Missile system 20 years later. As part of on the disarmament treaties with the USSR, the US agreed to destroy all 48 missile silos but in the end we got the USSR to agree to let us keep one intact as a museum and education center. So this museum holds the one and only remaining Titan Missile Silo complete with missile!
We took the tour (they have one starting every 1/2 hour) which only costs $8.50 for seniors. It includes a nice video and then they take you down the 55 stairs into the silo.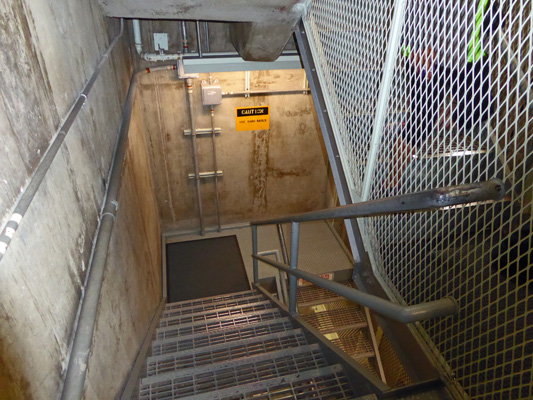 The entry to the missile silo was only partially hardened against attack (escape was through the air shaft in that case). But the silo itself was designed to survive a direct hit by a modern hydrogen bomb. The whole place is on springs so it could withstand the shock waves of the explosion and the walls are multiple feet thick. The entry doors (called blast doors) are hung on special bank vault hinges that still swing silently open and closed.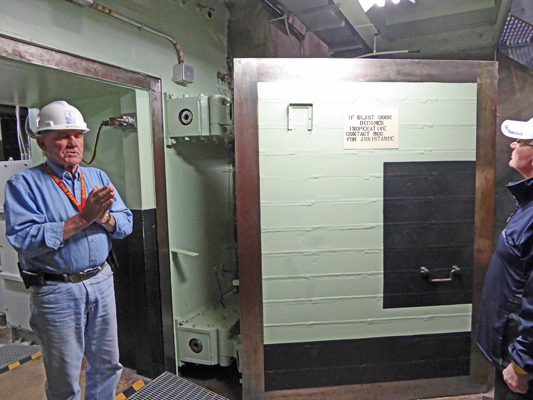 The silo was manned by a crew of 4 people who worked a 24 hour shift and then were relieved by the next crew. They ran tests, inspected the equipment twice a day and sat and waited for the fateful phone call that thank goodness never came. This silo was created to be used only if the USSR had initiated an attack on the US so it was considered defensive only. It was part of what was called the Mutual Absolute Destruction (MAD) strategy. THE USSR knew that we were set up to bomb them into oblivion even after they had bombed us. And so neither side ever initiated an attack and we lived in the proverbial Mexican Standoff through the years of the Cold War.
This is all the original 1960's electronics.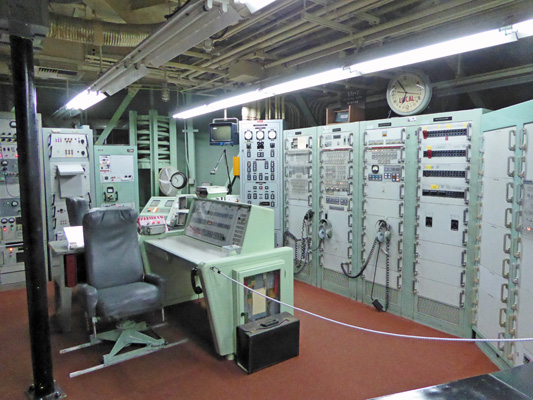 One of our fellow tour participants got to sit on the commander's chair and push the button to initiate a bomb strike. Frankly, it was creepy.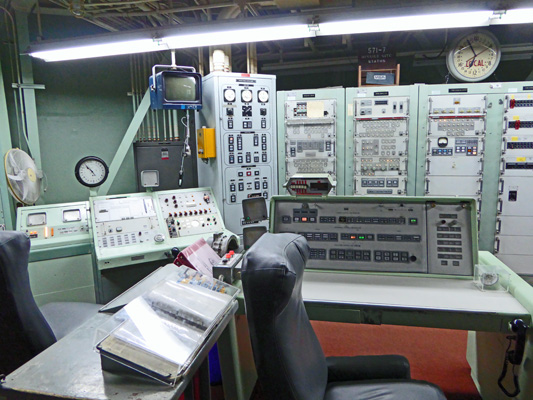 The control room is set on a base so that these big springs could absorb any shock wave and the electronics could continue to work no matter what.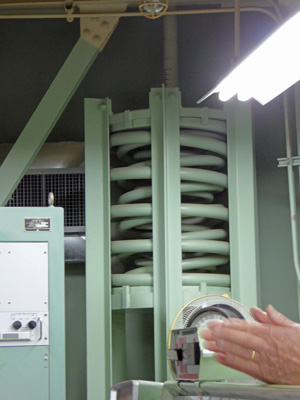 From the control room we walked over to view the actual Titan Missile. They used the Titans not only for this program but also as part of the space program. All the Gemini space shots used Titans.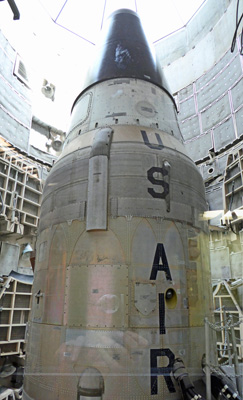 This was a fun tour, though it took a bit longer than we expected (over an hour and half). I admit that reading about the Cold War in the museum took me back to the days of having to crawl under my desk and hide my head with my arms in the bomb drills when I was in elementary school. I was 10 during the Cuban Missile Crisis so I don't remember a whole lot about it except that it was a scary time.
Tuesday morning February 28th, we got up early and hit the road at 9 am so we could be at the repair shop by 10 am. The appraiser didn't show up until close to 10:30 and the shop owner wasn't there at all. So the shop foreman did his best (which wasn't that great) trying to explain the quote that the owner had done. We had hoped (but didn't expect) that they might start work on Genevieve once the appraiser had seen her again. No such luck. So we headed out at about 11 and drove up to Picacho Peak State Park because we knew they had an opening or two for a night.
In the early afternoon, we heard back from Joe (the owner of Oasis RV Repair, the shop we're using) that he'd talked the appraiser through his concerns and that he was tentatively putting us on the schedule for Monday morning March 6th. He'd call us on Friday afternoon to confirm—hopefully having heard from the insurance company that the appraiser's report had come through.
It was blustery and we had a few small showers in the afternoon. I planned to go out for a walk to see the flowers that were in bloom in the park but every time I went to go out it started to rain again. So we stayed in for a while and were visited by what I think was a Brown-crested Flycatcher all fluffed up from the rain and the wind.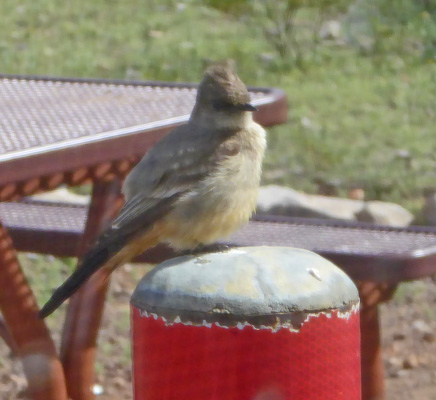 And what I'm pretty sure was a Curved-bill Thrasher.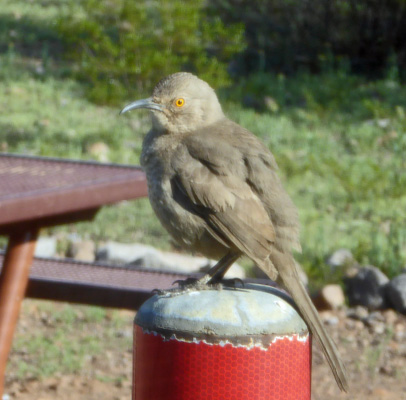 Finally the last of the clouds blew through and we got out for a walk.
There were Arroyo Lupine (Lupinus sparsiflorus) in bloom all through the park.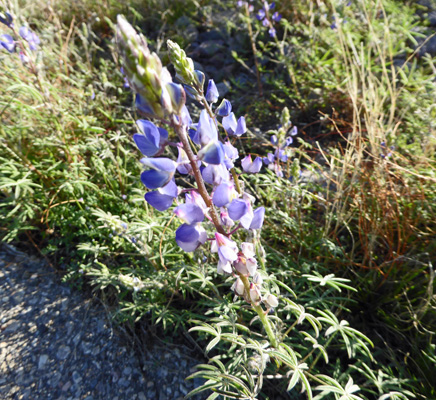 And the ground in the campground was a solid blanket of Fiddlenecks (Amsinckia menziesii).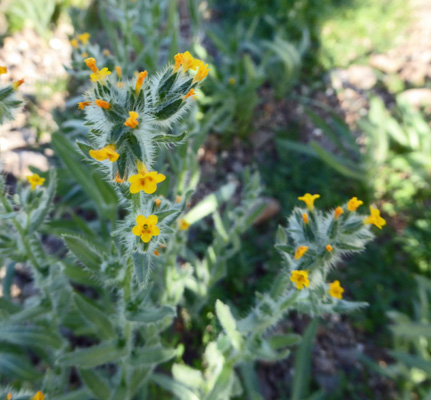 There were Desert Marigolds (Baileya multiradiata) in bloom here and there.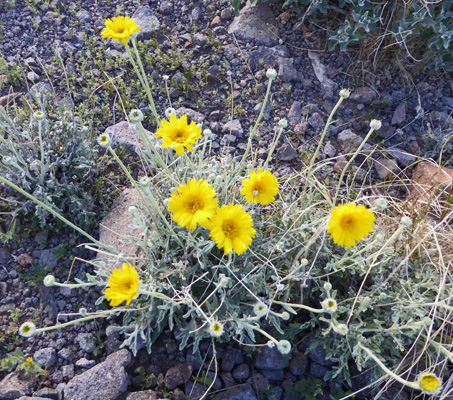 And a few of them were pretty darned big.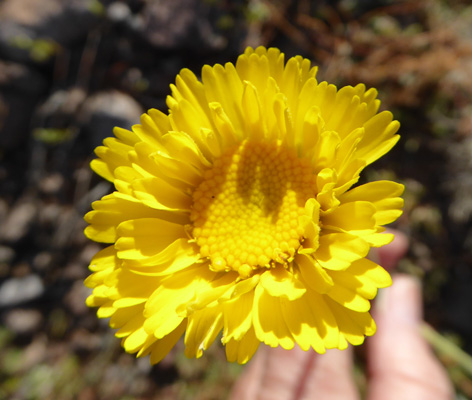 There were California Poppies (Eschscholzia californica) in bloom in big swaths in the washes (and a few here and there in the campground).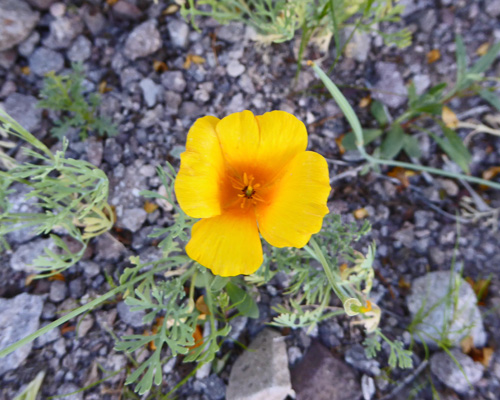 We continued on to see the poppies in the washes and the late afternoon sun lit up the mountains to the east.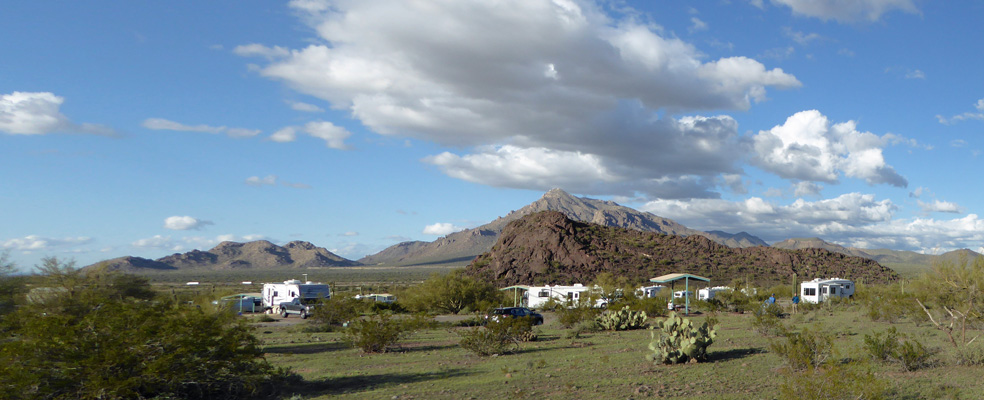 And Picacho Peak was backlit in an interesting way.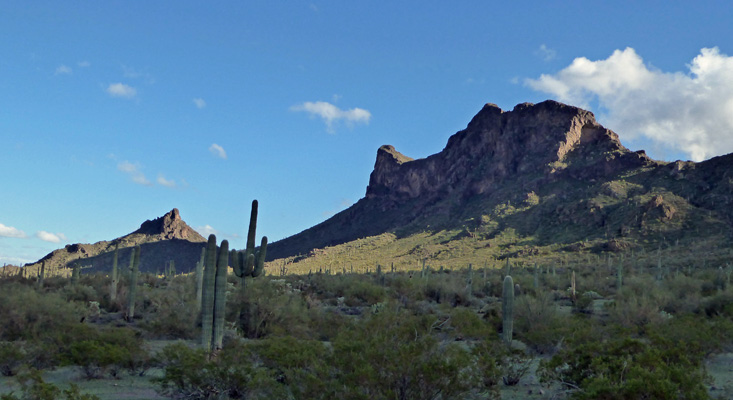 I got down on my knees to try to catch the poppies and the mountains together.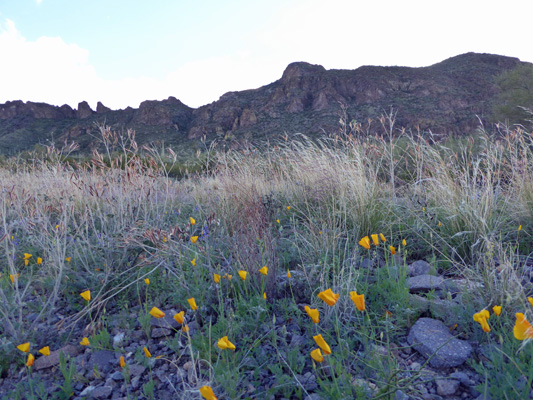 In the Group Campground we saw this marvelous old saguaro with part of his skeleton exposed.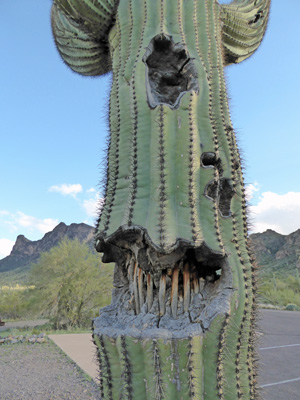 On the way back to the trailer we saw another Curved-bill Thrasher but he took off before I got my camera out and went and hid in a tree. But just as we passed he took off again and perched on the top of a saguaro and gave me the ultimate profile shot. Gee, I wonder why they call him 'curved-bill'?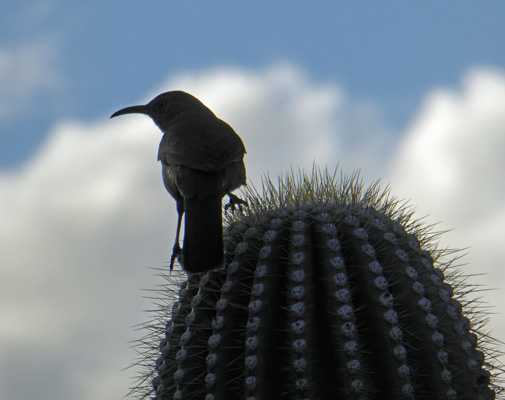 Wednesday March 1st, we packed up and moved to Catalina State Park (about 30 miles away) where we had a reservation for 3 days so Walter could have his final post operative appointment and get new glasses. The original plan had been to leave here on Saturday morning to head east but of course Genevieve's bumper issues will delay that.
We set up camp in a nice long back-in spot and then decided we might as well take the Nature Trail hike since it had been 5 years since the last time we did it.
There were California Poppies in bloom all along the edge of the trail in among the lovely green grasses.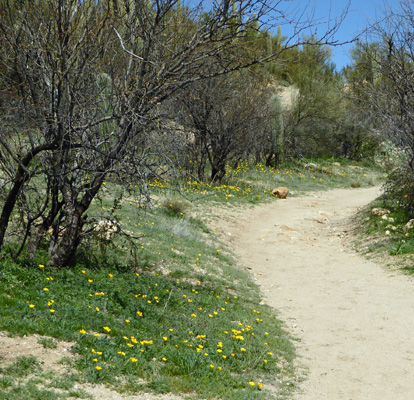 The poppies at Picacho Peak had been growing in raw rock. The lush green was a real treat in comparison.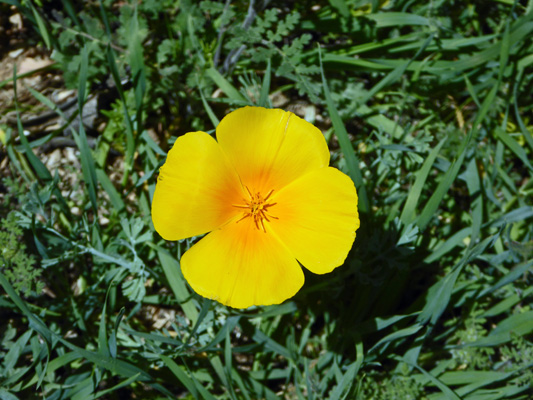 Late in afternoon the day before most of the poppies had closed up for the day but at mid-day in the full sun they were all open and singing.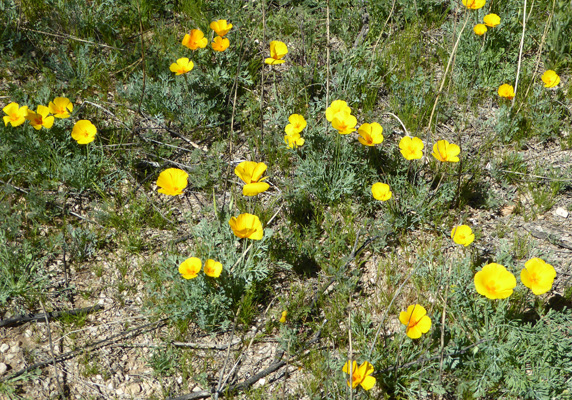 There were even poppies in among the saguaros.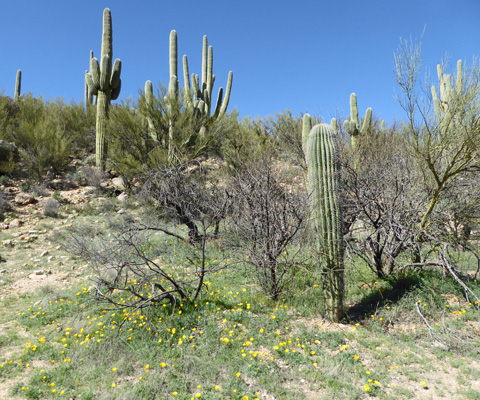 The trail goes up a pretty steep hill and then you get nice views of the Catalina Mountains to the east.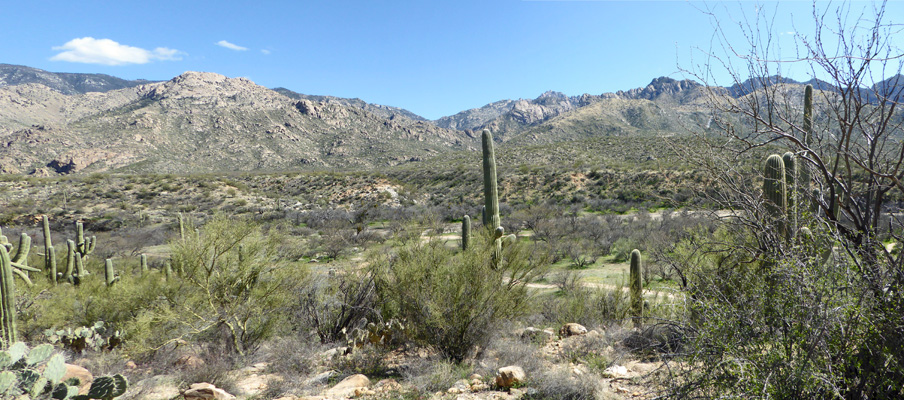 There were Fairy Dusters (Calliandra eriophylla) in bloom and sticking up through their blooms there were Blue Dicks aka Wild Hyacinth (Dichelostemma capitatum).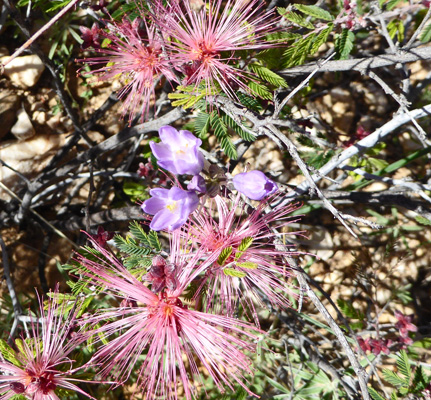 My camera (and my old one too) really doesn't like to auto-focus on blue flowers like this. I saw a few of these the day before but the photos all came out blurry. So I was thrilled to finally get a decent photo of them.
Many of the fairy dusters were just coming into bloom (those dark pink round things in the photo above are fairy duster buds) but this big bush was in full bloom.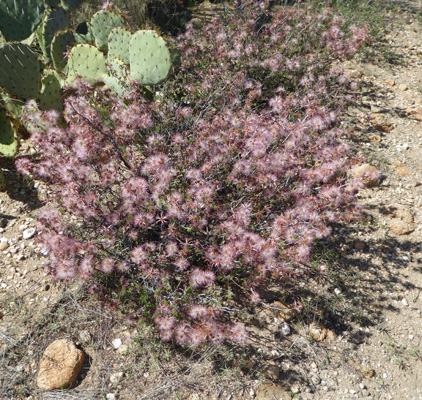 The trail is only about a mile and it has benches about every 2 tenths of a mile. We enjoyed ourselves testing all these benches and sitting and enjoying the view and listening to all the birds singing.
Along the way we got a decent view of Mt. Lemon, the highest point around these parts at 9,160 feet. There's a ski area up at the top and you can see a bit of snow even in this photo. Mt Lemon is behind the rocky Sutherland Ridge in the foreground.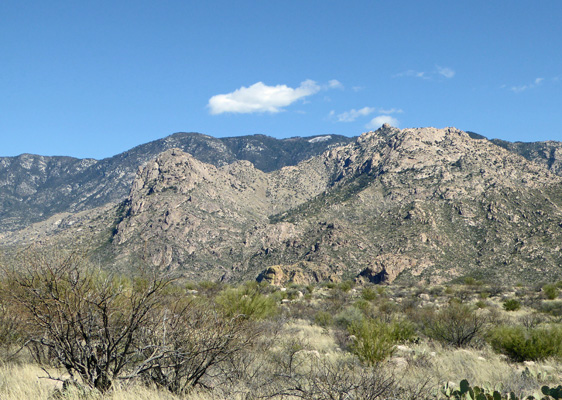 The Chain Fruit Chollas along the trail were very different from the usual ones. They aren't hybrid as far as I can determine, just part of the wide variation of the plant. These just don't have as many long spines as usual which make them pretty knobbley.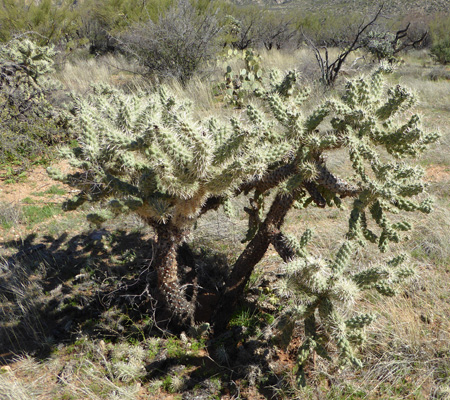 There weren't any clouds to make a sunset but the setting sun lit up the Catalinas fiery red.

For dinner I made Huevos Rancheros Grande which is a wonderful old Sunset Magazine recipe that we both love. Walter thought it was pretty enough to share with all of you. (Two flour tortillas, 1/2 c of shredded lettuce between the tortillas, black beans, two fried eggs with cheese melted on top, avocado, sour cream, salsa and green taco sauce.)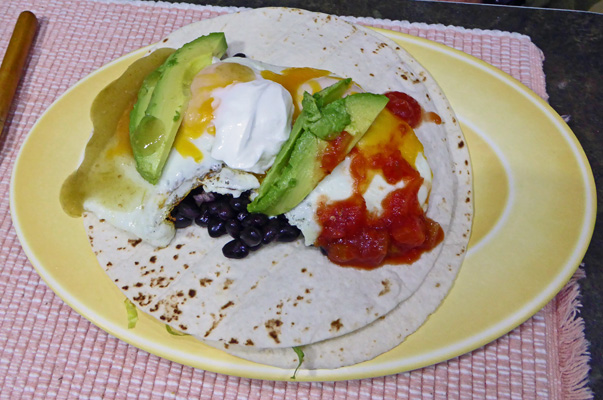 Thursday March 2nd, we got up early and were on the road at 9 am for Walter's final post operative appointment from his eye surgery. This went incredibly well. His eyes have recovered entirely and he tested at 20/20 with his glasses on so he didn't even need to new prescription. While we have time to go through the process to get him new glasses, it was a wonderful gift not to have to do that. Hooray!
On our way home, we stopped and did all the errands we'd planned for Friday and we were still home by noon. When I checked my email in the early afternoon there was a message from the claims adjuster at Louisiana Farm Bureau that the Supplemental Appraisal paperwork had arrived and she was going to issue us a check. Whoo Hoo! We called the folks at the repair shop and they confirmed that we were ready to go from Monday morning. At last!
I went on line and made us hotel reservations at a local Best Western for a suite with a kitchen and we were at last actually ready to have the bumper fixed. The shop says they will work really hard to try to get it done in 3 days so we made a reservation for 3 nights expecting to pick up the trailer on Thursday morning. We might actually be able to hit the road again soon. What a relief.
Friday morning March 3rd, we had to pack up and change sites within Catalina State Park. When we made our reservations back in February we thought that Friday would be the day we would pick up Walter's new glasses and do our final grocery shopping before hitting the road east on Saturday. Now it was just another day in Tucson—and one where we actually weren't waiting for a phone call or had any errands that we needed to do. What a concept!
It was mostly cloudy and warm (in the 70's) and we decided it was fine day for a visit to Tohono Chul Garden and Gallery just down the road from Catalina State Park. They had a Mexican Crafts sale going on so admission was free for the day—nice deal. We wandered the paths and trails enjoying the garden. It's a mix of native plants like the Gooding Verbena (Glandularia gooddingii)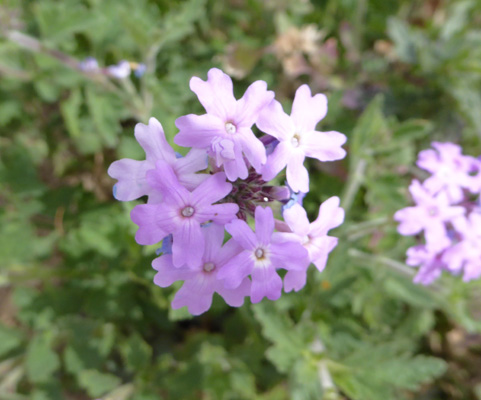 And lots of non-native that do well in this climate like Red Spike Ice Plant.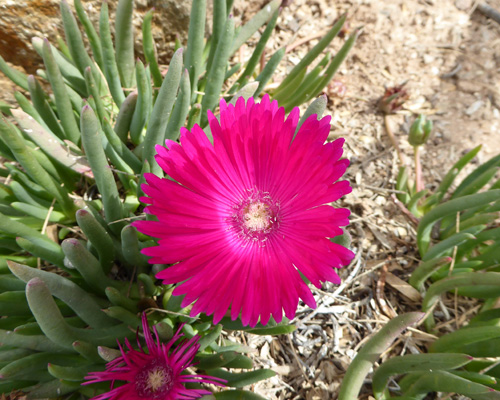 There's a Saguaro discovery trail with nice signs informing you of the traditions of the Tohono O'odham (Pima Indians) around the saguaro. There's a wonderful old saguaro with a crest who really looks like an interesting character.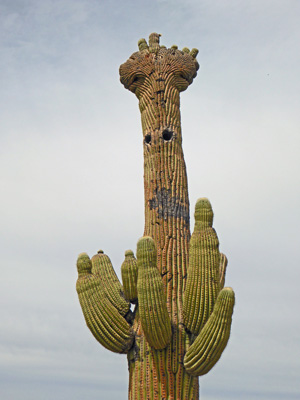 His crest is doing some really interesting things as it grows.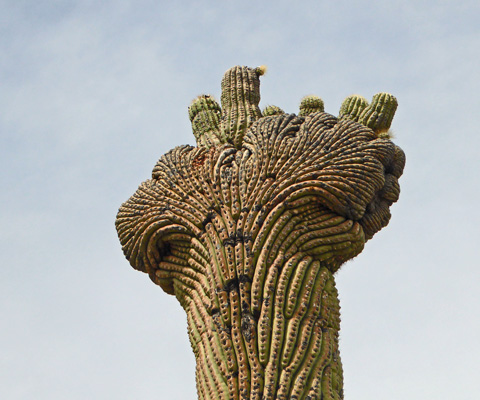 We took the South Loop Trail over to the Pincushion Ramada where they have a collection of pincushion cactus. This Thelocactus conothelos from Mexico had pretty pink blooms.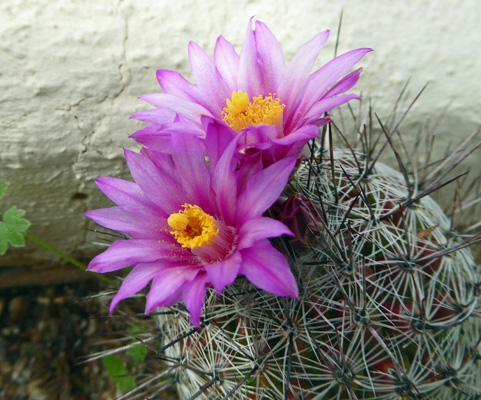 Mixed in with the cactus they had some aloes including this Partridge Breast Aloe (Aloe variegata) from South Africa.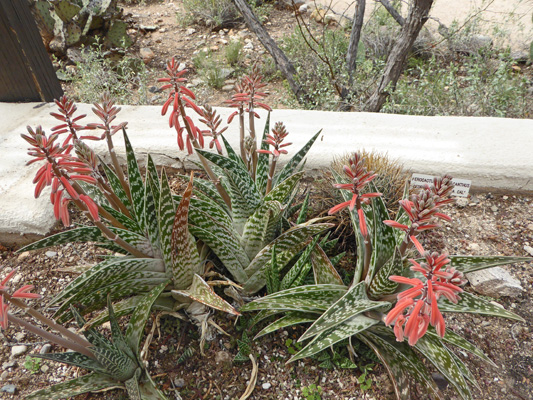 On our way to the Riparian Garden I spied a butterfly in a chuparosa bush.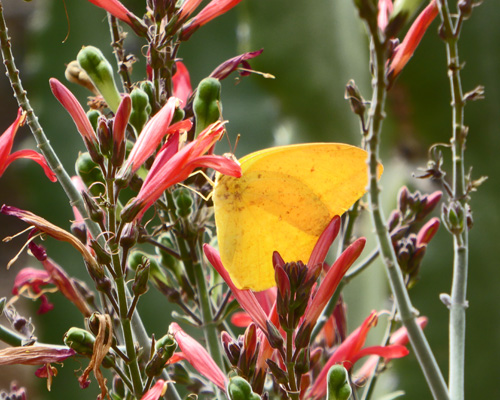 They aren't real good about labeling all the shrubs and annuals here so I quit trying to figure things out and settled back to simply enjoy the flowers since there were so many things that were from all around the world. This lovely purple flower was growing on shrub that is clearly from the pea family. I saw some more of it the next day in the Safeway parking lot so clearly it's not a rare plant.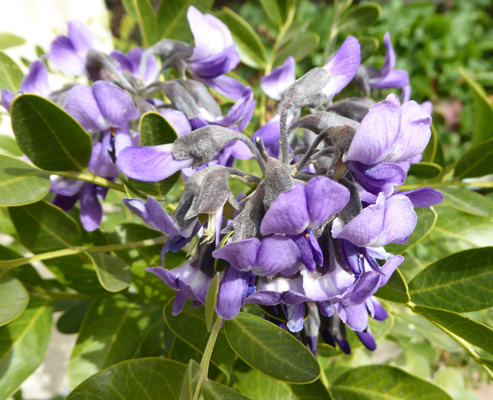 The Riparian Garden was a nice little oasis with a cool stream burbling through. Only 10% of Arizona's original riparian habitat still exists in an undisturbed state which is a major loss for a state that didn't have a lot to begin with.
There was a butterfly garden with non-natives to attract butterflies. I didn't see any butterflies here but there were some pretty red flowers.
This looks like it's from the carnation/pinks family.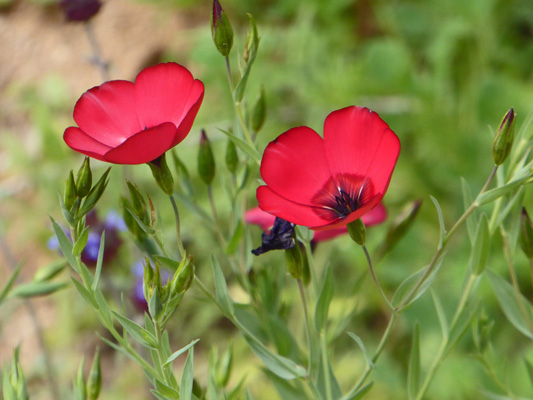 And this might be in the mint family.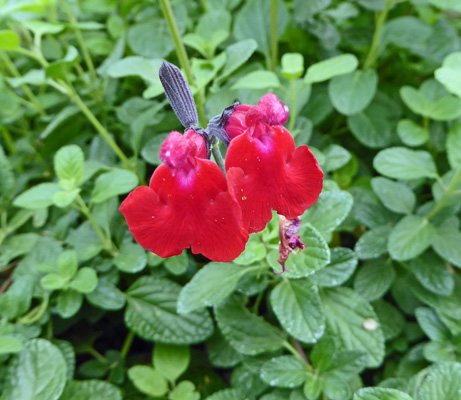 We wandered on to the Spanish Colonial Courtyard and I got this nice photo of Walter in the vine-draped doorway.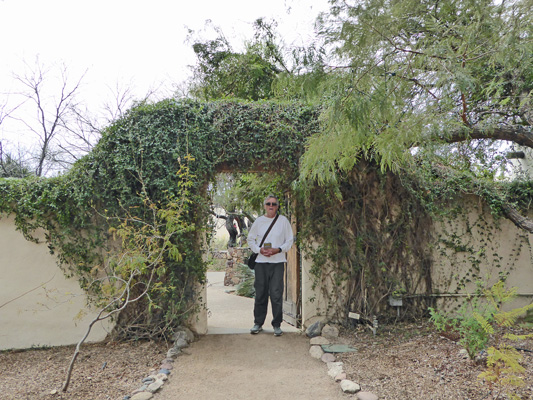 These barrel cacti were outside the gateway.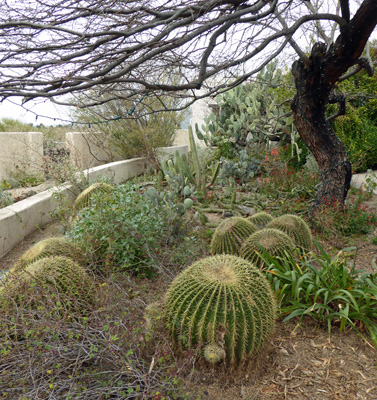 This lovely blue flower has leaves like an ajuga but once again I haven't a clue what it is.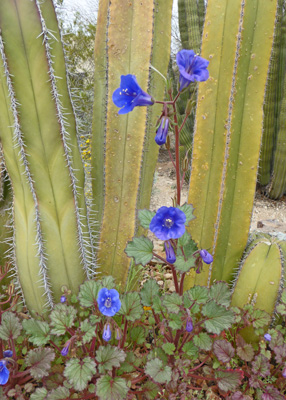 It was growing in with these columnar cactus that made a 'fence' around this metal sculpture of a horse.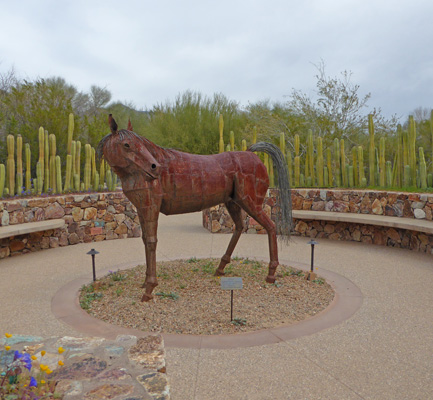 There was a lovely wildflower display in what I think was the Sonoran Season's Garden.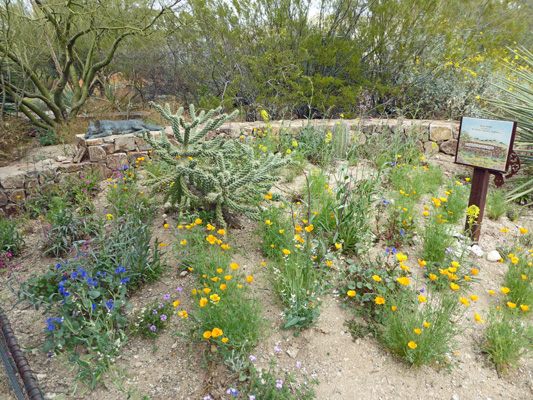 And this sculpture of a lazy coyote rests on the wall of this garden.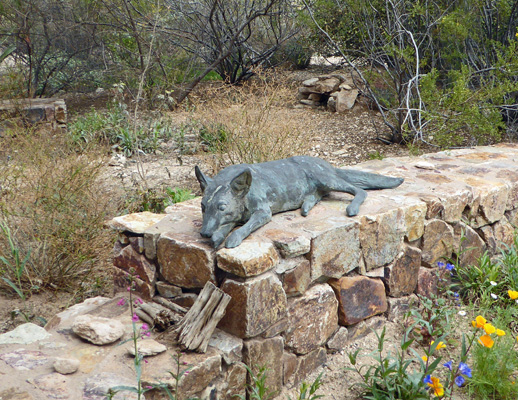 A little further on back towards the entrance we passed this group of quail (just before we saw a group of live Gambles Quail scoot across the path).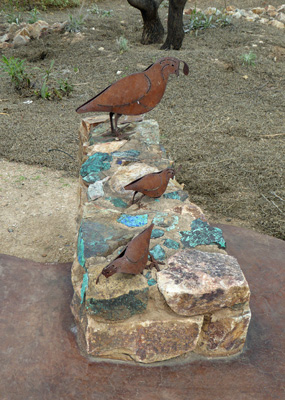 They've built a lot of chrysocolla into the the walls in the garden. It's the turquoise blue copper containing stone that they mine down at the Asarco mine we visited just a few days earlier. In fact, they gave us each a little piece of the stuff at the end of the mine tour.
Right next to the garden's entrance I found a nice example of Parry Penstemon (Penstemon parryi)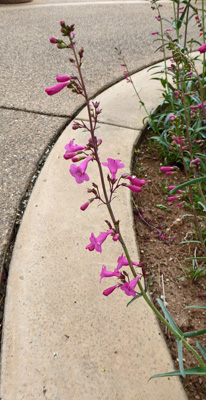 Here's a close up of one of the flowers.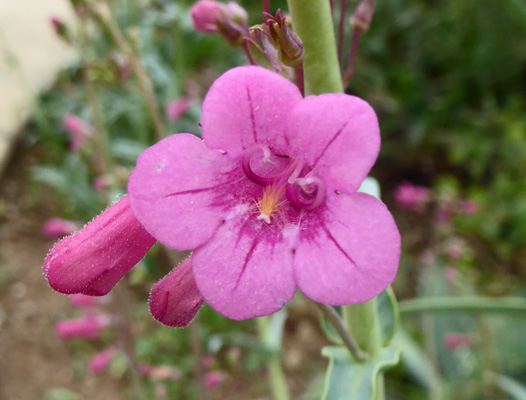 This is a nice garden. It's only 30 years old (though I suspect the buildings and some of the plantings are older than that). The property was donated by a couple who wanted to preserve their house and garden for future generations. It's a huge job to take care of a place like this and the folks running it do a nice job. Under normal circumstances we probably wouldn't have visited this place but being as how we had yet another uncommitted day here in Tucson, I'm glad we did.
The clouds began to clear off in the late afternoon and there were just enough left to make for a great sunset. It started out gold and orange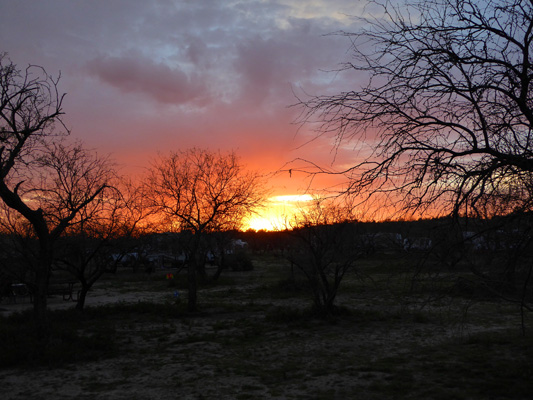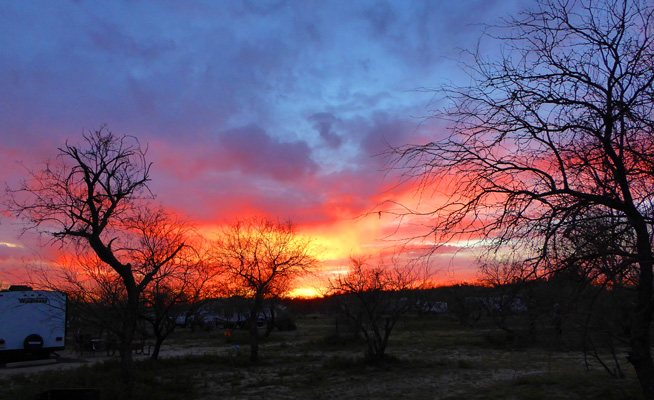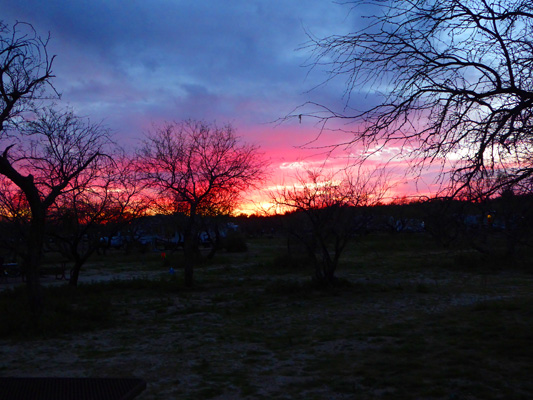 Saturday March 4th, we packed up and moved back to Gilbert Ray Campground on the west side of Tucson. They are a first come first served campground (with a 7 day stay limit) so they have 20 to 30 (sometimes more) sites open up every day. If you get there early enough (usually before 1 pm) you can usually get a spot. We needed someplace to stay for the weekend that wasn't too far away from the repair shop so that we could have the trailer in first thing on Monday morning. Gilbert Ray (where we'd waited for 7 days to see the appraiser at the shop) fit the bill. We arrived right before 11 am and got one of the last spots big enough for Genevieve. They had a number of shorter spots available even when we got back from doing the laundry a little after 2.
It was a breezy day with temps in the low 80s and we enjoyed a quiet afternoon once we got back from doing laundry and a quick trip to the grocery store.