On Monday January 30th, we packed up and left Phoenix Destiny RV Resort in Goodyear, AZ. We stopped at the local Safeway and did our grocery shopping and then took the longer roundabout route back towards Tucson by taking Hwy 85 south to Gila Bend and then I-8 to I-10 thus avoiding driving through downtown Phoenix again (which had been a bit of a challenge on Friday when we did it).
We arrived at Picacho Peak State Park at about 2, hoping to get an extra night added to our reservation (which actually started on Tuesday). The spot we had reserved was already taken for the night but they had another perfectly good pull through spot available for all 3 nights so we took it. We settled in and were happy to see that our phones worked great and that the hot spot which had been very slow last time we were here was working really really well this time. TV over the air is pretty good too.
It was a lovely warm afternoon in the low 70's and we enjoyed ourselves just hanging out. It cooled down into the low 40's that night (good sleeping weather) and we awoke to yet another glorious sunny day. I left Walter at home to do a few household repairs (he got to replace one of our LED ceiling lights that had started to blink a lot) while I drove to the Tucson Social Security Office to get my registration for their on-line service straightened out. 2 hours later I was home signing onto www.ssa.gov and whoo hoo, it's all fixed.
After lunch we drove up the hill to the Barrett Loop picnic area. From here, the Hunter Trail takes you up to the top of Picacho Peak (on the left). It's super steep and considered strenuous. It includes steel cables and gloves are recommended. They even have gloves for sale at the Visitors Center!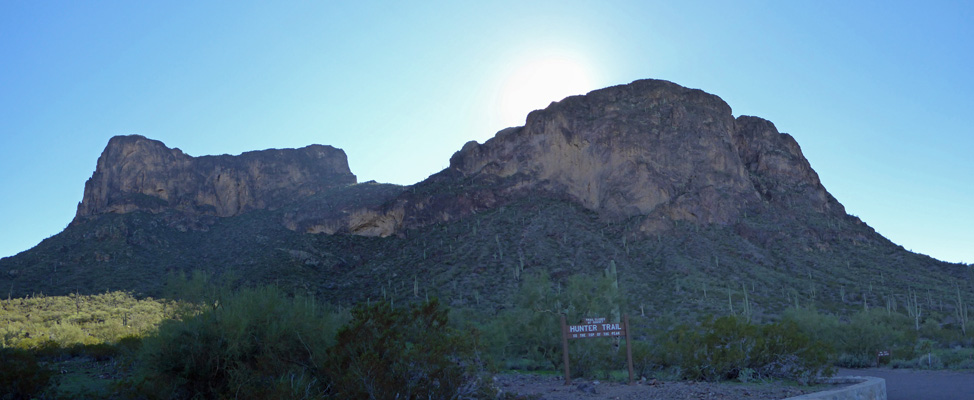 We however were going up the Calloway Trail which takes you up the side of this smaller peak. It's considered a moderate trail. It's only .7 miles but the elevation gain is about 300 feet in that short distance so there are lots of stairs and some of them are WAY big steps since they've been undercut by erosion.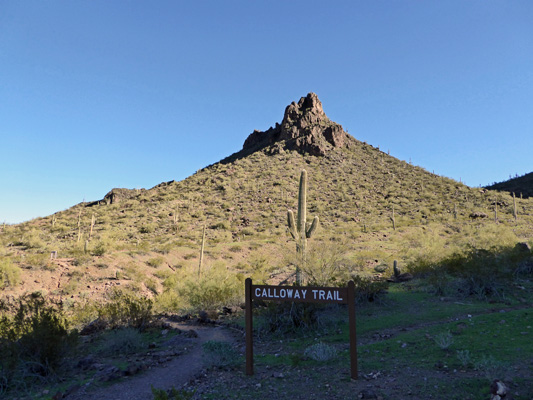 About a third of the way up (after descending into a wash and then climbing steadily up the hill with lots of stairs) we stopped to rest a moment and enjoy the view to the northeast.

As we climbed the sun began to sink further behind Picacho Peak so I tried yet another shot of it as we got closer to it. We could hear children's voices up on the ridge and sure enough a family with two kids made their way down the steep trail off the mountain.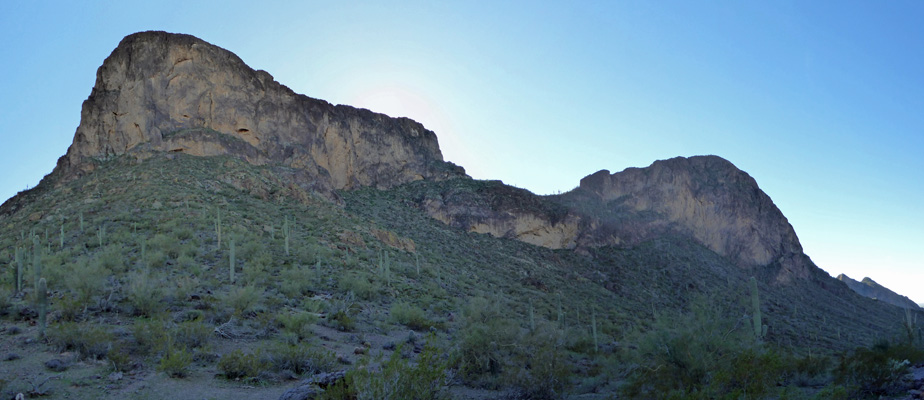 The Calloway Trail takes you around the little peak rather than over it and out to a bench where you can sit and enjoy the view to the southeast—all the way to Tucson.

We sat and enjoyed the view for a while and then headed back through the saguaros and the cactus.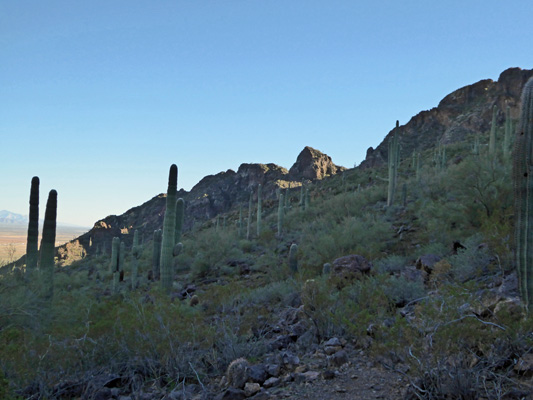 I loved this skeleton of the saguaro silhouetted against the sky—with a healthy one on the other side of the trail.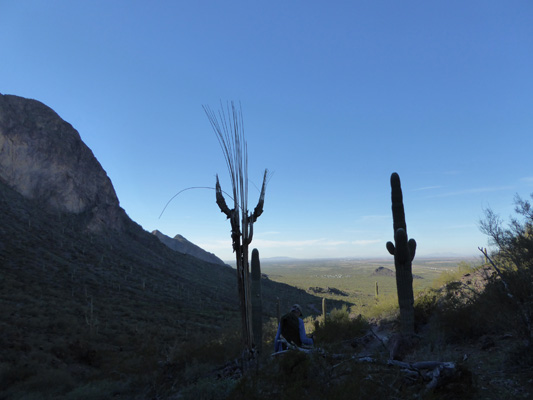 There were lots of compass barrel cactus up at this elevation (2200 feet) and I liked the way this one was backlit for the sun.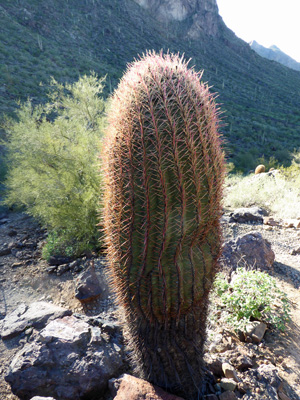 As we got back into the sun I managed to get another shot of the peak we'd climbed.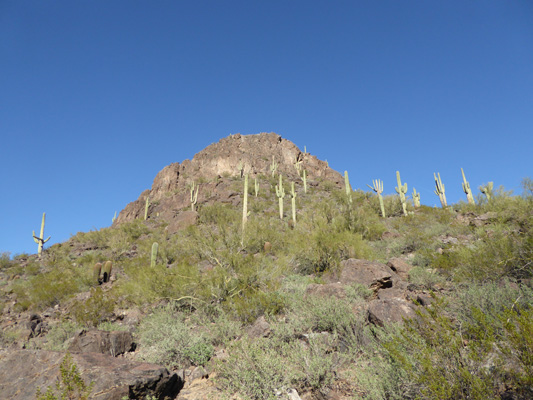 We made the trip up and back in a little under an hour—not bad since the sign said it would take an hour and we'd had a couple of stops on the way up and a nice time sitting on the bench at the top.

We headed to the showers (which were actually hot and free) and I noticed this trio of saguaros standing close to each other. Usually they are spaced pretty far apart but not these guys. And with those arms all pointing this way and that it really looked like they were getting ready to go at it.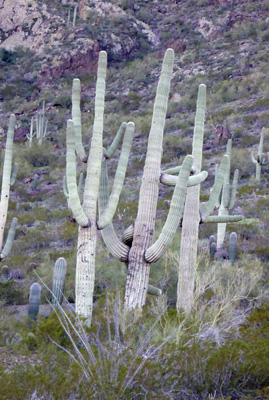 That evening we had yet another win. The appraiser from the insurance company called to say he'd be out to see the damage on Genevieve the next morning. Whoo hoo. He showed up at 8 am and took a bunch of photos and was gone by 8:15. Walter was scheduled for his eye surgery at 2:40 so we just hung loose for the day. They called at 12:30 and asked if we could be there by 2:15. No problemo. We walked in the door at 2 pm and he was done and we were back on the road at 2:45. That's pretty fast since they said to be prepared to be at the surgery center for a hour and half. His vision was a little blurry for a few hours (this is normal) but by bedtime he was seeing pretty well. And by morning everything was sharp and clear and bright like it had been right after his original cataract surgery. Success!
On Thursday February 2nd, we packed up and drove a big 35 miles north on I-10 and I-8 to Rovers Roost SKP Park on the outskirts of Casa Grande, AZ. This is another Escapee Co-op—in fact it was the first one built in the country. It's small and doesn't have a lot of amenities but it's cheap—just $16 a night. We got a nice back in spot (they're all back in) with water, sewer and electricity and within walking distance of the laundry room. I did laundry that afternoon—only $1 to wash a jumbo front loader and 25 cent for 26 minutes of dryer time. Such a deal.
On Friday February 3rd, we headed into Casa Grande to have the oil changed—all those little chores in life still need to be done, you know. And then we headed east to Casa Grande National Monument to visit the ruins. We watched their movie (it was pretty good though the audio was out of sync with the video which was a little distracting). Casa Grande was built by the Southwest Ancestral People (previously inaccurately called the Hohokam). They built a system of irrigation canals along the Gila River and farmed here for thousands of years. Then within about 100 years of finishing Casa Grande, the people dispersed (the current most popular theory is that they relocated because of bad floods that destroyed the canal system) settling both north and south of here. So they are the ancestral people of the Tohono O'odam (Pima) and probably the Navaho and Hopi.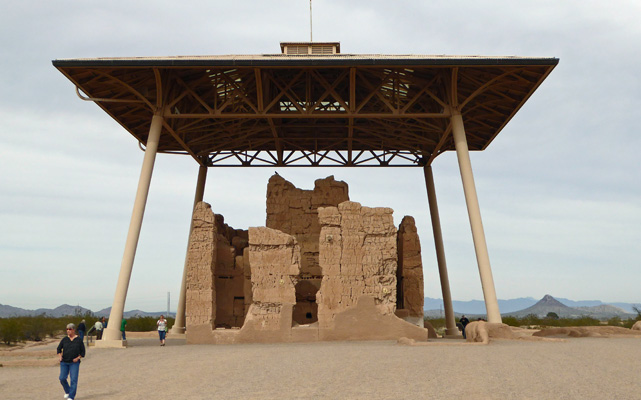 The ruins were named Casa Grande by the De Anza expedition, the first Europeans to come through here. The building is 3 stories tall and had 6 large rooms on each level. There are lots of theories about what it was for, from administration for the canal system to crop storage to a ceremonial center.
The big roof over it was built in the 1930's to protect it from eroding away further in the summer rains. From some angles it looks pretty intact. Needless to say they don't let you go inside.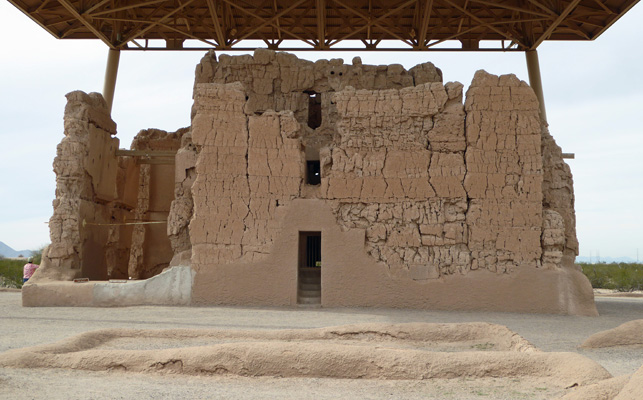 From other angles you can see that whole walls are now gone. Back in the 1900's they did a lot of stabilization work since it was crumbling fast. At this point they mostly are just keeping the base covered with fresh adobe to keep it stable.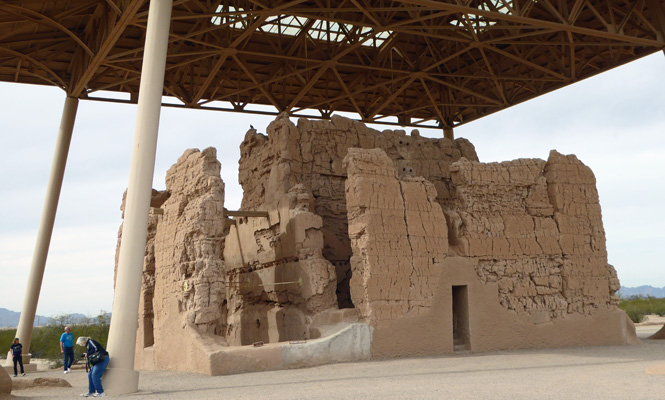 The area is full of other smaller ruins and walls—this was a village with about 200 people living in it, many of them artisans.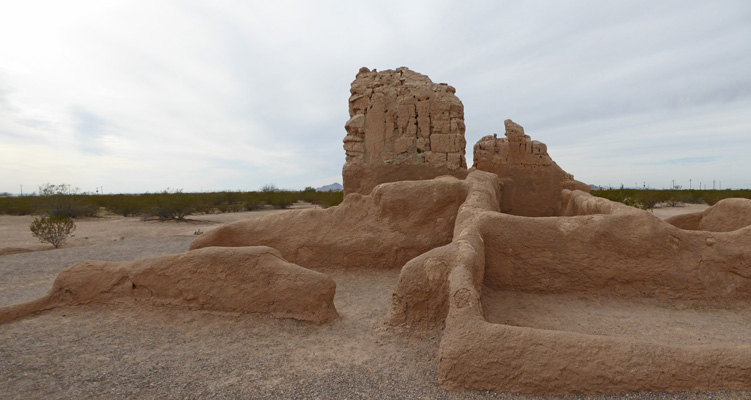 After exploring the ruins we took our lunch to the picnic grounds and enjoyed ourselves sitting outdoors. It was 70 degrees even with the high clouds.
From here we drove further east to the Desert Gardens RV Resort. Walter had read about this place and wanted to see it. It's a high-end resort where they sell you a lot with a full hook up for $15,000 to $35,000. It's surrounded by a nice stand of Jumping Cholla but it's basically out in the middle of nowhere. It's 4 miles from town and the town was nothing to write home about. The lots were nice but it certainly didn't ring my chimes.
On Saturday we went into Casa Grande to the library so I could do a bit of website housekeeping (much easier to do with a fast connection) and then to do errands and grocery shopping. After lunch we took a walk around Rover's Roost looking at the murals one of the residents had painted on the sheds. They include everything from roosters to quail and mountain lions to ring tails. Here's an example: a mural of the Superstition Mountains. We met the artist as we did our walk and she said that painting on the hot sheds was a real challenge and that she'd learned to focus on north facing surfaces over the years.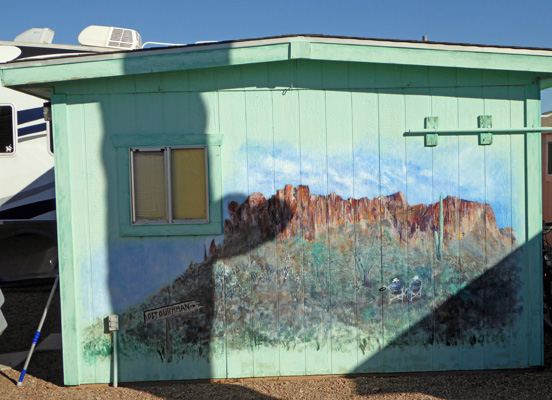 We actually got hot on our walk out in the sun with the temperature close to 80.
On Sunday February 5th, we packed up once again and drove back to Picacho Peak State Park one more time. This time we had a spot in the A loop (the last 2 times we'd been in the B Loop) and we got a nice view again out the back windows.