We've bought a winter house in Sahuarita, Arizona just north of Green Valley and about 30 miles south of Tucson. The house is in a relatively small 55+ community of fairly new houses. We plan to live here 6 months of the year and then continue to travel in the summer months until we find just the right place for us the land for the summer.
At the end of my last missive, I mentioned that we had seen a house we had really liked but that when we got home, it had turned out to have gone pending. Well, Monday morning November 20th, Walter got the urge to call the listing agent and low and behold, it wasn't pending; it was contingent. The buyer had a house in Lancaster, CA (high desert north of LA) that he needed to sell within a couple of weeks to meet the contingency but she was sure he could do it. Hmmmmm. I then had the thought to write to our friend, Julie, who is a long-time highly experienced real estate agent in Washington state to just tell her what was going on and ask her about finding an agent here. She wrote back suggesting we could make a 'bump offer' on the house (something you can do when there is a contingent offer that allows folks who have no contingency to hurry things along and see if they can bump the original contingent offer out of the way).
That evening we had a super duper sunset. It looked as if someone had gone out with a HUGE air brush and spun around in a complete circle painting the sky in sunset colors.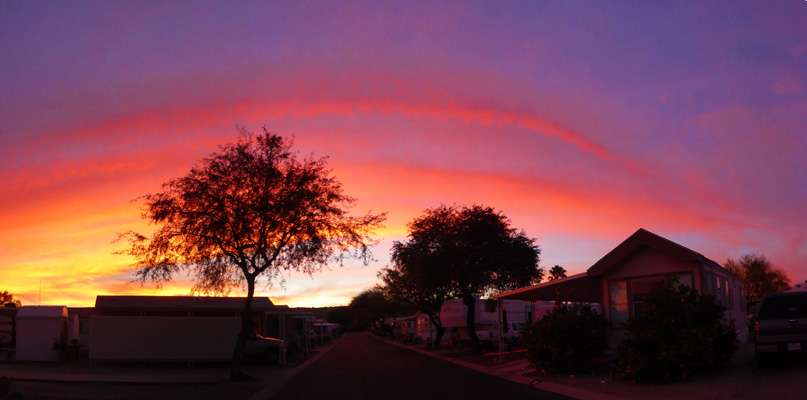 It was just wonderful.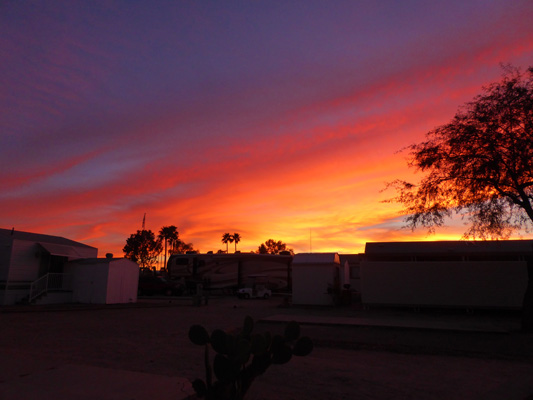 On Tuesday November 21st, we went out to look at houses with the listing realtor (of the house we'd liked) and convinced her to take us to see the inside of the house in question at the end of the day. We liked it just as much once we'd seen the inside and asked her whether a bump offer was possible. Upon hearing what we were willing to offer on the house, she thought for a moment and then said, "I think we can find a way to get you what you want."
She went back to her office and we went home and shortly thereafter she called to say that yes indeed we could make a bump offer. The first buyer would then have 5 days to find the money or back out. Did we want to make a verbal offer? We looked at each other and said, "Yes." Our offer was accepted that evening so first thing Wednesday morning we went in and signed the papers to make the offer official and start the clock running for the first seller. Then the realtor took us to see the house one more time.
It's a 1251 sq foot home on a .17 acre lot. There are no neighbors next to it because it's on the corner of a small cul de sac with a wash (dry creek) running on the 4th side. The front yard is very nicely landscaped (including 2 saguaros—the second is to the right off the edge of the photo) because this was the sales office when this development was built by Dell Web (the folks who built Sun City up in Phoenix). It has a nice covered front patio.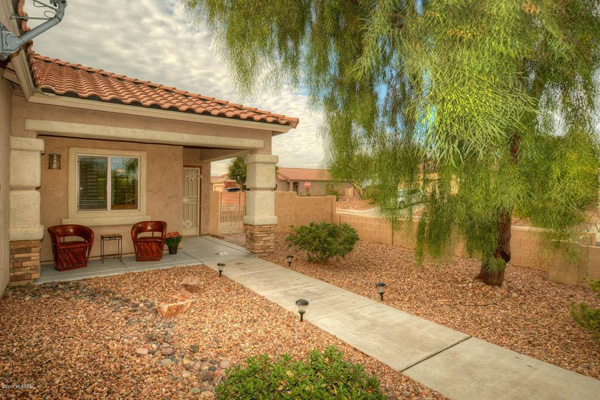 And the whole front yard is enclosed by a low wall (the seller had dogs). There's also an automatic irrigation system to control the buried drip irrigation. Most of what is in the yard is already pretty drought tolerant but over time I'd like to get to the point where we don't use any outdoor water.
That's a willow acacia (Acacia salicina) on the right which is highly drought tolerant with a lovely weeping form. It's old enough now that it doesn't require any irrigation.
Inside the great room has been recently tiled and you can see the dining area and the slider to the back yard.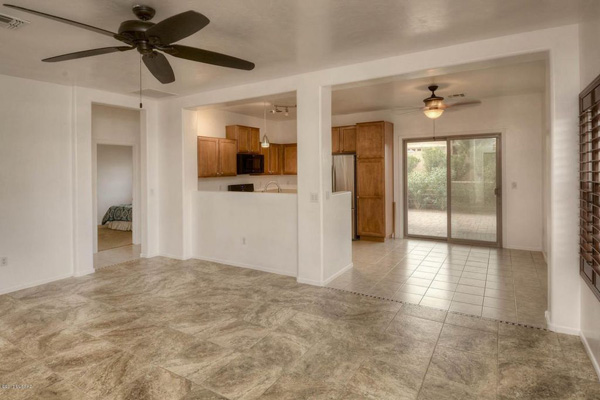 All the windows have wonderful new wood shutters and all the light fixtures are new. Each room has a ceiling fan too.
The kitchen is a decent size with gas stove and a newer stainless steel refrigerator. The house was built in 2006 so nothing is particularly old.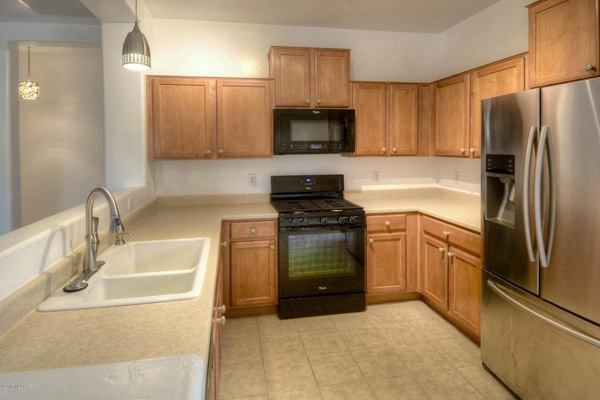 The kitchen is open to the Great Room on the sink side.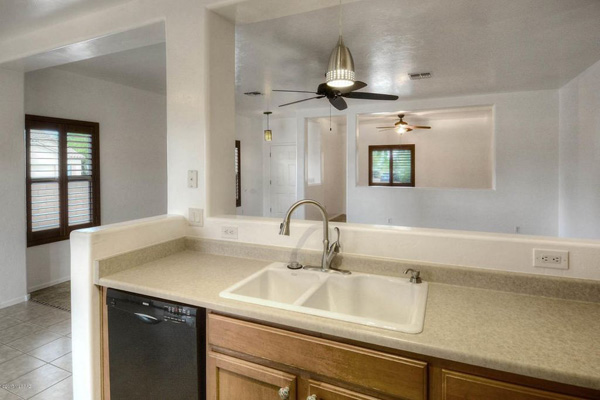 There's a dining area off the kitchen that is also tiled and open to the great room.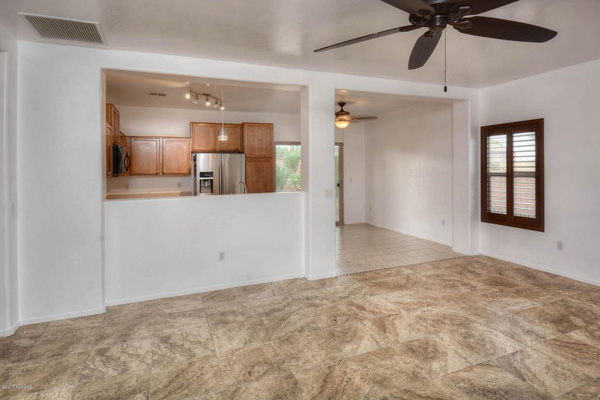 Next to the front door there's a den that is open to the great room on one side and the entry to the other. It reminds me of the house in Monroe where we had an opening into the living room from the garden side entry door.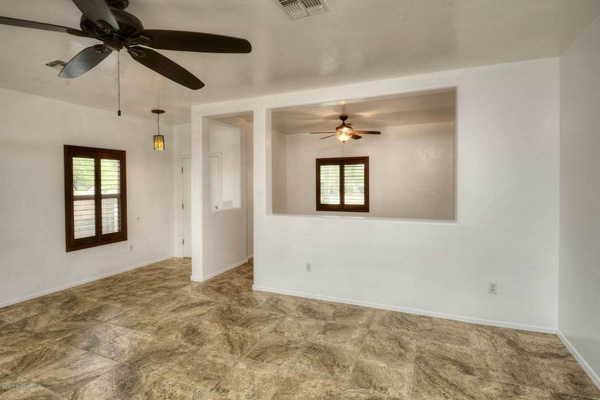 The bedrooms aren't real big but they're big enough for us. The master has a walk-in closet too over on the right.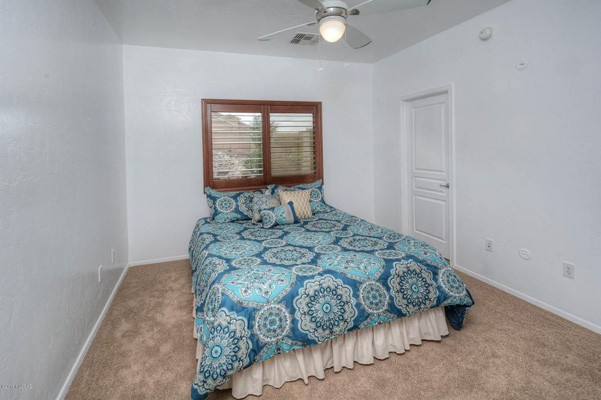 And the master bath has double sinks and a large walk-in shower.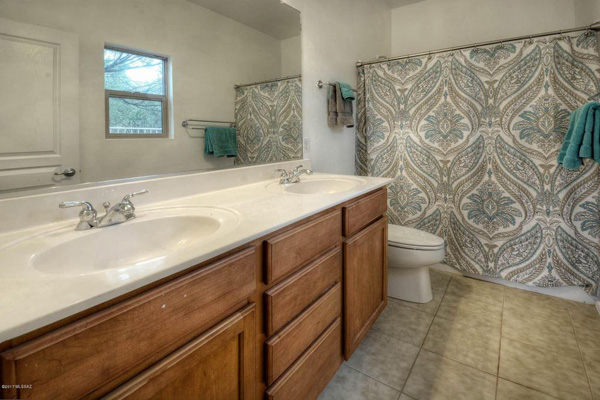 The second bath has a tub and a single sink and it's own linen closet (behind the door).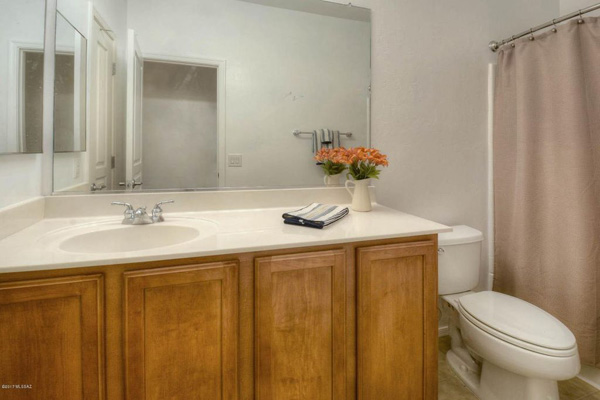 The second bedroom has mirrored closet doors and looks out over the wash.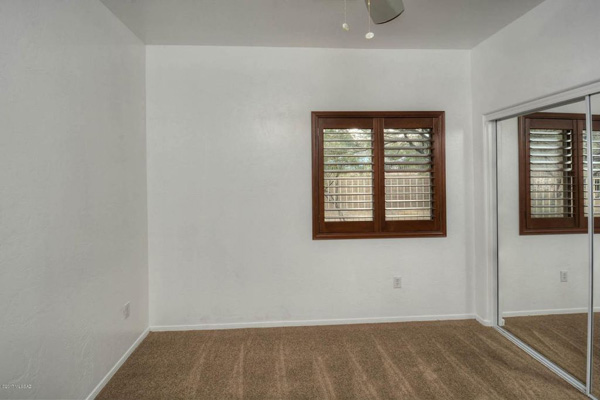 Only the bedrooms have carpet. Everything else is ceramic tile.
The laundry room is in the hall on the way to the garage and has hook ups for both a gas or an electric dryer and nice cabinets over the washer and dryer too.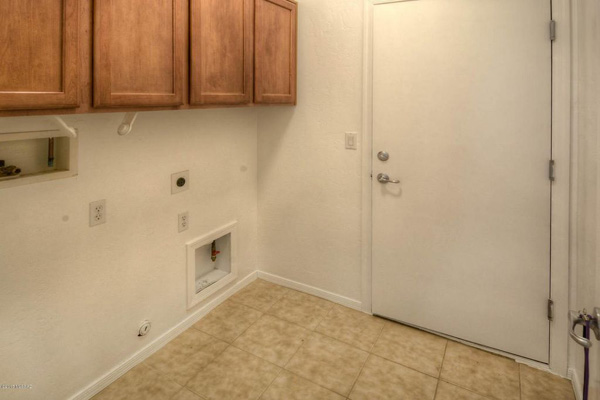 There's a whole wall of storage cabinets and a small built in workbench in the garage but we don't have a photo of it.
Heading back to the dining area, you go out the sliding glass door into the back yard and a long covered patio done in new brick.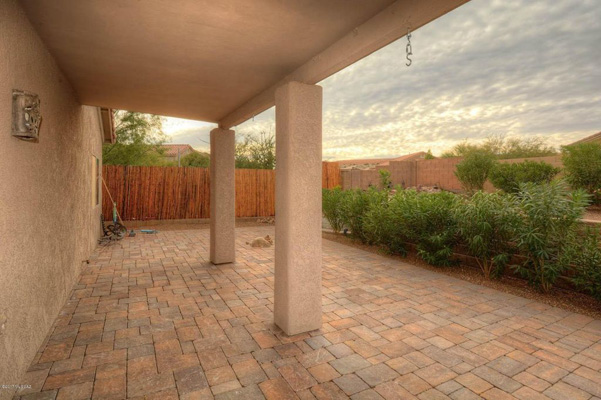 All those bushes on the right are oleanders planted for privacy. I may slowly remove them to put other things in but for the time being they're fine and they do make flowers which are pretty. Oleanders are super drought tolerant (you see them in campgrounds in the desert in Nevada without irrigation).
Over in the far corner (by all that bamboo fencing) there's a small pool and waterfall.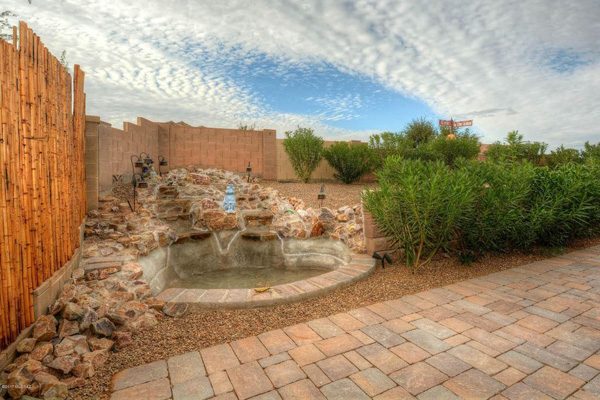 From here you can see that there's yet another row of oleanders up along the brick fence
Here's the view of the patio looking back from the waterfall.
And here's the back and side yards viewed from the back fence. And you can see our neighbors across the street. The houses on this little cul de sac were the 4 models and the office (our house) when the development was built.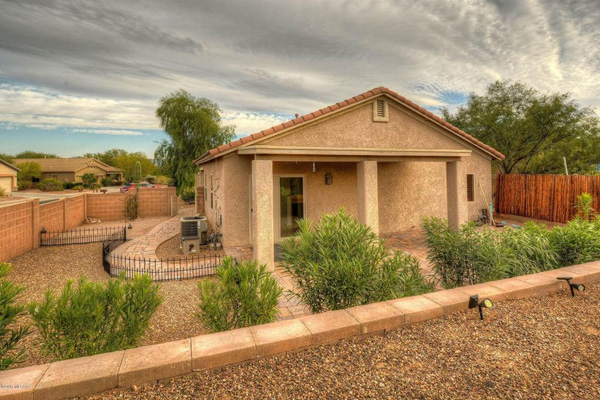 This side yard was used for the seller's dogs. I may make it a Zen garden—all it needs is some boulders and I could happily rake the gravel as a moving meditation.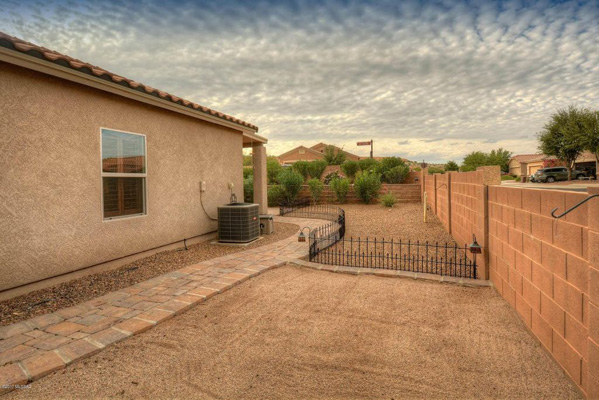 Having finished touring the house one more time we went for a stroll up at the clubhouse for the development. It includes a lovely grassy (GREEN) park with a fountain (and a putting green and sand volleyball and tennis and pickle ball courts.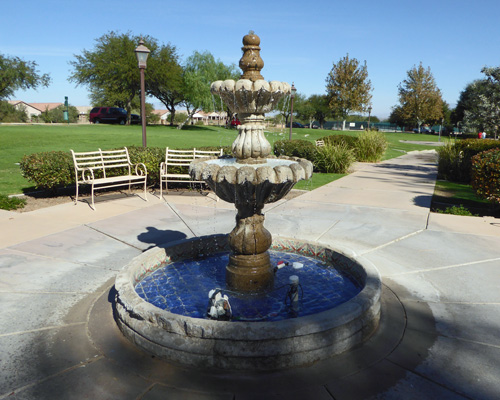 There's a nice pool with spa and one full lap swimming lane.
There's a nice gym, a crafts room (sewing and ceramics with a kiln), several card rooms and a large wood shop. There's a ball room (where they do yoga classes and have dances) and then there's the main clubhouse which has a hotel-like lobby, a computer lounge, and a living room with bar and big screen TV.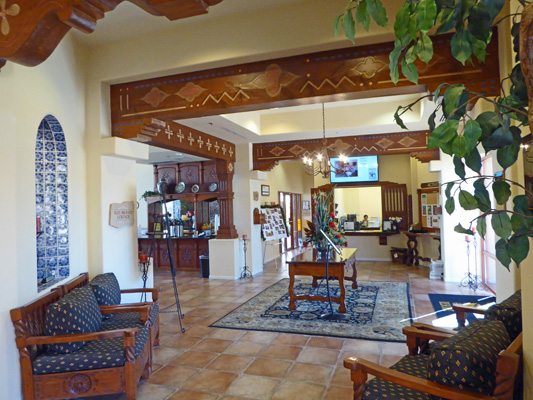 In the outside entry area there's another nice seating area and fountain.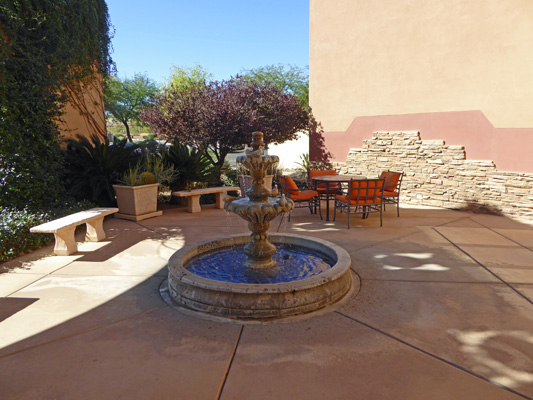 Out the back doors on the way to the pool there's a large patio with outside fireplace.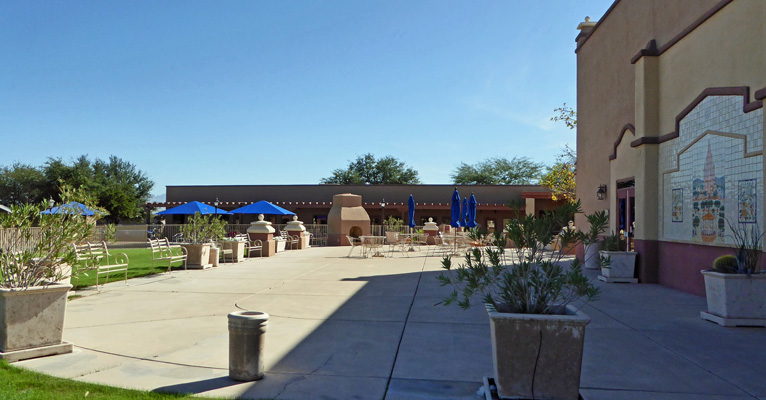 For Thanksgiving we drove up to Phoenix (Goodyear really) to have dinner with our niece, Amy, and her dad, Mike, and 5 of Amy's co-workers (well 4 co-workers and a spouse really). A great time was had by all and we spent the night at Amy's and then hung out together before we headed home to Green Valley on Friday and Amy headed out to go shopping with her friends.
That weekend things still felt good in terms of getting the house and it continued to be hot here (in the high 80's) and hit a record high of 92 for the date on Sunday. We have had ore hot weather here in Green Valley in November than we had all the rest of the summer.
First thing on Monday morning (earlier than usual) Walter got up with great purpose and turned on his phone. And there was a text message saying that the first buyer had pulled out and the house was ours! Whoo Hoo. Since we are paying cash this will be a FAST close. We'll take possession of the house on December 12th (just 2 weeks from start to close).
This past week has been a blur of inspections, paper work, and making arrangements for the move. Since Walter is still not feeling tip top, I'll by flying by myself to Seattle this coming week to meet the movers when they load our stuff that's been in storage for 3 1/2 years into a truck to bring it to Sahuarita. They don't promise a delivery date but they guarantee it will be here by December 21st. Merry Christmas to us. I think we'll put a bow on the front door and call it good!
We've even found a place to store Genevieve Airstream for only $22 a month! The storage yard is next door to the Sahuarita Community Garden. I was delighted to see such a lush and vibrant garden out in the desert. Those are onions growing in the foreground.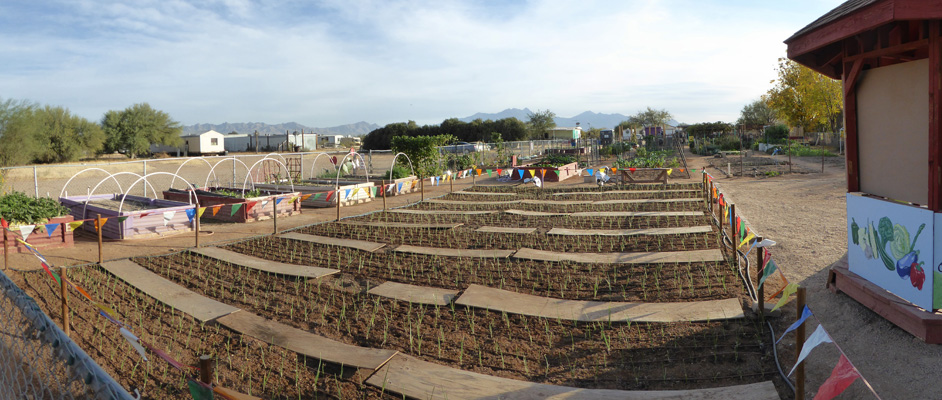 This whole process has been totally in the flow. I haven't felt things move this smoothly and had anything felt this right since we decided to buy the Airstream and not buy a house. We're both really pleased both with the process and with the house. And at under $135 a sq foot for a newer house what's not to like?
I fly to Seattle on Wednesday December 6th (after Walter has his echocardiogram and they hook up his Holter Monitor which he gets to carry around for 24 hours). I have Thursday to reseal all those boxes we've opened looking for things over the last 3 1/2 years. And then Friday I meet the movers and they load everything up. I fly back to Tucson on Saturday morning. Whew. We sign the closing documents on Monday and Tuesday the house is ours! While we wait for the movers to get our stuff to us we'll be meeting the gas man and doing house prep (shelf paper and the like). Meanwhile somewhere in there we'll finish up our Christmas shopping.