Sunday October 1st, we broke camp at the Wayne County Fairgrounds in Yspilanti, Michigan and headed west on I-94 just a ways to Hwy 23 where we headed south down to Toledo, Ohio which we skirted on I-475 and then picked up I-75 heading south through western Ohio. About 50 miles north of Dayton we picked up Hwy 274 east to the town of Jackson Center, OH and the Airstream Terraport on the grounds of the Airstream Factory and Service Center. One of the loops of the Terraport was entirely full but we found a spot in one of the other loops and set up camp.
We had an appointment to repair Genevieve's dent (that we'd gotten when we got stuck in a gas station back in May) at 7 am Monday morning so we just leveled things and hooked up the water and power and called it good since we were going to have to have her ready to move first thing in the morning. It turned out that the nearly full Terraport was because there were folks here after a big Airstream rally in Sugarcreek, Ohio. The rally had broken up that morning and they just moved west to the Terraport to continue the party. They had their own special tour of the factory the next morning and then left EARLY (as in 6:30 am) on Tuesday morning leaving the place nearly empty.
Sunday was a lovely day with temperatures in the 70's. There were just enough clouds to make for a great sunset too.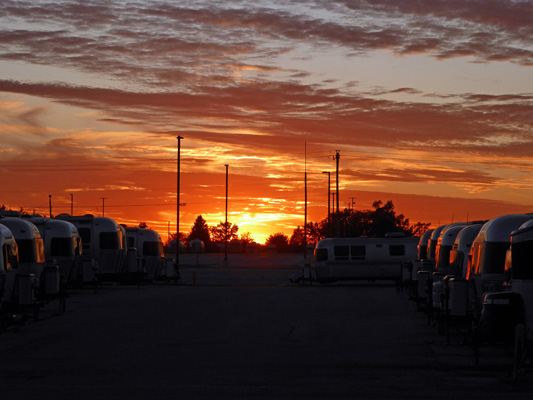 All those Airstreams are ones parked here waiting for service or to be picked up after having been serviced.
It was cold that night and only 41 outside when we first awoke a little before 6 am—not my favorite time of day. We had breakfast and got the trailer ready and then went and checked in with the service department. And of course while we were checking in someone came in and gave us all the news about the horrific shooting in Las Vegas just a few hours before. We sat and watched the news while we waited for our technician and once he'd checked in with us to say he was starting work, we then headed to the PO to pick up our mail and then to a nice Laundromat where we did the laundry. The Post Office had the strangest hours I've seen anywhere: 8:15 to 12:15 and then 2:30 to 4:30. I'm used to small town PO's being closed for lunch but this was weirder than most.
We were done with the laundry before 10 and then went back and used the WiFi in the waiting area to pass the time as we waited. It was in the low 80's and folks were starting to complain about how warm it was outside. Late in the afternoon, we took the tour of the old original Airstream Factory across the street where they now make the Airstream Interstate, a Mercedes van conversion. It was a reasonable way to the get outside and while away the time.
They got most of the repair done that first day and water-tested the new seams in the factory's Q. C. Then they put Genevieve back in our spot while we were gone on the tour so that we were back in the trailer by 4 pm. Since they'd made such good progress, Walter asked them to check our brakes the next day too since we're coming up on 50,000 miles on the trailer (they turn out to still have lots of life in them). We got up early again the next morning (we both woke up WAY early and didn't go back to sleep) and had the rig ready to go at 7 am and were outside when the guy came to pick her up at 7:02. I dropped Walter off at the lobby (since we were hoping they might get done pretty early) and I went and did another load of laundry in the form of all of our rugs—nice to have heavy duty machines and no one else using the place to get that done for a change. It was much warmer than it had been the day before and I went for a walk at sunrise through the residential area (which is what Jackson Center is mostly) and watched folks loading their kids in their cars and heading off for work. I was all done and back at the Service Center by about 8:15.
We hung out and used the internet and read our books and still at noon they weren't done yet. So we went for a drive looking for someplace to have lunch—2 taverns and a Subway is all we came up with and so we opted for the Subway. The trailer was ready by about 1 pm and we decided that we would spend another night there rather than asking ourselves to drive 200 miles starting so late in the day. Besides it was HOT (it was in the high 80's) and we were tired. So we put the trailer back in her spot and took a nap!
This was the most painless repair visit we've had so far. Having a place to stay right on site makes it so much easier than having to break camp and then drive for an hour or more and then hoping they get everything done by the end of the day. Here we knew we had a place to stay no matter how long the repair took since they always return your rig to your spot at the end of the day. AND there was WiFi and a comfortable place to hang out—plus lots of other Airstream folks to talk to.
The Terraport is a great place to stay. Walter found enough TV over the air to make him happy (including Sunday night football) and both our phones worked (mine didn't the last time we were here but wonders of wonders I had 5 bars!). Our hot spot worked on Sunday when we didn't have the WiFi password yet. And the Wifi worked pretty well even out in our rig—though when the place was full on Monday night it was a bit slow. Anyone--whether they have an Airstream or not--is welcome to camp here. If you don't have a repair appointment, it costs $10 a night. If you have a repair appointment, it's free! Such a deal. This is NOT an RV park though. There is no bathroom and no showers. Just 24 full hook up sites and a dumpster. But it's paved which is more than you can say for many of the RV parks that we camped in during our time in the northeast.
It was mostly cloudy with dark clouds off in to the west when we broke camp the next morning. We had both awakened at 6 am again and happily gone back to sleep—even if we did both awaken again at 7 when they came and picked up the rigs around us –nothing like a John Deere Tractor to wake you up. We took it slow so we didn't roll out until well after 11. We headed west on Hwy 274 to I-75 where we turned south towards Dayton, Ohio. Just before we reached Dayton we turned west on I-70 and headed towards Indianapolis. We skirted Indy on I-474 and picked up I-70 again. About half way to Terre Haute we exited and drove south a short distance to the Cagles Mill Lake area of Lieber State Recreation Area. The Poplar Grove campground there was nearly empty and they gave us a nice electric only back-in site for $28.35 a night tax included.
It had rained off and on as we drove and there were lots of puddles in the park but it had stopped by the time we arrived. We got into our spot okay even though this was yet another campground where the sites are perpendicular to the road which makes it much harder to get in. We set up camp and discovered that neither of our phones had signals and of course that meant the hot spot didn't have anything either. After a nice nap (it was warm and super humid) Walter discovered that he got tons of TV over the air including the two sets of PBS stations—the park is between Indianapolis and Bloomington.
It sure was nice to be back in the woods again after 5 days of camping in 'town'. We heard lots of frogs and crickets and even an owl that evening. It began to rain again in the middle of the night and kept at it until mid morning. We had water running down the pavement in our spot which made us grateful that is was a bit downhill so we we weren't camped in a big puddle. We waited the weather out and when it had pretty much stopped we drove back to the office to ask for instructions on getting to the Cataract Falls portion of the park. We followed the directions which took us through local farmland (field corn) and in time made it to Cataract Falls. We were the only folks in the parking lot for Upper Falls.
It had started to rain again but it wasn't too bad as we walked down to get a view of Cataract Falls Covered Bridge.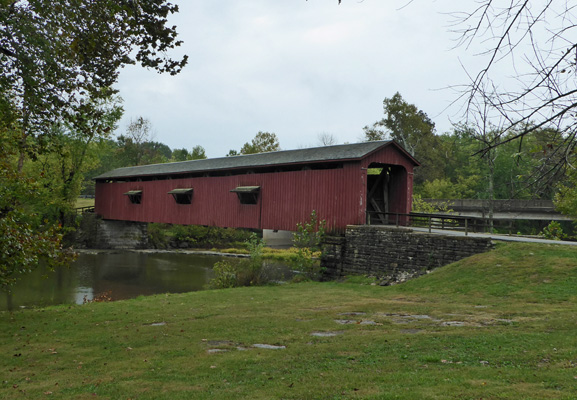 It's the only surviving covered bridge in Owens County and one of the best examples of a Smith Truss Covered Bridge in the country. It was a pre-fab bridge in that the trusses were build indoors in a shop in Toledo and brought down and installed here when the bridge was built.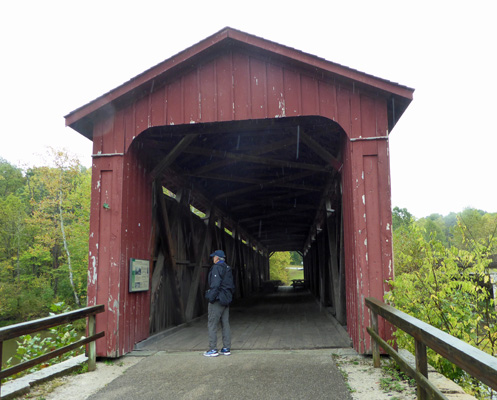 The bridge had windows on the downstream side. You can just see the very top of Upper Cataract falls from here.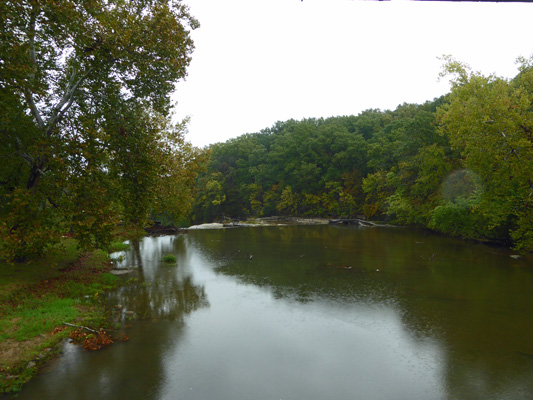 Mill Creek has cut its way through a large limestone deposit and created a series of cascades. The Upper Falls is just downstream from the covered bridge.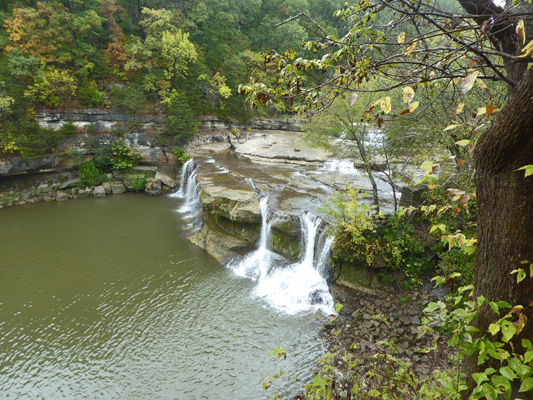 There are several overlooks (all with big puddles from all the rain) to give you different views of the falls.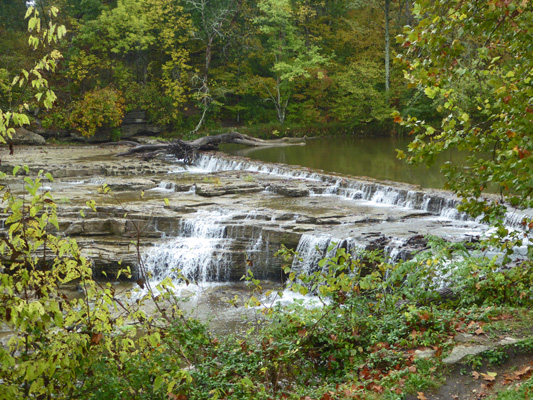 And from one you could peak through the trees and get a view of the covered bridge upstream.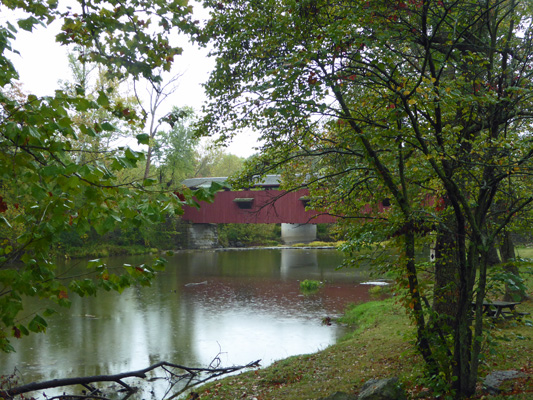 There's a nature trail in this area but since it had started to rain again we gave that a pass and drove on down to the Lower Falls parking area where we were once again the only folks there.
There are two overlooks here too. One is a bit farther away and I climbed out on the limestone ledge to get a picture of the full falls.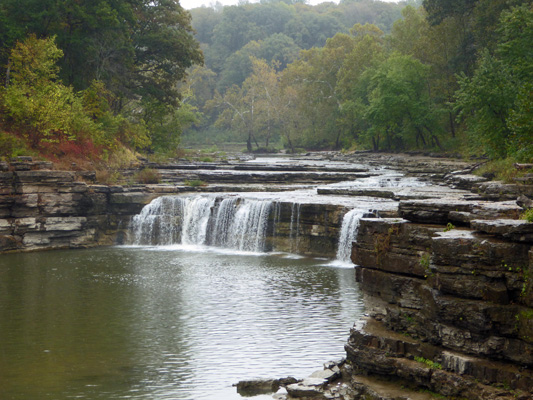 The other is nearer and has a fence to keep folks from getting to far out onto the ledges.
Since folks wrote on-line about walking across the top of the falls when the water was low, I don't think the little fence and its sign are very effective.
Having explored this portion of the park we drove back to the campground area and then out to the boat launch to have a look at the lake. On the way we spied a flock of wild turkeys right along the edge of a stand of field corn.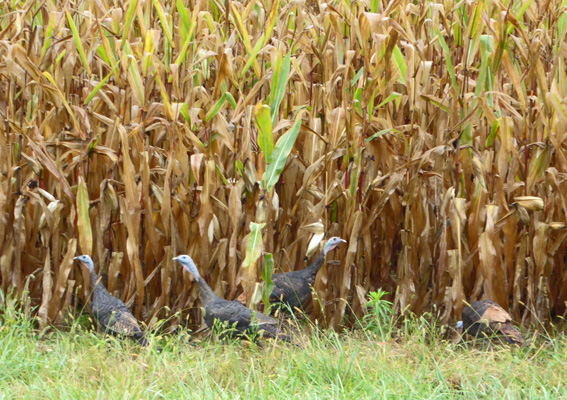 Cagles Mill Lake is a flood control reservoir that is also known locally at Cataract Lake. There's a boat ramp, a marina and a swimming beach (and an outdoor pool). Folks fish here and we saw a lot of houseboats and pontoon boats parked at the local 'yacht club'.

There was a Great Blue Heron hanging out at the water's edge who wasn't fazed by me at all.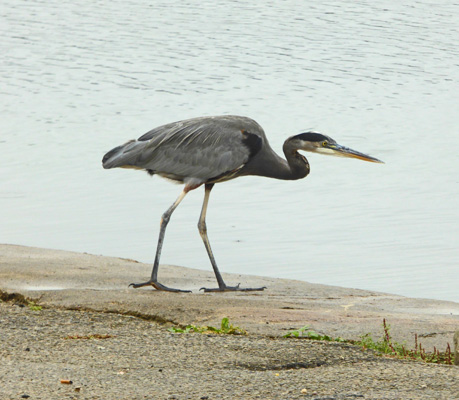 Clearly he was watching fish. I heard a number of them jump while I was out taking photos but he didn't go after any while we were there.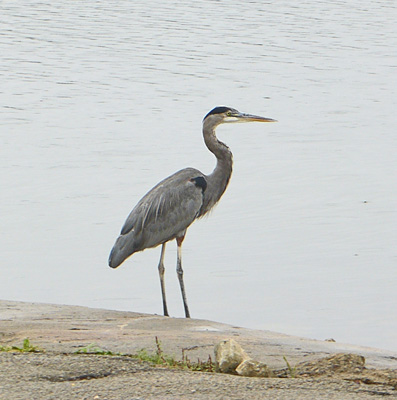 From here we went over to the marina area (folks were fishing there) and watched the fish jump as we ate our lunch. It rained off and on and it was no more picturesque than the other area so I didn't bother with photos. I found this lovely red leaf on our parking pad when we came back. There isn't much fall color here yet (it's been too hot of late) but there is some.
It was fairly dry for the rest of the afternoon. It got up to about 68 (it had been down to 66 in the morning in the rain) and we had a restful afternoon reading.
Friday October 6th, we broke camp and headed west on I-70, through Terra Haute and over the border into Illinois. We kept on until we were nearly in St. Louis and picked up I-270 which took us to Granite City and the St. Louis NE/I-270/Granite City KOA. The location of this park is downright odd. You turn off W. Chain of Rocks Road into a truck yard and the whole park is surrounded by tanker trucks and school buses. Oh yes, and a rail road crossing at the end of the block where the trains have to sound their whistles as they pass. But the park itself is full of trees and very pleasant. As I was standing in the office waiting to register someone called and canceled their reservation so we got a nice pull through full hookup site with free WiFi (that worked pretty well) and cable TV. It was a KOA so the prices were high. Our spot was $45.90 on Friday and Saturday nights and $44.10 on Sunday night with our 10% KOA card discount . While that's a bit high it's not bad for a metropolitan area. We were here to grocery shop, do errands and laundry and all that was easily done from here. If you're looking for a home base to see St. Louis it's probably not a bad place to stay either.
It was clear and hot and humid that afternoon—getting up to 88. It didn't cool off much in the night (it was already 72 when we got up). So it wasn't the most comfortable sleeping weather. We had all the windows open and while it's not that far to the freeway we really didn't hear it much. We did however stay up until after 11 because there were auto races at the nearby race track and they were super noisy! They were done about 10:30 so it wasn't too bad. We'd picked up an hour at the Illinois border when we entered Central Time so staying up was a good thing in that it helped us adapt a bit.
Saturday morning it was sunny and windy to start. Our metal blinds clanking in the wind woke us up pretty early. Clouds rolled in pretty quickly but the temperature was still up in the mid 80's. So we turned the air conditioning on when we left to go shopping because we didn't want to leave the window open since we were due for rain. We got back from our errands just as the rain began. It rained for several hours and brought the temperature down into the 60's so we could turn the air conditioning off (it's really noisy) and still be comfortable. By late afternoon the rain was over and the sun was out and we had the windows open again. The humidity was still high but at least it wasn't hot!
Sunday we did laundry and Walter watched some more football. On Monday we'll head into Missouri. Our plan for the next few weeks is to drive 200 miles on Monday, Wednesday and Friday which allows us to have a pattern of staying places two nights at a time during the week and three nights on the weekends. 600 miles a week will get us to Arizona by the end of October without a problem. And we've got lots of wiggle room if we find a place we'd like to explore more.