On Monday January 2nd, it was mostly sunny when we packed up to leave Rio Bend RV Resort in El Centro and head northwest up the west side of Salton Sea to Lake Cahuilla Recreation Area in La Quinta, CA just west of Indio. This is a county park that is part of the Passport American program. It's the first public campground we've come across that participates in the program. We got a nice electricity and water site with a view of the lake for $15 a night! They honor Passport America Monday through Wednesday as long as it's not a holiday. Such a deal!
While I was sitting waiting for Walter to check us in, I noticed there were some big critters down in the Day Use Area. Looking closely I realized that they were big horn sheep!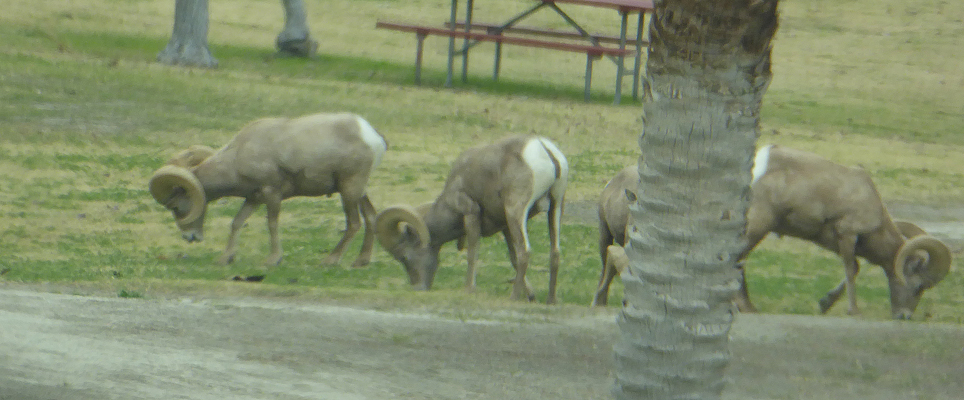 They were a LONG way away and I was taking photos through the windshield of the truck so they aren't stellar but hey, they're big horn sheep!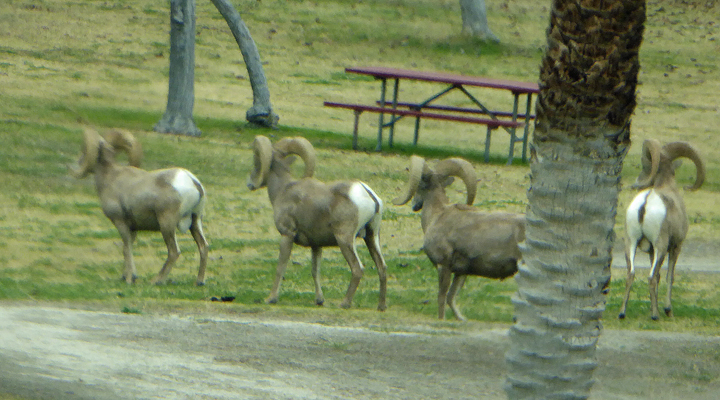 They come down out of the surrounding mountains where they are protected in the Santa Rosa and San Jacinto Mountains National Monument (and the Santa Rosa Wilderness). There's no fence between the park and the mountains so all that sketchy grass must be calling to them.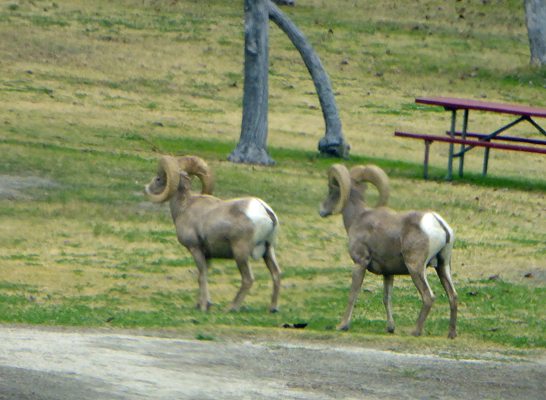 I'm glad I took these photos because while there are signs all around telling you to be careful of the sheep we didn't see them again during our stay here.
We drove on over to the campground and discovered that there was no one in the spot behind ours so we could just pull right through it and into our back in spot without backing in. It's nice to get a freebie every so often! In addition, because that spot was empty we could see the lake from our back window. Score!
We set up camp and after lunch we went for a little walk along the edge of the lake (it's really a reservoir that provides water to the area so they don't allow swimming or boating).

The big horn sheep had been down there where the palm trees are at the foot of the mountains. There were a lot of folks out fishing. They sit on the little ledges that are a bit like amphitheater benches. That little triangular shelter on the left is a free WiFi hot spot. It doesn't reach far so they provide a nice shaded spot (with a couple of old office chairs and electrical outlets) for people to access it. Our hot spot worked fine here (though the only TV Walter could get over the air was the SoCal PBS station with lots of kids programing and a Spanish Language channel).
On Tuesday January 3rd, it was mostly cloudy (you could see a yellow disk trying to burn through the clouds but it never broke through) and the lake was like a mirror.
We set out to hike around the lake (clockwise). We followed the shoreline to the Day Use Area.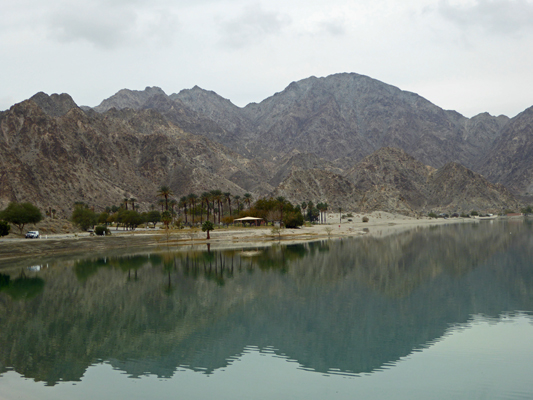 There were cormorants out in the lake and along the shore along with the sea gulls.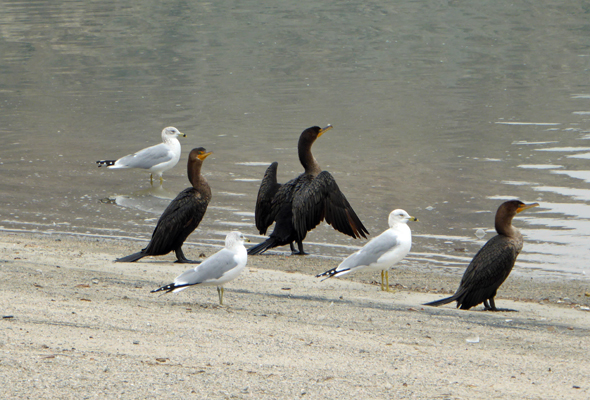 We stopped to explore the Day Use Area and got a nice view of the mountains behind it.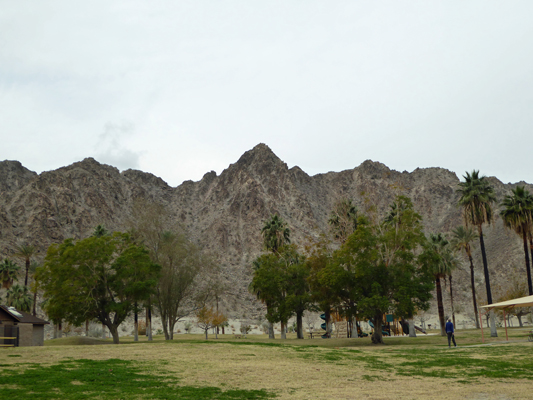 I spied a woodpecker in one of the acacia trees but of course when I got close enough to shoot a picture it flew off way up into one of the palm trees.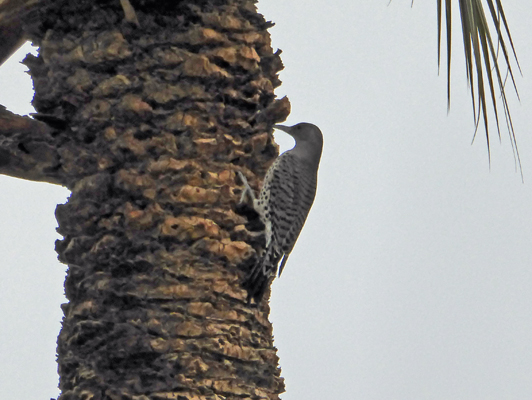 We carried on past the Equestrian Group Camp until we ran into big Do Not Enter Signs at the Sheriffs' Pistol Range. Oops. So we turned back past the Equestrian camp and found our way onto a breakwater which we hoped might connect up with the other side. We got a nice view south across the lake. The blue roofs are over at the public swimming pool which isn't open in the winter.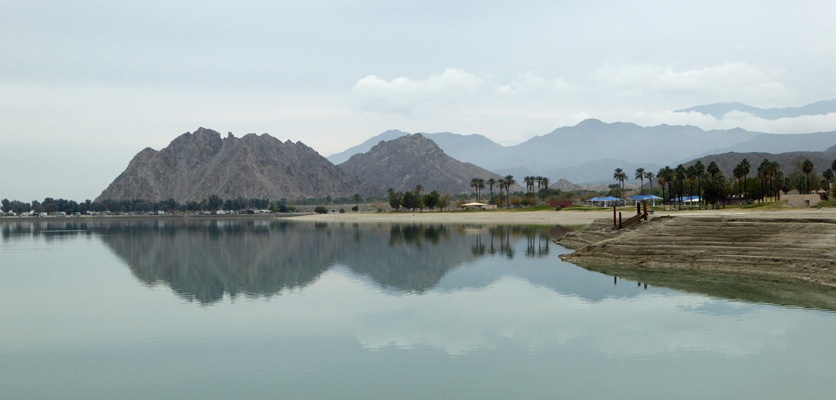 And there were really nice reflections in the still water north of the breakwater.

There were lots of white pelicans out on the breakwater.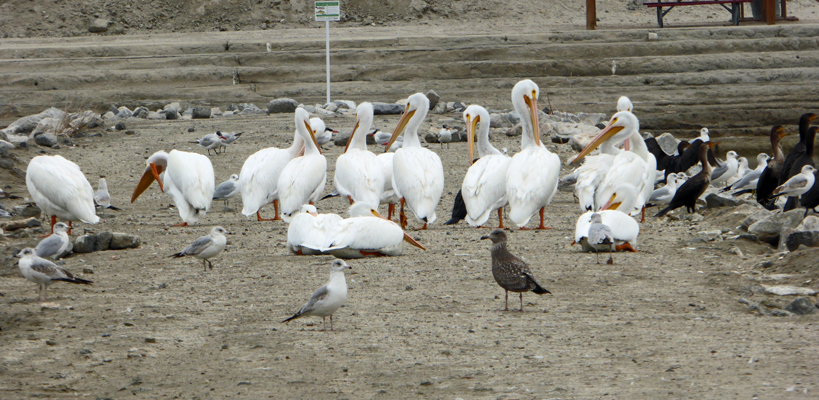 With a couple close by posing for me.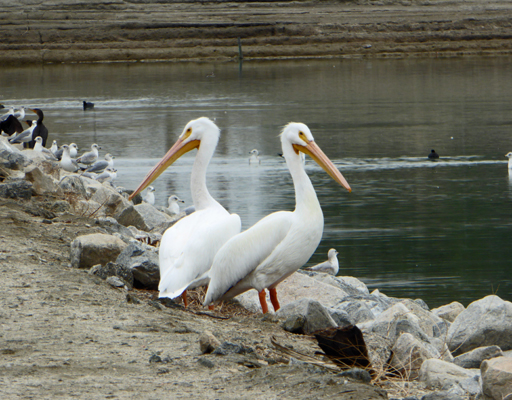 As we got closer they all took off and landed out in the lake,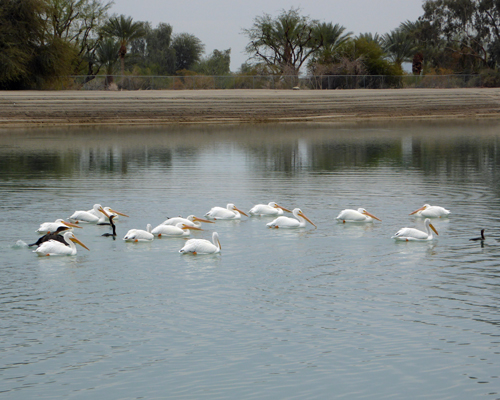 And we discovered that no, the breakwater didn't connect up to the other shore and there was no bridge. Sigh. Along about this point Walter pointed out how we could have gone behind a building and followed the northern shoreline (within the fence) to make the circuit. And of course then some folks coming counterclockwise around the lake appeared just about then to confirm it. If you do the hike counterclockwise there's really no way to get lost. But of course, we chose to go the other way and got slipped up.
By this point neither of us had any desire to back track and then make the full circuit so we just backtracked and went on back the way we came. Along the shore there were pelicans mirrored in the still lake.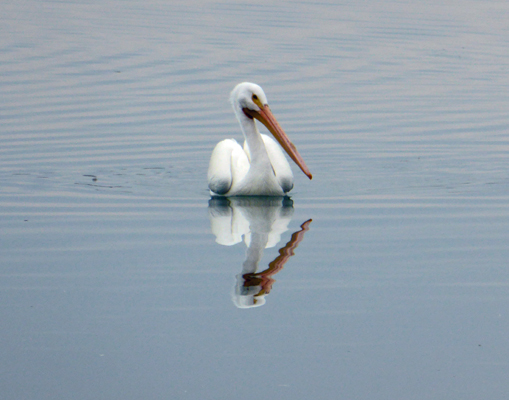 I couldn't decide which of these poses I liked best so I include them both.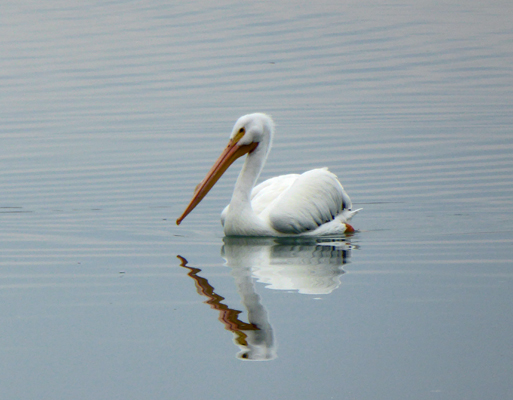 The sun never made it all the way out but the temperature still made it into the high 60's.
Wednesday January 4th, it was sunny and clear so I ran out and took one more panorama shot of the mirror-smooth lake before we packed up.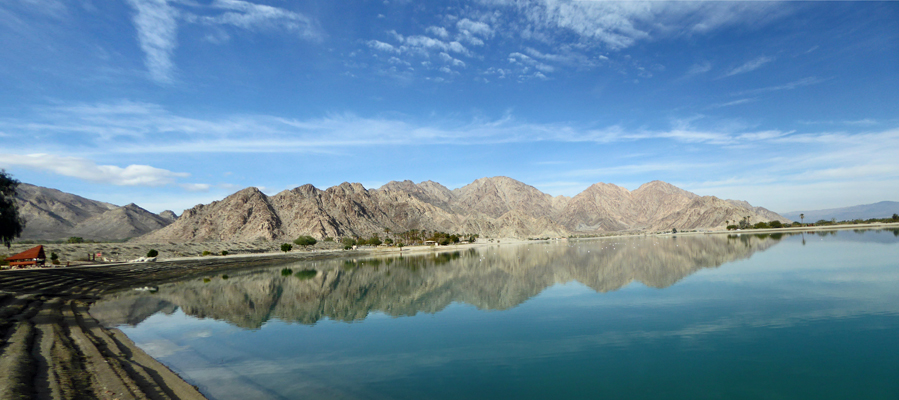 Then we motored a whole 25 miles south to Oasis Palms RV Resort just off Hwy 86 near the upper tip of Salton Sea. We stayed here in January 2015 and enjoyed it so we thought we'd give it another go.
We got a nice pull through full hook up spot with a bit of a view of the pond. With our Passport America membership it only cost $20 a night—and they have very good free Wi-Fi too. And Walter found all the usual channels over the air on the TV. The only real hang up with this park is that there's a lot of truck traffic on Hwy 86 so I had to wear my earplugs at night.
The park has lots of old citrus trees in it. There used to be a nice tangerine grove next door but it's been pulled out (citrus don't bear well for that many years). But the grapefruits are still good in the park—the oranges not so good. This is date country so there are lots of date palms everywhere.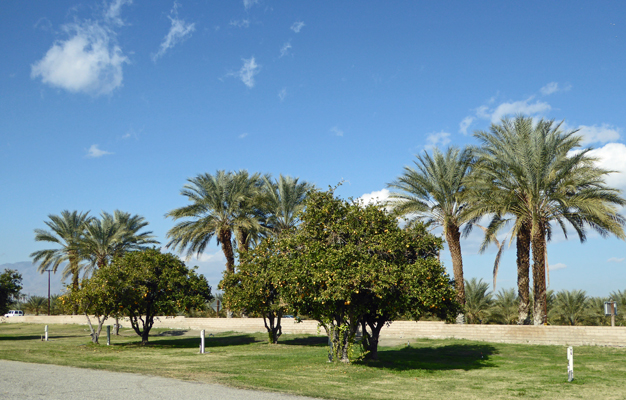 I did laundry on Wednesday afternoon and then on Thursday we drove back up to La Quinta and did errands. They have all of the usual suspects here—Costco, Home Depot (and Lowes), Bed Bath and Beyond (Best Buy too), Sprouts and Vons and tons and tons of more stores that we didn't need. We only had to make 7 stops to get everything done but now we're all stocked up for the next 3 months! Yippee!
On Friday January 6th, we packed up and motored south on Hwy 86 to I-8 and then west to Santee Lakes Recreation Preserve where we had a reservation for 4 nights so we could spend some time with our daughter, Tracy. Santee Lakes used to be fairly inexpensive but it's in San Diego and there just aren't many places to stay any more. This is a regional park and the city charges a tax on your stay to get their piece of the pie. We got a deluxe site (full hook up with wi-fi and cable TV) and it is averaged $60.50 a night. We made our reservation back in early December to be sure we could get one since the last few times we've stayed here and tried to get a spot a week or two ahead they were basically full.