On Saturday July 15th, we packed up and left Terra Nova National Park on the east coast of Newfoundland and drove southeast on the Trans Canada Highway (TCH) to the city of St. John's. The only camping in or near St. John's is an RV Park in Pippy Park, a large municipal park on the north side of town. They have full hook up sites nestled in the trees (but with no WiFi) and they have full hook up sites in a classic RV Park setting with no trees and a little strip of grass between each rig but with WiFI. Since we'd not had WiFi at our trailer for 5 days we opted for the more expensive site with WiFi. And of course for the first day the WiFi didn't work. However, they worked on it on Sunday morning and got it functioning quite well and it stayed pretty good for the rest of our stay there. Pippy Park not cheap but it does allow you to be right in town which is convenient. Walter managed to get 2 TV stations over the air (one with the rodeo from the Calgary stampede) and our phone worked.
We set up camp--after waiting for a group of kids who had taken over our faucet to fill water balloons to leave—and then spent the afternoon trying to decide what we would do in St. Johns besides do the grocery shopping. St. John's is THE city in Newfoundland with a population over 100,000. It's home to the provincial government and the only major university (including a medical and nursing school) in the province. It has an excellent well protected port where cruise ships visit and it was the port from which all the salt cod was shipped in the hay days of fishing on the Grand Banks. It is one of (if not the) oldest cities in North America.
It was a little noisy that night—folks up late around a campfire—and since it was warm we started out the night with the windows open (and my earplugs in). There had been a bit of rain forecast for Saturday night but it didn't materialize and it was sunny and beautiful on Sunday morning. We packed a lunch and headed into downtown St John's to the Visitors Center where Walter had read they had walking tour maps. We got into the heart of the old town and there were roads cordoned off—one after another. As we got closer to our destination parking began to get scarce so I just grabbed a spot when I saw one. It turned out to be just a few blocks from our destination.
Old town is on a hill and there are stairs that lead you down from Duckworth Street (where we were parked) to Water Street. We took the first set of stairs we came to and arrived at the side of the Yellow Belly Brewery.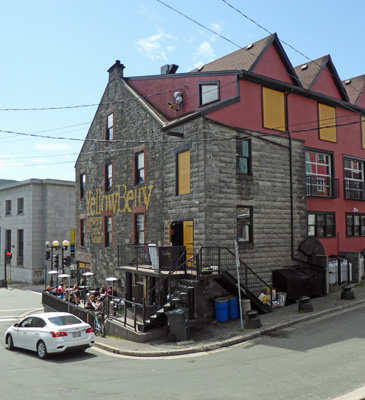 There were people outside having brunch and they all had rainbow tee shirts on. Ah ha! Gay Pride Sunday. The streets were closed for the Pride Parade which was scheduled to begin at 1 pm.
There was a nifty statue to the arts that stood in the middle of the square here. The plaque at the base simply called it "A Time"—a fiddler, a guitar player, a singer and a pair of dancers. Way cool.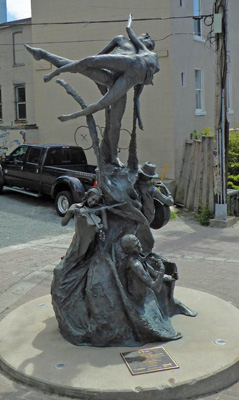 We walked on past the pubs and restaurants until we found the information center. They confirmed the Pride Parade and the fact that there was a cruise ship in town which also increases the number of folks on the streets. It was really busy for a Sunday morning. There are 4 separate walking tours in town and none particularly appealed to us so we wandered on back towards the car. On the way, I stopped to take a photo of this sandwich sign. Moose Nachos!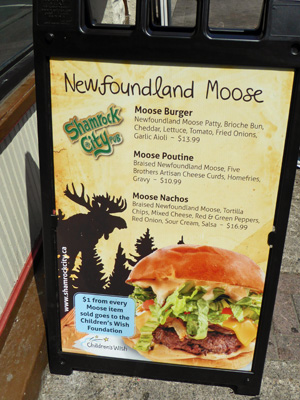 We took a different route up the hill and ended up at the staging area for the parade. There were folks with rainbow flags and a fun rainbow (and hearts) bike.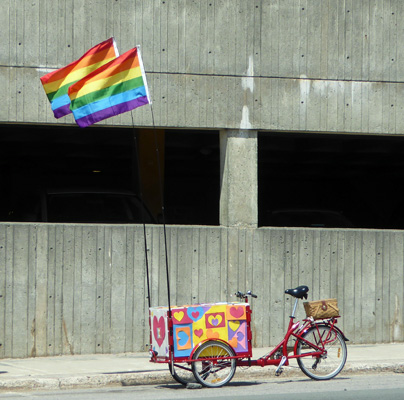 Behind it was a truck all rainbowed up with a Happy Pride sign in the window.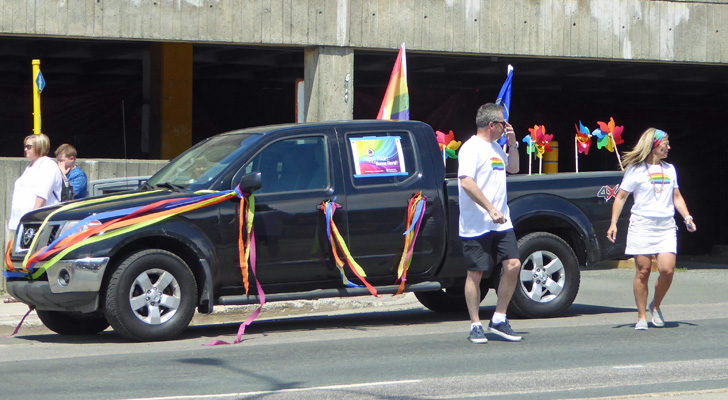 We wandered on up Duckworth Street and found the truck, thank goodness. St John's is one of the cities where they only put signs on the lesser thoroughfare so we hadn't know that the street we were parked on was Duckworth until later.
From here we headed east on Water Street and up through a construction zone that had us on a little narrow street winding up a hill with way too much traffic coming down (along with a bike parked in the road to have a conversation with some pedestrians) until we made it to the Visitors Center for Signal Hill National Historic Park.
That's Cabot Tower up on the top of Signal Hill behind the Canada 150 sign.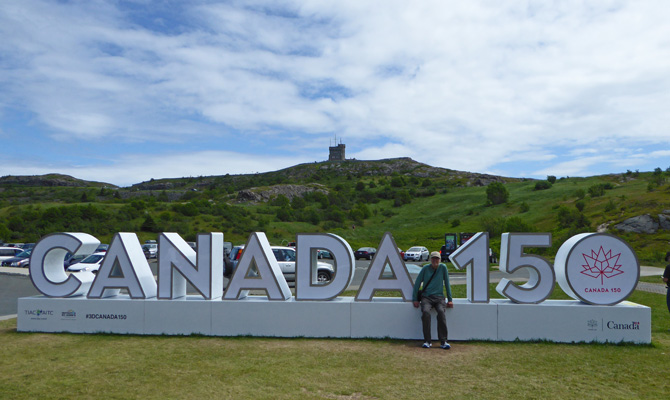 We explored the museum explaining the history of Signal Hill from the early years of the 1600's when fisherman tried to defend St John's from the French up through World War II when sentries watched for submarines and helped protect the merchant vessels who gathered at St. John's to form convoys to cross the Atlantic to England. Then we watched their very nice movie about the history of the port and Signal Hill. On our way back to the truck we spied a Newfoundland dog and stopped to take his picture (along with a number of other folks). His name was Chief and he was a sweetheart. They are BIG dogs who are really mellow.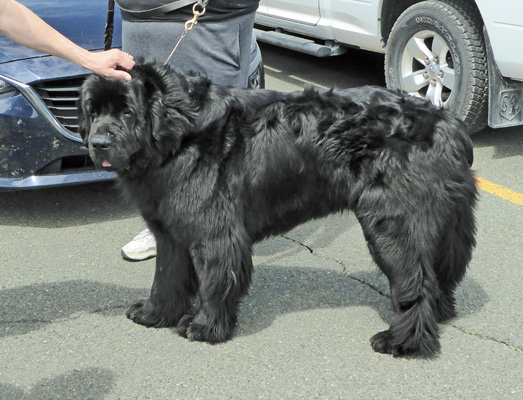 We drove up to the top of the hill and were lucky enough to find a parking spot okay. Here's the view looking out across the city.

And here's a shot of Cabot Tower which was built to commemorate the 400th anniversary of John Cabot's landing here in Newfoundland and Queen Victoria's Diamond Jubilee.
The trail leads around the tower and gives you a fantastic view of the Harbor, the Narrows and the Atlantic.

That narrow mouth is the only entry into the harbor. And of course, Signal Hill is a prime place to watch for approaching ships . Down below along the knoll there are cannon which were used in the 1700's to defend against the invasions by the French.
Over across on the point there's a lighthouse to help ships find the mouth of the harbor.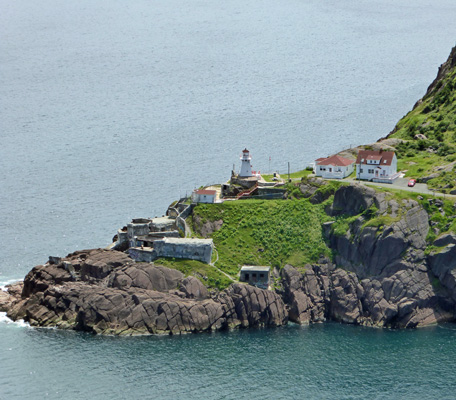 A long red ship came through the narrows while we were standing there—disappeared behind the knolls—and then came out into open water.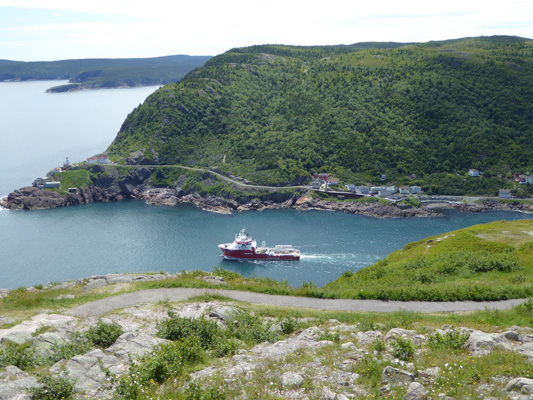 As you continue around on the path you get a good view of Cape Spear off to the southeast. It's the easternmost tip of land in North America.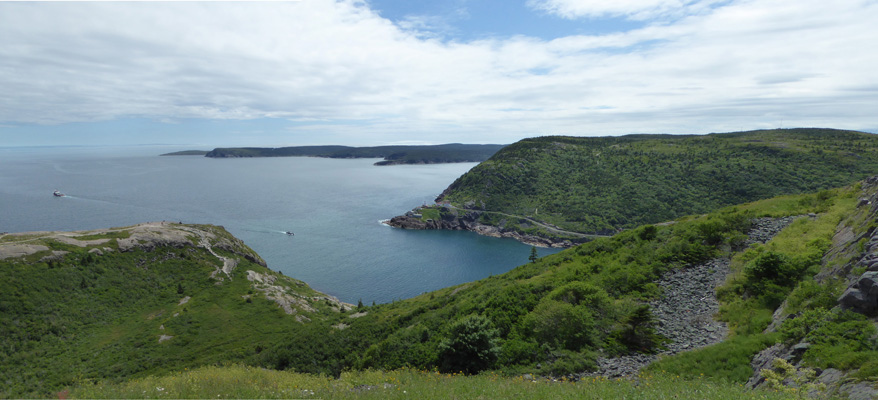 It was breezy and cool enough that we were both happy to have our fleece on even though it had been warm in town. From here we drove back down the hill, through the construction and along Water Street. Stopped at a light, I took this shot of the center of old town—the Yellow Belly Brewery (again) and it's colorful neighbors.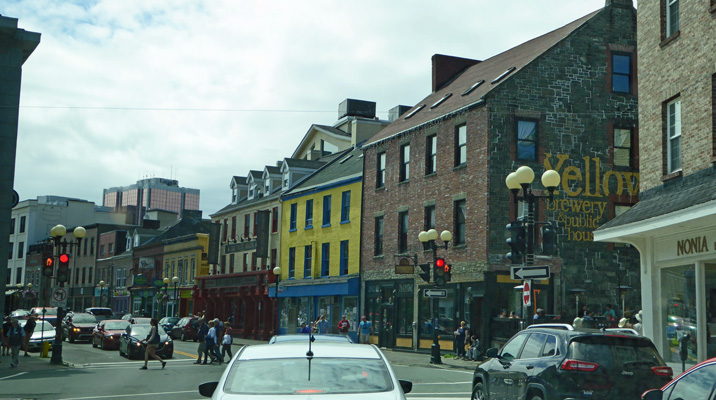 Most of downtown dates from after 1892 when most of the city burned down in one night.
It really doesn't take long to come out the other side of old town, past the cruise ship and the docks and back into the countryside. In less than a half hour we were out on Cape Spear and had our lunch with a view of Signal Hill and the Atlantic.

Walter had had it by this point so he stayed in the truck and enjoyed the view (and saw a whale spout and its tail flash) while I headed out to the edge of the world. There were Blue Flags (Iris versicolor) in bloom in among the grasses.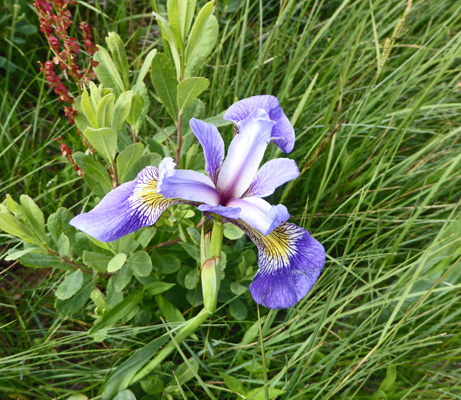 While it was sunny where I was, there was fog wafting about and up the hill the lighthouses (there are two here) were at times barely visible. One is tall and white.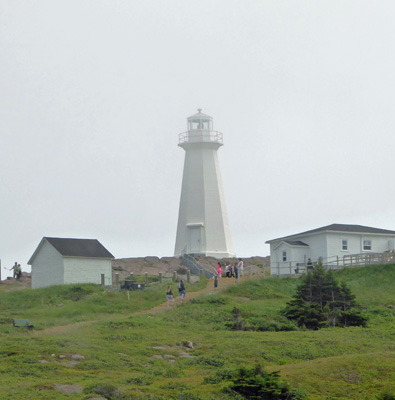 And the other is short and stocky and made of stone. There's a museum here telling about lighthouses but I was full by this point and didn't bother with it.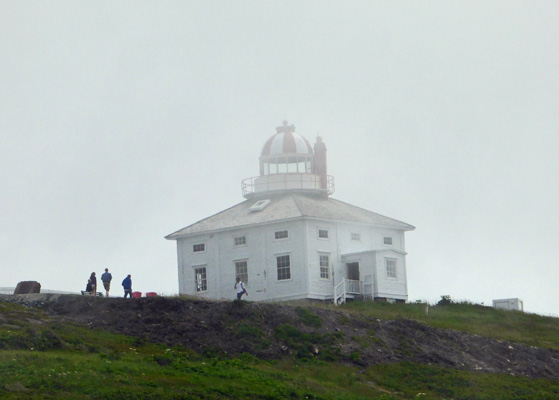 I hiked on out towards the ocean and found a few single Harebells (Campanula rotundifolia) snuggled in among the sedums.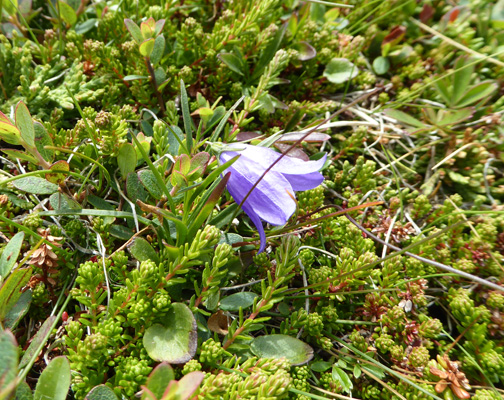 There's a viewing platform out on the edge with a great view of the rocks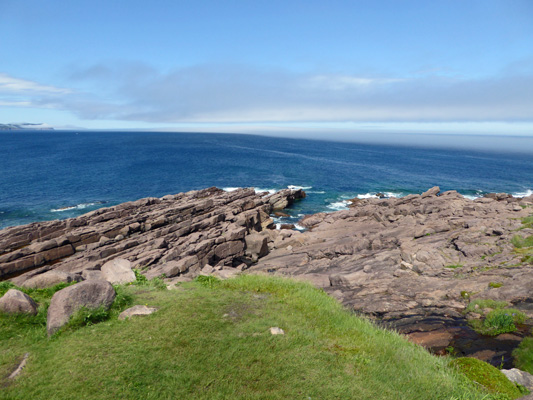 And the surf.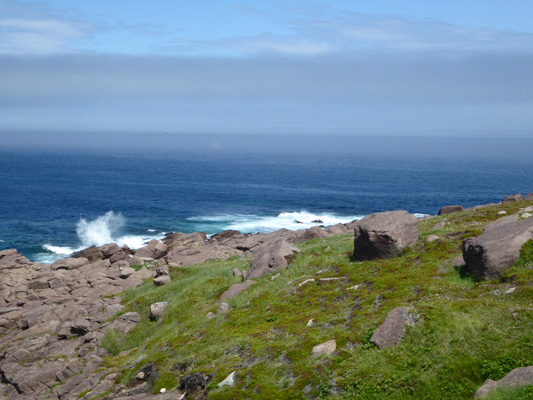 There was a band of fog and folks said that they'd seen whales out in that area but now they were gone. Ah well, I was happy to have made it down the hill and seen the edge of the continent.
We drove back the way we came and then took the turn left to Maddox Cove and Petty Harbor. We found a place to park in Maddox Cove and I took a photo of the cove.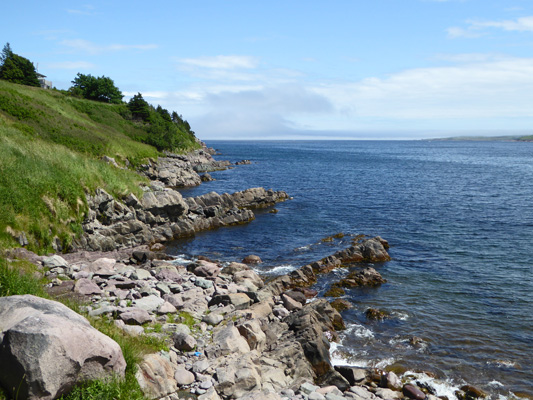 But Petty Harbor (which is lovely and picturesque with colorful boats and boathouses along the edge) was FULL of cars and people and there was nowhere even to stop for even a moment. So we surrendered and went home for the day.
We came back to working internet—yahoo—and spent the rest of the afternoon and part of the evening getting caught up on the news etc.
Monday July 17th, it was sunny yet again and we made a grocery list (for 2 weeks since we had no idea if we'd see a REAL grocery store again before we head back to Nova Scotia) and then headed to Kenny's Pond just up the road for a little walk.
Even though it's only a short distance from Pippy Park it's basically surrounded by town.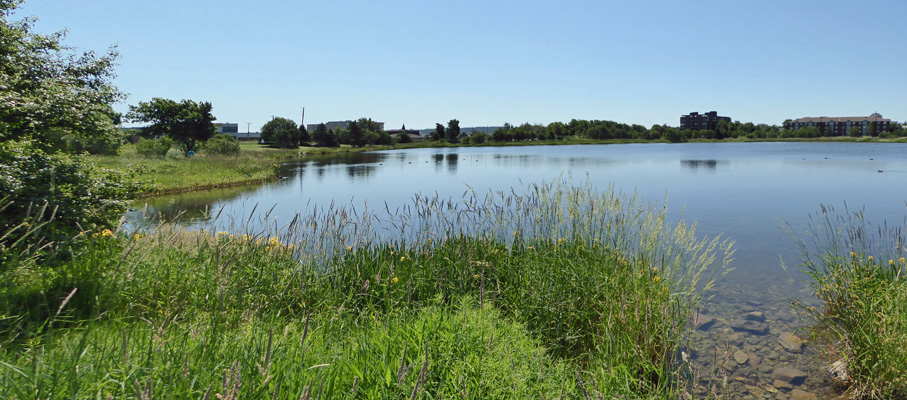 There were Yellow Flags (Iris pseudacorus) in bloom along the edge. They aren't native since they were introduced from Europe and happily escaped into wetlands everywhere but they're pretty.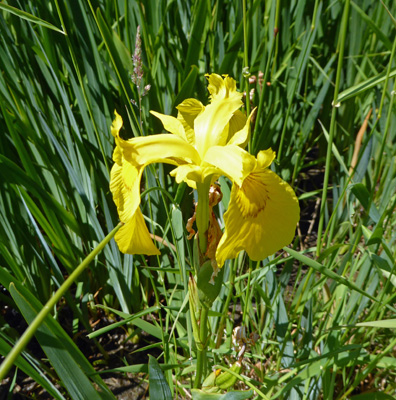 There were lots of folks walking and a noon yoga class taking place in a grassy area on the south side.
I spied a dragonfly perched on some grasses and he stayed still until I got a good shot of him.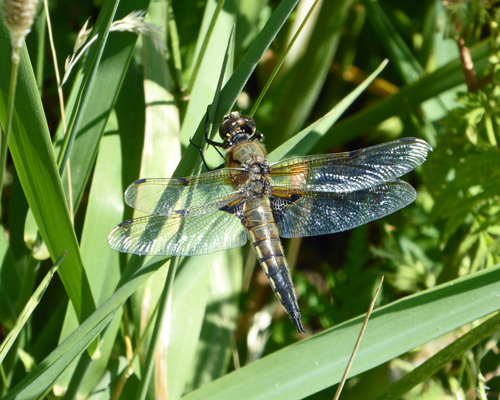 The first fireweed (Chamerion angustifolium) of the season was in bloom here too (though I found some at the edge of the campground the next morning).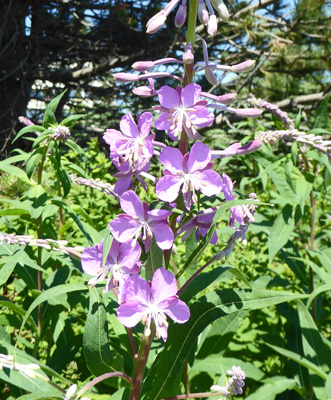 And there were lovely white Fragrant Water Lilies (Nymphaea odorata) in bloom along with yellow pond lilies.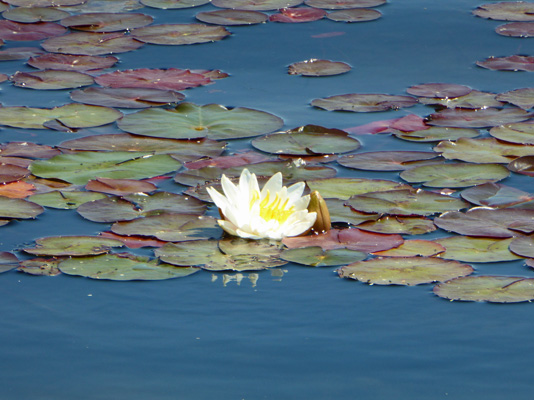 Having had a nice little walk we made our way to what we thought would be the Canadian Tire location nearaby but it turned out to just be a Canadian Tire gas station! Carmine the Garmin directed us to another one that had turned into a furniture store. At that point we gave up and went and did the grocery shopping. Our grocery clerk asked if we'd been 'screeched in' yet and we admitted that while we'd heard of it we didn't really know what it was. She explained that it involved drinking Screech Rum, kissing a cod and then announcing you were a Newfoundlander. It sounded like something that you had to go to a pub for and she admitted that the only other place it might happen was in a park!
Newfoundland sells alcohol in separate stores as they do in Nova Scotia but this time at least it was attached to the grocery store (as they were in Alaska). And at the check out counter when I was buying our wine, what did I find? A little pony of Screech Rum! So we've been screeched in, in our own twisted way.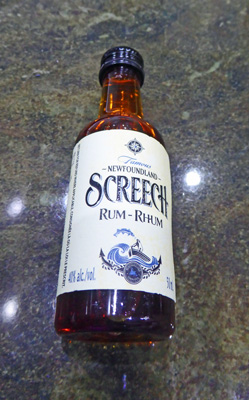 We went home and took a break and then late in the afternoon set out again to find a Canadian Tire Store (they're a cross between a hardware store with household goods and an auto parts store). The traffic on the way was really heavy so the ten minutes drive took us about 25 minutes but we got there. They had part of what we were looking for and then there was a WalMart across the street where we found the other things we needed. The drive home (as usual Carmine sent us home by a different route) was quick and easy and we were back in 10 minutes.
Tuesday July 18th, we packed up and motored back north on the Trans Canada Highway (TCH) about 150 miles to the Newman Sound Campground at Terra Nova National Park. We got a nice electrical hook up site in the same loop as we'd camped in 3 days before and set up camp. When we'd left St John's it had been in the high 60's. It had gotten down to 61 when we drove through some fog along the way but when we got to Terra Nova it was 85 degrees. It got up to 90 that afternoon even with partly cloudy skies and thank goodness a bit of a breeze. It was nice to be back surrounded by trees even if that meant we didn't have WiFi at the trailer. Give me a National Park campground any old day!
Wednesday July 19th, we packed up again and headed into Central Newfoundland another 165 miles to Springdale, NL. Along the way, we stopped at the ONLY look-off (overlook) on the entire TCH. It's called Joey's Look-off and it gives you a view of Gambo Pond a big deal salmon fishing area.

Also along the way I finally managed to grab a photo of the power pole reinforcement system they have here. When the ground is particularly boggy (and it seems sometimes also extra rocky) we've seen the poles surrounded at the base with a large wooden box filled with big rocks. Our guess is that when they put the pole in if it's too wet they use the box and the rocks to keep the pole from tipping over. A low-tech solution to the problem.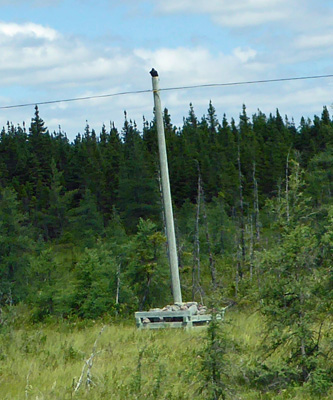 They also do this on a small scale with their highway construction signs. They'll set a small wooden frame out with a sign stuck in it and fill the box with a couple of shovelfuls of sand and rocks. Still my favorite signs are ones that say "Pot holes ahead." Clearly they have neither the money nor the time to fill them all so they put up signs to warn you. Sometimes there's just one big one but sometimes there's a mile of them scattered through the lane.
They were paving a portion of the TCH between Grand Falls-Windsor and Springdale and we sat in traffic for nearly a half an hour before we made it through the one-lane section. We drove a few kilometers off the TCH to the outskirts of the town of Springdale to George Huxter Memorial Park where they have a nice full hook up RV park next to the Indian River. We got a nice level site in full sun which turned out to be a bit hot since it once again was close to 90 degrees. We opened the windows and had a quiet afternoon. It was really reasonable—only $25 for a full hook up. And they had WiFi you could use at the office.
After dinner it finally got down below 80 and we took a walk out to see the river. On the way I stopped and took a photo of this little patch of Bladder Campion (Silene vulgaris).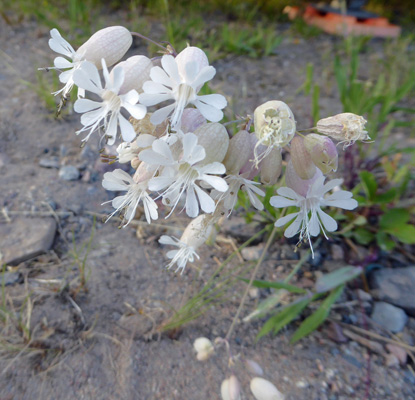 You can get a nice view of the Indian River Falls from the look off and stairs in the campground and as you can see, there were folks out fishing. They say there are times when you can watch the salmon jump up the falls but we didn't see any. They also have a fish ladder over on the right to make it easier for the fish to make it up the river.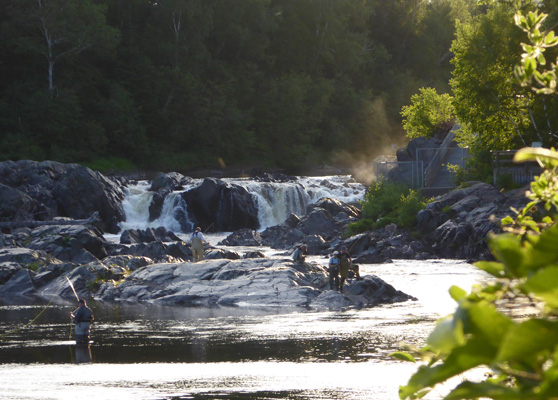 The Indian River is a major salmon fishing river (only fly fishing is allowed) and it turned out that this was the final night of fishing before it was closed for the season. Walter counted 15 fisherman out in the river!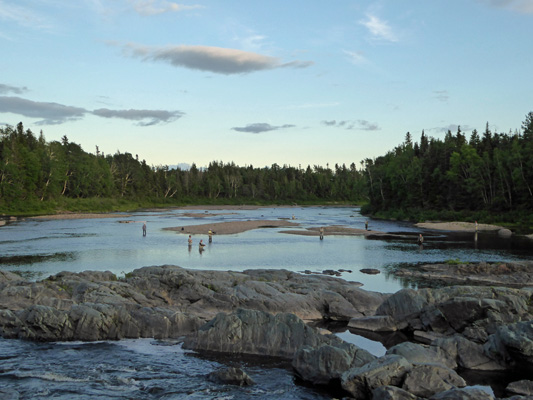 Every once in a while a fish would jump out in the open area to the right and all those guys were busy casting into the area but no body caught anything.
It didn't cool off much in the night (only down to about 72) because clouds rolled in during the night. On Thursday July 20th, we broke camp and headed westward on TCH and had rain off and on for much of the drive—sometimes just a mist and sometimes a downpour. We continued on to Deer Lake where we turned off of the TCH northwestward on the Viking Trail (Rte 430) to Gros Morne National Park on the west coast of Newfoundland. We had a reservation for 4 nights at Gros Morne RV Park in the town of Rocky Harbour which is pretty much in the middle of the park. We got a back in full hook up site with free WiFi for $38.30 a night tax included. No over-the-air TV here but our phone worked. Gas was 17 cents more a liter than it had been in St. Johns but still cheaper than it was in central Newfoundland.
It was in the mid 60's when we arrived and foggy with a little mist now and then. By the time we got set up I was glad to put my fleece back on for the first time in several days. After lunch we took the drive just a few kilometers back up the road to the Gros Morne Visitors Center where we picked up maps and a park brochure (which I didn't look to carefully at and turned out to be in French—oops). We sat and watched their nice introductory movie and then headed back to the trailer to plan our 3 days of exploring the park. Thank goodness for the internet where I could get the brochure in English!