Monday April 17th in Swannanoa, NC it was partly cloudy and warmish. We needed to make a trip to the local Ace Hardware for some screws (if your house rattles down the highway all the time you always seem to have a screw loose). So we set out and found the hardware store and while we were at it we stopped to make sure that the Post Office was one where we could receive General Delivery since the town we were in could easily be considered a suburb of Asheville. When that's the case they'd send the mail to the main post office in Asheville instead. Swannanoa is considered a town so later in the day I ordered our mail sent there because we thought we'd be back at the end of the week.
After taking care of business we drove a few miles west to the Visitor Center for the Blue Ridge Parkway—yet another National Park!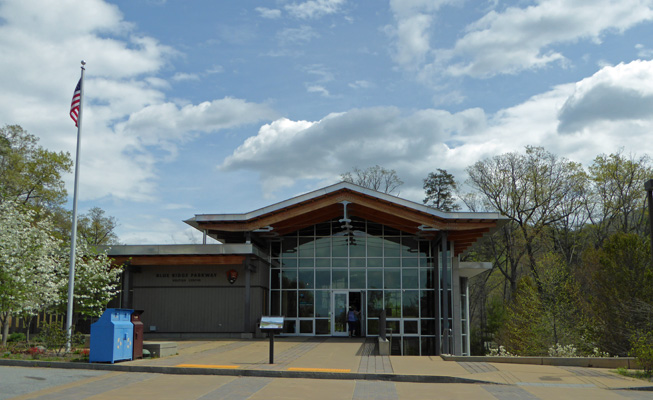 The Blue Ridge Parkway was begun in 1935 (another WPA/CCC project to create jobs during the Great Depression). It is a 450 mile long road (2 lanes like the Natchez Trace) that connects Great Smokey National Park with Shenandoah National Park up in Virginia. It took many years to complete it but it is now the most visited park in the system. We picked up a map (it folds out to be several feet long) and information on hikes and camping along the way. We plan to start the drive up the Parkway next week. We also watched the movie. It was similar to the one at Mammoth Cave in that it focused on not just the nature in the area but the history and the people. The Blue Ridge is all about traditional arts and crafts and music along with the beautiful views. The pull outs along the Parkway were designed and planted to produce good viewpoints. They actually prune the trees and keep down growth to maintain those views.
After this most enjoyable visit we drove just a few miles further to the Biltmore Estate. We thought that we could drive through and maybe have a look at the grounds. But it turns out aside from the short drive from the entrance to the lodge where you buy tickets you can't get onto the grounds without buying a Day Pass. And Day Passes cost $65 per person! There's a $10 senior discount but I'm afraid I'm too much of a skin flint to spend $110 on a lark.
On the way back out, I stopped to take a photo of a field of mustard on the grounds.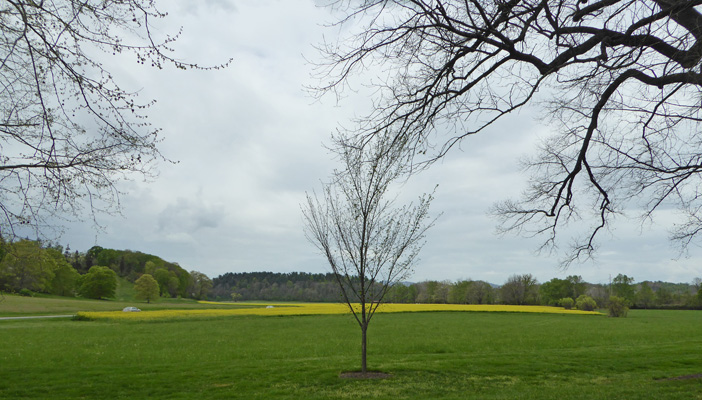 And while we waited to leave the grounds I shot this photo of the entry area—all dressed up in lavender.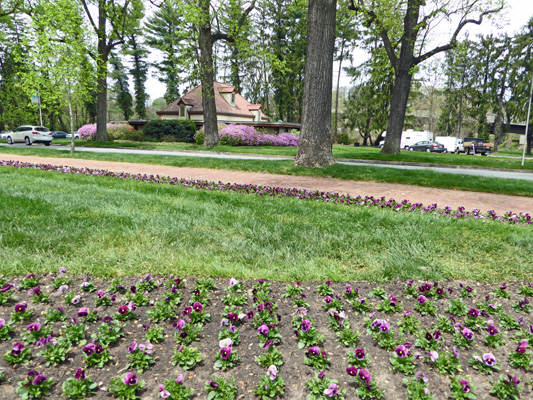 From here we headed north up into Asheville proper for a quick drive through the heart of the city. They are known for their collection of Art Deco buildings and we did see a few. But I was driving so I have no photos to share.
We headed on home for hot showers (the laundry and showers at Mama Gertie's were very nice) and a quiet afternoon planning our trip up the Blue Ridge.
It was only 56 degrees when we awoke on Tuesday April 18th. It was drizzling but we didn't get particularly wet as we broke camp. We stopped at the office to see if we could get a reservation for Thursday and Friday when we returned from South Carolina only to find that while they had an opening for Thursday they had nothing for Friday. Hmmm. Time to punt again. At least we had time to think about it...but of course the mail was going to be at the post office come Thursday or Friday too.
We drove south on I-25 into South Carolina and down to Columbia and Sesquicentennial State Park which is completely surrounded by city now but was 10 miles out of town when it was built in the 1930's by the CCC. It had spit rain off and on all the way but it was dry when we arrived. We got a nice water and electric site for $23.45 a night. Both of our phones worked and the hot spot too. And Walter picked up lots of TV over the air.
The sun peaked through the clouds as the afternoon progressed and we made it to 79 degrees with 70% humidity. Welcome to the humid part of the south.
On Wednesday April 19th, we packed a lunch and drove about 30 miles south to Congaree National Park. This park protects 26,000 acres of bottomland hardwood forest—the largest such area left in the United States. It is an old growth forest that is home to lots of champion sized trees and lots of wonderful critters.
Until the late 1800's huge expanses of floodplain forested remained in the southeastern US. In the 1880's the timber industry moved in and in less the 50 years most of the forests were gone. Congaree escaped logging because it is so wet here that logging was too difficult. It became a National Monument in 1976 and a National Park in 2003. Most of the park is designated Wilderness. There is one road that leads to the Visitors Center and most of the trails start there. The rest of the park is accessible by kayak and canoe from two launch points on the park boundary.
At the Visitors Center we picked up a map and set out to take the Boardwalk Loop Trail. Just outside the Visitors Center I spied these little white flowers. If I hadn't take a photo I'd never have known that they were so fuzzy. They are partridgeberry (Mitchella repens).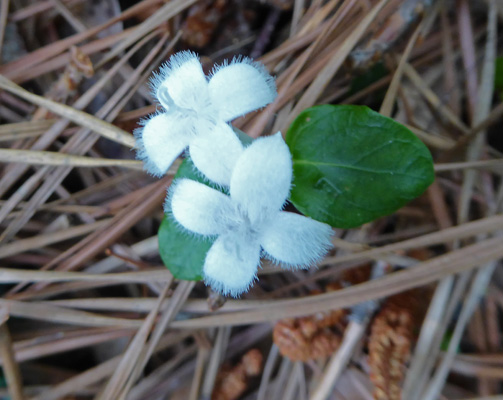 We decided to take the trail in a counter-clockwise fashion because there was a large group of kids with a ranger up ahead. This is a 2.4 mile Nature Trail loop with 20 numbered signs. But there were no arrows to tell you which way the numbers run. Ah well, we did it backwards but no harm done.
The first stop was a large 100 plus year old American Beech.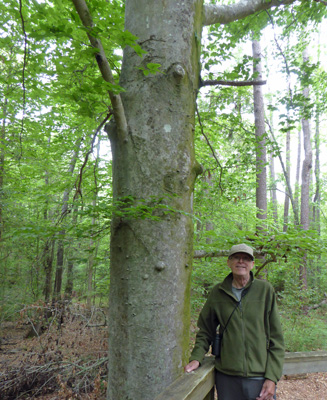 The section we started with was an elevated walkway—about 8 feet above the forest floor.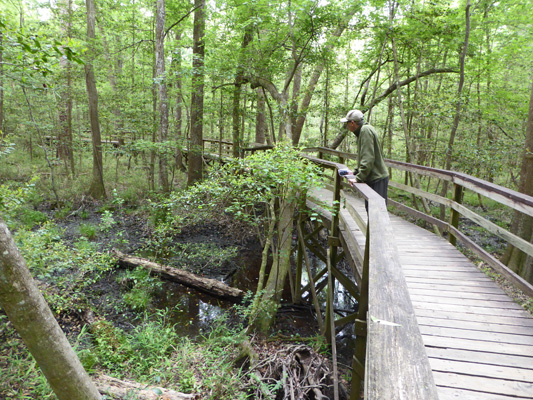 Down on the forest floor there was a wonderful wet black mud that is known as Dorovan muck. It's a mixture of clay and old leaves and is 8 feet thick. It filters water, traps pollutants and turns them into harmless compounds, so it plays a very important role in this floodplain.
Every now and then (and always by one of the Nature Trail stops) there were benches where you could sit and listen to the forest. The bird population in the spring huge. It's a flyway stop for warblers so it was really wonderfully noisy. There were also lots of woodpeckers pounding away up in the canopy.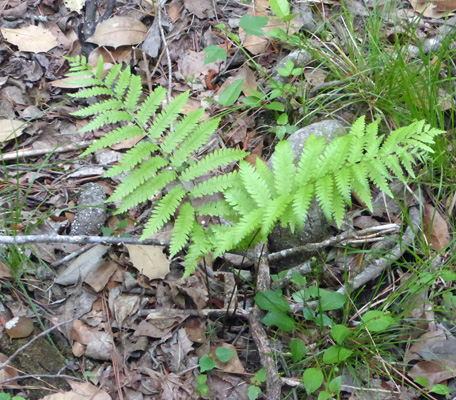 But I'm sure this is a Cinnamon Fern.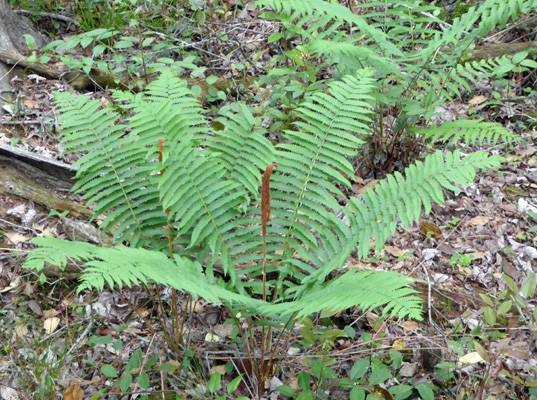 There were butterflies flitting about. This one had big black wings but when it turned straight on it was neon blue and looked more like a dragonfly than a butterfly.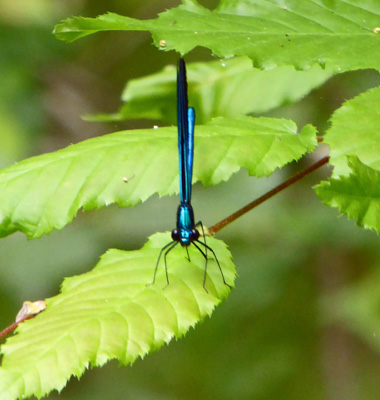 Right in here we saw a large red shouldered hawk pawing in the leaves on the forest floor. By the time I got my camera focused on him, he took off but he was a wonderful sight. He swooped by us again later on and then was gone.
We turned the corner of the loop and came to a section of new elevated walkway—very spiffy.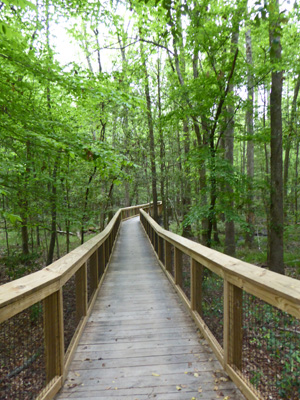 This section of the forest has huge loblolly pines which grow on the slightly higher (and drier) elevations of the park along with Sweet Gum (also known as liquidambar), beech, several different oaks and holly.
I spied this Japanese Honeysuckle (Lonicera japonica) vine in bloom draped across some trees. It's not native and in fact is an invasive species in these parts. Even National Parks have to battle invasive species.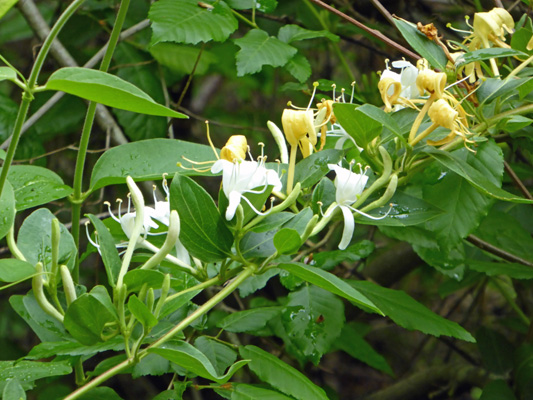 The elevation drops just a wee bit and you come into a stand of Water Tupelos.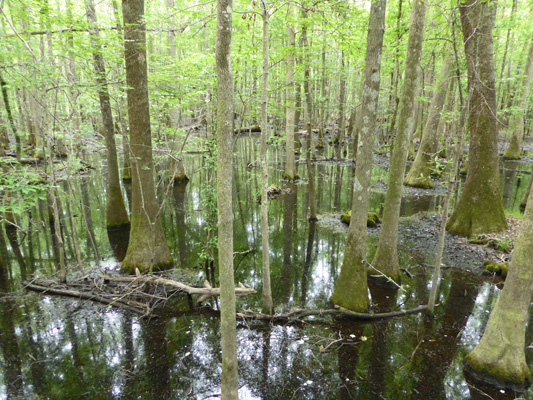 It was a sunny day but the high canopy of the forest creates deep shade.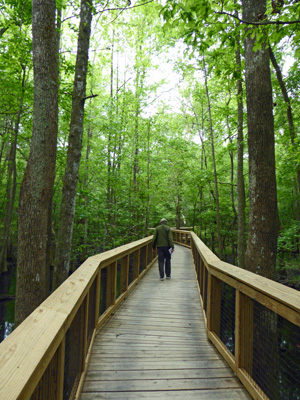 This floodplain forest provided sanctuary for all sorts of folks over the years. Runaway slaves hid here in maroon villages in the 1800's. In the 1920's moonshiners built their stills here. The boardwalk goes past one of their old stills used to make corn mash whiskey.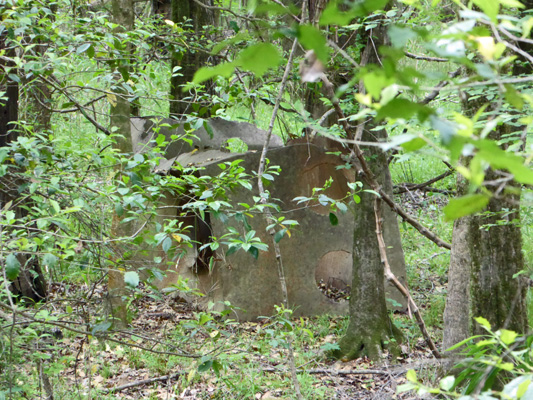 Not far from the still we came to a little forest of dwarf palmettos. I haven't seen these since we were in Texas last winter.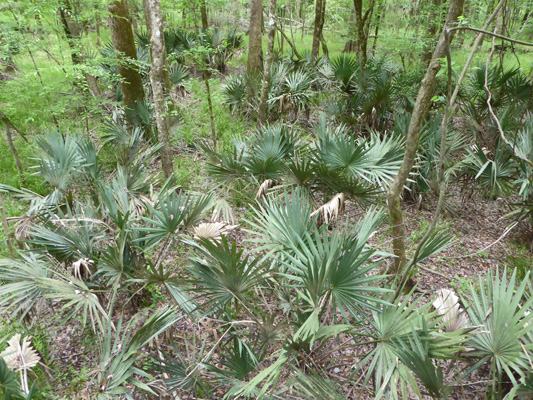 And then we began to see flowers fallen onto the walkway. We looked up and sure enough there was a Trumpet Creeper (Campsis radicans) winding it's way through the trees.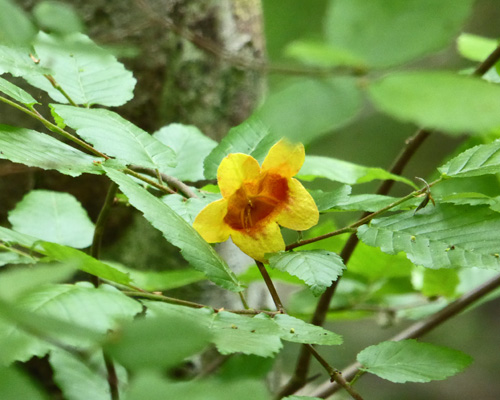 In this same section, I saw these small evergreen saplings. It turns out these are young bald cypress—a sign of a healthy forest.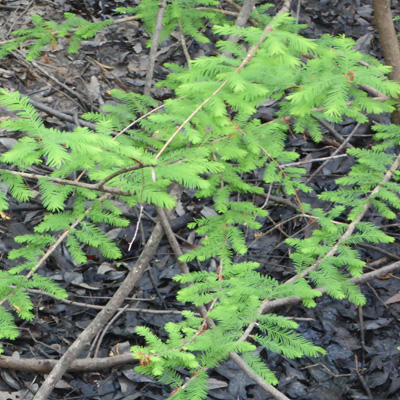 Here and there there were patches of what I think is Butterweed (Packera glabella).
The boardwalk takes you out to a little platform where you can get a nice view of Weston Lake—an oxbow of the Congaree River that got cut off in the river's meanderings.
On warm days you're supposed to be able to see turtles and an alligator or two here. But we didn't even see any birds but you could hear them.
The boardwalk drops down here and sits on the forest floor for the rest of the loop. There were these interesting grasses with weird seedpods. I wouldn't want to get one of those stuck in my socks.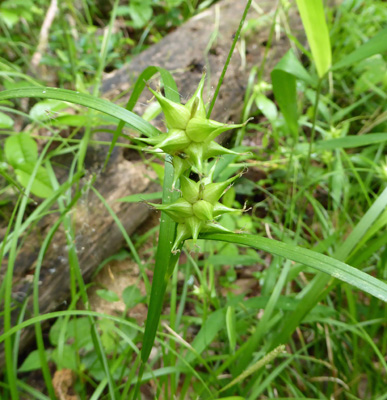 And there were three of these little lavender bells. They turn out to be Curly Virginsbower (Clematis crispa) which was growing on the forest floor.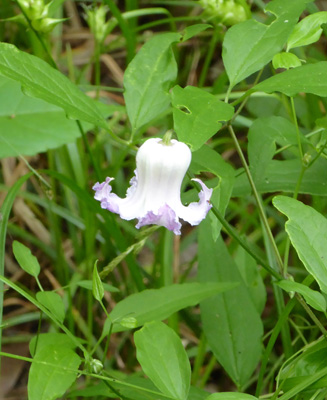 Shortly after this we came to a trail closed sign. There were no detour signs to indicate which way to go and Walter decided we should just ignore the signs and go on ahead. It was a bit muddy in places but not bad. And there was no one working on the section that was torn up. A volunteer caught us as we were just returning to the trail and we explained that there weren't even any arrows to indicate what we should do. She said we should have gone into the Visitors Center. Excuse me, they had the brochures with the map of the trail out in the breezeway. If they wanted to talk to you, all they would have to do is make you come in to get a map! And there was no mention of a closure on the Self Guided Boardwalk Tour brochure. Ah well. She didn't scold us so we survived. We didn't get lost. We didn't get hurt. And I can't tell you the number of times we have turned around only to be told later that the signs were just there to cover liability issues and it was fine to do it.
Shortly after we rejoined the trail we came to a lovely stand of Bald Cypress, complete with those funny spikes that they call knees. They're not exactly sure of the function of the knees but they know they are part of the root system and probably are there to stabilize the trees in floods and high winds.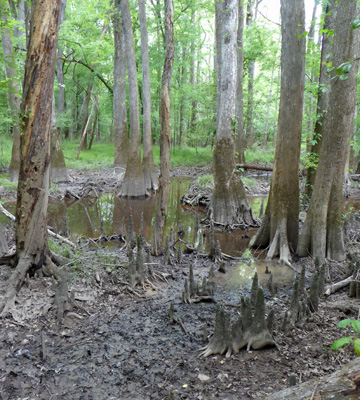 The water tupelos in this section have a green mossy 'skirt' that indicates the high water levels from the winter floods.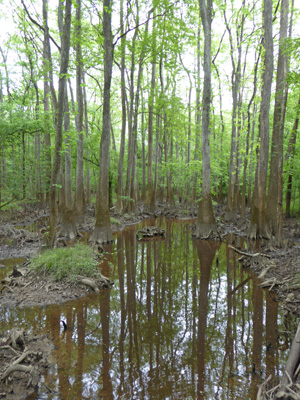 When it rains here the water collects first in these low water areas called guts. Guts and sloughs are low channels that help disperse water through the floodplain. Once they fill up then the rest of the forest floor floods.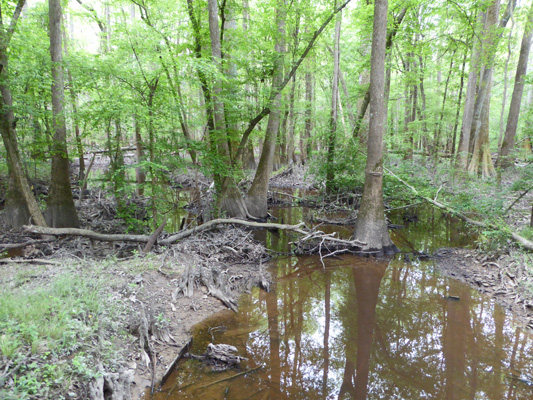 Just past the gut there was a cane break of a plant called Switch Cane, a relative of sugar cane.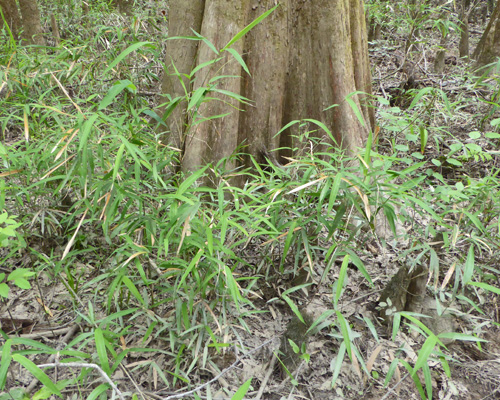 The low boardwalk winds its way through the tupelos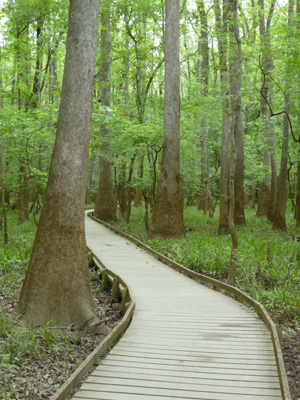 and the bald cypress.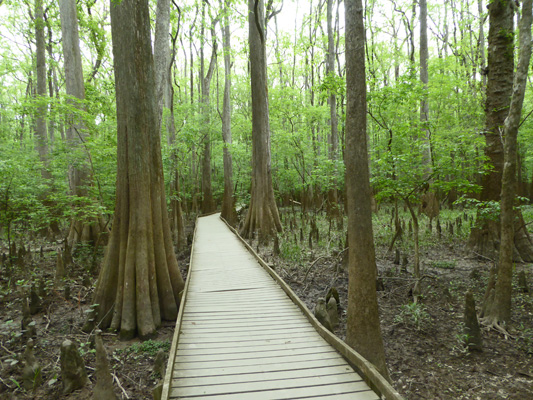 Some of these cypress are huge. I took the time to take a vertical panorama shot of one of them to give you a feeling for the size of them.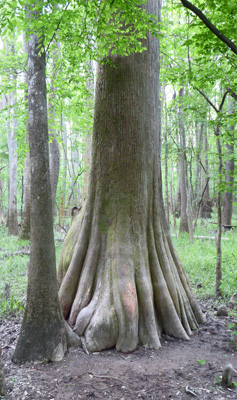 That big broad base plus the knees mean that these trees rarely fall over.
Just before we got back to the Visitors Center I spied yet another kind of fern.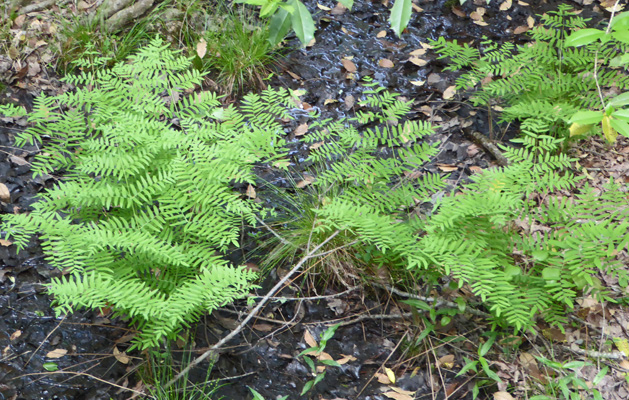 I'm sure if I spent enough time in this sort of forest I'd learn to figure them out but this point there were too many choices and not enough detail in my photos to tell which is which.
When we were done with our walk we headed back to the Visitors Center and watched the movie (it was a good one though it made me sad because it points out how much of this sort of habitat we've lost and how little is left). It was our 37th wedding anniversary so to celebrate we bought an Eastern Bird Book (so we could ID the red shouldered hawk) to take with us on our adventures here in the east.
It was nearing lunch time but the picnic ground was full of visiting school children that you could hear 1/4 mile away. So we drove to the South Cedar Creek canoe launching area (water was low enough that all the trails had many portages) and had our lunch parked with a view into the forest. On the way out of the park I stopped and took photos of the irises that were blooming at the base of the entrance sign. They're not natives but they sure are pretty.
Congaree isn't one of those breathtakingly beautiful National Parks but it is an important one because it preserves such an amazing habitat and such a wonderful collection of huge trees. It reminded me a great deal of The Big Thicket in Texas where the town has surrounded the last bit of a very diverse and important habitat.
We were glad we'd gotten up early to get our hike done in the morning because it got up into the mid 80's in the afternoon. It only took us about 45 minutes to return to Sesquicentennial State Park so it was a great place to stay since there is only primitive tent camping at Congaree.
Thursday April 20th, we packed up and headed back up I-26 to East Asheville KOA in Swannanoa. It was 85 when we left Columbia SC and we drove into the mountains and the clouds. We hit a rainstorm and the temperature dropped 20 degrees while it poured so hard you could barely see the road. But by the time we got to the Asheville area it had stopped and everything was dry. We'd made a reservation on-line and paid the extra $2 a night (it was $48 a night here) to have a back in site on the Swannonoa River.

They had decent WiFi (it was fast most of the time in the afternoon and then slowed down in the evening and when it rained on Friday). And there was an inexpensive laundry where we did laundry after we had lunch. Both our phones worked and Walter had decent cable TV to watch too. It warmed up when the sun came out but it wasn't as humid as it had been down in South Carolina.
The river attracted tons of kids in inner tubes and with fishing poles. And there were hybrid ducks—crosses between mallards and domestic ducks is my guess. A pair took up residence under the trailer next door and I could see them through our door so I had an easy shot of them.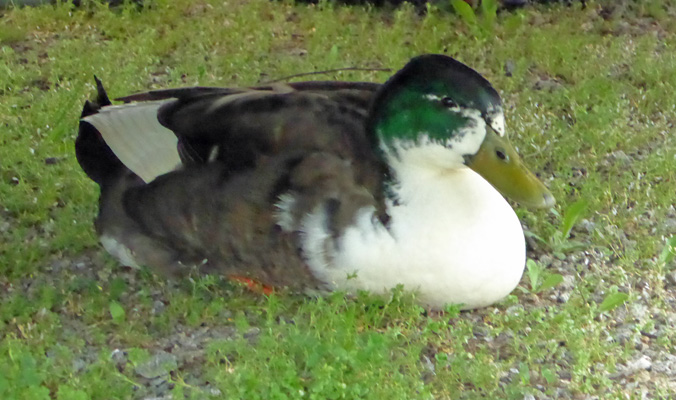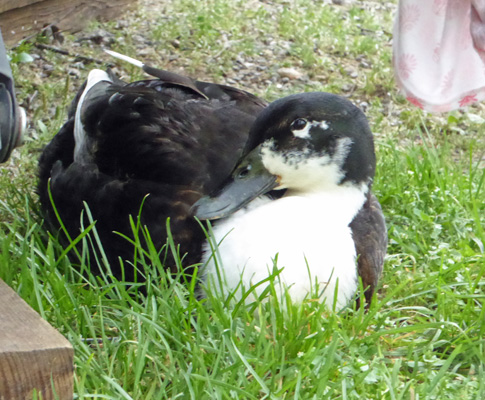 It was spring and there was quite a bit of chasing around and wing flapping going on. In fact, on Saturday morning the kids next door announced that there were eggs down at the base of the tree in front of us. And sure enough, some mamma duck had gone off and left a pair of eggs in the grass.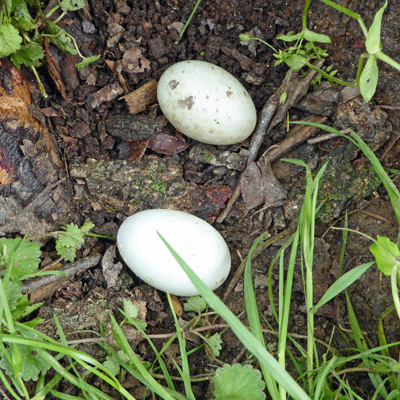 That evening the sun lit up the river for just a little while after dinner. It wasn't a real sunset but it was pretty.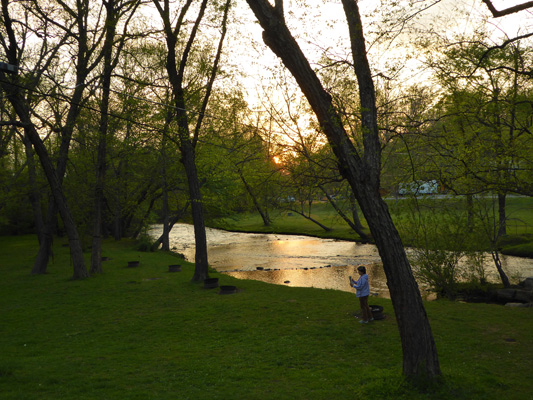 On Friday April 21st, we did errands. They have both a Trader Joes and a small Whole Foods in Asheville so we took the opportunity to stock up since we hadn't seen a TJ's since Tucson. Late in the afternoon I went and took a shower (lots of hot water and a place to put your stuff and to sit and put your shoes on). When I came back there were dark clouds massing to the east. Walter hustled over to take his shower and the sky opened up. He sat out on the covered porch and watched it rain for a while after his shower. The river came up and the grassy area below the campsites but above the river filled up with ponds of water. The ducks had a great time in that. After a good downpour the rain let up and Walter put his towel over his head and made it back home. We had rain off and on all evening.
On Saturday April 22nd, the rain had stopped and it was in the low 70's when we packed up to head out. The forecast was for rain starting in the evening and on through the next day so we figured we wouldn't have much of a problem getting a place to camp at the Smokemont campground just outside of the town of Cherokee in Great Smoky Mountains National Park. We drove west from Asheville and then southwest until we picked up the southernmost (and highest in elevation) of the Blue Ridge Parkway. The view were pretty cloudy though there wasn't any fog so we didn't stop to take photos. We hope that it will be clearer when we drive back that way on Tuesday April 25th.
We rolled into Smokemont Campground at about 12:30 and actually found a side pull through spot (they have two in the 3 sections of the campground that were open) that we fit into. There are of course no hook ups here since it's a National Park campground ($8.50 with our senior passes) and we knew that we'd need to run the generator. So we took the time while it wasn't raining to construct our new generator tent. We'd bought fittings and poly pipe (and a small tarp) in Swannanoa to make a little 26" x 20" x 13" frame that fits over the generator.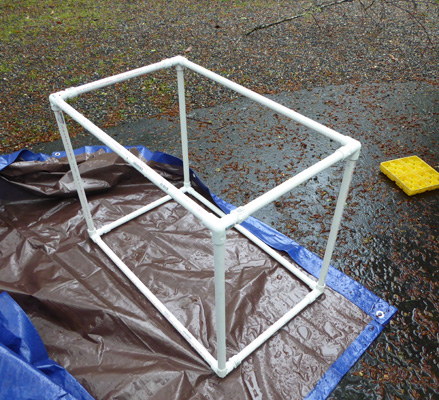 You put the tarp on the ground, set the generator on top of it and the frame on top of that. Then wrap the generator over the top and down the side. The end with the cord stays dry and then end with the exhaust is open to let the fumes out. And it all stays dry. Ta da!
We tried it out on Sunday morning in the rain and it worked just as we'd planned except of course for the puddle that formed on the top of the tarp. We figure that addition of a board (or a Rubbermaid tote lid) across the top of the frame should handle that.
Having finished our construction project we had lunch and then set out for our outing of the day since we knew that Sunday was a probably washout.
We headed west back out of the park and turned up Big Cave Road on the Cherokee Reservation until we reached a sign for Mingo Falls. We found a parking spot (I wouldn't want to have to fight for a spot here on a busy summer day) and headed for the trailhead.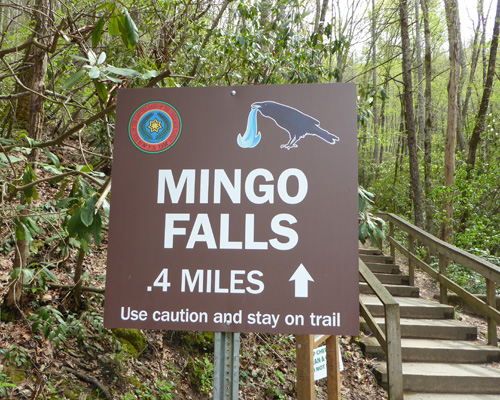 It's not a long way but it does have 165 stairs to start out.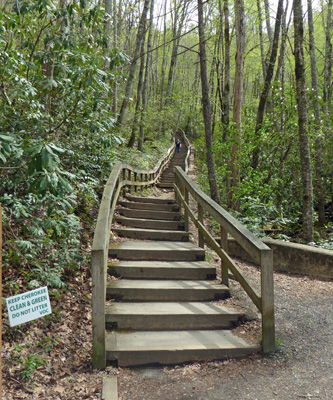 There was a nice little cascade just as you started up the stairs.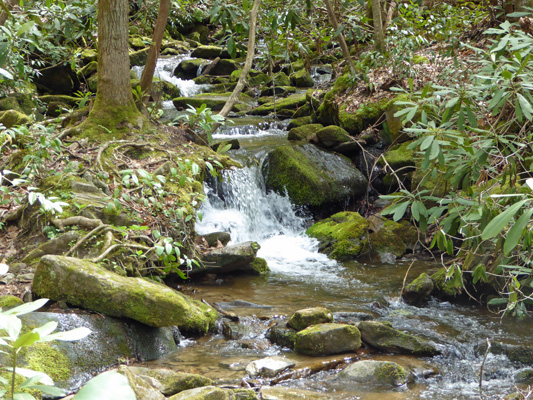 They thoughtfully placed a bench at the top of the stairs and we happily rested a moment before we picked our way along the somewhat muddy uneven trail to the falls.
Just before you get to the falls there's yet another nice cascade.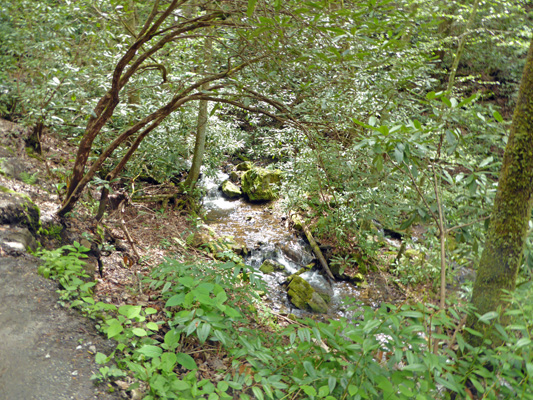 And then you climb up another 8 steep steps (Walter counted) onto a bridge for a view of the falls.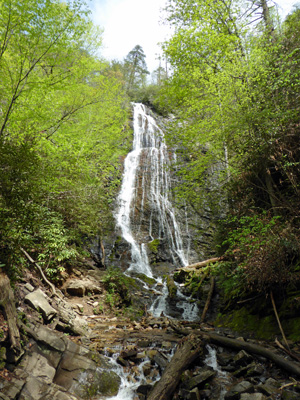 There was water falling way across to the right but not in big gouts. My guess is that on Sunday afternoon after it had rained for 18 plus hours straight that this was a big wall of water crashing down.
There were interesting white flowers in bloom at the base of the falls. I suspect that they are some sort of elderberry.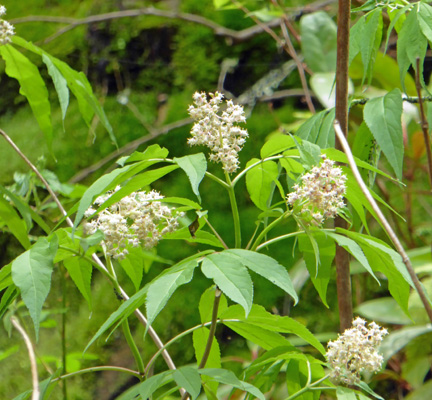 And a Jack-in-the-pulpit (Arisaema triphyllum) over hidden on the far side of the bridge.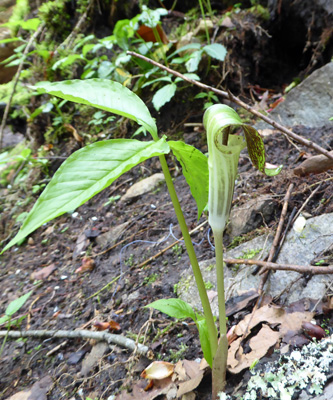 We enjoyed the view for a while and then made our way back down—counting the stairs as we went.
We headed back into the park and decided to visit the Mingus Mill which is between the Oconaluftee Visitors Center and the Smokemont campground. There were cars pulled over to the side of the road and sure enough there was an elk standing in the river.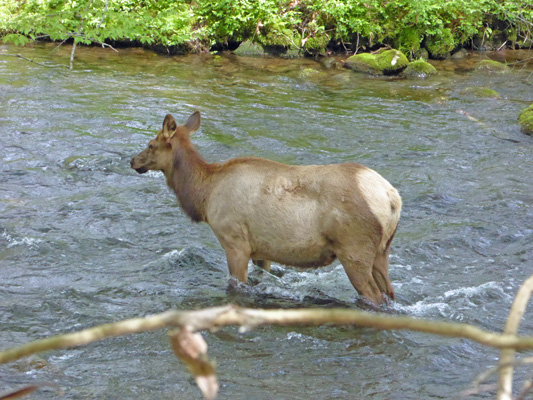 I could see a few more farther up on the bank but I couldn't get a photo of them.
Having had our wildlife sighting for the day (we also saw wild turkeys in the open field by the Visitors Center) we went on to the mill. There's a nice little trail through the woods to the mill and I spied some Wild Geranium (Geranium maculatum) along the way.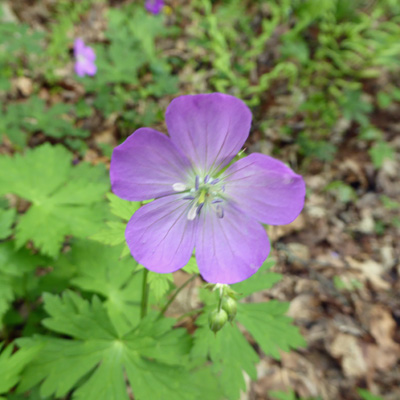 And a large patch of Star Chickweed (Stellaria pubera).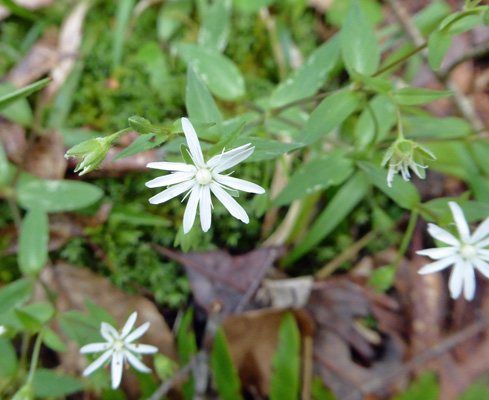 Mingus Mill was built in 1886. It's an unusual mill in that it's run by a turbine rather than a waterwheel.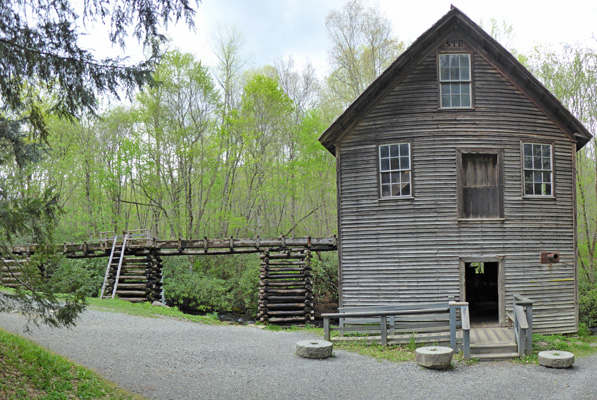 In the summer they run the mill and grind cornmeal for sale. This day there was a fellow selling cornmeal but he wasn't anywhere near as interesting or talkative as the fellow at the mill at Cades Cove. The flume brings water from the creek down to the mill and the height creates pressure to run the turbine which is under the mill.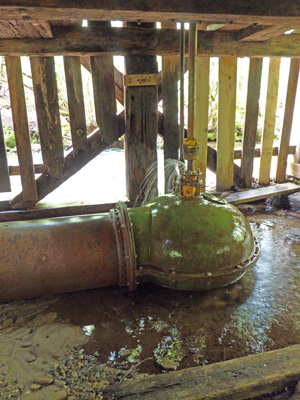 The mill was restored in 1937 by the CCC and then renovated again in 1968 to actually mill cornmeal.
When the mill isn't operating the water overflows the flume to make a nice waterfall.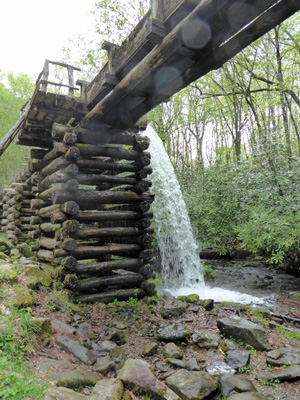 I walked up along the flume a ways (you can follow it all the way up to where it starts at the creek if you want) and took this photo of the flume and the mill.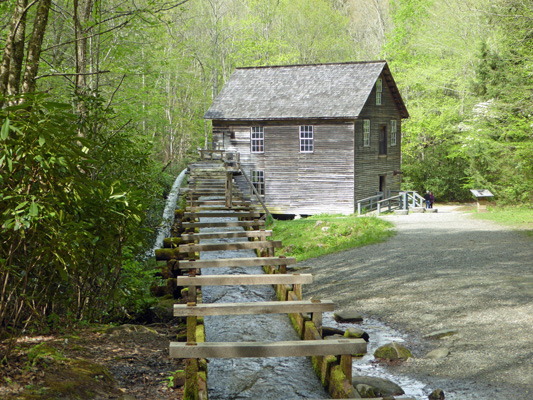 There were flowers blooming under the flume—but I don't know what this guy is.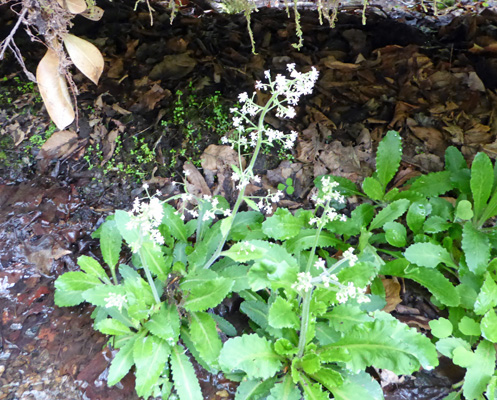 But this is Forkleaf toothwort (Cardamine dissecta).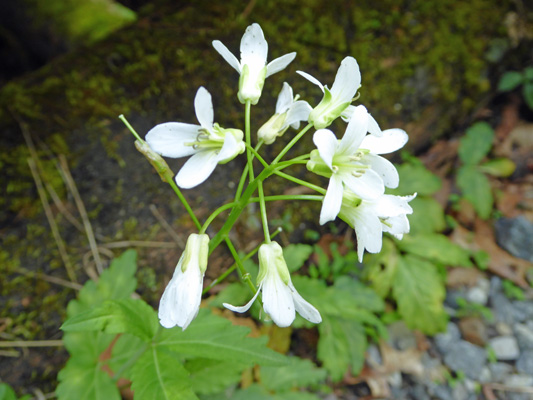 And there was Dog-hobble (Leucothoe fantanesiana) that much further along in bloom here than it had been at the falls.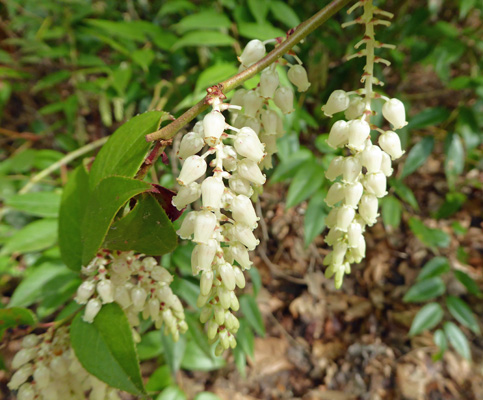 There were a few Foam flower (Tirella-cordifolia) in bloom too.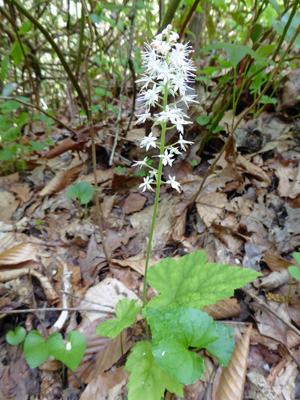 We took the bridge back to the parking area.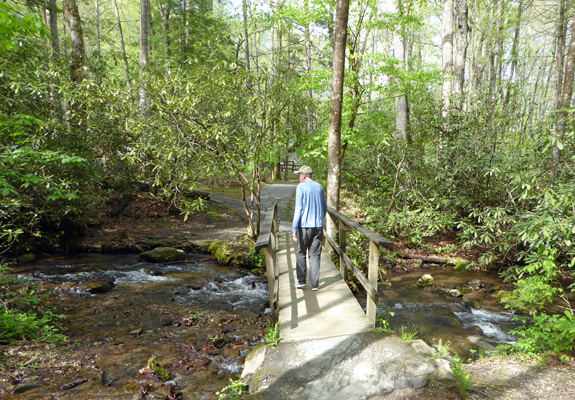 And there were tiny little white violets in bloom near the water.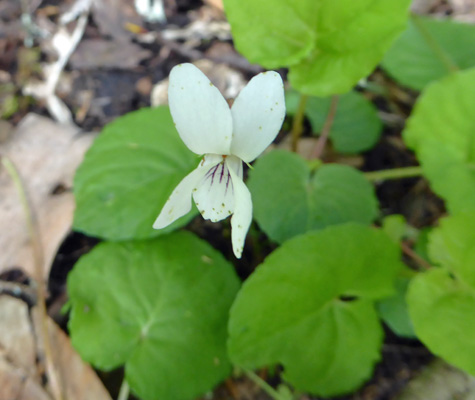 Then we drove on back home to the campground. There were lots of flowers along the road in the campground so I went out to see what we had. There were big patches of Robin's Plantain (Erigeron pulchellus).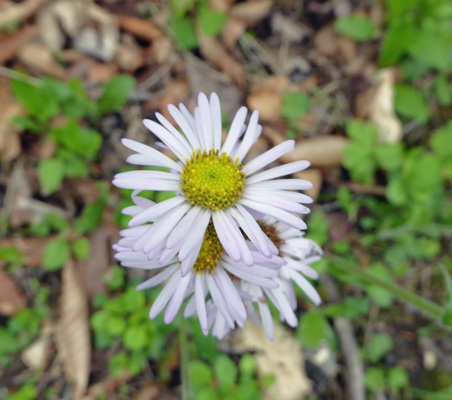 And lots of creeping phlox (Phlox stolonifera).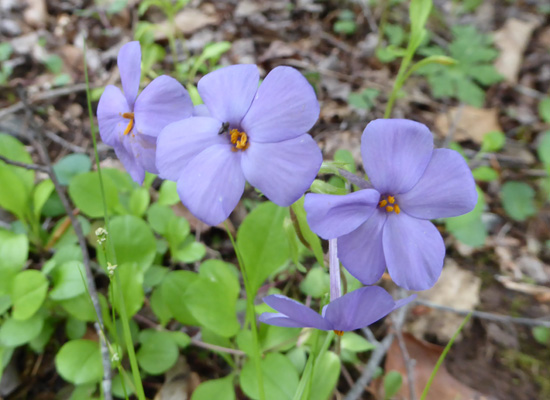 But the big surprise was a tiny cluster of Showy Orchis (Galearis spectabilis). These guys are only about 4 inches high and I had to get down on my hands and knees to get a photo.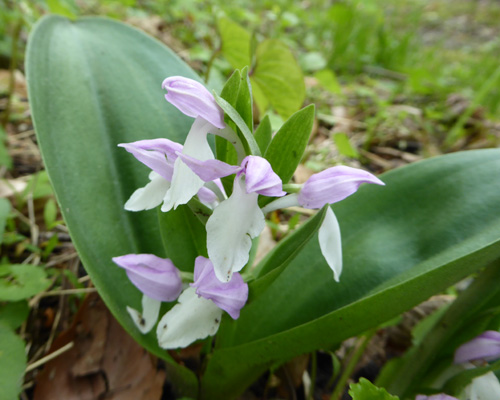 By getting even further down I got a bit of the inner color of the pink petals.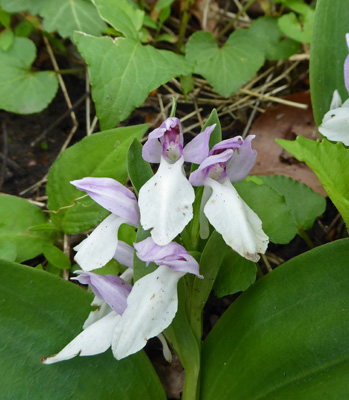 It's always exciting to find members of the orchid family and even more so when it's something I've never seen before.
I walked around looking for some silverbells (Halesia tetraptera) in bloom. We'd seen lots of silverbell flowers fallen on the ground on our hike and I hoped that maybe there were a few on a tree still here. I finally found some flowers way up high. Clearly they don't hold up well in the rain since they'd been beaten off the trees in the hard rain we'd had the night before.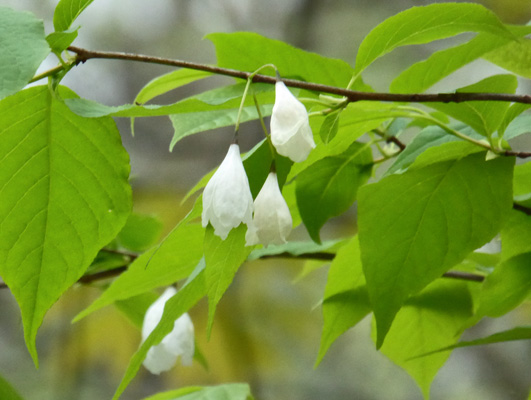 At the base of this tree there was this nifty little plant in bloom. I think it's Doll's Eye (Actaea-pachypoda) aka White Baneberry.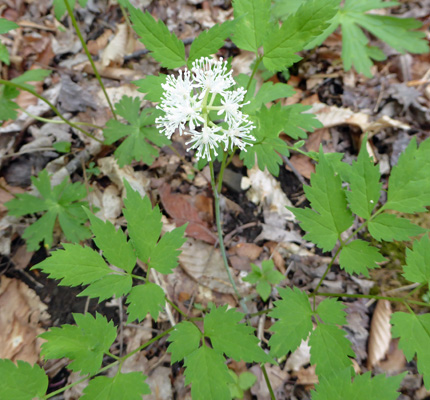 We settled in to read and a little before 8 pm it started to rain. It rained through the night with a little break at about midnight. The next morning it was 55 degrees and WET. It rained big fat drops all morning but it let up briefly at about 11 so we set up our generator in its new tent and let it run. It stayed nice and dry (no wind helps) when the rain started up again a while later.
Once we were done running the generator we took a trip back down to the Oconaluftee Visitors Center just down the road. I found a young Conservation Corps volunteer who was interested in flowers and managed to ID a few things I'd seen the day before (the Dog-hobble and Silverbells which weren't in my books) and had a nice talk with her about flowers.
Before we left the Visitors Center I went out on their back porch and took a classic Great Smoky photo.
The Oconaluftee River which runs by the campground really came up in the rain. Here's a view of it roaring under the bridge to the campground.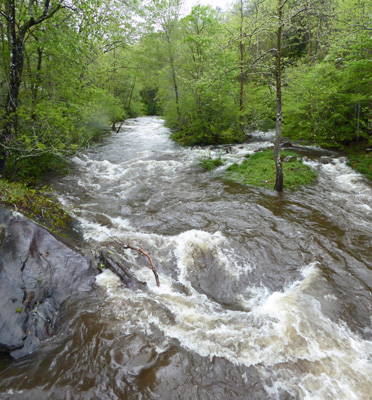 Later in the afternoon, during a break in the rain, I went out and took a photo of the river as it roared along the side of the campground. At this point it was really really loud.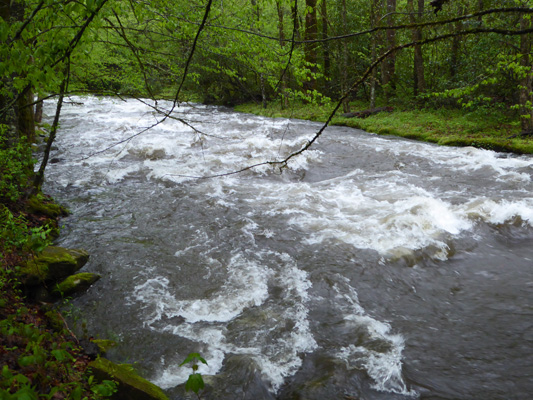 It continued to rain most of the time all afternoon but if finally stopped at about midnight giving us 28 hours of heavy rain.