Sunday April 30, we arrived at Shenandoah Valley Campground in Verona, VA just outside of Waynesboro. This is a nice campground on the Middle River. It was hot (in the upper 80's) and folks were out floating the river in inner tubes that you can rent from the camp store. We set up camp and gave our next door neighbors a tour of our Airstream since they had never seen one in person. We had a water and electric site for $41.70 a night—cheap for Virginia we'd discovered. Their WiFi was a bit erratic—the signal wasn't real strong and no doubt there were too many people on it off and on. And Walter's phone worked (but not mine of course). Many folks packed up and went home as the afternoon progressed so it go quieter and quieter.
This place is known for its free ranging domestic rabbits. Each evening they came out and nibbled on the grass and got the dogs in the area all excited.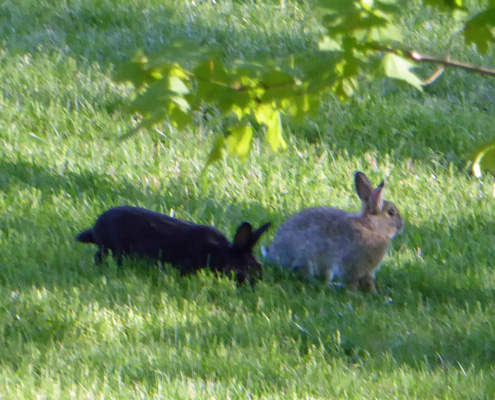 Monday May 1st, we went into the town of Staunton (next town over) and finished our errands and on the way back stopped at the Stonewall Brigade Museum just down the road from the campground. We figured it would be a Civil War museum given the name—Stonewall Jackson being from the area. But no. It turns out that while it was named after Stonewall Jackson, the brigade had been in existence since 1740 and is now the local National Guard unit. They had nice displays of the history of the brigade starting with the Revolution all the way through the Iraqi wars.
On our way back into the campground we stopped and had showers since the shower house was way up the hill by the swimming pool. Then just before lunch I took a stroll down the river to see the waterfall we'd heard was that way. On the way I of course came across some flowers. There were tall Thickleaf Phlox (Phlox carolinia) in bloom on both sides of the river. They came in both pink and white.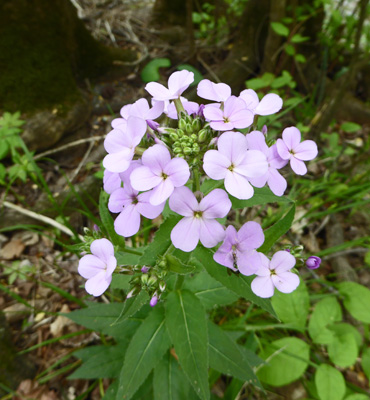 The waterfall was across the river and really quite pretty.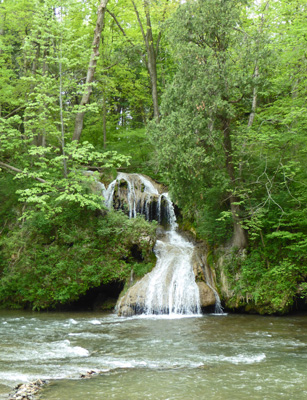 The river isn't very deep but it was moving along pretty good.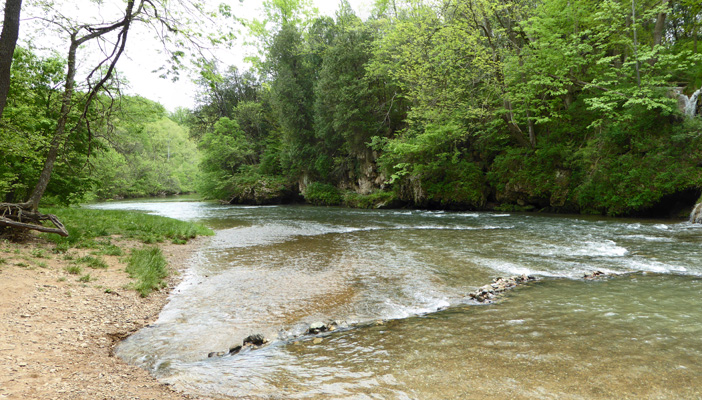 I think this is the take out point for the folks who take their inner tubes down the river.
There was White Campion (Silene latifolia) in bloom on the way back.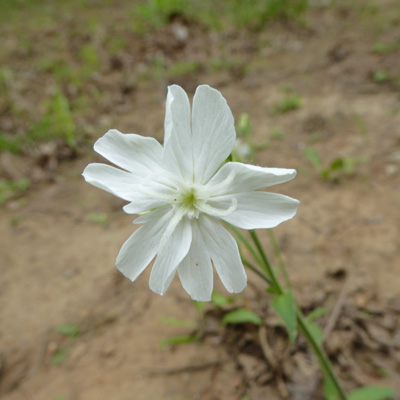 Its easy to identify if you look at it from the side.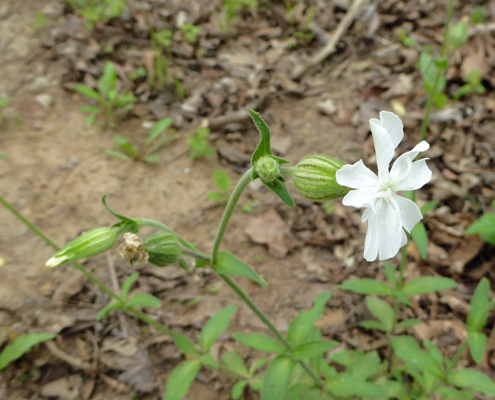 There were also Star of Bethlehem (Ornithogalum umbellatum) in bloom on the river banks. I used to grow this in my garden in Monroe and they were always a favorite of mine so it was fun to find them out in the wild.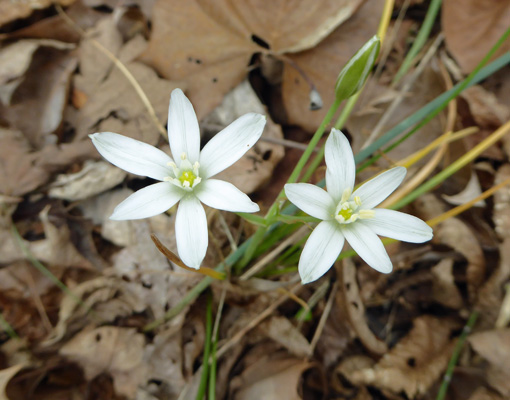 Tuesday May 2nd, it was cooler when we broke camp and navigated our way to the junction between the Blue Ridge Parkway and Skyline Drive and turned north on Skyline Drive into Shenandoah National Park. This is the first park that we've visited in the east that charges an entrance fee. We presented our senior pass and got in free (otherwise the fee is $25 per car).
The first section of Skyline Drive is down near 2000 feet in elevation and the trees were all leafed out so it was like driving through a tunnel of green.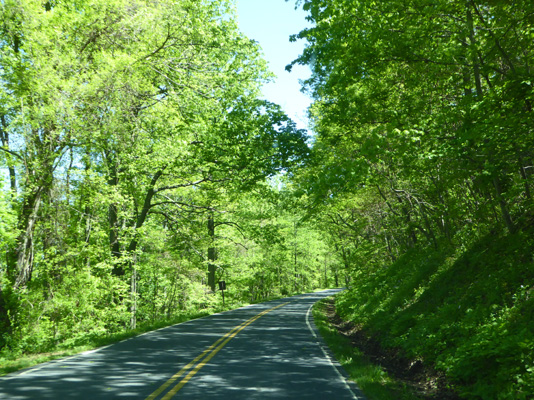 We stopped at one of the first overlooks so I could take a panorama shot looking west.

And then the next to get a view looking east over the Shenandoah Valley.

We changed drivers at Blackrock Summit Overlook and there was a lovely dogwood in bloom there.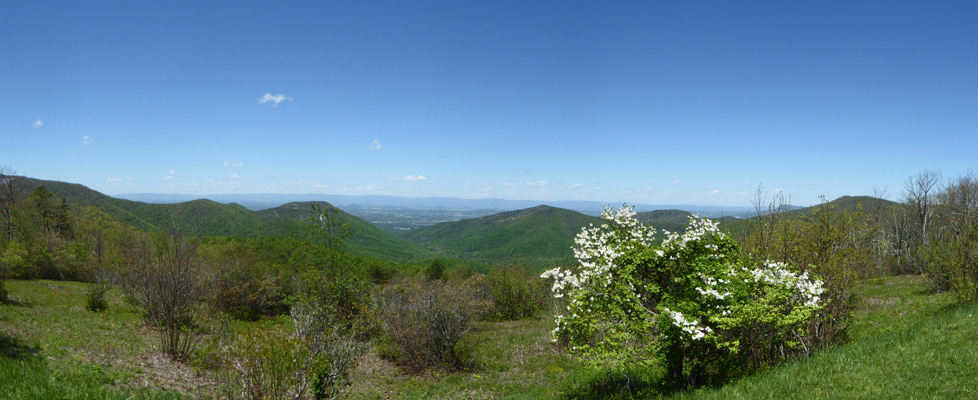 There was Wood Betony (Pedicularis canadensis) in bloom on the verge.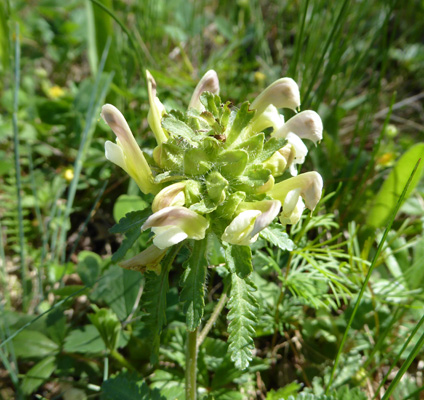 Along with some lovely pink azaleas that looked like true azaleas with small leaves.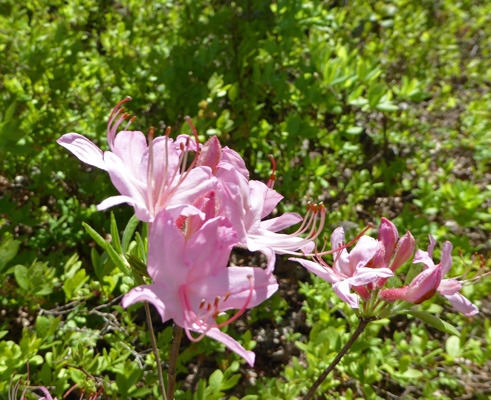 And of course violets. There hasn't been a place we've camped since we entered Arkansas back in late March that hasn't had violets.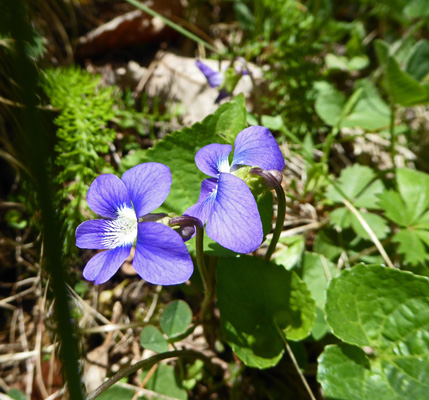 Along the road just before we arrived at Big Meadows I spied some Spiderwort (Tradescantia virginiana) on the verge.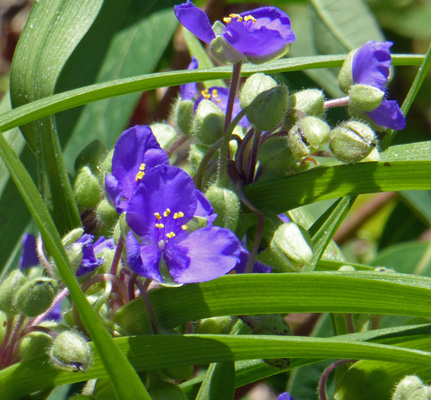 And lots and lots of Wild Geranium (Geranium maculatum) which looked blue from a distance but was lavender close up.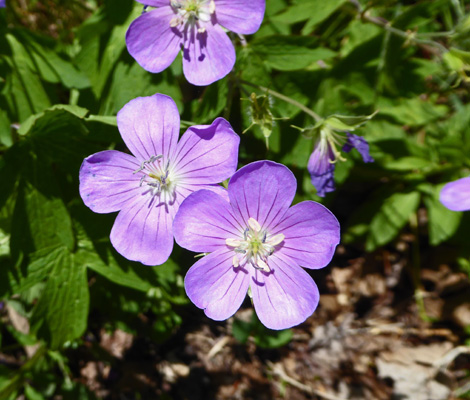 We checked in at the registration kiosk at Big Meadows Campground and they had us drive around and find a spot. Since we didn't know if we wanted to stay 3 or 4 nights we picked one of the First Come First Served sites since Reservations were starting for the season on that 4th night (Friday) and they were booked up for the weekend. We went back and registered and paid a whopping $25.50 for 3 nights of camping ($8.50 a night with our senior pass). Once again this was a no hook up site—it's a National Park after all. There were some pull through spots but they were far from level so we took a back in spot with a nice view of low bushes and trees.
We set up camp with our solar panel since we had open sky to the west and then had lunch. After lunch we drove over to the Visitors Center to ask about hikes and of course to watch the movie.
In front of the Visitors Center there's a statue of a CCC volunteer from the 1930's. The first CCC camps ever, started here at Shenandoah in 1933. Between 1933 and 1942, 10,000 CCC 'boys' served in the camps here working to create the roads, overlooks, trails and structures of the new park.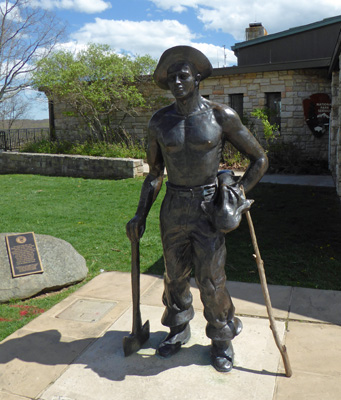 There's a great view of Big Meadow from the porch of the Visitors Center. Each year they do controlled burns here to keep the forest from taking over. It was just starting to green up after being burned about 2 weeks before.

We got maps to a few nearby hikes and then watched the movie about Shenandoah National Park. It was authorized in the 1920's along with Great Smoky Mountains and the Blue Ridge Parkway. But no money was allocated to buy the property or develop the parks. The State of Virginia bought 1000 parcels of land (much through eminent domain since folks didn't want to leave) and the park was then designed by landscape architects like the Blue Ridge Parkway. The CCC then did the work to develop the park. It's only 13 miles wide at its widest but it is 105 miles long.
Having enjoyed that movie we decided we'd also watch the CCC movie which told all about the CCC building the park and the lives of the boys who lived here. If you ever get a chance to see it, do. It was really interesting.
In 1938, the CCC boys completed 101 miles of trails, 28 water/sewage systems, 4001 signs and mile markers, 165 miles of horse trails, prepared 175 acres of soil, installed 136 miles of telephone lines, cut 1149 acres of vistas (overlooks), seeded or sodded 361 acres, built 1,145 miles of fire hazard trails and planted or moved 147,595 trees and shrubs.
We went back to the trailer and enjoyed the afternoon which was warm enough to have some windows open. Late in the afternoon, Walter spotted movement out across the way. There was a deer! And it seemed to have a radio collar.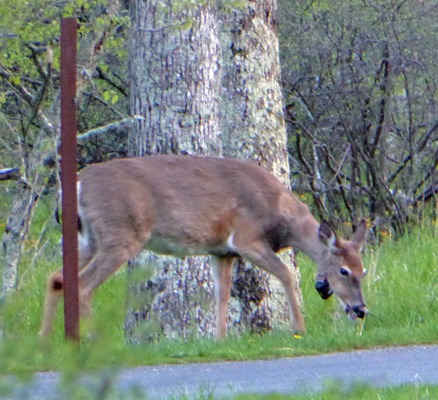 Another deer appeared and chased the first one away.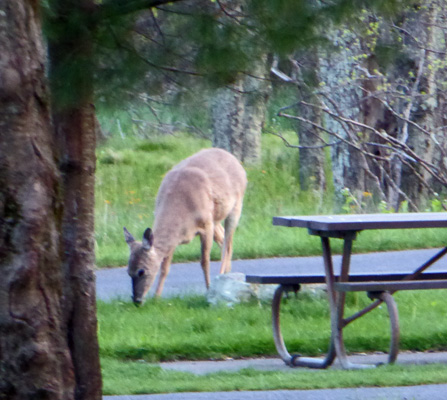 But then they both peacefully trimmed the grass for a while.
Wednesday May 3rd, it was sunny but much cooler. We adjusted the solar panel and it looked like we'd have sun all day (which we did) so we didn't run our generator. Instead we drove about 9 miles north to the Skyland area of the park and did the Stony Man hike. This is a nature trail hike that has 20 numbered posts and a little booklet to tell you about things. Between those stops and my stops to photograph flowers this felt like a really easy hike even though they say it has a 300 foot gain.
There were tons of Wood Anemone (Anemone quinquefolia) in bloom along the trail.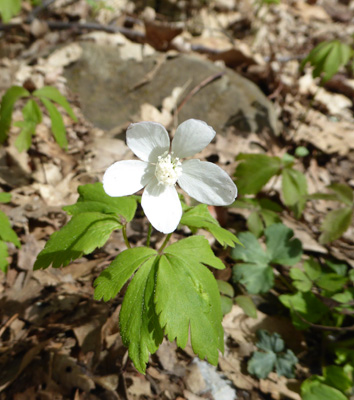 And a few Wild Geranium (Geranium maculatum) for color.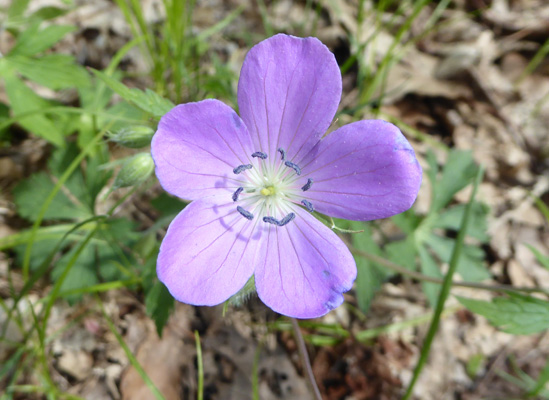 This tree (I think it was a yellow beech) was growing out of a rock. Talk about tenacity.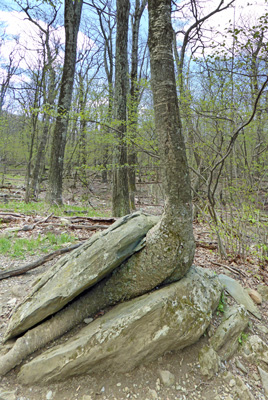 There were patches of Moss Phlox (Phlox subulata) in both white and pink along the way.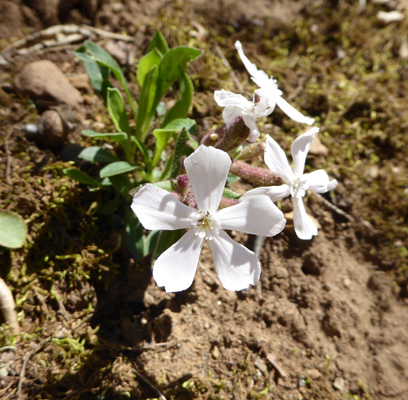 And wonderful Large-flowered Trillium (Trillium grandiflorum) in patches here and there.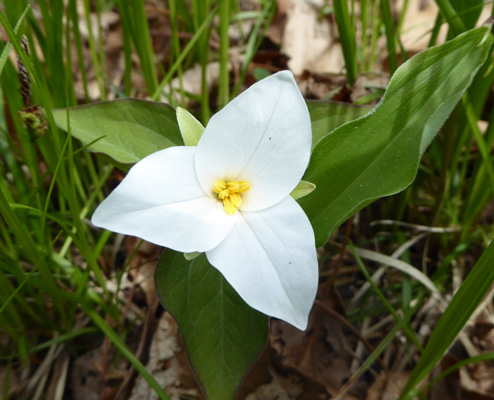 Some of them had started to age and were turning pink.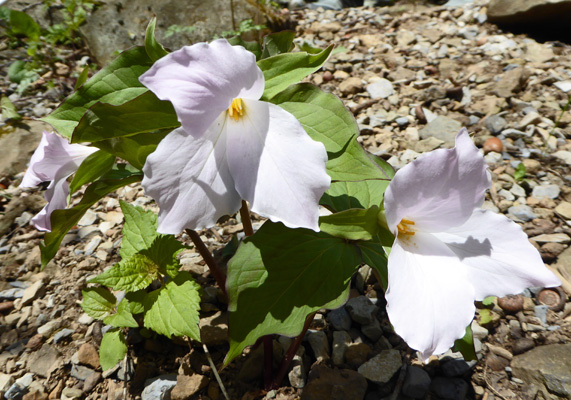 And there were patches of Golden Ragwort (Packera aurea) along the way too. (We had a lot of this next to our campsite).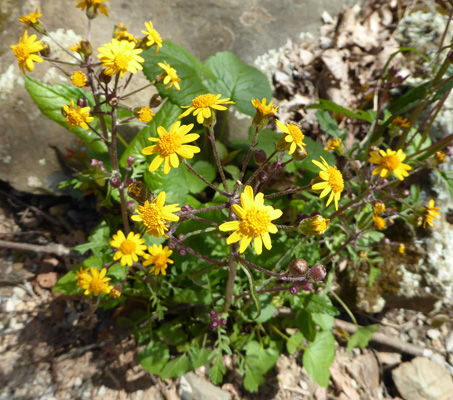 The trail winds it's way up until you come to a sign that says Stony Man Summit with an arrow. The summit is 4,010—the second highest point in the park. And you then descend a short ways (down to the forehead of Stony Man) to get a marvelous 180 degree view westward across the Shenandoah Valley.
This gives you the southwestern portion of the view.

You can see that at this elevation the trees haven't started to leaf out but further down it gets greener and greener.
This is the northwestward portion of the view. You can even seen a small lake just a little right of center.

It was a bit breezy up at the viewpoint but not bad. I was glad I had my windbreaker on (and Walter his raincoat) but we weren't cold.
We completed the loop portion of the trail (which means you've hiked on part of the Appalachian Trail) and then followed the horse trail down to give us a different view of things on the return. Along the way I spied some Marsh Marigolds (Caltha palustris).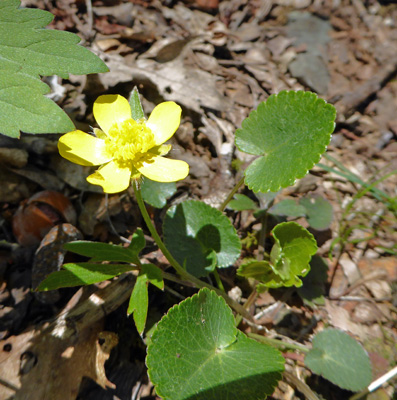 Off and on I'd seen Wood Anemones with pink buds. This one was nearly open and still had a hint of pink.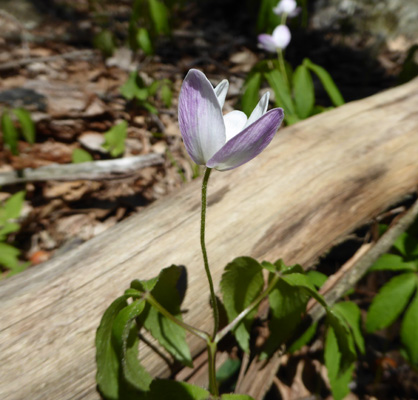 Just as we reached the parking lot I saw a patch of Plantainleaf Pussytoes (Antennaria plantaginifolia).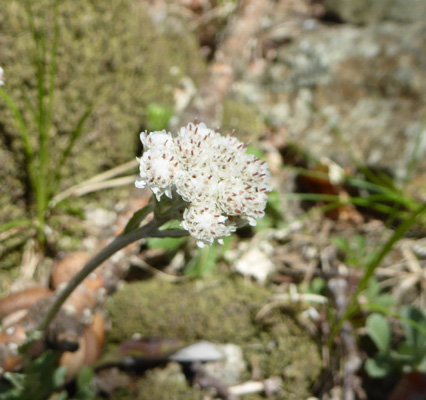 This was a nice hike. It was just 1.6 miles and I think that it was not nearly the 300 foot elevation gain that they claimed.
We continued to have sunshine all afternoon so the solar panels kept us charged up nicely. By mid-afternoon we'd made our plans for the next few days and decided we'd try to find a cell signal. While Walter had one bar up at the Visitors Center, his phone wouldn't complete a call. He asked the ranger where we could get a signal and they sent us just a short distance back south on Skyline Drive to the Tanners Ridge Overlook where he had 4 bars! As a result we got a reservation okay for the weekend in College Park, MD just outside of Washington, DC. They said they had plenty of availability but we really wanted a reservation before we drove all the way into the DC area.
It was cold and clear that night and it just starting to cloud up when we got up the next morning (with the temperature at 45). We ran the generator for an hour and half and for the first time ever ran one of our electric heaters off the generator because our dining area was only 51 degrees. At a little after 10, we bundled up and drove to the Dark Hollow Falls Parking area to get a hike in before the weather turned.
This hike is only 1.4 miles round trip but has a drop of 440 feet in only .7 of a mile (and much of that is in less than 1/2 a mile) which means it's steep. There was a Black Cherry tree (Prunus serotina) in bloom at the beginning of the hike.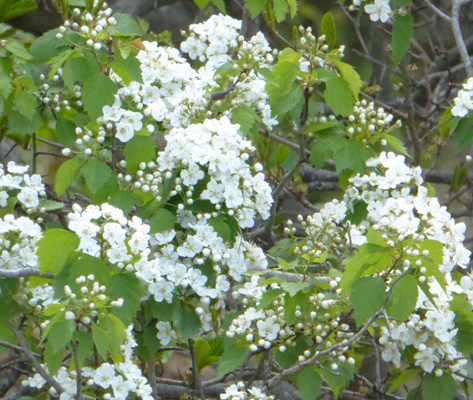 The first 1/3 of the hike has a fairly gradual descent. There were Robin's Plantain (Erigeron pulchellus) in bloom.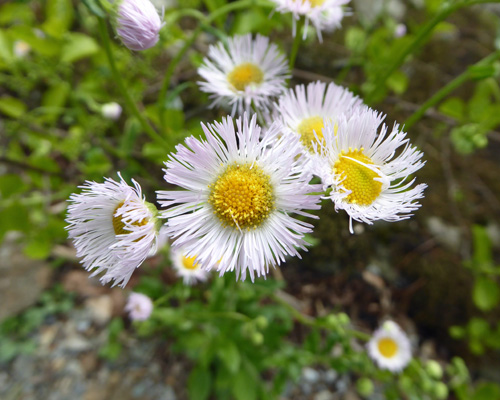 And we passed a number a nice little cascades.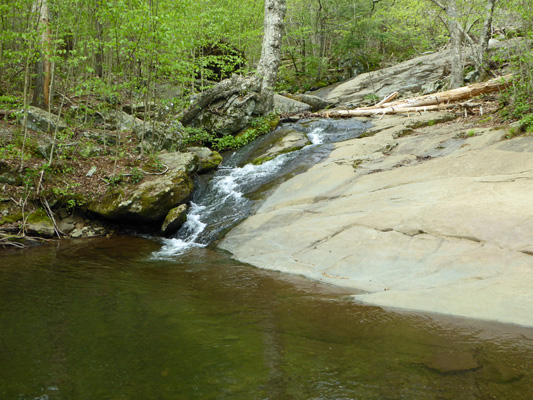 Near one of these cascades I spied some pink on the far side of the creek. It turned out to be Large-flowered Trillium that had turned deep deep pink.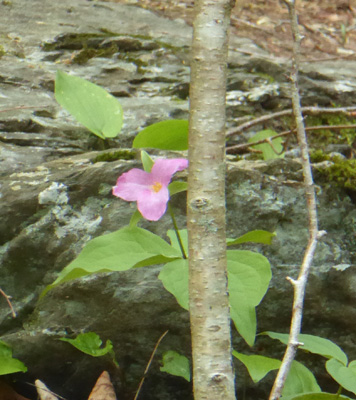 By the time we'd reached this cascade Walter was thinking that maybe this was the falls.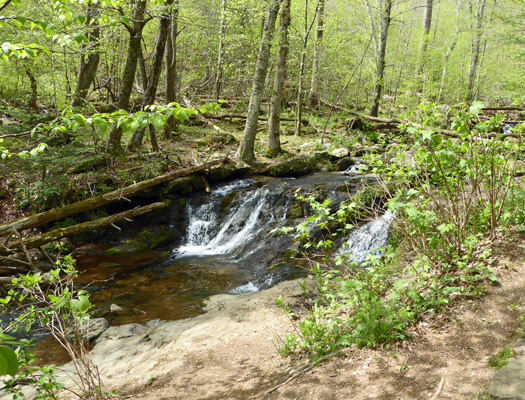 Since the trail guide said they were 70 feet tall, I was pretty sure we weren't there yet. So I set off to go around the bend and see what I could see. And sure enough you come to the top of the falls where they've put up bird netting to try to keep folks out of the creek and the falls. And then a sign that says "Lower Falls viewpoint 1000 yds." It was more like 2000 yards with a drop of about 100 feet in elevation but it did get you down to the base of the falls.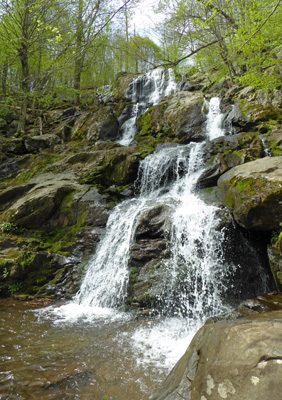 The creek continues on down the steep canyon cascading along.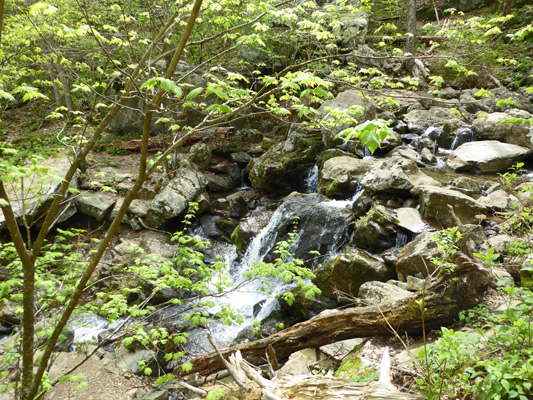 Walter eventually figured out that what he was looking at wasn't a waterfall and continued on down to join me. The climb back up was STEEP. We stopped often to rest and chat with folks as they headed down the trail. When we'd started the parking lot was nearly empty but by the time we returned it was nearly full. It pays to start early if you want the trail to yourself.
While I hadn't stopped often on the way down to take photos, on the way back up I was happy for any excuse to stop and take a photo. This sedum caught my eye on the way up the first really steep section.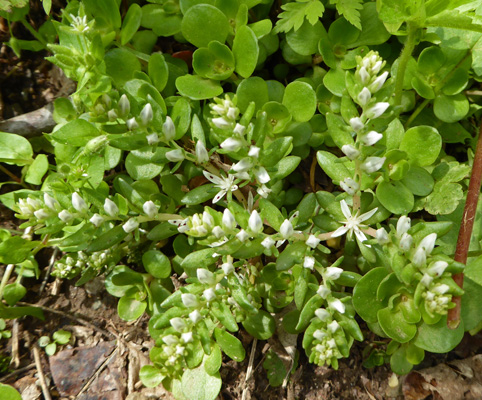 On close examination you can see that it's in bloom. It's Wild Stonecrop (Sedum ternatum).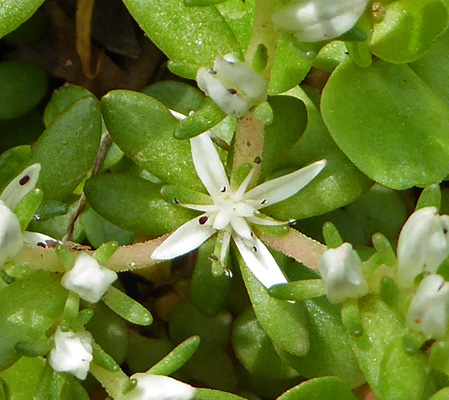 Later I spied a Smooth Solomon's Seal (Polygonatum biforum) just getting ready to bloom. This is another plant I had in the garden in Monroe. The little green buds hanging down from the leaf axils will open into little white bells.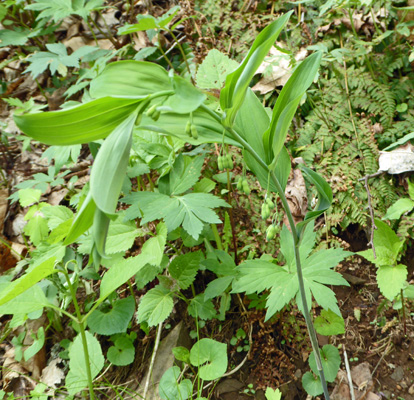 In this same area we spied this strange variegated leaf. I don't know what it belongs to but it's pretty.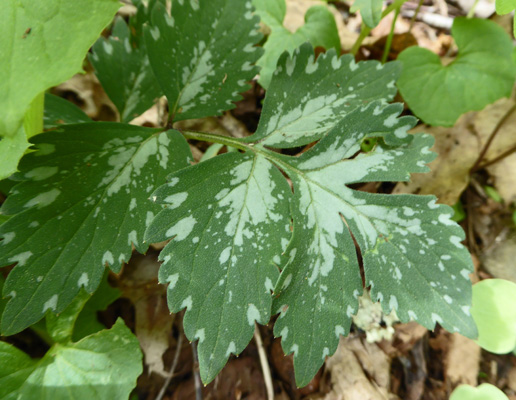 Near one of the cascades there was a patch of Canadian Violets (Viola canadensis) which were really tall.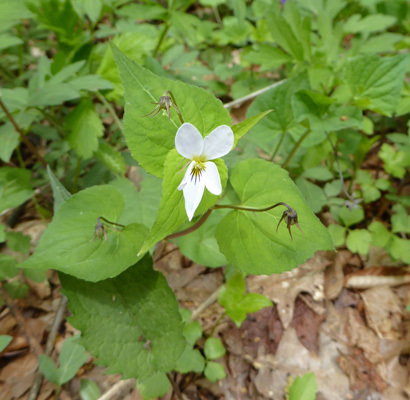 Then came the prize of the day. I saw several patches of these strange white balls growing near the base of a tall stem with about 3 to 5 leaves on it.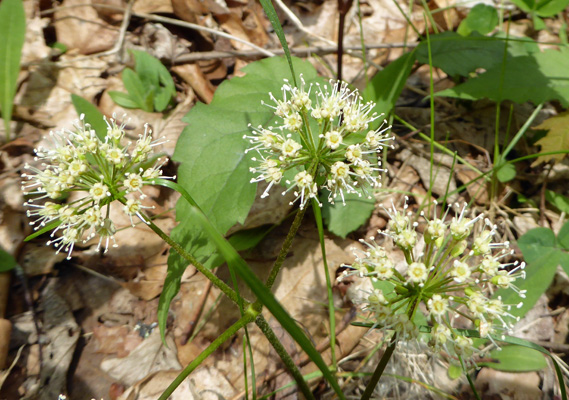 I went into the Visitors Center when we were done with the hike and asked what it was. The ranger got the flower book out and it turns out to be Wild Sarsaparilla (Aralia nudicaulis). It's a member of the ginseng family.
On one of the switchbacks I found an acorn with its cap still on. We'd seen tons of acorns the day before on the Stony Man hike but none of them still had their caps.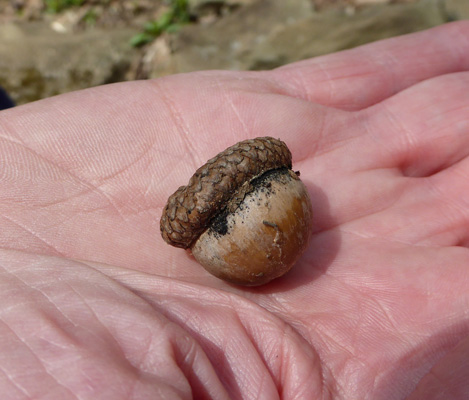 We stopped for our last rest at this lovely little cascade and then made the last section easily since it isn't really very steep.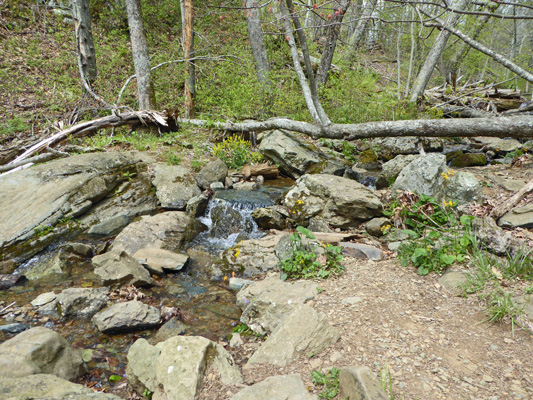 Just before we reached the parking lot I spied another Wood Betony (Pedicularis canadensis), this time a lovely shade of dark pink.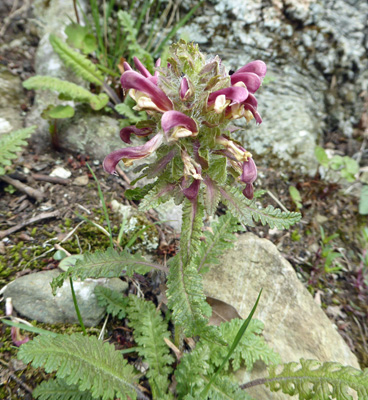 This hike was work on the way back but we made it okay with no problems. It's rocky too so going down you need to watch where you're putting your feet. But the falls are lovely and worth the hike. We started out when it was about 47 degrees and I had on two fleece, my wind breaker and a hat and gloves. The hat and gloves and windbreaker came off on the first steep section up from the falls. Then later I shed one of the fleece. Even Walter took off his hat and gloves but he never took off his coat.
When we got back to the truck it was still under 50 and it had clouded up entirely. We stopped by the Visitors Center so I could ID the Sarsaparilla and then went back to the trailer. It was about 64 in the trailer which felt balmy in comparison to outside—hooray for solar gain. But by 4 pm it was only 58 inside so we started up the generator and ran it for 3 hours to warm things up and run the stove fan while cooking dinner.
Rain began to fall in earnest at about 6:30 and we had to put out the tent for the generator. It poured off and on all night sometimes hard enough to wake us both up but it stopped sometime before 7 am thank goodness. It was misting when we broke camp mid-morning and we headed north on Skyline Drive. It was pretty foggy and the view at the overlooks was nonexistent. It got no better by the time we reached Hwy 211 at Thornton Gap so we turned east there rather than driving another 30 miles north on a fogged-in winding mountain road up to Fort Royal and the end of Skyline Drive.
At about 12:30 we stopped for gas and ended up stuck in the gas station between two islands—something that had never happened before. Everything we tried made matters worse. All sorts of folks stopped to try to help and in the process we managed to ding the front rock guard (and the panel underneath it) of the front passenger side of the Airstream. In the end, a nice lady suggested that the only thing that would work would be to disconnect the truck from the trailer, reposition the truck and pull the trailer out. With some difficulty we did this and sure enough the trailer came out of it's stuck position just fine. We spent an hour in the gas station and I was a basket case by the time it was over.
It was my turn to drive so I got myself together and we headed in towards Washington DC. Walter checked Carmine the Garmin to make sure she was routing us on I-495, the beltway around the city. But when we got there, I followed her directions and found myself heading over the Theodore Roosevelt Bridge right into downtown DC! There was no getting out of this, so I breathed deeply, muttered dire threats about Carmine and drove all the way across Washington DC to College Park MD at 3 o'clock on a Friday afternoon.
When we arrived at Cherry Hill Park, they couldn't find our reservation. But the lady behind the desk was a wonder and searched everything she could and finally found us under 'Sooke' instead of Cooke—with the wrong phone number too. Sheesh. It was now nearing 4 pm and we hadn't had lunch. We got the trailer parked and set up and then had something to eat. I was frankly a nervous wreck. I love living on the road but every once in a while I hit the wall. I didn't melt down and end up screaming but I was not a happy camper.
Our plan for the weekend was to spend one day in DC seeing the sights and part of one day visiting our friends, the Geyers, who live up in Baltimore. But we had now lost half a day that was supposed to be used for laundry and I was in no place to be sociable since all I wanted to do was hide under the bed—something you can't do in the Airstream. So we sadly delayed seeing the Geyers until fall when we come through this way again. And we spent the day Saturday doing laundry, grocery shopping and having showers in the very nice showers at Cherry Hill.
A note on Cherry Hill Park. It is a very large high end resort set up to serve folks who want to easily see Washington DC. We paid $63 a night for a full hook up back-in site. They have their own bus stop for the Metrobus. They sell Grayline Tours. And they provide a one hour orientation that includes how to make your way in and out of the city via the Metro system. They even sell the cards that Metro requires you to use to pay your fare. We went to the orientation on Friday evening and learned everything we needed to make a safe and sane trip in. They have very nice WiFi and cable TV though our cable connection was too far away for our cable wire. This wasn't an issue since there's very good over the air TV here too. The laundry was very nice and not expensive. And the showers were clean and had a nice dressing area with plenty of hooks and a bench.