On Thursday June 15th, we packed up at Blackwoods Campground in Acadia National Park and headed northeast up Hwy 1 to Calais, Maine to make the crossing into New Brunswick, Canada.
We drove just a few kilometers farther east to New River Beach Provincial Park in New River, New Brunswick where we got an electric only site in the campground there for $27.90 per night (they cost $31 per night but there's a 10% senior discount). We set up camp and then took glorious hot showers in their shower house. The place was clean, the water was hot, the water pressure was good AND it wasn't cold and drafty. Heaven.
That evening after dinner we took our computers down to the registration office and tried to get onto their free WiFi. Walter could get on (he was closer to the office and he adapter has a little stronger reception) but I couldn't. So I got out of the truck and sat at a picnic table next to the office and voila, I got on. The only hitch was that it was dusk and the mosquitoes were out. I ended up with a new collection of bites that at least didn't swell up and itch as much as the black fly bites I'd gotten while we were at Schoodic in Acadia.
When we were done with our web surfing we drove across the road to the beach area and I took a panorama shot of the bay.

This is on the Bay of Fundy so the tides here are pretty extreme. We weren't at full low tide but there sure was a lot of sand visible!
On our way back we even had a bit of a sunset.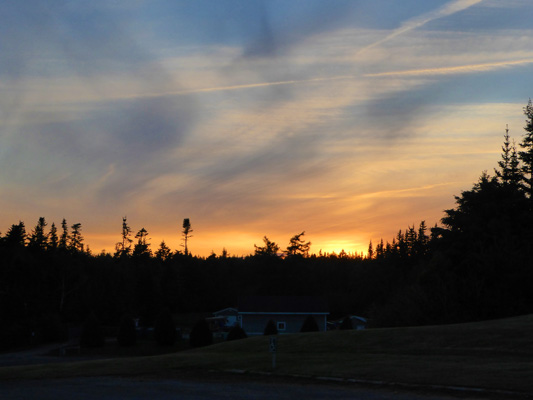 The campground was deeply wooded and our campsite had a bit of standing water here and there. This supported a large population of bunchberry (Cornus canadensis)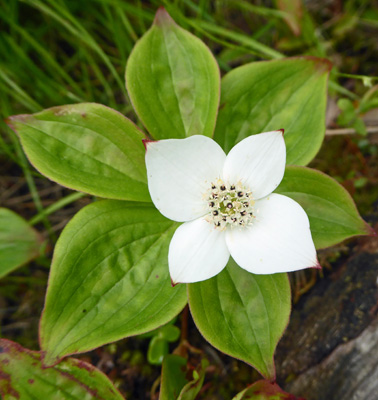 Some very nice Rhodra (Rhododendron canadense)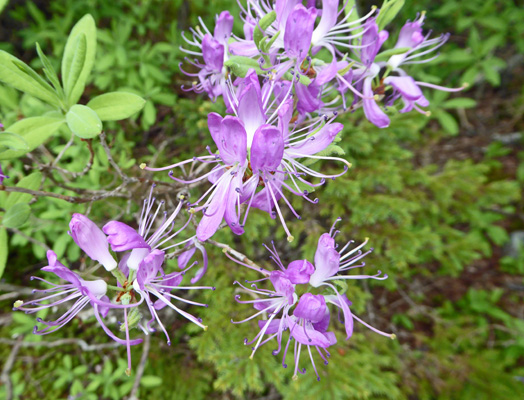 And a number of these white flowered bushes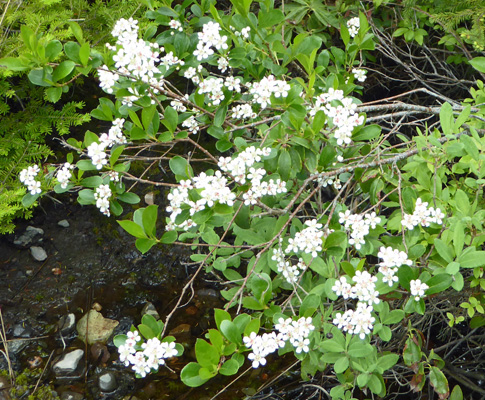 Here's a close up of the flowers.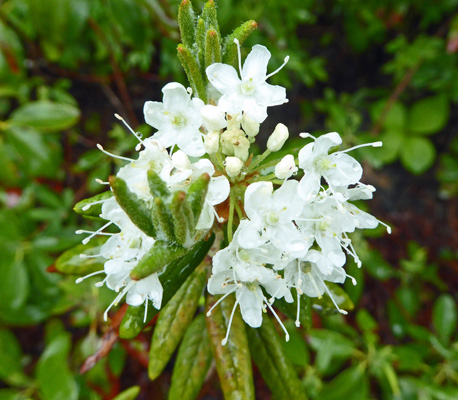 The leaves look like they're part of the rhododendron family but the flowers don't look like rhodies. It turns out to be Labrador-tea (Rhododendron groenlandicum), a member of the rhody family that we saw up in Alaska.
On Friday June 16th, we got up and got going so that we could be in Saint Johns in time to see low tide at the Reversing Falls (Rapids) in downtown Saint John at about 11:30 am. The Reversing Falls are an oddity created by the extreme tidal changes in the Bay of Fundy.
At low tide, the river flow increases as the water rushes out to sea and the water levels drop exposing rocks to create rapids and whirlpools.

That's the Irving Paper Mill across the river. It's cleaned up its processes so it doesn't pollute the river and it doesn't smell bad.
Here's another view of the rapids as they crash around the little island.
And here's another attempt at photographing the whirlpools.

To fully appreciate the phenomenon here, you have go away for about 3 hours and come back at what is called slack tide—halfway between low and high tides. So we went off to find a Virgin Mobile store to get a Canadian cell phone. We ended up in a place called of all things, "The Phone Booth", which sold us the cheapest clamshell Virgin Mobile phone available and set up a pay-as-you-go account for us. In the process, they discovered that we'll have to use Top-up cards to keep the account open since Virgin Mobile Canada only accepts credit cards from Canadian banks. In the end, all was well. We have a fully activated phone with 250 anytime minutes (and unlimited calling in the evening and on weekends) anywhere in Canada. Cell phone service in Canada isn't cheap. The phone which would have cost maybe $10 ($20 at the most) from Virgin Mobile USA cost $60 (plus $5 for the SIM card) and the service plan costs $30 a month and is the equivalent of what Walter has from Verizon for $15 a month.
From there we found an ATM to get some Canadian cash. We'd heard that out in Newfoundland that they don't always take credit cards so we made sure we got some cash. Then we went across the road to the Walmart to get ourselves a Walmart Canada to USA calling card so that we could use our new Canadian cell phone to call the US if needs be. Finally, we stopped by the CAA (Canadian Automobile Club) to see if they had any different maps than the ones we'd gotten in the states (they didn't but now we know for sure). By this point it was lunch time so we drove over to Rockway Park and had lunch next to the duck pond where we could watch the ducks swim in the light rain that was just starting.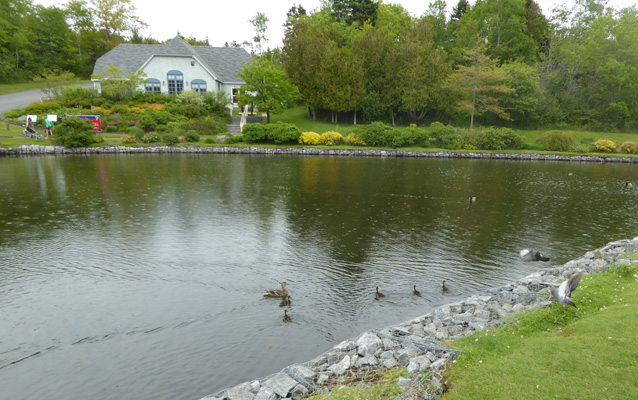 There was a larger lake across the road and lots of folks out walking around it even in the light rain.

Rockway Park has a campground so you can camp in the city of Saint John itself if you want. We were glad to be out at New River Beach even if we had to drive a bit of a ways to get to Saint John. At this point it was nearly 2:30 so we drove back to the Reversing Falls in time for slack tide.

The river was flowing just a little bit downstream at this point (probably it's normal flow without the tides) and there were diving ducks riding the current downstream and fishing. You can see that there is some movement but nothing like it was earlier around the little island—and not a bit of white water.

Within a half an hour it was perfectly still with no movement of the water at all and the birds were gone. At low tide there were no boats out and it's considered very dangerous to be out on this portion of the river when the rapids are visible. People have died when their boats of capsized in it.
But at slack tide it isn't a problem.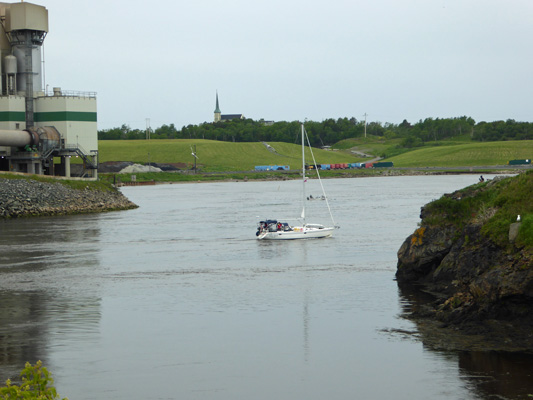 By 3:30 (high tide was at 5:45) the river began to run upstream. Yes, you read that right. The river actually reverses direction under pressure of the incoming tide. We watched as it got stronger and stronger and another sailboat come up stream motoring along with great ease. I took yet another shot of the river with its reversed flow but I don't think you can really see it. Maybe by full High Tide it is more visible but frankly we were done having sat for over an hour watching it.

We had light rain for most of the rest of the evening and then in the night it started to rain hard. We had a bit of a break while we were breaking camp but it really started to come down by the time we were done.
We motored east on Hwy 1 to Hwy 114 which takes you south to Fundy National Park.
Along the way we saw a old covered bridge that looked like it was being restored. I grabbed a photo of it as we flashed by on Hwy 1.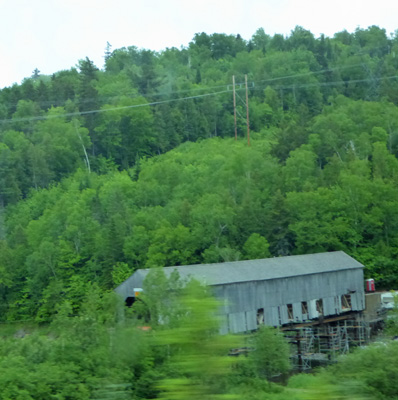 We drove on into Fundy National Park to the North Chignecto Campground. Oh goodie, a whole new Native People's language to learn how to pronounce in addition to the French everywhere! We got an electric and water back-in site for $25.80 a night (it was still considered shoulder season) and managed to get set up without getting too wet. The woods here were really thick. They logged the area heavily at the turn of the century long before it became a National Park and it looks like it came back as a thicket.
After lunch we decided we'd take a drive around the southern section of the park. It had been really foggy as we arrived but the fog had thinned out and there were just tatters left along with the clouds when we stopped at the first overlook.

The Canadian National Park Service has a fun program where they leave red chairs at view points so people can sit and enjoy the view. Walter tried out the set of chairs at this overlook, even though they were pretty wet.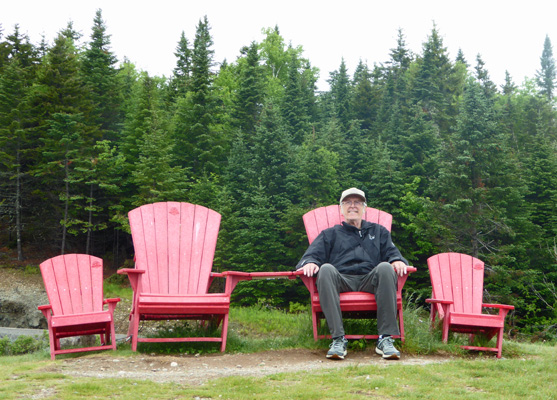 There was a group of lady bikers enjoying the view too. You don't see groups of women on motorcycles often.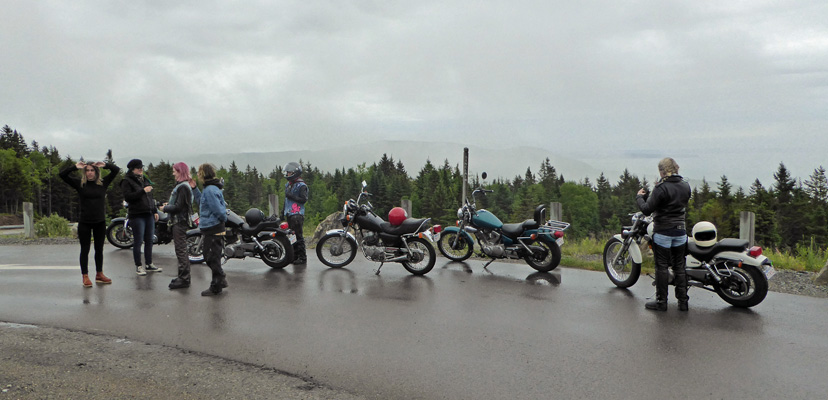 We drove on down to the Visitors Center and talked to the ranger about waterfall hikes and where we could get WiFi. The literature I'd found said that there was WiFi in our campground but we couldn't get it to connect even when we were at the registration kiosk. She said that it currently wasn't working but that we could come and use the Wifi in the Visitor Center any time they were open. They had a nice sitting room complete with two tables to sit at to use your computers—a great place to be out of the rain with your nice warm computer.
From here we drove on down to the little town of Alma which is right outside the eastern border of the park. It's their glitter gulch complete with motels, lobster eateries and gift shops. We drove the 6 or 7 blocks through town and then turned back to re-enter the park. There's a little house next to the Upper Salmon River dedicated to Molly Kool.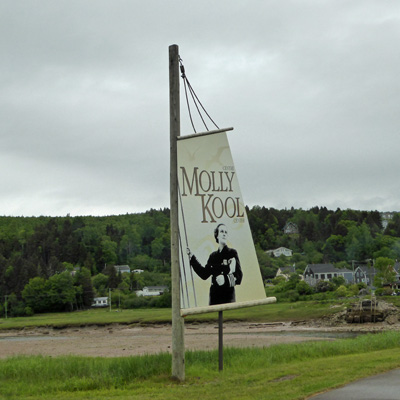 She was the first female maritime captain in North America. She grew up in Alma and her little house is now used by "kitchen concerts" during the summer months. I got out and peered in the windows but there was no evidence of a schedule of events for the summer yet.
On our way out of the parking area we stopped and a grabbed a photo of the edge Alma and the Bay of Fundy here.

From here we drove out towards Point Wolfe, an area that was heavily logged and had a sawmill on the river out on the coast. They have been working to reverse the damage done to the river from logging practices and the sawmill itself (they dumped the sawdust in the river for years and years). Along the river you get a view of the Point Wolfe Covered Bridge.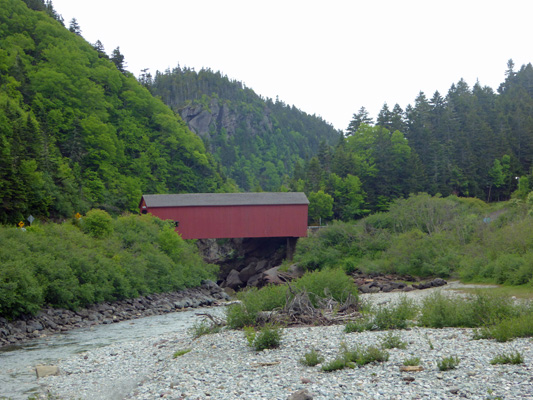 You get a nice full view of the bridge just before you drive over it.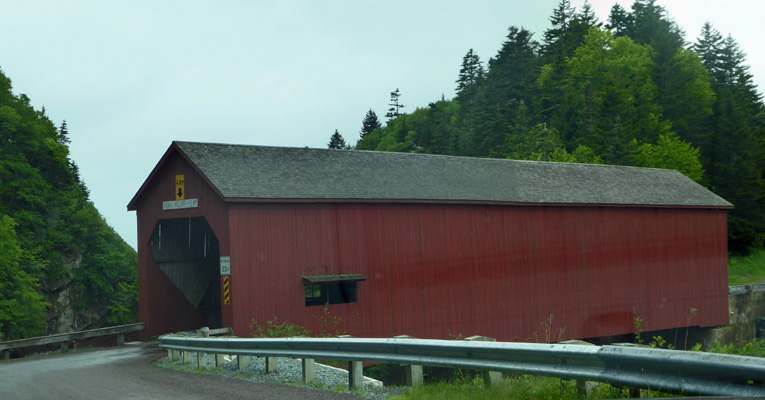 It has two windows on the sides so you can see the view both up river and down.
We drove out to the end of the road—there are trails that lead out along the bluff but it was raining and so we turned back. We came back to the parking area on the far side of the bridge and I got out and took the short hike to take a head-on photo of the bridge which says it was built in 1992. My guess is that is when they most recently rebuilt it.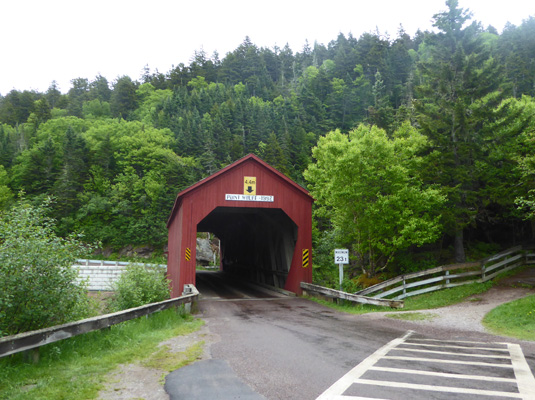 It's a one-lane bridge so you have to take turns crossing it. I took the trail off to the right and out for a view of the ocean.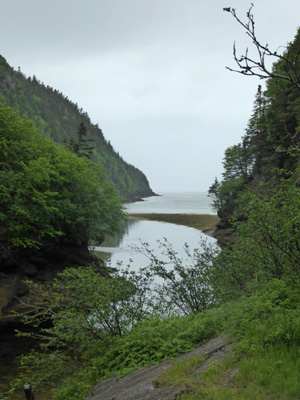 And a view back up to the bridge.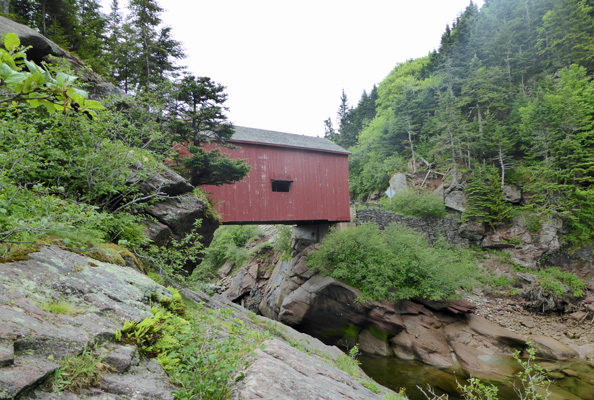 The Canadian National Parks have a different attitude about their purpose than the US Park Service. They have many more hotels and recreation services in their parks. There's a 9-hole golf course down in the Headquarters/Visitor Center area plus a saltwater swimming pool (which wasn't open yet for the season) and they rent boats on one of the lakes. We spied a strange critter on the golf course. Initially I thought he was a woodchuck but he turned out to be a muskrat.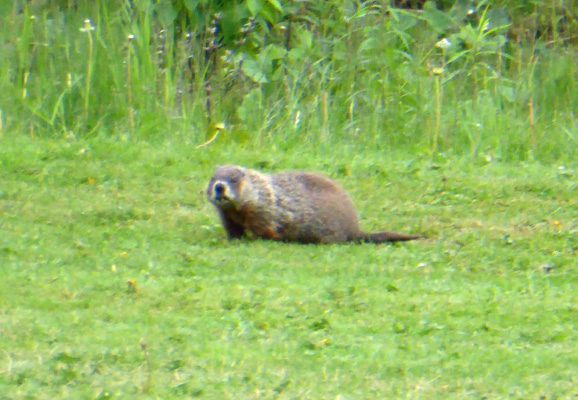 We actually saw a couple of deer during our drive that day too. They certainly weren't thick on the ground in Acadia but there appear to be more here in New Brunswick—and we've seen lots of moose crossing signs but no moose yet.
On Sunday June 18th, we took it easy in the morning and then went down to the Visitors Center to use their WiFi. Several folks had told me that we really needed to make our reservations for the ferry to Newfoundland as soon as possible so I bit the bullet and did it. It's not cheap ($800 round trip with our truck and trailer and two passengers) but that's not bad when you consider it's a 7-hour-long boat ride each way.
At a little after 1 pm, we headed east along Hwy 114 for about 35 minutes to Hopewell Rocks, a privately owned section of the New Brunswick coast where you can view the iconic Flowerpot Rocks.
Along the way we saw yet another covered bridge.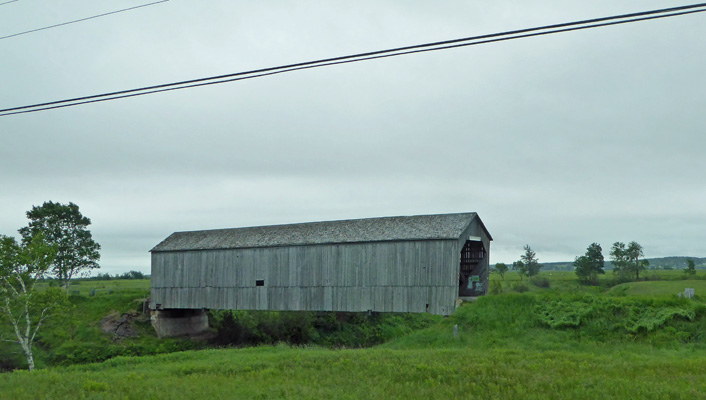 Silly me, from the photos, the Flowerpot Rocks looked like the kind of place that had an overlook where you could drop by several times during the day to take photos. Oh, you can drop by as many times as you want, it's just not as simple as I'd assumed. First you pay $8 (for seniors, $10 for adults) admission and that's good for 2 days worth of visits. Okay, this is going to work. But then we discovered that access to the rocks is a 15 minute walk down a trail (1/2 mile then 100 stairs) so you can't just hop out of the car and snap a photo and hop back in. It's a half an hour minimum each time. AND the gate closes at 5 pm so when the high tide is at 7:30 pm as it was that evening, you have to park outside the parking lot (which is huge) and walk in and THEN walk down the trail and back. It was a pleasant walk through the woods but I'd already had my doubts about sticking around for high tide (another 4 or 5 hours at least) since it was so late in the day (and the weather was so foggy) and this just made it a much easier decision that low tide would just have to do. I'm sure if it had been sunny and warm and the low tide had been in the morning so the high was in the afternoon, it would have been an easy decision to make to stay and get photos at both points.
The trail winds through the woods and down hill most of the way until you come out at a viewpoint where you can see down to the beach. This photo was taken a the lowest point of low tide from up on an observation deck.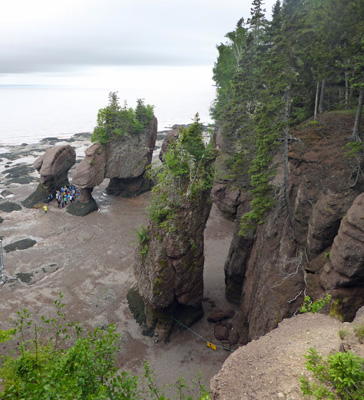 You go down metal stairs (clearly they have LOTS of visitors in the summer because there are UP stairs and DOWN stairs to make for an easy flow of people up and down the stairs). On the last landing there is a great view of the rocks.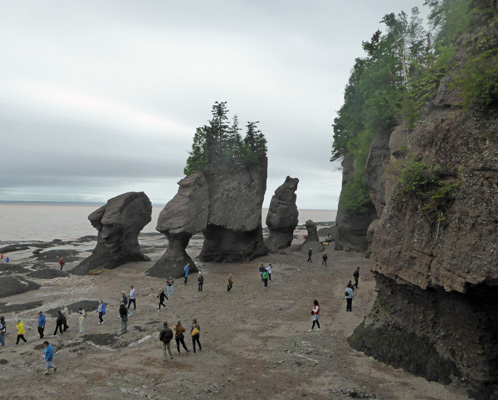 In fact I'm sure this is where the iconic high, medium and low tide photos of these rocks are usually taken. Here's a high tide photo I photographed in the Interpretive Center.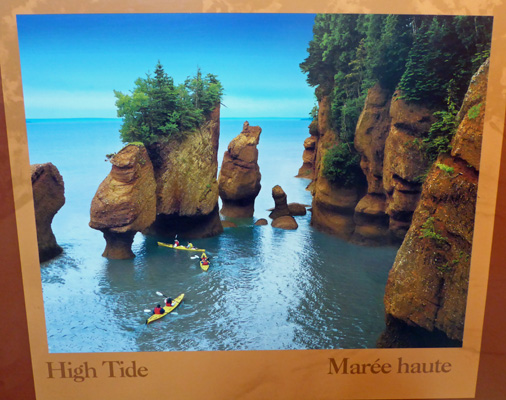 They have kayaking trips available at high tide from mid-June until September.
We climbed down the last of the stairs and came out onto the sand—what they call the ocean floor since it does go under water every day for about 12 hour (3 hours both sides of high tide, twice a day). Here you can see new Flowerpot Rocks in the making. Erosion slowly creates columns that become free standing stones with trees growing on top of them. There are caves all through the area where the ocean has eroded the bases of these rocks and you can tell that it won't be long until new columns end up standing freely off the slowly retreating coastline.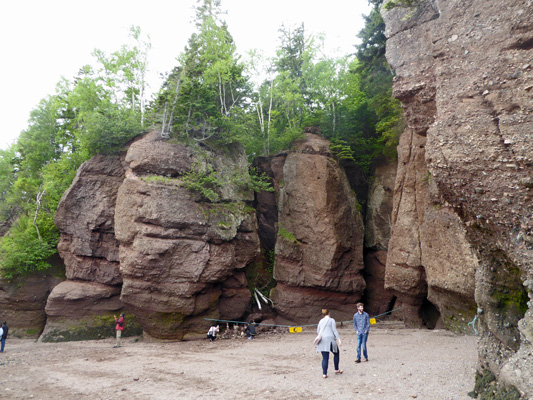 I was pleasantly surprised to discover that the area was mostly sand and rock for quite a ways out which made exploring pretty easy.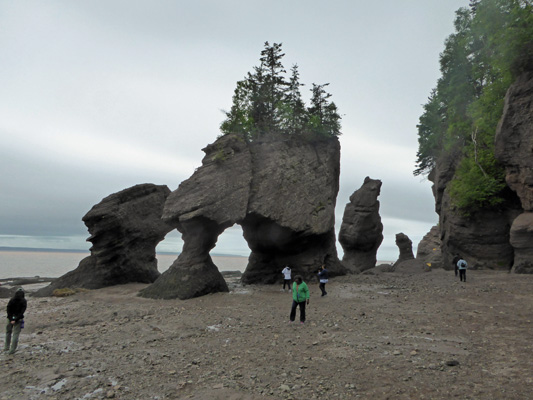 You did have to watch where you stepped because there were patches of mud here and there and once you got out towards the waterline it was REALLY muddy. But there was plenty of area to explore without having to deal with the mud.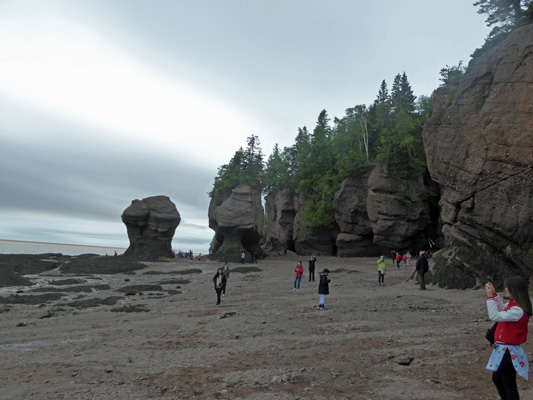 The lower 6 to 7 feet of the rocks were covered with kelp as were the flat rocks along the beach.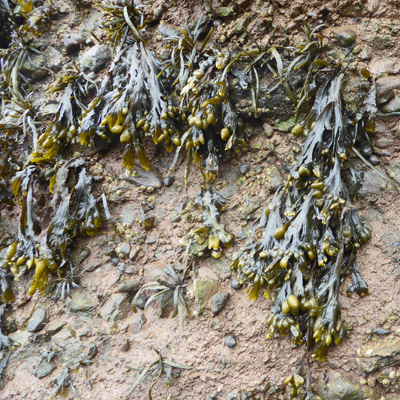 The Bay of Fundy in this area is pretty shallow and the tides stir up the silt and make it a chocolate brown color. In fact, they call it the River of Chocolate.

As you head eastward on the beach, there are lots more flowerpots to see.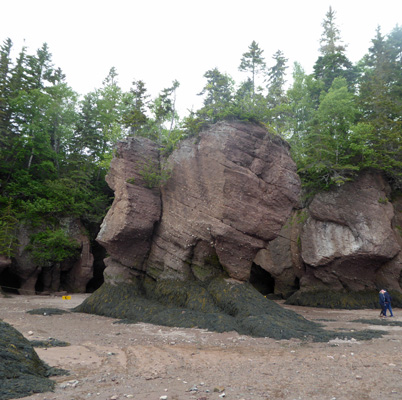 They come in all sorts of shapes but they all are conical because the tides are slowly eroding their bases.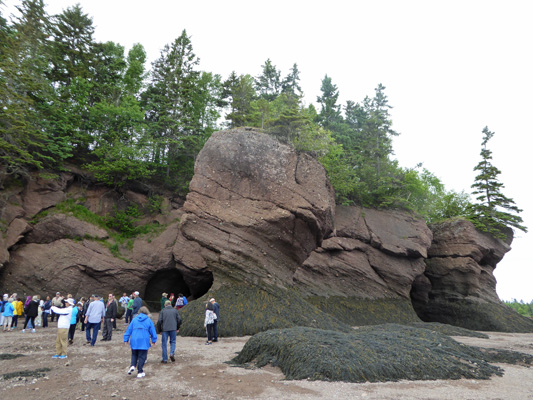 This one was much thinner in one direction than another and it looked very thin this way.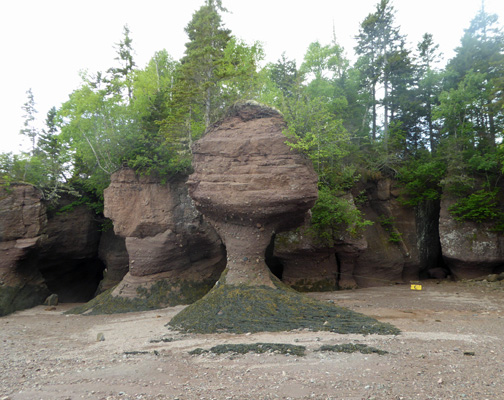 Here's Walter standing next to one of the Flowerpots to give you a sense of scale.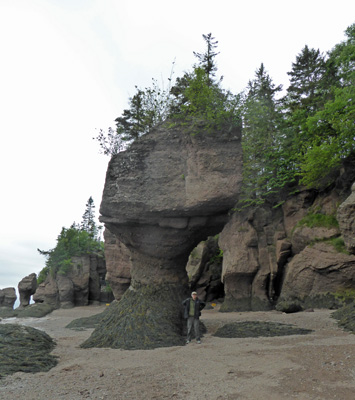 The tides in the Bay of Fundy have the biggest low to high tide swing in the world. At full and new moon in some parts of the year the swing can be 50 feet! It's those huge tidal swings that make things like the Reversing Falls in Saint John possible, along with making it possible for you to walk in among these fun formations. We walked back up the beach and I went as far as I could without getting muddy.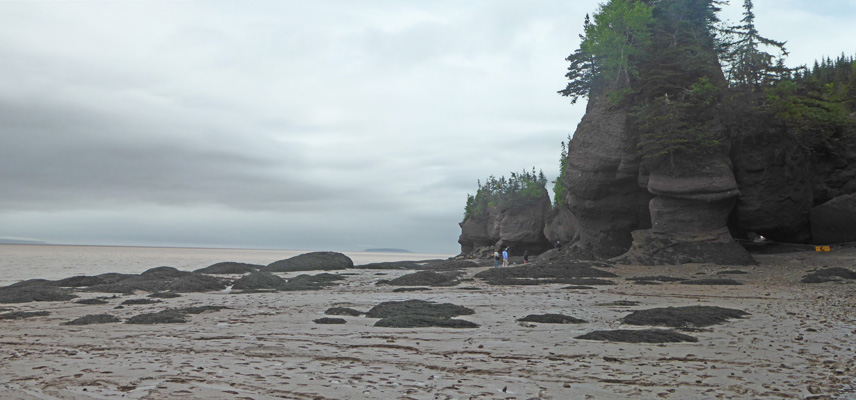 You need rubber boots to go much farther than this. So I turned back.
And took one last photo of the formation called Lover's Arch.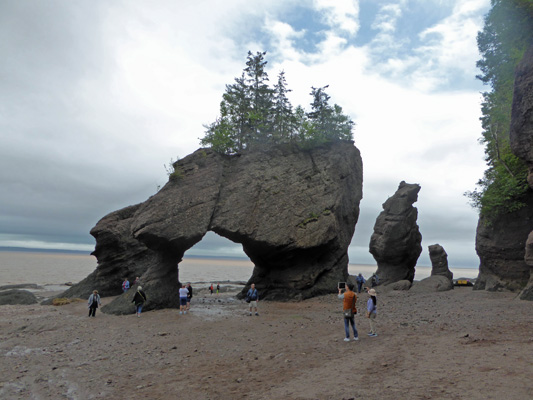 Before I climbed the stairs to meet Walter waiting for me on the first landing.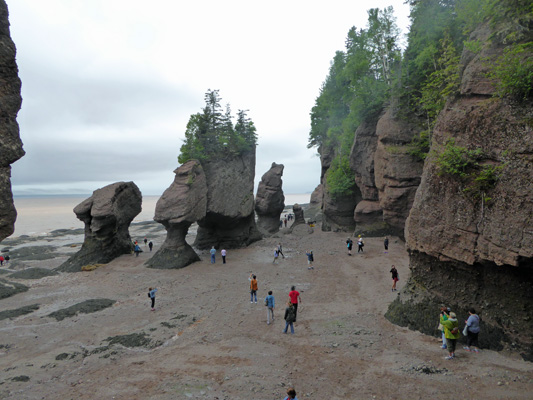 We climbed up the stairs and then used the great water-assisted boot scrapers to get our shoes clean. There was a young boy being hosed off by his mother. He's gotten his boots stuck in the mud and then lost his balance and landed in the mud. They got him clean and he was clearly very happy with the experience.
As we got ready to hike back up the hill, Walter asked if I'd like to ride the shuttle instead. What the heck? We put a couple of toonies ($2 coins) in the machine and out came a pair of tokens to give to the driver. And we were back up the hill in no time at all and ready to hike out to the other viewpoints.
There were lilacs in bloom along the trail.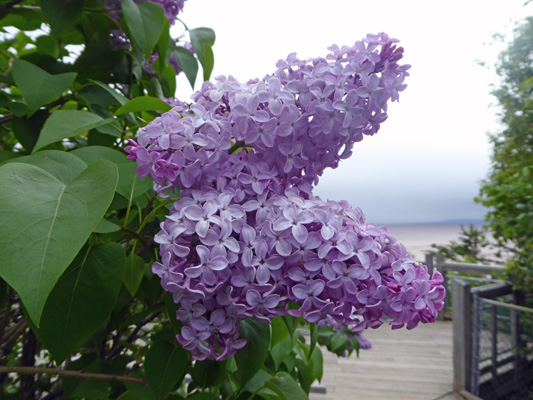 And the viewpoint gave you a great panoramic view of Daniels Flats, a mudflat that is 2.5 miles wide and stretches nearly to Grindstone Island in the distance.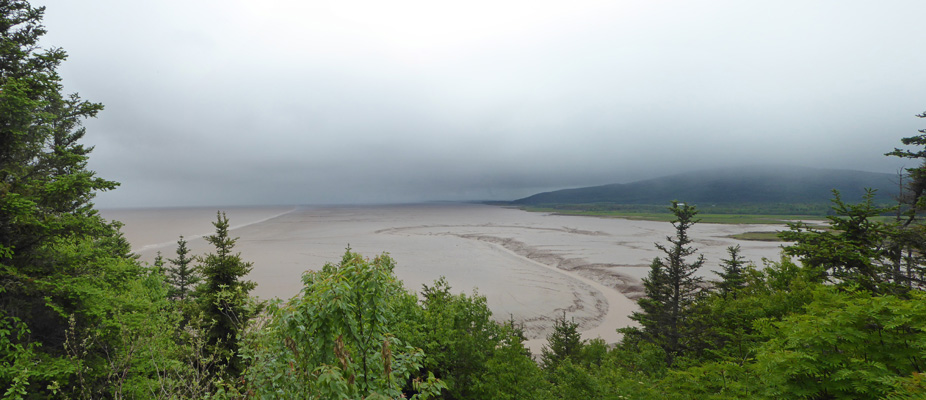 The waterline is over on your left and as the tide comes in the water will fill in all the way to the green on the right.
We headed back to the Interpretive Center and had our wildlife sighting of the day—a moose, right there in the entryway.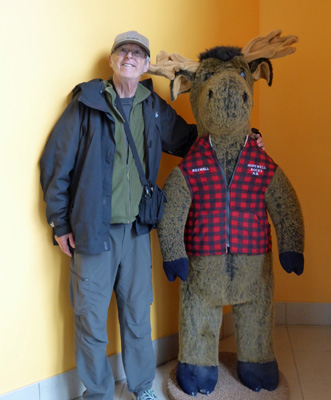 It's a nice Interpretive Center with good signs and nice photos. It also had a few time-lapse videos of the tidal cycle which were great fun to watch—and a video of some peregrine falcon chicks from day one (hatching) until they were out flying and hunting on their won (day 60).
Having decided that we didn't need to hang out for hours here or for that matter find something else to do and come back, we headed back towards Fundy National Park along the Hwy 915 which takes you out along the coast. We took the little side road to Mary's Point and stopped for lunch at the Lars Larsen Marsh.

Home to at least one Great Blue Heron.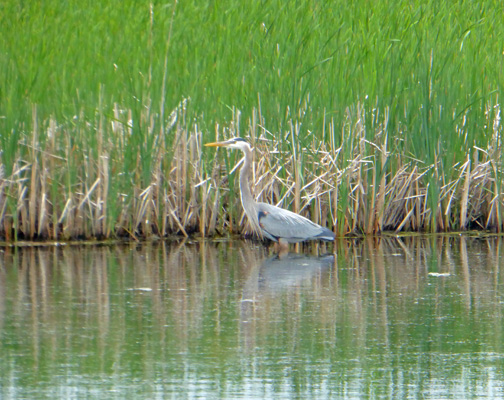 After lunch we continued on our way and the road turned to dirt for a while but eventually dumped us back out onto Hwy 915 where the fog wafted pretty thickly. We took the side road out to Cape Enrage hoping to get a look at the lighthouse there. By the time we got there, the fog was really thick and you could hear the foghorn blowing. This is another bit of privately owned coastline (my west coast bias is showing in my shock that such things exist!). They wanted $5.50 a piece to drive in and park and wander around in the fog and see their lighthouse. We said no thank you and turned around. I could see a vague outline of a very small lighthouse as we drove out. It had a weak little green light flashing in it. Sigh.
The temperature kept fluctuating madly as we drove along Hwy 915. One minute it would be 55 and then we'd go around a curve and it would jump up to 65. It would be misting and foggy and then poof it would clear a bit and the truck windows would fog up on the outside boom!, as would the rearview mirrors. I've never had that happen before. It was totally weird.
We got back to the trailer where it wasn't foggy and the temperature was 65 and 99% humidity. It rained lightly off and on all evening and the temperature stayed in the low 60's. It didn't get down below 58 in the night but it rained pretty hard off and on. It was foggy and misty and windy when we got up. We puttered around home and then went down to Alma and got gas and hung out at the Visitors Center using the Internet. It was 61 degrees, windy and misting at 1 pm when we gave up on it ever getting better and went back to the trailer. We'd planned on hiking to Dickinson Falls which isn't a very long hike but neither of us had the need to get out and get wet so we had a quiet day at home. I've noticed that now that we've been on the road steadily traveling for over 3 months that we're not quite as motivated to hike every other day (or as far) as we have in the past. It's not a problem when it something we're excited about, but if it's just a fairly ordinary hike the weather seems to be a good excuse to not go at this point.
Traveling in Canada provides great practice in doing arithmetic in your head. There's converting kilometers per hour to miles per hour (just multiply by .6). There's dealing with the weather report in centigrade (multiply by 9/5 and then add 32). And there's dealing with the fact that the gas stations sell you gas in liters (divide by 3.8—ah heck just divide by 4 and call it good). By the time the weather lady starts reporting the estimated rainfall in millimeters, I'm ready to just give it a pass and note that we're going to get wet. The Canadian dollar is very weak in relationship to the US dollar right now so you can cheer yourself up by multiplying the price you're paying by .75 to see what will REALLY show up on your credit card bill. New Brunswick feels more like a foreign country than British Columbia or Alberta ever have to me. I think it is the east coast culture plus many more French speakers.
Tuesday June 20th, we packed up in the fog (temperature 61 degrees) and motored back up Hwy 114 to Hwy 1 and then east to Moncton, the big city of New Brunswick. Big is of course a relative term since there are only 3/4 of a million people in all of New Brunswick. We took Hwy 2 (the Transcontinental Hwy) up the west side of town to Stonehurst Trailer Park and Golf Course. This is a Passport America Park (except in July and August) so we got a full hook up (back in) site for $21 a night. We had to pay cash but hey we had gotten cash a few days earlier for just this sort of situation. We set up camp and once we were indoors it began to rain. The clouds were much higher here than in Fundy National Park and we did have a few momentary sun breaks. In addition it was warmer in the high 60's as it rained. Walter managed to find a bit of television over the air (3 stations instead of the 2 we had at Fundy) and the park's WiFi worked pretty well.
I got change (Loonies and Toonies and quarters) so I could do laundry and we were set for the afternoon. Washers were only $1.75 (a loony and 3 quarters) and the dryers were $2 (2 loonies).
The sun actually came out in the late afternoon and the temperature got up to 75! Whoo Hoo. I made dinner early and then we drove into Moncton to watch the Tidal Bore as it rushes from the Bay of Fundy up the Petitcodiac River and past Bore Park where they have a nice viewing area. They publish an approximate time of the bore's arrival and then tell you to come 20 minutes early and to expect it sometime over the next 40 minutes. It arrived 10 minutes early on Tuesday evening. You can see it as it comes around the bend of the river.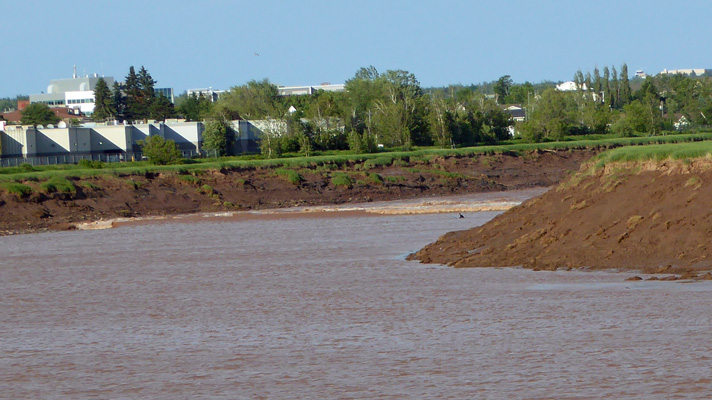 That black spot on the far right in the water is a surfer who caught the wave of the bore as it passed.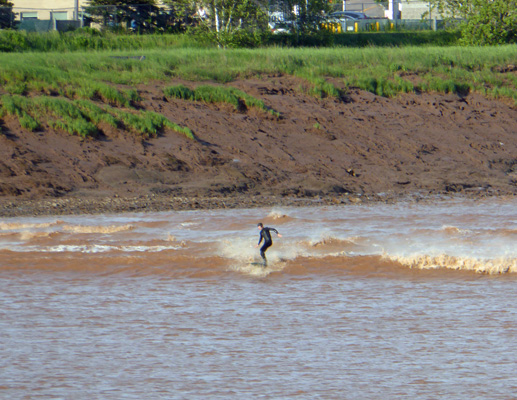 He didn't last long but he added some fun to the proceedings.
The bore roars along at a pretty fast clip coming up river.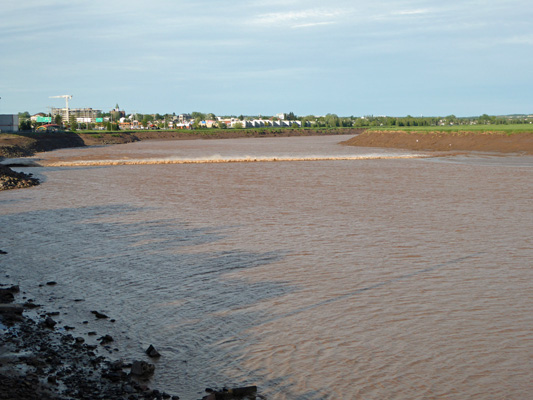 We had a fairly strong wind blowing down river and that made for some spray as the bore fought the wind.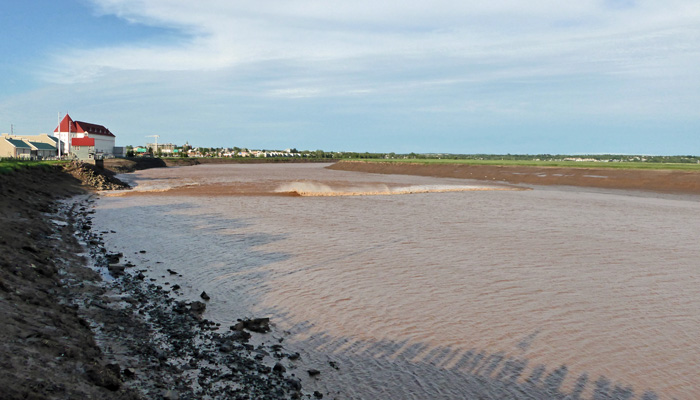 It only took 3 minutes for the bore to come around the bend and all the way to the viewing platform.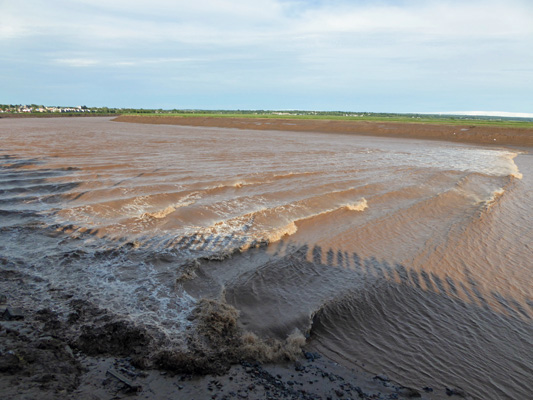 From a distance it looks like a single wave but it's actually a series of waves. At full and new moon the waves are higher but this was very satisfactory. It passed us on by and filled the mudflats up river with water.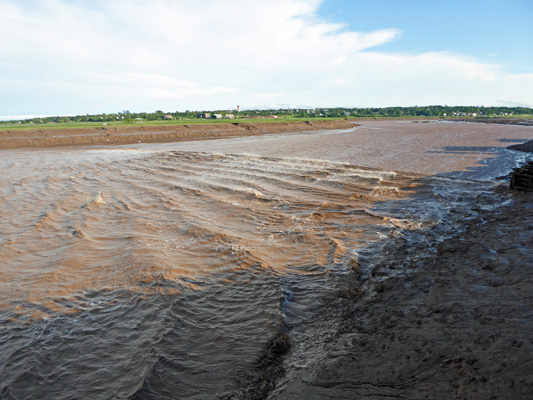 The river continues to rise for hours after this filling the channel completely up those muddy banks. Then near low tide it all empties back out to start over again—about 13 hours later.
We stood and watched the river which had a lot of lovely rapids in it as it rose and then Walter noticed that there was a fellow playing a small button accordion up at the top of the viewing area. He went and joined him and played his harmonica.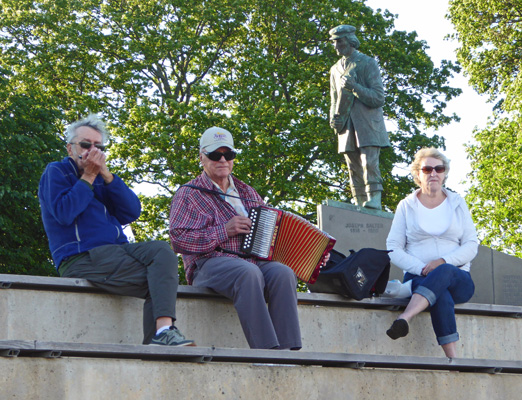 He comes and plays most nights here at the park and the lady with him played the spoons on some of the songs. We sang along a bit and Walter played some more with him. And then he said, "Folks from away have to dance for the musician over here behind him." He was originally from Newfoundland and anyone who isn't a Newfie is 'from away.' So he played a nice Celtic waltz and we danced using a few square dancing moves and a few contra dance moves and had a grand old time. He was pleased and so were we. What a great evening! Sun, Mother Nature showing off for us with the bore and then a bit of music and dancing on a lovely warm evening. A great way to usher in the Solstice.
Wednesday June 21st, we awoke to sun and clouds. It was a day for grocery shopping and errands. We're trying to slow down our pace at this point and not be quite so busy as we have been the last 3 months. This is in hopes of not getting too tired with all the wonderful places we have to visit this summer. But when the weather has been not to swell it's hard to not go out and DO something when the sun finally shines. Hopefully, now that it's summer we'll have more sunny days.