Our first full week in Green Valley was a pretty quiet one. It was warm (in the 80's every day) and sunny. Walter is feeling fine but has been told not to exert himself so we've not been doing any big outings or hikes. When I get itchy I walk all the roads in the Green Valley RV Resort where we're staying and that's just under 1 1/2 miles. Going at a good clip I get that done in just under 1/2 hour. I may start doing 2 loops now that I'm pretty rested and get restless from time to time.
We spent the week doing errands and making doctor's appointments. We finally found some primary care physicians in Tucson that would take folks like us who aren't here year round. It means driving to Tucson but it's about the same distance we used to drive from Monroe to Bellevue to Group Health.
Saturday November 11th, we were lucky enough to be able to meet up with our daughter, Leslie, and her husband, Al, for dinner in Tucson. They were in Phoenix for the weekend for the big NASCAR race and drove the 2 plus hours down to Tucson to meet us. What a treat.
There's not much in bloom in the resort except these Red Bird of Paradise (Caesalpinia pulcherrima) which they grow in parking lots and median strips all over the area.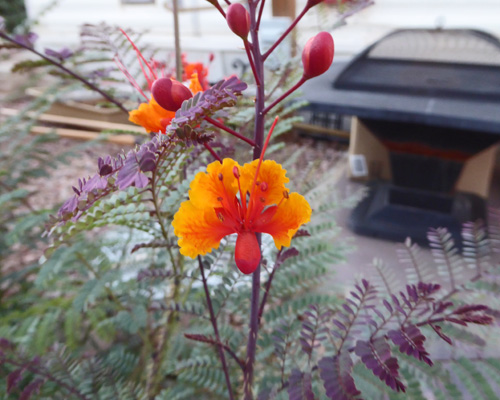 We have a few quail who wander through and the folks next door to us have a hummingbird feeder and there's a hummer who hangs out in the orange tree next to our truck who uses the feeder. There are lots of citrus trees (mostly pruned as shrubs) in the park—a mix of oranges, grapefruit and lemons with a tangerine or two too. Most folks only spend January, February and March here so it's still pretty quiet even though a few more folks seem to arrive every few days. When I do my walk most of the park models are still empty.
Monday November 13th, it was 90 degrees and we actually broke down and ran the air conditioning. The day before we had spent part of the afternoon in the clubhouse (which is nice and cool) using their free internet but Monday we decided we'd just like to hang out at home once we were done doing the grocery shopping. Temperatures here were running 5 to 10 degrees above normal and lots of records fell in the face of the heat on Monday. As the afternoon wore on we had some clouds come in which helped keep it from getting above 90 and gave us a bit of a sunset.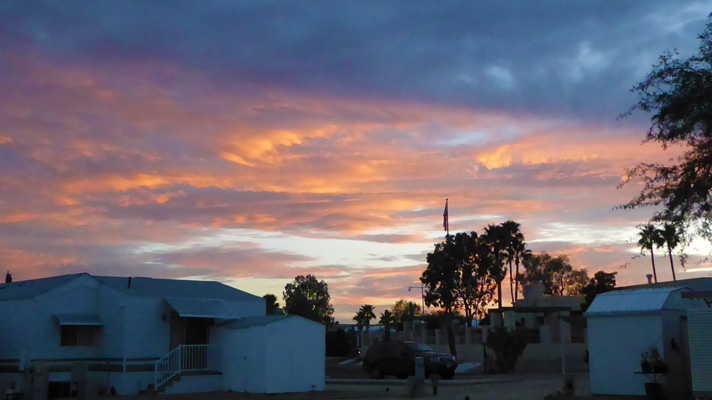 Tuesday November 14th, we drove up to Madera Canyon which is just southeast of Green Valley. It's a National Forest area with a road that goes from about 3500 feet elevation up to a parking area at 5400 feet. From here there are trails that lead up the mountain (all the way to the tops of several peaks--one of which is 9,400 feet). The view from up here was lovely. There was a splash of fall color up at the upper elevations (you can't see it real well because I was looking into the sun).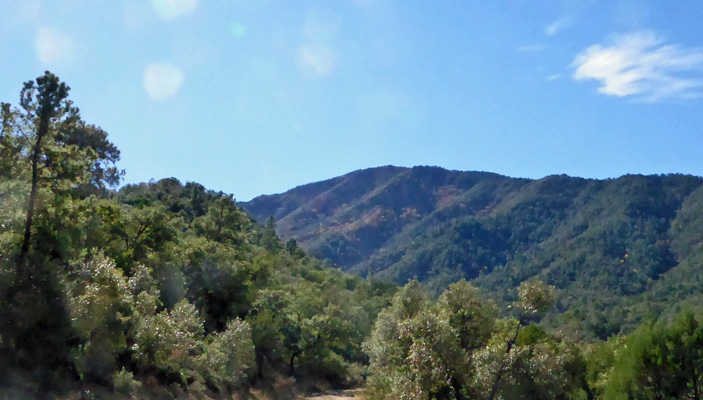 Off to the west you could see a bit of the Green Valley area.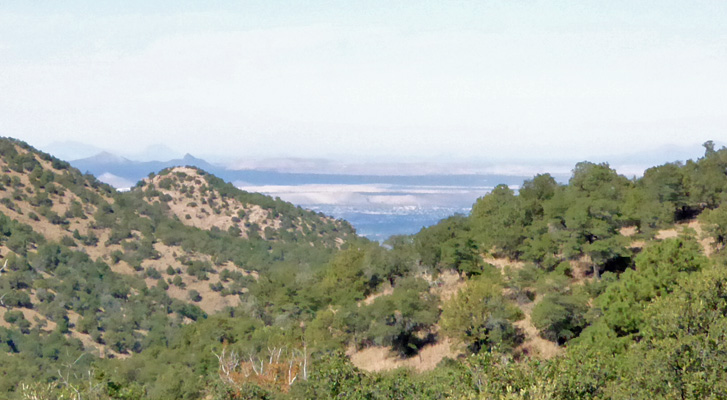 At this elevation most of the trees are junipers but there are live oaks mixed in too. We found a spot in the shade and enjoyed the view and watched the high clouds scuttle by.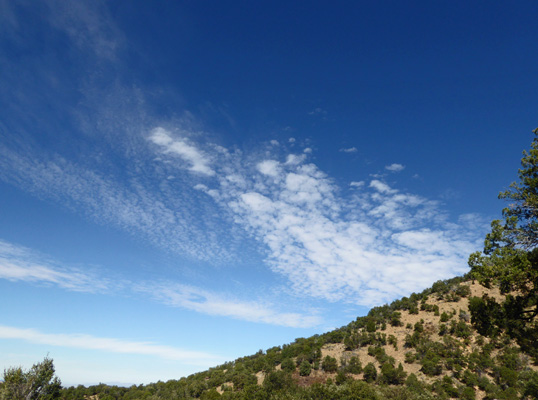 We decided we'd drive back down the canyon a ways to one of the picnic areas and take our chairs out and sit in the shade and enjoy the cool (it was only 75 up here as opposed to the 88 degrees down in the valley). On our way down we spied a pair of wild turkeys. One of them stopped to check for goodies under a bird feeder at the Kubo B & B.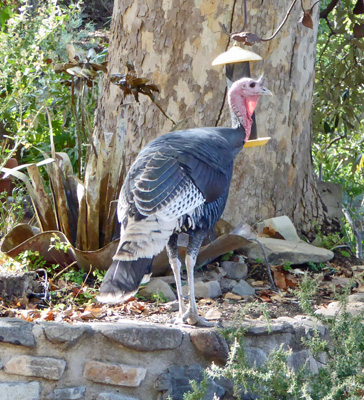 About half way down the mountain the view across the valley is much better. At this point most of the trees are live oaks.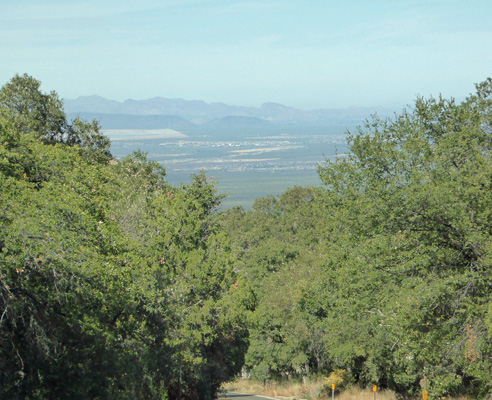 When we passed the Santa Rita Lodge we realized that they had a nice covered patio where you could hang out, so we stopped there. The patio overlooks a series of bird feeders and boy was there a great show!
There were goldfinches and house finches hanging out together on this three-tube feeder.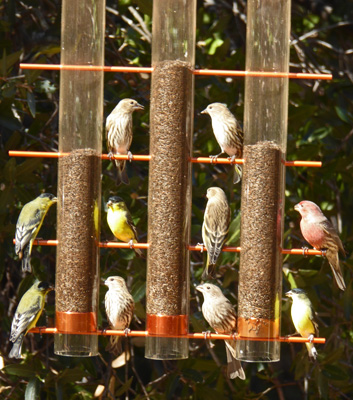 And a butterfly stayed very still on one of the hummingbird feeders.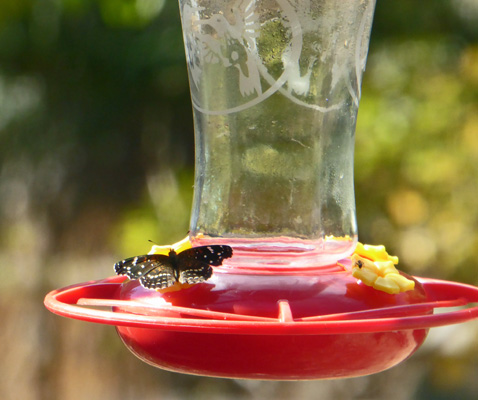 We had 8 wild turkeys patrolling the ground under the feeders.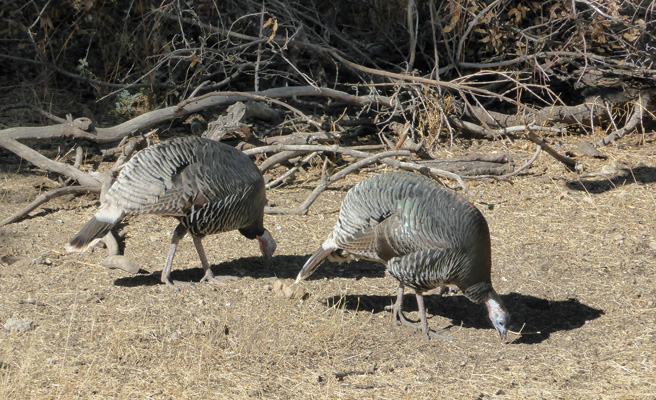 And one of them took a liking to one of the suet feeders and gave us a great show leaping up to peck at it.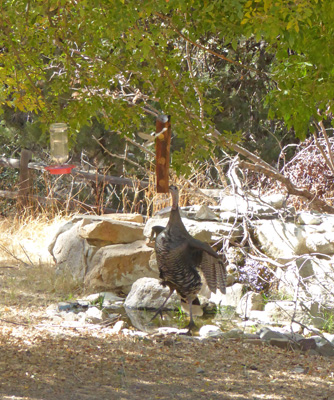 The hummingbirds then began to visit one of their feeders.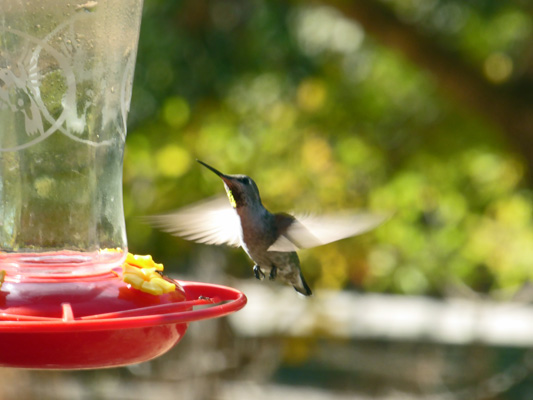 And two of them even decided they could share.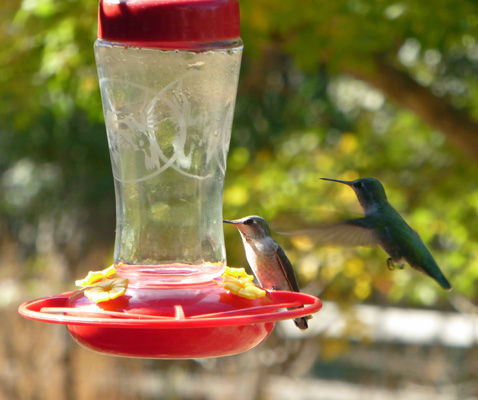 This big tube feeder wasn't as popular as the three-tube job but it still had plenty of birds off and on.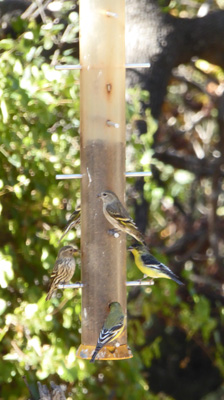 Some blue jays swooped in for a while.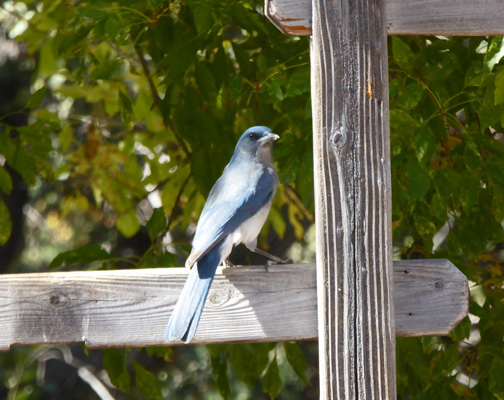 And the mix of birds on the 3-tube feeder kept entertaining me no end with the mix of colors. This time it was mostly house finches (male and female) with just a few gold finches.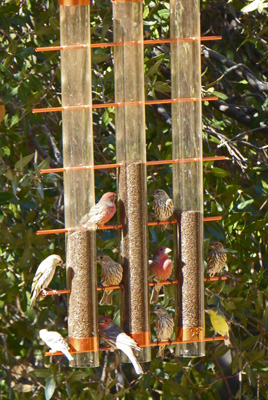 There were yellow butterflies who would come briefly to the hummingbird feeders. Don't you just love the antennae?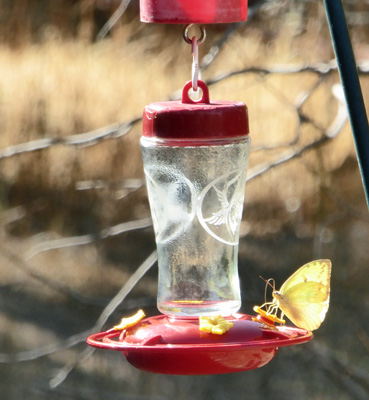 And then we had several acorn woodpeckers come in to feed on the suet feeders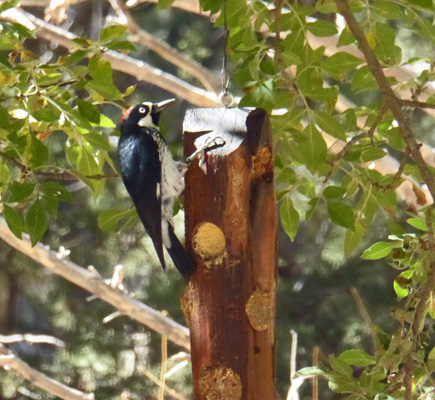 And to just hang out.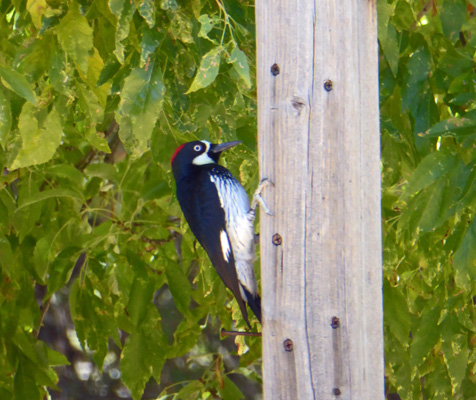 Every once in a while one of the birds would put up a call and everyone would take off and we'd have a little quiet time to watch the turkeys. Then slowly they'd all return again.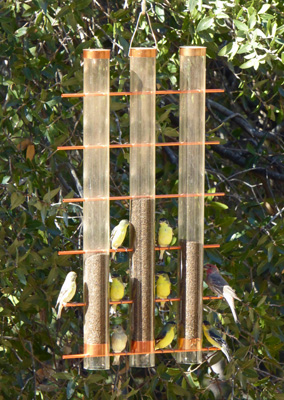 The view up the hill into the mountains from here is nice too.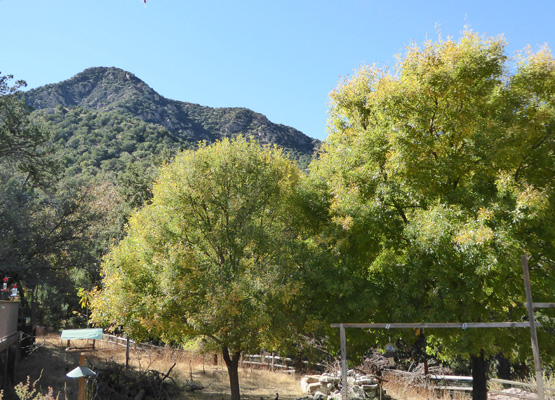 And they had what appeared to me to be some kind of domesticated (hybrid perhaps) chuparosas in bloom too.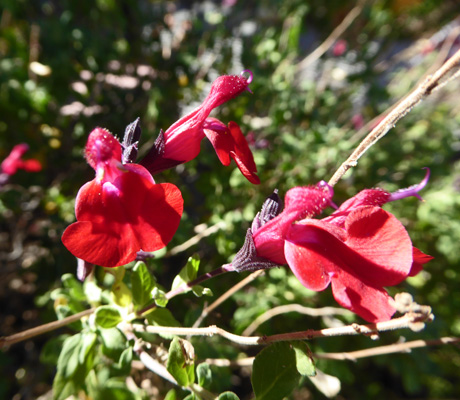 This was just a perfect way to spend part of the afternoon. Folks came and went. Photographers clicked away. And the birds put on a wonderful show. The birds took off one more time and so we did too on down the canyon to the Madera Picnic Area. We took our chairs down the hill a ways towards where there had been lots of water when we were here last February. But now it was dry. We sat and enjoyed the shade and even saw a deer make its way up the hillside. Then I went ahead and took a hike by myself back up the canyon. This was an easy hike but it was hard for me to leave Walter there and go off on my own. We spend so much time together attached at the hip that going off on a hike without him just didn't seem right. But I did it at his urging and I'm glad I went.
The sycamores were just beginning to take on their golden fall color.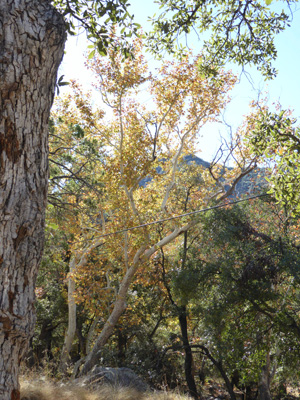 And I found a bit of running water gurgling away in a small section of the canyon.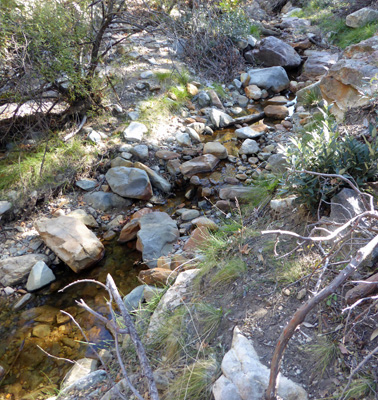 These nice stone stairs led the way up from the water and on up the trail.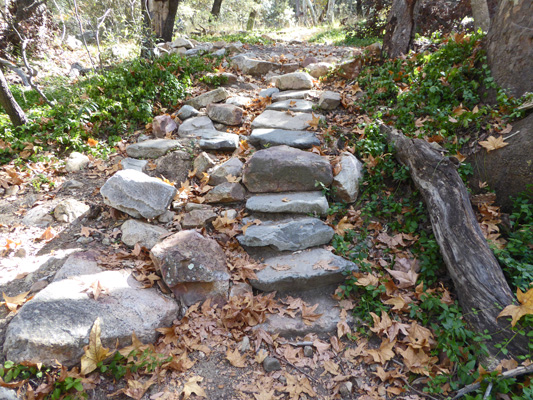 I made my way up to the Amphitheater (which is where we started our hike when we were here in February) and then turned back to complete a simple 1 mile route (only 150 feet elevation gain but after 6 months of flat hikes it felt like it was UP hill).
I love how the white bark of the sycamores light up in the sun with the yellow fall color.
We had our lunch and a grey squirrel (there'd been several up under the bird feeders at the Inn) came to investigate.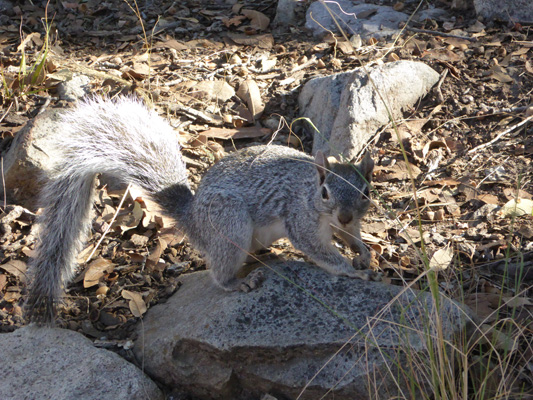 In the end we got chased away by one too many inquisitive wasps—not my favorite.
It was 89 when we got back down to Green Valley so we turned on the AC again for a few hours until it cooled down again. We had a nice sunset just to the east that evening.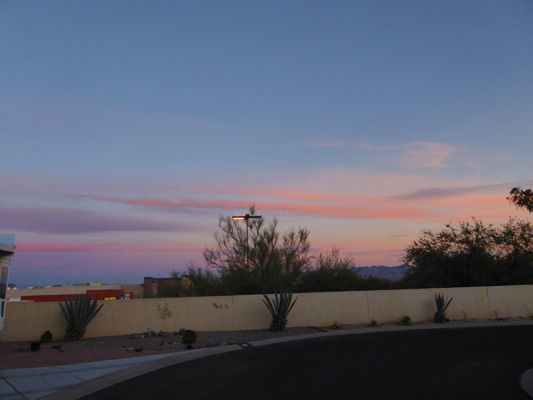 Wednesday we got up and headed up to Tucson for Walter's appointment with the cardiologist. He decided that one possible cause of Walter's irregular heartbeat was that his potassium level was below normal. Walter takes a diuretic and eats a banana every day to counteract the effect it has on his potassium (he's been on the stuff for 30 years) but when the doctor looked at the lab test history we had with us and the labs from the ER it clearly had been trending downward for some time. So he prescribed a potassium supplement (because you can only eat so many bananas a day).
He said that Walter's PVCs (premature ventricular contractions) in and of themselves were nothing to worry about. But when they get as frequent as Walter's they really want to know what the underlying cause is. So he ordered an echocardiogram and a Holter Monitor test (24 hours of EKG monitoring). Those are now scheduled for December 6th and then he'll have a follow-up appointment with the cardiologist on December 21st (his first available follow up appt.). If those two don't show anything, then they'll do a cardiac stress test. We figure this adventure will last well into January given how long all these things tend to take to get scheduled.
We've extended our reservation here at Green Valley RV Resort through December and will next try to figure out where we'll go come January when they are full and we have to move on. We have lots of options and we know the Tucson area pretty well now so we aren't running blind at least. I'm certainly glad we came back to this area rather than having to deal with all of this while we were on the road.
It was hot again that afternoon so we once again ran the AC (it may be noisy but it's so much better than being hot and cranky). And then we got a bonus sunset!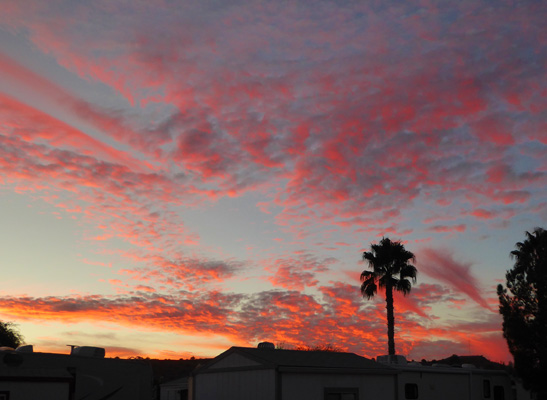 And pink to the southeast.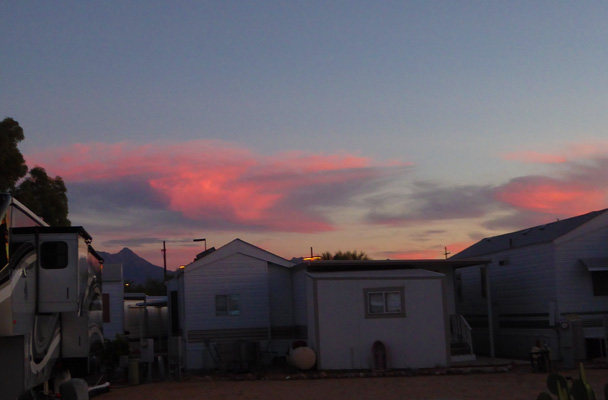 And more of a peach to the southwest.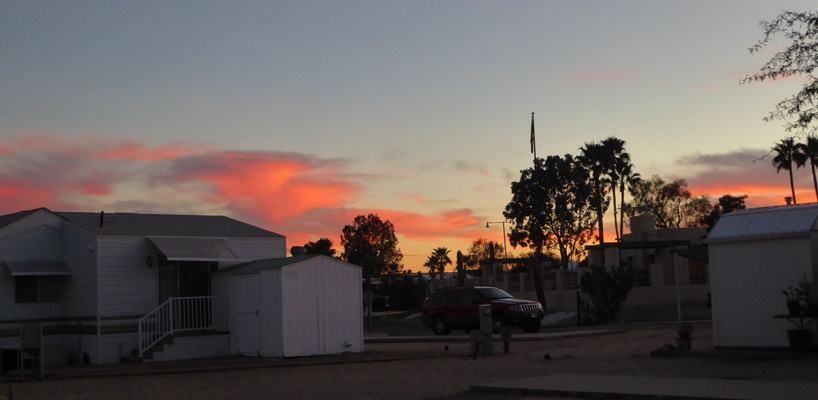 These sunsets don't last long but they sure are pretty.
Thursday it was warm again and we spent the day doing errands and then running the AC once again. We've now run the AC here more than we have anywhere else we've stayed. At Lake Cascade it was hot but we always had an afternoon breeze. Here things have been pretty still and we're in full sun during the hottest part of the day. Thank goodness for air conditioning!
Both Friday and Saturday it was hot again and we ran the AC. On Saturday we took a drive up just a ways to the next town north (Sahuarita) and had a look at the houses in a smaller over 50 community there. We found one that was on the market we really liked. Instead of being a townhouse as so many are here, it was a free standing home on a lot that allowed for a nice large patio in the rear and a lovely desert front yard with two saguaros. We were all excited about it and when we got home we discovered that an offer was pending on it—it had been made just a few days before. Ah well. We're getting clearer on what it is we're looking for!