On Sunday October 29th, we packed up in Lordsburg, NM and headed west on I-10 to Benson, Arizona. It wasn't a long drive and we picked up an hour going into Arizona because even though they're in Mountain Time they don't have Daylight Savings Time. So we arrived at the SKP Saguaro Co-op just south of Benson at just a little after noon. It was warm already and would continue to heat up into the mid 80's as the afternoon wore on. We got a nice spot in the main development overlooking the Dragoon Mountains. Since the park is on a hillside most of the leaseholder lots have a nice view of the Dragoons. In addition to the leaseholder lots (which are available as long as the leaseholder isn't there) they also have long-term rental sites around the edge of the park. Some of them have a mountain view and some don't.
Our spot cost of $22.31 (tax included) for a back-in full hook up site. You pay extra for power here when you check out but if you don't run the air conditioning or the heat it doesn't cost much ($2.83 for 3 days). You have to be a member of the Escapees to camp here which is worth it since the place is nice and the rates are LOW. They have free WiFi in the park which worked pretty well some of the time and not well other times (typical of RV parks really). I'm sure once all the folks arrive for the winter it will be totall bogged down. Our phones worked which is always a plus. Late in the afternoon, the setting sun lit up the Dragoons.

It took a while to cool off that night and it was still in the low 70's at 11 when the crazy Game 5 of the World Series (final score 13 to 12) was over! It cooled off in the night so that I finally closed up all the windows but it warmed up again quickly in the morning so we didn't need the heat.
The SKP Welcome Committee stopped by to say hello and answer questions and then we got it together to go to town and do the shopping. They have a Safeway in town but we ended up at the Walmart because we needed to pick up some things there and what the heck we were there.
High clouds came in during the day so it wasn't as hot as it had been the day before—it only made it to 80. In the early evening we had a marvelous sunset. Out to the east over the Dragoons it was pinky peach.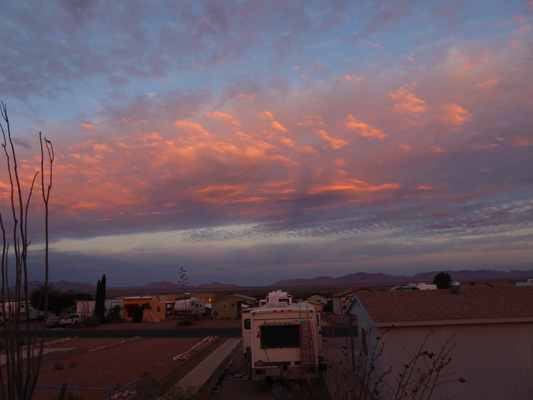 But out to the west it was bright peach.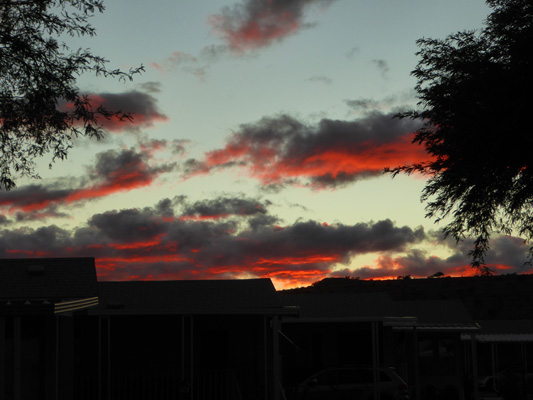 And then we had fire in the sky.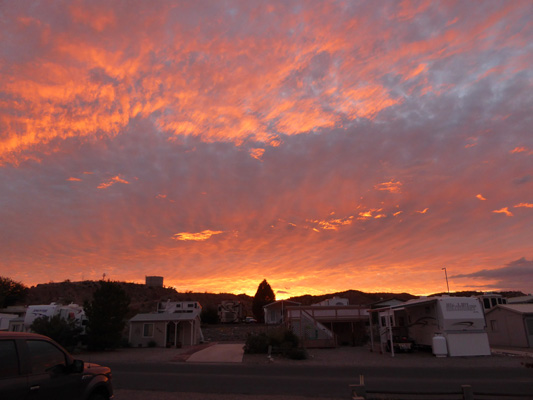 The color stretched nearly from north to south.

The color didn't last that long but boy those Arizona sunsets are hard to beat. We had a little front come through late in the evening with some gusty winds (up to 18 mph on our weather station which was on the ground) and a few sprinkles. So we ended up closing up all the windows and vents and bringing in our awnings. But it cooled off okay so we didn't end up feeling hot.
Tuesday October 31st, we just had a day off. The temperature stayed in the mid 70's. A curved billed thrasher came and visited our site and I managed to figure out that he was the one I'd been hearing whistle "whit-wheet!" in the early evening and early morning hours.
Since we hadn't been out for a walk in way too long, I dragged Walter out for a walk around the park. Out in front of our spot, we had a large Desert Christmas Cholla covered with fruit.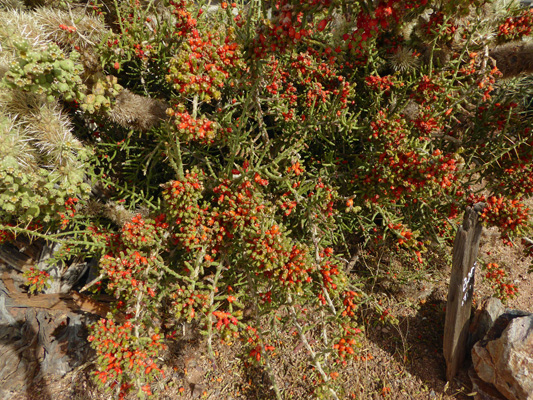 We walked up the hill and then across the top past the long-term rental spots (6 month leases). There were still several spots open up there. It has a good view across the valley to the east but it wouldn't do us much good since you back into these spots and we'd look at a dirt/rock berm. That's okay. I'm not all that impressed with Benson so I have no desire to stay here for any great length of time even though it's a nice park. But if you're looking for someplace cheap this is pretty darned good. It's only $330 a month on a monthly basis, $270 a month with a 6-month lease and $310 a month with 12-month lease (these spots come with a little storage shed). Since there's a loooooong waiting list to buy into this park some folks just rent a spot here while they wait.
We walked on down past the 12-month least section which backs onto a natural area (brush mostly) and then around the front and back up the hill to the Clubhouse. On the way we passed a model train set up. This is the second one we've seen here.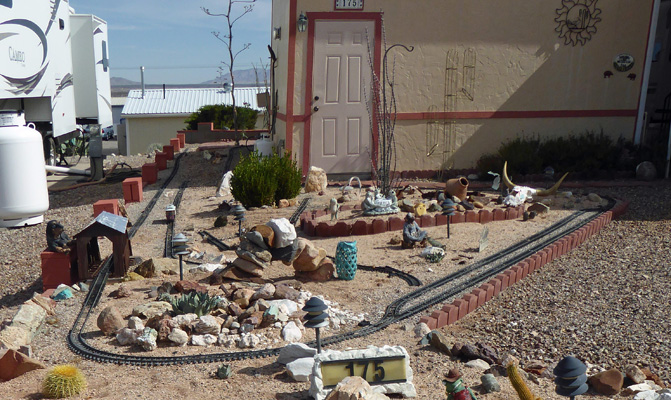 There were roses in bloom in tubs out on the front porch of the Clubhouse.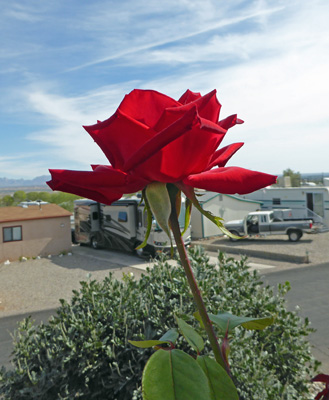 And a nice fountain gurgled away there too.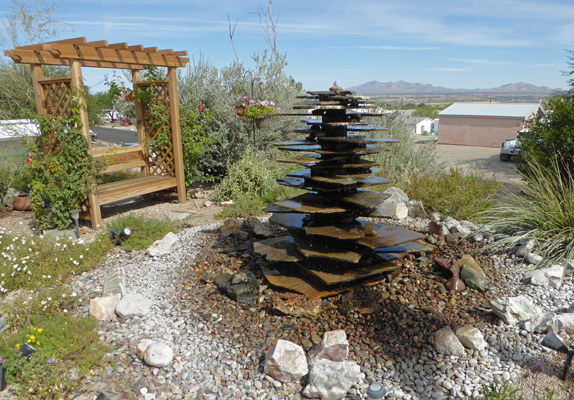 We stopped and talked with one of the members who was sitting working a jigsaw puzzle and then wandered on home up the hill to our site. It was 77 with a nice gentle breeze so we sat out in our chairs in the patio in the shade.
We had a nice sunset again that night. Peach to the east with just a dot of a moon off in the upper left hand corner.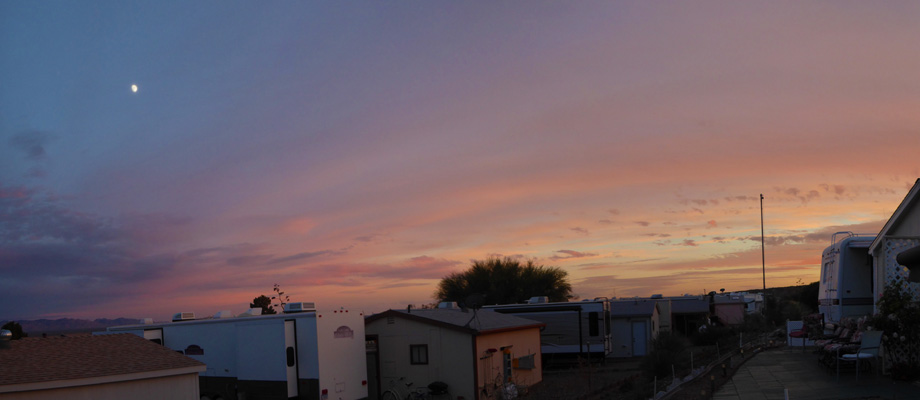 And deeper peach to the west.

And then it got really pretty.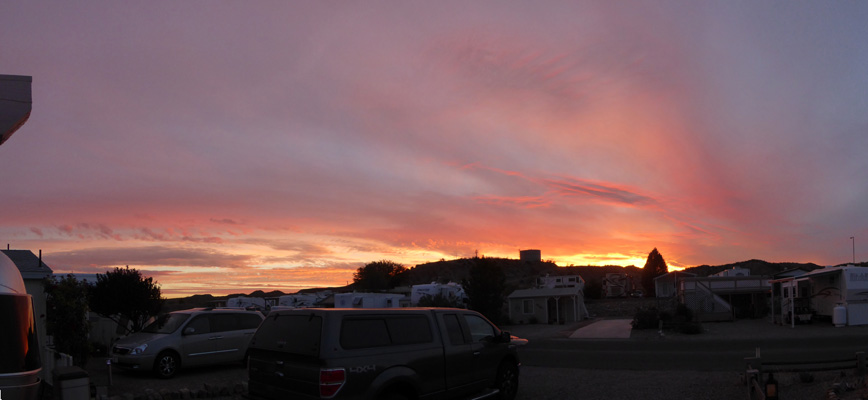 Wednesday morning, November 1st we packed up one more time and headed west on I-10 towards Tucson. Back on March 8th we drove this bit of road when we left Tucson to start our journey east. It's been a long rewarding trip and frankly we're both tired and full. We didn't keep track of the miles so I can't tell you how far we've been but it sure was fun!
Instead of going all the way to I-19 on I-10, Carmine the Garmin took us off I-10 and along a back road through the desert to Green Valley about 30 miles south of Tucson on I-19. Carmine took us down I-19 a little ways to Old Duvall Mine Rd where we headed west just a short ways to the Green Valley RV Resort where we had a reservation for the entire month of November!
We checked in and paid our $700 for the month (electricity and cable TV included) and then followed the guy in the golf cart to our spot. This place is mostly park models (like the places we visited last winter in Yuma) but they have about 1/4 to 1/3 of the spots open for folks who want to come with their RV's just for the winter. We ended up in a spot between two park models and got into it without a hitch.
We set up camp and then ran a couple of errands before settling in for the afternoon. The cable TV here requires a box from Cox Communications and so we drove down to the local appliance store to get it. The directions were straightforward but even with our resident electrical engineer we had no signal. It turns out there was an OLD cable hookup and a NEW cable hookup and I'd hooked us up to the old one rather than the new one (which had a protector on the connector so that it didn't look right). We figured it out the next day but for that night we used the antenna to watch the Game 7 of the World Series. What a heartbreaker for the Dodgers fans—but hey the Astros had NEVER won before so hooray for them.
This place only has free WiFi in the clubhouse (all those park models get their internet from Cox or the phone company, I guess) but our hot spot worked fine. Both our phones worked well too.
It's time for Walter to get his prescription for his blood pressure medications renewed and we thought that since we would be here for at least a month that we could find him a new primary care physician. He'd called around and finally found a nearby doctor who was taking new patients. We took the paperwork over to the office only to discover they wouldn't take him unless we lived here 6 months of the year! We both could understand that they didn't want to go through all the paperwork associated with setting up a new patient without knowing for sure they would see him again, but what a pain in a yazoo for folks like us who don't stay put for long. We came home and made some more calls and couldn't find anyone in Green Valley who would take him. Sigh. So instead, we found the local Urgent Care place (right across the street from the RV park) and made an appointment for the next day.
In the afternoon, we took a stroll over to the Clubhouse to check out the laundry, pool and other offerings. Most of the folks haven't arrived yet for the season. Their high season here is January, February and March. So everything was pretty quiet and empty. The pool isn't big enough to swim laps but it's warm and pretty and the spa will be a nice treat when I do laundry. There's no gym but you can play billiards and shuffleboard and they have a big crafts room.
It was warm but not hot (low 80's) and aside from being a bit frustrated with the challenges associated with finding a doctor we had a nice afternoon. Just before sunset an almost full moon came up.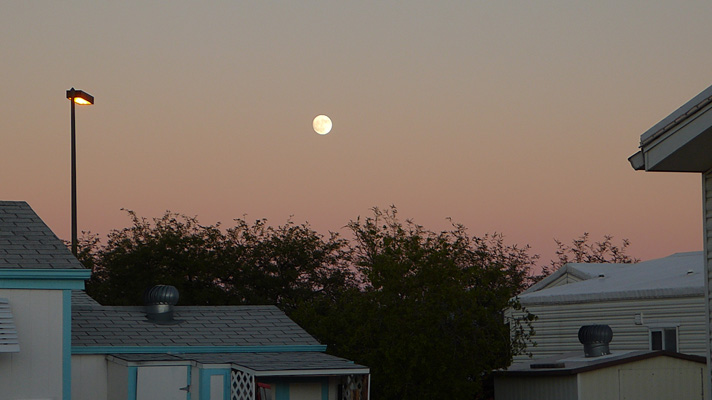 And the light was just right for me to get a super close up shot. Shine on Harvest Moon, up in the sky!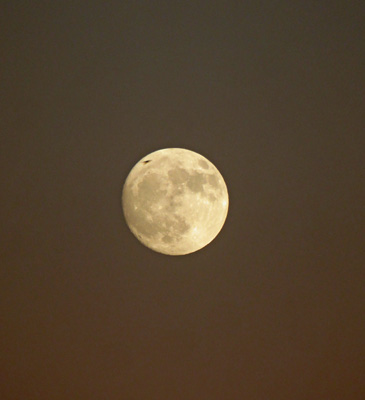 I've taken a lot of photos of the almost full moon and I think this is my best effort thus far.
Friday November 5th, will officially go down in our records as 'one of those days'. Walter had a 10:30 appointment at NW Urgent Care to get his prescriptions renewed. We got there in plenty of time to fill out the paperwork and then got to wait an hour before the called him in. We decided that the on-line appointment system was just an advertising gimmick since the folks who checked him in didn't even know what the confirmation number he handed them was about!
The intake nurse we very pleasant and then the Physician Assistant came in. She informed us that she couldn't give him any more than a week or two of pills because blood pressure medications required monitoring. She was shocked when we told her we had gotten 3 month prescriptions at Urgent Care places in Virginia and Maine. When we informed her that we were here because no doctor in Green Valley would see him because we weren't going to be there for 6 months her solution was that we should go back to Seattle to get his meds. Um, no. Then she suggested that perhaps we could find someone to see him in Tucson and to not tell them we were full-time RVers. We can hope.
Then she noticed that he pulse rate had only been 48. And we began to explain the other reason we were there—Walter has always had skipped beats and he was skipping more of late. They did an EKG (she was sure he was in Afib) only to discover that no he wasn't in Afib (thank goodness) but he was having lots and lots of PVCs (Premature Ventricular Contractions). She decided that he wasn't in immediate danger and so we didn't need an ambulance but that I should drive him to Tucson to the ER. Oh goodie, a new adventure.
Our mail was supposed to have arrived at the post office so after stopping off at the trailer to pick up a few things we headed to the PO where I stood in line only to discover that the mail wasn't there. Sigh. The drive to Tucson was uneventful and it only took about 35 minutes. Walter got checked in while I parked the truck (free parking at the NW Hospital just up the street from the eye doctors office we'd gone to last winter to have Walter's secondary cataracts dealt with). They did triage, a chest X-ray and drew 3 tubes of blood and then he came back out into the waiting room to wait. The important thing to realize at this point is that he had no symptoms. The only time the erratic heartbeat has been a problem has been on a couple of hikes recently when he needed to sit down because he felt faint. So we were NOT in emergency mode.
It wasn't a long wait until they called us back to an examining room and they hooked him up to a heart monitor. His heart rate was still jooking and jiving away and the doctor who examined him was again pleased to see there was no sign of Afib—though he thought Walter might be going into Afib when we hiked. He ordered a mass of tests to check to be sure nothing serious was going on and told us it would be an hour to an hour and half. So I read my book and Walter rested.
Walter's test results came back passing with flying colors ("They look perfect.") So the decision was to release him with a referral to a cardiologist which should get him an appointment in a week or so (we hope we hope we hope). Meanwhile, no alcohol and no hiking. The conclusion is that he has an electrical problem with his heart that is causing the irregularity. That seems like a perfect thing to have happen to an electrical engineer, don't you think? He's in no danger. We have time to get this handled since we're here for a month and if needs be we can extend another month here in Green Valley. So it's all good. However it was NOT how we'd planned to spend the afternoon.
We got out of the hospital at about 4:30 and headed to the Subway across the street for lunch! Then I drove us home and we had dinner really late since we weren't hungry. It had clouded up while we were in the ER but it was still 83 degrees. It didn't cool off in the night and was already up at 72 when we got up. But the clouds stayed around most of the day so it was just 78.
We drove down to the Post Office and this time the mail had finally arrived. It had left Livingston TX on Tuesday morning and somehow it had taken 22 hours to go from Phoenix to Tucson and another 22 hours to go from Tucson to Green Valley. Ah well, it arrived at last. It wasn't a problem it's just that it usually only takes 2 days and this time it took 4.
I left Walter to watch football and walked the roads of the park for some exercise. The clouds started to clear off and we had a pretty odd sunset. Off to the east the clouds we pink just on their undersides.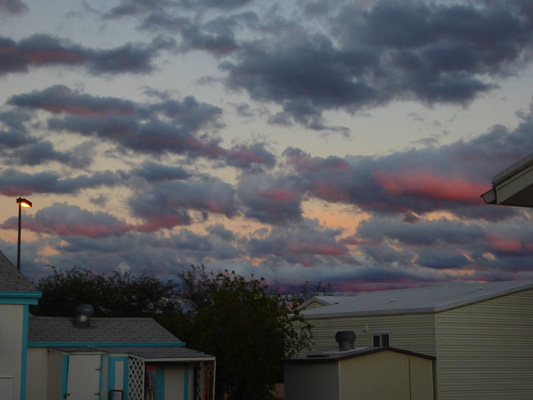 And due west they were bright orange just on the bottoms.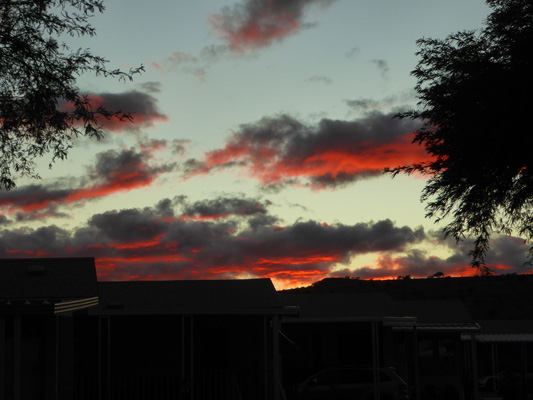 To the southwest the palm trees at the clubhouse made things look a bit tropical. But once again just the bottoms of the clouds were lit up.