The last two weeks have been SO FULL. And nearly everything surrounding the purchase of our new home has gone like greased lightening.
On Wednesday December 6th, I flew north from Tucson to Seattle. It was a gorgeous day and we went right over the Grand Canyon.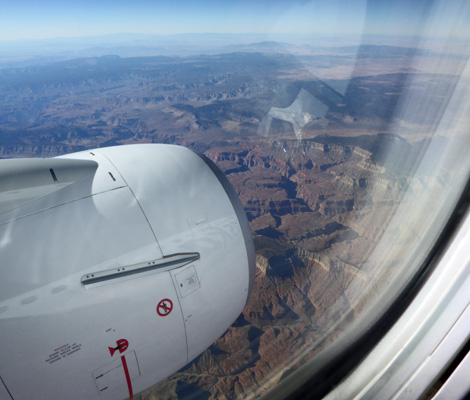 We even got a glimpse of the Colorado River. It was clear coming over the Cascades into Western Washington too and we got great views of Mt. Hood, Mount Adams, Mount St. Helens and flew right along the north flank of Mount Rainier. I tried to take photos but it was straight into the sun and my camera insisted on taking photos of the bugs on the windows instead!
I got in about 3 pm and picked up a rental pick up truck at the new Rental Car building at Sea-Tac. Having all the rental car folks off site with one shuttle bus (rather than each company having their own) means things move really smoothly. The traffic on I-405 wasn't too bad (a small miracle due mostly to the wonderful sunny weather) heading north towards Kirkland where I met my friend, Julie, for dinner. We had a great visit and then I headed out SR-522 to Monroe. It had been totally backed up when I got off 405 at 4:30 or so but by the time we had had dinner it had cleared out and it was clear sailing.
Thursday morning I spent the morning re-sealing the boxes in the front section of our storage area and pulling out a few things I knew we weren't going to need. I had enough junk to make a trip to the dump that morning and still make it back to met my old neighbor, Teresa, who was adopting the generator we most certainly won't need in Arizona. She helped me load our lawn mower into the truck so I could deliver it to Julie who had found a good home for it. We had a nice visit over lunch and then I went to have tea with my friend, Peg, who lives up in the High Rock area. I finished off the day, dropping off the lawn mower and having dinner with Julie again (we call this having family dinner since we are most definitely sisters from a different mother).
Late in the afternoon on Thursday, the movers called to say that they would be coming to load our stuff between noon and 2 pm. That gave me the morning to do a few errands. It had been foggy and frosty on Thursday morning (ice on the windshield) but on Friday the fog was gone but the frost was thick even at 10:30 in the morning.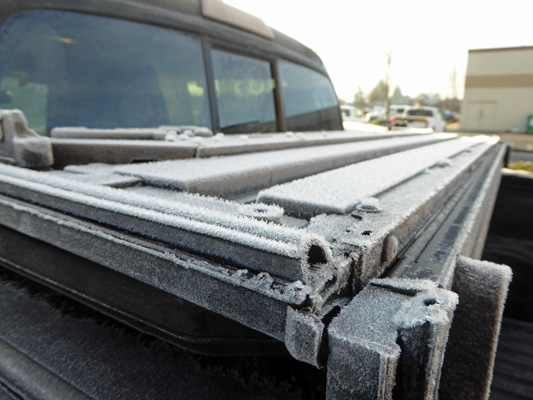 Just before noon, the movers called again to say that they'd be there in 20 minutes. I went and opened up our storage unit and took one last photo of our stuff that had been sitting patiently for 3 1/2 years for us to come and fetch it.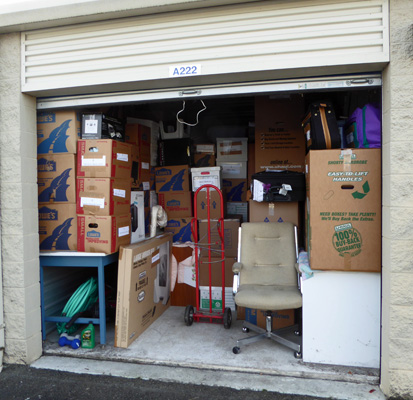 The movers arrived within 10 minutes and started the work of loading (and inventorying) the contents of our unit just a few minutes before noon. It was sunny and in the high 40's which was a blessing. It was amazing to see all the junk we had stashed away thinking we were just moving across town. There were plastic buckets and hunks of wood and old plastic milk crates. There's a Goodwill not far from the storage place but none of this stuff deserved to be donated. I filled the pick up truck up once again with junk. The movers were done shortly before 3:30 and I high-tailed it to the dump and made it there with 15 minutes to spare.
Then I drove into Shoreline (north Seattle) to visit my friend, Margaret, whose husband, Dennis, was in the hospital having a series of serious surgeries. I got back late that evening and talked to Walter and settled in to take a bath.
In my rush to get everything handled that afternoon, I'd decided to leave a big old solid-core door we'd used as a table top in the empty storage unit, figuring they wouldn't mind. Um, not a good idea. At 10:30 that night, Walter checked my email and found a note from the storage folks saying it must be removed or there would be a big penalty assessed. And by the way the unit needed to be swept out too. Oh great. I needed to be at the airport by about 9:30 so I could turn in my rental car and make it through security for my 11 am flight. The dump doesn't open until 9 am. It's over an hour drive to the airport. What was I going to do? I didn't have the phone numbers for many of the folks we knew in the old neighborhood (I'd left my computer at home because I didn't want to lug it around) but we'd just gotten an email from Ray Ridout, one of our old neighbors) about some canning jars I'd left on his doorstep. So at about 11:30, Walter wrote to him and asked him if he could help us out.
I didn't sleep real well but I did formulate a plan to hopefully handle the situation. I got up at 6 am, had breakfast (it came with my hotel room) and made my way over to the Lowe's next door and bought a cheap broom. I went back to the storage unit and swept it out and discovered I could actually lift the darned door. I got it into the back of the truck and even got the tailgate up so it wouldn't go sliding out when I stopped (the bed was totally coated with frost). I got a nice shot of the sunrise in the process.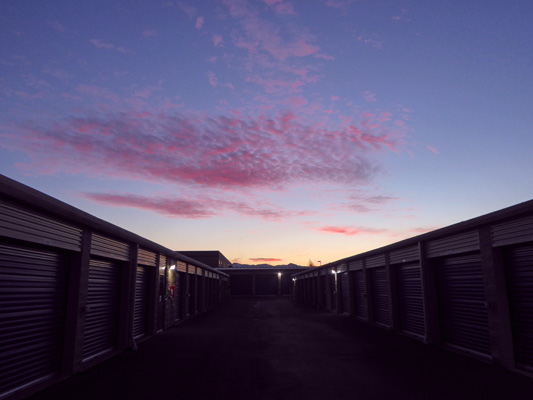 Then I took the door to Goodwill, where they start accepting donations at 8 am. I got there at 7:50, only to be informed that they couldn't take the door. Shoot! So even though it was pretty early (and with Walter's encouragement) I drove up to the Ridout's to see if they were up and awake and could take the darned door off my hands. They were up and greeted me with hugs and smiles. Ray unloaded the door and we had a few minutes to visit before I hit the road to head to the airport. Thank you, thank you, thank you, oh knight in shining armor.
It was SUPER foggy at the airport (so foggy I had to drive super slow at the rental car return so I could see the signs to figure out where to turn). I got my car turned in without a hitch and then got in line to check in at the United desk, only to discover that EVERYTHING was delayed because of the fog. In the end my flight to Denver was delayed 2 1/2 hours because they were having so much trouble getting planes off the runways and up to the jetways because there had been so many delayed flights. They had already rebooked my connecting flight in Denver and I barely made that since I had to go from Gate 4 to Gate 79 to catch it. Thank God for moving sidewalks!
So while the trip was a total success it was just a little more exciting on Saturday than I thought I needed. It was a long day and I sure was happy to stand out on the curb in 68 degree weather waiting for Walter to pick me up.
Sunday I took the day off which was good since I was pretty brain dead. Monday we signed the papers to close on the house and Tuesday December 12th we got the keys to our new place!
While I was gone it was warm enough (in the low 70's mostly) to get the roses in the yard next door to us at the Green Valley RV Resort to unfurl.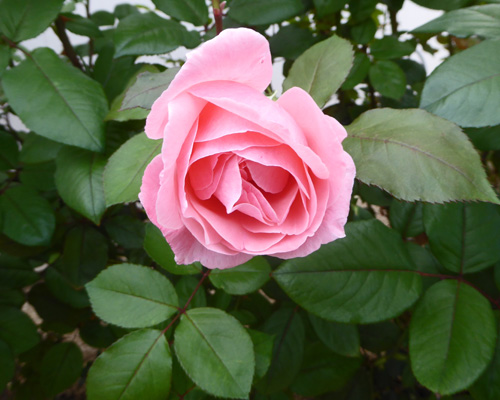 These white ones have pink edges in bud but once they start to open they just look white.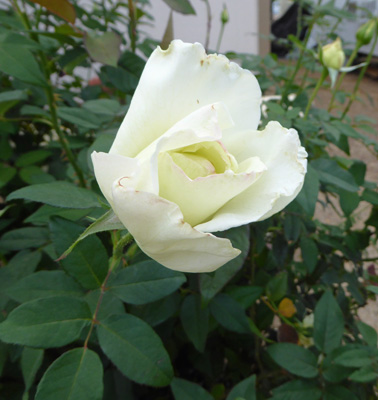 And these deep red ones look like they belong in a long stem bouquet.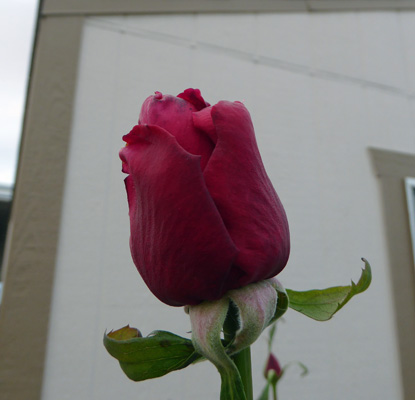 We spent Wednesday hooking up our new high speed internet (Cox Communications is our only option and seems to work great) and having the gas man give us a new meter, turn on the gas and check out our gas stove, water heater and furnace.
Thursday the locksmith came and changed the locks (a gift from our realtor) and the new high efficiency front loading washer and gas dryer (which we'd bought the week before) were delivered. I took a walk over to the clubhouse to get some information for a form I needed to fill out and on the way back stopped and talked to the sewing ladies who were meeting in the crafts room. There sure are plenty of nice folks to meet here and LOTS of activities to keep us out of trouble. Late that afternoon we had a call from the movers that we now had a window of possible delivery of Saturday, Sunday or Monday. Then on Friday morning they called to say that they'd arrive at the house on Saturday after noon! Whoo Hoo!
Friday December 15th, Walter had a doctor's appointment (his new primary care doc) in south Tucson area and then on the way back we stopped by Bed Bath and Beyond to buy shower curtains for both bathrooms and wandered around Home Depot trying to find things like door bumpers and other miscellaneous hardware that needed to be replaced. A final stop at Walmart got us shelf liner for the kitchen. And yes, we were both tired. I seem to have a mild case of novelty overload—lots of new numbers to memorize, new names and faces to keep track of and a whole lot of new appliances to figure out how to use.
Saturday morning we got to the house a little before 11 am. I went and let the neighbors know that we'd be having a moving van parked in the street that afternoon and then set about installing the shower curtains and the shelf liners (in honor of my mother who ALWAYS made it her job to help with the shelf paper when anyone moved). We got that done not long before the movers pulled up at about 1:45. Of course they parked differently than we'd planned but they weren't blocking anybody's access so it was fine (especially since the parking enforcement folks didn't come by and note that they were in the fire lane).
They were really efficient (there were 3 of them working) and they let me sort stuff and send things back out to the garage so when they were all done, our bed was assembled, the futon frame was reassembled (something I'd been concerned about) and the living and dining rooms were FULL of boxes because the boxes that belonged in the bedrooms were stacked in the living room too.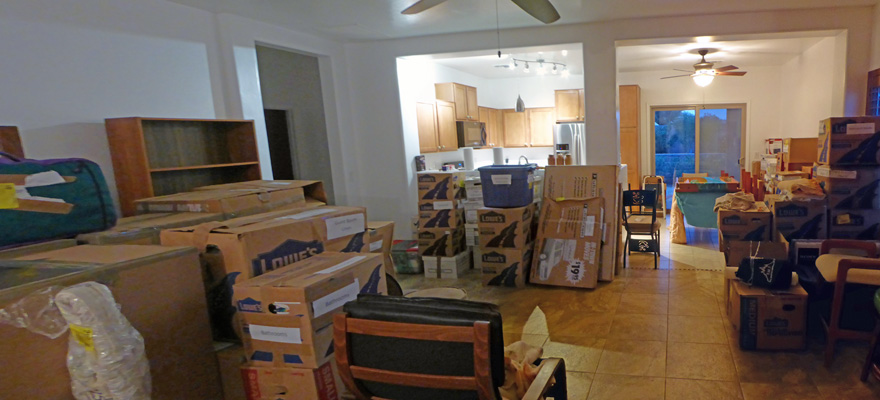 They pulled out about 4:15—pretty darned fast if you ask me! Having hefted a few more boxes than my back would have preferred, I tried out our new bath tub before we headed back to the trailer for dinner. Ahhh, the tub is actually pretty comfortable which is amazing for a modern bathtub.
We'll continue to live in the trailer for the next few days while we get the basics unpacked. We need to be at the house at 8 am on Wednesday morning to meet the fellow who is going to inspect the furnace so we figure it would be easier if we spent the night there on Tuesday night. Hopefully after that, things will be under control enough that we won't feel that we need to retreat from the mess. If not, then we'll just keep on working our way through things until we get there.
We move the trailer into its storage spot on Dec 31st or January 1st so we've got plenty of time to get things under control.
I'll continue to post a missive every 2 or 3 weeks just to keep you all up to date on our adventures—and to keep me motivated to find things to take pictures of.