We left Pinnacles National Park on a bright sunshiny warm day on Thursday March 26th. We drove north through rolling hills towards Hollister, CA. It's beautiful country that starts out as cattle ranches and then turns to vineyards and fields of lettuce, carrots and broccoli. They've had a little rain this year so it's not totally brown but in wet years these hills would be emerald green.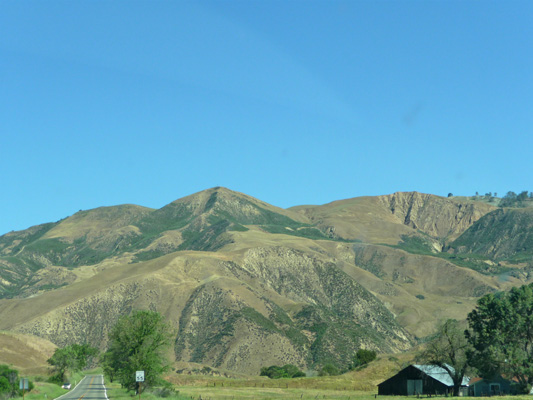 Near Hollister we turned east and drove over Pacheco Pass and past the San Luis Reservoir. Here the hills were still green on the north facing sides of the hills but brown where they faced south.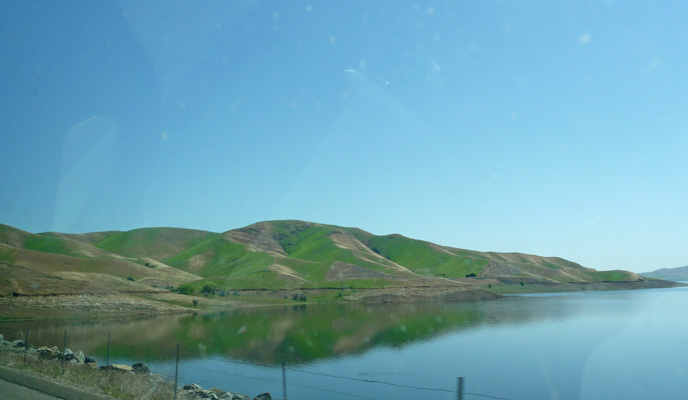 We motored on across the Central Valley to the town of Madera and then started up into the foothills of the Sierra toward Coarsegold which is north of Fresno. We got a spot at the Park of the Sierra SKP park for $21 a night for a full hookup site. This is a hilly park, like Jojoba Hills in Aguanga, so parking in our spot was a little tricky. But Walter is a real pro at this point and slipped Genevieve right in with no problems. The fellow who conducted us to the site was very impressed since he viewed it to be a hard spot for folks to get into and gave him an A+.
We liked the spot because of the shade we got from the surrounding live oaks.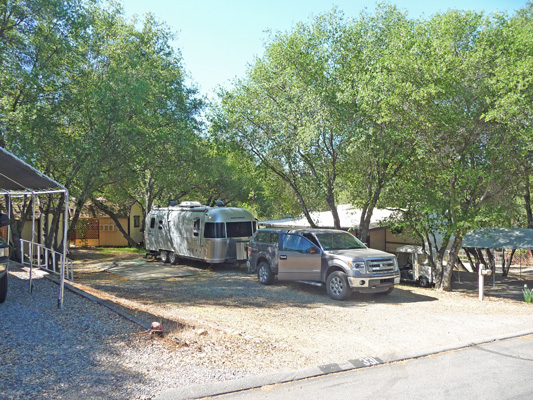 This SKP park isn't as spiffy as Jojoba Hills in Aguanga but it's still in a nice setting and it has the plus of being on the route to Yosemite National Park. That's why we picked it. We could have an inexpensive full hookup site within reasonable driving distance of the Yosemite where the nights are still cold and there are no hook up sites (and all the campgrounds were full because of Spring Break).
We settled in and got caught up on our email and internet surfing. The WiFi in this park was really great.
On Friday March 27th, we motored north on Highway 41 just about 30 miles to the Mariposa Grove just south of the Wawona area of Yosemite National Park. It's a windy road so it takes about 45 minutes. Even though this was a weekday, the parking lot was nearly full at the grove. Lot's of places were off for spring break and it was HOT down in the central valley (as in the high 80's and 90's) but it was a pleasant 65 in the grove. Clearly we weren't the only ones who thought a trip to Yosemite was a good idea. We lucked out in that someone backed out of their parking spot right in front of us and we didn't have to wait to find someplace to park.
Mariposa Grove spotlights its Giant Sequoias but it is really a marvelous mixed grove of huge Sequoias, Ponderosa Pine, Sugar Pine and Incense Cedar. They're just getting ready to do a major restoration project here that will close the grove for 24 months starting in July of 2015. We'd never visited this part of the park so we thought we'd better see it while we could.
You don't really even need to walk far to see wonderful trees. I took this photo from the beginning of the trail.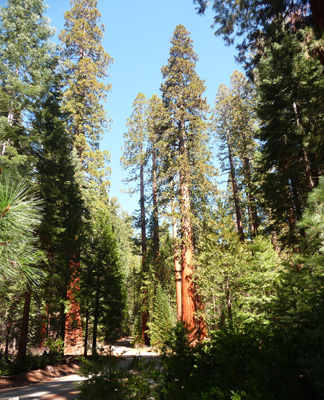 There are a number of trails that wander around the grove. We headed out on one of the more popular ones towards the Grizzly Giant. Sequoias love steep high elevation country so this isn't a flat hike like you'd see among the Coastal Redwoods. Instead, you hike UP through the forest from one cluster of Sequoias to the next, passing lovely huge Ponderosas and Incense Cedars (and sugar pines too) as you go. In time, you come to The Bachelor and Three Graces. At this point the kids on the trail were starting to drag their feet and whine--it's a long way up.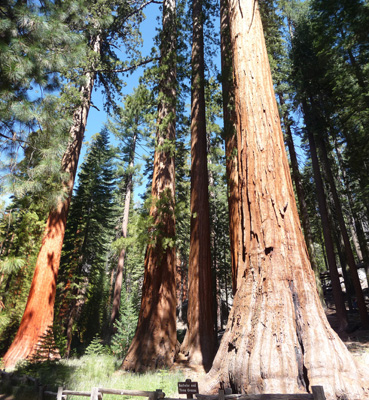 Sequoias are really difficult to photograph because they're so tall. They average 165-280 feet tall and 20-25 feet in diameter. They are considered the largest living thing because they have the greatest volume. While they're not the oldest trees (Bristlecone pines are the oldest) they do live over 3,000 years.
The Grizzly Giant isn't that tall but it has been measured to be the 25th largest Sequoia by volume living today.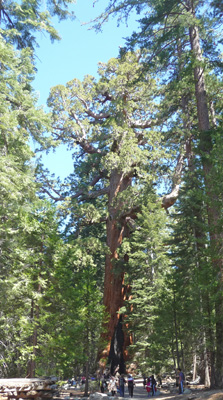 He's 209 feet tall and 96.5 ft. in diameter at his base. He's a bit of a sumo wrestler of a Sequoia. He's lived though a lot of fires, you can tell that by the big black scar on his base. Sequoias have adapted to live with periodic fire. They can easily survive a rapidly moving fire, and in fact require fire to clear out the understory around them so that their seedlings will survive and prosper. If you look at the rings of fallen Sequoias you can see that they experienced fire every 5 to 20 years all through their lifetimes until the late 1890's when humans started suppressing fires. When the groves began to decline and new seedlings stopped appearing it finally occurred to forest managers that maybe fire was required for these trees (and in fact all forests in the west) to thrive. So they do controlled burns in the groves now.
The California Tunnel Tree is a tree that survived fire by sealing off a section of it's base that had been damaged allowing it to rot away. Humans came along and squared off the cavity so that they could pose inside and in front of it. This was THE photo op on our hike.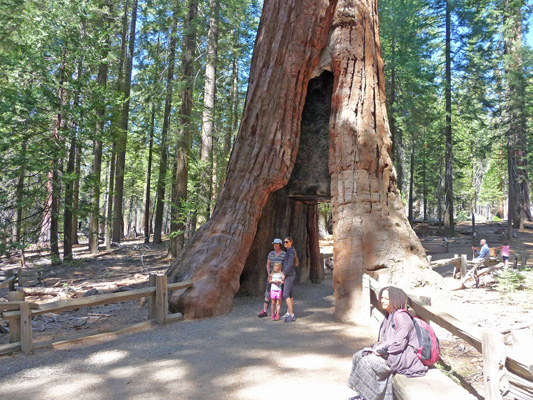 There used to be a tree that you could drive a car through in the grove. But it has fallen over. You can go visit it up at the top of the grove be we decided that a 3 mile hike was more than enough for us so after the California Tunnel Tree we stopped going uphill and took a trail across the grove that would loop us back to the parking area.
Here and there along the trail we saw these roundish red growths popping up through the soil. I got down on my hands and knees to examine them and it was pretty clear they weren't a fungus. Something had dug one up, and the stem was woody not spongy. It turns out these are Snow Plants (Sarcodes sanguinea). They get a bit taller as they unfurl but they stay this amazing red color.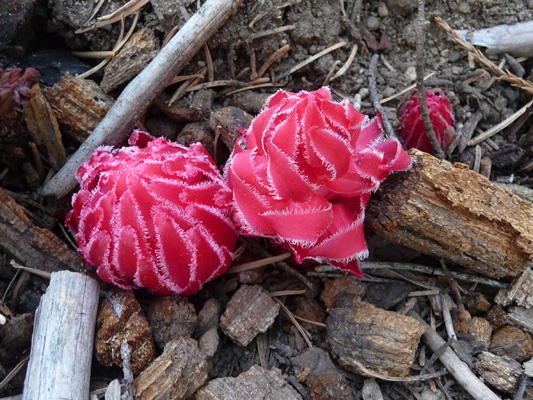 They're a parasitic plant that lives on the mycorrhizal fungi that attach to tree roots and help them absorb nutrients from the soil. They have not green parts so the don't photosynthesize. So they steal sugars from the link between the fungi and the trees.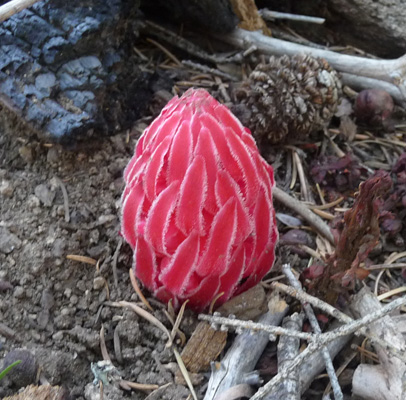 We saw them growing singly and in groups of up to 5 all over the forest floor as we hiked along.
The trail climbed along a ridgeline and we got to climb over one very large fallen tree truck that no one had cleared yet from the trail. There were wild strawberries in bloom in one sunny section.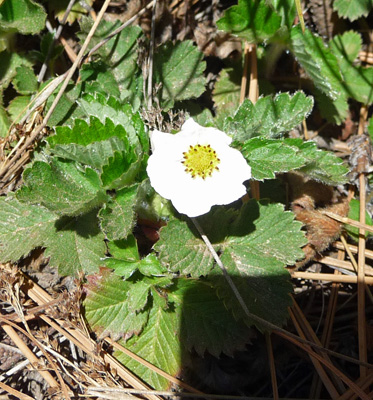 Eventually the trail arrived at a pair of trees that are known as the Faithful Couple. I suspect that this was actually one tree that got hit by lightening and split to produce two trunks but hey none of us were there to see it happen 3000 years ago and people really like the Faithful Couple story.
The trail continued on and went past this big tree. I had Walter take a photo of me standing in front of it to give you a sense of scale. What you can't see me? Look carefully down at the base, I'm pretty little. The Grizzly Giant has branches that are 9 feet in diameter. That's bigger than most species trunks ever get.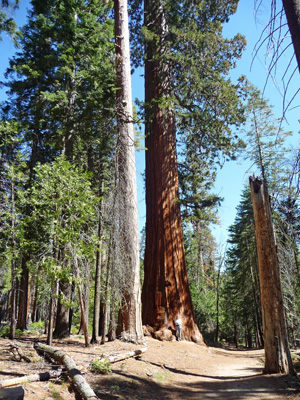 There was a patch of snow plants just down hill from here. They are just so cool.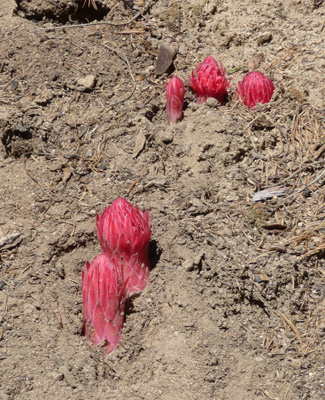 We'd clocked about 3 miles when we got back to the car and that was enough for us. We drove down the hill and found a parking spot in the picnic area and had lunch. Right next to our picnic table there were two different varieties of manzanita in bloom.
Greenleaf Manzanita (Arctostaphylos patula)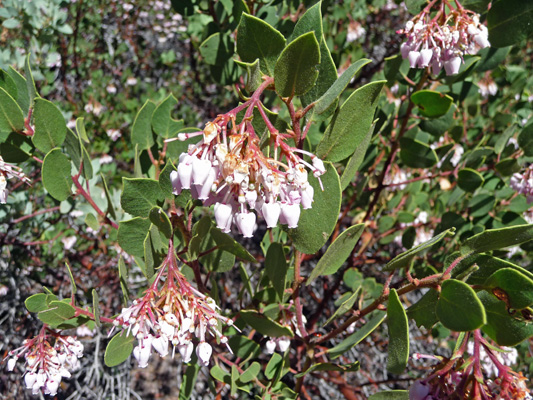 And Whiteleaf Manzanita (Arctostaphylos viscida ssp. viscida).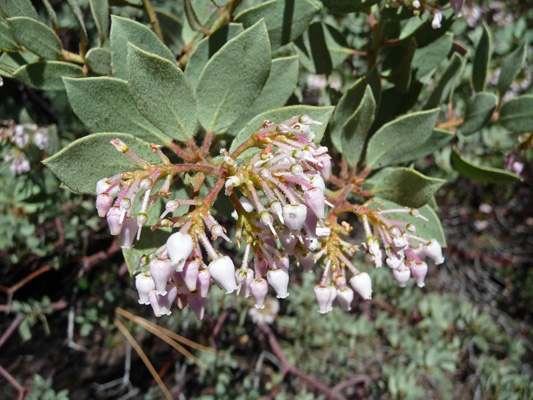 I grew up with manzanita and I never knew there was more than one tall variety (there's a short variety that I knew about). I'd seen some of the Whiteleaf Mazanita during our hike and knew it looked different. I sure was glad to find out it was a whole different variety.
After lunch we drove down to the Wawona area but the Visitor's Center wasn't open yet for the season so we headed on home.
Saturday March 28th, we took the day off and just hung out. We had a tour of Park of the Sierra where we were staying. It's a much more basic SKP park than Jojoba Hills down near San Diego. No pool and no spa and while they have a large club house it isn't as well developed and equipped either. But the buy in is only $17,000 instead of $30,000 and the monthly maintenance fee is only $100 rather than $253 at Jojoba, so you get what you pay for. The folks living here seem to be an older crowd too with many of them living here year round. It's an okay place to stay for a home base for Yosemite but I wouldn't want to live there.
On Sunday March 29th, we got up a little earlier than usual, packed our lunch and headed up to Yosemite Valley—a 60 mile, hour and half plus drive. We'd hoped that by getting an early start we'd at least avoid some of the weekend crowds in the valley. That was not to be. The parking lot at the Tunnel View was full on both sides. We drove through the inbound lot and I hopped out and took this shot of the valley with a redbud in bloom. No one drove in behind us so at least I didn't hold up traffic.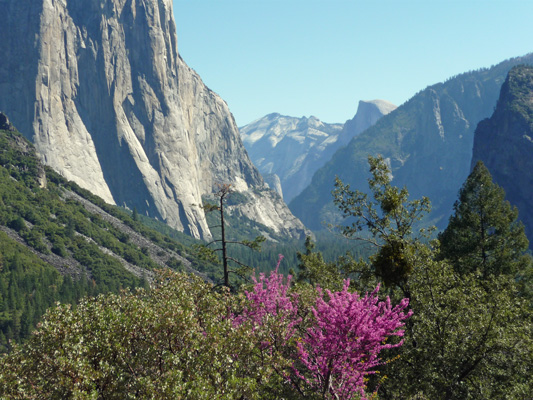 Spring has come early to Yosemite. There wasn't much snow this winter in the Sierras and warm weather has come early too. So not only was the manzanita in bloom but we saw Pacific Dogwoods in bloom along with apples and redbuds.
The parking areas at Bridleveil Falls were full and nearly every turn out along the road into the valley was full of cars too. We turned into the parking area at Sentinel Bridge and were astounded to find a parking spot. We grabbed it and I hopped out to take a photo of Upper Yosemite Falls and realized I could see the lower falls too!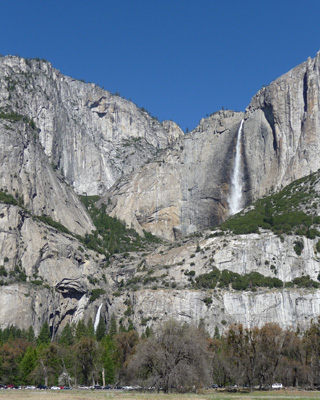 Here's a close up of the Upper Falls.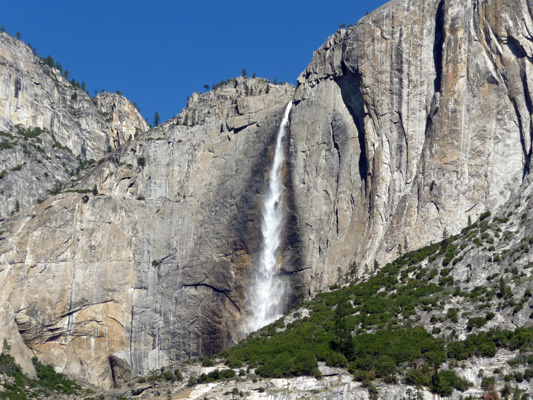 I took this panorama shot so you could get a sense of the huge granite walls that form the Yosemite Valley.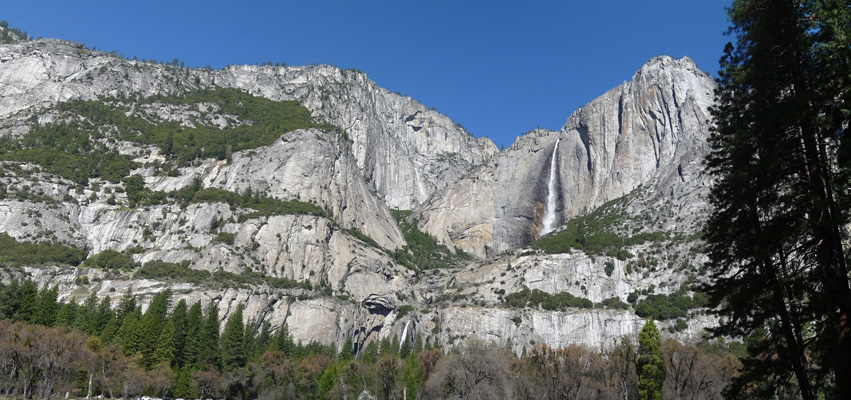 These falls dry up in the summer so it's always a treat to actually get to see them both gushing with water in the spring.
Once I'd grabbed a photo or two we realized we could just leave the truck parked where it was and either pick up the free shuttle to one of the hikes in the valley or just set out walking from there. We decided it was such a gorgeous day why not just follow the path across the meadow towards the falls.
We followed the trail across a boardwalk and then across the road to the trail that heads west towards the falls. At one point there was a break in the trees and I shot this photo of the Upper Falls.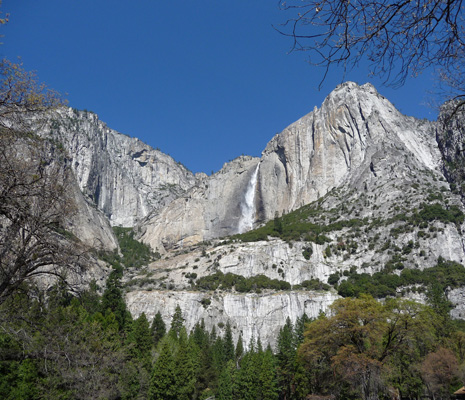 There were apple trees in bloom along the trail and tons of folks on bikes and walking. We followed the Lower Falls trail up through the woods
where the last time we'd been here
we'd seen frazil—frozen waterfall foam—all along the trail. This time it was dry because there just isn't that much water in the falls this year. The trail brings you to a wonderful view of the Lower Falls.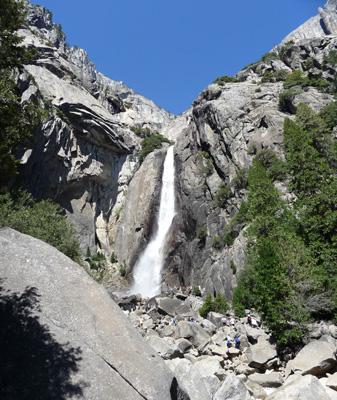 In 2008, there was so much water in these falls that the mist carried all the way down over all these rocks and I got wet standing in this same spot. This year with much less runoff, there's still a lot of water it's just not so overwhelming. Some folks however, just HAVE to get wet, so there were people who had climbed over all those rocks so they could get to the base of the falls and it's mist.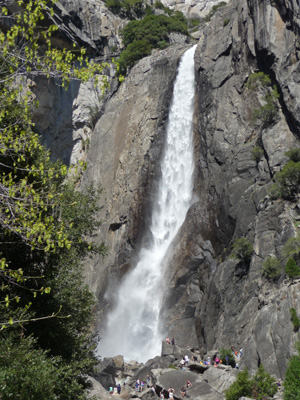 It was a zoo at the viewpoint: People with selfie sticks, families posing for photos, folks just standing and staring. At least everyone was civilized and enjoying themselves. You can't expect to have Yosemite to yourself Easter Week!
We continued on the loop trail and I could see folks walking towards us stopping to take photos so I turned around. And got this great view of the Upper Falls and both drops of the lower falls all at once.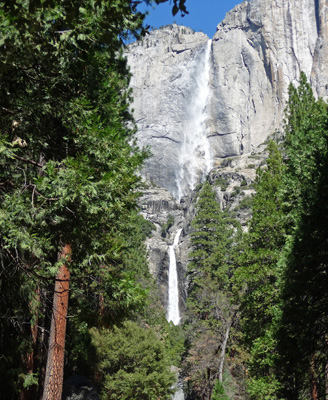 We finished the hike and decided it would be fun to just ride the shuttle around the valley as we have several other times. It's free and it stops often to allow folks to get off and explore the valley. In the past we might have had one or two stops with all the seats full but not this time. We got on at Yosemite Lodge just past the Lower Falls Trail and the bus was about 1/2 empty. By the time we reached Yosemite Village 2 stops later, it was full and at every stop after that we picked up more and more people. It was like riding the subway at rush hour but with lots of kids and folks with hiking sticks, daypacks and strollers. By the time we'd ridden 3/4 of the loop we'd had it. We got off and made our way on foot back to the Sentinel Bridge Parking Lot where we'd left the truck.
The light was just perfect for the classic photo from Sentinel Bridge of Half Dome with the Merced River in the foreground.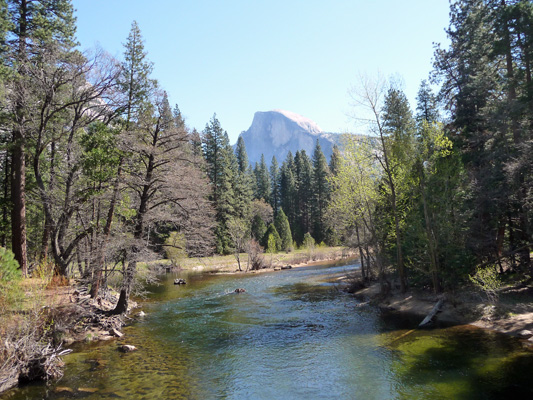 Yosemite is so full of amazing wonders that it's 'ordinary' views would be considered extraordinary anywhere else. Witness the seldom photographed view looking west from Sentinel Bridge along the Merced.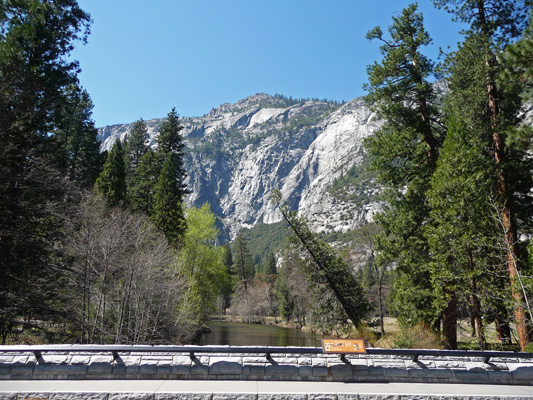 We took out our camp chairs and our cooler and found a nice spot with a view for lunch. I dare you to find a better view—especially with the first of the afternoon thunder clouds starting to billow out over the valley walls.

After lunch we talked about heading home but we knew that it was HOT back in Coarsegold so what was the hurry. They'd opened the road to Glacier Point the day before (the earliest opening on record) so we decided what the heck, it's a long drive but who knows when we'll be here again?
So we piled into the truck and headed out of the valley only to get in a traffic jam waiting from folks to make their way across the road to the Lower Falls Trail. The good news is that it wasn't a long wait and once we were past there it was clear sailing.
Normally at this time of year, the Glacier Point Road would be buried under many feet of snow. They usually don't start the process of plowing it out until mid April and aren't done until late May. But this year, the snow was all gone already. We saw a little bit piled in the ditches along the side of the road here and there but not much—and we're talking about a road that goes up over 7500 feet elevation.
We left the valley at a little after 2 pm so it was relatively late when we started up the hill. Walter counted 107 cars coming out as we drove in! The parking area for the hike to Sentinel Dome was still full but when we got to Washburn Point the lot there was half empty! Hurray.
And the view was spectacular! Just look at the water in those waterfalls.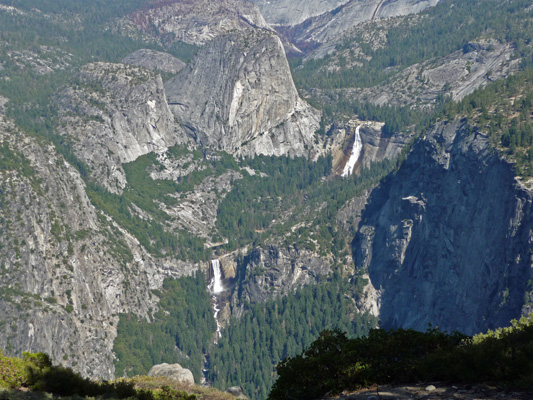 That's Liberty Cap in the center of the photo. The upper waterfall is Nevada Falls and the lower water fall is Vernal Falls. Liberty Cap is 7,076 ft high. Nevada Falls has a drop of 597 ft and Vernal Falls has drop of 317 ft. Both of these falls run all year long and folks hike to them during the summer. The Mist Trail leading up to the top of Vernal Falls is a classic hike and I'm sure you needed a raincoat to hike it this weekend (if it was open).
The High Sierra still has snow that will feed these falls for months to come even if it's much less than usual.

It was in the mid 50's up here above 7,000 feet and it felt wonderful to actually be cool for a change. We drove on to the Glacier Point Parking area which was still pretty full. Glacier Point is at 7200 feet and if you're not used to the altitude that can be a bit much for hiking. We walked over to Glacier View which is right near the parking area and got a slightly different view of the falls and the snowy Sierras.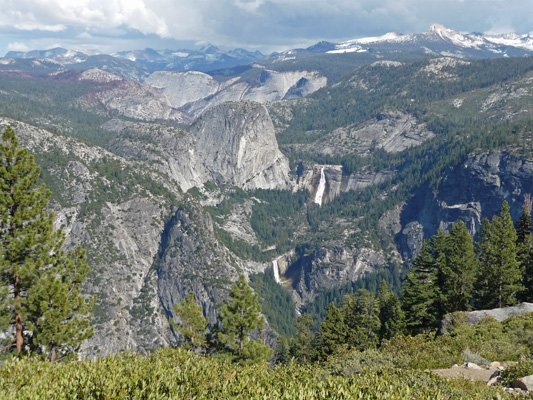 Walter was feeling the altitude so he stayed in this area and I hiked up the hill to Glacier Point itself. From here you can see down into Yosemite Valley. The Valley is 3,200 feet down since it's only at 4,000 ft elevation. If you look carefully down at the bottom in the shade you can see the Lower Falls too.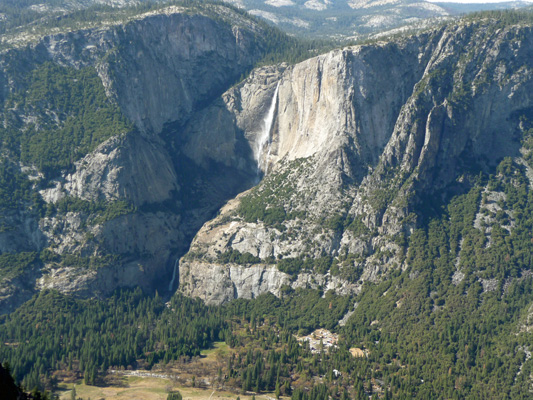 But the real advantage of Glacier Point is that you can see not only the valley but Half Dome AND Vernal and Nevada Falls all at once.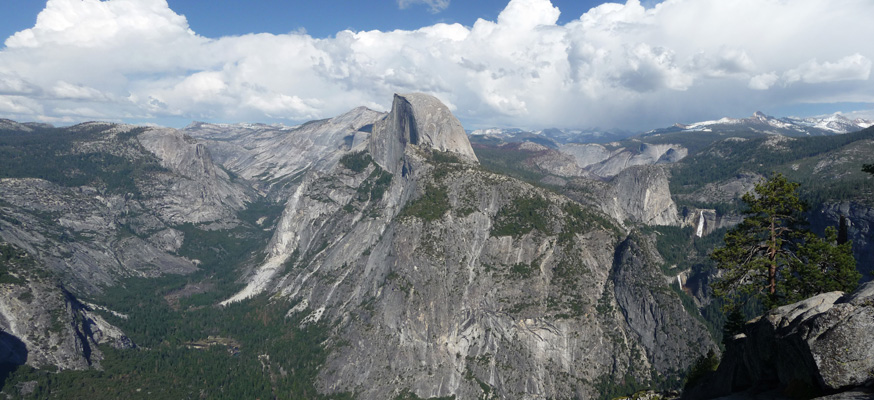 Don't you think that was worth the hike out? I do!
I hiked back and joined Walter and then we began the drive back down from Glacier Point and on down Highway 41 to Coarsegold. All told we were gone nearly 8 hours which is a long day for us what with lots of driving and hiking and altitude. But we both thought it was way worth it.
Monday March 30th we did a housekeeping day with grocery shopping and laundry. We even got the oil changed in the truck since we're coming up on 20,000 miles (in 11 months of traveling).
It's Easter Week and the weather is gorgeous. That means all of California is out camping. We spent a lot of time looking at the map and finally decided the best thing for us to do was to drive back down to Mojave, CA (again) and then do a trip northward exploring places along Highway 395 east of the Sierras for a couple of weeks. The forecast looks good and the nights won't be too cold as long as we stay south of Bishop. Once we hit Bishop we'll do a long driving day to get ourselves back over the Sierras and headed northward to Seattle.