We hosted at Buttercup Campground for 6 weeks (June 5 to July 15) in 2015 and thoroughly enjoyed ourselves. It was a little bit more work than we had expected because we were responsible for watering the many acres of lawn in the campground but with time we got a handle on that so it wasn't too much. The people who camp here are mostly families and it's not known for being a party place. It wasn't hard to get folks to quiet down when quiet hours started at 10 pm and most folks were happy to comply with the few rules that exist here. The area is beautiful and we enjoyed our days off here exploring the mountains and lakes. The staff here was a pleasure to work with and we are seriously considering returning to Lake Cascade again next year.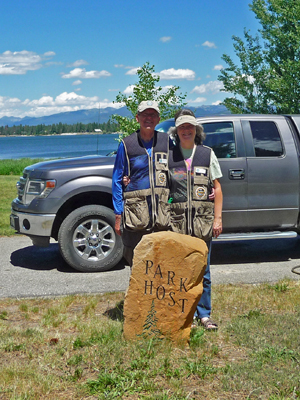 Lake Cascade State Park is a collection of 11 campgrounds spread around 20 mile-long Cascade Reservoir (known as Lake Cascade by the locals). The campgrounds were originally developed by the US Bureau of Reclamation and then made into a State Park in the 1990's. There are 5 campgrounds (and a Group Yurt site) plus 3 Forest Service campgrounds on the west side of the reservoir. There are 6 campgrounds (and a Group Use site) on the east side of the reservoir (plus two Day Use Areas). Because of all of these campgrounds and day use areas, Lake Cascade State Park has a lot of openings each year for camp hosts.
In 2015, they divided the summer season into two sessions: the first went from May 15 to July 15 and the second went from July 15 to September 15. A few hosts worked both sessions (as we did) but many only worked one session.
We worked at Buttercup Campground on the west side of the lake from June 4th to July 15th. We arrived late for the first session because we were already committed to work as Lighthouse Tour Hosts at Heceta Head Lighthouse in Oregon when we were contacted by Lake Cascade. They were happy to have us even if we arrived late (and as it turned out we would leave the second session early because of another commitment to host in September in Eastern Oregon).
Buttercup has 29 sites in addition to the Camp Host site. Only the host site has electricity, water and sewer. All the other sites have no hookups though each site is nicely paved and there are 13 water spigots distributed around the campground. The campground has lots of lovely grassy area which makes tenting here very nice. There are no rules against putting tents up on the grass and no sites have designated tent pads. Families with kids love this campground because there is so much grassy area to play on. About half of the sites have a decent amount of shade and the rest are in full or partial sun. Early in the season the sunny sites are popular but in hot weather, the shady spots fill up fast. About 6 of the sites have water access and a bit of sandy beach.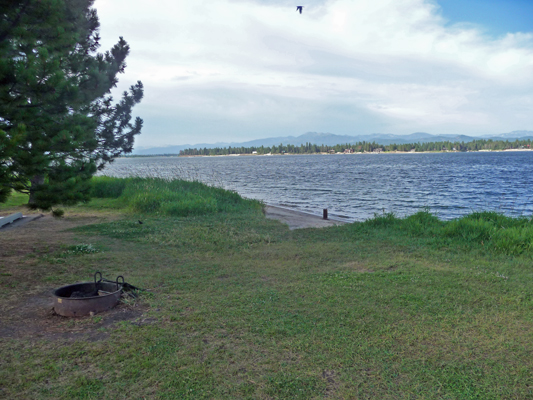 They don't have exclusive use of that water access and must share it with everyone else but it makes those spots very popular both with families who want to play in the water and boaters who want to tie up their boats.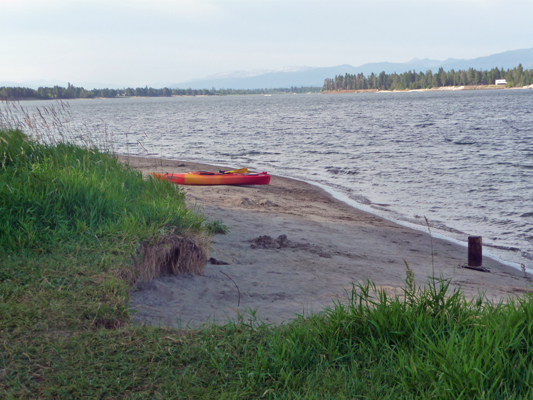 There's no moorage on the lake but boaters are allowed to tie their boats up to the bank as long as they put in a tie up point and don't use the park's rocks, trees or bushes. So on the weekend there are lots of boats and jet skis tied up near the two main water access points. Well over half of the sites have a good view of the lake even if they don't have easy access directly to the water.
There is a boat launch attached to the campground but you have to drive out of the campground and down about a ¼ a mile to enter the parking area for the boat launch. There is pedestrian access via a foot bridge from the campground to the boat launch.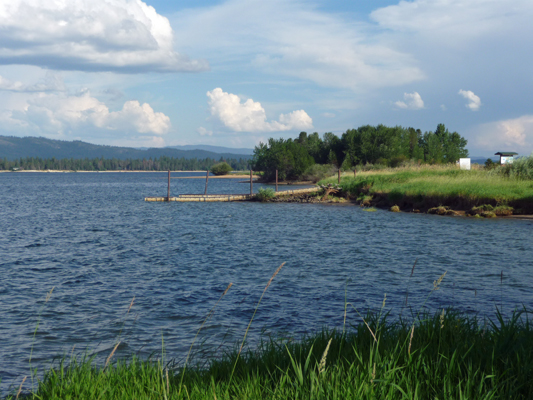 The boat launch is the highest on the lake so it is the first to become unusable as the level of the reservoir drops across the summer. There are boat launches a mile south (at Poison Creek Campground) and 2 miles north (at Rainbow Forest Service campground) that stay open longer.
All the sites in the campground are reservable and once it gets hot in Boise, the campground is pretty much reserved each weekend but fairly open during the week. People bring their boats, jet skis, ATV's, bikes, kids and dogs to enjoy the sunshine, the water and the mountains.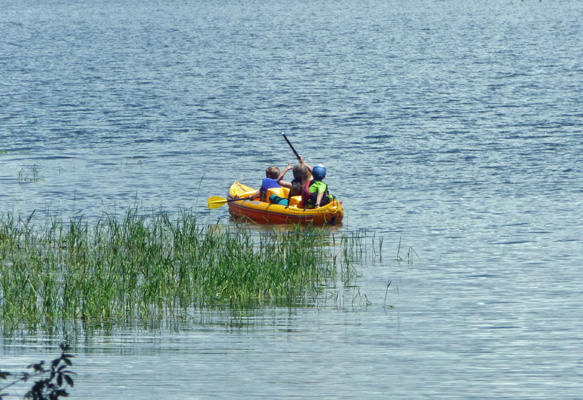 As camp hosts we were responsible for greeting the campers and answering their questions; keeping the reservations tags up to date on each site; picking up litter all over the campground and boat launch; checking the bathrooms for litter and toilet paper twice a day and watering the grass.
People aren't required to check in with the camp hosts when they arrive but we tried to at least stop by and say hi and ask if they had questions sometime within the first few hours of their arrival. We weren't responsible for enforcing rules but we were asked to inform campers of leash requirements and quiet hours and any other rules folks seemed to be breaking (riding ATV's in the park, parking on the grass, having too many tents or cars in a site). On the weekends, we were asked to keep a record of the license plate numbers of all the vehicles in each site and whether they had Idaho Passport stickers. This could take an extra trip or two around the campground on Friday evening to get everyone checked in but otherwise it was no big deal.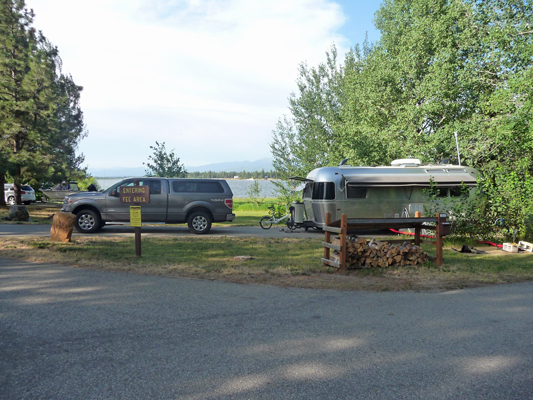 Our campsite was directly opposite where folks bought firewood and paid for campsites so we got a lot of questions about parking costs for vehicles and the like.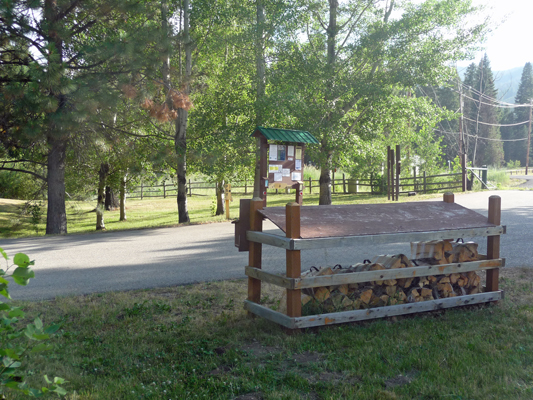 We didn't collect the money or provide change. But we could call in on the radio and have a ranger come and provide change or process charge cards. We also helped walk in campers figure out the cost of their site (and cars) and could call into the office to see if they could stay extra nights.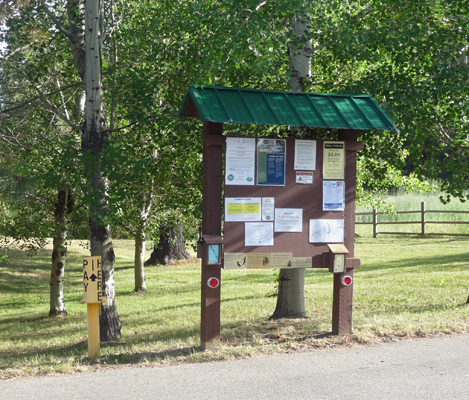 Every day we received an updated list of the reservations for the next 7 days. On Monday's I'd wipe the dry eraser marker off each tag and write in the next week's reservations. Then when the updated list arrived I'd just need to double check for additions and cancelations through the weekend and make changes to the tags as needed. The tags are riveted to the numbered posts at each site. That makes cleaning them off a bit of a challenge (I call it praying to the reservations tags) since you have to squat or kneel down 29 times in the hour or so it takes to clean the tags. My creaky knee was always crackling by the time I was done.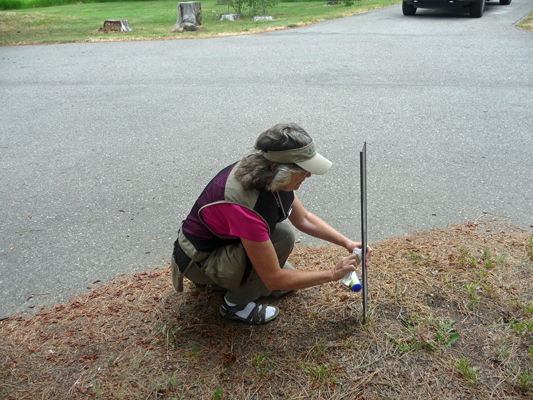 We'd do rounds twice a day: once in the morning and once in the evening. Walter would walk the route and pick up trash with his "easy reacher" at least once a day.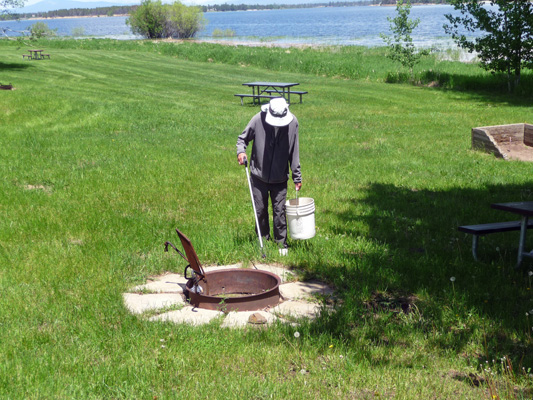 The other time we'd ride our bikes and stop and talk to folks and check the restrooms. Walter would also police each site after people left—especially looking for trash in the fire pits. For reasons beyond me, people seem to think that fire pits are trash receptacles and then try to burn everything including aluminum cans and plastic and glass bottles. Ugh. We were also responsible for cleaning out excess ash out of the fire pits but we didn't run into that problem during our tenure. On our rounds we'd always stop and check the toilet paper situation in each of the bathrooms in the campground and over at the boat launch (picking up paper off the floor and making sure the lids were down and adding toilet paper when it was out).
Watering was the biggest portion of our job both in terms of physical effort and time. We watered Sunday through Thursday when the campground was mostly empty (no watering of sites with people in them which made it quite fun to plan the watering schedule). We'd start on Sunday afternoon after people left and put in 18 to 20 hours running 3 sprinklers an hour at a time. We tried to take Tuesday and Wednesday off so those were our light watering days with more hours concentrated on Sunday, Monday and Thursday. We had 500 feet of hose and 3 Rainbirds to water acres of lawn. We discovered that if we rode our bikes out to change the water we were much less tired than if we walked since it was a long way around the campground and you could really pile up the miles on watering days.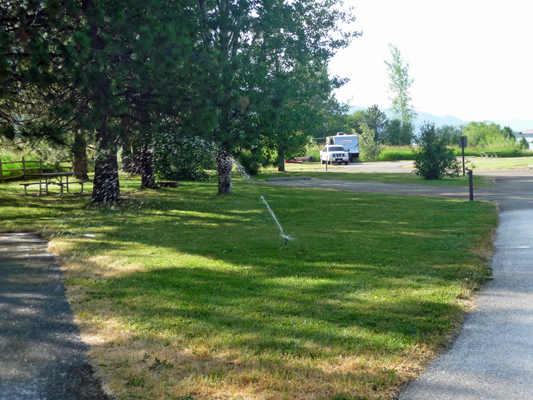 The rangers and managers at this park are simply wonderful. They are appreciative, supportive and responsive. They provided us with training the day after we arrived, even though we had missed the full day of training they had offered in May. The notebook for the campsite is well organized and has lots of information. They provided a box of literature to help answer people's questions about trails, drives and recreational opportunities. Our name tags, hats and vests were waiting for us though we did have to wait a few weeks for our annual parking pass to arrive from Boise. Information on how to manage the watering of the campground was very inadequate and the Rainbirds and hoses are old and cranky but we figured out how to make it work.
The full hookup host site has a nice water view and morning shade.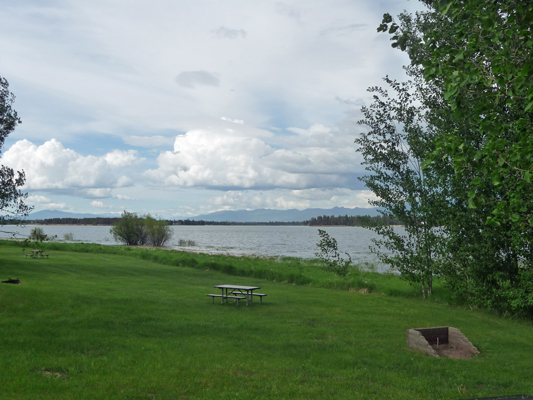 The door side has a pretty steep grade downward to the fire pit and grassy area so there are some steps.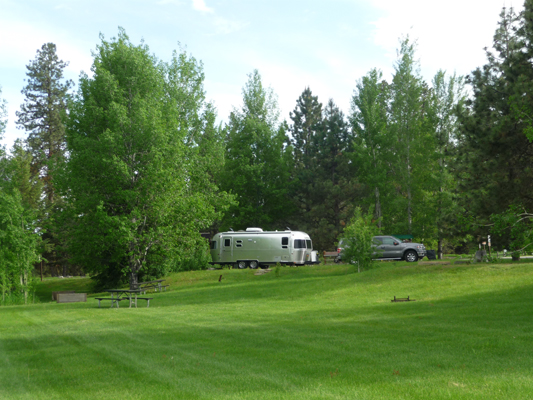 We didn't use that area much since we're not fire people. We figured out how to have a picnic table on that side and we were happy though it would have been nice to have a larger outdoor living area since the grade drops off quickly just past the edge of the parking pad. The drinking water has a lot of iron in it and they provide a water filter to try to deal with that. Most of the iron appears to be in a form that the filter doesn't handle. They need a much more expensive system to tackle it and are working on it. Meanwhile, I had to use rust stain removing toilet cleaner every 2 to 3 days to keep our porcelain toilet from getting bad orange streaks.
The fishing off Buttercup is good. People caught rainbow trout, bass and perch from the banks and from their boats. The bird watching is good. We had Great Blue Herons, Sandhill Cranes, osprey, bald eagles, redwing blackbirds and a ton of small song birds on a regular basis.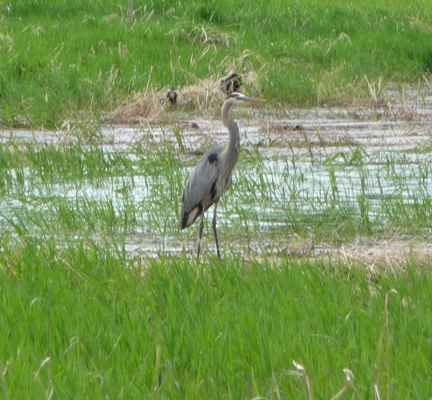 We were visited by deer, a family of foxes and small squirrels. There are moles or gophers in the lawn so there were dirt mounds all over. But this campground doesn't have ground squirrels which is a blessing since they can be a real hassle.
There are lots of wildflowers along the path between the campground and the boat launch and in the meadow at the end of the Camas Loop (including camas and mariposa lilies).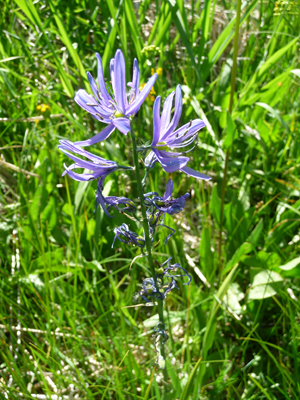 It is 22 miles to the town of Cascade and only 20 miles to McCall from Buttercup. There are two very nice grocery stores, an Ace Hardware, an inexpensive laundromat and a Rite Aid in McCall so we oriented that direction. There is a laundromat in Donnelly too which is only 7 miles away and equally nice and inexpensive. Cascade has a small grocery store and a laundromat too if you want to make the longer drive. We like McCall a lot and have enjoyed Payette Lake and Ponderosa State Park on our days in McCall doing errands.