On Saturday June 6th we had a lovely sunny day with temperatures in the high 70s. I took my camera with me again as we did our morning rounds and waded out into the grassy meadow on the north end of the campground (the Camas Loop) to capture photos of the flowers. It was a little mushy but I didn't get my feet wet.
There were Common Camas (Camassia quamash) sprinkled all through the grass.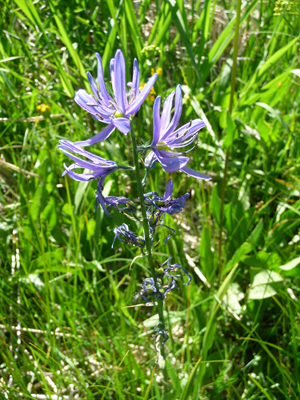 And there were Taper-leaf Penstemon (Penstemon attenuatus) here and there, though they seemed to have passed their peak bloom (we saw more later in the week higher up in elevation at peak bloom).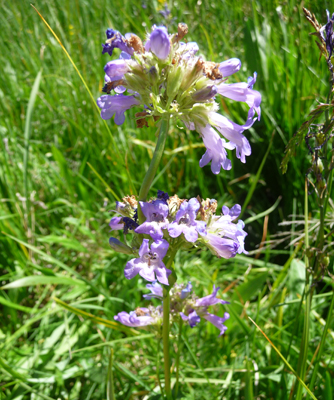 On the way to the boat dock I discovered a number of Oregon Checkermallow (Sidalcea oregona) had come into bloom overnight.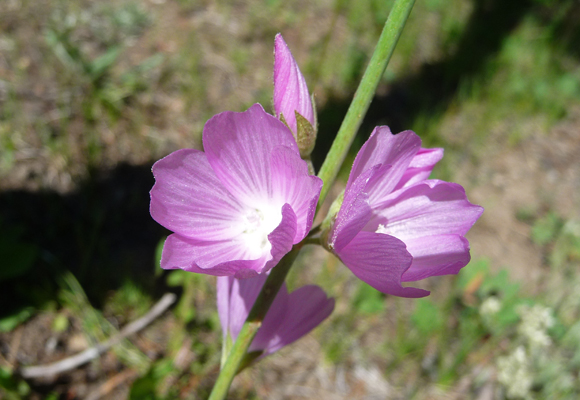 I tried one more time to get my camera to take photos of the Prairie Smoke (Geum triflorium) and got something that will at least give you an idea of what they look like. The smoke in their name comes from the seed head that you see in the center of the photo.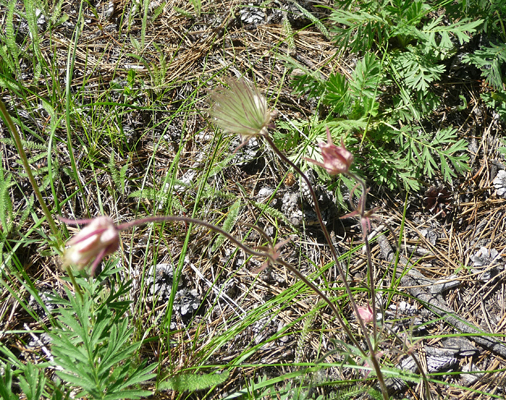 We hiked out onto the dock and I took this shot looking south along the lake.

There was a butterfly feeding on a Large-flowered Triplet Lily (Triteleia grandiflora).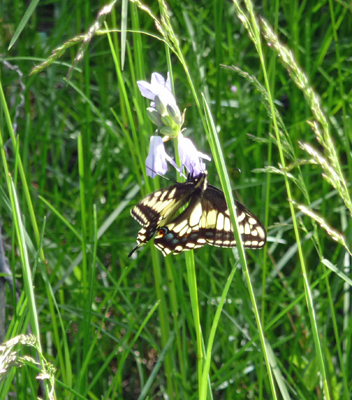 I also discovered this odd stuff that's called Variable-leaf Scorpion Weed (Phacelia heterophylla).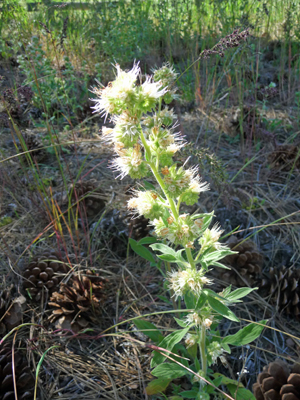 That evening we had a nice sunset and I hiked out through the campground to find a good spot to take a picture. I caught this out along the grassy edges of the lake.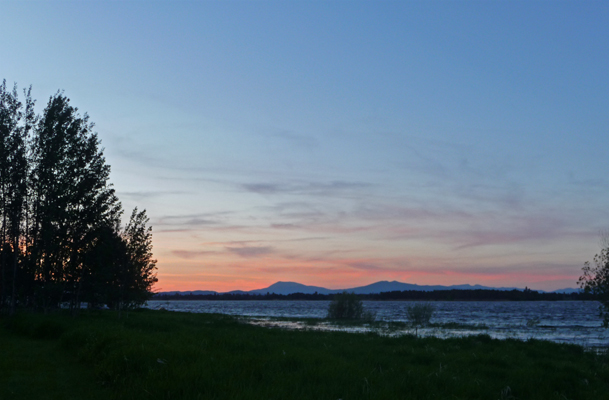 The next morning on our morning campground tour I discovered that the Nootka rose (Rosa nutkana) had come into bloom along the path to the boat launch.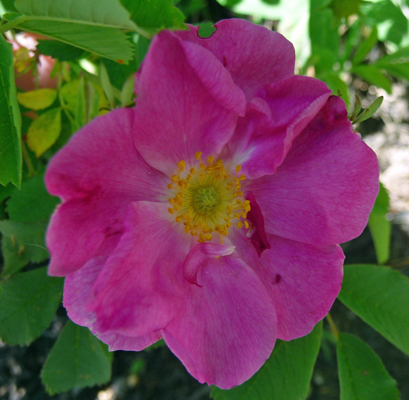 And huge swathes of Spear-leaf Arnica (Arnica longifolia) had started to bloom too. Nothing like a few weeks of rain followed by a few days of sun to get the flowers popping into bloom.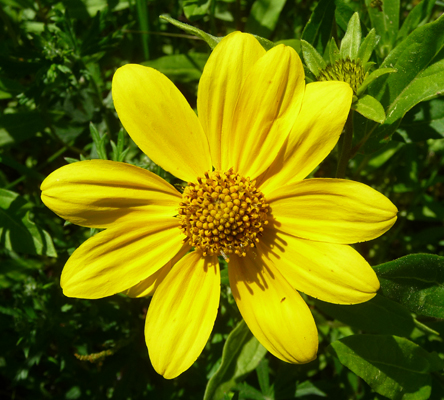 From the boat launch parking lot we spied the last little bit of snow up at the top of the Tamarack Ski Resort.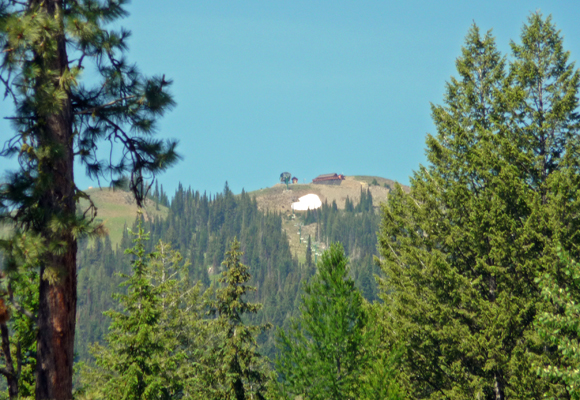 I also saw a Yellow salsify (Tragopogon dubius)—a non-native but still cool—just coming into bloom.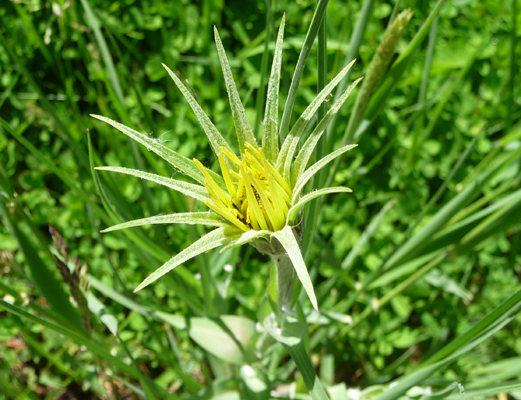 In my last email I labeled some flowers as Rosy pussy toes (Antennaria rosea). They were pale pink. But look at these—which are really rosy and are most definitely the real thing.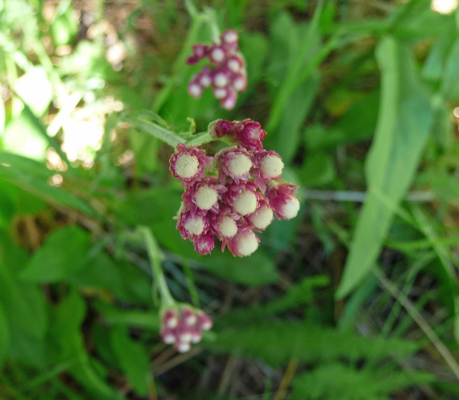 The temperatures were starting to climb into the 80's (it hit 85 that Sunday) and the kids were out in force in the water.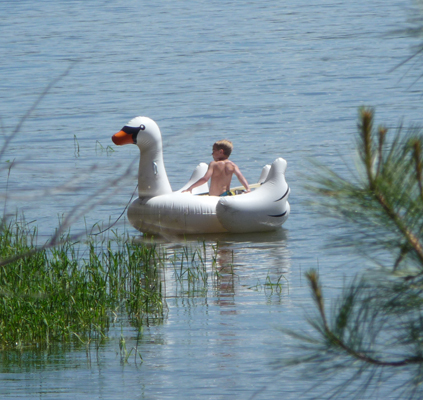 I came back and did a few household chores and Walter insisted I take a photo of the rare 'toilet flower' that appeared in the bathroom. That green stuff is a toilet bowl cleaner especially made for our fancy porcelain RV toilet. You have to let it sit for 5 minutes before you brush and flush.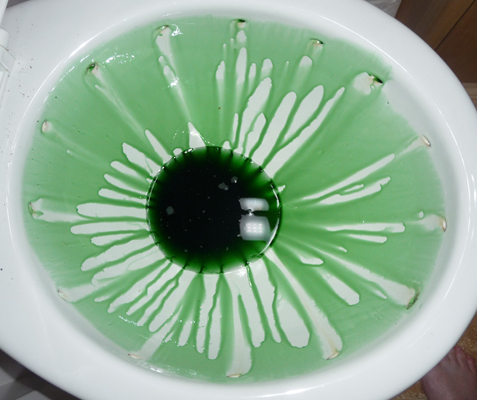 Sunday evening brought another lovely sunset. This time it looked a bit like a bunch of kids had gotten loose in the sky with pink chalk.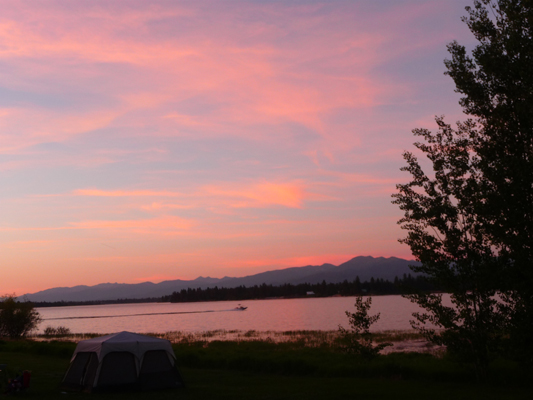 And we got some good color up to the northwest too.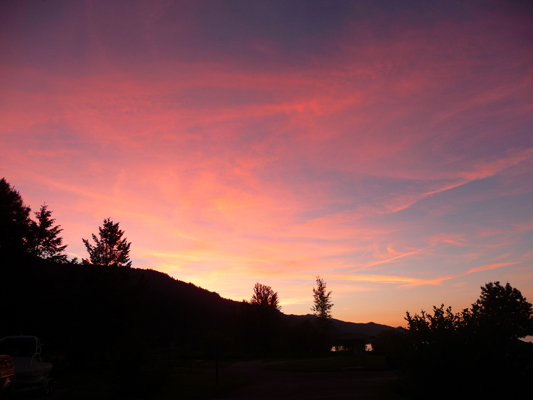 Monday is supposed to be a quiet day in the campground business but we had a bunch of folks who stayed over Sunday night so the campground was still pretty full on Monday morning. We had 4 new parties coming in and Walter likes to do litter patrol on each site before someone comes in. I got to scrub the dry eraser marker off all 28 reservation tags and put up the next week's worth of reservations. The tags are riveted to the campsite posts which means I got to kneel in the grass to complete this process. I definitely felt as if I'd done my prayers by the time I was done.
We were done with our chores by about 11 which was a good thing. It was heating up fast. In fact, on Monday June 8th, it was just plain hot here (and all across the west from what we could tell). By noon it was in the 80's and it hit 90 at about 4 pm. The good news is that it cools off at night here. So it was already down to 78 by 7:30 pm.
I had spotted a dipping bird or two out on the water and that day I got a good enough photo to figure out that we've had 4 or 5 Western Grebes fishing off our shore.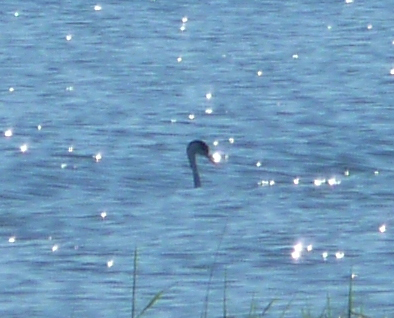 The Great Blue Heron was out too and the kids next door were out with their phones taking pictures of him. They giggled and off he went.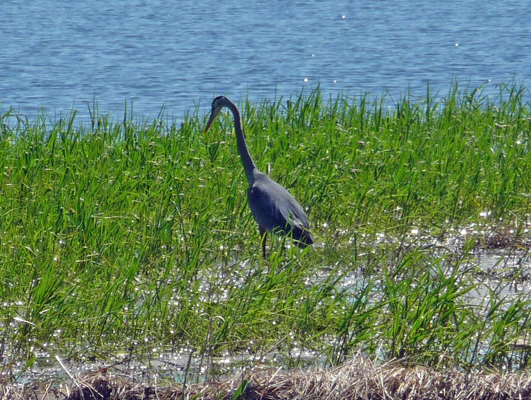 We hunkered down in the trailer (and sometimes out in the shade in our camp chairs for the afternoon) and watched the temperature rise. Whew. At one point we were singing and playing our instruments with the windows all open and a song bird came and sat in the tree right outside our kitchen window and sang as loud as he could. I don't know if he was trying to communicate with us, join us or drown us out!
Late in the afternoon we were visited by a Hairy Woodpecker looking for bugs in the tree stumps next to the truck. He worked his way closer and I got a shot of him and thus confirmed that we'd IDed him right.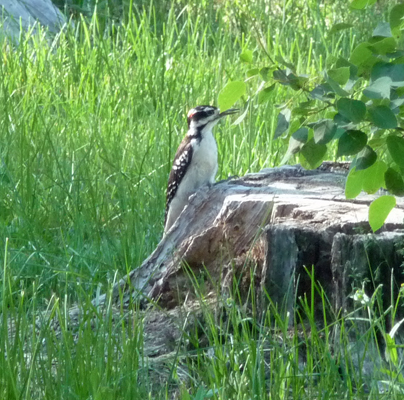 When we were on the Oregon Coast, we opened up the front rock shields that protect the wrap around windows in our bedroom and braved our fears of not being able to get them closed again. Having figured out what we need to do to close them up, we are now free to open them and thus open the front window to allow 4-way cross ventilation in the trailer. It also gives us a place to hang this nifty whirligig that one of our fellow lighthouse hosts made and gave it each of us. Isn't it lovely? When the sun is just right it lights up the beads around the edges and it's extra pretty then.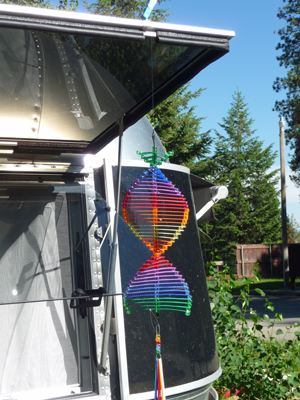 That evening the folks in the campsite next to us came over and gave us slices of Pineapple Upside-Down Cake that they'd made in their Dutch Oven and invited us over for Dutch Oven Chili and Corn Bread the next evening for dinner. The cake brought back memories of Girl Scout cookouts and was pretty good—though too sweet for my system. The chili and cornbread were perfect the next day. Late that night, Mother Nature put on yet another lovely show with rosy orange to the NW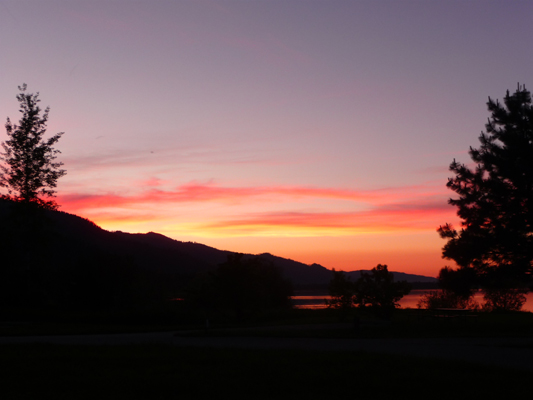 Rosy pink to the north.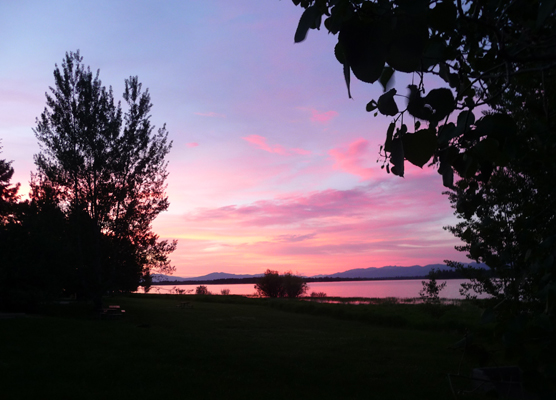 Tuesday was the first of our 2 days off. We did a quick tour of the campground to make sure there was toilet paper and all was well and headed into McCall to do laundry, errands and grocery shopping. Walter even got his hair cut! I investigated both of the grocery stores in town and opted to shop in the larger of the two that the barber recommended. I also stopped and got a hanging flower basket and some herbs to keep the inner gardener happy.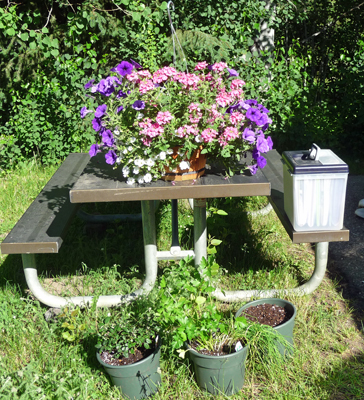 I admit that doing all that shopping AND the laundry is a bit too much for me especially when we've just arrived in a place so every errand is an adventure. I was kind of cranky by the time it was all done—of course it didn't help that we ate lunch late too. We had a few drops of rain in McCall and it was 77 when we headed south back towards Lake Cascade. We stopped for lunch at the north end of the lake and it was 86! What a temperature gradient in less than 20 miles. They say that this happens often because the lake is in the rain shadow of the West Mountains while McCall isn't so they get more clouds and more precipitation.
Wednesday was our outing day. So we packed a lunch and decided to do a quick circuit of the campground. Good thing that we did. We discovered that there was a BIG water leak just across the bridge on the way to the boat launch. We called it in on the radio and then a while later got clearance to go ahead and do our outing. It took them two days to get it fixed but the good news is that there was a shut off valve so they could turn the water line off that fed the leak without having to shut off the whole campground so we still had water as did the rest of the campground.
There were thunderstorms in the forecast so we weren't that surprised to see these great thunderheads boiling up in the mountains to the northeast as we set out.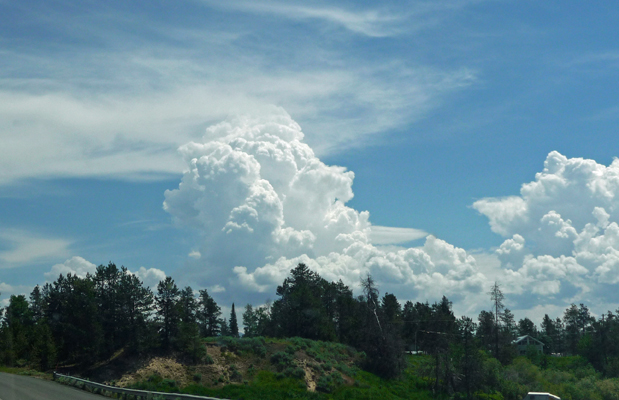 The ones due east were pretty swell too.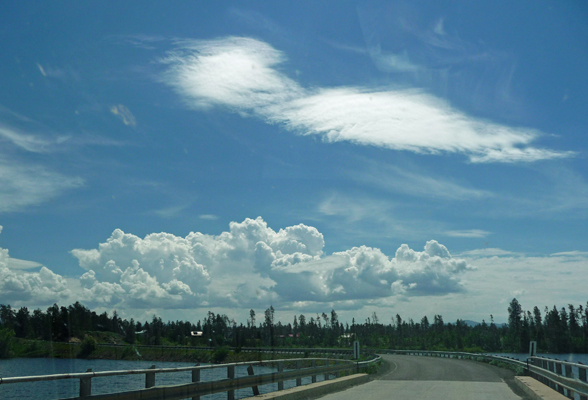 We'd heard about a nice sandy beach at the Boulder Creek Day Use area on the east side of the lake so we drove over to have a look. There's a nice picnic area and a lovely sandy beach for kids. It's just a bit of a challenge to get there and back since it involves a lot of twists and turns.
While we were at it, we drove a little further south and visited the Sugarloaf Campground where we will be hosts the second half of the summer. The road into the campground winds through some open meadows and there are osprey nesting platforms dotting the area along the edge of the lake. Complete with Osprey.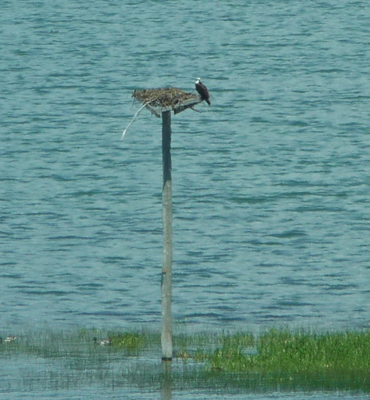 One was even close enough to confirm the ID.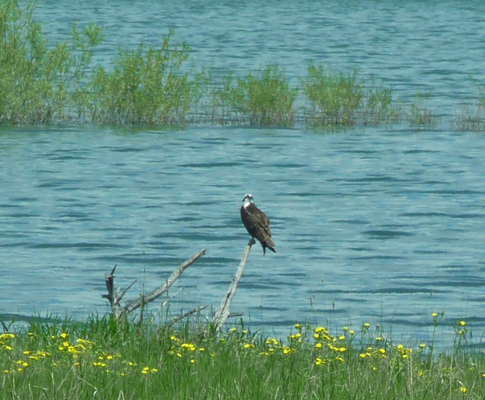 They also have nesting boxes for swallows and thus have TONS of tree swallows about too. I love the iridescent blue.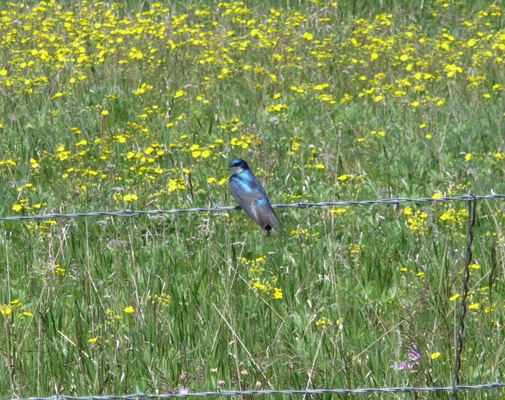 And their white bellies.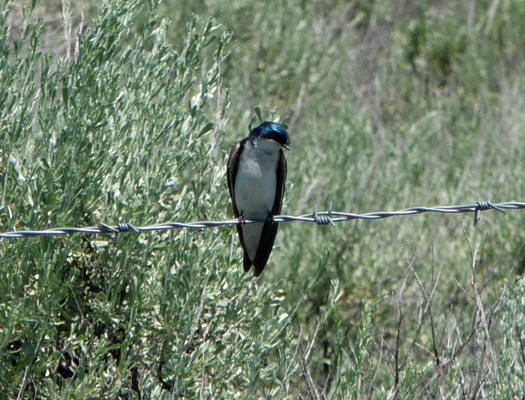 We stopped and visited with the camp host at Sugarloaf and discovered that the boat ramp there is closed for construction. His occupancy is WAY down. The boat people are going elsewhere. In fact, they had cut off reservations in our campground for the next week or two to create space for folks who want to change their reservations from Sugarloaf because we have a boat ramp. It turns out that the boat ramp should be back open on June 22nd so it won't be a factor when we're there.
From Sugarloaf we drove south into the town of Cascade and then turned west on Cabarton Rd for the drive up to Snowbank Mountain. There were White Sego Lilies (Calochortus eurycarpus) in bloom along the roadside and I made Walter stop while I climbed out and took photos of them.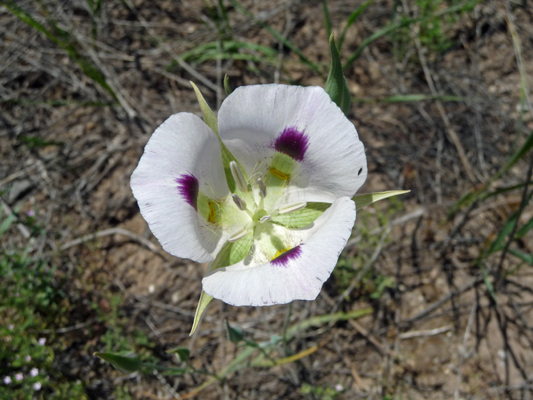 These are natives and grow in little clumps.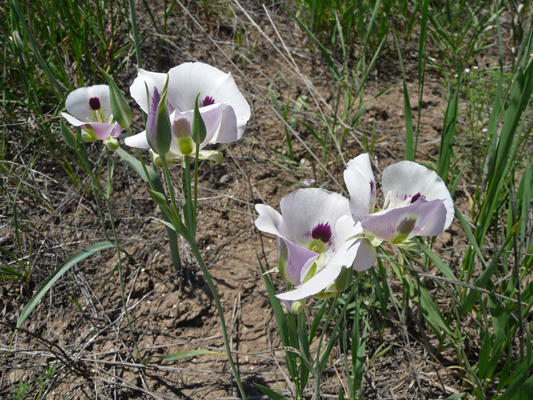 We turned onto Snowbank Road (which is a Forest Service dirt road) and followed it up through lovely forest and then on to where the trees thin out where we had a nice view of Blue Lake.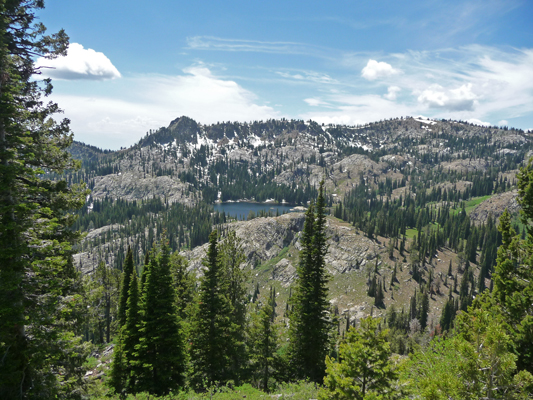 We had planned to hike the 1 mile out to Blue Lake but hadn't realized it was going to be well over 8,200 feet elevation. Since we'd only been up at 4800ft elevation for 5 days we decided it was asking our bodies too much to do this hike when we were still a little tired and had been living at sea level for months.
There was a clump of Mountain Meadow Cinquefoil (Potentilla diversifolia) in bloom nearby.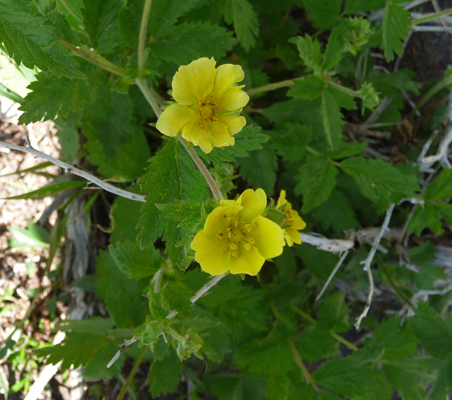 And I took this panorama shot to give you a sense of the area. You can see that most of the snow is gone but there's still some visible up above about 8500 ft.

There were patches of snow here and there, but not a lot given that we were so high and it was only early June.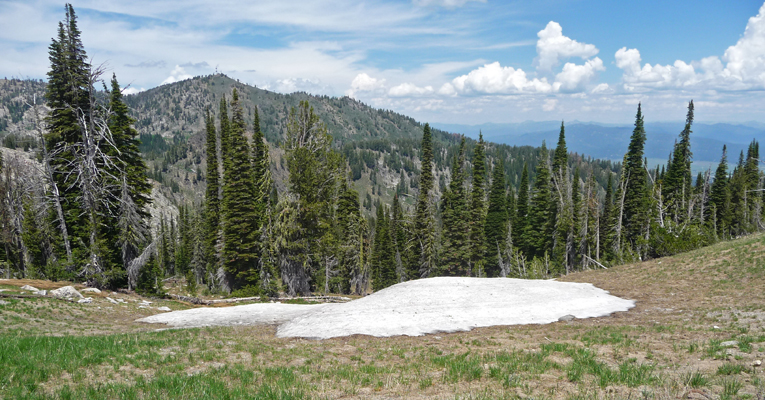 There were 8 cars in the Blue Lake trailhead parking lot so clearly this is a popular hike. We stopped in the parking lot and I took photos of the masses of Glacier Lilies (Erythronium grandiflorum) growing there.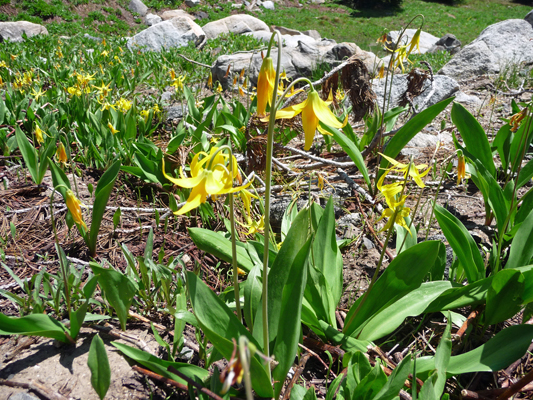 From here we drove just across the road to Potter's Pond. There was some Showy Polemonium (Polemonium pulcherrimum) near the edge of the pond along with some shooting stars.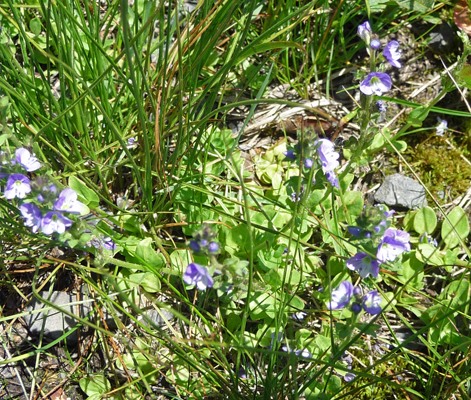 We drove into a small parking area for lunch. There were Lanceleaf Springbeauty (Clatonia lancelolata) in bloom next to the parking area.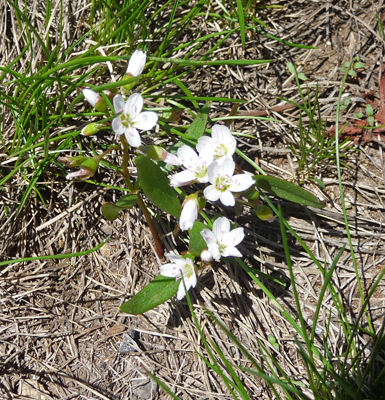 Before lunch we climbed the rise to see the view of the valley below.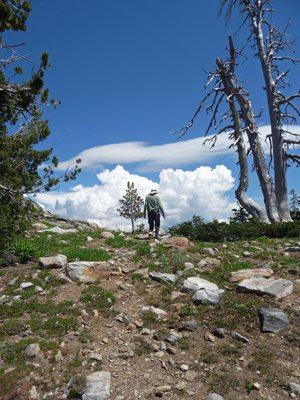 It was worth the short rocky climb. That's the Long Valley (home to Lake Cascade) down below.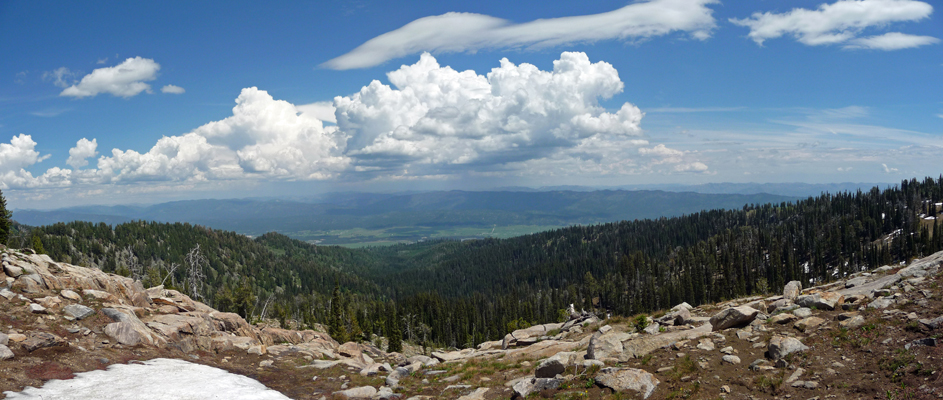 Along with creeping phlox and more glacier lilies there were Ballhead Ragwort (Senecio sphaerocephalus) scattered here and there.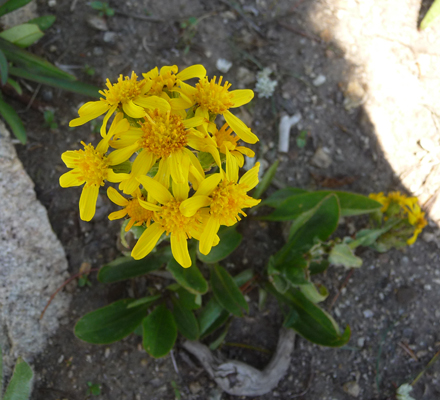 And after a number of tries I got a nice close up shot of Glacier Lilies (Erythronium grandiflorum).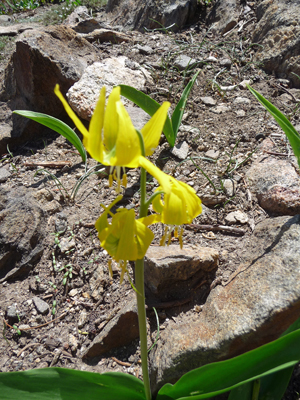 We had lunch overlooking Potter's Pond. The temps were in the low 60's and that was a relief after a number of days in the high 80's and low 90's.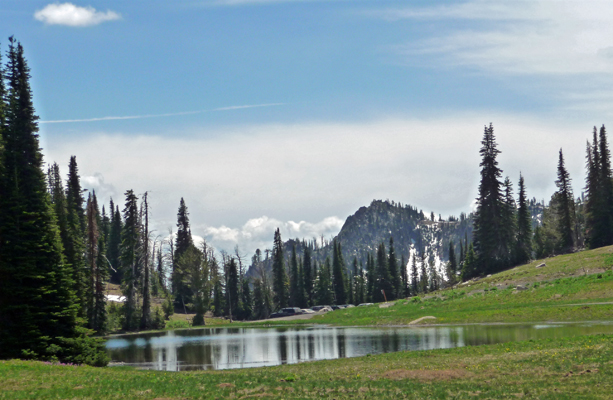 Just up the hill from us we could see this great snag with the big thunderheads billowing up behind it.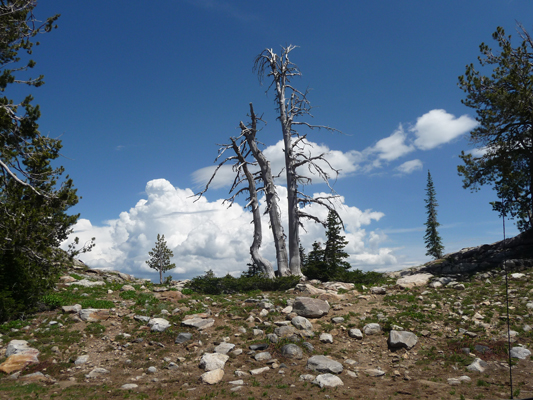 We drove on up West Mountain Road and we passed a number of big swaths of Jeffery's Shooting Stars (Dodecatheon jeffreyi).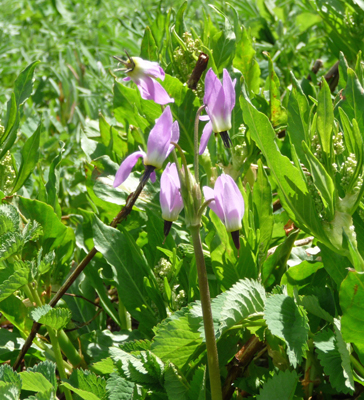 There was tons of Sitka Valerian (Valeriana sitchensis) in bloom here and along the road quite a ways down the mountain again.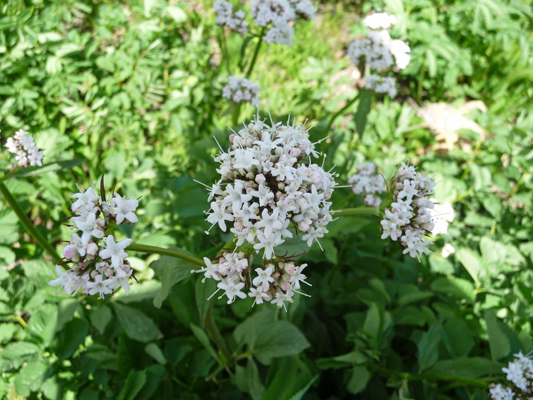 And there was a patch of Lemon Yellow Paintbrush (Castilleja flava).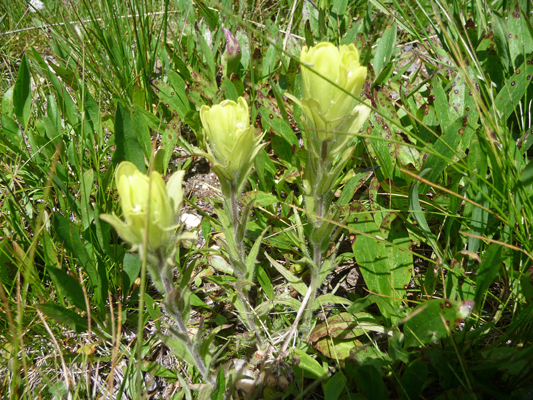 At this high altitude the Lupine that we saw was all Silver Lupine (Lupinus sericeus).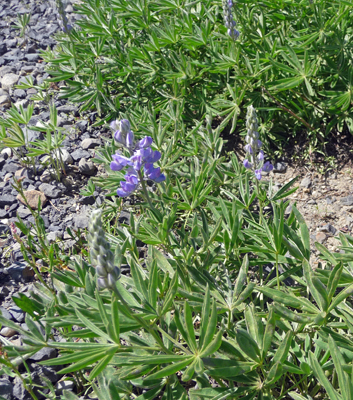 When I was out taking photos of the lupine I saw some weird stuff that turned out to be Purple-cushion wild buckwheat (Eriogonum ovalifolium). When the flowers age they turn purplish but clearly they weren't old enough yet.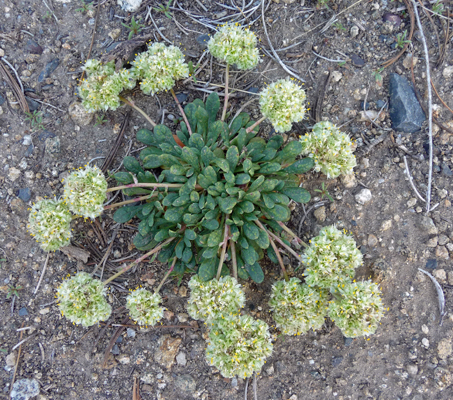 There was also quite a bit of Shrubby Goldenweed (Ericameria suffruticosa).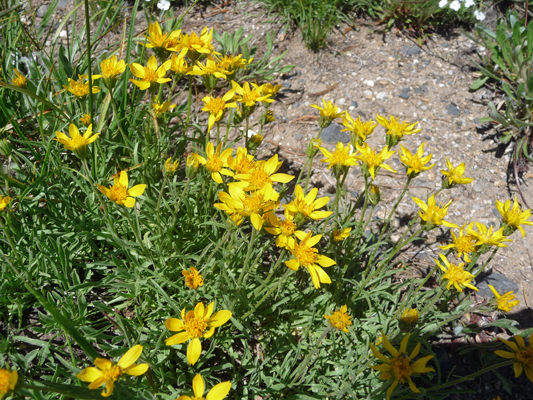 And lots of lovely Spreading Phlox (Phlox diffusa).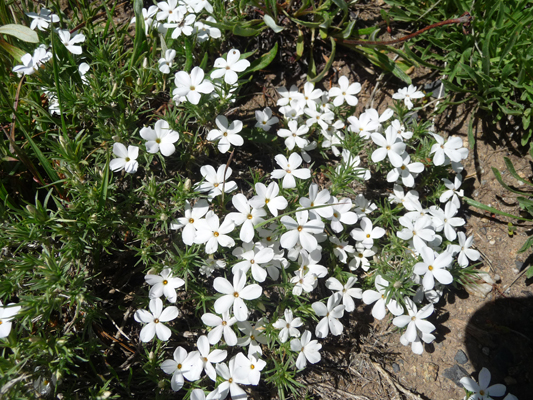 We stopped at the top of the pass and took in the view—you can see west into eastern Oregon and east out across the Long Valley. Then decided we'd had enough and turned around. You can continue up to the road to the radar station on the top of Snowbank Mountain but it wasn't anything we cared about.
On our way back down I stopped to take photos of the Ciliate Bluebells (Mertensia ciliata) that grew in big clumps in wet areas near the streams.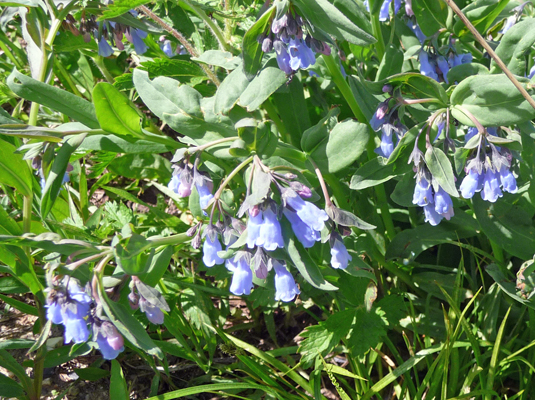 And I had to get a photo of the Scarlet Paintbrush (Castelleja miniata) growing along the roadside. Paintbrush seems to grow everywhere. When we were on the Oregon Coast I had someone stop me on the trail to the lighthouse and show me a photo of a flower he'd seen just north of there. It was of course Indian Paintbrush.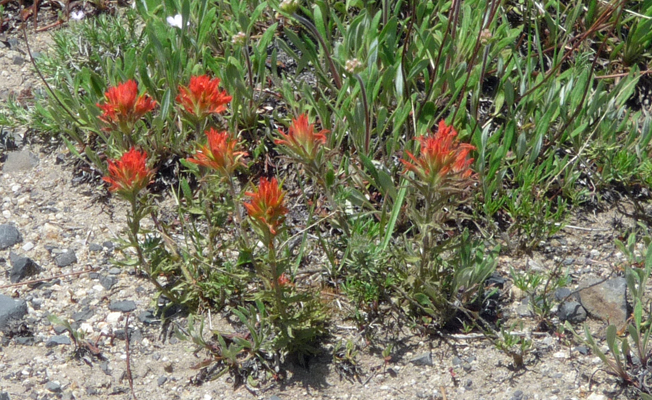 There was tons of Sticky Geranium (Geranium viscosissimum ) dotting the roadside in the mid elevations. From the car I couldn't tell what it was but once I got out to take pictures it was pretty clear what it was. It was just much taller than I'd seen it before.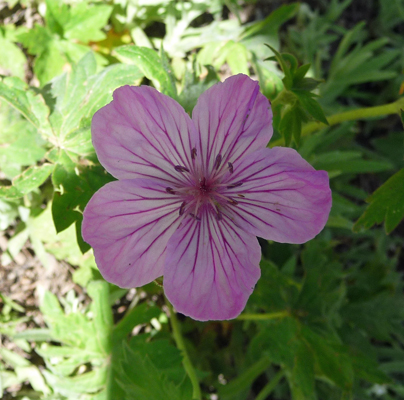 And some Taper-leaf Penstemon (Penstemon attenuatus) at peak bloom.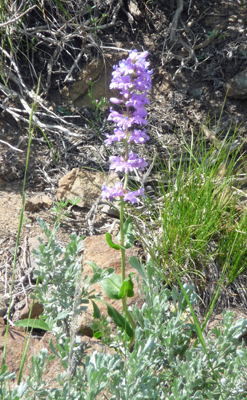 After many false starts (and blurry photos) I finally got a photo of Scarlet Gilia (Ipomopsis aggregata) something that we'd seen for the first time earlier in the day on the road out to the Boulder Creek Day Use Area.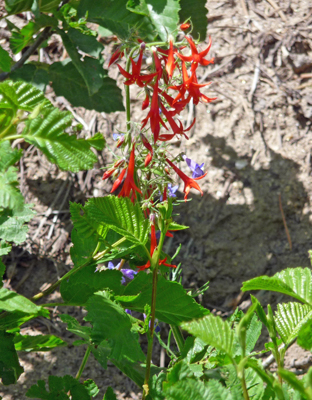 There was also TONS of False Hellebore (Veratrum caifornicum) in various stages of bloom on the lower portions of the road.
When I was out climbing around in the ditch trying to get photos of some Asian Forget-Me-Knots I spied some Wild Strawberries (Fragaria virginiana) in bloom. You can even see a few tiny green fruit down on the left.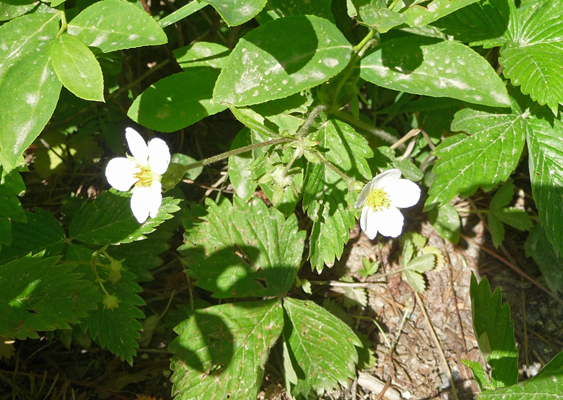 And here are the Asian Forget-Me-Knots (Myosotis asiatica) that I got out to photograph.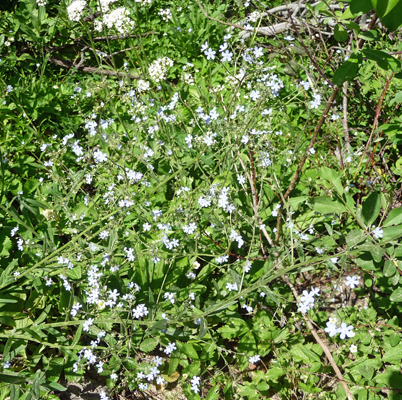 We drove home via the West Mountain Road which takes you along the west shore of Lake Cascade—It's dirt for about 11 miles and turns to pavement again just about a mile before you reach Buttercup Campground. And so we drove all the way around the lake that day.
Thursday June 11th I set out to do my first day of watering of the acres of grass in the campground. The instructions regarding watering were pretty useless. They suggested starting at site #1 (our campground starts at 102) and working clockwise around the park running 3 sprinklers for 1 1/2 hours each with special emphasis on the fact that you HAD to have 3 running so as not to cycle the pump on the well. We were provided with 2 impact (Rainbird-style) sprinklers and one small sprinkler that puts out a 60 degree spray for about 5 feet. Clearly if running 3 BIG output sprinklers was required to protect the well pump the 3rd little one wasn't going to do the job. Ah well, when I questioned our 4 rangers I got all sorts of conflicting suggestions. So I set out running the 2 Rainbirds on big areas and the little one on small patches of grass here and there.
After dragging hoses around (at one point I had 250 feet of hose stretched out across the lawn that you can see in this photo-- all attached as one line—with another 150 feet strung out from the other direction) for 4 hours I'd managed to water the Day Use area and the first 5 campsites for 1/2 hour at each position.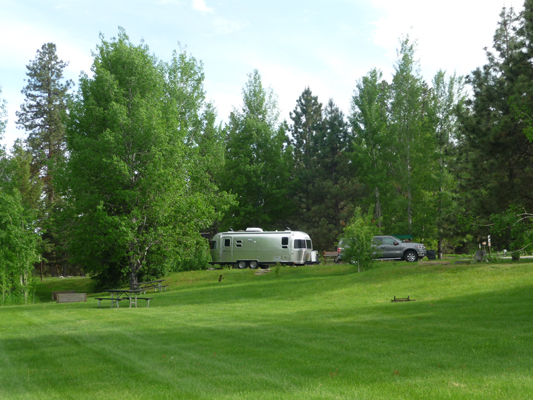 I was exhausted and more than a little ticked because I had come to the conclusion that if you followed the instructions it would take over 30 hours of watering time using the 2 rainbirds to water the whole campground. And we only have 2 days a week to do it (if we actually take our 2 days off) because you can only water Monday through Thursday and we take Tuesday and Wednesday off. This was CRAZY. By putting together the info we'd gleaned from the rangers and making some executive decisions, Saturday afternoon Walter and I had come up with a plan to water only the areas that actually were starting to look stressed for 1/2 hour at each spot and doing it together rather than having me try to do it all alone. Then we put in a request for another Rainbird. And wonders of wonders even though we'd been told earlier in the week that there weren't any more, they managed to find one for us (because we told them where they were over at the campground next door). NOW it's a pretty workable job—especially since they are going to have the seasonal maintenance folks roll up the hoses every Friday and put them away.
Friday and Saturday we had a basically full campground (one disabled spot open at the end of the day). It was in the mid 70's in the daytime and it down to 38 at night. That cuts down on the rowdy parties big time! And all the dogs were on leash (as required but hey it's Idaho and folks don't all believe in rules). We had lots of folks with boats and water toys including this wind surfer who launched out in through the weeds.
Camp Hosting here appears to be something that is going to work for us. We're getting a sense of the rhythm of things. We're enjoying our tasks and our time off and we're staying pretty rested which is good. I had a blip with the watering stuff but hey, my inner gardener likes to keep plants happy and there's just too much grass here! If some of ends up going dormant so be it. I never watered our grass at Winterhaven at all and it came back like gangbusters every year