On Thursday April 16th, we headed north from Redding, CA on I-5 towards OREGON. It was another beautiful sunshiny day.
And the view of Mount Shasta from the south was gorgeous.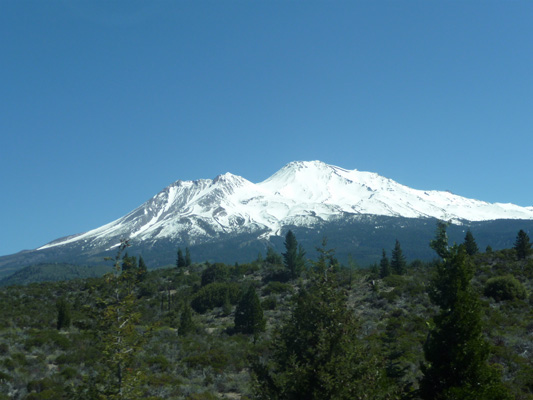 She's a very photogenic mountain and I've taken a lot of photos of her as we've passed by over the years. But I don't think I've ever had the chance to get her from so many different angles as I did that day.
As we went through the town of Mt. Shasta I caught a nice shot of her west side.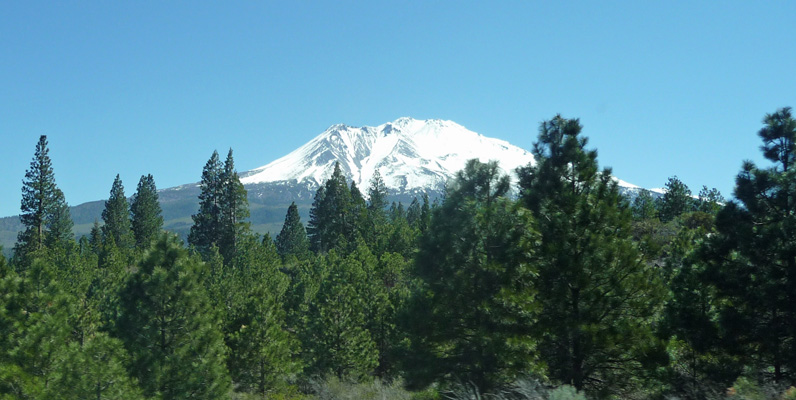 Then when we stopped at the rest area near Lake Shastina, I got a shot of her from the northwest. This is a pretty classic volcano shot, don't you think?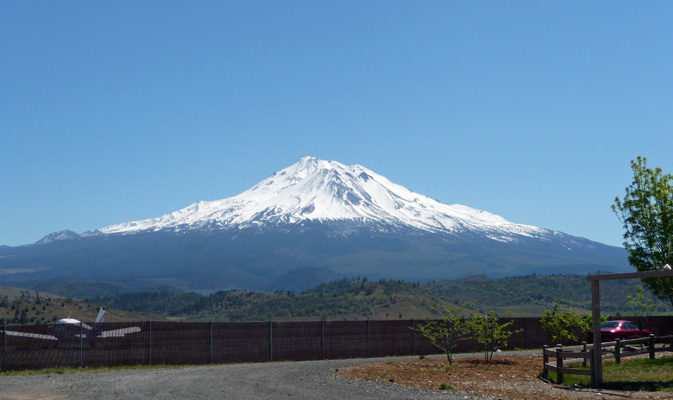 And then Walter got this shot of her north face as we continued on up I-5.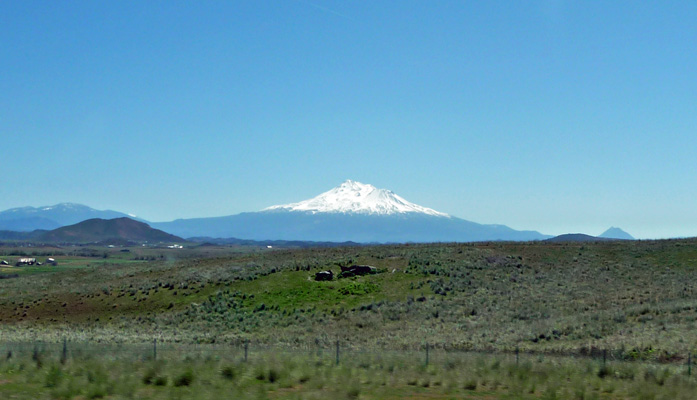 We motored on north and crossed the border into Oregon. After 5 months in California and Arizona we were finally back in the Pacific NW! And right away you could tell too because the hills were green and there were lots of green trees. Ahhhhh yes, the reason why we all love the northwest.
We continued on into Oregon, 45 miles to Valley of the Rogue State Park which is just north of the town of Medford, OR and just south of the town of Grants Pass. It's a nice campground next to a rest area. The only hitch is that it's right along I-5. It wasn't real noisy during the day when we had our windows all open but it did kind of wear on us a bit. We discovered that since the campground is set up in loops that there are about 6 to 8 sites in each loop with little or no highway noise. That's good to know! Walter had gotten us a reservation on-line and picked a nice side long pull-through for it's length but it was closer to the freeway than we might have liked. But the price was right at $24 a night for a full hook up. And our hot spot worked too.
On Friday April 17th, we awoke to the lawn near our campsite awash in these lovely little purple flowers.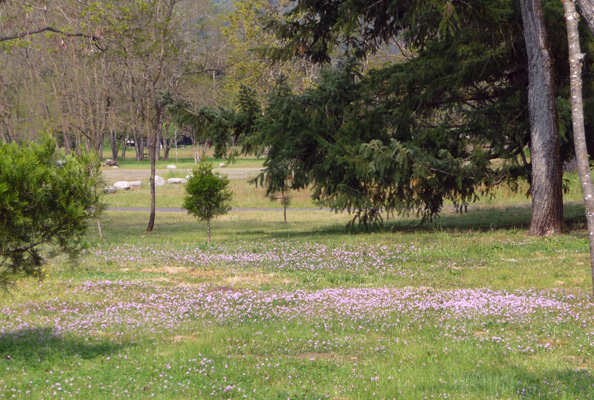 I think that they are Redstem storksbill (Erodium cicutarium)—a non-native--and by afternoon they were almost all gone. Then the next morning, poof they were back again.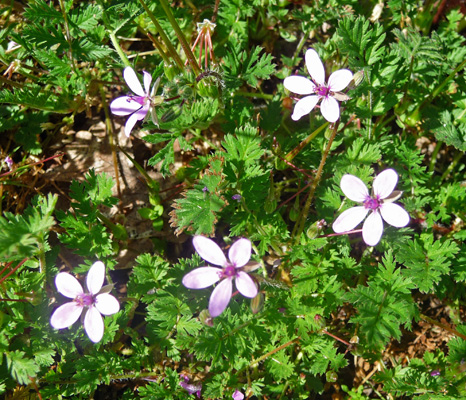 After breakfast we drove north to Grants Pass (it's a little closer than Medford) to do grocery shopping and stop by the Post Office. This is an old logging town and it doesn't look as if the recovery has really provided much relief here yet. I suspect it wasn't in good shape BEFORE the great recession hit.
After putting all the groceries away (and discovering that when I defrosted the freezer last week that the fins in the refrigerator section not only didn't defrost but ended up with an ice dam on them—sigh another chore for later) we had lunch and then took a bit of a walk along the riverside trail in the park.
The trail goes through classic NW forest full of snowberries, blackberries and Big Leaf Maples in bloom. There was an opening now and then where you could see the river.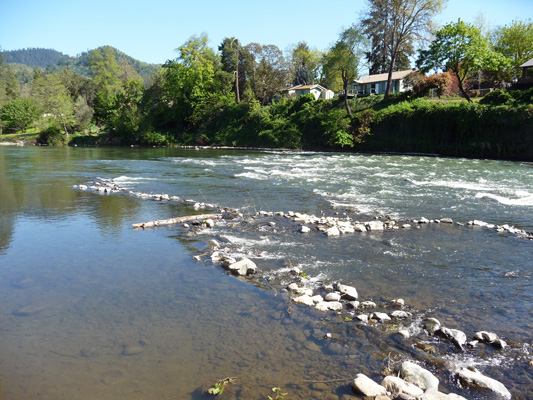 In addition to this nice little riffle you could see where kids had built little rock dams to create wading pools in the slow water. The river was too cold yet for wading but I bet as the summer goes on it's full of kids. The far bank was lined with houses all along this portion of the river.
Walter found a nice bench with a view of the river.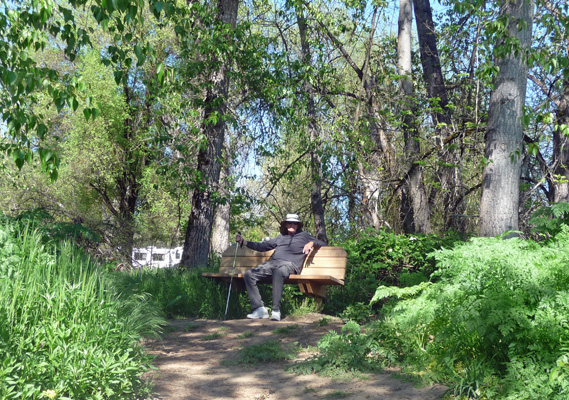 We continued on and spied a few clumps of California Poppies in bloom. We'd seen bunches of them north of Redding all the way into Oregon. So we weren't surprised to see them here.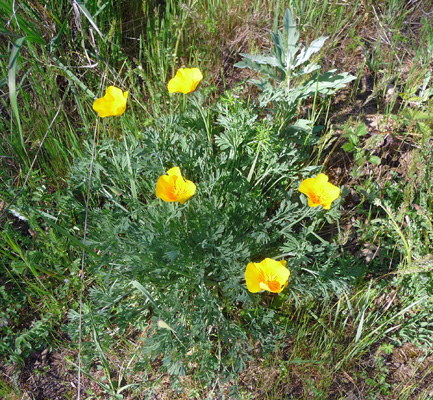 There was a big pile of chippings next to the trail and it was FULL of mushrooms.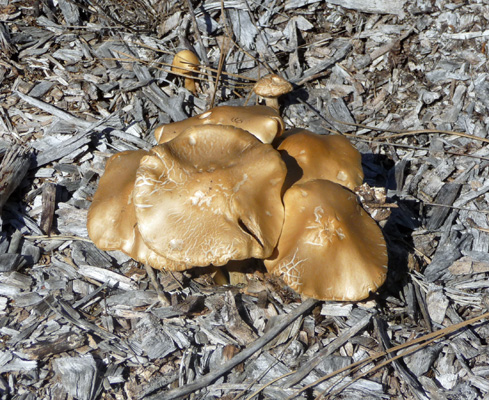 We turned around just before the trail ended and wandered our way back to the trailer. It was in the low 80's and a little humid near the river so it was nice when an afternoon breeze came up. It cooled down at night big time—into the 40's--which made for great sleeping after a few nights where it didn't get below 60 down in California.
On Saturday April 18th, (yet another gorgeous sunny day) we packed up and motored about 90 miles north to the Timber Valley SKP Park in Sutherlin, OR. Sutherlin is just north of Roseburg, OR. This is another Escapee Co-op that charges just $19.75 a night for a full hookup site in a nicely landscaped park. The office isn't open on Saturday or Sunday so we looked at the available spots on the map and opted for one that only had a neighbor on one side. That gave us a nice grassy area full of lawn daisies out our windows.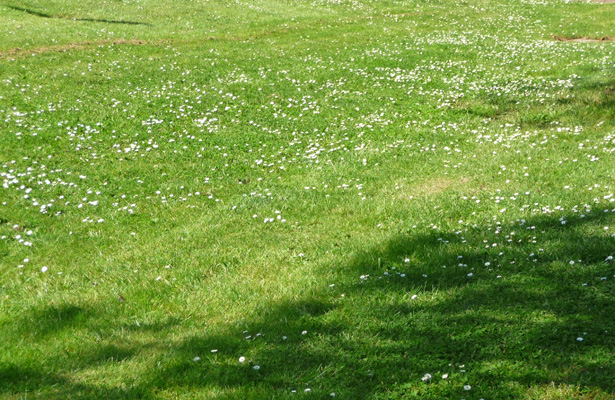 We were also across the road from the Bocce Ball Court where folks gathered for a very well attended match at about 3 in the afternoon. Otherwise the park was REALLY quiet. We stopped by the Clubhouse and nothing was happening though we did spend some time looking at the library and Walter found a few freshly donated books to borrow. I'd say this was another very low key park with quite a few folks who may spend most of the year here. There were a lot of empty spots waiting for the snow birds to return however. There's a 3 year waiting list for a lot here (buy in is $10,000 and monthly maintenance is a little than $100 a month). It didn't excite either one of us (Walter said it felt like a Hospice where people come to die) but hey, it was a nice park, and the price was right. Besides any place with this many daisies can't be all bad.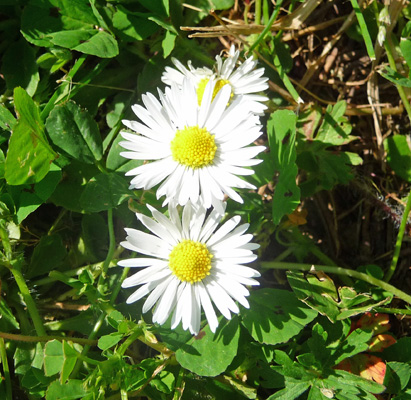 On Sunday April 19th, we celebrated our 35th Wedding Anniversary (yes, that long!) by taking a drive out to visit the Rochester Covered Bridge just west of the town of Sutherlin. We drove over the bridge (it's got wood decking and makes a lovely racket) and found a place to park so I could take some photos.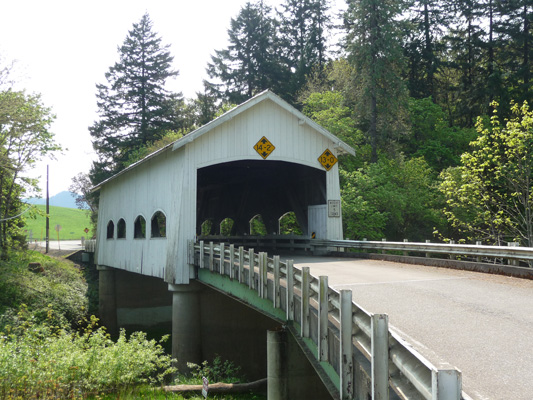 It's a nice old bridge—only one lane which is why I guess there aren't that many of them left any more. You can only have them on quiet country roads.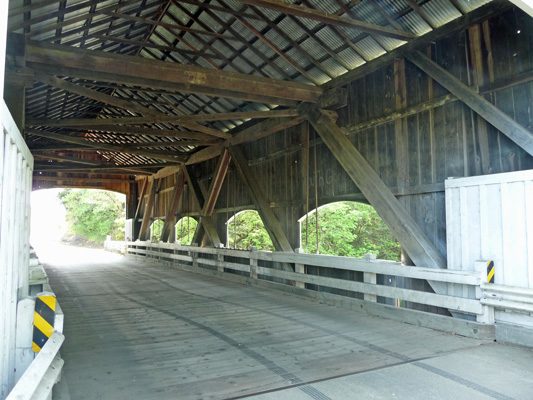 There was a lovely view of a creek through the windows on the sides.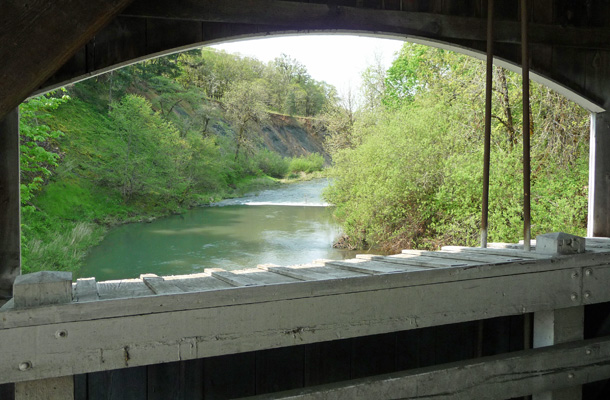 And since I'd walked all the way over the bridge I had to take a photo looking this way too.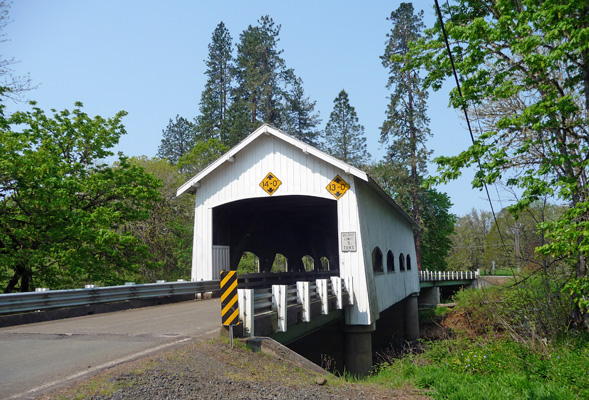 Walking back to the truck I noticed this lovely view heading out into the farm country—hay that had been cut and was waiting for bailing.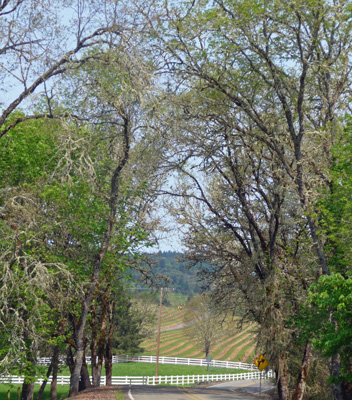 From here we drove back to Sutherlin and then east to the Cooper Creek Reservoir to see if we might be able to find a hike there. There were lots of folks out fishing on Sunday morning.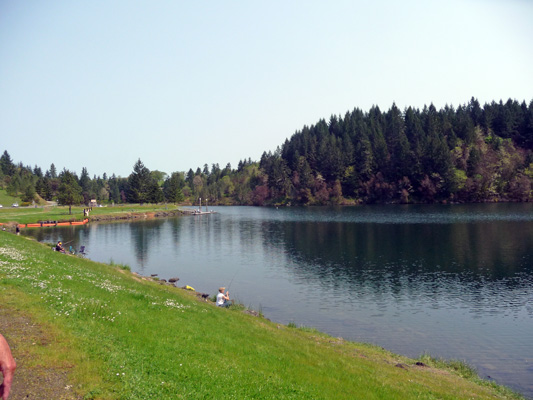 Initially we weren't so sure we'd find any place to hike but sure enough, the Rotary Club had built a trail that goes the full length of the lake (and we think connects up to a road to complete the loop back).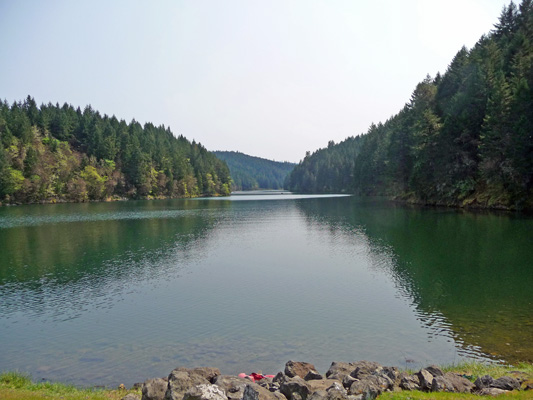 There were Pacific Dogwoods (Cornus nuttallii) in bloom all along the shoreline. Walter used his hiking stick to bring a branch down so I could take this photo.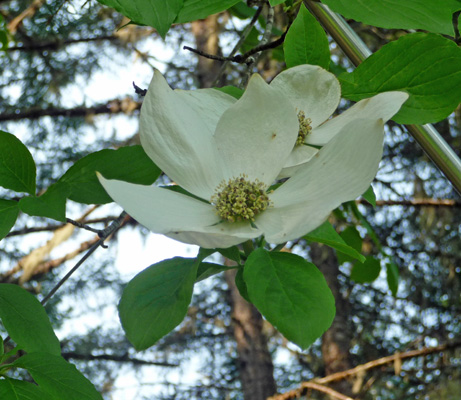 We saw our first examples of these this year 3 weeks ago at Yosemite at over 3,000 feet elevation. Now, 700 miles further north and at about 400 feet elevation, the same trees are in bloom.
In damp places along the trail (with some dappled sunshine) we saw Oregon Irises (Iris tenax) in bloom.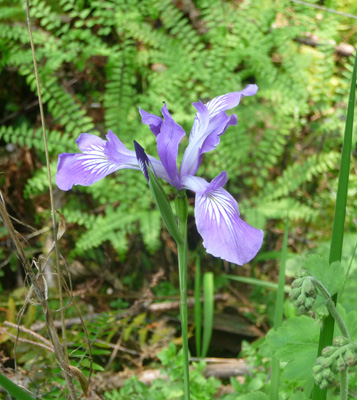 There were LOTS of stream violets (Viola glabella) in bloom where small creeks joined the reservoir.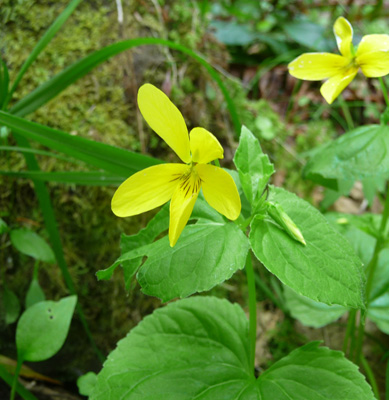 I kept seeing more and more Oregon Irises and in the process got a LOT of photos of them. They were a perfect Anniversary gift since we had blue Dutch Irises in amongst a sea of white daisies at our wedding.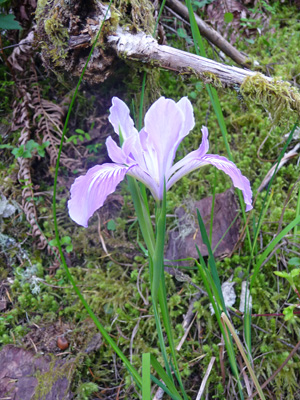 The really big surprise along this trail were the Fairyslippers (Calypso bulbosa) sprinkled all along the trail and in big clumps too. These are not a common wildflower so it was a big treat to see so many. They are only a few inches tall so photographing them is a bit of a challenge.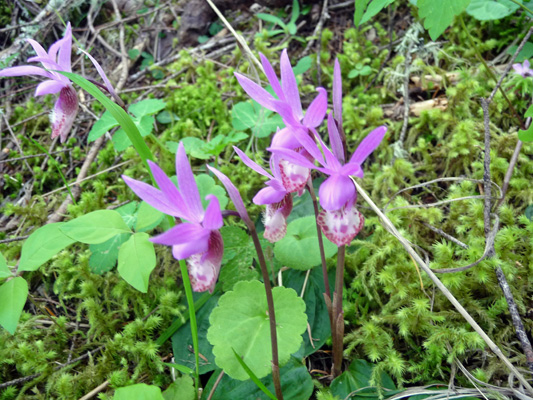 There were trilliums sprinkled along the way too. Some were just opening and still white and lovely.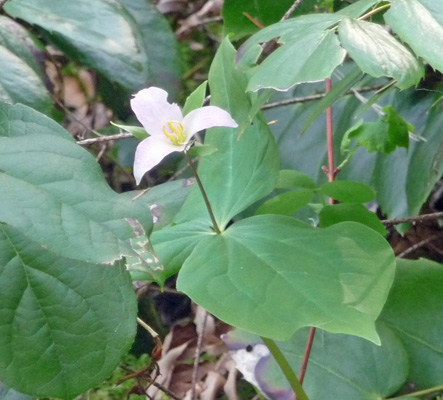 Others were showing their age by turning pink.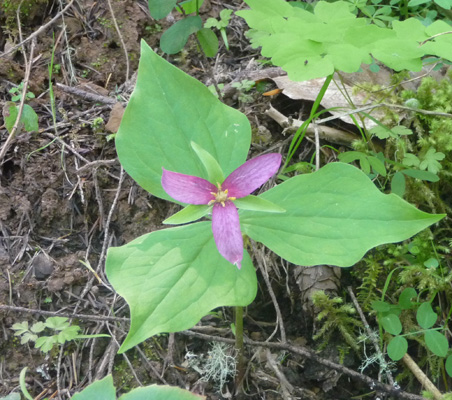 And very appropriately here in Oregon, the Oregon Grape (Mahonia nervosa) was in bloom too.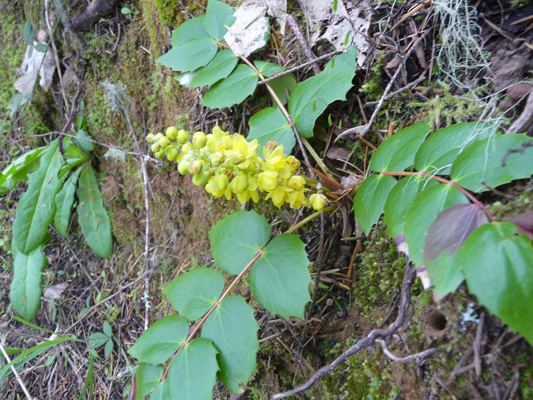 We stopped to rest in an open grassy area and saw a pair of Canada Geese with their goslings at the water's edge.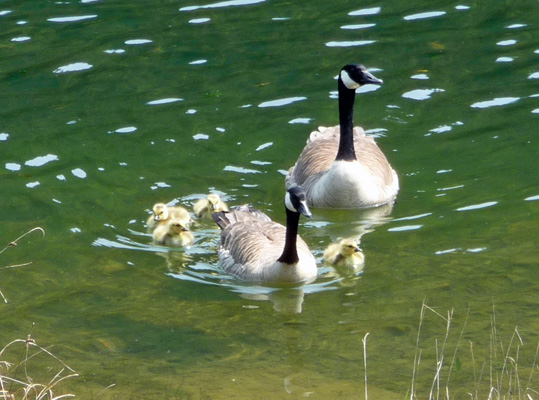 We decided we'd gone far enough so we turned around here. On our way back I spied this really strange fungus. It's got a white stem and then this goofy beige free-formed growth on top. There were pieces of another one nearby so I know it's not just a one-off.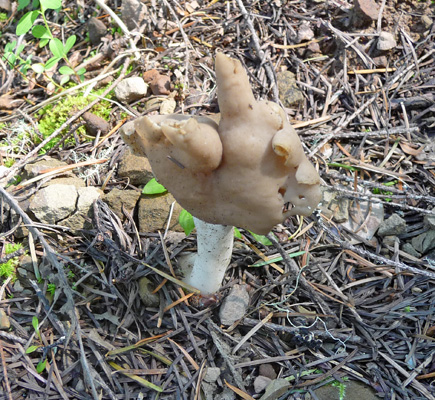 After our hike we took a drive up the lake to the east boat ramp and found a nice picnic table for our lunch.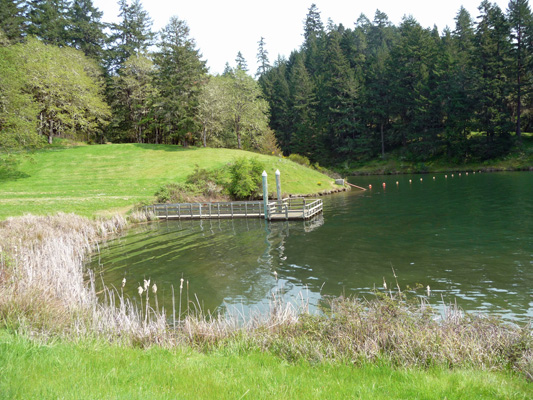 The parking lot here was practically full and there were a bunch of folks sitting along the grassy bank sunning themselves on this lovely warm Sunday afternoon.
On our way back to the trailer, we stopped so I could get a photo of the Common Camas (Camassia quamash) I'd seen blooming in the ditches near town.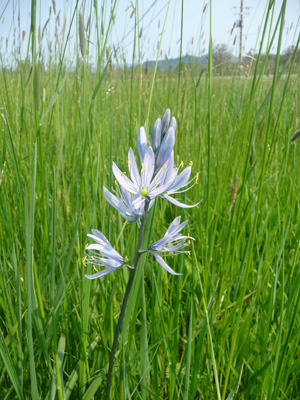 Here they weren't just a few in the ditch. There was a whole lake of them out in the middle of the field.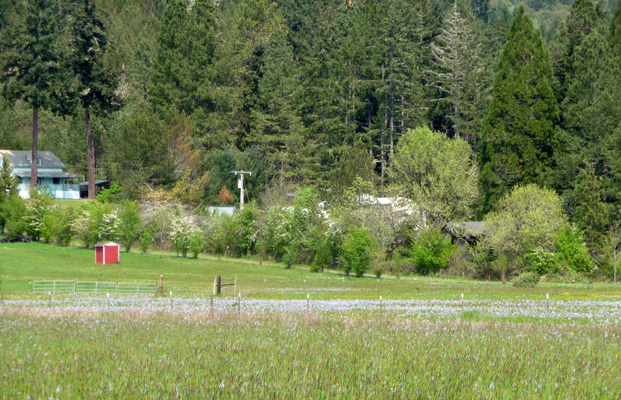 Lovely. This batch was all blue but I saw some white ones in the ditches too (with no where to park of course). The native people's harvested the camas roots as a food source but didn't' take the white ones because it was too easy to mix them up with Death Camas which is always white and VERY poisonous.
While I was cooking dinner, we had a 4 footed visitor stop by. She didn't stay long but I did manage to grab a shot of her through the dining room window.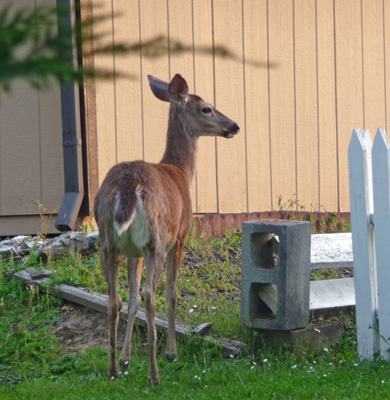 On Monday morning, April 20th, while we were having breakfast, this wild turkey hen ambled by the back windows. She posed at nearly every possible angle and I picked this shot because well, this one showed off all her best attributes. Love those tail feathers!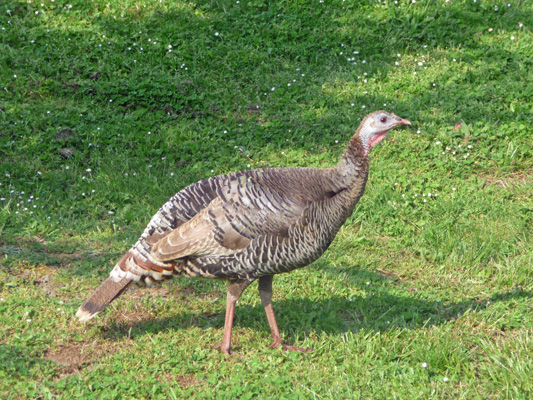 After breakfast, when we were beginning to break camp, I walked out to the truck and who should I find standing next to the front fender? A tom wild turkey. He scuttled off and I put my stuff in the truck.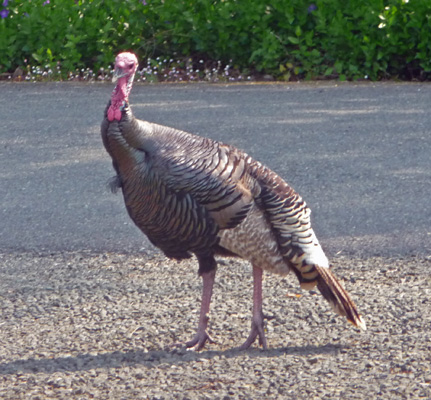 And then I looked past the front hood and saw he was hanging out with one of his buddies.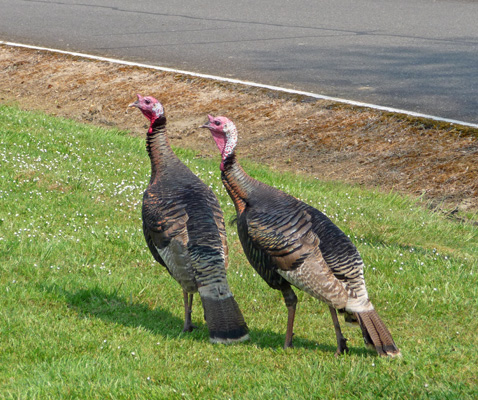 They hung out pretty much the whole time we were breaking camp, so clearly they don't think people are dangerous.
From Sutherlin, we motored north on I-5 about 130 miles and then took country roads over towards the Willamette River and Champoeg State Park. It's a historic park in that this is where the early settlers first voted to form a government in 1843 (to try to pre-empt anything the folks who were due to arrive via the Oregon Trail later that year might do). It didn't pass resounding though, the vote was 52 to 50. This area had been home to a large Native People's settlement, then a French Canadian trappers settlement and a Hudson Bay Company Trading Post and Granary and then a large mill and a town. All that was washed away in the flood of 1861 when the river climbed it's banks and flooded the area about 3 stories up from it's normal level.
Now it's home to a lovely state park with big meadows, lots of bike and hiking trails and a nice campground. We'd made a reservation to secure one of their 55 foot long spots and managed to slip Genevieve into it with no problems. It's a water and electric spot (no sewer hook up) which was fine with us. They do have a few full hook up sites in the new B loop but we had no need for sewer so we saved a few bucks with this spot which was just $22 a night.
After we set up camp and had lunch we decided we'd go out and explore a bit. We drove west in the park to the Riverside Day Use Area. In the process we passed a lovely meadow full of Common Camas (Camassia quamash).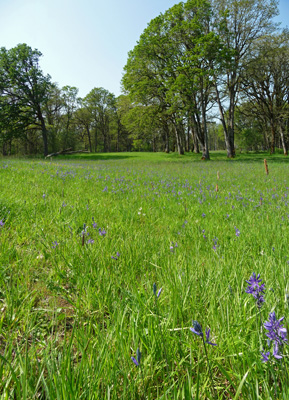 These were darker blue than those we saw down in Sutherlin.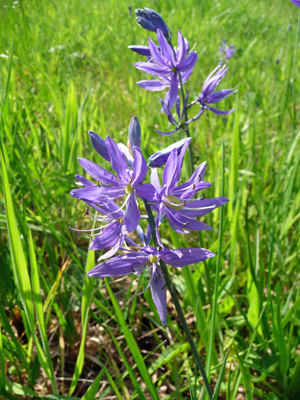 We found a parking space in the lot at the Riverside Day Use Area and took the paved Pavilion Trail out towards the river. There were 2 patches of Henderson's Shooting Stars (Dodecatheon hendersonii) in bloom at the base of a couple of trees. They were much taller than any of the shooting stars I'd seen before.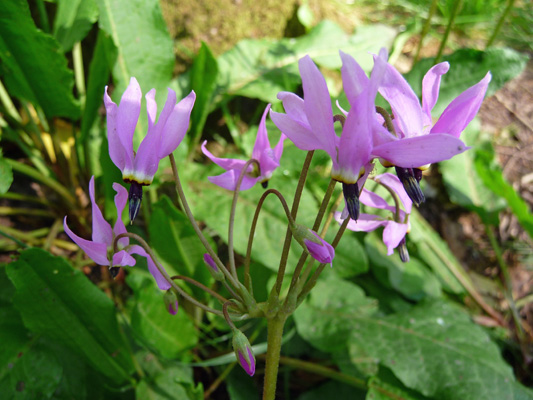 Near the monument commemorating the vote to form the first government in the northwest in 1843, I noticed a clump of White Hyacinth (Triteleia hyacinthina) in bloom. Since it was near a building I thought at first that someone had planted some Star of Bethlehem. But when I saw more of it later along the trail I realized it was a wildflower and one that I'd never seen before.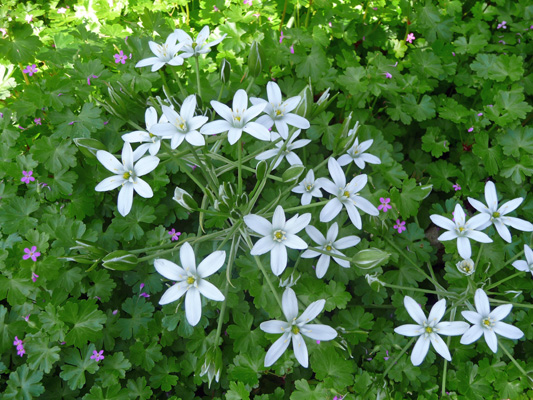 On the way down the stairs past the memorial we spied a lovely rhododendron—clearly planted but pretty never the less. Mother's Day must be approaching—that's when the rhodies are at peak in this part of the world.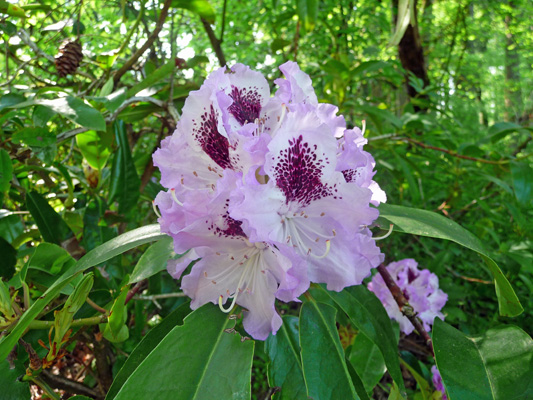 Once down the stairs we had a view of the Willamette River. The river winds its way across the valley here and is flowing left to right as it makes its journey up to Portland and the Columbia River. Imagine the river at such a height that only the tops of these trees were showing. That's what happened back in 1861.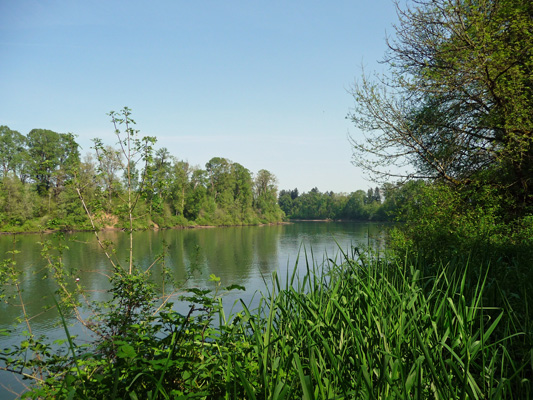 The trail follows the river through classic NW woods. There's nothing like the smell of river and mud and woodland plants. Ahh, the great Pacific NW.
The woods were full of typical NW plants too. There was Star False Solomon's Seal (Maianthemum stellatum)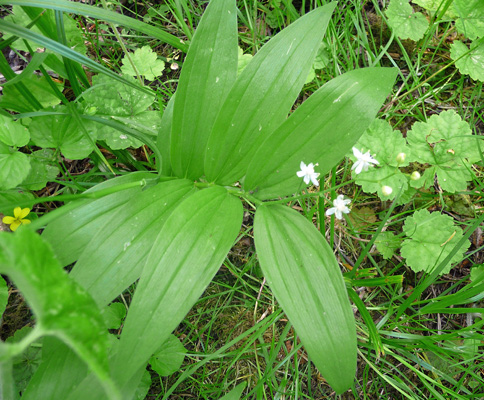 And Large False Solomon's Seal (Maianthemum racemonsum).
The trail was lined with Piggy-back Plant (Tolmiea menziesii). The flowers are white-ish green and then turn pinkish as they age.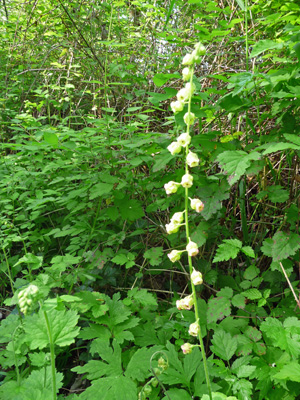 We found a nice bench overlooking the river near the end of the loop trail and sat and watched the kayakers and speed boats go by.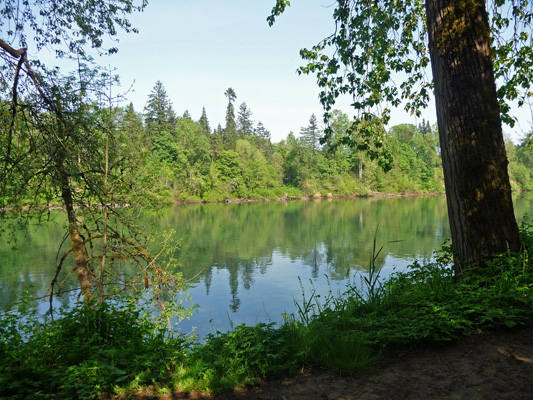 There was Coast Manroot (Marah oreganus) winding it's way all over the place. It's a funny plant. It has huge leaves like a grape and these funny white flowers that stick up on stalks.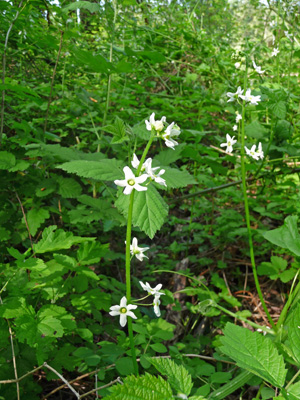 On the way back to the truck we passed a big patch of Pacific Waterleaf (Hydrophyllum tenuipes). At first all I saw were fuzzy seed pods. And then I realized that there were fuzzy buds and a few flowers too.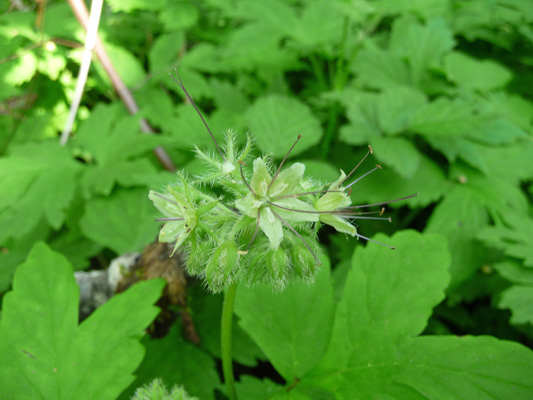 The final loveliness of the walk were Western Trillium (Trillium ovatum) scattered under the trees.
This one was HUGE.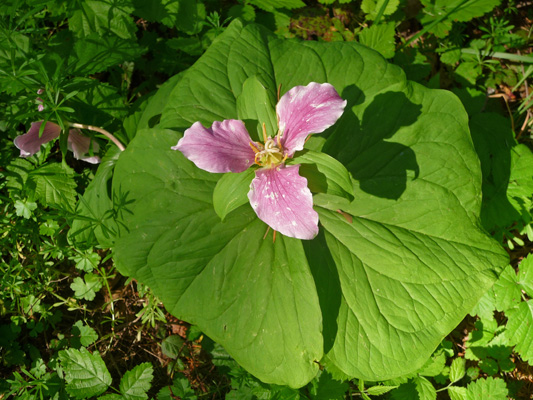 This one wasn't as big but it was so sweet I couldn't pass it up.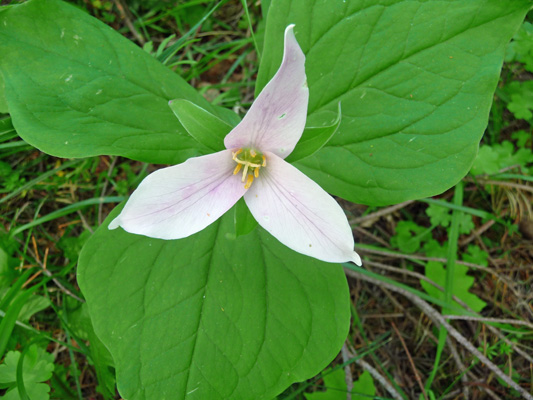 The high clouds of the day before were thickening up when we awoke on Tuesday April 21st so we took our bike ride early in the day rather than in the afternoon. We had to pump up the tires on the bikes since we hadn't had them out for a while (and wipe off the dust that had accumulated in the back of the pick up while we bumped along a lot of dirt roads this past winter). We headed east on the bike trail towards the Butteville Store (which we knew was closed but hey that's where the trail heads). It goes through a lovely forested area with many of the same plants we'd seen the day before. And follows the Willamette River with views through the trees of very up scale houses across the way. The trail is mostly flat to start but it begins to get hilly in the second half. We met the challenge for the first 1 3/4 miles but the last hill was a long steep one and we looked at each other and said, 'you know we don't have to do this...' and turned around. Who needs to see a closed store anyway—even if it is the longest continuously operating store in Oregon.
On the way back I stopped to take a photo of the apple blossoms that perfumed one section of the trail—such a lovely scent.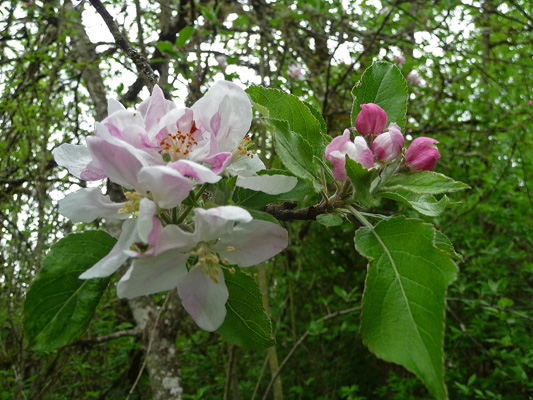 By the time we'd gotten to this point, Walter said, "You know, I don't think we need to ride all the way back out to the Riverside Day Use Area..." And I agreed. We'd had our aerobic exercise on the hills and been out riding for some time and we'd seen all the rest of it the day before so why not bag it? Isn't retirement great?
For the past 3 years we've carried our folding bikes in the original boxes that they came in. But by this point, the boxes were starting to be pretty sad. So a few months ago, we bought a pair of folding bike bags from Camping World using the gift certificate that my brother-in-law, Mike, had given us for Christmas. Today was the test. Would they fit? YES! They even have room for our helmets and tool kits and tire pumps. And they take up less space in the back of the truck than the old boxes. Whoo Hoo. Walter broke down the old boxes and put them in the recycling bins here at the State Park and I did a bit of grease chasing on the BedRug liner on the tail gate. Wow, have we got it together or what?
By then it was totally clouded over. Amazing, this was our first cloudy day in over 2 weeks. But in typical NW fashion, this place was still pretty even when the sun went away. Here's the view out our dining room area—lots of daisies in the grass and moss on the trees!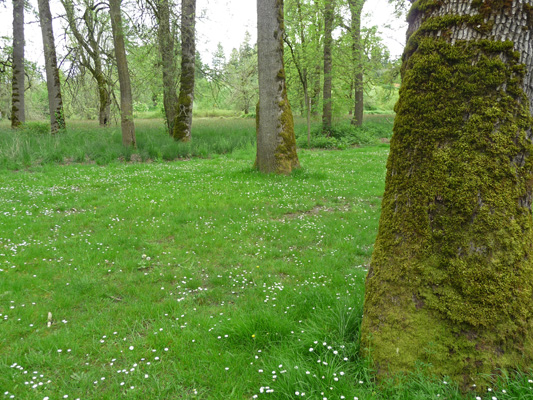 Later in the afternoon it even sprinkled!