On Saturday January 24th we went for a hike at Estrella Mountain Regional in southern Goodyear, AZ with my brother-in-law, Mike Donaghu. Estrella is a very large park with miles of trails. We took one of the shorter ones that takes you up into the hills for a nice view of the Valley of the Sun.

We shared the trail with a number of trail runners who were participating in the Coldwater Rumble Trail Run with categories of 100 Mile, 52 Mile, 52 Km, 20 Mile, 20 Km, and 4 Miles. A fresh looking young man ran by and we asked him far he was going. "100 miles, I hope" was the reply. The good news for them was that it wasn't very windy and it was in the low 70's—very pleasant for hiking and trail running too.
At one point we spied the Phoenix University Stadium (in Glendale AZ) where the Seattle Seahawks will meet the New England Patriots in the Super Bowl on February 1st. Personally, I think it's a pretty strange looking stadium—kind of like it's a giant inflatable jump house. Let's hope there aren't any deflation issues at the Super Bowl. wink wink.

We spent the afternoon visiting and then met my niece, Amy Donaghu and her co-worker Kathy (who was in town for training for 2 weeks) for dinner.
On Sunday the five of us went to the Desert Botanical Garden. Several years ago they had a huge Chihuly glass display here and these pieces became part of their permanent collection.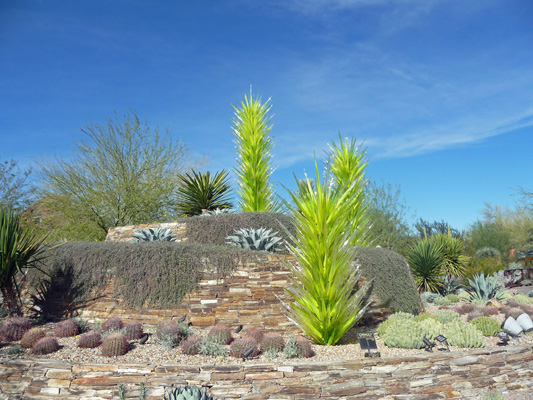 They have a great collection of desert plants with lots of lovely sculptures mixed in. This is a new one—a saguaro cactus made of axe handles. Dead saguaros really do look a lot like this.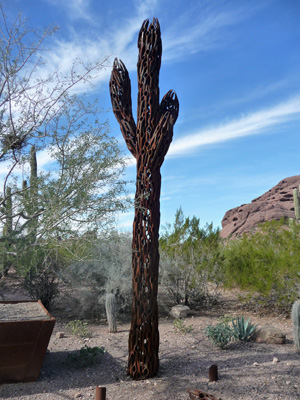 Here's a close up of a 'fallen branch' that sits nearby.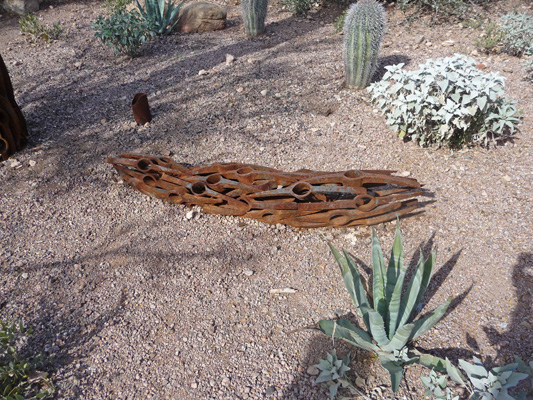 In the herb garden you'll find St Earth Walking. She's acquired a really nice patina over the years.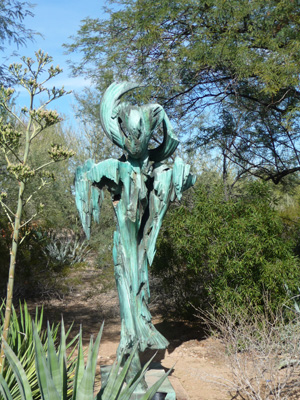 There wasn't a lot in bloom but I did capture this Sonoran Nightshade.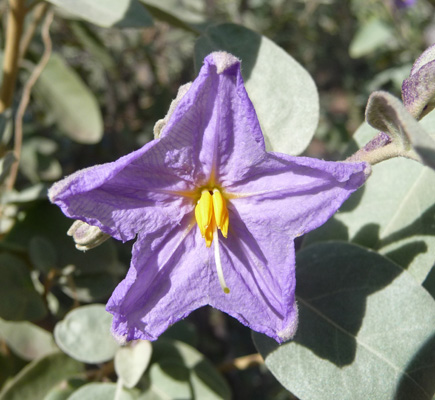 This Mammillaria geminispina from Central Mexico sure look a lot like brain coral.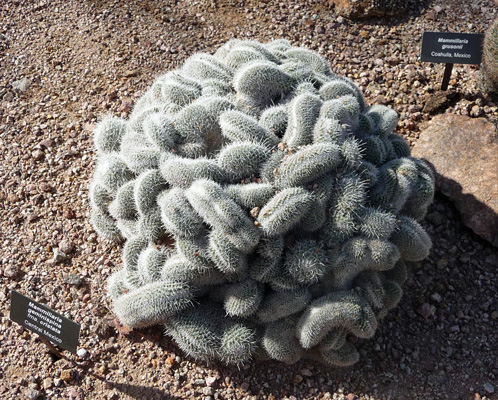 There were aloes in bloom here and there but the best of the best was this Spire Aloe.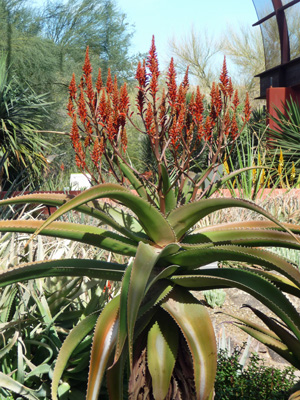 I've always assumed that these Boojum trees came from Africa but it turns out that they are in the Ocotillo family and grown in Baja and Northern Mexico.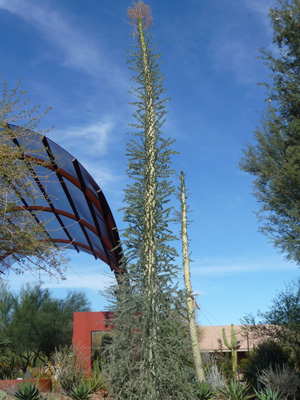 They have a very artistic display of the endangered Golden Barrel Cactus too.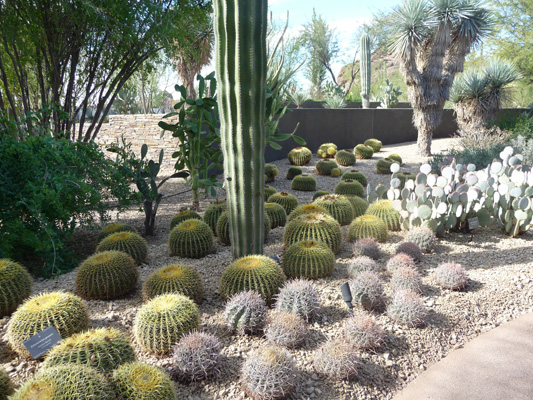 And on our way out we passed this nifty wall of small cacti and succulents.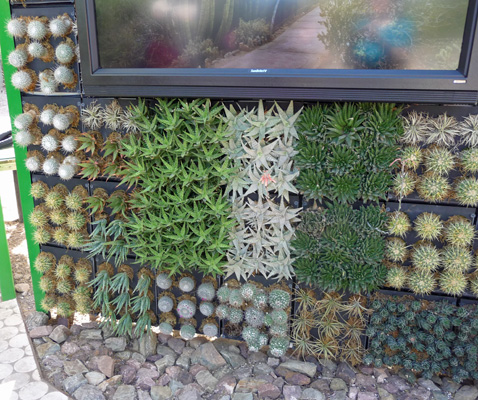 We had lunch at Pita Jungle (a wonderful place) and then hung out all afternoon visiting.
We hit the road on Monday January 26th after going grocery shopping (and making copies of the latest paperwork for our summer Camp Host assignments and mailing them off) and headed south along Highway 85. You go through Gila Bend and then down through Ajo and finally through Why. Yes, there's a town named Why in Arizona. It's where there's a Y in the road. Some bureaucrat insisted that the town had to have 3 letters in its name so instead of being called Y it's called Why. It was raining by the time we hit Ajo and it just got heavier as we went south—in the end they'd had .62 inches of rain by late afternoon in the area.
From Why we went south to the Organ Pipe Cactus National Monument and the Twin Peaks Campground located only a few miles north of the Mexico-US border. This is a great campground with large level spots—everyone of them a pull through (except the tenting spots at the far end of the place). We found a nice big spot and dashed into the trailer for lunch, hoping it would let up before we had to set up the trailer. It did but we still got pretty wet by the time we'd dropped the truck and gotten the trailer level.
We drove back to the campground entrance to pay our money (only $6 a night with our Golden Access pass) and then decided we might as well go to the Visitor's Center while we were at it. When we were at the Big Tent at Quartzsite we'd stopped and talked to a ranger in the Organ Pipe booth and he'd told us that a whole new section of the park was now open to hiking and driving. We wanted a copy of the new map so we could plan our visit. While we were at it we even got a couple of maps of the hiking trails too.
Then wise folks that we are, we took advantage of the rainy afternoon and had a nap.
On Tuesday morning, January 20th we awoke to sunshine! But by the time we had gotten up and gotten dressed it was gone. We ran the generator and decided there just wasn't enough sun to put the solar panels out. We made a lunch and drove back up Highway 85 to the Alamo Canyon Road—a dirt road that leads eastward to the small primitive campground and trailhead in Alamo Canyon. We spied this big old raven sitting in a huge Jumping Cholla. He was sitting there croaking away and I caught him with his mouth open.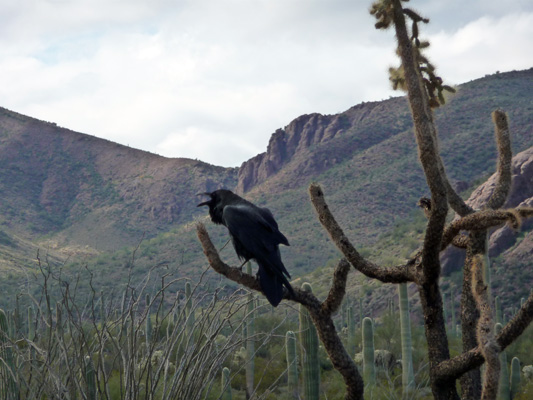 A ways further along we spied a blue light flashing on the top of a pole. We came around a curve to find this emergency rescue station. It gets very hot here in the summertime and hikers, illegal immigrants and smugglers often end up in trouble out in the desert sun in the 120 degree heat. Scattered across the park they have these stations.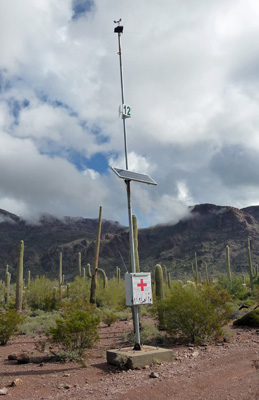 All you have to do is push the red button and wait. Someone will come with water. The sign is in English, Spanish and O'odham. There's a huge Tohono O'odham Indian Reservation just to the east.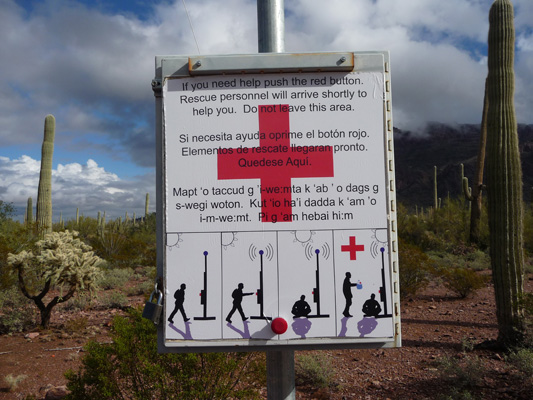 We thought it very auspicious that this one was #12. The 12th man comes to the rescue!
There was one VW camper van in the campground all by itself and a couple of cars in the trailhead parking. We found a spot to park the truck and put on our hiking boots. Everything was still pretty wet from the previous day's rain which hadn't stopped until the middle of the night. The truck tires tell the story pretty well.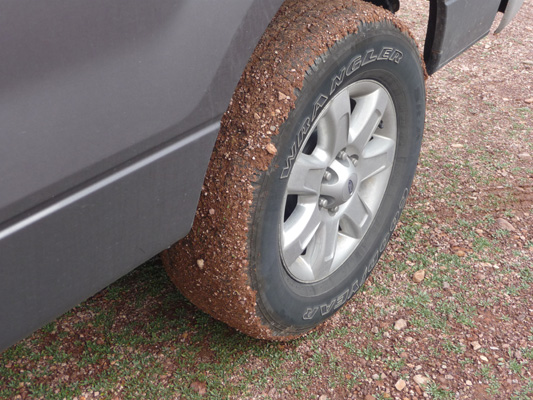 The Alamo Campground is a very pretty place and would be a great place to camp if you had a small rig.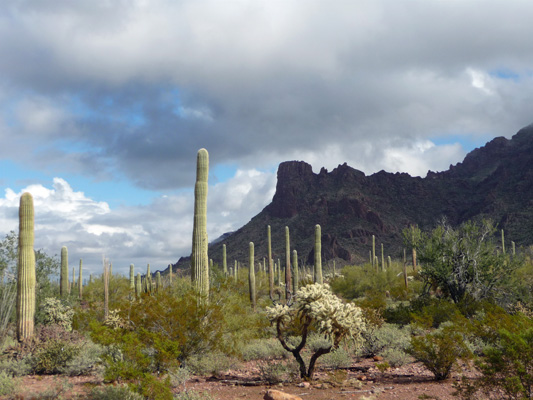 The trail headed east along a wash. There were lots of young saguaro cactus—proof of a healthy desert ecosystem here.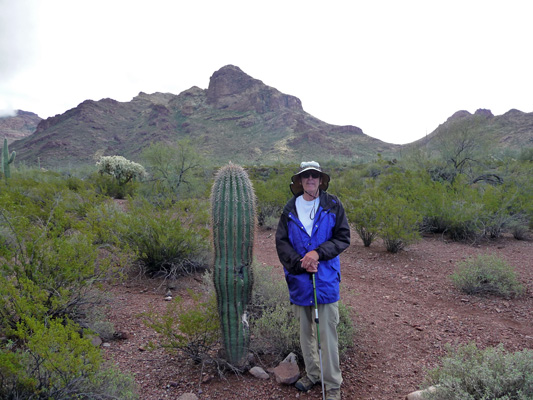 And some HUGE granddaddy saguaro too. They can get to be 50 feet tall and live to be 200 years old.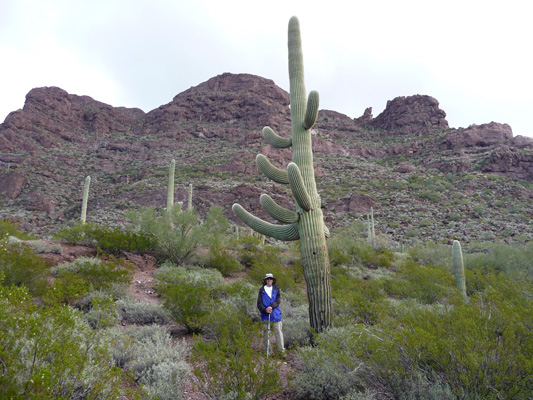 There were a few very young Organ Pipe Cactus too.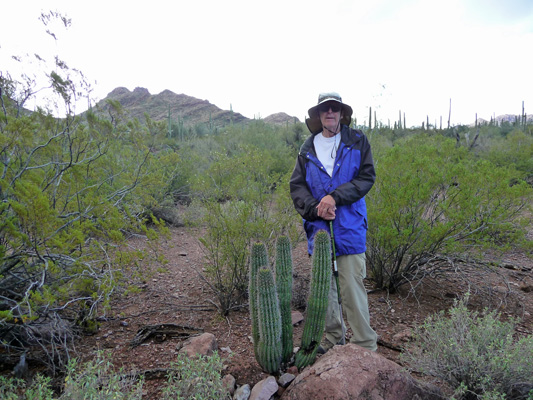 The Organ Pipe Cactus National Monument is the only place in the United State that the Organ Pipe Cactus grows. They're pretty common in parts of Mexico though.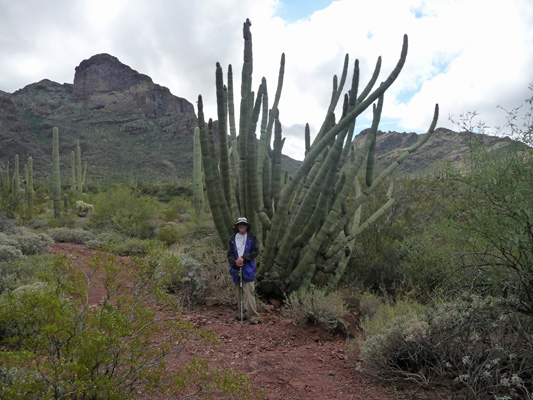 The trail continues up canyon through a lovely landscape of red rock.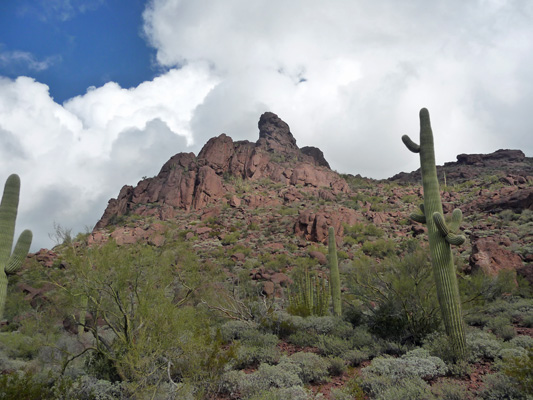 Organ Pipes like south facing hillsides with really good drainage. This hillside was FULL of them especially on the upper reaches.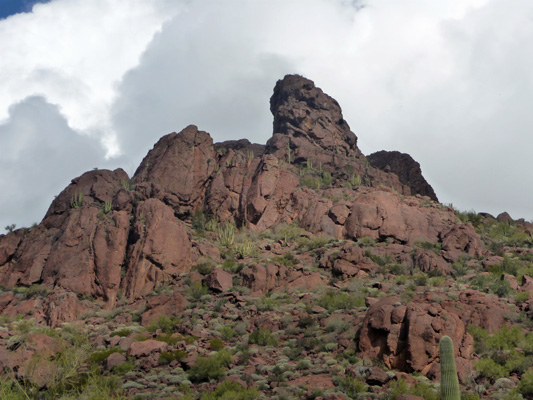 I spied this lovely jumping cholla (also known as chainfruit cholla) with a bird's nest in it. Notice the little segments of the plant down on the ground. They fall off really easily. These segments will probably take root and new plants will grow from them. If you brush up against one, the segments will 'jump' off the plant and attach to your clothes, thus their name.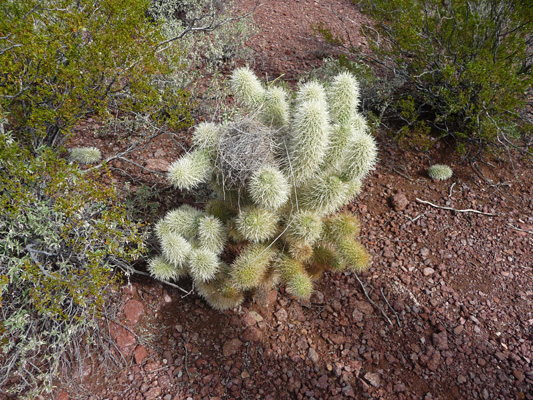 The sky was steadily clearing and lighting up the hills.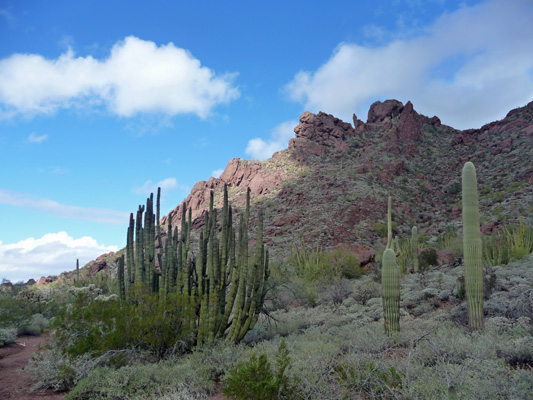 Near the end of the trail you come to the Alamo Canyon Line House—an old ranch house made of adobe bricks.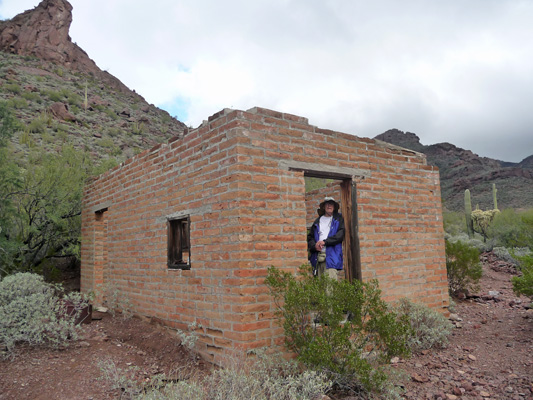 There was a collection of rusty odds and ends sitting on the window sill.
All the rocks in this area appear to be polka dotted. This is what is called mineral rich granite and was the source of gold, silver and copper ore that was mined in the area.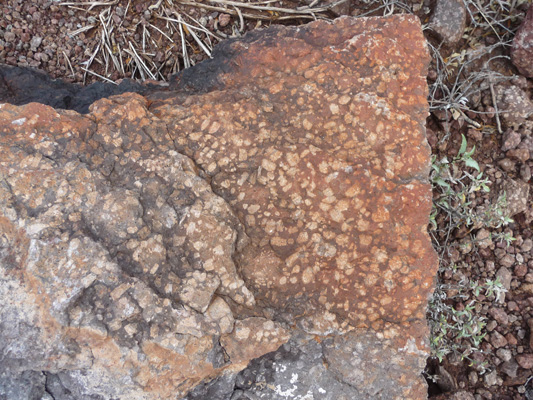 A little further on we came to an old corral.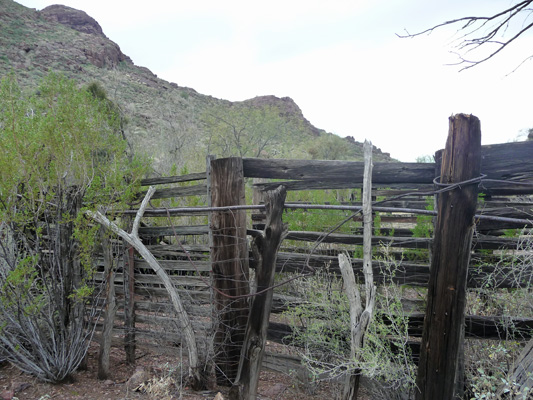 It came complete with a big empty water tank and trough.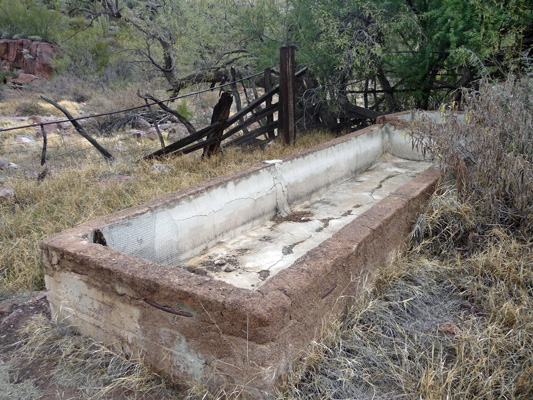 An old feed bucket was hanging on the fence.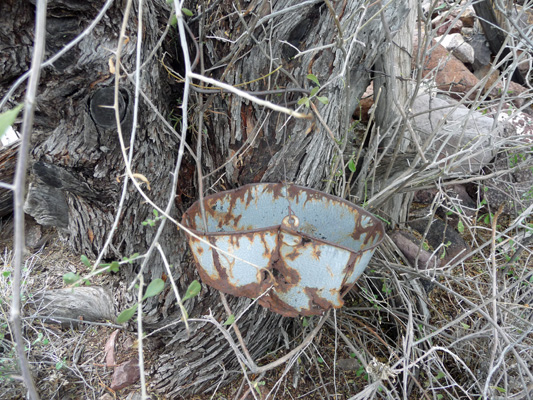 At the end of the trail you came to this sign. You can explore further up canyon by scrambling on the rocky slopes and a pair of birders we met did just that. But we turned back here.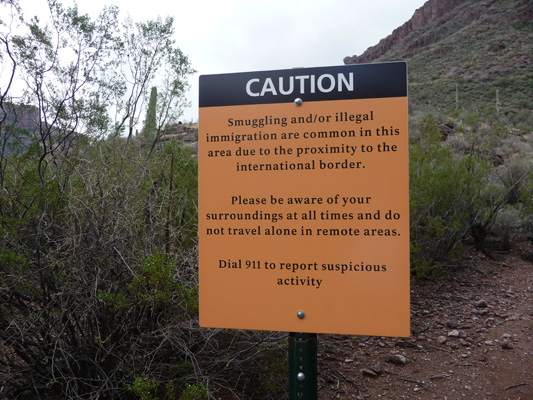 They've posted signs like this all over the park since the last time we were here in 2013. We think it has to do with the decision to open more of the park to hiking and driving than before. In 2013 the Border Patrol made 4,000 arrests and seized over 100,000 pounds of marijuana in Organ Pipe. For years, they had most of the park (and it's 31 miles of border with Mexico) closed except to the most intrepid hikers. With the completion of the border fence in this area they finally decided that they could once again open the dirt roads and hiking trails to the public. But they put up a lot of warning signs to make it clear to folks what the risks are. And truth be told we saw nothing suspicious at all.
We heard a lot of birds on this hike and I managed to get a shot of a male phainopepla.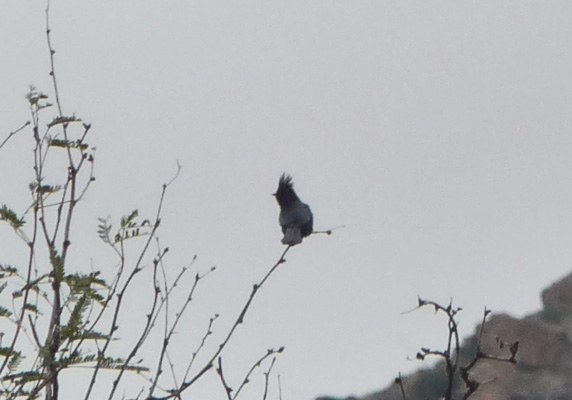 This Organ Pipe is HUGE which only goes to show how very large the boulder behind it is.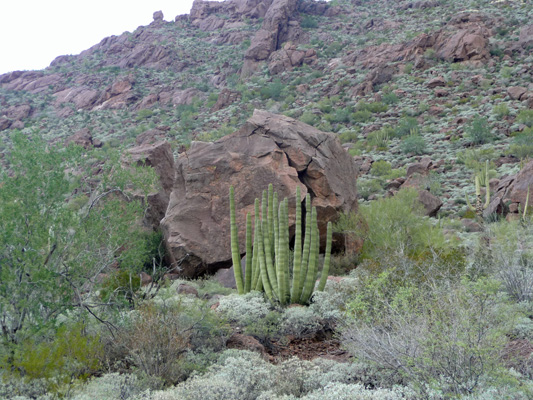 We made our way back up the trail and stopped to have a look at this mature Jumping Cholla aka Chainfruit Cholla.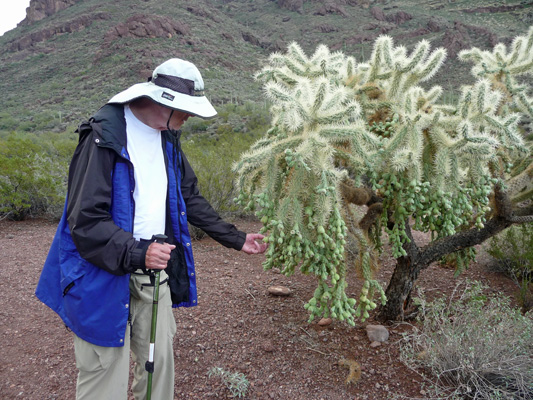 I've never seen these in bloom (they bloom April-Sept) but most winters we've seen these marvelous fruit.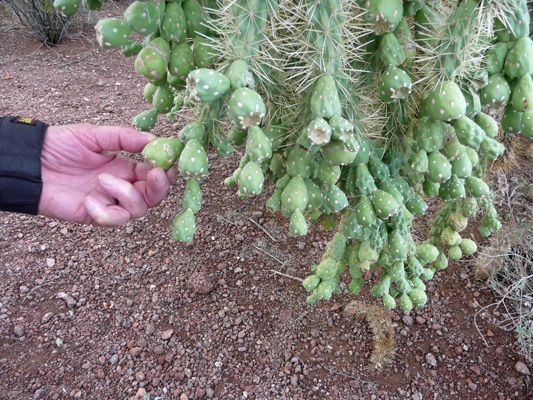 Just before we got back to the truck I grabbed this shot looking south.

We drove back south on Highway 85 to the Visitors Center area and then turned north on N. Puerto Blanco Rd. and headed to the picnic area out where the road used to end. To get there you pass Pinkley Peak.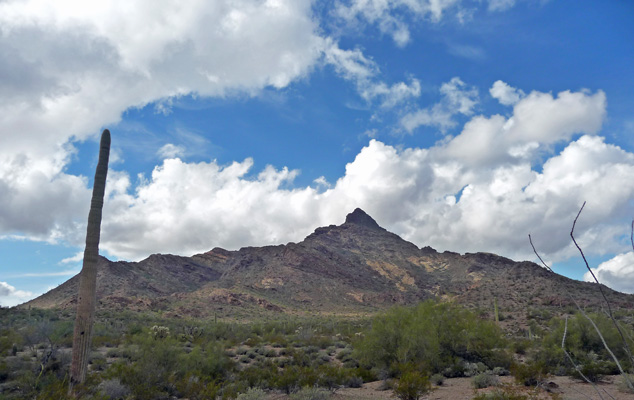 It was in the 60's so we sat out under one of the ramadas to eat our lunch.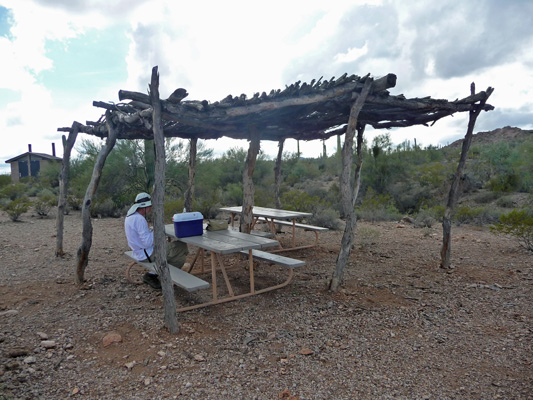 I spied this nice little Englemann's Hedgehog Cactus in amongst the creosote bushes.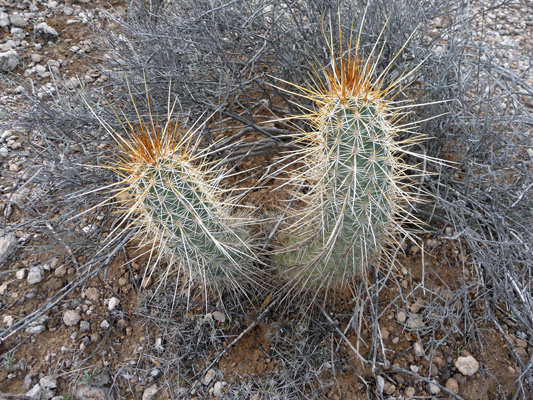 The view looking east kept changing as the clouds cast shadows on the mountains.

Facing west you got a view of Pinkley Peak again.

From here we drove back to the trailer and enjoyed a quiet afternoon. Mother Nature gave us a nice show at sunset lighting up the thunderheads to the north.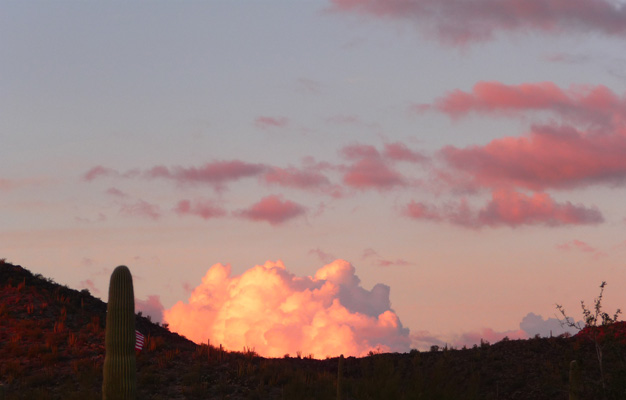 We got this nifty pattern from the suns rays coming through the clouds at one point.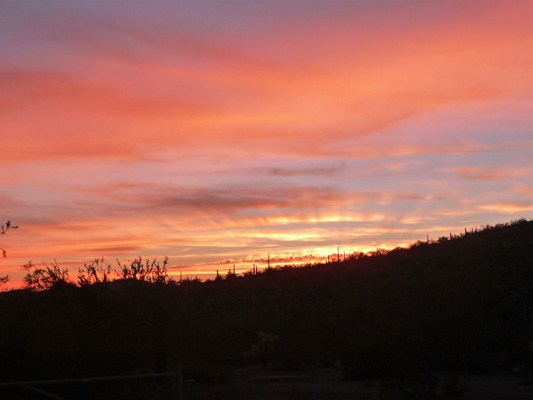 I never get tried of gorgeous sunsets.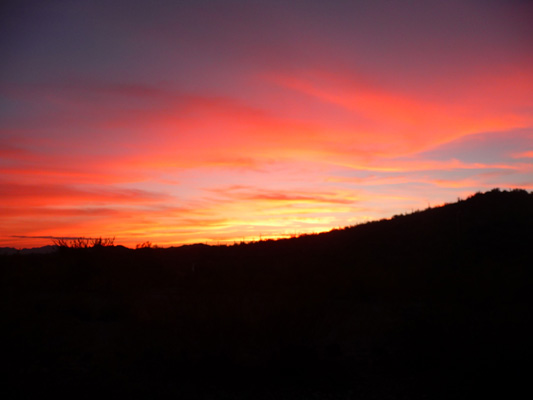 We got news this week about our assignment at Lake Cascade State Park. We'll be hosts at the Buttercup campground in June and the first half of July. And we'll be hosts in the Sugarloaf campground in the 2nd half of July and all of August. Buttercup in on the west side of Lake Cascade. Sugarloaf is on the east side (there are 12 campgrounds in the park). Both campgrounds take reservations so if you'd like to come visit keep that in mind. In both cases our camp host spot has a water view! We're really excited.