On Tuesday February 10th we drove 90 miles northeast from Huachua City, AZ to Chirichua National Monument in the Chiricahua Mountains.
Along the way we stopped at a rest stop on I-10 that has wonderful rocks both to the north

and the south.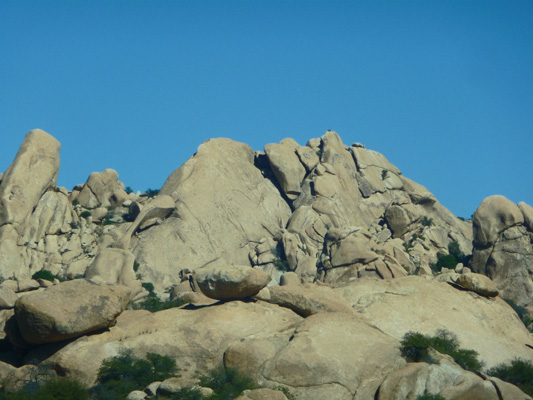 We'd have loved to have camped at Bonita Campground in Chiricahua National Monument itself but we'd read that the spaces were small and that there were 3 big dips that longer trailers had trouble with. So instead we bumped our way out Pinery Canyon Road into the Colorado National Forest to a free dispersed camping area. The road was really bad washboard for over 1/2 of the 5 1/2 miles we drove and things in the trailer got really shaken up in the process. When I opened up the refrigerator the lid had worked its way loose on the ground flax seed and there was meal all over everywhere. The lid of the pickle relish had come off and was sitting in an open container of soft cream cheese. The cream cheese lid was wedged amongst some bottles in the door. Thus providing a good excuse to wash down the inside of the refrigerator and making the trailer smell like dill pickles for a while.
We arrived in the early afternoon and found the dispersed camping area with no problem. It was set in a forest of live oaks at about 5700 feet elevation—higher than we'd expected but still lovely. We took a nice space with a fire circle that we THOUGHT we'd be able to just pull through when we left (as it turned out we needed to back out but that wasn't a problem).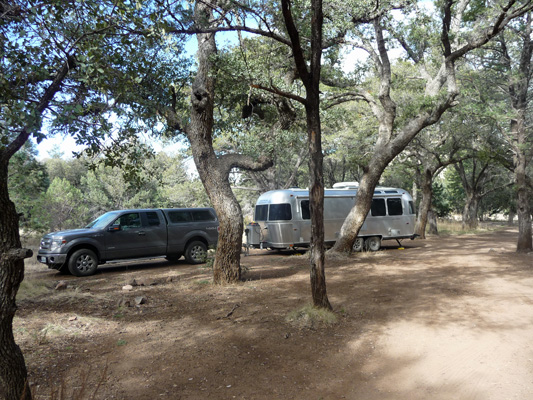 We could hear a creek off in the distance and there was enough sun to set the solar panels out to charge the batteries. Initially we had the place to ourselves but as the afternoon wore on three more RV's arrived and parked in amongst the trees nearby. They were up and gone early the next morning though and no one else joined us for our second night there.
On Wednesday morning February 11th, we bumped back out Pinery Canyon Road and on to nice paved road in Chiricahua National Monument. The drive into the Monument provides you with a taste of what is to come.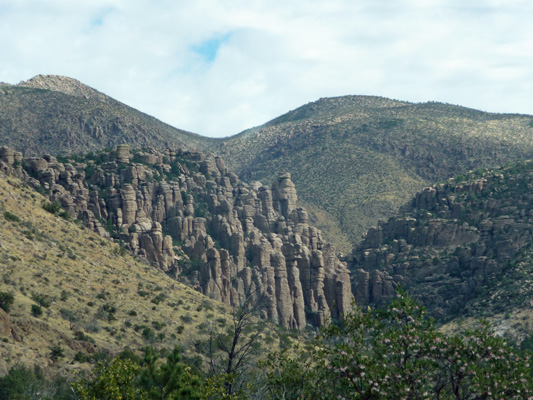 We stopped at the Visitor's Center to get a map and ask about hiking trails and I spotted this Mexican jay in a tree next to the truck.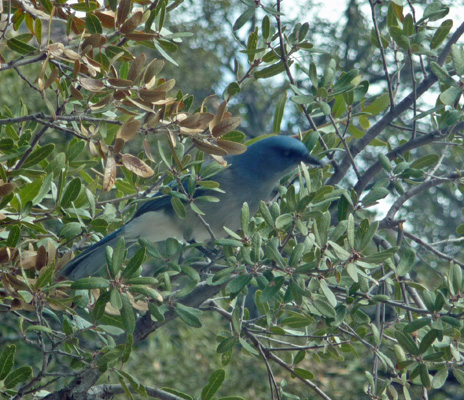 When we were done with the Visitor's Center we took a drive through the Bonita Campground and saw a flock of these lovely birds fly through. There are a couple of larger camping spots in the Bonita Campground but there are 3 very steep deep dips that you HAVE to go through to drive through the campground. The Casita would have dragged a bit going through but Walter says it could have made it. I'm not sure that the Airstream might not have ended up high centered in them—but for sure she would have dragged really badly. We were glad to have not chanced it even with 5 miles of bad dirt road to the other camping area where we camped.
There is a lovely 8 mile road up Bonita Canyon to Massai Point. We drove it slowly ogling as we went.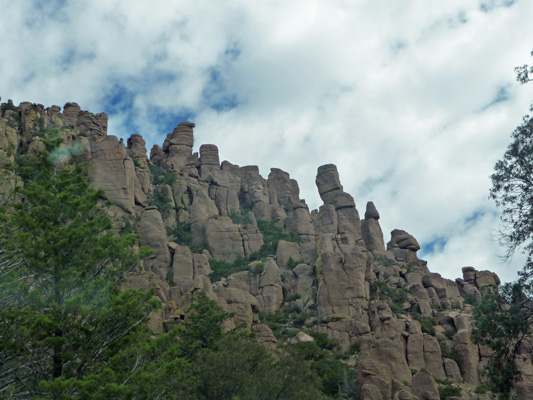 Chiricahua has columns, pillars and balancing rocks all made of eroded volcanic ash. Millions of years ago the Turkey Creek Caldera exploded and spewed hot ash hundreds of feet deep over the area. This compressed and formed rock of varying densities. When Mother Nature laid it bare to the elements (freezing and thawing, rain, snow, wind and lichens) it yielded this marvelous wonderland.
We found a place to park at Massai Point and took the Nature Trail Loop down in amongst the rocks. We took the loop backwards (there are lovely informative numbered signs and we started at 15 and ended at 1).
This trail is at 6,800 feet so we took it slow because Walter gets altitude sickness really easily.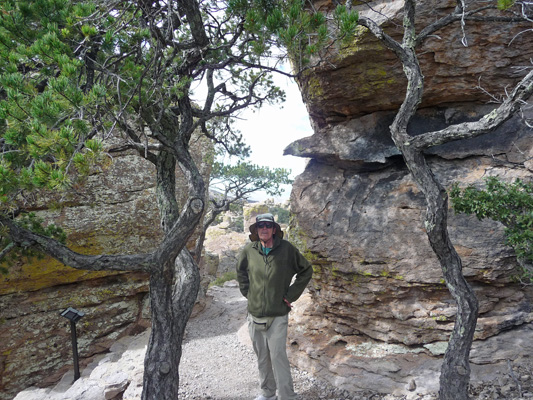 Going slow has it's benefits: you get to enjoy the views that much more. Those are pillars across the canyon and balancing rocks in the foreground.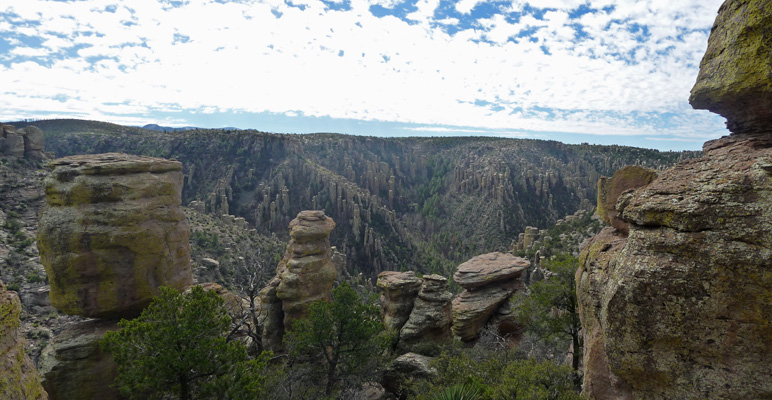 No, that's not some weird processing effect, the rocks really are tinged with yellow. The lichen here are bright yellow and a busily producing acid to help break down the rocks.

It was a pretty clear day—even with the high clouds—and you could see the Dragoon Mountains in the distance with the Sulfur Springs Valley down below. That's Cochise Stronghold directly across the valley in the Dragoons.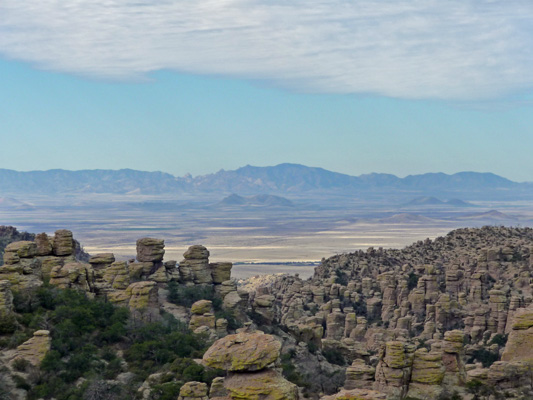 I love the columns in this section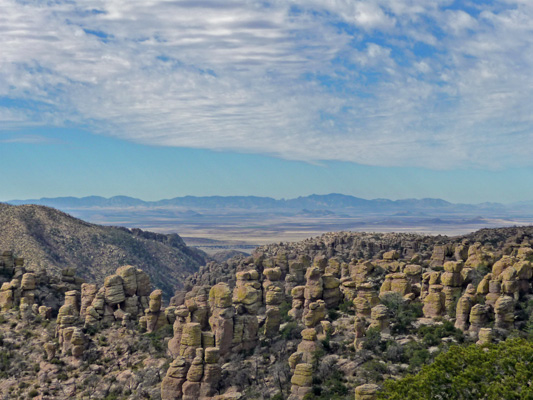 As the trail loops north you can see Cochise Head (he's lying on his back looking at the sky).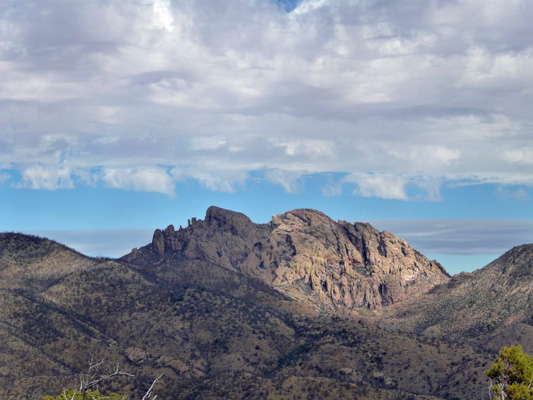 And you get a view of Sugarloaf Mountain the highest point in the park. There's a fire tower at the top of the mountain and a trail you can take to it.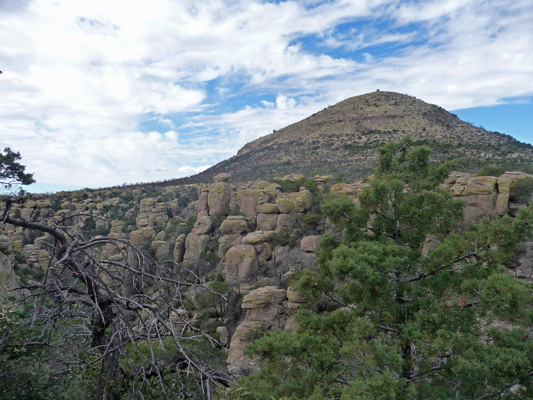 Having finished this lovely trail we drove down to the Echo Canyon Trailhead parking lot to hike part of the Echo Canyon Loop Trail. With the altitude we knew we wouldn't make the full 3 plus miles so we decided to go as far as the Echo Canyon Grotto and then see how we felt.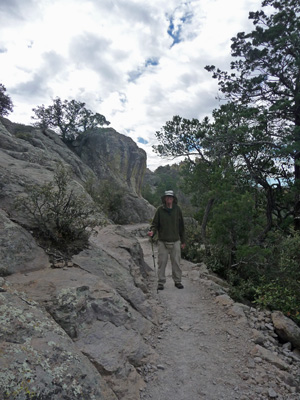 The trail goes right by one of the balancing rocks.
And though a section of pillars.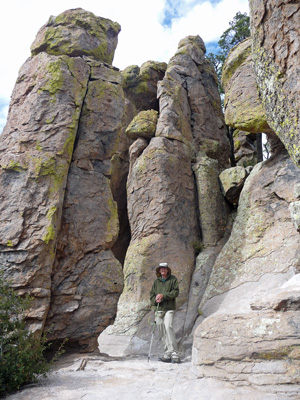 The views of the canyons are closer since you're further down in it than up at Massai Point.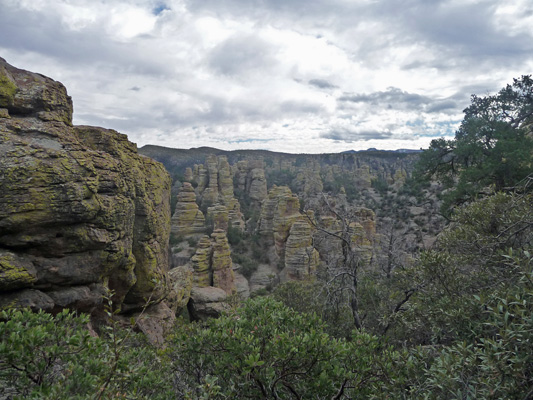 The trail winds its way past more columns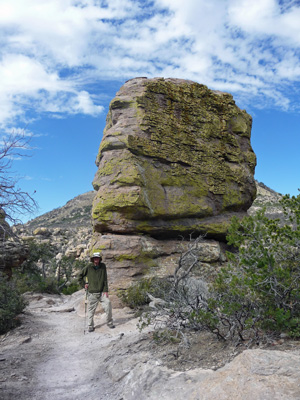 And gives you views of the canyon to the north up towards Sugarloaf Mountain.

I think this shot is a pretty classic example of what Chiricahua is all about.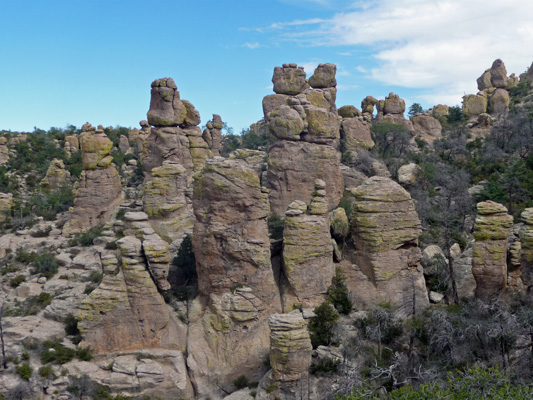 These balancing rocks just seem to call out for you to name them. There are trails deeper down in the canyons where there are formations called Duck on a Rock and other wonderful things like that.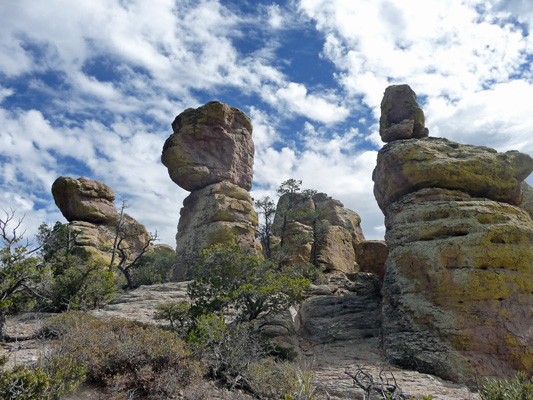 The Echo Canyon Grottos are pretty swell. You can climb up into them if you like. We took a pass and hiked on a ways instead.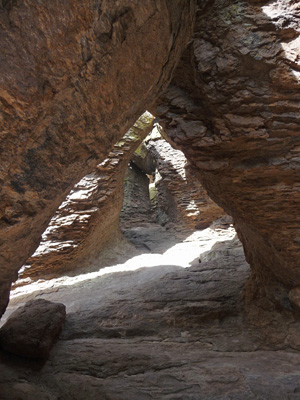 We stopped for a bit when we'd reached our limit—and I of course had to go around one more bend to see what I could see. When I came back Walter was posed sitting on this rock looking wonderful.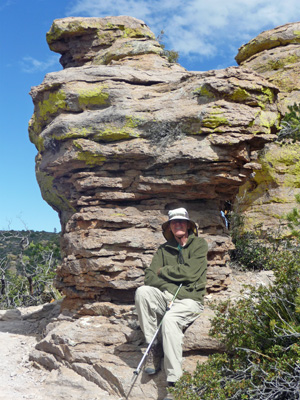 And for a change I got him to take a photo of me and a view of the canyon.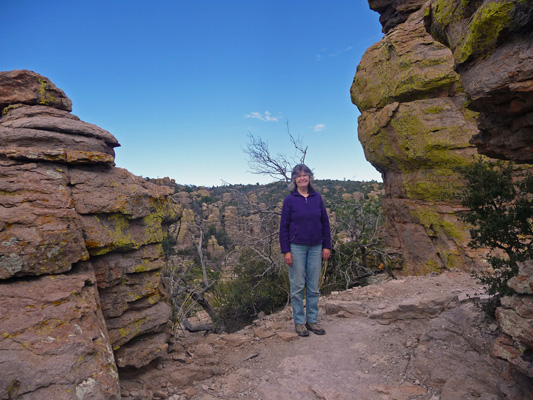 On the way back up I took a shot of this great pile of balancing rocks.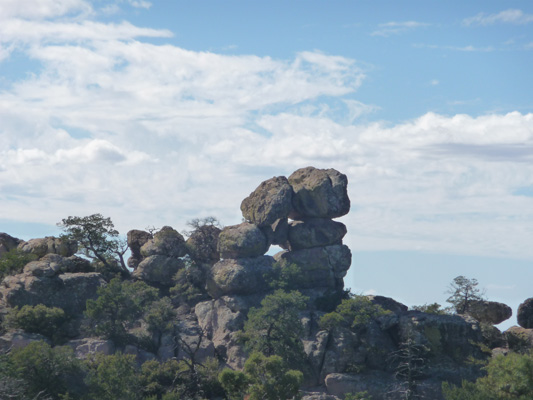 We hiked on back up the trail and then had our picnic lunch with this great view of a balancing rock.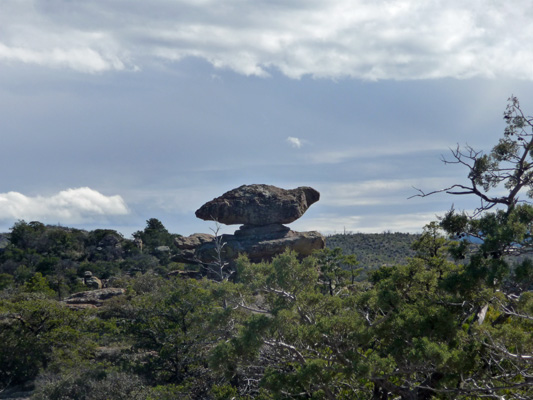 After lunch we drove out to the Sugarloaf trailhead and took a look at the view there and then drove on down Bonita Canyon again. Here the pillars are pretty amazing.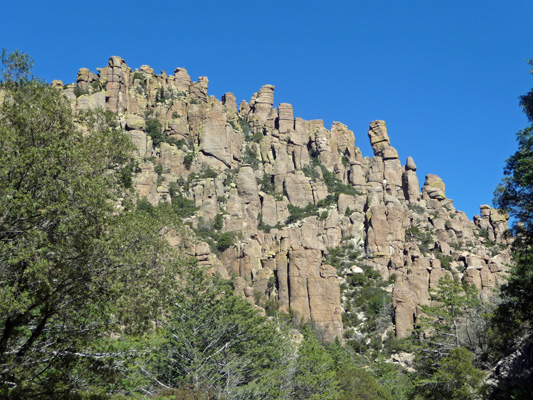 And there are pullout so you can take photos of named features like the Sea Captain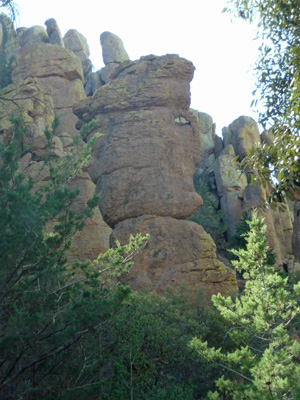 And the Organ Pipe Formations.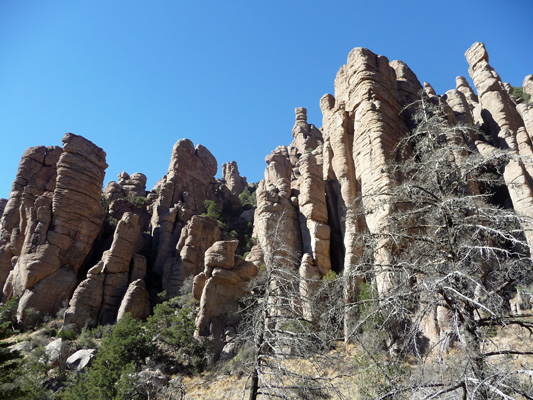 No music but they sure are fun.
We went on back to our trailer for a quiet afternoon. It was still clear at sunset but by 7 pm it started to rain. Neither one of us was thrilled by the idea of that awful dirt road turning into mud. But we knew we couldn't back out of our spot in the dark in the rain either. Thank goodness it only rained (and the thunder boomed) for a couple of hours. It stopped well before midnight and it was dry and sunny in the morning.
We got out of our campsite and bumped on out the dirt road without a problem and then drove west to the town of Willcox to check out the RV parks there. None of them was real exciting so we drove out to the little town of Bowie to have a look see at the RV park there—it turned out to be behind a truck stop. Ah well. So we drove on back and got a spot at the Fort Willcox RV Park—only $20.15 with a Passport America membership—for a full hook up with cable and WiFi.
We settled in to get caught up on our email and Walter even watched a little TV. Then Mother Nature gave us a nice treat with a nifty sunset.
We had intended on staying in Willcox for two nights but the forecast was such that it sounded like it would be better to visit Cochise Stronghold on Friday and Saturday. Besides it was Presidents' Day Weekend and we though it would be better to go and grab a camping spot on Friday rather than try to get one on Saturday.
So on Friday February 13th we drove south along Highway 191 through the Sulfur Springs Valley towards Cochise Stronghold. There were long narrow lakes of water out in the valley that at first we thought were full of birds. But overtime we realized it was just a flood plain with submerged bushes. I'd read that there were supposed to be Sandhill Cranes in the area so we had our eyes peeled. But boy were we in for a surprise. Off in the distance down valley we saw huge flocks of birds swooping and swirling like blackbirds do. But as we got closer we realized they were too big for black birds and that there were Vees of geese mixed in. We pulled over to watch and when we rolled down our windows it was clear that the swooping birds were sandhill cranes. They have a very distinctive cry and it was overpowering whatever kind of geese (Snow or Canadian we couldn't tell). They literally filled the sky for miles.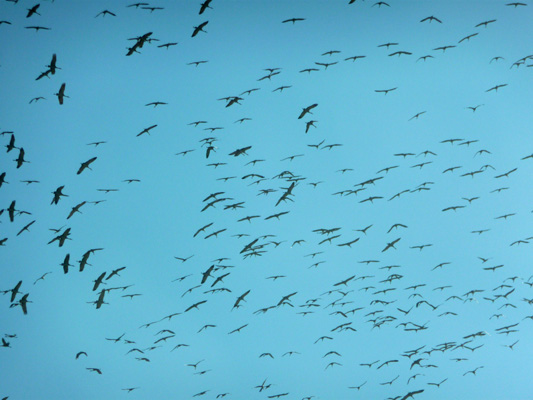 And they swooped and swirled all over the sky.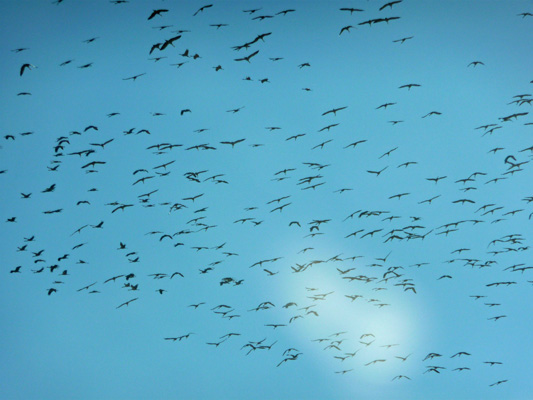 We continued to see them for the next while as we drove along but by the time we'd stopped to get gas they were gone—poof! Probably lolling down in the lakes we'd seen further north.
We drove west along Ironwood Road and Cochise Stronghold spread out before us.

Cochise and his tribe of 1000 or so Chiricahua Apache spent about 15 years holed up in these rocky canyons, harassing the US Army and the settlers. They were never defeated and eventually the US government negotiated a peace treaty with them to stop hostilities.
There's a small campground in the Stronghold but once again there are three dips (this time through a stream) and the campground spots are pretty small. There are maybe two that are long enough but getting into them would have been a trick for us. So instead we made the turn into a dispersed camping area in the National Forest just a mile or so short of the stronghold. The road was AWFUL. It winds through a grove of oaks that were such a close fit that I climbed out to make sure we didn't hit them. The road was badly eroded with washouts on the edges.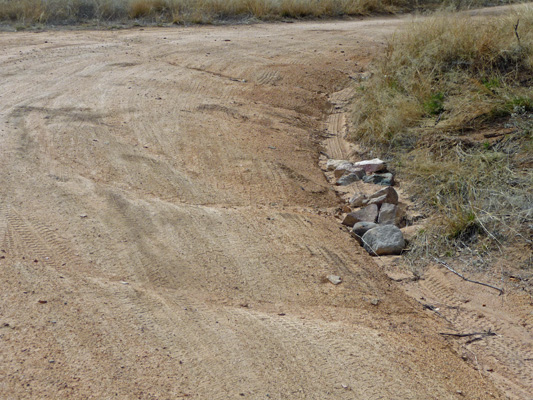 We found a nice spot to back into and Walter had to put the truck in 4-wheel drive to get out of the washout on the edge of the road and back Genevieve in.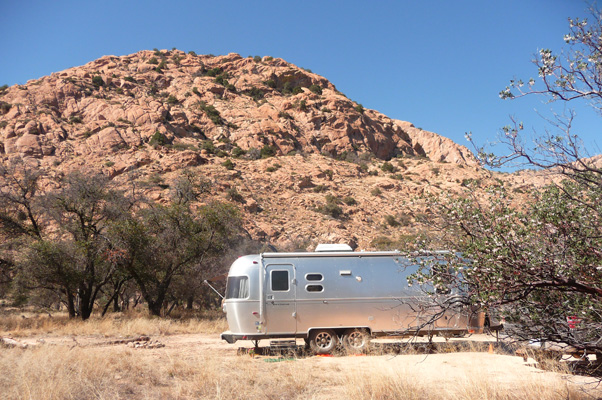 The view is lovely and we had a good exposure for solar so all is good. We discovered later that the road actually gets a bit better as you drive the loop so we plan to go out that way rather than wind through the trees again.