On Sunday October 18th, we drove over the mountains from Potholes State Park to Dash Point State Park just north of Tacoma. We managed to get a decent pull-through full hook up site there for $10 a night using our Senior Off Season Pass. It was a bit wet and soggy at Dash Point but hey, it was October in the Northwest, what do you expect? Dash Point is an older state park so the woods are pretty thick. But there is beach access across the road in the Day Use area. It is completely surrounded by residential property so it's a fairly urban park and a lot of the folks camping there looked as if they were living there for the maximum time allowed before they had to find some other place to live.
On Monday October 19th, we drove down to Olympia to the Volunteer Office of the Washington State Parks to have our fingerprints taken (for our FBI background check to be Camp Hosts). We arrived to find that the lady who does the fingerprints was out that day and in fact only does fingerprints on Wednesday! Of course, their website hadn't mentioned that little detail and her voice mail didn't tell you that either, ah well. We had sun breaks off and on during the drive and we enjoyed our selves nevertheless.
On Tuesday October 20th, we drove from Dash Point to the Airstream dealer in Covington to have the heat sensor by-passed in the Baraldi stove vent fan. In late August, I'd written a fairly irate letter to the president of Airstream about our year-long saga with the Baraldi saying we had concluded that it couldn't handle the heat put out by the 3 burners on the stove top. The Manager of Owner Relations wrote back saying "It is a rare occurrence when our customers maximize the use of all three burners on the cooktop." Just as we thought—people who own Airstreams don't cook! Their only solution was to by-pass the heat sensor for us under our warranty (which they had done for one other customer who had complained).
We did errands while they worked on it and sure enough, when we returned and I ran a test with all 3 burners, the Baraldi didn't shut off. That evening, I cooked a three burner meal and for the first time in 18 months, the fan didn't shut off. Hoozah!
That afternoon, we drove from Covington up to Monroe and camped in the RV park (brilliantly named RV2) at the Evergreen State Fairgrounds for just $25 a night for an electricity and water site. There were only a couple other rigs there and it turned out to not only be convenient but a fairly nice place to stay—no trees so it was actually not dark, dank and drippy—a real plus in October.
The first night we even had a sunset!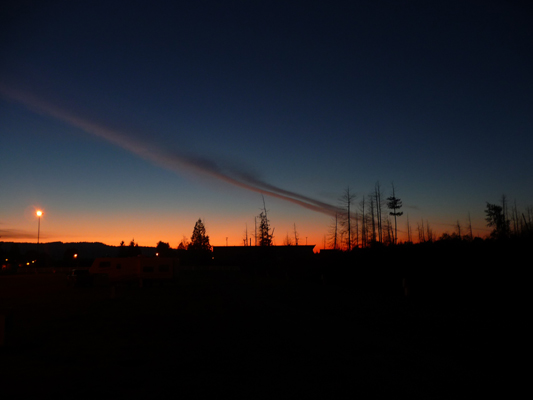 We had pretty nice weather for the five days we stayed there. We had the truck serviced and a warranty repair made, went to the doctor and the dentist and did a bunch of miscellaneous errands and even managed to get a walk in along the slue in Woodinville. On Saturday while I went off to have my haircut and have lunch with a friend, Walter got to listen to the Pumpkin Smash Enduro race at the race track. Kind of noisy but with the trailer buttoned up, not too bad. Besides, he was watching football on the TV.
On Sunday October 25th, we moved to Thunderbird RV Resort on Ben Howard Road east of Monroe. This is a Thousand Trails resort that allows non-members to camp there too. They are covered by our Passport America membership so we only had to pay about $27 a night instead of the regular $41 they charge. They had a nice laundry room and weak Wi-Fi and a great view of the Skykomish River. I even got the laundry done before it started to rain on Sunday afternoon.
I took this photo of the view from our campsite on Monday morning in a light rain. We had seagulls on the river the first day which made it sound like the beach—kind of confusing actually.

We managed to wedge in a couple visits with friends but mostly we were busy with appointments and the like. We were thrilled Tuesday when we managed to see our dentist without needing to come back for another appointment (Walter had chipped a tooth but she managed to fix that without him having to come in at a different time). That meant that we were finally ready to hit the road on Wednesday morning—just in time to avoid a couple of major storms heading into the Puget Sound later in the week.
We motored south through the Snoqualmie Valley and on over to I-5 in the rain on Wednesday morning. Rain meant heavy traffic so it was slow going off and on and the drive took longer than usual. But we made it to Battle Ground Lake State Park in the late afternoon and got their last hook up site for yet again $10 with our Senior Off Season Pass. What a deal that has been. It saved us $160 in the nine nights we used it.
We will head into Oregon on Thursday to visit Fort Yamhill State Park. We have a possibility of an interpretive host position there next summer and want to see the place before we commit. No more saying yes to places we haven't seen like we did at Hilgard Junction! From there we're heading east to Bend for the night and then to Lakeview, Oregon to visit Walter's old friend Bill Shrader and his wife Marti. These are the folks who dropped in on us when we were at Heceta Head back in May and we thought it only fair that we returned the favor on our way south. We'll need to head out of Lakeview on Sunday since there is a cold front heading that way with a possibility of SNOW that night so we need to get though the mountain passes before that happens.