On Saturday January 17th we awoke to another beautiful sunny day in the desert. We were staying at Gold Rock Ranch RV Park about 20 miles outside of Winterhaven, CA. We were just down the road from the old Tumco Mine and Ghost Town so we decided we'd drive over and take the historical walk through town. Walter started up the truck and got a 'low tire pressure' message. We got out and sure enough, the rear right tire was low.
He got out our electric pump and pumped it back up. I drove ever so slowly forward so he could inspect it, but he couldn't see anything wrong. We decided to take no chances so we drove into Yuma (about 30 miles away) and had it checked. Sure enough, we'd picked up a nail. We had to wait an hour to have it fixed and once again they didn't charge us anything. While we were in Yuma we did the grocery shopping too. And then motored on back to camp. We've now had a flat on my bicycle, the trailer and the truck after going YEARS without having a flat tire. We managed to do that whole trip to Alaska and back without a flat for goodness sakes! Hopefully this will be the end of it for a while.
That evening the sky to the east turned the Cargo Muchacho Mountains a nice pink.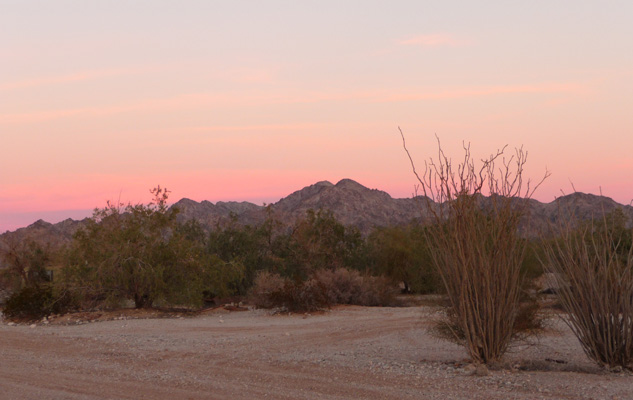 And even without clouds we got a nice orange sunset to the west.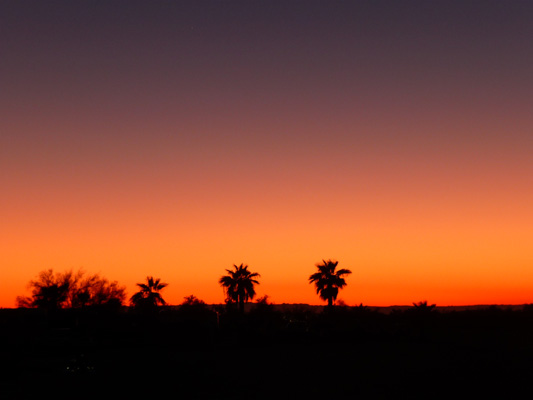 On Sunday February 18th we made another try on visiting the Tumco Mine and Ghost Town.
The mine and ghost town are just down the road from Gold Rock Ranch. There's really very little left at the Mine and Ghost Town. In fact, I'm convinced that most of the 'good stuff' from the town has ended up on the grounds and in the 'museum' at Gold Rock. But in any case, we had a nice walk through the desert looking for the nifty welded number signs even though there wasn't a booklet to tell you what you were looking at. It turns out they've posted a copy of the numbered trail guide on the bulletin board at the parking lot. You need to take a photo of it so you can follow along as you hike!
First stop on the hike is the old well that served part of the commercial district of the town of Tumco.
Right next to it was a large pile of rusty tin cans. Not exactly the best hygiene program for keeping your well water safe but hey, it might have gone dry before they started dumping the cans here.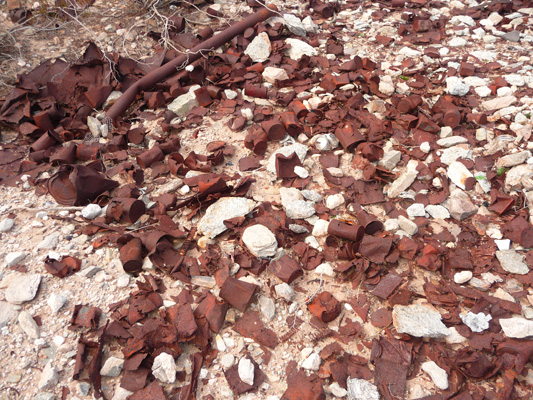 We went by several other areas where there were lots of cans further along on the hike. Clearly there was more than one town dump.
The Tumco Mine was a gold mine that was first mined back in the 1600's by the Spanish. The mountains behind the mine are called the Cargo Muchacho Mountains after the young boys who came back to their village carrying gold ore in their shirts.
Gold was 'rediscovered' in the area in 1849 during the California Gold Rush. From then on there was one mine operation or another here until WWII put an end to mining. Tumco became a ghost town in 1949. I don't know when the site came under the protection of the BLM but it must have been late because clearly the locals have walked off with not only most of the artifacts but the building materials too.
This is what the town site looks like. The mine is over on the far right.

There's one basement still visible.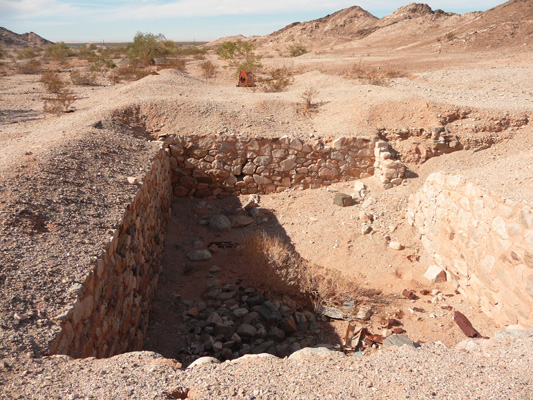 And a couple of standing walls up the hill from the basement.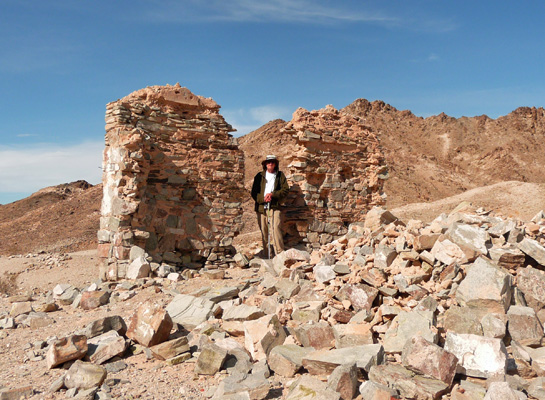 From this point in 'town' you can see many of the grey mine tailings up along the hillside.

Someone put a lot of energy into making these lovely numbered signs for the guided history tour. There are nine of them and they'll be here long after any other kind of sign they could put up will have been sandblasted away by the wind.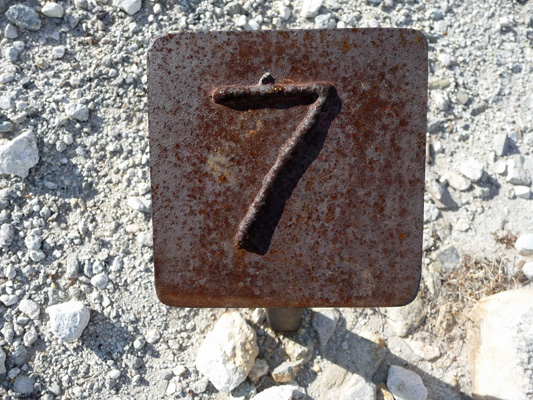 Up on the hill the old cyanide vats that were used to extract the gold from the ore that had been ground up in the stamp mill are rusting away.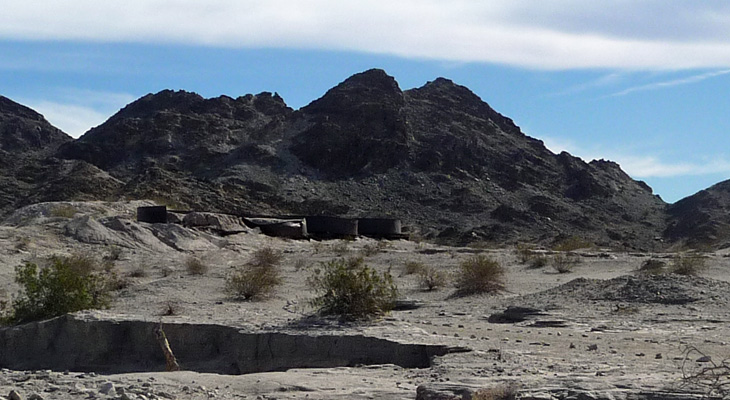 This whole side of the mine site is covered with cyanide tailings. They would put them in piles with a dam around them and then the dam would break and they'd flow down hill leaving odd patterns in the crust. It turns out that cyanide breaks down pretty quickly in slurry form when exposed to sunlight so I guess there isn't much cyanide left here. There were no warning signs which is a pretty good indicator that they don't view the area as toxic.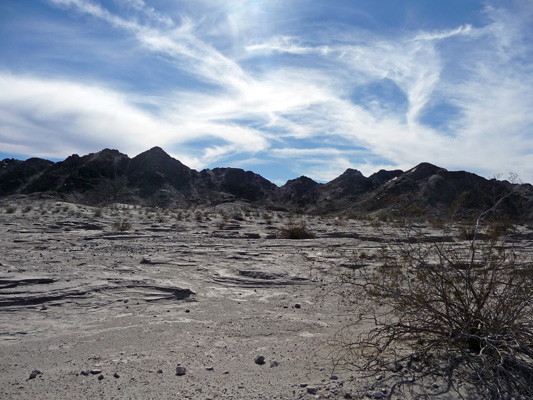 We enjoyed our walk and ambled back to the car and drove past the other section of town where there's a cemetery with heaps of rocks covering each grave and a fence to keep folks from driving through it.
Then we went home and watched the Seahawks-Packers game. What a cliff hanger! But the Hawks pulled it out in the end so on they go to the Super Bowl!
That evening Mother Nature treated us to yet another lovely sunset.

Once again the Cargo Muchacho Moutains turned pink.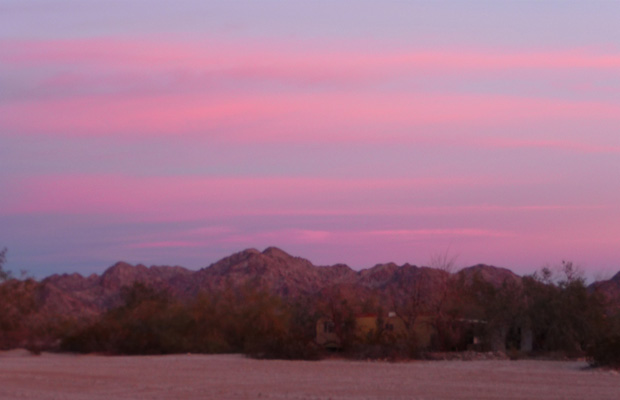 And we had fire in the sky.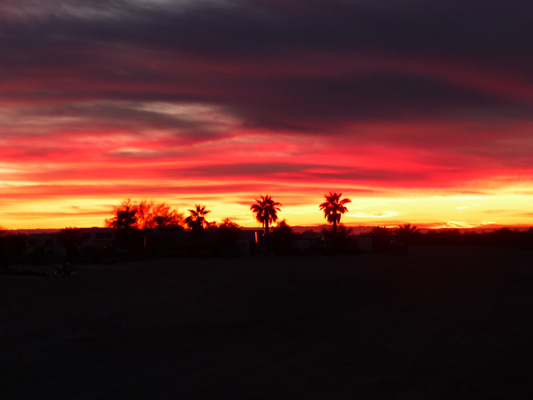 On Monday morning January 19th we packed up the trailer and motored back down to Yuma and then up Highway 95 to the Road Runner 14-day free camping area about 6 miles south of Quartzsite. Back when we were in Quartzsite in December there was basically nobody in this camping area. Now it was FULL of people. In fact, there were thousands of rigs in both the 14 day and the LTVA sites in all directions. We thought that folks were there to attend the Big Tent RV show. And they might all make an appearance there but that is certainly secondary to the big swap meets that stretch for blocks all through town. The other big draw is clearly social.
People gather here to meet friends, sit around campfires, have happy hours and hang out. They do it for weeks on end. Each night we were there, folks put up 'fire ballons'—paper hot air balloons with open flames carrying them off into the desert. They had big flames so we think they use cans of sterno. There were folks with LED light shows going on. There are folks with ATV's, dune buggies and other desert vehicles. There were radio controlled airplanes out flying. It's basically a bunch of retired kids playing in the desert together.
You can tell the folks who are there to be social. They line up in rows close to one another or circle the wagons to from and enclave for themselves. The thing that amazed me was how many VERY EXPENSIVE diesel pusher rigs there were. There were millions of dollars worth of RV parked out in the desert. We motored around until we found an open area with very few rigs where we could set up camp without having too many neighbors. You can see a few of our neighbors along with the view looking northeast.

This was my view out the dining room window.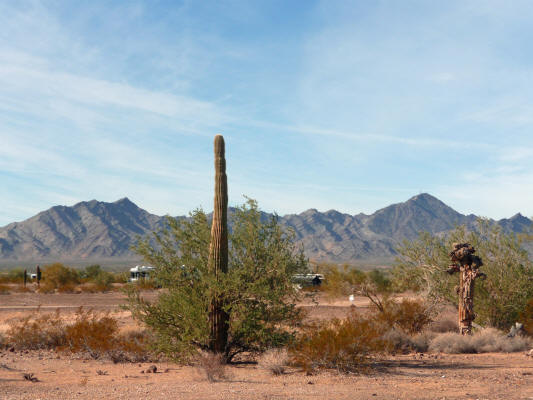 We had lunch and decided to drive up to Quartzsite to case things out.
There wasn't much traffic and we easily found a spot at the Big Tent so we decided we'd go ahead and have a look. What a strange place. It reminded us both of going to the commercial displays at the Evergreen State Fair in Monroe. There were very few folks selling anything to do with RV's. Instead they were pushing jewelry cleaning systems, pain relief gizmos, foot remedies, Vitamixers, cookware and the like. A county fair slanted to the older crowd. Let's put it this way, I was singularly unimpressed.
We'd set aside a whole day to do this and we were done in less than an hour. Yahoo. Now if we had been swap meet people we could have easily spent a couple of days making our way through the streets lined with booths. But we're not, so we didn't.
The next do we needed to go to Blythe (about 20 miles west of Quartzsite) to pick up some mail. To do that we had to drive through Quartzsite. We did it mid-day and what a surprise. There was a HUGE traffic jam doing on. When we'd gone the day before in the late afternoon, the crowds had thinned a great deal. But mid-day was nuts. The good news is that because we were hung up in traffic I got to take photos of the zoo.
Traffic was backed up all the way out to the city limits where one of the big LTVA's is located.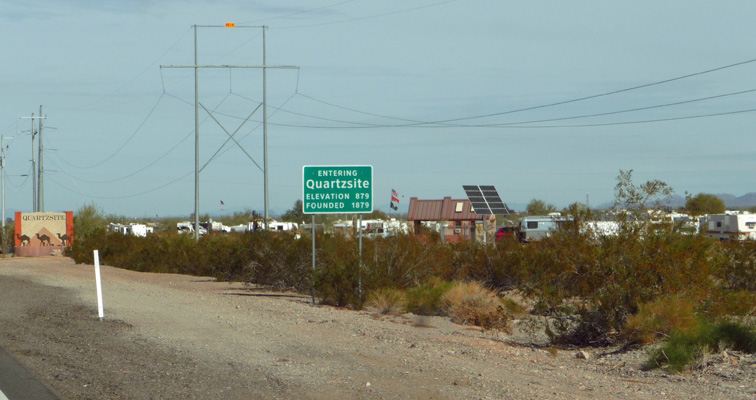 This will give you an idea of the masses of RV's. This level of density literally goes on for miles on both sides of the road and out both east and west along I-10.
The big tent top is Big Tent.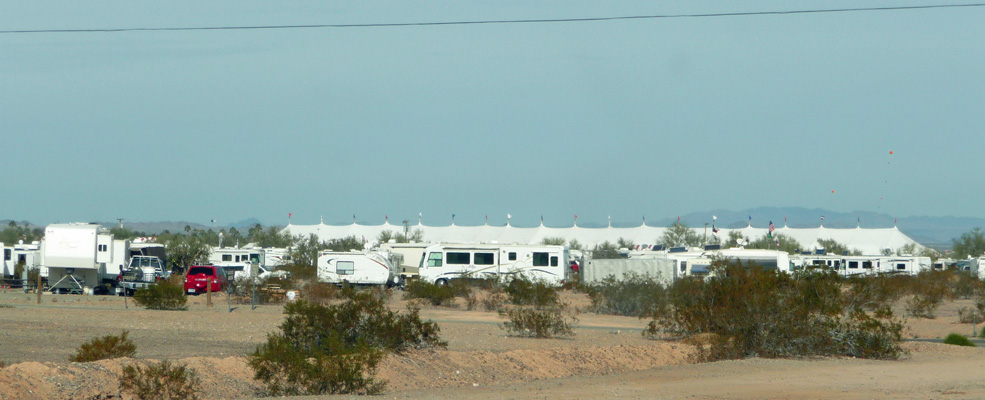 And here's a view of things as we went over the Freeway overpass looking east.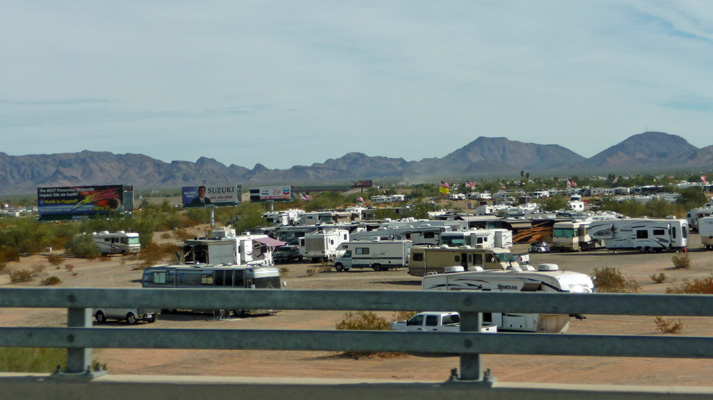 The traffic jam continued all along Main Street on our way to the freeway entrance. There are rock and mineral shops, fast food joints and swam meets all along the main drag.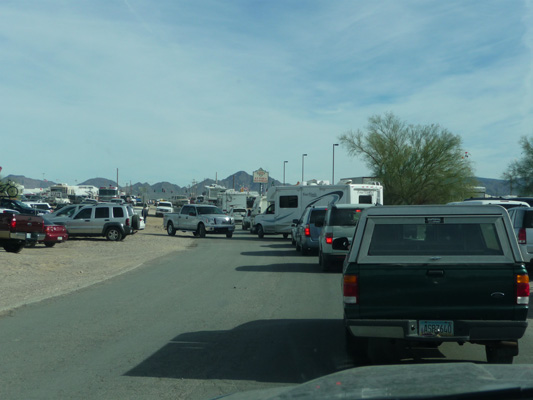 We managed to find a different route home that only required driving through about 1/2 a mile of swap meets but it took a good long time.
That evening Mother Nature put on a show for us. It started out peach.

Then went gold.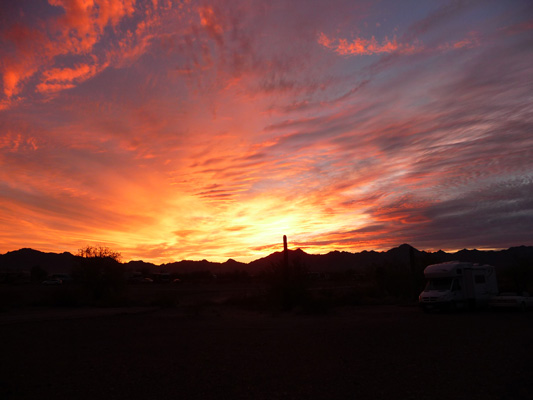 And then gave us purples and pinks with some really cool cloud patterns.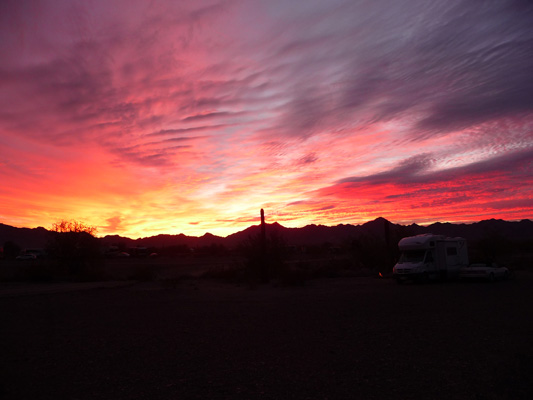 Doesn't that sky look yummy?

We won't come back to Quartzsite for Big Tent again. We'd been told that all the various folks who hired camp hosts would be here. Not so. There were only two companies that we saw. And we'd already decided we weren't interested in them. I can understand folks coming here to meet old friends or to gather with people of like interests. But I really don't need to be in the middle of 50,000 people! It was an experience. Let's leave it at that.
On Wednesday January 21st we packed up the rig and waded through the traffic to catch I-10 east to Phoenix. We had a date to have dinner at PF Changs in Goodyear, AZ (a suburb west of downtown Phoenix) with our daughter Leslie and her husband Al. So we got a spot at the Phoenix Destiny RV Resort in Goodyear. We've been staying here for over 10 years when we've come down to visit family It's not luxurious but it's adequate and it's close to the people we're here to visit. They were nearly full but they had a spot for us for the five days we planned to stay.
It was great seeing Leslie and Al. And we really appreciate them taking time out in the very busy lives to spend an evening with them. They work for Lockheed Martin working on the joint fighters that are stationed at Luke Air Force Base in Goodyear. Their planes will be doing a fly by during the Pro Bowl on Sunday. Watch for them.
Thursday was errand day and we drove all over town)even up to Surprise to the Trader Joe's there and got to watch the fighters doing touch and goes as we drove back. Friday was laundry day. The weekend we spent with my brother-in-law Mike Donaghu and my niece, Amy Donaghu.