When we left Organ Pipe Cactus National Monument on March 1st, we stopped off at the Dump Station to empty our waste water tanks and top off our water tanks. Out in the desert just past the dump station there was a really nice example of Desert Senna in bloom. I'd seen a lot of these with buds but this was the first that I'd seen in full bloom.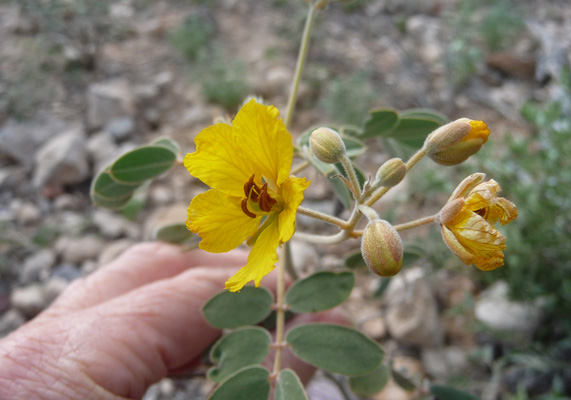 There was also a very nice example of Bitterbrush in bloom too. I guess being downhill from the dump station was a good thing.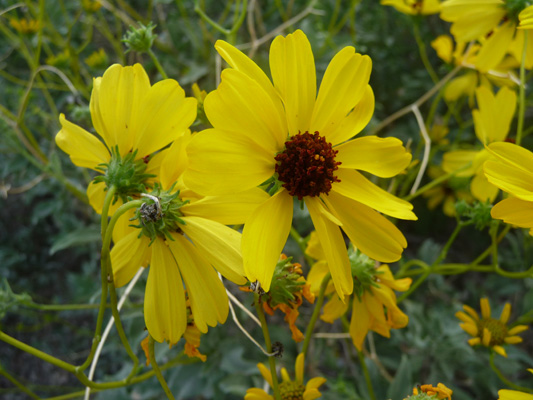 From Organ Pipe we drove north up to Gila Bend and then southwest to Yuma to get out of the cold that was heading our way and in hopes of avoiding at least the worst of the rain that was coming too. We spent 3 days in Yuma at the KOFA KO-OP Escapee Resort, a place we'd visited back in December. We had rain in the night on Sunday and showers off and on on Monday while I did the taxes. It's always such a nice feeling to be done with them. Yahoo.
On Tuesday it was mostly clear and we did grocery shopping and then some laundry. This place is set up so you can do laundry my favorite way—sit in the hot tub during the wash cycle, take a shower during the dry cycle and then fold it all when you're done. Such a life!
On Wednesday March 4th, we headed west into California and then north up the eastern shore of Salton Sea to Salt Creek Primitive Campground in the Salton Sea State Recreation Area. This is a camping area with only the most basic services—a couple of vault toilets, some trash bins and a few picnic tables but you can camp right along the beach and there are huge flocks of birds to watch here.
They'd had rain and a number of the camp sites were muddy and cordoned off but we managed to find a spot that gave us a decent view and yet was an okay place to camp too. We registered ($8 a night with our $2 senior discount) and I took this panorama shot from the registration kiosk of the camp area, Salton Sea and the mountains to the west.

There was snow on the highest of the mountains to the west, especially to the north and yes, LOTS of birds.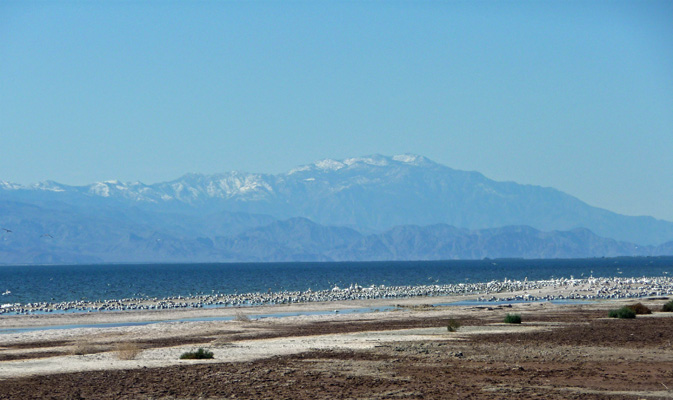 After setting up and having a bit of lunch we took a walk along the shore north towards Salt Creek.
The white "sand" here isn't sand. It's tons of small bleached barnacle shells.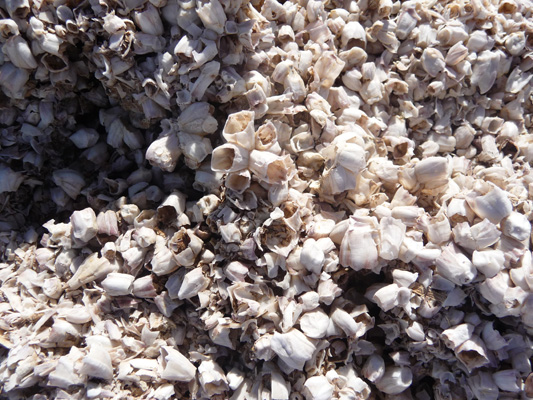 Salton Sea is essentially a land-locked extension of the Gulf of California. It has no natural outlet, meaning none of it's waters continue to the sea. Water is lost through percolation into the soil and through evaporation. Historically, the Salton Sink—as this basin is known—was a flood plain for the Colorado River. In high flow years, the sink would fill and form a lake. In low flow years, the river would by-pass the sink and the lake would shrink or even disappear. Over time, a delta formed at the southern end building a sort of natural barrier on that end. In the early 1900's, irrigation canals began to be constructed to divert some of the Colorado River water into the Imperial Valley for farming. In 1905, the Colorado broke through a poorly built canal, and for 16 months all of the Colorado River water flowed into the nearest low spot—the Salton Sink—forming the Salton Sea. Eventually, the flood was stopped and the lake stopped growing.
After shrinking for many decades it now remains at a static level with inflows from irrigation runoff equaling percolation and evaporation. But with limited rainfall and so little water flowing in, the salinity of the lake continues to rise. It is now 40% saltier than the ocean. Years ago, there were many kinds of fish here, now only tilapia can survive the salty conditions. While there are still lots of migrating birds who visit here there are concerns that as fish populations decrease the bird populations may also, since there is less to eat here. There was a California law enacted back in 2003 to restore the lake but it has gone unfunded now for many years.
There are mountains on both sides of the 'sink'. Here you can see Genevieve in front of the Orocopia Mountains to the east.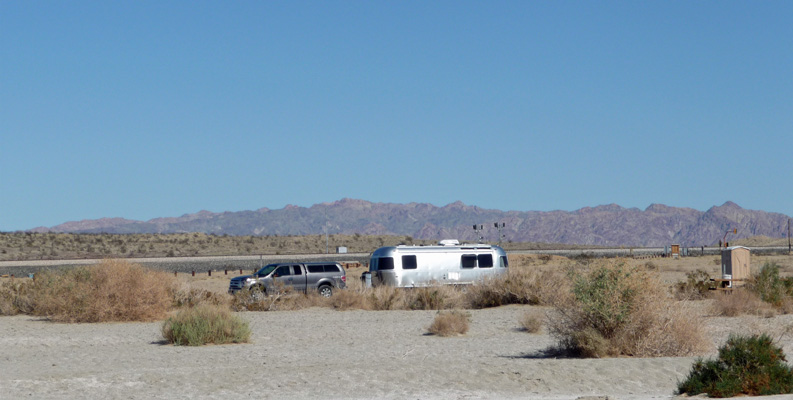 While there are many birds who use the lake as a flyway, we saw mostly gulls and white pelicans.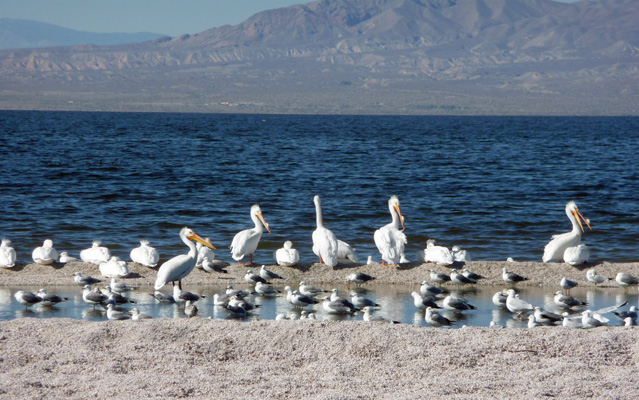 As you head up the beach the birds get denser as you near Salt Creek.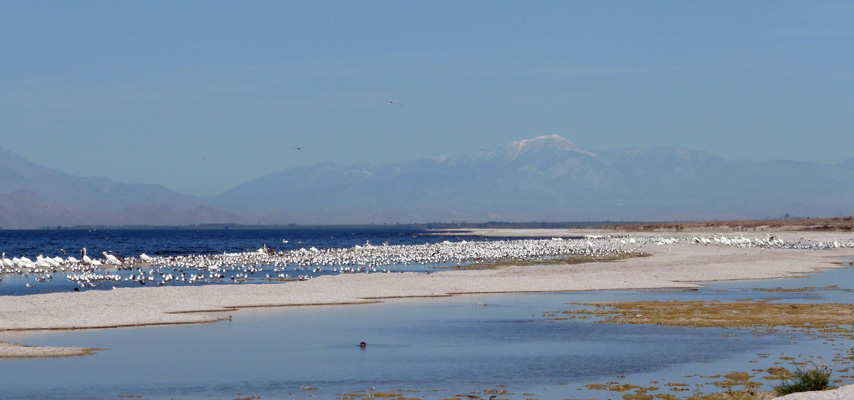 Blue water, swathes of white birds and snow covered mountains make a pretty picture, don't you think?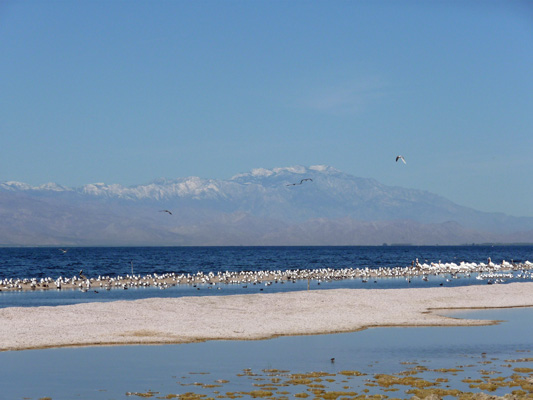 I even managed to get a shot of one of the pelicans in flight.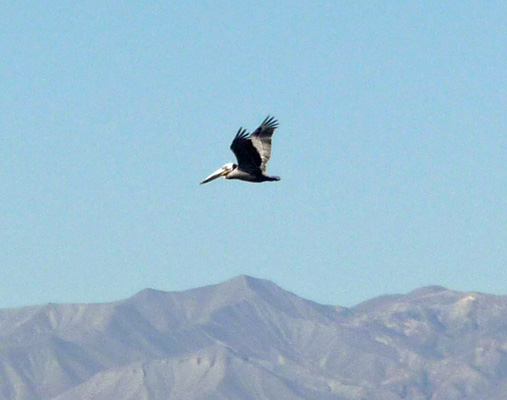 It was the day before the full moon, and I've learned this trip that that's when I can get my best moon-rise photos.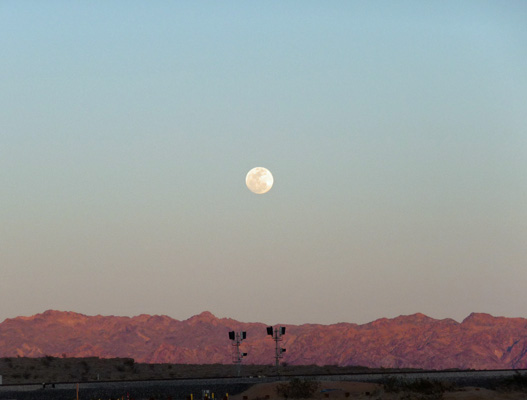 There weren't a lot of clouds but we still got a decent sunset.

Originally, we'd planned to stay here for two nights. But we decided one night was enough. You're right next to the train tracks—thank goodness they don't blow their whistles but there were LOTS of trains and frankly, it smells here. There's a lot of algae covered shallow water, LOTS of birds and their guano and brine shrimp that makes for a rather heady aroma.
So the next morning, we got up and I shot a few more photos in the nice morning light.

Here's a nice view looking east.

And then we packed up and motored on north around the top of the lake and then southwest to Anza-Borrego Desert State Park again. We found a nice campsite east of Peg Leg with a great view of the Santa Rosa Mountains and the Clark Valley.

It was early in the day still—it's not far from Salton Sea to Borrego so we thought we'd take a little drive to see some wildflowers. Walter had been keeping track of wildflower reports on http://www.desertusa.com/wildflo/wildupdates.html and there were reports of a good bloom on Henderson Canyon Road just west of Peg Leg.
As we turned onto Henderson Canyon Road from the main highway we spotted a large swathe of Arizona Lupine.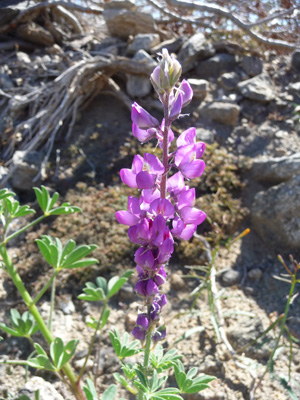 Then as we continued west, I made Walter stop again and I got out and climbed around in the sand hummocks looking at flowers.
There were lots of Dune Primrose (Oenothera deltoides).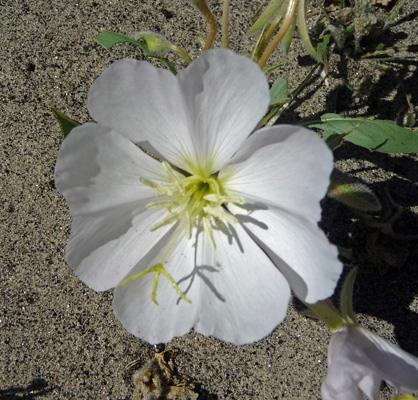 And Desert Sand Verbena (Abronia villosa) in both lavender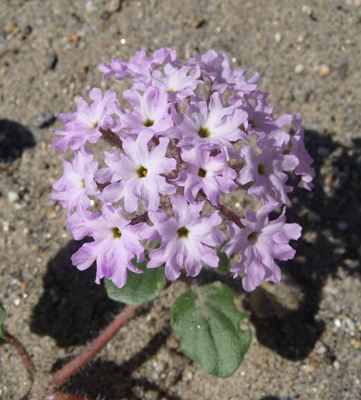 And purple.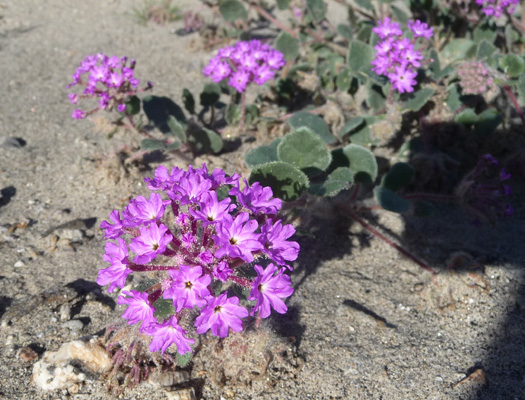 There were sweet little white flowers, whose name I don't know.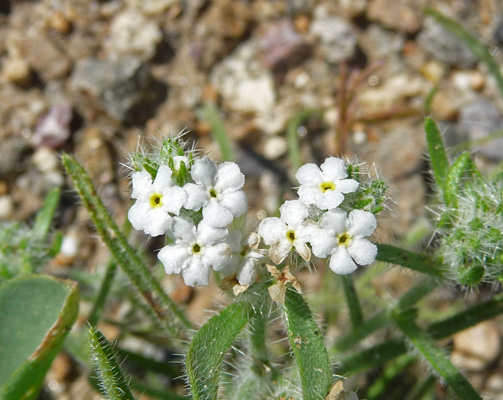 And lots of Desert Sunflowers (Geraea canescens).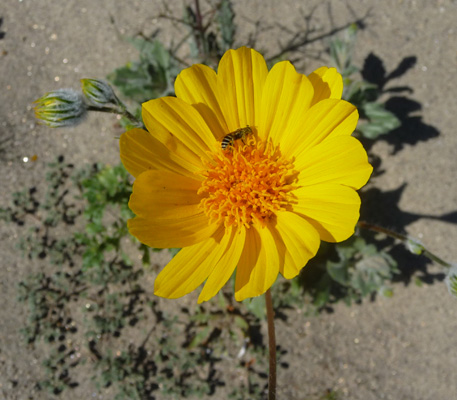 There were patches of Brown-eyed Primroses (Camissonia claviformis)—something that the local caterpillars seem to relish.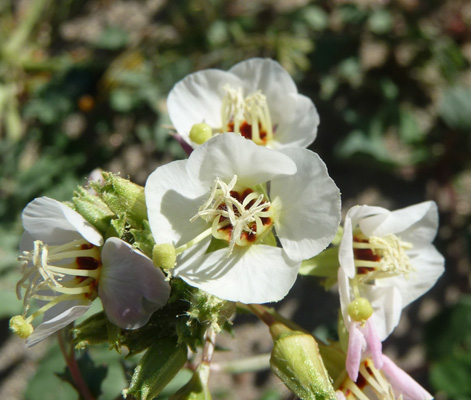 Notice the nifty little orange horn on one end. These guys can REALLY move. We saw tons of them on the road later in our stay, just hauling it across the asphalt. They're Sphynx Catepillars and they really did a number on the flowers after we left.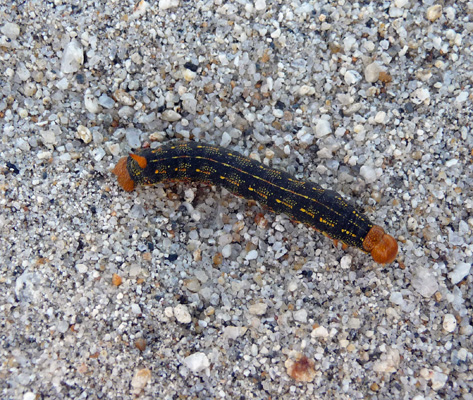 The Desert Sand Verbena grew in large patches.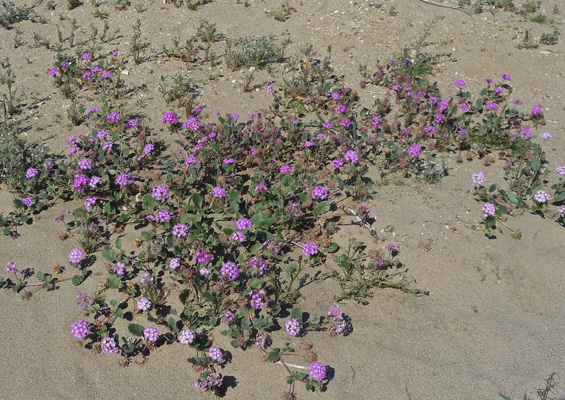 As did the Dune Primrose.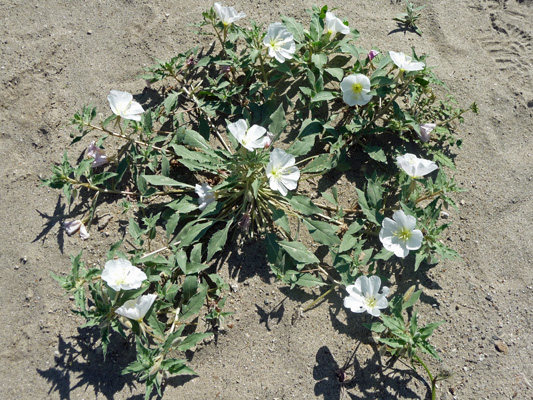 I'd read that there were Desert Lilies (Hesperocalis undulata) in bloom but that most of them were pretty small. So wasn't I surprised when I found this HUGE one in bloom.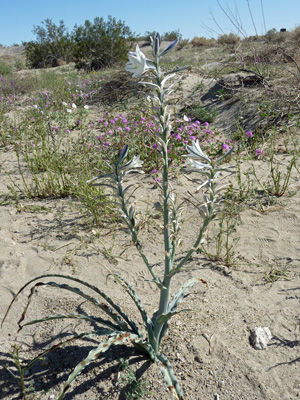 The flowers are white with touch of green.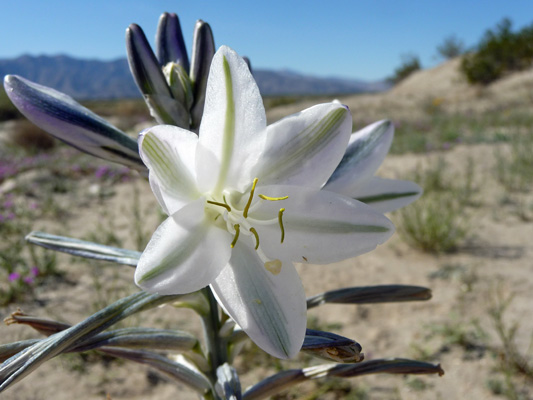 This was the only tall one I saw. All the others both here and then later on the road near the landfill where there were TONS of them, were all only about 6" to 8" tall.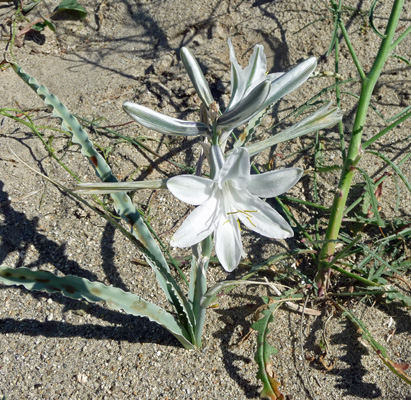 We drove on and the flowers got denser and denser.
There were lots more Desert Sunflowers.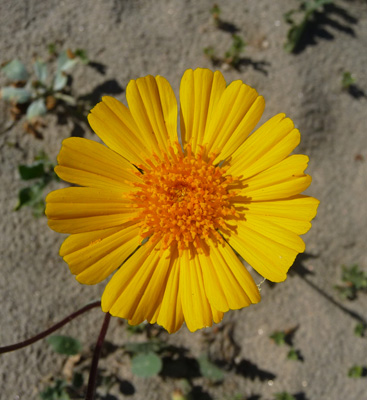 And this small shrubby plant with flowers that look like everlastings.
There were little patches of Desert Pincushion (Chaenactis fremontii).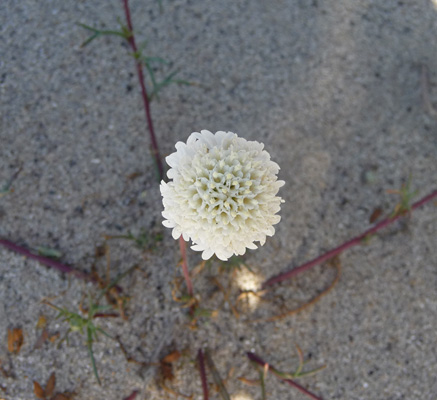 And then we came around the bend and the valley opened up filled with flowers.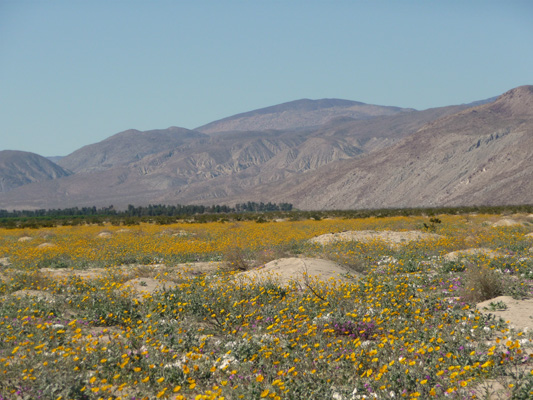 I have seen photos like this of flowers in the desert but I'd never seen them in person before.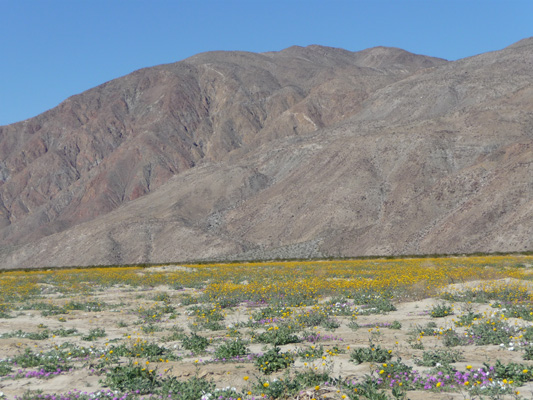 I was in heaven! And we got to drive through here several more times over the next few days and while the north side of the road stayed like this to the south it kept getting better as more and more flowers came into bloom. Wonderful!
We drove out by the landfill and sure enough there were acres of Desert Lilies hugging the ground.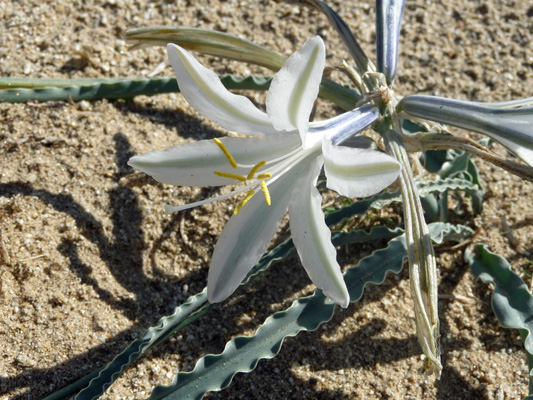 That evening we had a bit of a sunset even without any clouds.