On Tuesday December 1st, we left Deming, NM and drove east through Las Cruses to the White Sands Missile Range where they have a nifty museum and a missile park. We parked our rig outside the main gate and went into the security office to get cleared to visit the museum. They asked for our driver's licenses and they did a background check on us both while we visited the restrooms (our 4th background check this year because WA, OR and ID all did them for our camp host applications). Then they took our photos and printed out passes for us. It took a little while but hey we were in no hurry, this was our outing for the day so it didn't matter to us.
We walked the couple of blocks to the museum and visited the separate building dedicated to the German V2 rocket. After WWII, they shipped 300 railcars worth of V2 parts to White Sands so that they could study them and learn about missile technology. The V2's were 47 feet long and 5 1/2 feet in diameter. At launch they weighed about 27,000 pounds (19,000 of propellant, 2,000 pounds of warhead and just 6,000 pounds for the actual missile). They had a range of about 2,000 miles and fell on their targets at 3,500 MPH. The Germans began using the V2 in September 1942 sending about half of them to England and the bulk of the rest to Belgium. The over 3,000 V2s they used killed 8,100 people and wounded another 28,000. While the V2s didn't really change the course of the war, they did provide the basis for the US to develop their the missile knowledge to launch the space program.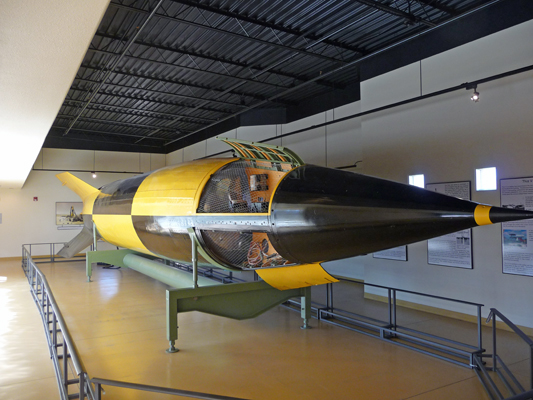 This V2 stood out in the New Mexico sun slowly deteriorating for years and then was fully restored 2002 when it was discovered that it was the most fully intact V2 left in the country. They build this nice little museum to hold it and did a very nice job curating it so that there are great signs to tell you all about the history of rocket development both in the US and in Germany and then the history of the V2. They even give you a nice view of the control system...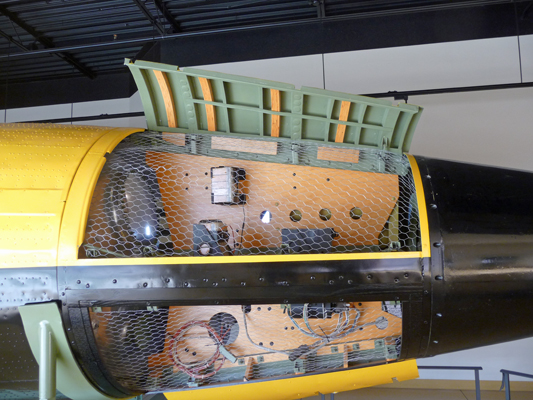 Having satisfied our curiosity about the V2, we went outside to explore the missile park. Walter worked on NASA's SPARCS (Solar Pointing Aerobee Rocket Control System) project back in 1967 (while working at Lockheed Missiles and Space). He actually went to White Sands to do the final check out before SPARCS was launched. The good news is that the launch went perfectly since he'd already gone home by the time they launched it. We thought that perhaps there would be one of the SPARCS rockets on display. But no luck. There was a lot of fun stuff though.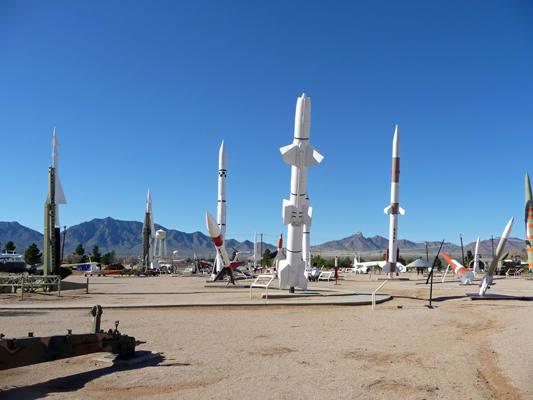 There was just one minor hitch: All the identifying signs had been removed—we assume to get them out of the sun and wind during the winter when they don't have as many visitors. So exploring the park was a bit of a fun guessing game for us. Later I did find a website that identified some of the stuff but not all of it. This lovely item for instance is a Athena Rocket, a cool air force rocket from the 1960's.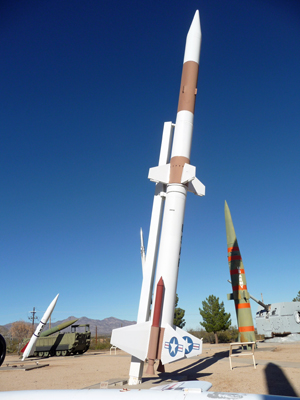 And this is strange UFO-like object is a Pepp Aeroshell used to test the parachute NASA planned to use to "soft land" the Viking on Mars in 1966. It looks like it's on the way to Mars, doesn't it? They used a rocket to send it up 160,000 feet to simulate the thin Martian atmosphere and then deployed the parachute to test it. Notice the nice empty display sign frame.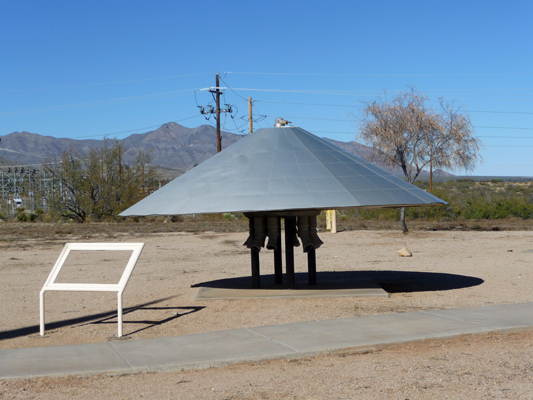 This little baby is called the Fat-Man. It was a bomb casing for an Atomic Bomb like the Fat-Man that was exploded over Nagasaki at the end of WWII. So much death and devastation in such a small package.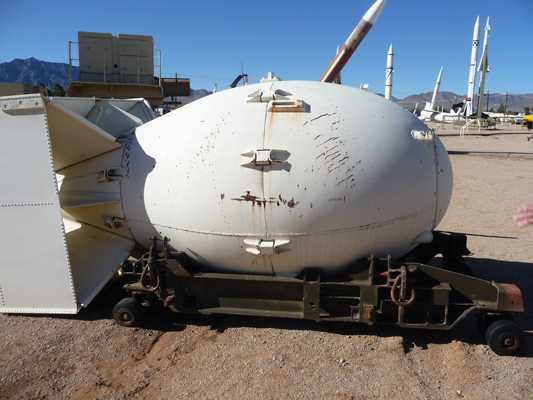 This strange antenna is a DOVAP (a Doppler Velocity and Position) Antenna developed by the Germans to track the V2 rockets.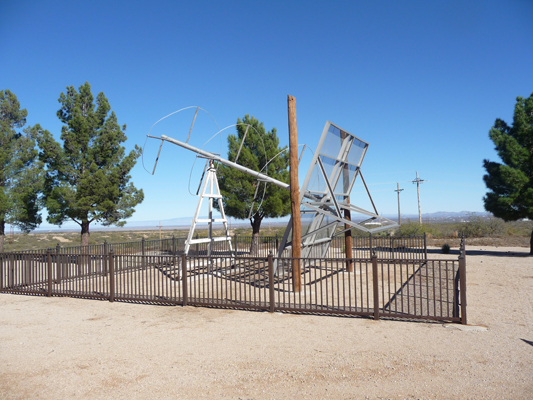 Over in the drone section you'll find QH-50A Drone which was the first (and to date the only) operational unmanned helicopter designed for use in combat.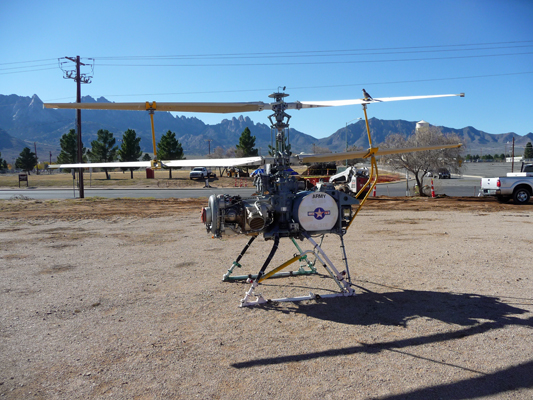 We were sure that this one must be a drone. But no, it's a target! The XM-21 was mostly engine. It was used as a target for the Nike and Hawk air defense systems under test at White Sands. The XM-21 was guided by radio remote control and its jet turbo engine propelled it to speeds up to 500 knots.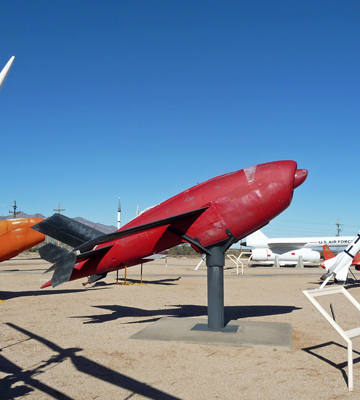 The park includes modern things like the Patriot Missile (AKA the SKUD Buster from the Gulf War) but it's mostly older equipment from the 1950's and 1960's, including a few planes like this VC-6A on the left.

When we'd had our fill we walked over to the main museum. On the way I stopped to take a panorama shot of the Organ Mountains to the west—where we'd hiked the day before at Aguirre Springs.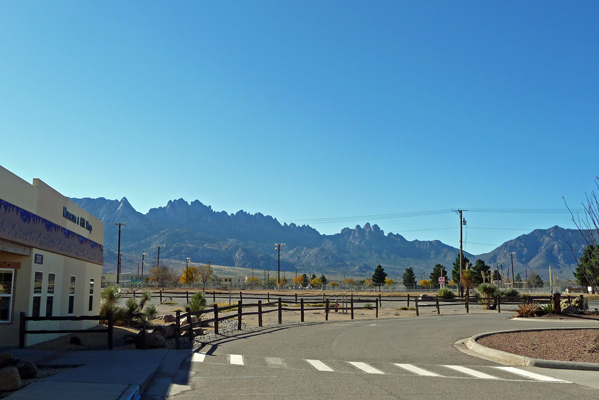 The museum is an interesting collection of this and that from the history of White Sands Missile Range. It includes everything from photos and paintings of rockets to old telephone switchboards and supplies from old atomic bomb shelters. There's a whole room dedicated to the first atomic bomb tests up at Trinity (in the northern section of White Sands). The first blast created Trinitite when sand was sucked up into the fireball, melted and then rained back onto the ground and cooled to form a whole new substance. And yes, the stuff is radioactive.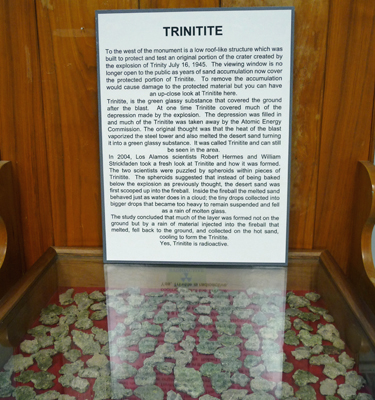 We hiked back to the trailer and discovered it was lunch time. So we moved out of the temporary parking area and into a dirt parking lot and had our lunch before we drove on to the Edgington RV Park just north of Alamogordo. This is a park that gives you 50% off with your Passport America card so it cost us $15 a night. It's not very snazzy but there aren't a lot of choices in Alamogordo so you take what you get. We couldn't see the sunset very well but we could see the hills to the east light up as the sun set.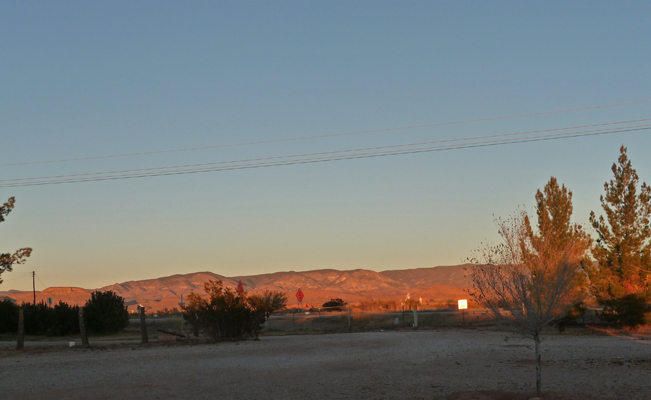 The next day we set out to do a quick errand in Alamogordo and then on to White Sands National Monument to visit the gypsum sand dunes. Only after we had finished at the grocery store did I discover that I'd left my camera behind! So we decided we'd just enjoy our visit and make you all go on-line to see what it's all about! Here's a link to some fun photos.
http://www.nationalparks.org/explore-parks/white-sands-national-monument
We stopped at the Visitor's Center and watched their great movie and then drove out their one and only road to the Interdune Boardwalk which takes you out into the dunes themselves. This is a classic nature walk with signs about the plants and animals of the area. We both enjoyed it a lot. Then we climbed back into the truck and drove on, past where the pavement ends and you begin to drive on the hard-packed gypsum sand. Gypsum is what they make plaster and wall board from. When it gets wet it turns a kind of greyish beige. But hard-packed it sure looks like it's going to be slick like packed snow—even though it's not. We found a nifty picnic area with cool ramadas that look like metal sails on sailboats and had our lunch. As long as you were in the sun, it was pleasant but in the shade with the temps in the high 40's it was a little on the cool side.
After lunch we followed the loop road out to the Alkali Flat Trail that goes out through and over the dunes. We climbed the dunes which turned out to be not that hard to walk on because there'd been rain in the last few weeks. This is super fine sand (think plaster dust) and when it's dry it makes walking challenging but a little moisture seems to have really packed it down. We hiked around for a while and I pined over the fact that there were gorgeous shadows and I was missing photographing them. The Alkali Flat Trail goes out to the low spot in the valley where water collects (and dissolves the gypsum to later form selenite crystals when it dries up). The dunes here are marching mostly northeast because the prevailing winds are from the southwest. They blow hard in the late winter and spring and the dunes just keep marching on. Around the edges of the 275 square mile dune field there are still plants that grow between the dunes. But deeper into the dunes there's nothing but miles and miles of white sand.
On Thursday October 3rd, we decided that the weather was warm enough that we'd drive north and then east over the mountains to Roswell, NM and then down towards Carlsbad rather than going south through Texas and then back north again. There is a terribly windy road with a 8,600 feet pass that takes you through Cloudcroft, which we avoided by going just a bit further north to Highway 70 to drive through the Mescalero Apache Reservation (and past their 2 large casinos) and the town of Ruidoso. It's not very exciting country but you do climb up far enough for there to be pines in amongst the junipers which was a nice change. But mostly it's horse and cattle country.
As we started out we could see Sierra Blanca off in the distance. It's 11,973 feet high and will have snow down it's shoulders come winter.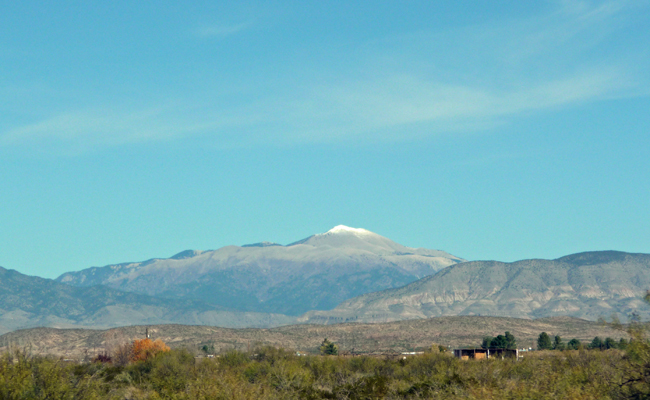 As we climbed the mountains, the view of the big mountain got better.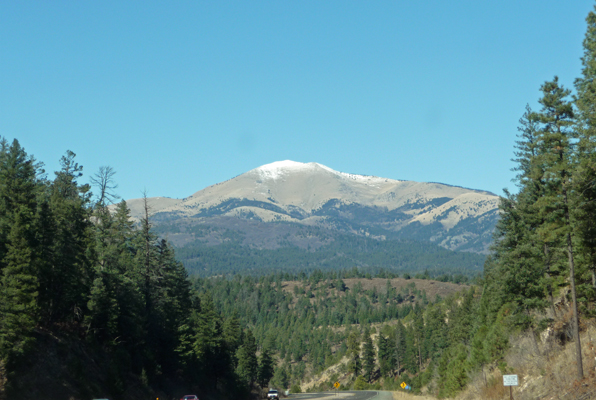 Once we got down the other side (into what sure looks like the Great Plains) we drove through Roswell. The only thing that sets it apart from any other cattle town is that there is the UFO museum that has taken over the old movie theater on the main drag. Otherwise, it was totally unremarkable. There was no big rig parking at the museum so we motored on by. As we left town we did notice that someone had put up a set of wooden figures (facing the northbound lanes) showing a farm family and a little alien. So there it is, all the dope that's left of the mysterious UFO crash of 1947.
We drove south through Artesia to the little town of Lakewood (about 20 miles north of Carlsbad) where there is yet another SKP resort; this one called The Ranch (totally surrounded by a cattle ranch). They had a first time visitor deal going where we could stay for a week for $50 so we registered for a week knowing that we probably would only stay 4 or 5 days.
This is cattle and oil country (a lot like Texas) so it's not real exciting looking. We got a spot in a nice sized lot that came with several bunnies and a covey of Gamble quail. The bunnies seem to live under the sheds at the back of the lot which sit up on concrete blocks. They're very tame and mostly just freeze and pretend not to be there when they see us.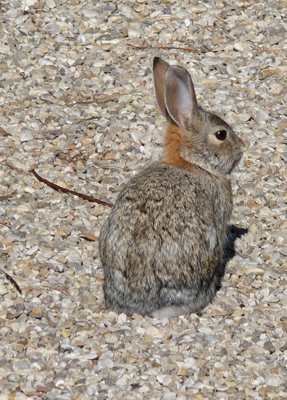 The quail mostly gather in a little park across from our spot and then come through pecking at seeds in the gravel. They make 2 or 3 tours a day and sometimes there are 50 of them but mostly it's just a group of 10 or 12.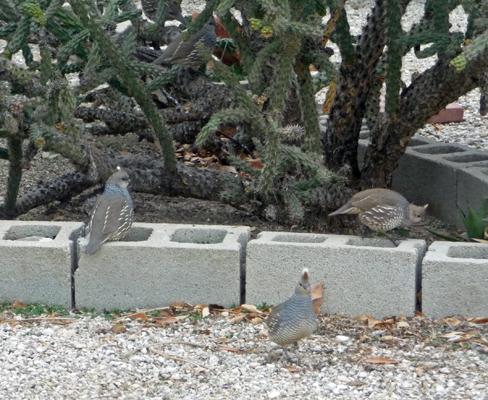 Notice the little white top knot which distinguishes Gamble Quail from California Quail.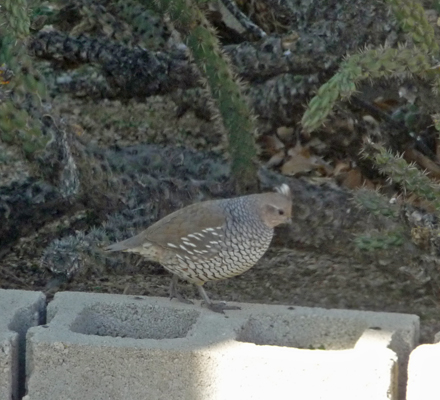 After we were set up, we took a little stroll around the park and I spied a nice metal sculpture of a road runner. I admit he looks more like the cartoon road runner than the real thing but hey, he's fun nevertheless.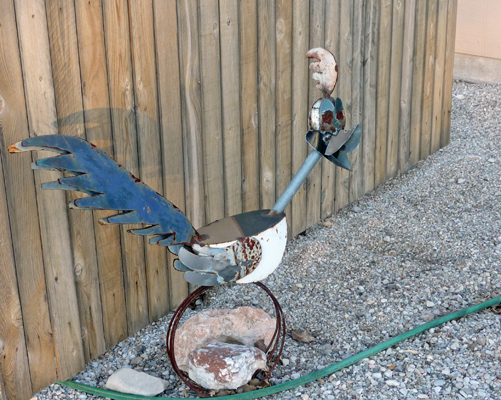 That evening we went to the park's 'Happy Hour' which turned out to be more of a meeting of the leaseholders than it was a happy hour. We got ourselves introduced and they made announcements about the next day's activity which was a cookie exchange and Christmas decorating party and then there was in a flurry of jokes and it was over. This is an older crowd than either Benson or Aguanga and it appears that there is no waiting list to buy into the Co-op since the sheds on our lot were empty. It was cold at night here (in the mid 20's) and sunny most of the day. There's really not much here so I can understand why they're not sold out since it's cold in the winter and hot in the summer.
Friday and Saturday were down days to get the laundry and grocery shopping done (and of course for Walter to watch some college football). We actually did our grocery shopping at Walmart for the first time. While it wasn't what I'd prefer it did do the job and we found a couple of odd bits of other things that we'd been searching for.
On Sunday December 6th, we drove southeast to Sitting Bull Falls, the only waterfall in southeastern New Mexico. You have to drive through oil and gas country and as a result you're met with interesting signs like this one.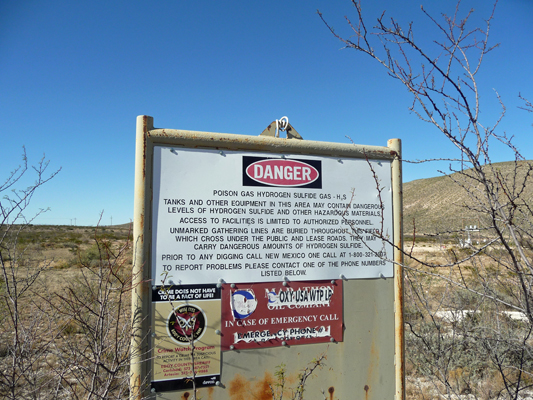 It appears that they collect Hydrogen Sulfide through a pipe system here. It's poisonous but it also smells like rotten eggs so you wouldn't be caught totally unawares if there was a leak. It's often associated with natural gas fields and since there are oil wells here I would guess they're collecting natural gas too.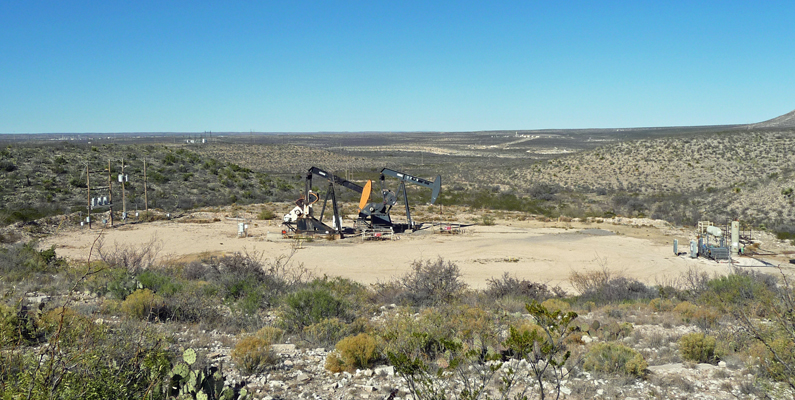 Off in the distance beyond the oil wells you can see some sort of plant.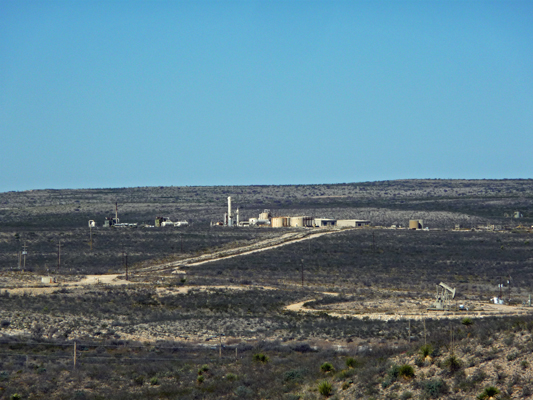 We drove by another plant similar to this one with this lovely sign.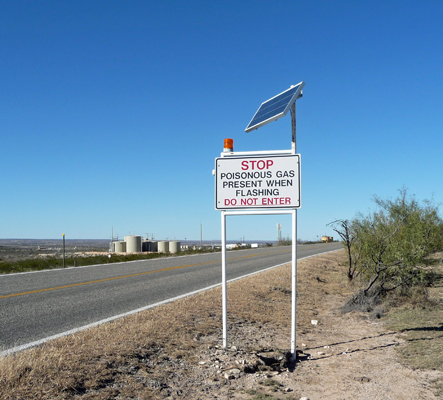 Fun, huh? Not exactly what you'd expect on a National Back Country Byway. But hey, this is the BLM we're talking about. There were open range cattle in here too. They're striking a balance between recreation, mineral extraction and cattle ranching, I guess.

As we drove along, the terrain changed and the hills displayed layers of sandstone.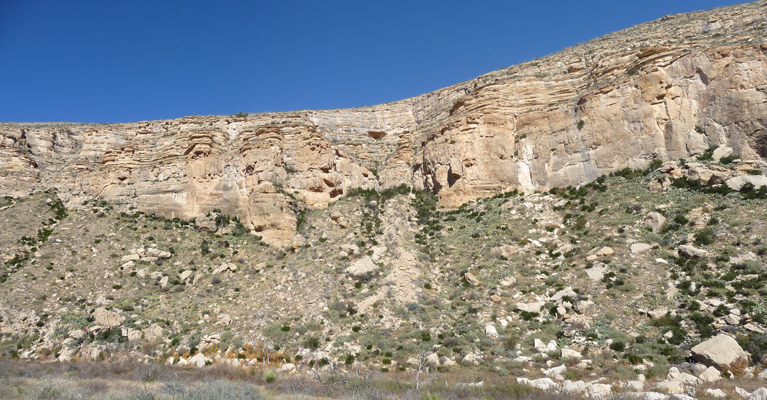 Just before we finally reached Sitting Bull Falls we came to this lovely formation. This whole area was once covered with what is called the Delaware Sea (250 million years ago). You have an area that has oil and gas with sandstone over it and then more sand all created during the time of the Delaware Sea. Eventually the whole area was uplifted to varying degrees—some just rolling hills/prairie others into real hills and then everything was eroded by wind and water.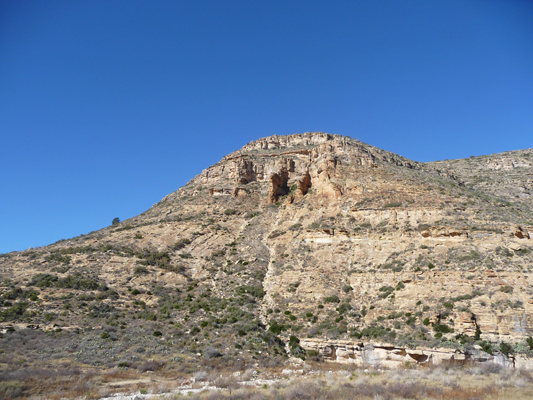 The Sitting Bull Falls area was developed by the CCC in the 1930's. In addition to developing the trails in the area they built a couple of nifty stone picnic shelters too.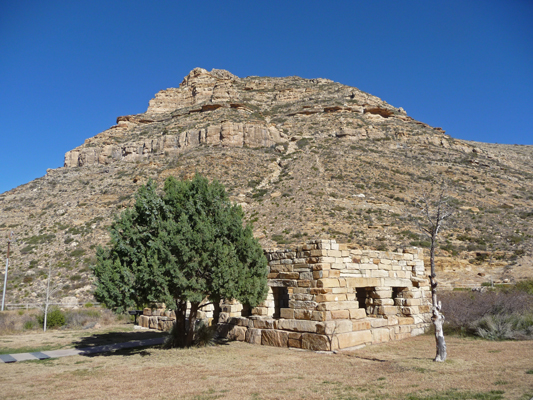 We hiked the short paved trail to the viewing platform across from the falls.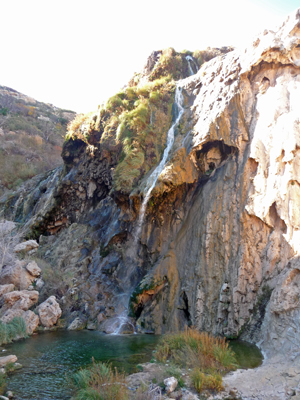 The area to the right of the falls is all travertine, laid down by the water as it falls. In fact there is supposed to be a large cave behind the falls that you can only access on a ranger-led hike that requires a permit.
We took the stairs down to the bottom of the falls for a closer look.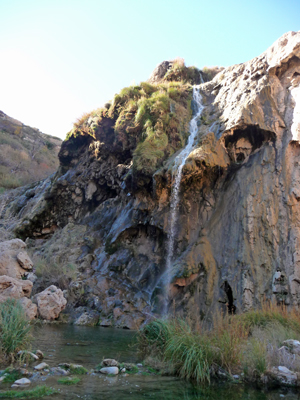 The pool is crystal clear and is a very popular swimming spot in the summer. It was cold in the shade but we spent a little time exploring trying to see where the cave entrance was. There are lots of signs forbidding access over to the left so maybe it's that-a-way. You can see how clear the water is (and how much fun the reflections are).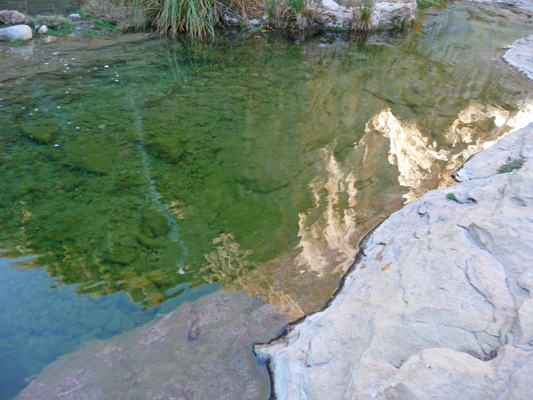 We hiked back through the picnic area and stopped to read all the nifty signs about the geology (in English and Spanish).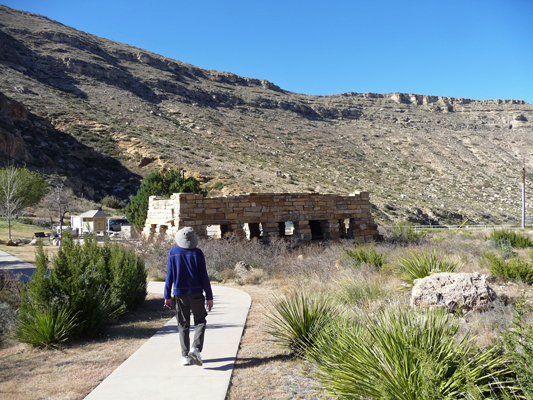 And then I noticed that the whole hillside over by the falls appears to be travertine, no doubt laid down over the millennia as spring-fed water heavy in minerals flowed over the falls.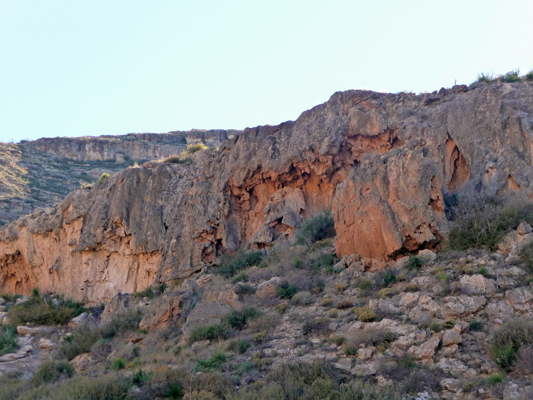 No one knows why the falls are called Sitting Bull Falls—no doubt someone with a lot of imagination and a talent for tall tales did it. But in any case, it was a lovely outing and the sound of running water was a pleasant break after days in the desert.
From here we drove on back to the town of Carlsbad to visit the Living Desert Zoo and Gardens State Park. This is a little zoo that focuses on the animals and plants of the Chihuahua Desert. They have created a nice walk through each of the ecosystems of the area displaying the plants of the area with enclosures for the animals sprinkled in. We walked the trail on the way to the aviary and passed this fun sculpture of a turkey vulture.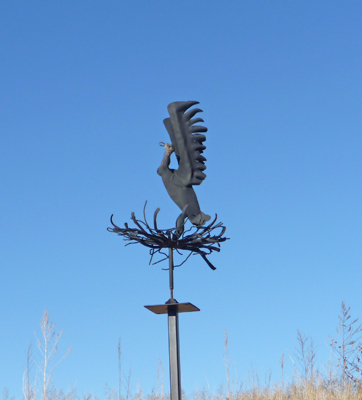 The aviary was mostly full of doves but they did have a pair of road runners and one of them stayed put long enough for me to get an actual picture of it. Usually they are moving so fast, there's no hope of me catching them.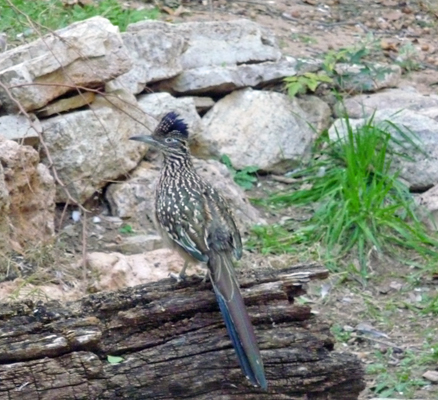 There were javelinas hiding at the very front of their enclosure. These guys are not related to wild pigs even though they look like them. They are collared peccaries.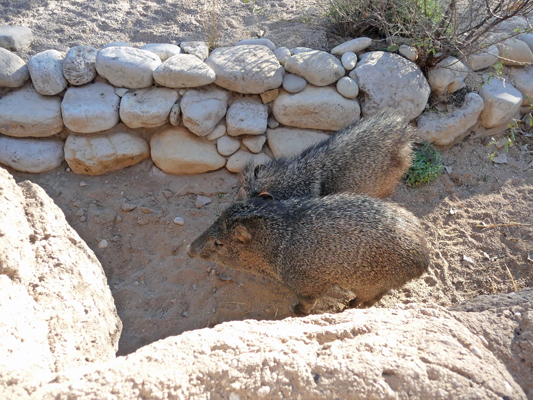 Martha, the black bear, was sitting in her cave when we went past.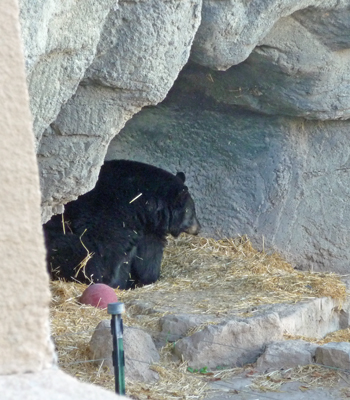 The grey wolf was out but he was trotting a circuit of his enclosure and moving so fast I couldn't catch him. The mule deer buck however at least stayed still long enough for me to capture him. They have elk, bison and antelope too.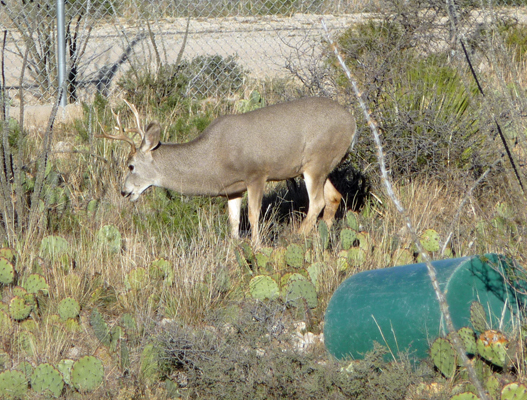 When we wound our way back, Martha was out in the middle of her enclosure.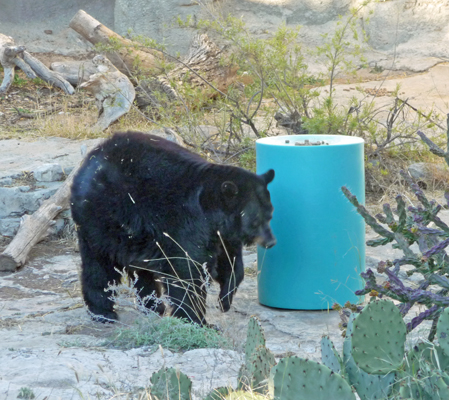 But the great treat was that the cats were awake in the late afternoon. There was a young cougar who chased around and stopped for a moment to pose.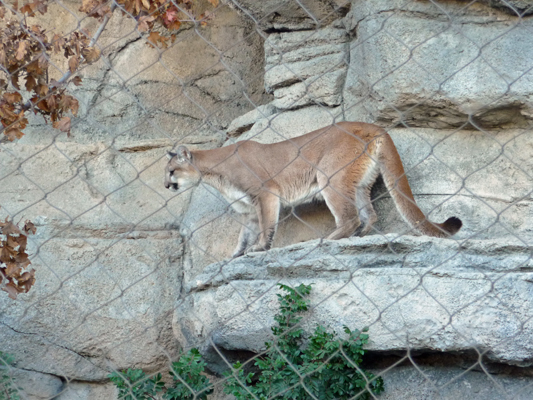 And there was a larger cougar lolling near the fence not paying any attention to junior but instead giving herself a good bath.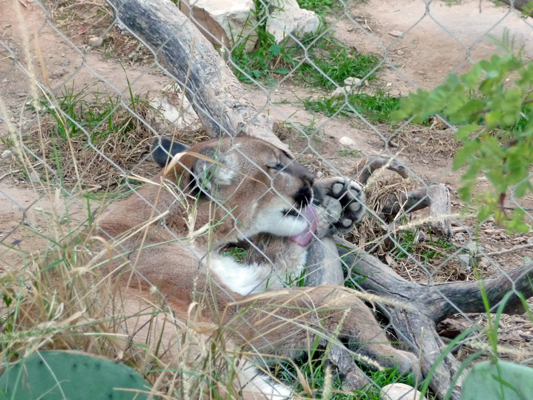 In the next enclosure there were bob cats! Clearly a mom and two of her young.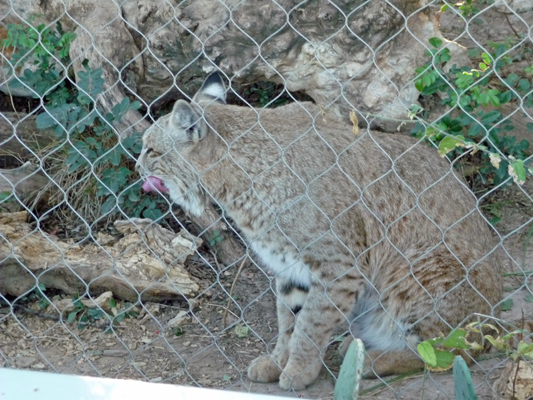 It was bath time there too.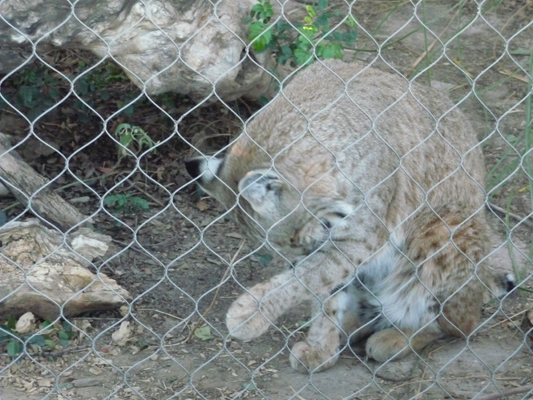 But the kids were much more interested in running around so they were harder to catch.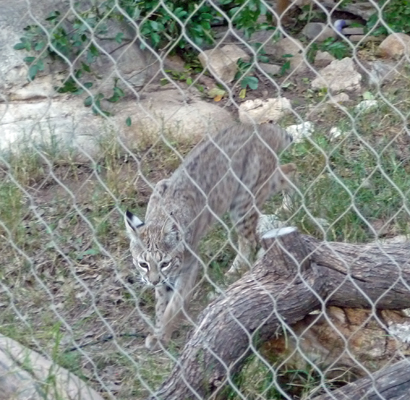 But after a ton of shots I did get one a bit closer up.
We took Monday off to do maintenance around the trailer (and for me to process these photos and write this missive). We had a few high clouds and temps in the low 60's. Those clouds made for a nice sunset.
It even colored the sky to the south.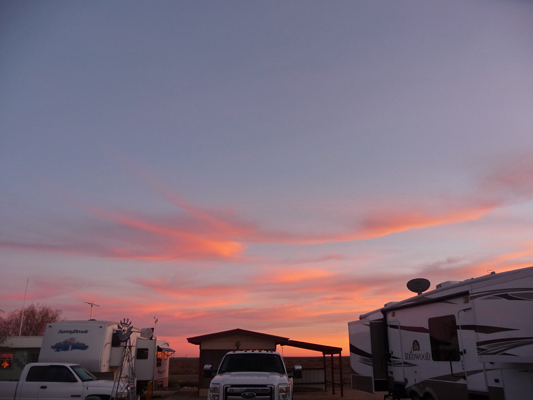 Our big news is that our camp host schedule for 2016 is full and complete. We'll be at Lake Cascade in Idaho from mid-May until mid-July; at Harris Beach near Brookings, Oregon (on the south coast) in August; at Wallowa Lake in eastern Oregon in September; and at Cape Blanco's Hughes House on the southern Oregon coast in October. We tried to get a position in Washington but nothing worked out. Maybe next year.
We'll head south on Tuesday December 8th to Carlsbad Caverns and then Guadalupe Mountain National Park before we head further into Texas.