On Thursday October 29th, we left Battle Ground Lake State Park outside of Vancouver, WA and headed south on I-5 into Oregon and then westward over to Fort Yamhill State Heritage Site. We found the camp hosts there and saw their site and talked to them about hosting there. It's lovely place but there's really not much there to see or to give a tour of. They've moved one old officers quarters in near another small cabin (from another historic site) and the rest of the site is open rolling hills with signs denoting where various buildings once were. Just as we were getting ready to leave the ranger showed up and we talked to him. It's a pretty site but both of us agreed afterwards that it was way to quiet a place and that'd we probably be bored there. So we moved it way down on our list of possible places to host.
From Fort Yamhill we drove on back over to Salem OR and then up past Detroit Lake. We camped there in early August last summer and the lake looked fine. But this year it is empty. Not low. Not drawn down a bit. It was empty. All it was was mud and tree stumps with a small river running through it. Shocking. We checked on line later and it was very low starting in May so I don't know how much of it was due to low snow pack and how much it was that they drew it down for some reason in the spring and it hasn't refilled. In any case it was creepy.
We continued on over the passes and down through the small town of Sisters, OR to Sisters/Bend Garden RV Park. We'd had bit of rain in the morning on Thursday but it got nicer as the day went on. We had mostly clear skies (but very breezy) that night in Sisters and it was clear and lovely the next morning. This is an expensive place to camp during the season but their rates are reduced in the late fall so we only had to pay $41.20 to camp there! As we got ready to leave on Friday morning I stopped and took a photo of the pretty pond that was across from our spot.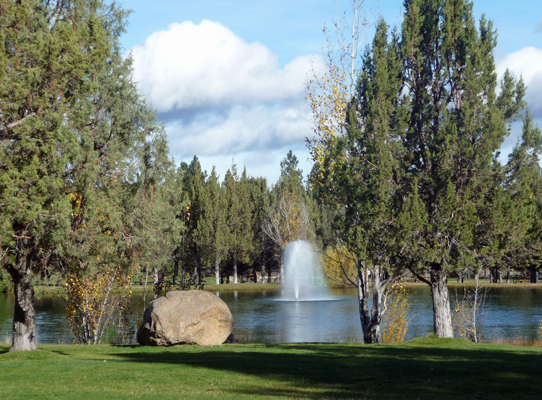 As I climbed into the truck I spied a line of waterfowl (ducks and geese) following a little girl. She had duck food, and they clearly knew it. Her sister joined her and the birds lined up to be fed.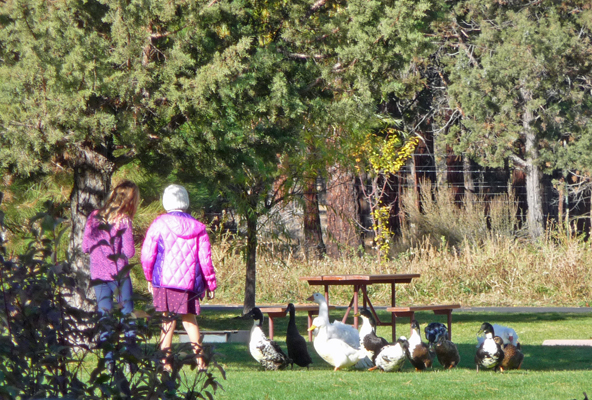 We drove south from Sisters, through Bend and La Pine and then turned southeast through the Oregon Outback until we reached Lakeview, OR. This is dry country but there are a series of big wide shallow lakes that appear in wet years (mostly in the spring or early summer) and the map and the GPS show lots of blue spots on the map. Instead we saw lots of dry lakebed though we did see one lake with some water around the edges that was dry in the middle!
We pulled into the Base Camp RV Park in Lakeview only to discover that our cell phones didn't work here on Highway 395 in the sticks. We put the address of our friends, Bill and Marti Shrader, in the GPS and sure enough they were only about 1/2 mile away so we drove over to their house instead of trying to find a pay phone to call them.
We visited for a while and then they took us into the metropolis of Lakeview (population 2,294) to the 40th Annual United Methodist Church Harvest Dinner. We turned in our tickets and got our numbers and got to wait in the sanctuary until there was space down in the basement meeting hall. It was a mighty spread including turkey, ham, scalloped potatoes, lots of salads and a whole table of cakes and pies. We got to meet a few of Bill and Marti's friends and got stuffed with what sure tasted like Thanksgiving dinner to us.
The next day, I foolishly left my camera behind while we made a tour of the area northeast of Lakeview. We had lunch in the store/café in the little town of Plush which has a two room school house where they're only using 1 room because they have so few kids in the school. Current enrollment: 5. The store has a couple of shelves of books in a corner which serves as the town's library, plus groceries, the café/bar and a display case of Oregon Sunstone jewelry. The Sunstone if the Oregon State gem and is mined in the hills northeast of Plush. It's a form of feldspar and runs from pale pink to nearly ruby red.
From here we drove out to the Warner Wetlands which were dry as a bone (there is a serious drought going on the Northwest and dry areas like Lakeview feel it even more) and then up the mesa to the Hart Antelope Refuge. We didn't see any antelope but we did test the waters in the hot springs (I'd say about 102) and get some great views of the valley. We returned via the little burg of Adel where we stopped at the café there where the walls are lined with deer, antelope and elk trophies—plus a moose and a caribou and a HUGE collection of branding irons and other cowboy paraphernalia. The local rangers were in the bar watching football and drinking beer.
We got back to our trailer for a little break before dinner and got a nice view of the sunset too.
We had rain that evening (after a huge dinner of prime rib and filet) and it was in the low 40's when we broke camp in a drizzle with about 10 MPH winds—brrrr. We were getting out of town and heading west because there was snow in the forecast for Lakeview the next day. We drove back over the Cascades through Klamath Falls, OR (Upper Klamath Lake had lots of water in it) and on to Joseph Stewart State Park not far from Medford. Our plan was to camp there and talk with the host coordinator about camp hosting there next October. Oops, it turns out the campground closes there on November 1st. And of course, it was Sunday November 1st. So we had lunch, regrouped and drove to Valley of the Rogue State Park and found a nice pull through site for the night. Valley of the Rogue has laundry facilities (very unusual for a state park) and my plan had been to do the laundry. But it turned out that the laundry facilities were in the two campground loops that had been closed for the season so that took care of that. The next morning when we walked the loop before we set out to leave, we came across two Airstreams parked across from one and other. We stopped to talk and exchanged info on campgrounds, internet options and heading south for the winter.
Then we headed southwest to Brookings, OR (you drive down to the California border almost to Crescent City and then head north to join Hwy 101 on the coast). From Brookings we drove just a few miles following the north shore of the Chetco River to Alfred Loeb State Park nestled along the banks of the river. We drove the loop a couple of times and found a nice spot in amongst the Oregon Myrtle trees that fill the park. Oregon Myrtles are also known as California Bays. Their leaves are interchangeable with the bay leaves you buy at the store for cooking. The ground in the park is littered with leaves so everything has a wonderful spicy camphor/cinnamon smell. I simply loved the smell of the place.
Tuesday November 3rd, there was a small chance of rain so we decided we'd do the laundry and grocery shopping and save the next day for a hike. There's a decent Laundromat near the harbor and we set the clothes to washing and then headed into the main section of town to the Fred Meyer to shop. Oh boy, the parking lot was FULL. It turns out that the first Tuesday of the month is Senior Day and anyone over 55 gets 10% off most of their purchases. This is prime retirement country and the lot was full of cars from both California (the border isn't that far south from here) and Oregon. After buying gas (only $2.28 a gallon) Walter dropped me off to start shopping while he circled the lot to find someplace to park. Inside, it was full of older folks with slow moving carts. It was a challenging situation to shop in but we got it done and returned to the Laundromat to put the clothes in the dryer. There was a cop talking to a lady out in front and while I loaded our clothes into the dryer, he cuffed her and put her into his car. I don't think I've ever seen this happen in the flesh before. Her friends were stunned and scurried about asking how long she was going to be in jail and taking care to get her her meds and care for her dog. I sounded as if this wasn't an unusual occurrence for these folks. Sigh. The joys of Laundromats.
The clothes got dried and folded and we headed north of town to Harris Beach State Park for lunch. The sun was out but it was on the cool side so we ate in the car with this great view looking northward. The big rock on the left is the largest off shore island in Oregon (clearly they're not into big islands here) and is a nesting place for puffins.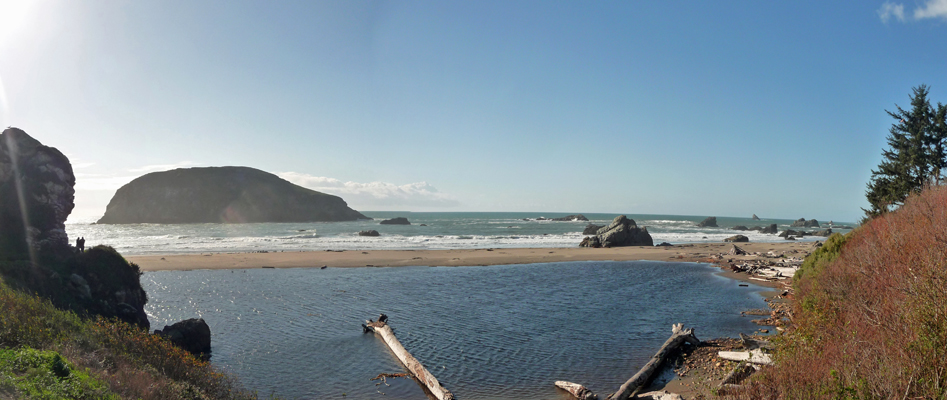 After lunch we took a little walk through the Day Use Area and I shot some photos. The view south is really sweet.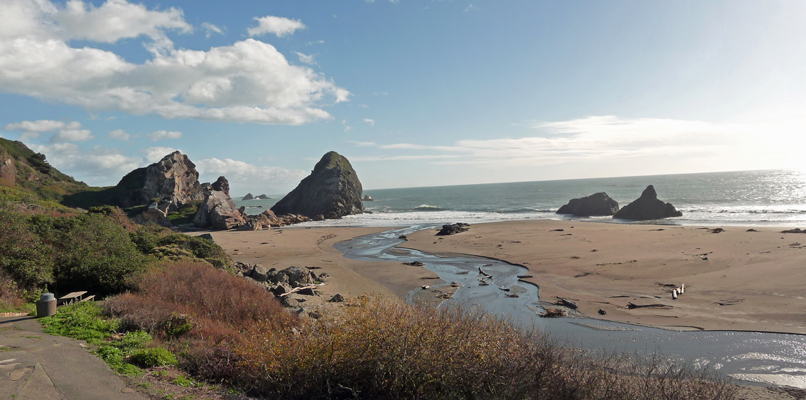 With a close up you get a nice 'shot gun' view through the big rocks.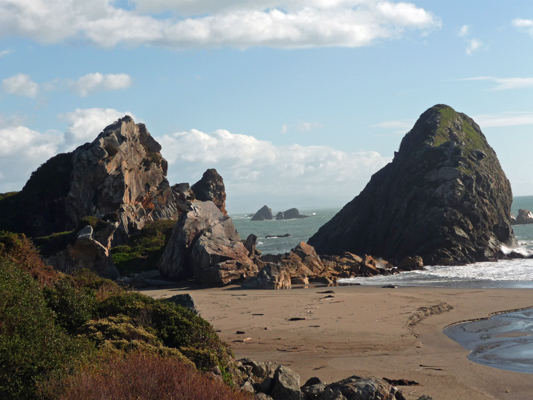 We climbed out onto a big rocky area (where you saw the folks standing in the first picture) and I shot this view northward.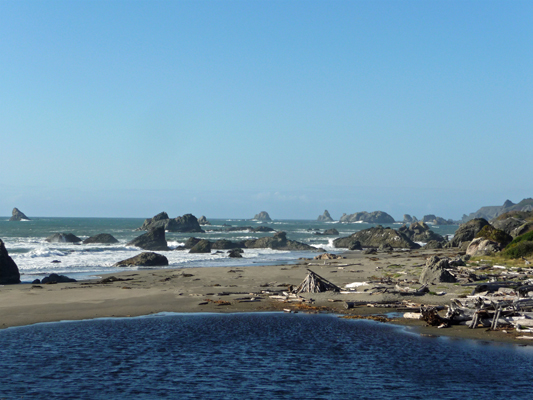 There was a flock of pelicans bathing in the pond in the foreground but they took off as we got closer and stood out on the sandy spit.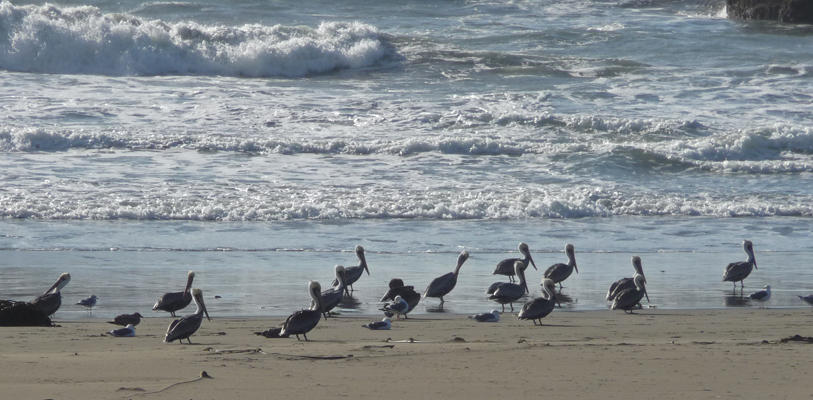 In talking with the host at Alfred Loeb, we'd heard that the host coordinator would be in on Wednesday so we hustled in the next morning to try to see her. But no, it was her day off. So we got her email and phone number and left a message to try to set up an appointment for the next morning. On our way out, we stopped and I took photos looking west from the Day Use Area of Bird Rock (aka Goat Rock) since it was to bright in that direction the day before.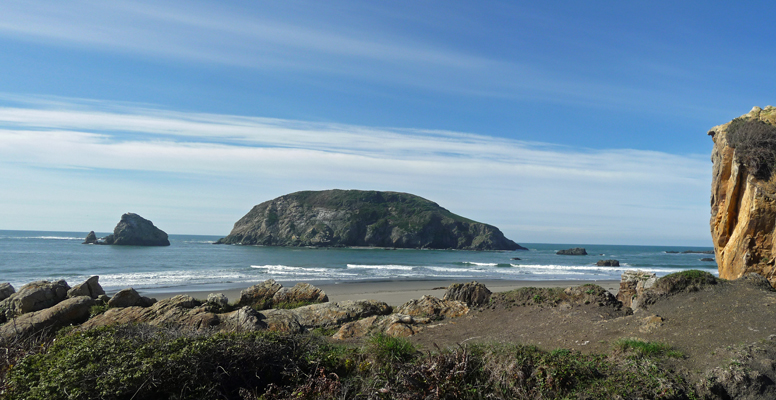 There was a sea gull out posing on the fence posts and he was so tame you could walk almost all the way up to him.
And I got yet another great shot looking north. Too bad it was so darn windy in that direction.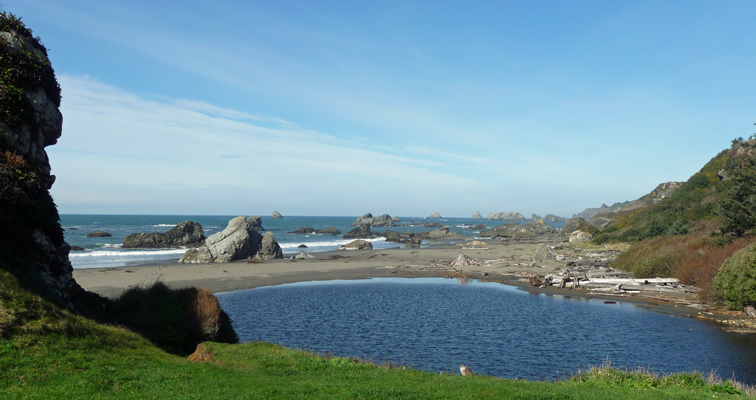 Having completed this little journey we drove back to Alfred Loeb and took the Riverview Trail from the Day Use Area. It starts in the Oregon Myrtle grove where there are some really big old trees.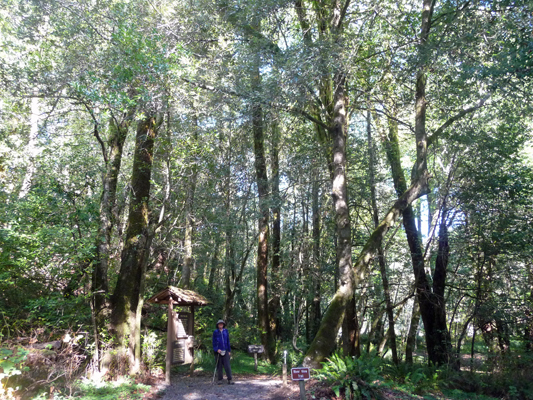 The trail winds through a lovely forest with Oregon or Redwood Sorrel (Oxalis oregana) covering the ground.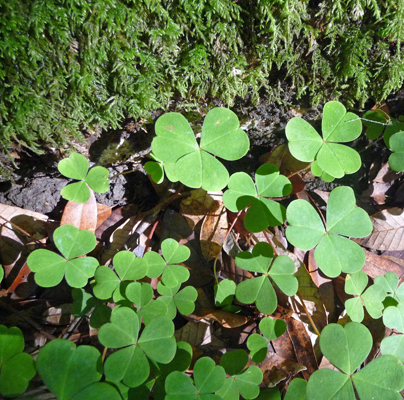 There were tons of sword ferns and in areas where there were seeps down the hillside there were big clusters of Maidenhair Ferns.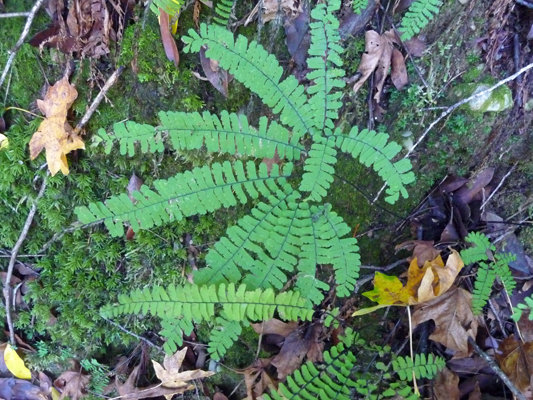 There was a fresh new rock fall across the trail. It was pretty big and the rocks were loose and rocked back and forth when you stepped on them. We very carefully crossed it (and reported it to the ranger when we got back). When we talked to the ranger about it the next day she said that it was the biggest she'd ever seen on the trail in the 16 years she'd worked there. It appears a leaning tree came down and took the side of the hillside with it.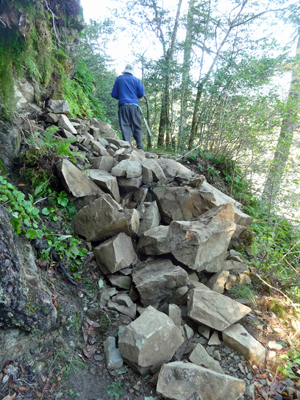 The tree trunks in the darker portions of the forest were covered with licorice ferns.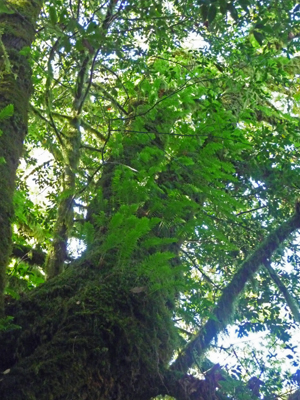 And there were several nice little wooden bridges to cross.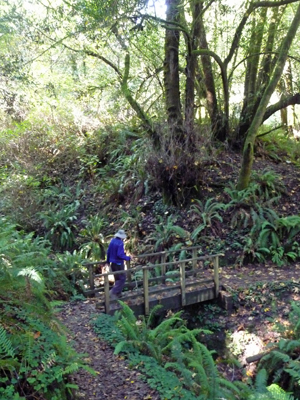 For most of the trail you only get glimpses of the Chetco River through the trees but just before it turns up hill to meet the Redwood Nature Trail there's an opening in the trees where you can see the river.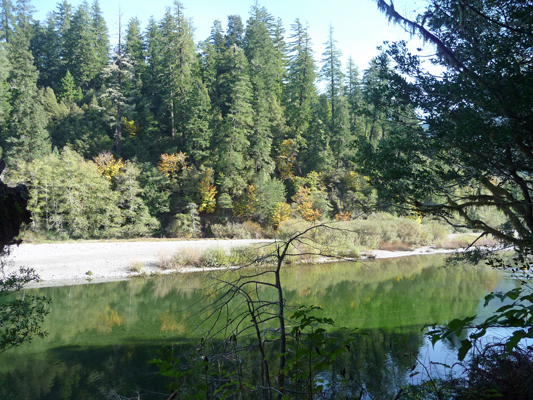 The Riverview Trail ends across the road from the Redwood Nature Trail. The Riverview Trail is in Alfred Loeb State Park but the Redwood Trail is on Forest Service land. The Redwood Nature Trail takes you through the northernmost redwood grove in North America. It's a relatively young grove with the oldest trees being only about 200 years old. There are lots of seedlings and very young trees showing it's a very healthy new grove on the edge of the redwoods natural range.
The trail winds slowly up hill along a creek with pretty little cascades.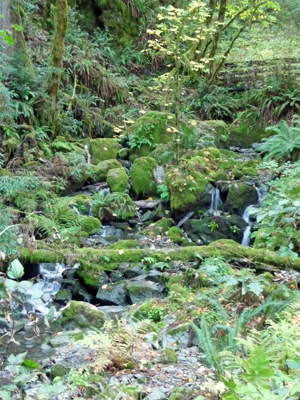 Just before you cross the creek on a nice bridge and you have a choice whether to go uphill to the right or left. Since it's a loop trail we headed right across the bridge.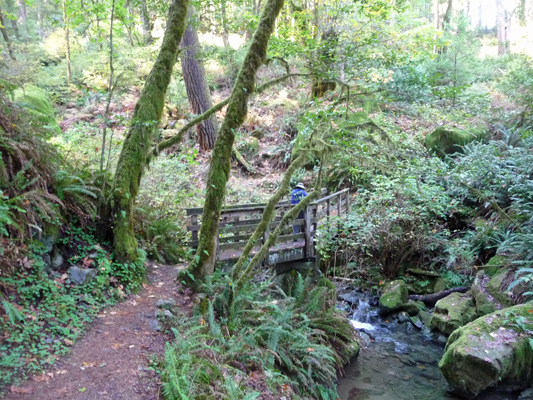 The trail takes you steadily up hill through the grove.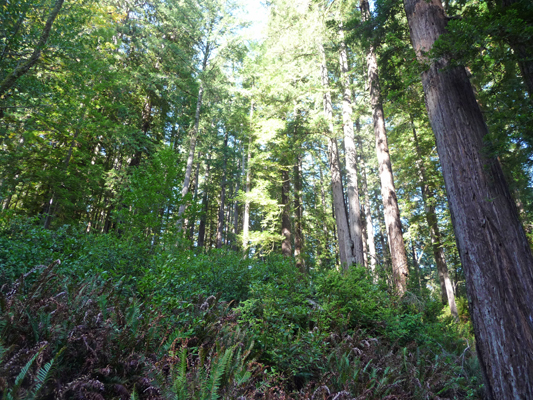 At one point we came to a decision point (not on the map of course) and opted for the wider of the two trails. It continued to go up and up.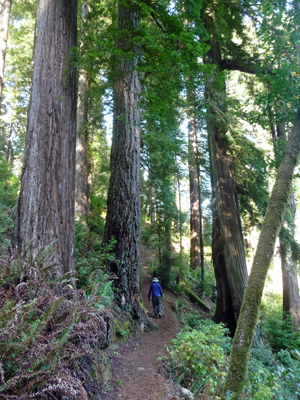 Eventually we began to doubt that we were on the correct trail. We thought we should have crossed back over the creek by that point, so we turned around and went back down to try the other trail option. It petered out, so we know now that we were on the right track but hey, we weren't interested in climbing back UP again so we just went on back the way we came. There was fungus here and there.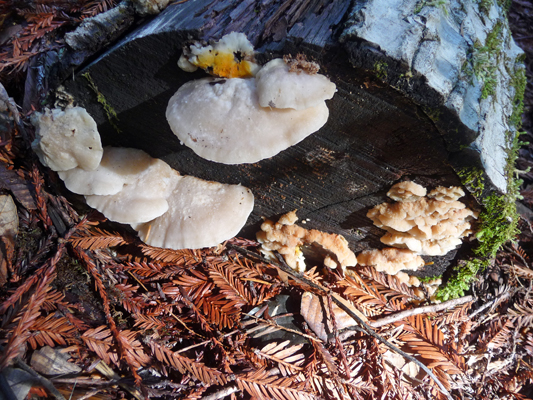 And gorgeous moss on the rocks near the creek.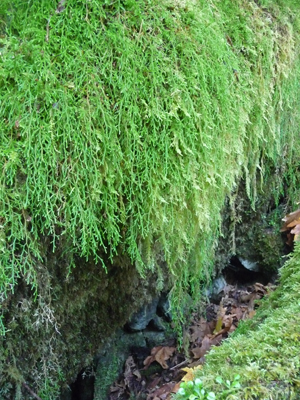 When we got back to the cascades, Walter found a nice bench and I tried taking photos of the water.
We opted to walk back on the North Chetco River Road rather than take the Riverview Trail back because we didn't really want to climb over the rock fall again. It was a little shorter than the trail and we met very little traffic.
Thursday morning November 4th as we headed out to go south, we drove back out to Harris Beach and used the dump station at the Rest Area across Hwy 101 from the park and then hiked over to the office. And we managed to have a great talk with the host coordinator. It looks like she'll have an opening at Alfred Loeb for us in August 2016 but we're still waiting for confirmation.
We drove south down into the California Redwoods on Hwy 101. The road winds in and out of the Redwood groves and gives you glimpses of the coastline too.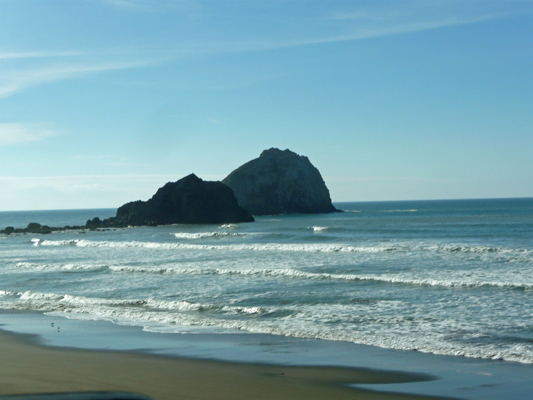 We had a gorgeous day for it and I even managed a half decent photo of the redwoods through the windshield as we drove through one of the groves.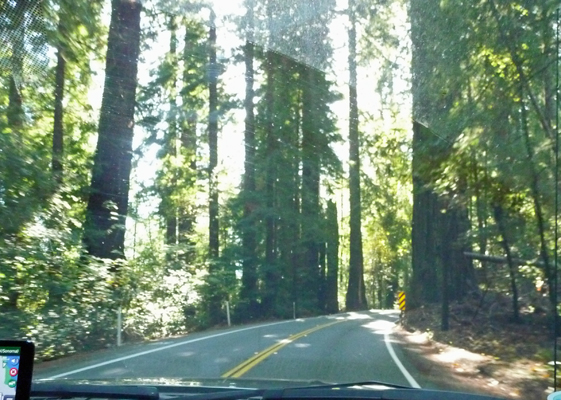 We spent the night on Thursday November 5th, at Giant Redwoods RV Campground in Myers Flats in among mature redwoods and huge California Bays (aka Oregon Myrtle when you're in Oregon). The next day we continued on down to Santa Rosa to visit with friends.