Sunset on Wednesday night August 26th was an interesting one. The sky lit up to the east of Sugarloaf Campground where there were clouds billowing up.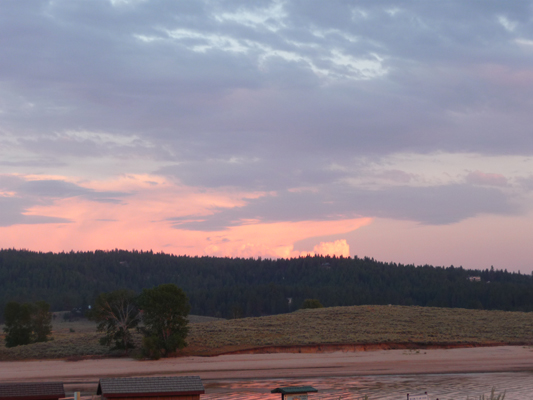 From the eastern section of the campground you could see the color reflected in the last little bit of the back bay.

And down near the end of the boat ramp parking lot too.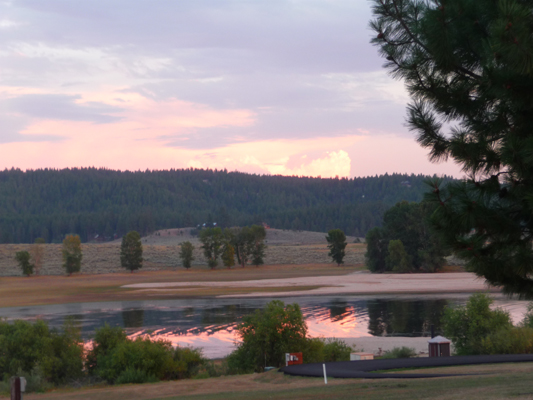 At the boat ramp parking area itself, it was prettier in the water than it was in the sky.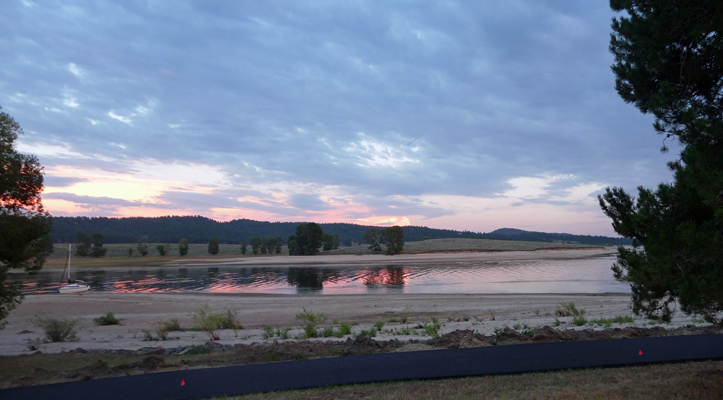 On Thursday the clouds began to come in and the lake turned an odd jade color. The winds were pretty strong and did a good job of blowing the smoke out of the valley.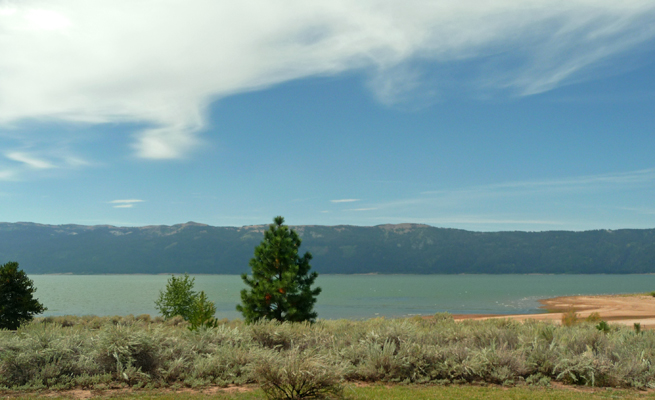 The bad news was that these same winds caused the fires northwest of McCall (the New Meadows Teepee Fire) to 'blow up' and grow a huge amount in only a few hours.
The almost full moon rose Thursday night and I caught it with a little pink cast.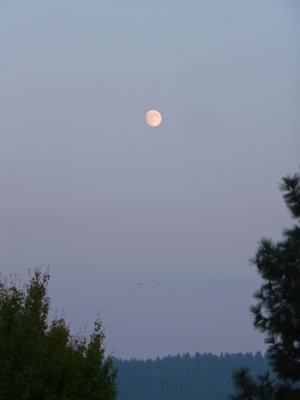 I'm always thrilled when I can catch the man in the moon, especially when it's blushing like this.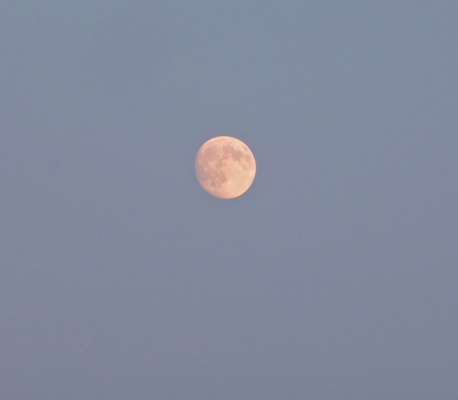 Our last weekend at Lake Cascade State Park was a quiet one. We had six campsites fill on Thursday night. The sunset was kind of pretty too but it was too cloudy to see the moon.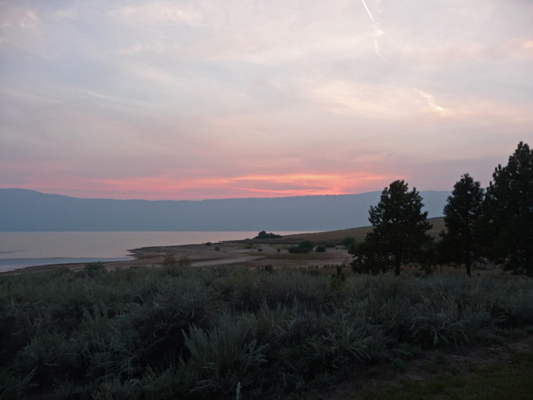 Friday we puttered around and I washed the truck. There had been enough ash fall here from the fires that it had begun to look pretty dull and grey. It all came off pretty easily but I was amazed how quickly the water got black. That evening another 4 campsites filled. That meant we had less than a 1/4 of the campground filled. It was quiet and peaceful. People were having fun and were spaced out across the campground so no one could actually bother anyone else—even better. They all settled down on their own by 10:15 every evening too. Neither one of us minded at all having a few days of quiet to rest up after a full summer.
Saturday we drove up to McCall one last time to do laundry and grocery shopping. While the dryers were doing their thing we took a short walk around the back streets of town. The commercial part of town stops about 1/2 block back from the main drag and older houses start. We found the high school where we could here folks cheering somebody on.
While we were in town, I managed to get an ink cartridge for our printer so I finally got to print out my letter of complaint to the president of Airstream. We ran one last test on the Baraldi stove vent fan. I turned 3 burners on high (with no pans) and the fan turned off in 1 minute and 50 seconds. That's way worse than our original Baraldi which lasted 10 minutes in that test. Ah well. I have a sense of relief at this point having finally mailed the darned thing, knowing that clearly the Baraldi can't handle the heat of 3 burners.
We had sprinkles off and on all day and late in the afternoon the sun broke through the clouds and we had a gorgeous full double rainbow appear to the east. The second rainbow is pretty faint but it was much brighter in real life.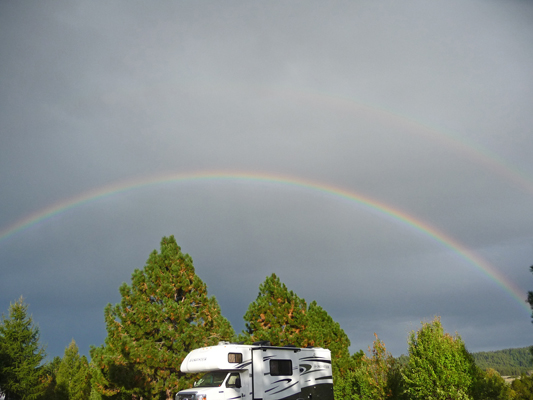 The rainbow itself got brighter and brighter. It was a nice send off from Mother Nature on one of our last nights at Lake Cascade.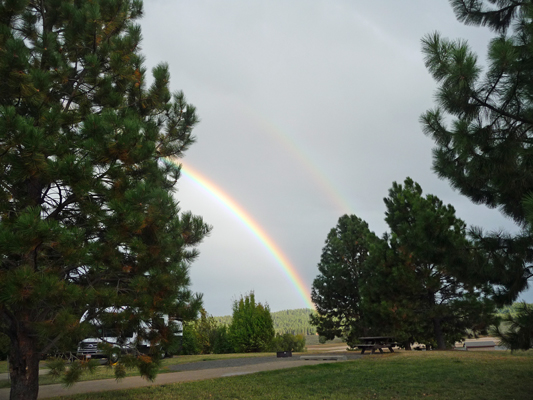 It was cloudy and windy again on Sunday. We'd had 15 mph winds on Saturday and they gusted up to 18 mph on Sunday afternoon. I got to do the reservation signs one last time. The campground will be full for Labor Day weekend—at least at that point, it was booked for Saturday night. I enjoyed our time here but I admit I won't miss praying to the reservation signs every week.
We folded up the bikes and packed up the boats and managed to get everything back into the back of the pickup okay. Then we watered the sod one last time. Since the irrigation system is shut down it will now be on its own until the fall rains come.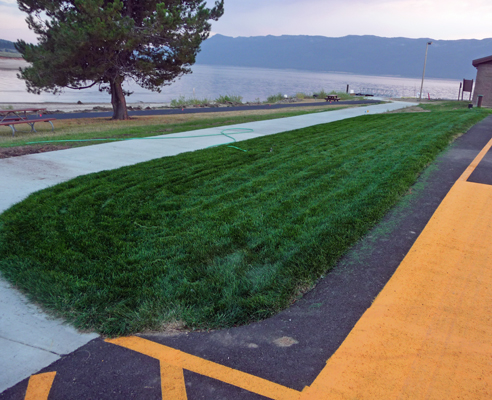 While the water was running we drove down to the office to drop off my flowers. I decided they wouldn't survive 2 days in the truck so I gave them to the ladies who work in the office. When we came back there were cattle all hunkered down in the field just down the final stretch of road before the campground. When I went out later I heard a lot of mooing and looked across the road and there they were on the move headed for the beach. If they got a mind to, it wouldn't take long at all before they could make it around the end of the fence (that used to end in the lake but now opens to a nice walkway headed on a gentle incline straight for the campground entrance). Sigh. I really didn't want to have to deal with cattle on our last night here.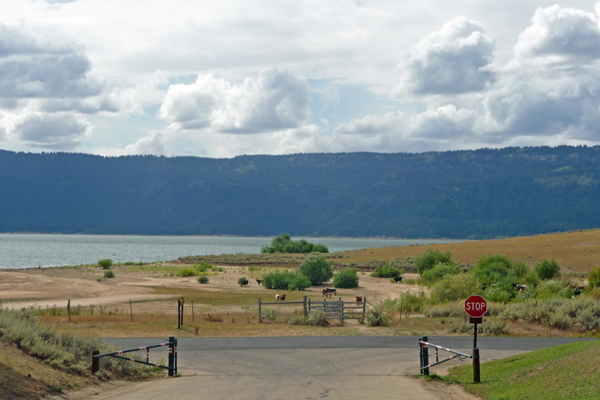 We called the situation in on the radio and they called the 80+ year old rancher who the cattle belong to. His hired hand was out of town but he came out on his ATV and chased them as far away as he could get them. He stopped by to let us know and I had a little chat with him. He grew up here and used to farm this valley before they filled the lake back in 1951. They grew oats and barley and the like.
Several of our campers went home early so we were down to two occupied campsites for our last night at Sugarloaf. We did our rounds at sunset and settled in to listen to the geese honk their way across the lake for the night one last time.
In the morning, the park manager and one of the rangers we hadn't gotten to say good bye to stopped by as we were getting ready to go. They were on short staff that Monday morning—probably giving folks time off before the last big weekend since folks will ALL be working. It was really nice of them to drop everything in the office and come out to see us off. On Saturday, the Assistant Manager came out with yet another of the rangers and when I jokingly asked if we'd gotten an A in camp hosting, she had replied, "You get an A++!" My inner goodie two shoes really liked that.
We pulled out at about 10 AM and did one last drive through the campground. As we stopped to make our final turn I climbed out and took this photo of our empty campsite. Bye Bye Sugarloaf.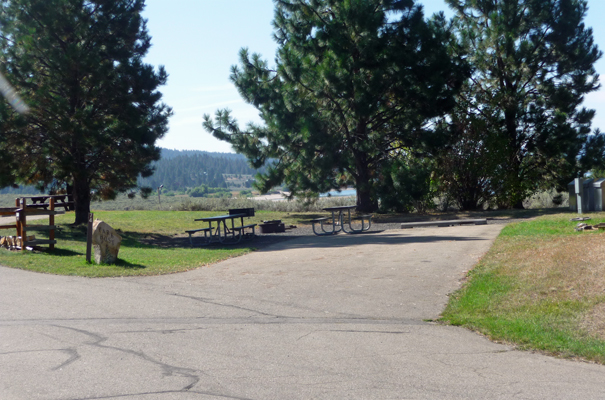 We drove north up though McCall and then out Highway 95 westward through New Meadows. Along the highway we caught a few glimpses of the Fire Camp which looked like a small city from a distance.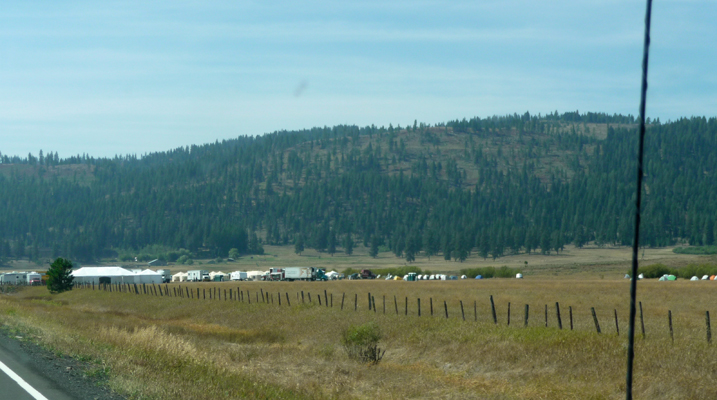 There was a big food service tent.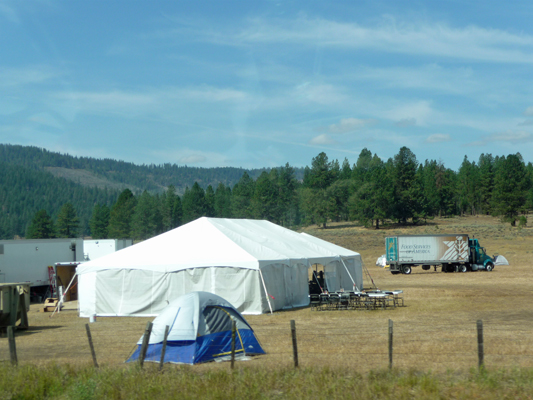 And a supply yard complete with porta-potties.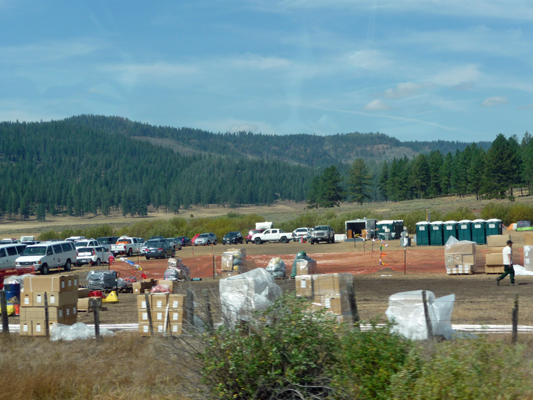 And clusters of small tents scattered through the surrounding fields.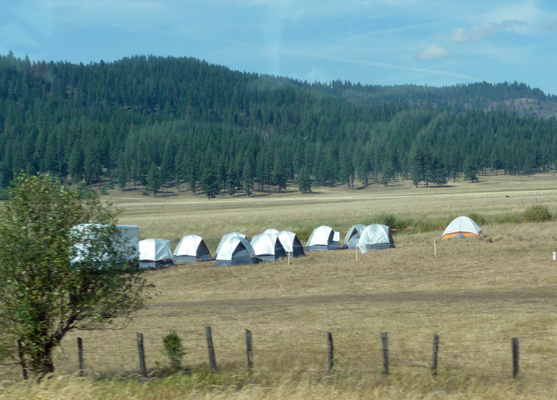 I think that there were over 400 fire fighters working out of this camp a week or so before (when I talked to the food service guys who were doing their laundry in McCall). Some of them may have been moved as the fire moved through the forest, I don't know.
Highway 95 turns southward and takes you though the charming town of Weiser Idaho where they have the big Old Time Fiddle contest each year. They have lots of lovely old houses along the main drag which makes it a nice town to drive through. From there we wound our way across the Snake River and into Oregon to finally catch I-84 northward. We spent the night Monday August 31st at Farewell Bend State Park on the Snake River and Brownlee Reservoir. The Oregon Trail passed through here and it was here that the trail turned away from the Snake and headed northwest instead of following the river into Hell's Canyon.
It was still fairly early in the afternoon and the campground was pretty empty. We found a spot and set up camp. It was in the low 90's and the trailer had gotten hot on the road so it was a good afternoon for napping and lazing around.
The next morning we headed up I-84 to Hilgard Junction State Park just north of the town of La Grande, OR. We motored in a little past noon and our spot was waiting for us. We got parked and set up before the fellow who is now the host coordinator stopped by to say hello. He's new at the job and really knew nothing about the park and couldn't tell us much about our duties. There was no notebook with policies or duties like we'd had at both Heceta Head Lighthouse or at both the campgrounds at Lake Cascade. The Ranger Assistant who was there covering for our regular Ranger Assistant gave me a quick tour of the irrigation system. It is huge. There are 12 hoses with big industrial Rainbirds attached. There are 3 zones of in-ground sprinklers in the Day Use Area and three big zones of these strange plug in Rainbirds that either screw in (replacement parts for these haven't been made for 40 years) or plug in and twist. Fun, huh? They've been having trouble with their well pump and the pump saver has been shutting it down apparently arbitrarily. Oh joy. One day it can run 16 sprinklers another only 12 or 13.
The temperature was in the low 80's and we happily sat out in our camp chairs in the late afternoon. The Host Coordinator stopped by again and gave us our time sheets and while we were sitting talking a flock of wild turkeys strutted by.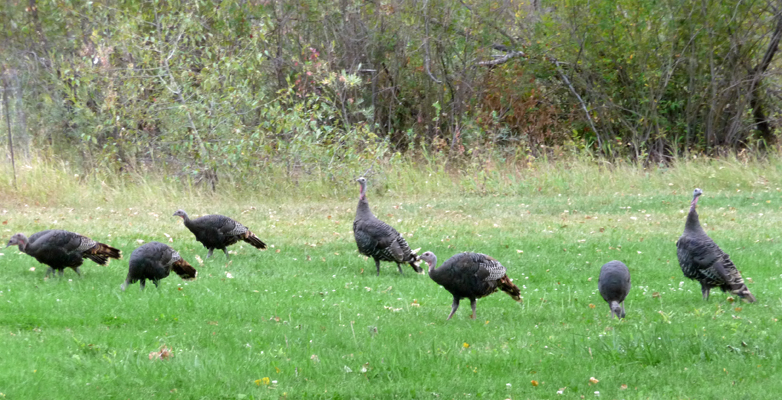 It turns out that earlier in the season there were 11 of them but at this point there are only 9 left. They pecked around in the grass for a while and then crossed the road.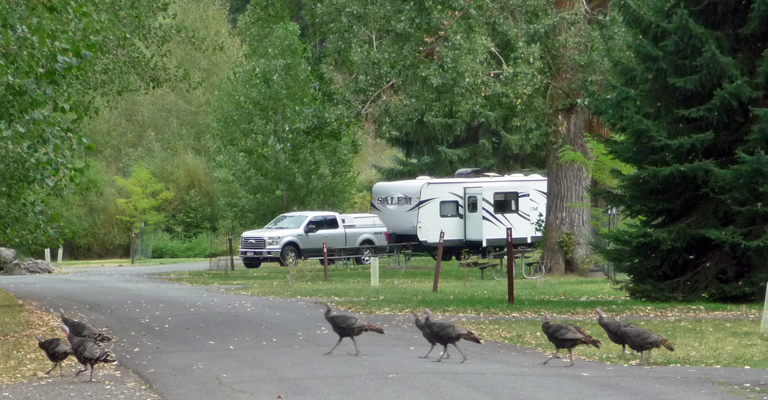 This does set up an opening for the perennial question: Why did the turkeys cross the road?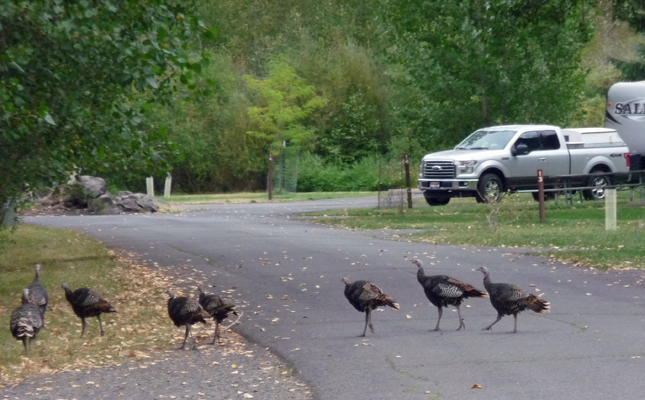 Apparently to peck for bugs in the grass and leaves on the other side...
That evening as we set out to do our rounds, the sky was tinged with a lovely pink sunset.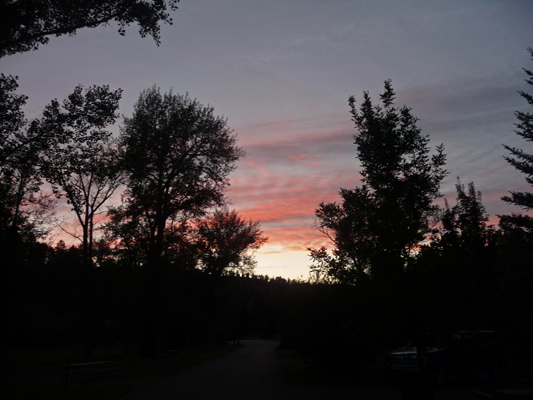 This campground only has 18 sites and they have closed one off to give us a place to park our truck since the host site isn't long enough for a trailer plus a truck. So we have 17 open sites. The first night we had 3 rigs to get the license numbers of when we did rounds at 7:30.
On Wednesday September 2nd, our regular Ranger Assistant arrived and gave us a much better introduction to the campground. She however will be leaving to move to Washington (to join her husband) in a week. Many of the rest of the seasonal ranger assistants will be leaving on September 15th so staffing will be very thin after that. After spending some time showing us the ropes and getting acquainted, she set out to go to the other campground she takes care of and we set about setting up our first bunch of sprinklers. Oh boy, what a job. We set up 6 hoses with Rainbirds in the campground and then I did battle with the first of the plug in Rainbirds. Boy did I get wet—from head to toe. But I did manage to get 4 of them going okay. It was only 63 that day so once I was wet, I was cold!
The Day Use Area is divided into two sections, one on each side of Highway 244. From one end of the campground to the farthest end of the Day Use Area across the road is about 1/2 mile. Thank goodness they provide a golf cart! We hummed over to the other section of the Day Use Area and turned on a set of in-ground sprinklers over there to give us a total of 17 sprinklers running. Then we waited 1/2 an hour before we drove back over to check the pump (which is of course waaaaaay over in the far section of the Day Use Area across the road). By the time we did that, we knew we had a problem because the in-ground sprinklers weren't running properly. Indeed, the pressure in the system was 20 psi below where it was supposed to be. Sigh. So we turned off some of the campground Rainbirds and finally got it to be the pressure it was supposed to be by running 13 sprinklers total. Sheesh.
They've had problems with people stealing their irrigation equipment so you have to take ALL the hoses and sprinklers in every night. It had taken us over an hour and a half to get the sprinklers out and after they'd run the couple of hours they were supposed to run, it took me another full hour to bring them all in. I'd changed out of my wet socks, pants and fleece and managed to get a whole new set sopping wet bringing the equipment in. By the time I was done, I was cold, wet and tired and not a happy camper.
We tried it again on Thursday and while I wore my rain pants and rain shoes so I didn't get as wet, we had all sorts of problems with the plug ins not working at all. By the time we had gotten all the sprinklers set up and running, the pump saver had shut the darned pump off. We had to wait 1/2 hour for it to start up again and then figure out which sprinklers to turn off to get the right pressure. Frankly, after over 4 hours of struggling with the system I was in tears and wanted to quit and 'go home'. So later in the afternoon I told our Ranger Assistant that while I was happy to drag hoses and deal with the in-ground system I was NOT going to deal with the plug ins. She was very kind about it and said she'd handle the irrigation if we'd just bring it all in that night. So we spent another hour dragging it all back in again. Of course, she's leaving in another week. So who knows whether things will even get watered again. It was only in the low 60's again on Thursday and the park is in a canyon so there are very few hours of direct sun at this point. Personally I'm not sure it actually needs to be watered again at all.
The position here is much more like a resident grounds keeper than a camp host. Besides the irrigation, there is pruning to do and we needed to pick up all the pine cones and sticks and branches before the ranger mowed. Most of the campers are people passing through and staying one night. All of our campers thus far have been out of state people on their way to somewhere else. We may have more folks through the Labor Day Weekend but they don't expect that we'll be full and since it's cooled down a lot and it's due to rain on Saturday we really don't expect that anyone will come here just to camp for the weekend. The Grand Ronde River runs along the side of the campground but it is very low right now. In fact, I think you could easily walk across it. I'm not sure how good the fishing is at this point because the water is so low and there are special restrictions on because of the drought and fire conditions. They may even cancel much of the hunting season this year.