On Friday March 6th, it was sunny and in the 70's once again in Anza Borrego and we headed northwest up Di Giorgio Road to the trail head for the hike to Alcoholic Pass—up into the state wilderness area. The road turns to dirt and becomes one lane but folks were going slowly so it wasn't much of a problem. There were lots of jeeps heading out exploring this way since the road basically turns into the jeep trail as it heads up the Coyote Canyon.
There were Ocotillos in full bloom out here—note they'd not had as much rain here as in Organ Pipe. The Ocotillos were in flower but most of them didn't have any leaves.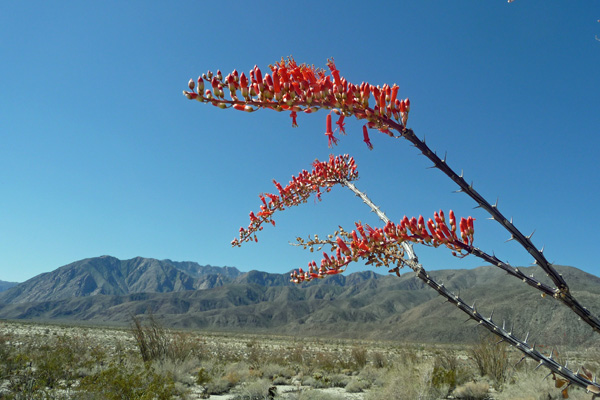 There were a few scattered Desert Poppies (Eschscholzia glyptosperma).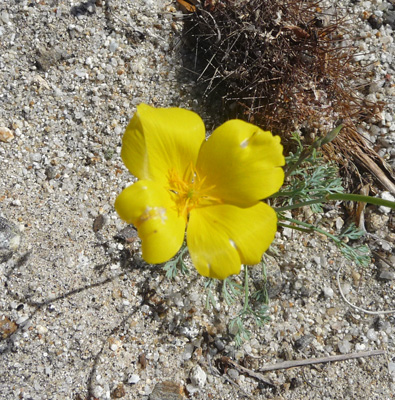 Plus huge swathes of Desert Dandelions (Malacothrix glabrata) along the side of the road and along the trail.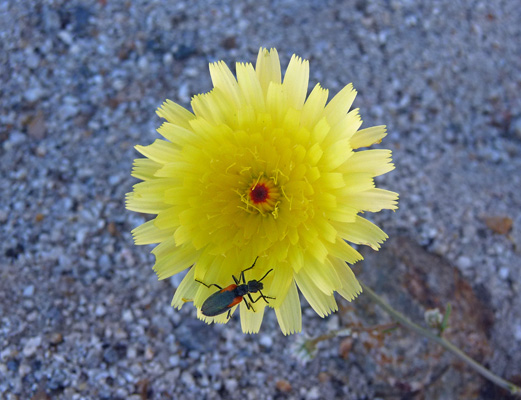 Even better, the Beavertail Cactus along the trail were in bloom.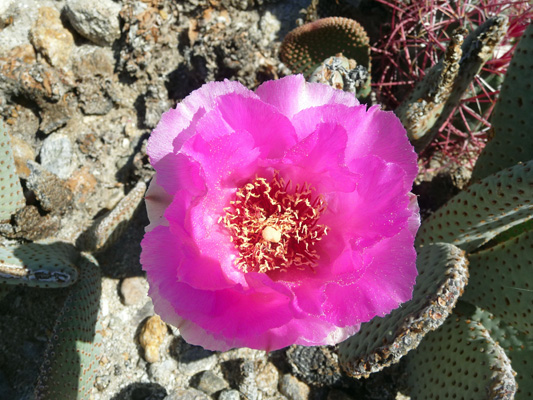 And the Golden Cholla were in bloom too. These cholla have slender branches (thicker than staghorn but thinner than Jumping Cholla) and some folks call them Silver Cholla.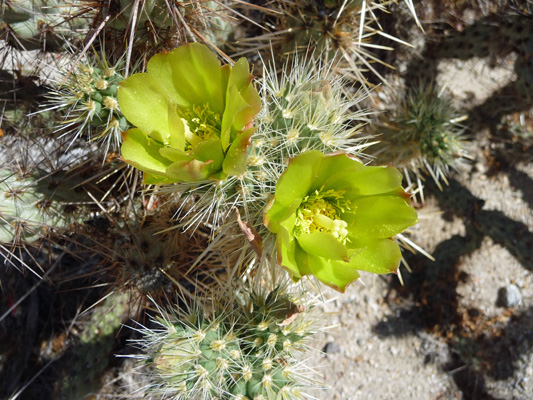 This trail follows a sandy wash for a while and then goes UP the rocky hillside. There are hardly any wide sweeping switchbacks, just steep little turns over lots of rocks. Here in there in the rocky sand I saw these lovely little purple flowers but I don't know what they are.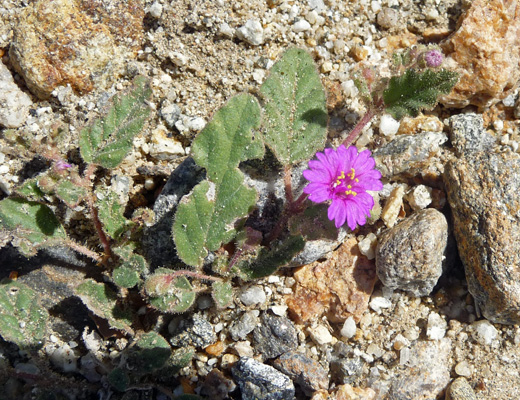 And a few of the beavertail cactus had more than one flower in bloom.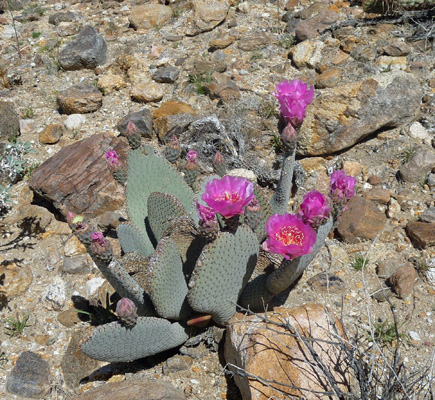 This trail has a 740 foot gain in 1.1 miles so it's STEEP. Walter thinks he bagged it about 2/3's of the way up. I continued up a little further until the trail flattened out enough so that I could follow the ridgeline to a place to take a panorama shot of the valley to the south. The green rectangular areas are citrus orchards just north of the town of Borrego Springs.

Looking north you get a view of Coyote Canyon.

It was hard going and I just didn't NEED to get to the top so I happily turned back to join Walter down the hill. On the way back down I managed to get a decent photo of some Canterbury Bells (Phacelia campanularia).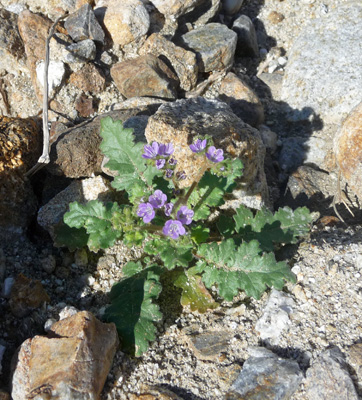 Just to give you a sense of how steep things were, here's a shot of Walter heading down the trail. I seldom wish I had a stick with me but this was one where I really would have appreciated it since it was so rocky and sandy.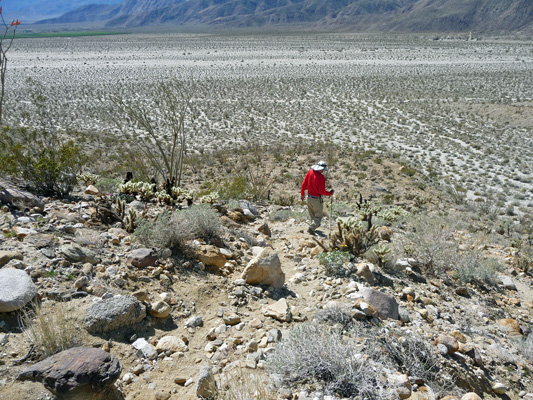 Here and there I spied a California Chicory (Rafinesquia californica) in bloom.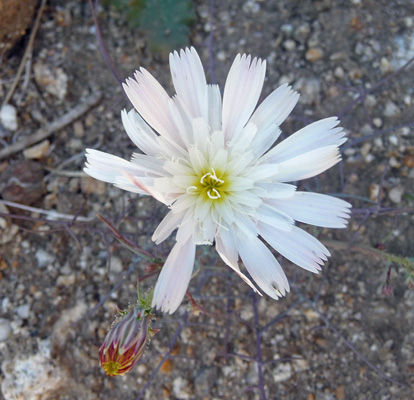 And right next to our parking spot I found this wonderful example of Golden Cholla in bloom.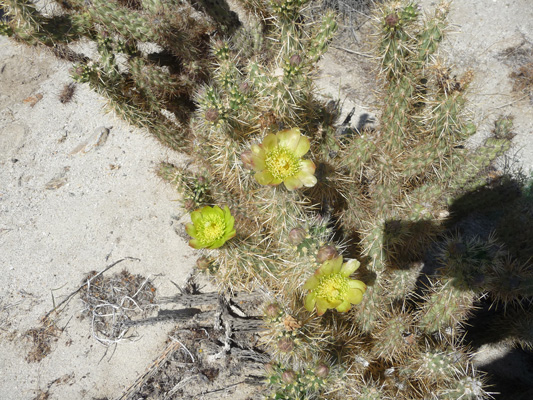 We'd brought our lunch so we drove on out to the Desert Gardens Picnic area and had our lunch with a great view of the valley. The temperature had been perfect for hiking and now it was just warm enough to be enjoyable in the sun too.
We had a hot spot signal at our campsite near Peg Leg and when we checked the weather it looked as if it would be continuing to warm up as the week went on. It reached 82 that afternoon and we were glad that we were heading up to the Blair Valley which is a good 1,000 feet higher in elevation.
So on Saturday March 7th, we packed up and drove south to Blair Valley where it had been so cold in December that we'd had frost on the ceiling one morning. This time it was in the low 70's when we arrived and while it was cool at night (in the 40's) it wasn't hard to handle.
We hung out and read most of the afternoon and then late in the afternoon took a little stroll up the hill from our campsite to have a look at Foot and Walker Pass which was part of the old Butterfield Stage Route.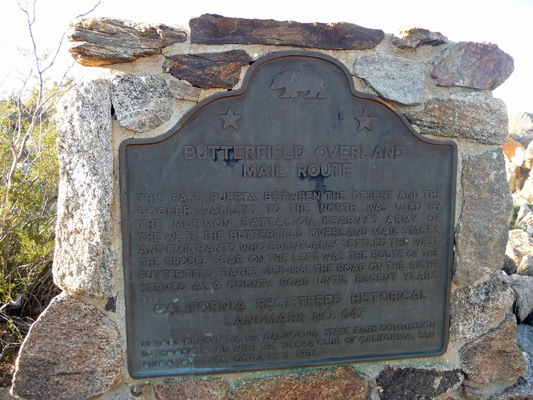 Looking at what remains of the route you can well imagine that everyone had to get out and walk while they tried to get a stagecoach over this.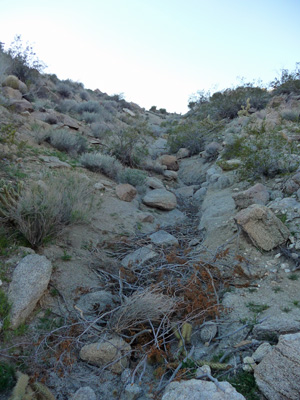 This is the not so steep section down the north side.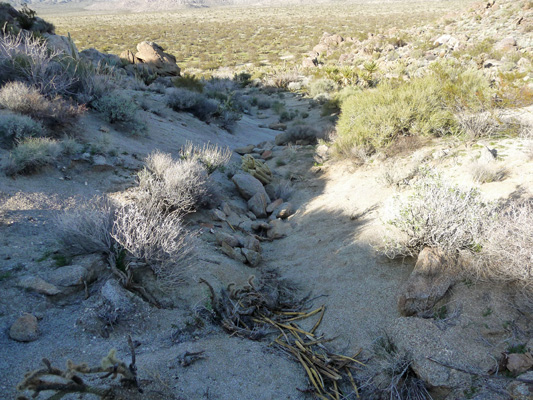 There were lots of Canterbury Bells (Phacelia campanularia) in bloom along the trail up the hill from here.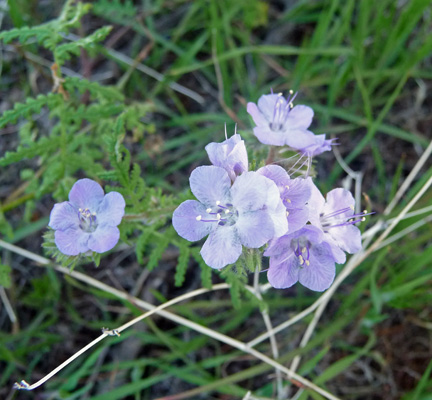 We followed the trail up to the top of the hill and got a great view looking across the Blair Valley and down to where we were camped below.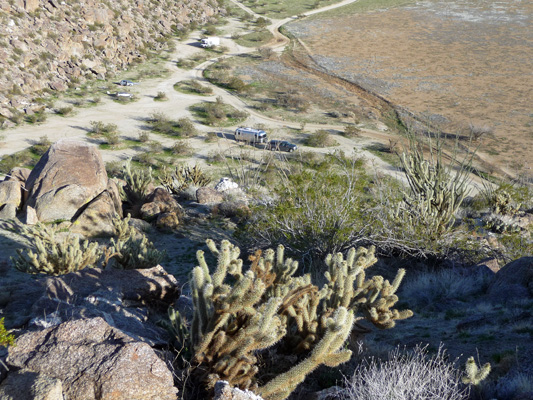 On the way back down we got a nice view of the Little Blair Valley to the north.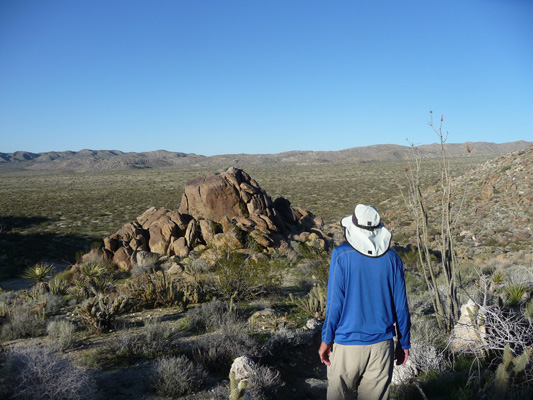 On Sunday March 8th, we drove out the sandy narrow road through the Blair Valley to the trailhead to the Marshal South House Trail also known as the Ghost Mountain Trail or the Yaqitepec Trail. There was a lot of traffic on the road, and some of it was going way too fast. Luckily Walter was going slow when a pair of sporty cars came roaring around the corner and he could get out of their way. Maybe narrowly missing a big huge truck will have given them pause.
The trail to the Marshal South House is 2 miles round trip with a gain of about 420 feet. We figured that if we could do 2/3's of Alcoholic Pass we'd be okay on this one and we were right. Thank goodness it was once again on the cool side since this is yet again another rocky trail. But there are lots of nice long sweeping switchbacks that make it a much easier climb than the Alcoholic Pass Trail. Besides that, I took my stick this time and was really glad that I did.
There were lots of agaves putting up the flower stems all along the hillside.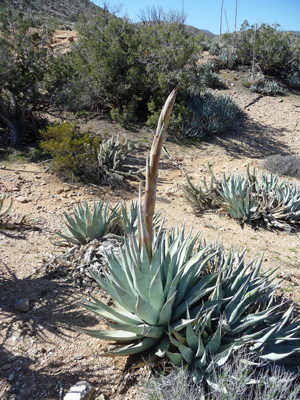 And there were lizards sunning themselves on the rocks.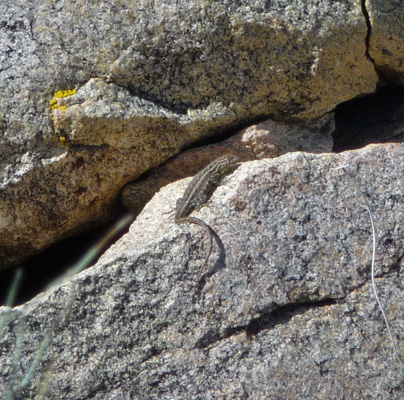 There were more Canterbury Bells and bit of Brittlebrush in bloom too.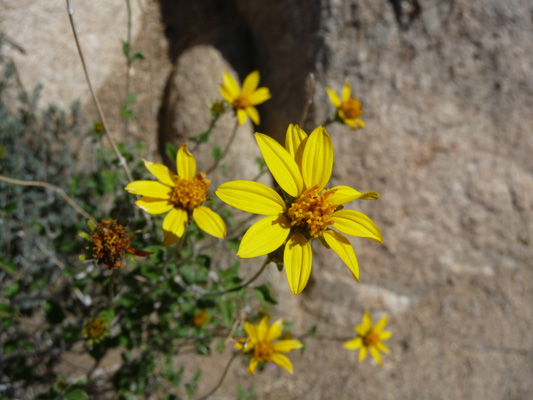 The trail levels out for a while on the way up and you get a nice view of the Blair Valley as you look north.

We could even pick out Genevieve shining in the distance.
After the level area things get steep... so Marshal South, who lived out here for 15 years back in the 1930's and 40's put in steps.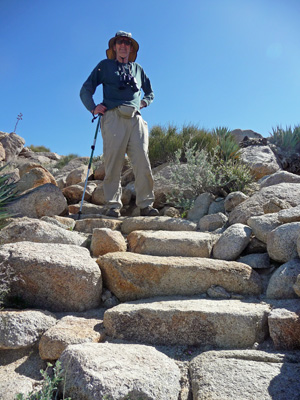 In places the steps have broken down and it takes a little scrambling to get up the hill.
In the early 1930's during the Great Depression, Marshal South and his wife and 3 children moved onto the mountain top and built a small adobe home. Marshall wanted to live off of the land as the Native People's of this valley had done. They lived here for 15 years, dragging most of their supplies up this trail while collecting water in a cistern and attempting to garden in the sandy soil. They named their mountaintop home Yaqitepec and Marshal, who was a poet, wrote stories for the Desert News about their existence here. It was a very hard life and it's really surprising they stuck it out so long—especially with 3 kids.
The house is slowly dissolving away and there's not much left of it. Walter is sitting inside what used to the house.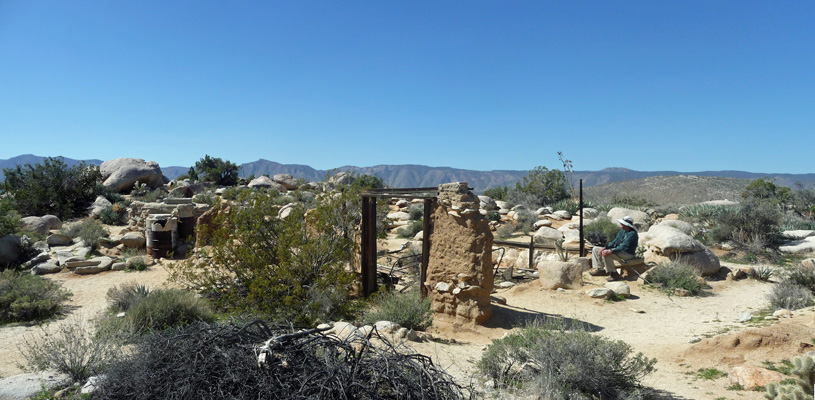 The cistern system was made of sturdier stuff and is still in relatively good shape.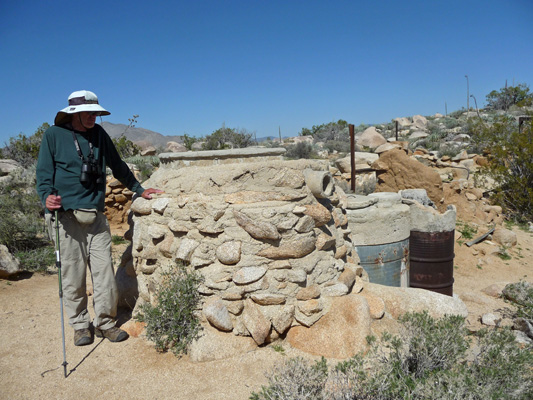 The view to the south from here is pretty spectacular but there was lot of haze in that direction and the photo didn't come out well.
Just past the house site there was a gorgeous double yucca in full bloom.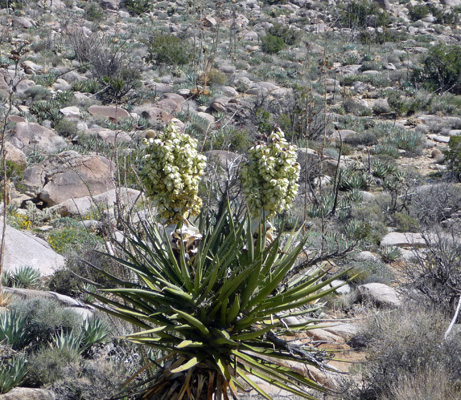 The view to the north from the house site gives a lovely shot of the Blair Valley.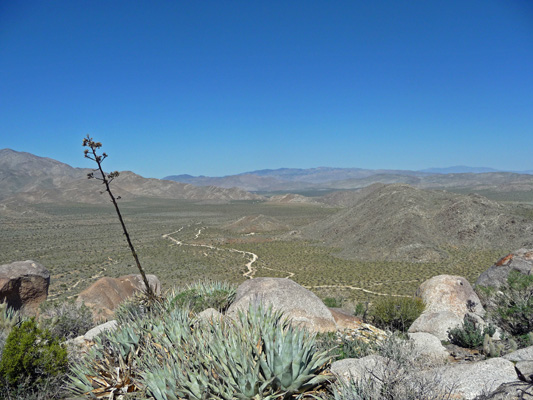 After studying the house and the surrounding area and resting a bit we began our journey back down the hill. All went well, until we discovered we'd missed a turn and were standing in amongst a lot of big rocks with no place to go. This is not the best kind of territory for bushwhacking—there being no bushes and lots of cactus and large boulders. So we turned around and went back UP the hill until we found the real trail again. Along the way we saw this really nice hedgehog cactus growing in the shade of a big boulder.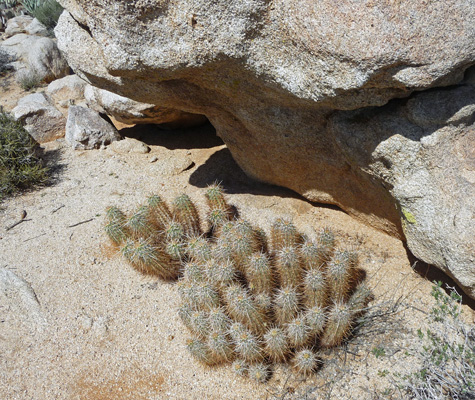 And this pincushion cactus just starting to bloom.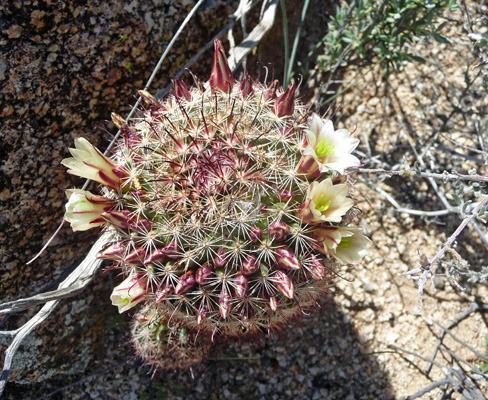 This guy wasn't more than 3 inches across so the flowers are really small.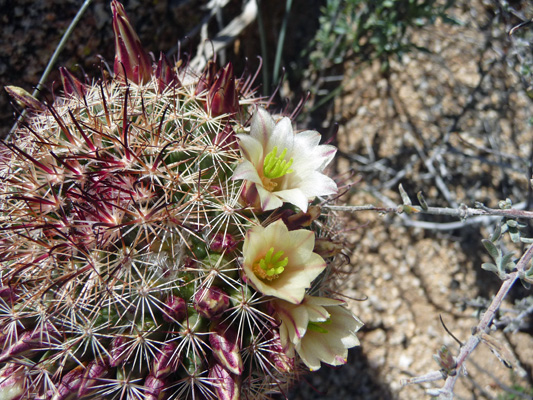 I also spied on barrel cactus just starting to bloom so this turned out to be a very worthwhile detour.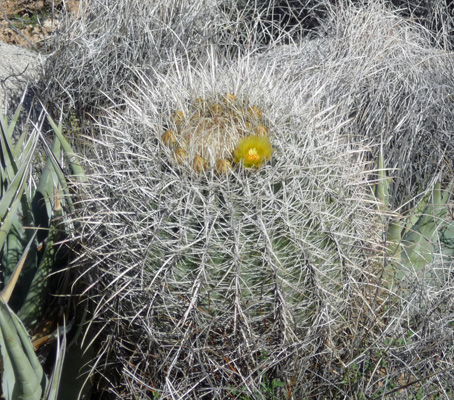 We made it back safely to the truck and then made our way slowly back to the trailer along the dirt road. It was Sunday and there were LOTS of people out. We had a nice quiet afternoon with the temperature reaching about 82 degrees.
It cooled off again that night and we had a low in the low 50's and we ran the furnace a little bit to get the chill off in the morning. We'd been boondocking for 5 days straight and with clear sunny skies the solar panels had kept the batteries charged up with no problem. Not only had we run the furnace a bit each morning but we'd even run the inverter several times to charge up the computers and the hot spot with no problem at all. But we were nearly out of fresh water and the grey water tank was getting full so it was time for a couple of nights someplace with hook ups.
On Monday March 9th we drove south about 15 miles to Agua Caliente Regional Park for a couple of days of hiking and hot springs soaking. It's about 1,000 feet lower and it was MUCH warmer here. In fact, it was close to 80 when we arrived at about 11:30 am.
The campground was about 1/2 empty and we got a full hookup spot with a wonderful view—all for $33 a night. The only hitch here is that there is no cell signal so we didn't have an internet connection. Ah well, a news fast is a good thing now and then.

The ocotillo on the left was right in front of our dining room window. For two days we got to watch birds of all sorts come and visit the flowers and roost in it's branches. The green area below is a riparian area created by the runoff from the hot springs here. The birds clearly love it.
We hopped into our swim suits and headed over to the hot springs. We had showers and then sat in the hot spa area for a while. It's indoors and the sliding glass doors don't open any more (clearly they were designed to give cross ventilation but they need to be replaced) so it was pretty hot. We got out and sat in our wet swimsuits on the shady patio until we dried off. It was lovely in the shade.
We came back and had lunch and watched the birds. We had California Quail come flying in—I'd never seen them fly and roost in bushes before. They pecked around the base of the ocotillo for a while and even fly up and sat in it too.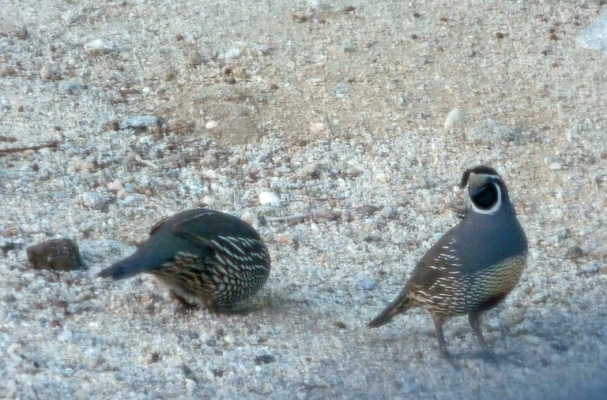 During the afternoon we had White Winged Doves, Costa's Hummingbirds, Ladderback Woodpeckers, Phainopeplas, Bullock's Orioles, House Finches and Curved-bill Thrashers all come and sit in our ocotillo providing us with tons of entertainment and music.
It made it up to just about 90 outside that afternoon but the trailer stayed in the low 80's with the gentle breeze that blew through. Thank goodness for the great way that the windows open in the Airstream. It took a long time to cool off that night. It was still 70 degrees in the bedroom at 11 pm. It got down into the 60's that night but was already 70 at 8 am—no need to run the furnace that's for sure.
We got up and had breakfast and decided we'd better take our hike as soon as possible. It was already 80 at 10:00 when we set out. By that point we had decided that we really didn't need to slog 2.5 miles with a steep 350 feet gain in the middle on a really hot day. So we took the south end of the Moonlight Canyon Trail (where it starts at the Caravan area) and had a nice walk through the desert.
The Chuparosa (Justicia californica) was in bloom and humming with bees. Hummingbirds are supposed to like this stuff too but we didn't see any.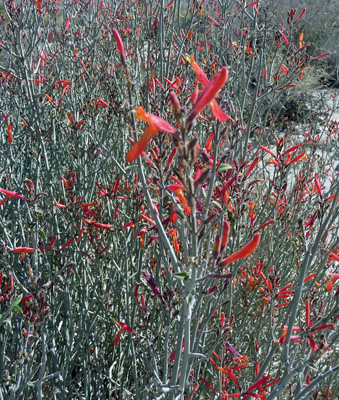 They make a wonderful splash of red in the sandy desert.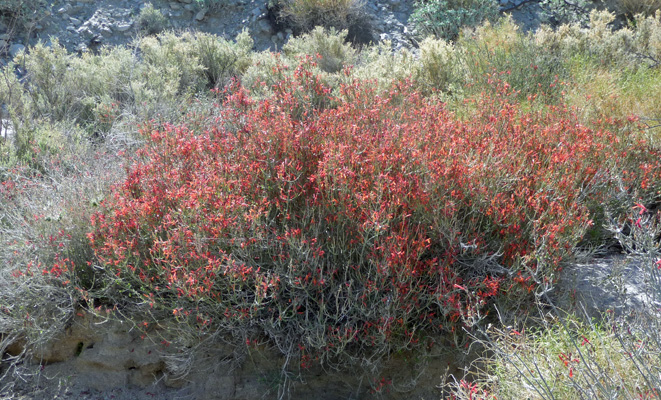 Here and there along the wash there were Desert Poppies (Eschscholzia glyptosperma) in bloom—some of them were really tiny which makes me think they might be a different variety.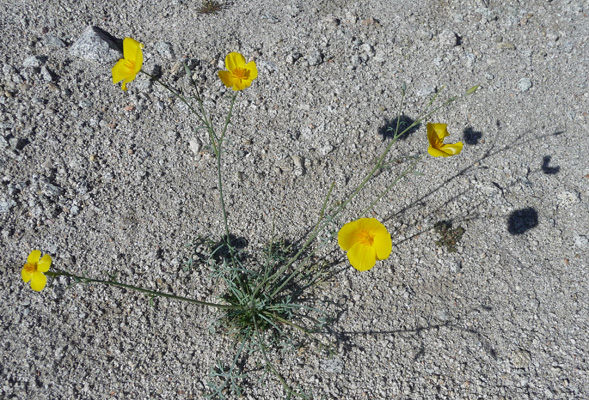 And there were a few of these sweet little pale yellow flowers whose name I don't know.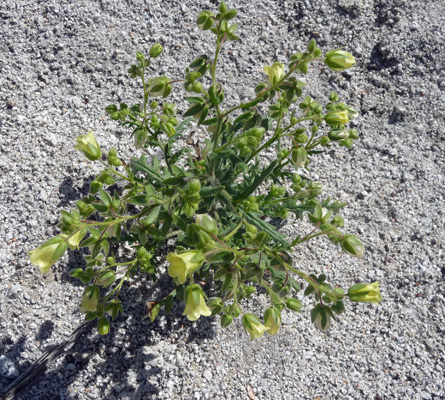 The trail goes gently downhill a ways and then the wash turns and the trail gently climbs its way into the hills. And wonders of wonders you enter a narrow shady area. Boy did that feel good.
There was lots of greenery in here and some little daisies that reminded me of feverfew though the foliage isn't quite right.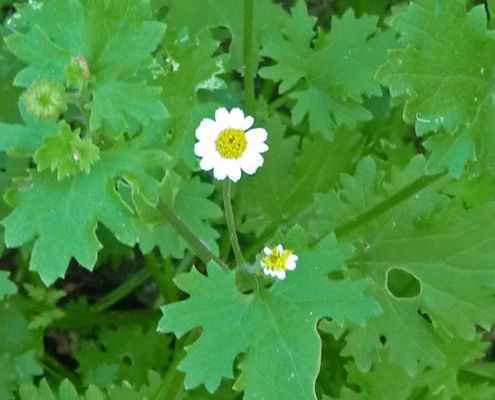 The trail got narrower and narrower and then turned and we were met with a wet muddy area where clearly the trail goes up over the rocky rise.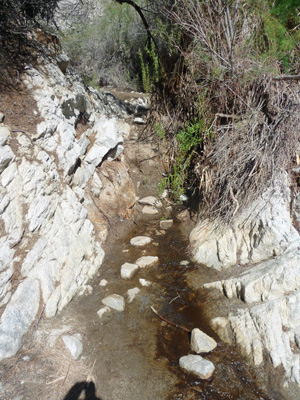 The map had indicated that there were two wash crossings and we decided we really didn't need to get muddy climbing up this and were happy to turn around and go back. We figure we'd hiked about a 1/3 of the trail or so—the easy part.
Here's a shot of the really narrow part as we walked back.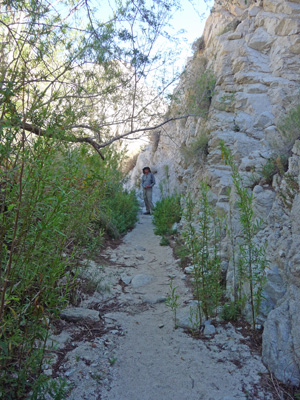 Walter decided that the rocks through here would make a great place to rest for a bit and I got a shot of him just before he sat down. I wanted you to see the nifty cliff face behind him.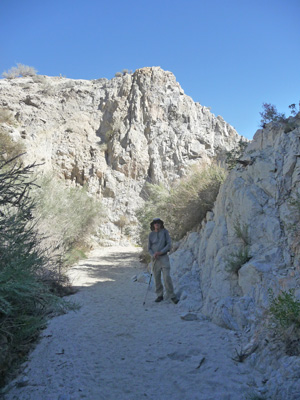 When we turned the corner here I saw this tiny little Bigelow's Mimulus (Mimulus bigelovii) growing in the gravel.
Mimulus—AKA Monkey Flower—usually are water loving plants and I guess this desert variety favors damp places in washes. I saw several more as we made our way back.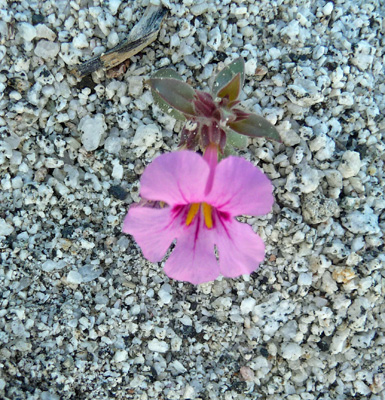 Walter spied a hedgehog cactus growing up in a crack on the cliff face.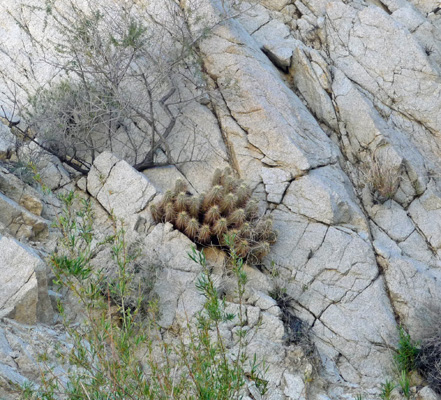 The trail winds its way back out into the flat lands and there's a picnic table sitting along the trail where we stopped to enjoy the view.

As we finished up our hike I saw an agave with the buds showing on it's flower spike. In the heat it won't be long before this one is in full bloom.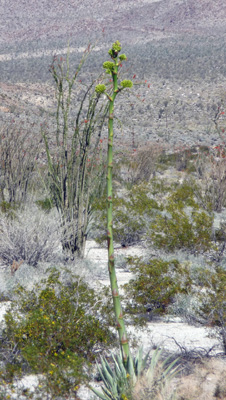 We made it back to the trailer by about 11:30 and it was already 88 degrees outside. As the afternoon wore on it reached 96 but the trailer stayed relatively pleasant at 86—definitely shorts and tank top weather. This is really hot for this time of year—even in the desert. Believe it or not the next morning it was cloudy—but still warm. We packed up and drove northwest to the Jojoba RV Resort, an Escapee Park in Aguanga, not far from Temecula.
After a weekend in San Diego with our daughter, Tracy we'll begin to slowly head northward. We're aiming to be in the Seattle area for 5 or 6 days starting April 23rd to handle a few things before we head down the Oregon Coast to Heceta Head for the month of May.