We finished up at Heceta Head Lighthouse on Sunday May 31st with a gorgeous sunny day that slowly turned to rain as the afternoon wore on. We awoke to showers in the morning and took our time saying our good byes and breaking camp. We motored south to Florence and stopped and washed the trailer at the do-it-yourself car wash. We got it about as clean as the folks at the truck wash did down in California and it only cost us about $6.50! We discovered that it was safer for the Airstream to not engage the high pressure wash or rinse and just use the pressure as it came out of the wand (which was high pressure anyway). It didn't get all of the bugs and tar off of the front but it also didn't damage the front Airstream decal either...
From Florence we drove east on Highway 126 to Eugene and then up I-5 to Premier RV Resort in Coburn where we have stayed pretty much every year since 2003. I think that qualifies us old customers don't you? We set up camp, had lunch and then headed into Eugene to do errands. We found a real nice natural foods market around the corner from the Trader Joe's. It was so good, I managed to get all the things on my list that I'd usually have gotten at PCC Natural Markets (the old original food co-op of the Seattle area). What a find! Then we stopped at Trader Joe's and bought 3 months worth of the things we usually buy there. There's only one Trader Joe's in Idaho and it's in Boise which is over 70 miles away from where we'll be. It seemed prudent to stock up while we could.
Most importantly we picked up Walter's guitar at McKenzie River Music where it was waiting for him after 3 weeks of work. Here's a shot of the pick guard that they removed which had started to curl up at the edges as it separated from the raw wood. It turns out that this is not an unusual problem. After years of putting pick guards onto raw wood they've finally changed what they do, but this problem can occur on Martin guitars going back into the 1930's. It just takes 40 or so years for it to happen.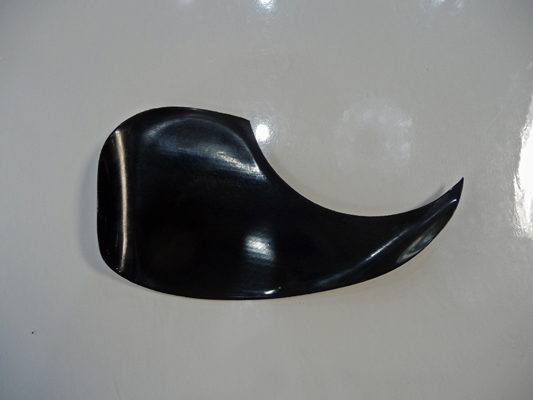 Walter tuned the guitar and played in on Tuesday and pronounced it all good. Whew. The cost of the repair? $500. But then she is a nearly 45 year old guitar and she's never had any repair work done. They found no record of his warranty which is not surprising since it was purchased on sale (and very slightly damaged) for cheap back in 1971 or 1972.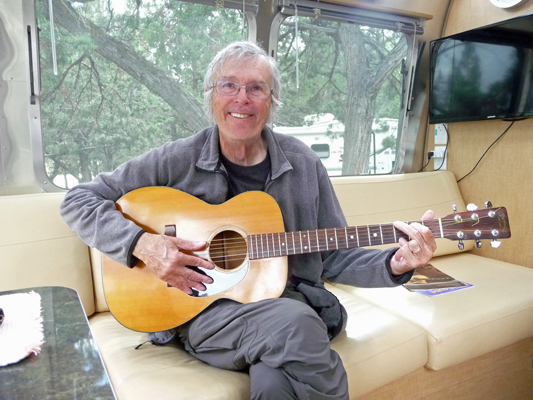 It was raining again when we left Eugene on Tuesday June 2nd and headed east on Highway 126 up over the Cascades and down into Central Oregon. As we headed east we had more sun breaks followed by intense quick squalls. There were wild flowers all along the way. Everything from bear grass and lupine to arrowleaf balsamroot and Indian paint brush.
We arrived at Prineville Reservoir State Park in mid afternoon and set up camp in site C14, a nice long site with a view of the lake. The sun was out at least for a while and we totally enjoyed every minute of it. Here's the view looking southeast from the dining room windows.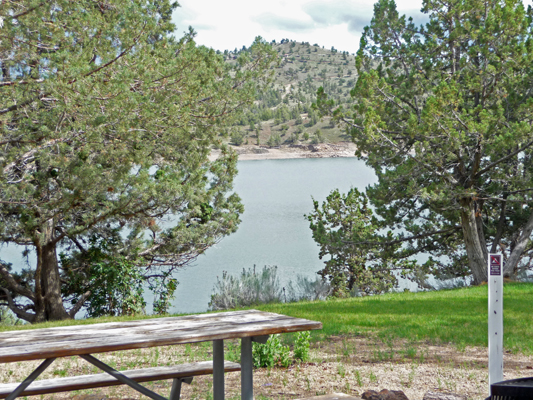 And the view looking northeast from the dining room windows.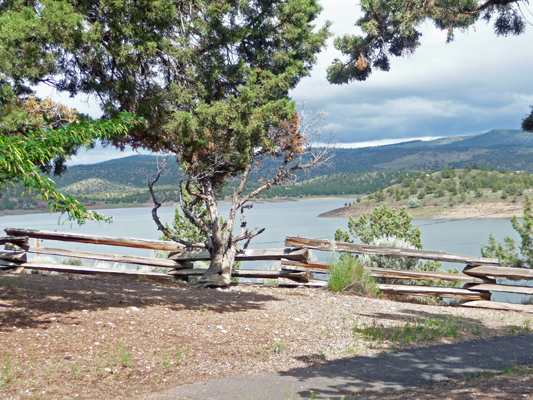 A golden mantled ground squirrel came over to check us out and visited off and on all afternoon.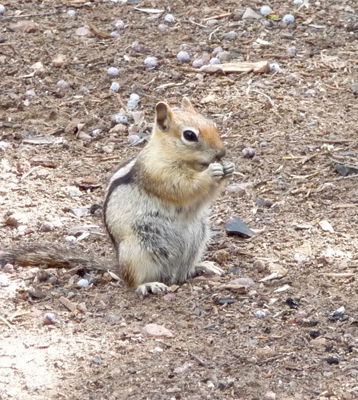 There are lots of juniper berries on the ground here. I don't know if the squirrels like them or not but I'm sure they must provide food for somebody.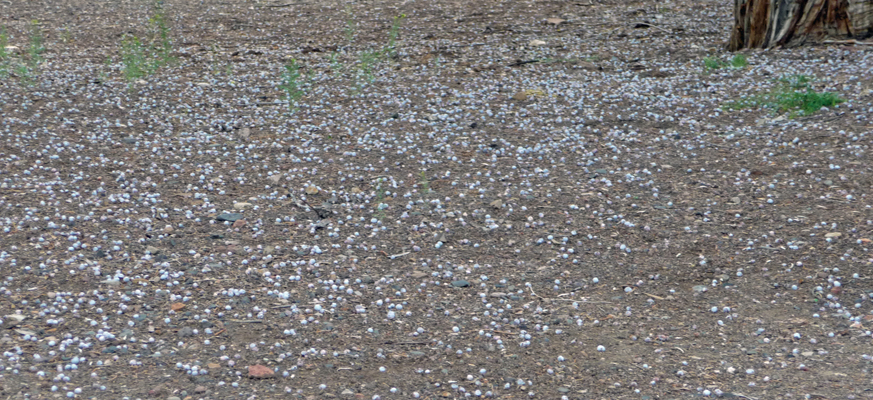 Late in the afternoon after one of the little showers came through, Walter went out to bird watch (there were Canada geese across the lake) and he spotted a rainbow.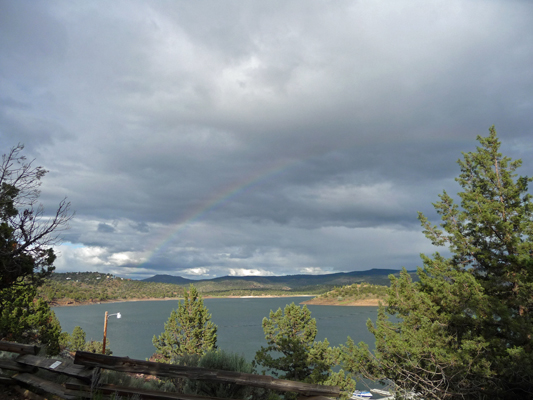 While we were out we hiked down the hill to the boat dock which was directly below our campsite.

This reservoir holds irrigation water for the local farmers. Weather in March and April had been so dry and warm that they had already started to draw this reservoir down irrigating their fields. It's usually full at this time of year and is instead only at 85% capacity. That doesn't bode well for August!
The moon was full and we got a golden surprise when it came up over the mountains across the way. Wow.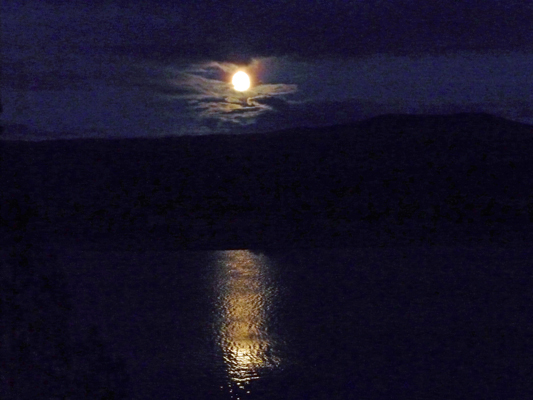 The next morning the lake was glassy and I got a nice reflection shot from just down the bank from our campsite.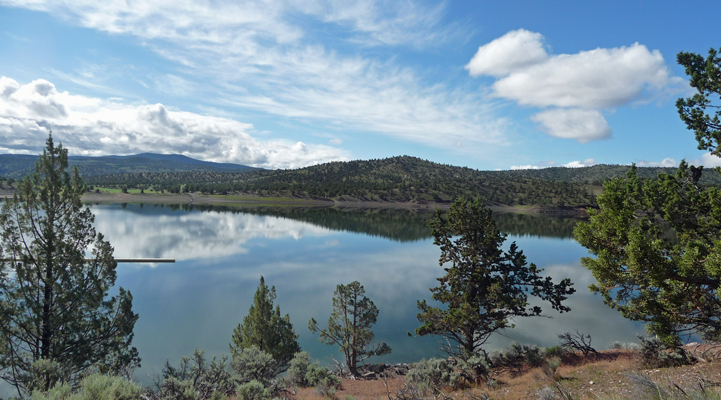 We hit the road by a little after 10 am and headed back into Prineville and then east on Highway 126 again. There were all sorts of wildflowers along the roadside including Rocky Mountain Irises (Iris missouriensis) growing along the creeks and in the fields. Of course there were none when we stopped to change drivers. But these was a nice patch of Arrowleaf Balsamroot (Balsamorhiza sagittata).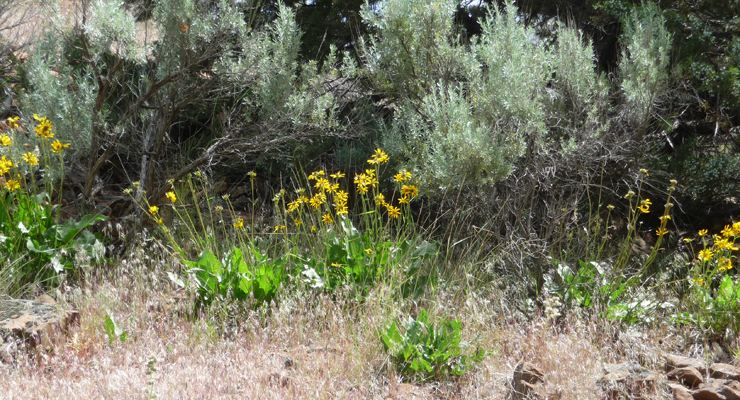 And some lovely Large-flowered Collomia (Collomia grandiflora)—something I hadn't seen before.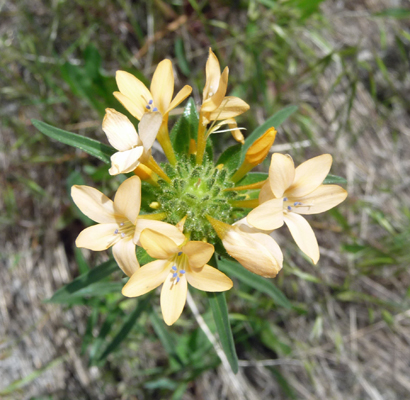 We rolled into Unity Lake State Park right around 2:30 and found a nice lakeside spot (B26). It was raining as we parked but it had stopped by the time we finished setting up and it was time to hike back to the registration kiosk.
After lunch the sun came out off and on and I got a nice panorama shot of our view.

Even with the clouds it was warm enough to have the trailer door open again—ah the wonders of a little sunshine.
After his nap, Walter took out his guitar to play and we sang for a while with the trailer door open. I noticed that the folks next to us (a good 20 yards away) were looking our way and I thought they might be able to hear us. While I made dinner Walter went out to explore a little and got to talking to the guy next door. All they could hear was Walter's foot hitting the floor like a really heavy bass line and they thought we must be a pair of young rockers. They were even worried that we might have our music going late into the night. Too funny! When he saw Walter and heard that we were playing folks songs he thought it was pretty funny too.
That evening we had a lovely peach sunset.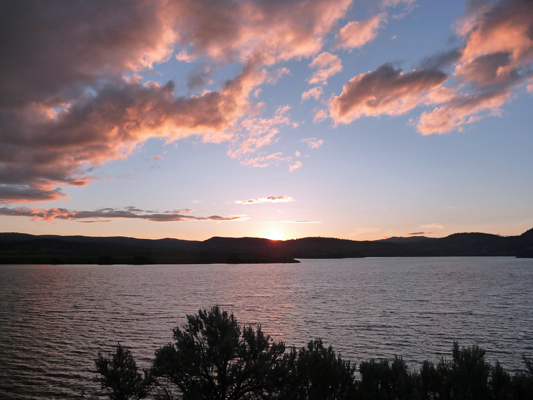 That eventually turned deep rose.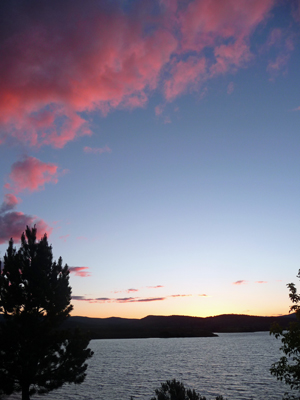 The next morning we packed up and headed eastward on Hwy 126 towards Ontario, OR and then crossed over the border into Idaho. We wound through the countryside over Hwy 52 until we hit scenic Hwy 55 as it turned north to follow the North Fork of the Payette River as it comes out of the mountains. The river is full of wonderful white water and we saw folks white water rafting and river kayaking as we drove along.
We stopped in the little town of Cascade and found our way to Park Headquarter for Lake Cascade State Park and checked in. They loaded us up with a notebook, keys, a file box of literature and a radio and antenna. Then we drove north to the town of Donnelly and then across the top of Lake Cascade to W Mountain Rd. Just a few miles south on W Mountain Rd we found the sign for Buttercup campground, our new home for the next 6 weeks. There were a few families camping in one of the loops but otherwise the campground was pretty empty. Our camp host spot was waiting for us and we maneuvered into it without a problem. We have a nice water view from our back door looking northward across the lake.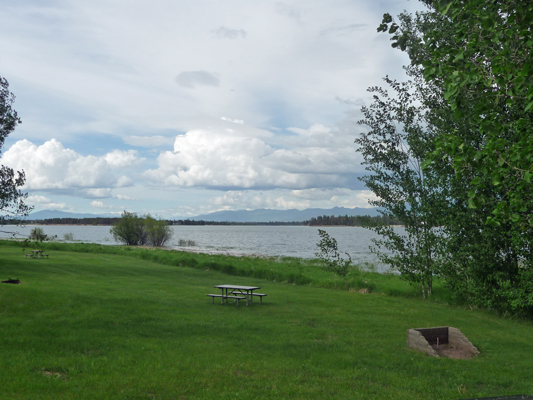 We settled in and then took a walk through the campground figuring out which keys fit which doors and locks.
I spied this Great Blue Heron stalking along at the water's edge (the lake is really high right now).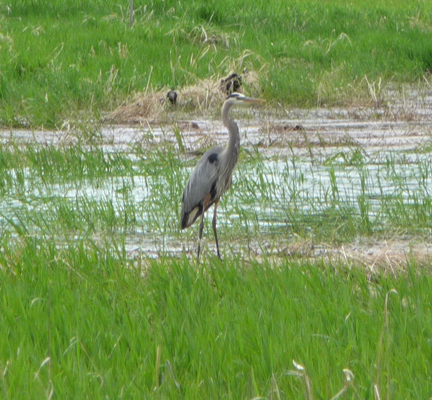 There was some black hawthorn (Crataegus douglassi) in bloom in the campground.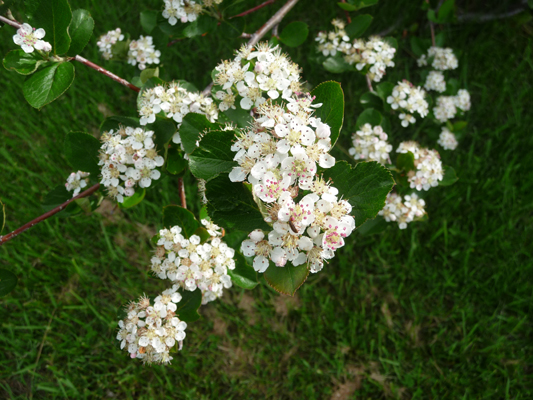 And I got this nice shot of Genevieve and Francois in their spot. Guess what? We get to water all that lawn as part of our job.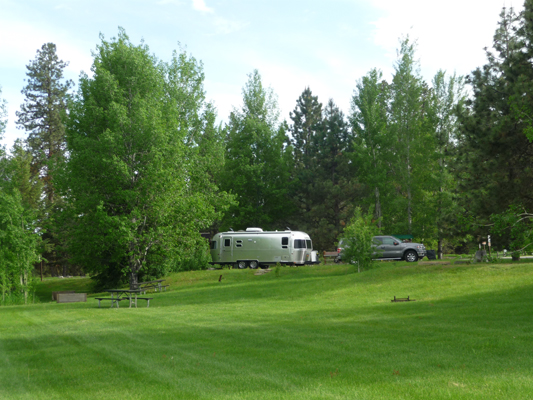 After dinner we walked over to the boat ramp next door and I discovered a lovely meadow full of wildflowers of all sorts. For starters there was a big patch of Mountain Thermopsis (Thermopsis rhombifolia).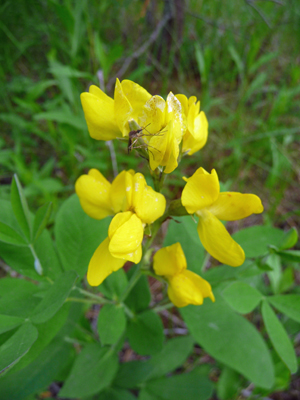 And several patches of Northern Bedstraw (Galium boreale).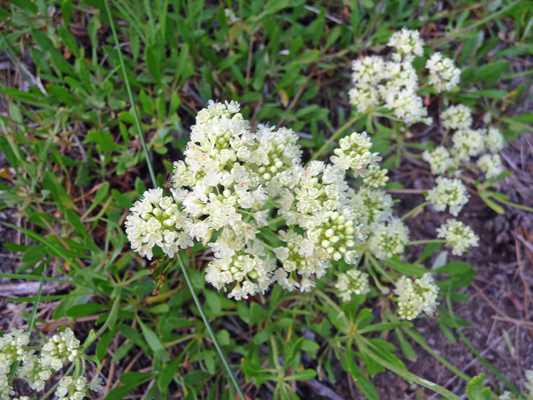 But best of all were big clumps of lovely silky lupine (Lupinus sericeus) that had just come into bloom.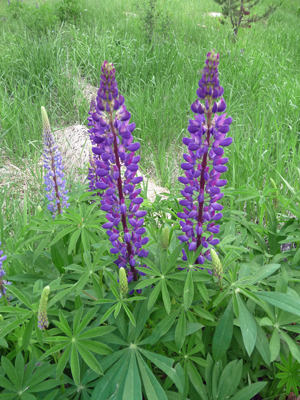 Scattered here and there in amongst all of these flowers were single blooms on tall stems that turned out to be Large-flowered Triplet Lily (Triteleia grandiflora).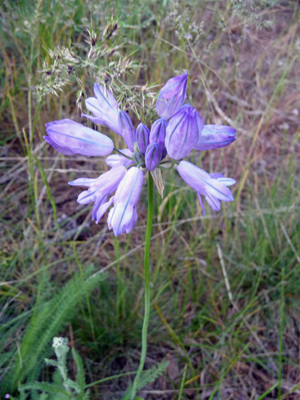 The sun was just starting to color the mountains to the east pink as it sank over the tops of the mountains to the west making the view from the dock at the boat ramp rather yummy.

When we got back from our little hike we found one of the rangers had arrived and we at least got to ask him a few questions about our job and the materials they had given us. We'd been promised training and he said it might come the next afternoon/evening when Ranger Pratchett, who's in charge of the camp hosts, would be working the afternoon/evening shift.
The next morning we awoke to sunshine! Yeah. After breakfast we walked the campground updating the reservation tags (they're attached to a post and you write on them with dry erase marker) and checking the bathrooms to be sure they have toilet paper. On our way over to the boat launch I spied MORE flowers that I hadn't noticed the night before.
Streambank arnica (Arnica lanceolata)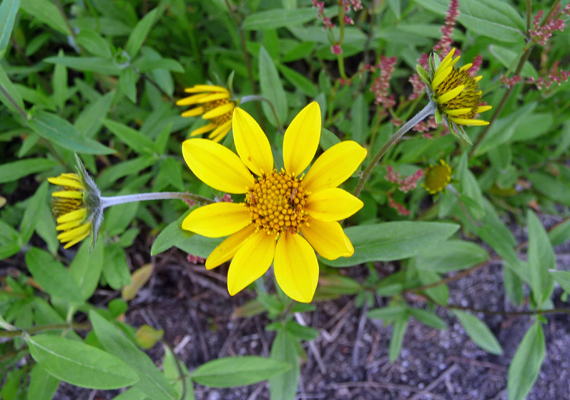 Dark blue penstemon (Penstemon cyanus)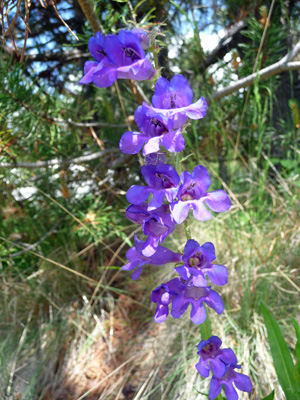 Wild blue flax (Linum lewisii)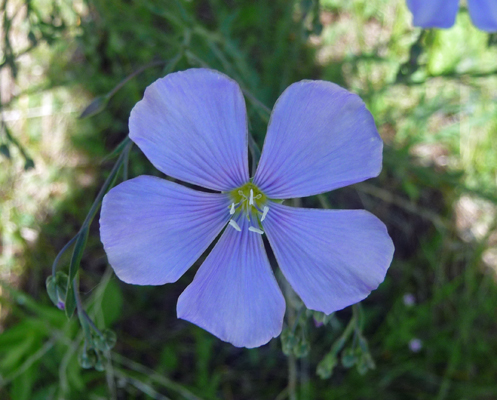 And Parsnip-flowered wild buckwheat (Eriogonum heracleoides)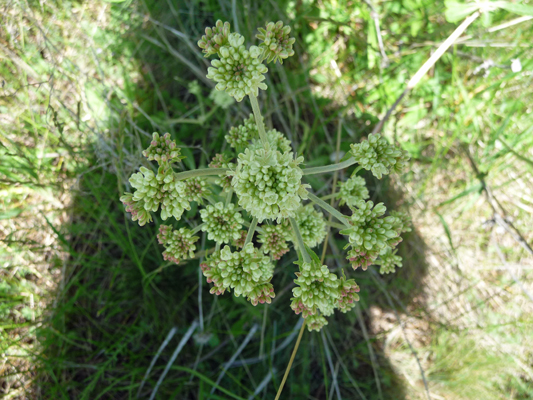 As the afternoon went on the clouds kept piling up around the edges of the lake.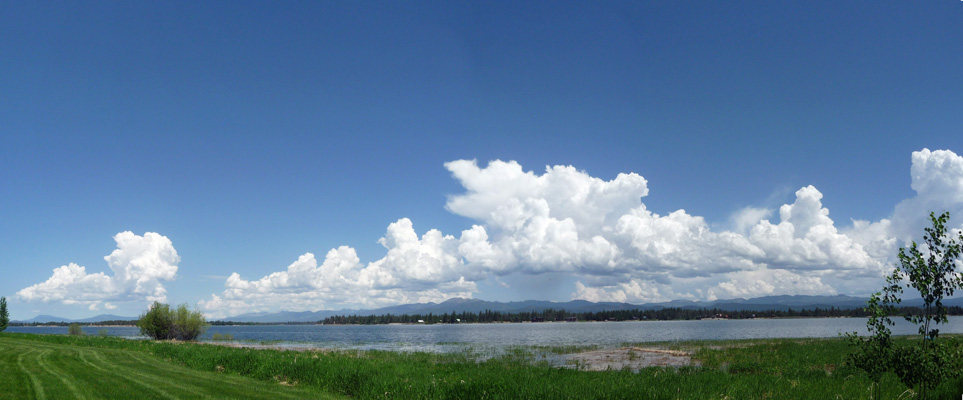 Walter and I were both restless (waiting to see if and when we'd get our questions answered and some training under our belts). So Walter went out and picked up trash out of the fire pits (why is it that people insist on dumping trash in fire pits and then not burning it?). He got a bucket and a half out of 29 fire pits!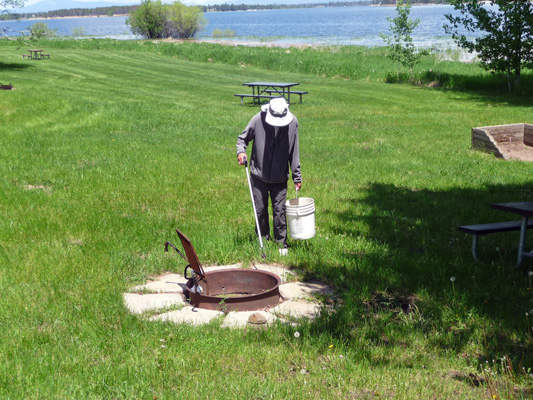 I went out and took a few more flower pictures (I know you'd think I'd find something else to do).
In the process I found some rosy pussy toes (Antennaria rosea)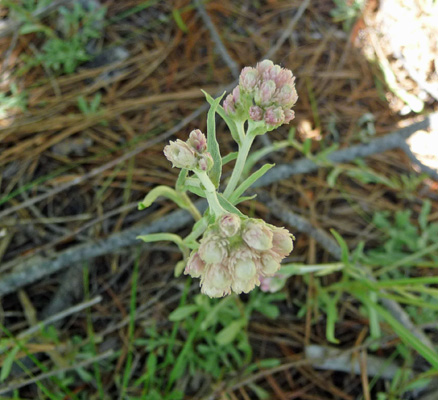 And a big patch of pearly everlasting (Anaphalis margaritacea).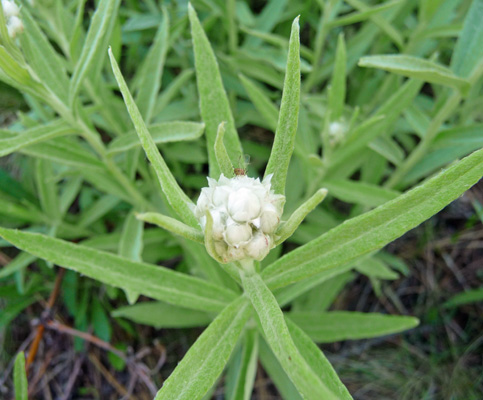 I also stopped and got a photo of the sailboat that is parked in the little inlet formed by the creek between the campground and the boat launch. It belongs to someone with a house across the road. He moors it here and has to keep moving it as the level of the lake goes down.
There were several patches of slender cinquifoil (Potentilla gracilis) in bloom.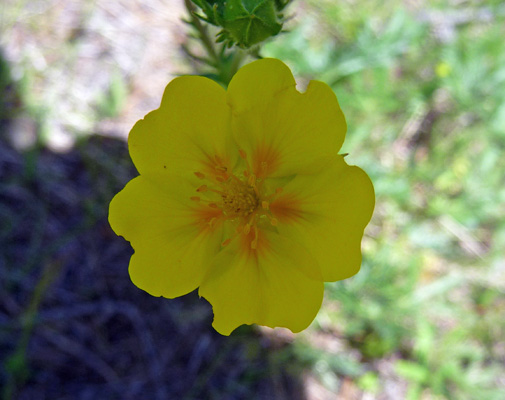 There were kids out in a rubber ducky (cheap rubber kayak) going in circles as kids are wont to do.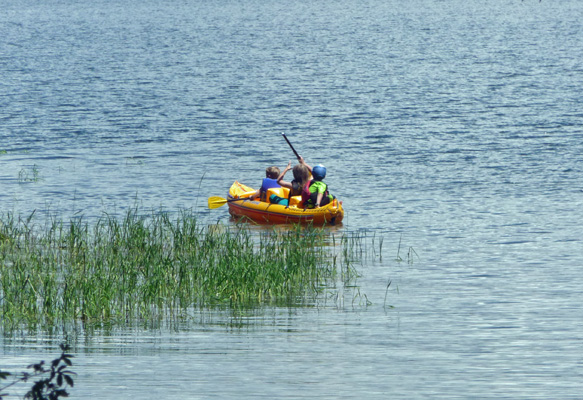 On the bank of the inlet I found one lone Alpine aster (Oreostemma apligenum) in bloom.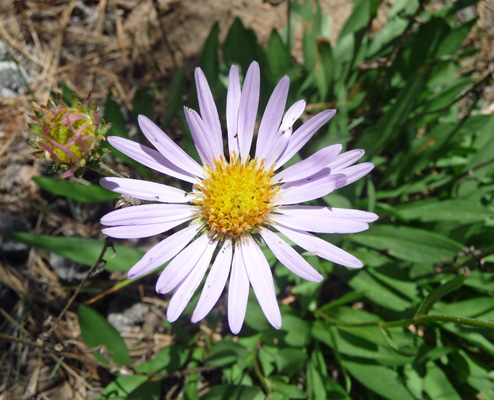 And for those of you who think I just take photos of wild flowers here's a nice shot of a red osier dogwood (Cornus sericea).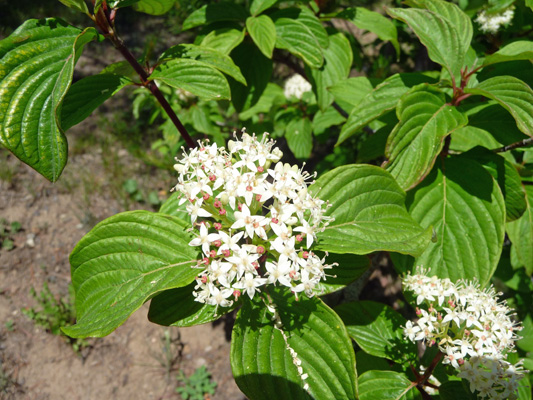 Mid afternoon we had a thunder shower with BIG splatting drops that left the campground warm and humid. Just as we were starting out for our afternoon tour of the campground, Ranger Pratchett arrived to give us our training. He stuffed our heads full of information for an hour or so and answered a lot of our questions and then left us to deal with a nearly full campground. The place was full of kids on bikes and dogs on leashes (mostly) and one trailer after another pulling into park. It was still light at 9 pm and the kids were circling in packs and the last of the trailers were still arriving. We had 3 empty spots for the night and two of them filled up with what is called a 'walk up'. When that happens we get to radio the ranger! Oh goodie. The good news is, he was close enough to hear us because our antenna wasn't optimally placed yet and they can't hear us across the lake and we can't hear them. Learn as you go, under way once again.
On our late evening tour to check to be sure the lights were working on the bathrooms, Mother Nature put on a nice sunset show out over the lake.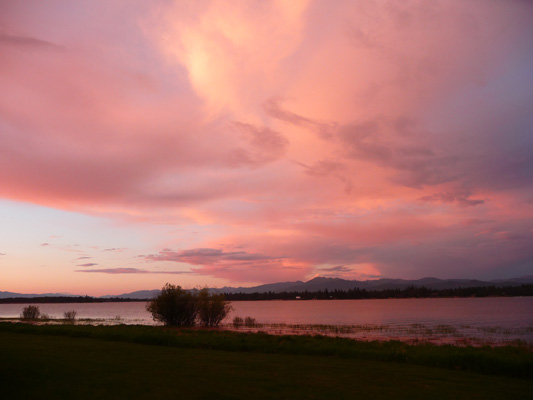 We even got a bit of color up over the mountains in the west.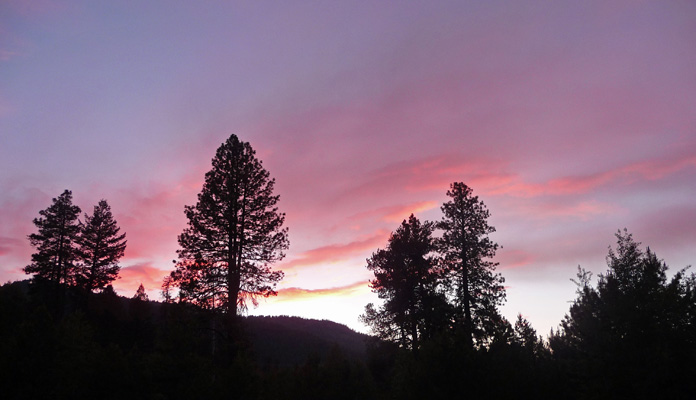 And so ended our first full day on duty as camp hosts. We were pretty tired and have learned that on Friday's we should conserve our energy because most of the folks arrive in the late afternoon and evening and we were pretty busy well after 10 pm.
Our hot spot works pretty well here. Occasionally it's a bit slow at night but mostly it's just fine and it's way better than having to load up the computers and drive somewhere to get our email. Our days off will usually be Tuesday and Wednesday but we can take time off on Mondays and Thursdays too for outings and errands. We have our kayak with us so we'll be able to take a turn on the lake any time we like during the week days. We'll be here at Buttercup campground until July 15th and then move across the lake to the east side to Sugarloaf campground for the rest of July and all of August.
It feels like summer already here in Idaho. We have temperatures in the 70's with a nice breeze and a clear blue sky today. The forecast continues clear and warmer for the foreseeable future. The flowers are in bloom. The sun is shining. Life is good.