We left Oasis, CA on Sunday January 11th on a 'rainy day in the desert' which means cloudy skies and a few sprinkles, and drove just 17 miles across the valley and a little north to Painted Canyon in the Mecca Hills for a few days of quiet boondocking.
The road out into the Painted Canyon is a sandy dirt one that is posted 4-wheel drive but was just a slow washboard grind when we drove on it. Many of the cars we saw over the 2 days we were there were regular passenger cars and nobody got stuck in the sand as far as we could tell.
The Painted Canyon sits right on the San Andreas Fault and was created by the upheavals caused by the collision of the tectonic plates that meet here. The collisions of the plates bring material from deep in the earth heavy with metals and minerals that make for great colors. In addition, all that movement along the fault makes for great up-thrusts of tilted layers of sedimentary and conglomerate rock.
As we drove north on Painted Hills Road a series of Mexican chocolate topped hills appeared (you know with a touch of cinnamon).

We bumped along on the washboard road for about 3 1/2 miles until we got to an area where our Shunpikers guide said that folks regularly boondocked. There was a spur road leading off to the north but there was a bad dip in it we were concerned about and in addition we weren't sure if there would be a good place for us to turn around if we did find a place to camp so we grabbed the first spot that seemed to work for us not far from the road.

We set up camp in our own little bit of geologic paradise. Here's the view looking out the back door. It's a bit of a moonscape on a cloudy day with not very much vegetation but still pretty amazing when you think that those striations were laid down as horizontal layers millennia ago and have since been tilted nearly vertical.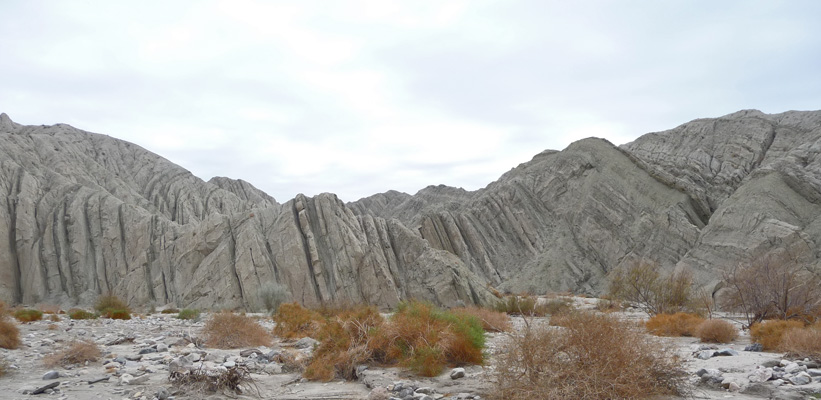 We had lunch and a bit of a nap and then took a drive up the road to scout out the trailheads for the hikes we had planned for the next day.
The reason this area is called the Painted Canyon quickly became evident.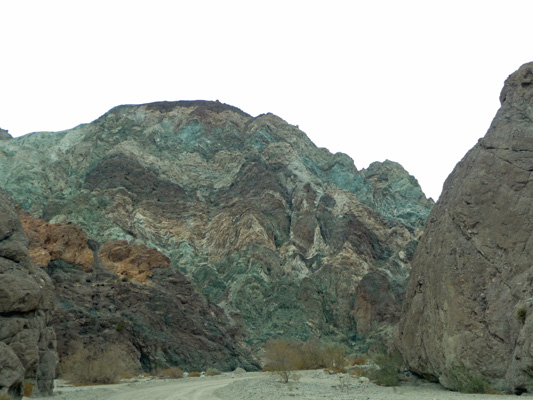 Greens and oranges and blues.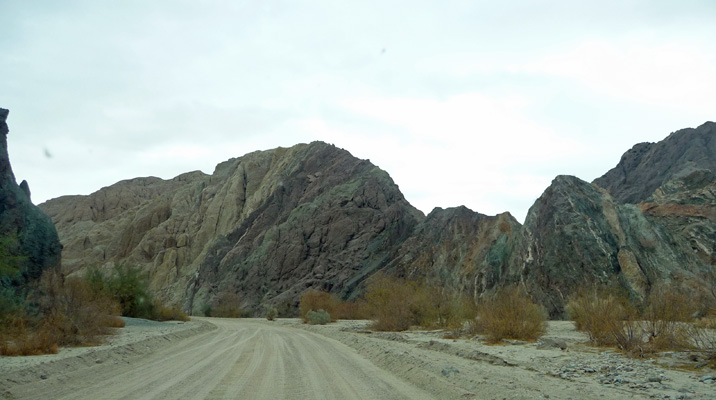 Whites and pinks and chocolate and caramel.

Satisfied that we'd located the trailheads we drove back towards the trailer. The canyon just before the trailer presented this amazing uplift pattern.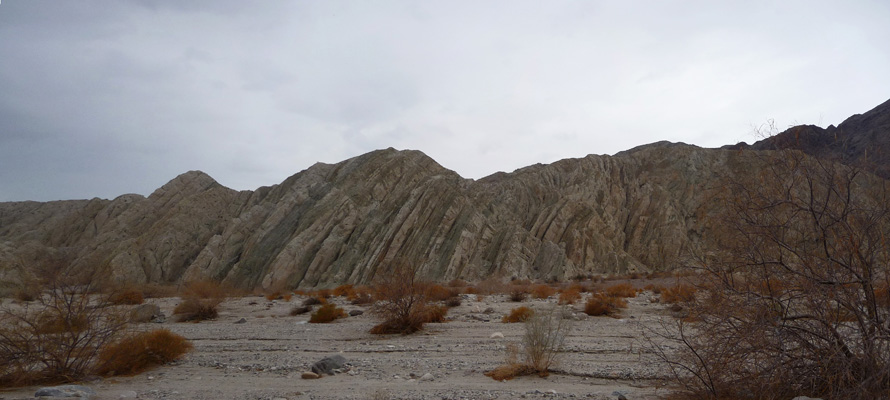 On Monday morning January 12th, we awoke to scattered clouds that quickly burned off. There was an entire field trip worth of geology students out walking on the road at 9 am complete with notebooks, white worksheets and a professor. We saw them off and on all day. Clearly this a geologist's paradise.
The sun changed the look of our little valley considerably.

I do so love the way Genevieve and François give you a sense of scale.

We had a weak hot spot signal here so the only way we could use the internet was to run the generator so we could run the cell phone booster. We did that for an hour or so to get caught up on things and then set out back to the end of Painted Canyon Road to sample the hike to Ladder Canyon.
We'd read about the Ladder Canyon hike on-line and really didn't know if we were up for a hike that required scaling a series of ladders or not but we couldn't be this close without checking it out. We followed a group of folks from Alberta up canyon.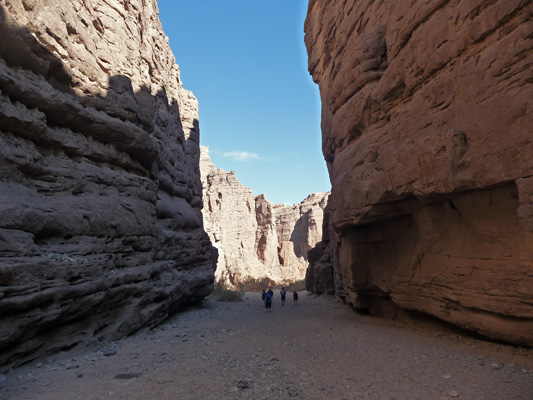 The trail follows this wash for quite a while until you come to a small sign (on your right) that indicates that the trail goes LEFT. People have constructed a large left pointing arrow out of rock in the floor of the wash so folks won't miss it. We watched the Albertans as they made their way UP the rocks. All but one needed assistance to get up some of the big rocks. We looked at each other and decided we really didn't need to do that...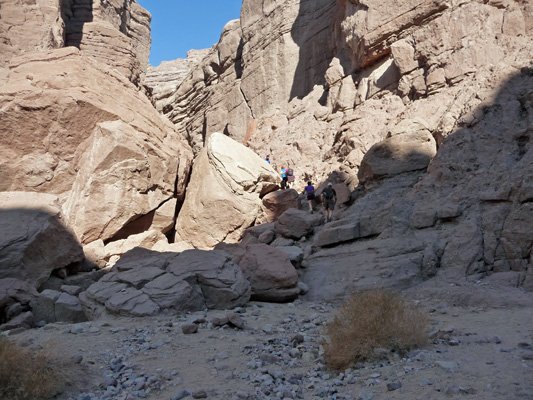 So we just kept following the wash up canyon for a while to see what we could see. There are lots of narrow slots on both sides of the canyon walls. But no colorful patches in the section we hiked. It was hard going because it was uphill in loose sand so we decided we'd go back and try hike option #2.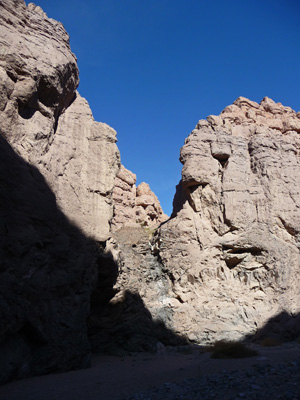 As we passed the entry to the Ladder Canyon we could hear the Albertans voices echoing in the slot canyon. Our guess is that they were coming back rather than scaling the steep ladders but hey we didn't stay to find out.
Instead we drove back down Painted Canyon Rd about a quarter of a mile (from where it ends at the parking lot for the Ladder Canyon Hike) to a little spur road and parking area with a great view.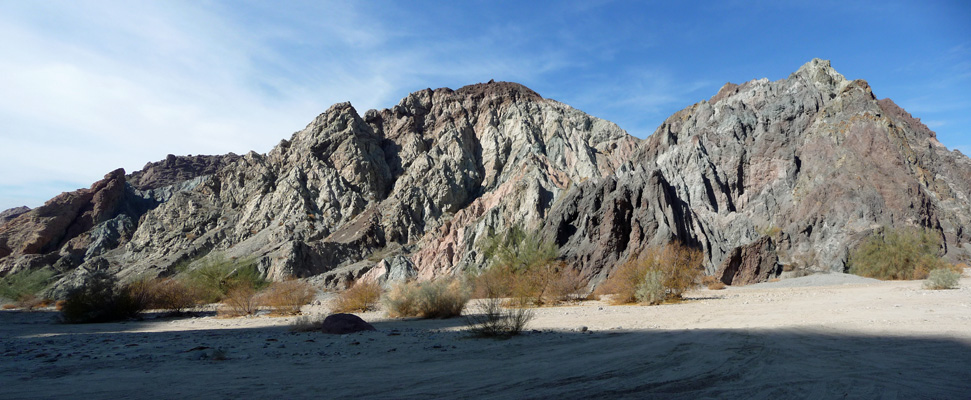 And headed up the left hand canyon towards Big Split Rock Slot Canyon.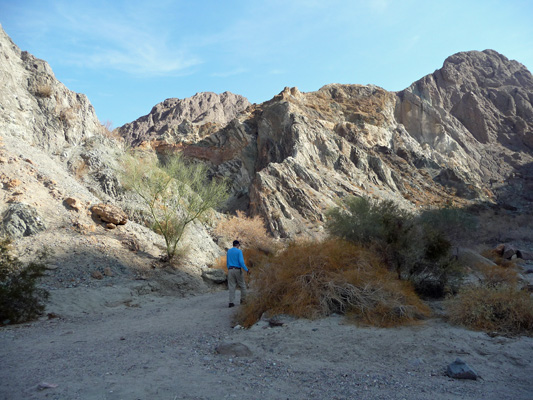 You pass by this collection of orange rocks that have fallen from a layer up the canyon wall.
And then up the wash which is a bit more colorful than the one for Ladder Canyon.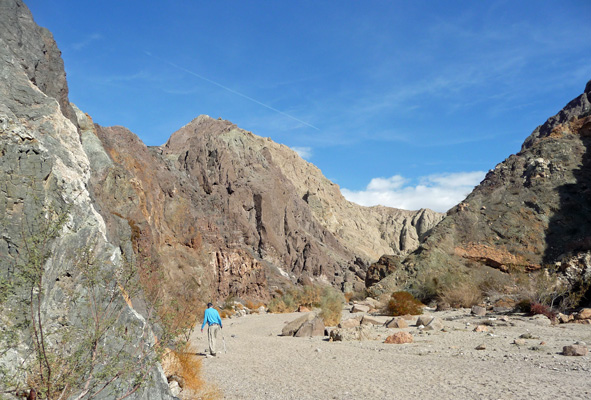 There are some fun hoodoos too.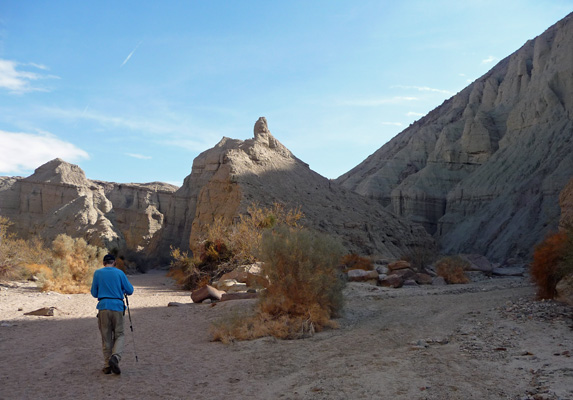 It really helps to have directions for this hike since there are so many little canyons you can follow. After taking the second left and then the next left we came to a slot canyon.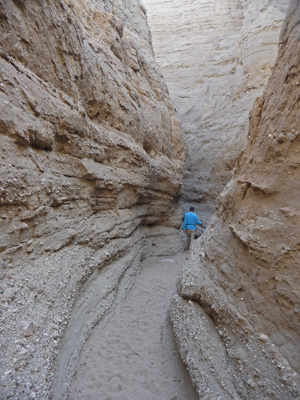 We followed it until it got pretty darned narrow and was blocked overhead by a big split rock. Walter stopped to read the directions and we decided that this was indeed Big Split Rock Slot Canyon.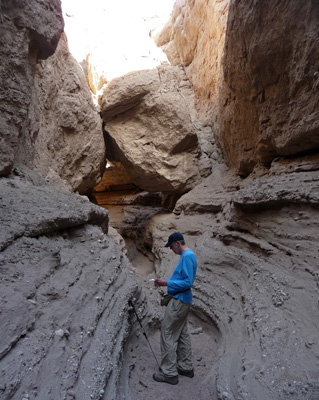 We kept going under the big split rock and the canyon continued to narrow so that the trail was only as wide as one of our feet. Walter used his stick on the canyon wall to keep his balance as we climbed over some pretty narrow spots.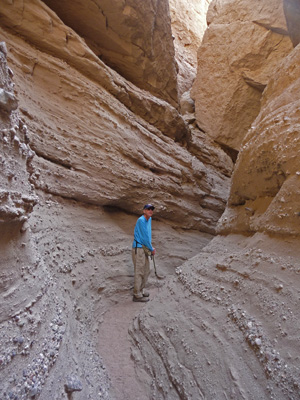 There were several low dry falls to scramble up until we reached a point when it just got too narrow for us. I'm sure someone with a lot of agility could have kept going but we were happy with how far we got.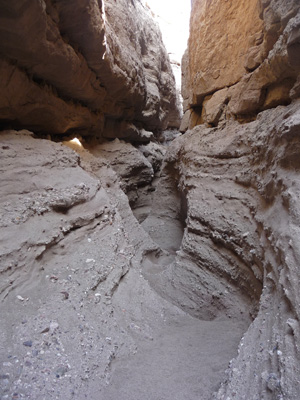 On the way back I got a much better shot of the Big Split Rock as Walter walked under it.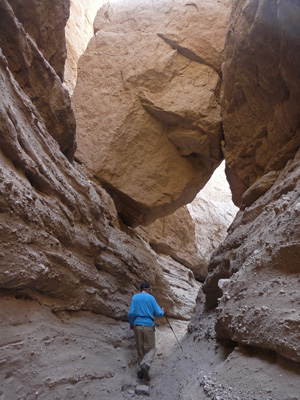 Being as how we were right on top of the San Andreas both of us had thoughts about how it really wouldn't be a great place to be in an earthquake. But we got out okay and were glad we'd gone.
We hiked a little ways up the main canyon once we rejoined it but it wasn't very interesting so we turned around and made our way back, through some pretty colorful spots.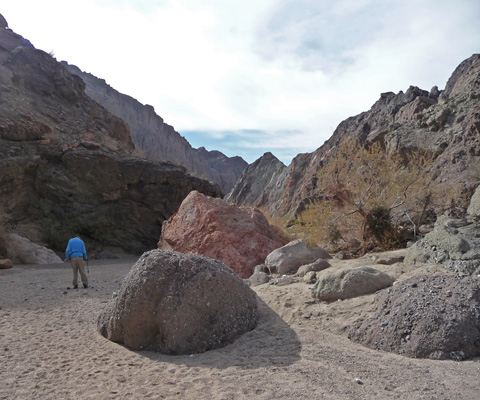 It's really a nice hike and aside from the loose sand in the wash it's a pretty easy trek out and back.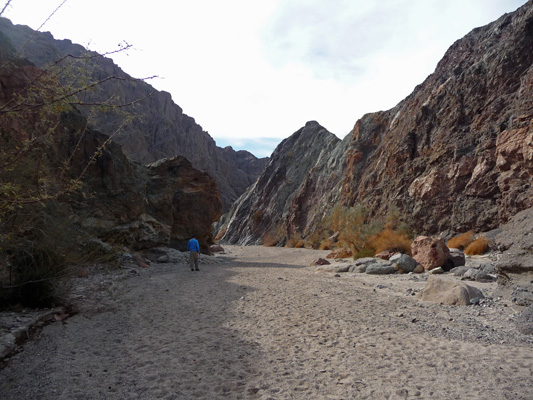 We got back to the trailer in time for lunch (after a nice long chat with some more Albertans who were having their lunch at the trailhead). After lunch I went out and took a photo of the face that I'd been looking at on the hillside across from the trailer.
As the afternoon progressed the shadows got better and I had to go out and capture the 'fins' out in our valley.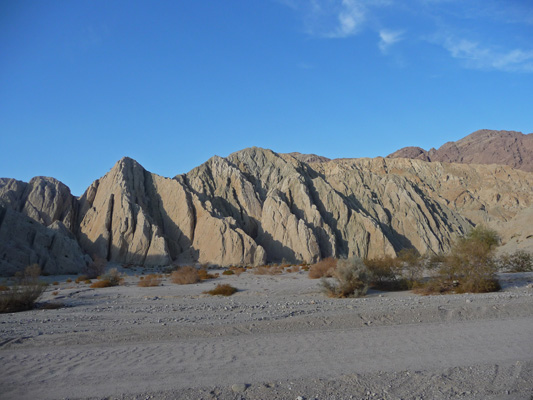 I hiked a ways back up into our little canyon and took a panorama shot of the view.

It really was a gorgeous and peaceful place to camp and I highly recommend it—even as a day trip if you're in Indio or La Quinta.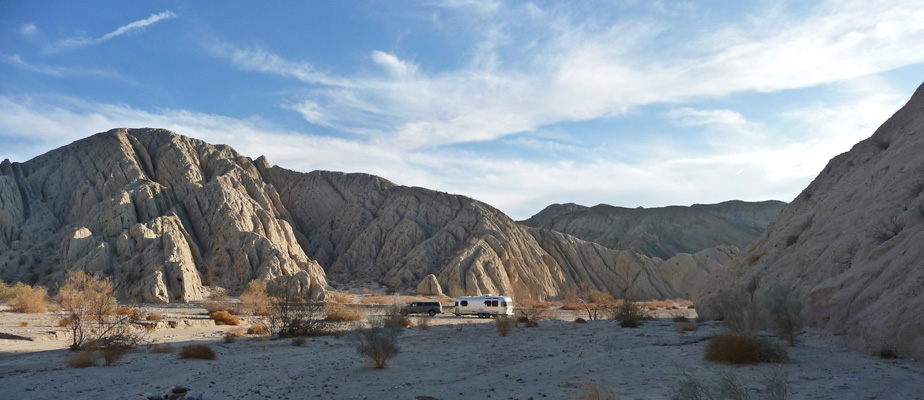 On Tuesday January 13th we packed up the trailer and made our way out of the Painted Canyon. When we arrived it was cloudy and you couldn't see across the valley. Now you could see the entire Little San Bernardino Range.

We drove a little further westward and you could not only see the mountains and the Coachella Valley below but the Salton Sea too.

I'd climbed up onto a small embankment to take this shot and turned back and took this photo of Walter, Genevieve and François with the Painted Canyon behind.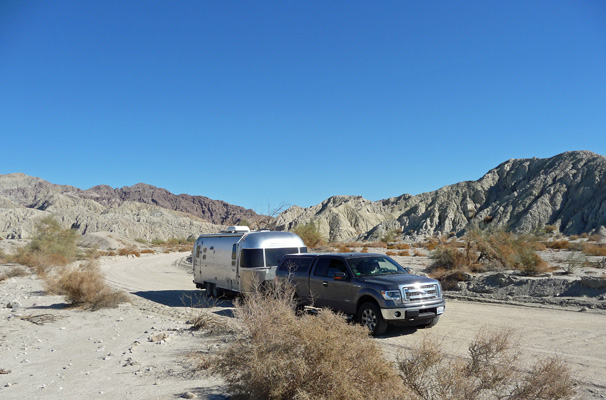 We bumped our way over the washboard road and out onto Box Canyon Road which goes through the heart of the Mecca Hills Wilderness area.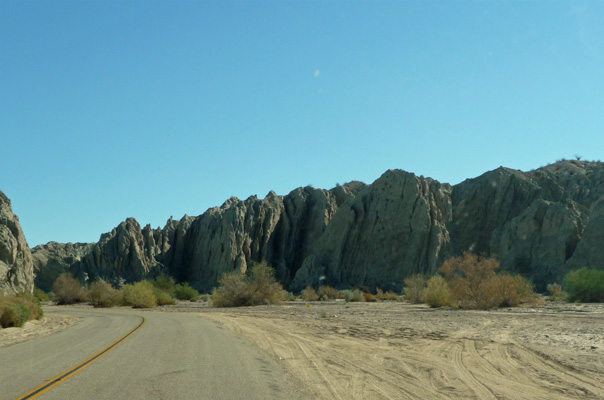 We drove through here a number of years ago and the road was under construction and pretty bad. This year the pavement was complete and the drive was an easy one.
We headed north up across I-10 and into Joshua Tree National Park to Cottonwood Springs Campground on the south end of the park.