It was cloudy and warm on Wednesday March 11th when we left Agua Caliente County Park to drive northwest to Aguanga, a small town about 15 miles east of Temecula, for a two-day stay at Jojoba Hills SKP Park.
Jojoba Hills is a very upscale Escapees Co-op complete with 50 meter pool, 2 spas, wood and metal shops, air gun range, tennis courts, crafts rooms, art studio, sewing room (with king size quilting machine) and more. We got a really nice spot for $23 a night.

Yes, that's all our spot with 2 trees, a shed, a patio and room for the regular 'owner's' car. This was the largest spot in the park but they were all pretty good sized. We took a tour of the place that afternoon and learned all about it. The buy-in for the co-op is over $30,000 (the highest of any SKP co-op in the country) but you get it all back when you release you spot. The waiting list only has about 20 people on it and it moves pretty quickly since the place is 25 years old and the original members are starting to leave since they're all 80 years old or more. This is an over 55 park with lots of very active folks.
If we were looking for a 'permanent' place for the winter this place would easily be near the top of the list—even if they did get a bit of snow twice this winter.
I did laundry after our tour and since I'd signed up for the 5 to 7 pm slot had the whole place to myself—and the washers and dryers were only $1 each! This is the first place I've ever seen a sign up sheet for the laundry room and it sure was a nice thing.
The next day we puttered around and did chores. It was warm and sunny, so late in the afternoon I drove over to the clubhouse area (this place is real hilly and most folks have golf carts to get around) and had a swim.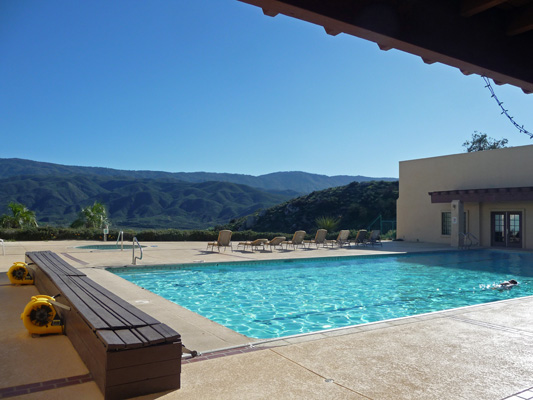 There was a breeze and since I hadn't done laps outdoors in a long time it was great fun to feel the top of my head get cold in the breeze while swimming in the 80 degree water.
That evening we even had a bit of a sunset.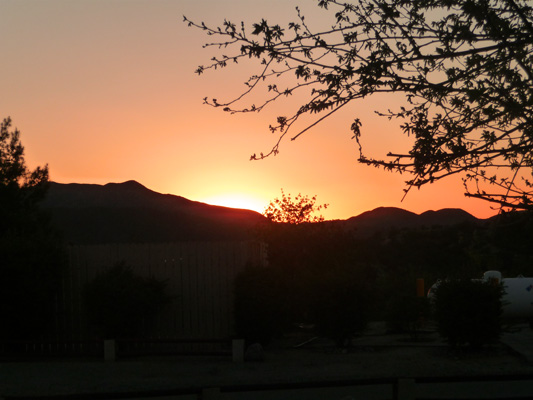 On Friday morning March 13th, it was already in the high 80's when we set out to drive to Santee Lakes Regional Park in Santee, just outside of San Diego. The forecast was for record high temperatures that weekend, even at the beach. We had reservations at Santee which was a good thing. They were booked solid for the weekend, as they had been for every weekend for months.
We set up camp and relaxed with all the windows open praising the breeze that kept us from roasting as the temperature climbed into the 90's. That evening we had dinner with our daughter, Tracy, and her friends Karen and Becky at the Wine Vault in Mission Hills. It was a marvelous meal and a great time was had by all.
On Saturday morning, March 14th it was already in the high 80's when we left for Poway to spend the day with Tracy. We happily spent the day hanging out in her condo where there was a great breeze. It was just too hot to think about being outdoors. After dinner that evening we did some shopping and went home happy to find that the trailer had actually cooled down enough that we wanted to close up the windows for the night.
On Sunday, March 15th we awoke to water burbling in what had been the dry creek outside our trailer. This turned what had been an already lovely view into something really special. This was the view out of our dining room windows.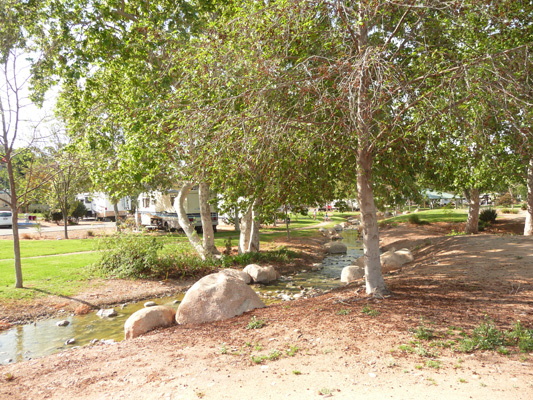 And this was the view looking the other way.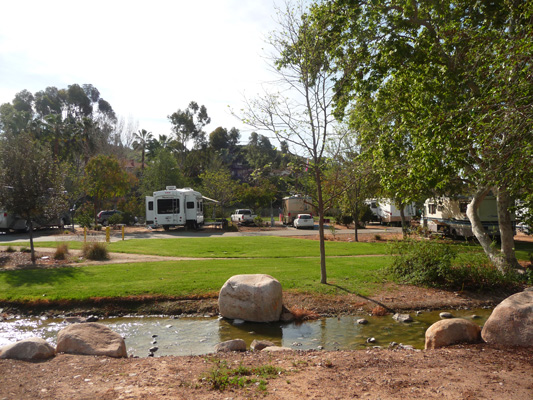 Santee may not be cheap ($50 a day plus 10% tax for this spot) but it is a lovely place to stay. We always enjoy our time here. But it has gotten more and more popular and so it requires planning to stay here.
After Walter made waffles for Sunday breakfast, we motored up to Tracy's and then the three of us went shopping at REI together. We had a great time getting both me and Tracy our birthday presents and Walter a new pair of hiking pants. Then we went back to Santee so Tracy could meet Genevieve and see all the things that they'd done to Santee Park since she'd visited last.
This was not our usual outdoor activity-packed visit to San Diego but we did really enjoy our time hanging out with Tracy. And we managed to never feel hot when the temperatures were just plain outrageous. Thank you, Tracy!
On Monday, March 16th we drove northwest to Carlsbad, CA and lucked out in getting a water-side camping spot at South Carlsbad Beach State Park when we arrived there at noon. Of course, they wouldn't let us actually check in until 2 pm so we went and did our grocery shopping and returned right at 2 to join the line of others checking in at the same time.
The view from our spot was gorgeous as always. Of course, you have to pay for a view like this—$50 a night with no hook ups. This is looking northward. Even with the clouds it was in the mid 80's and a little humid.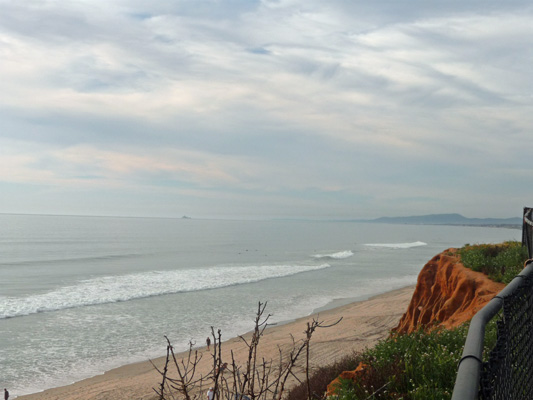 Here's the view southward.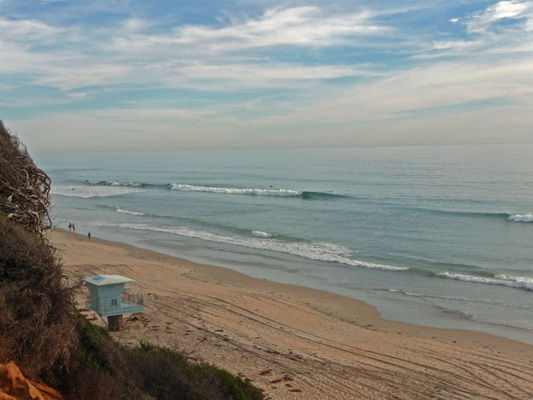 There were lots of folks down on the beach and bunches of surfers out in the water.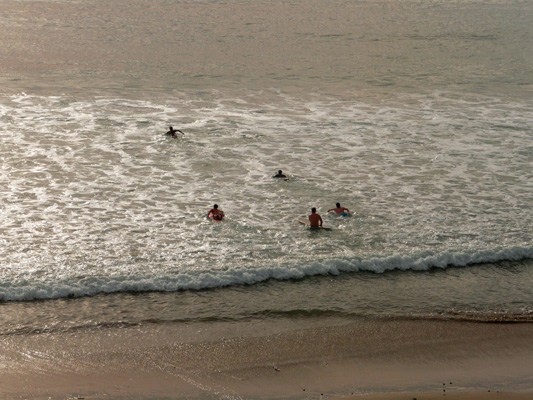 Even before sunset the sky turned peach.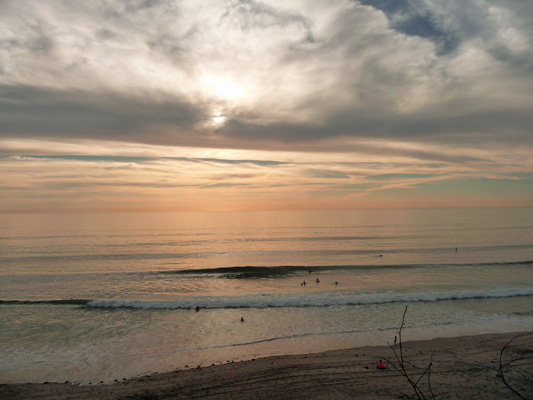 Then for the last hour or two of the day the sun came out again and then gave us a nice sunset.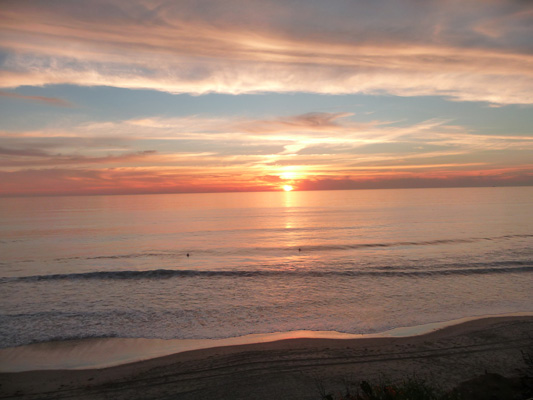 Which turned ORANGE at the end. I did not process this photo. This is how it came out. Amazing, huh?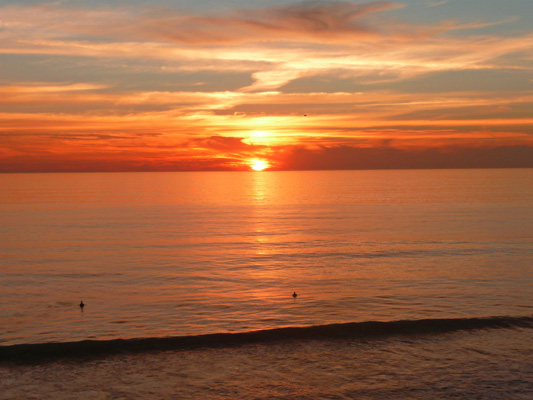 We would have really liked to spend another day here. But when we checked the next morning to see if we could stay, they told us it was booked solid. How strange is that? They had openings at noon on Monday but at 9:30 am on Tuesday they were full already. The weather was starting to cool some and it was a gorgeous day so maybe folks had made reservations during the weekend (you have to do reservations here at least 2 days in advance and if you check in without reservations they only let you do it day to day).
The view in the morning was lovely.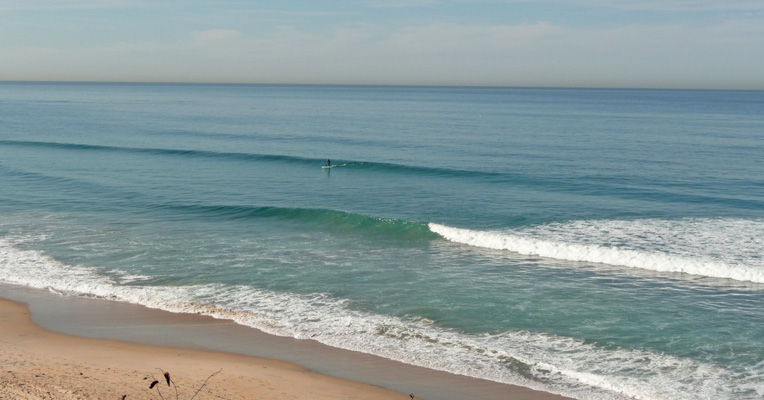 And the stand-up boarder you can see riding the wave above put on a great show for me.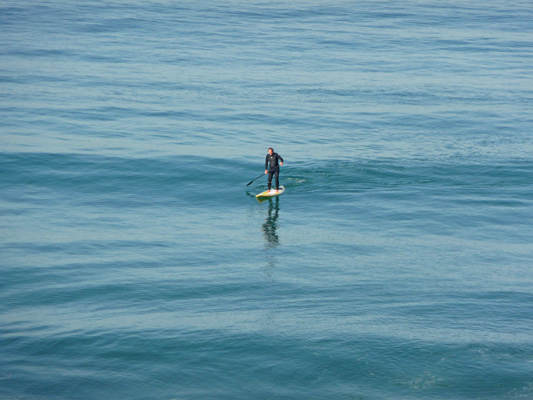 Surf, sunshine and surfers. Lovely.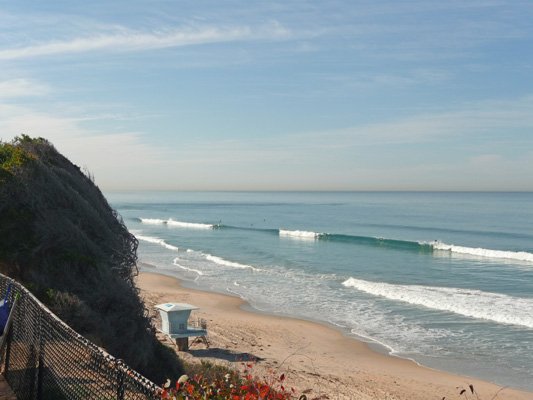 Since we couldn't stay here, we punted and drove north to Sierra Trails RV Park just north of Mojave, CA for a two-night stay. It was much cooler there since it's at about 2,700 feet elevation. We got a nice spot and settled in for the night with plans to visit the California Poppy Reserve down in Antelope Valley the next day. It was partly cloudy when we arrived and was mostly cloudy when we awoke the next morning.
But when I went out to take a photo of the purple bearded irises next to our spot, the sun peaked out.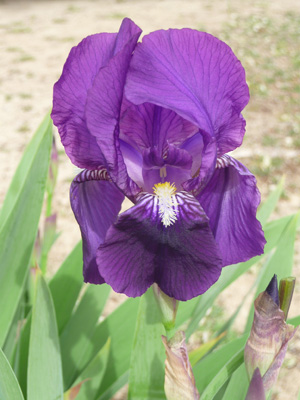 I took 200 photos at the Poppy Reserve so I'll share that trip with you in
my next report
. It was a great day!