Life has settled into a rhythm here for us as Camp Hosts at Buttercup Campground at Lake Cascade State Park. The weekends are full of people and our tasks that involve interacting with the campers in our campground. The week days are quieter—this past week we had a couple of days with only 2 or 3 campsites with people in them. We have time then to putter around the trailer and get household tasks done and to do the best we can to keep up with the watering here in the campground. Even that seems to be under control at least for the moment. Tuesday we go to McCall to shop and do laundry and Wednesday we go on an outing. Life is good. Here we are in our 'uniforms' behind our Camp Host sign (in front of our campsite). The vests only come in Men's size medium so mine is just a wee bit big. But they have all these great pockets to keep stuff in so I wear it anyway. It's really a sports shooting vest that they put a state park patch on. We get to return them when we leave.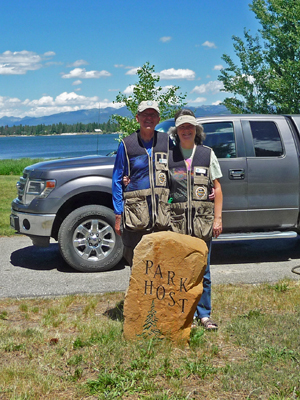 On Sunday June 14th, I discovered yet another new flower along the edges of the boat launch parking area. It's a Hooker's Onion (Allium acuminatum).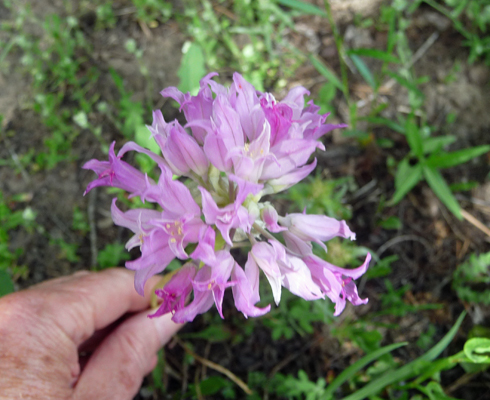 And the Cultivated Flax (Linum usitatissimum) had come into bloom. It's a deeper blue than the Wild Flax and the flowers are smaller. No doubt most of the flowers in the meadow between the campground and the boat launch were seeded in and I'm grateful because they've provided a lot of entertainment.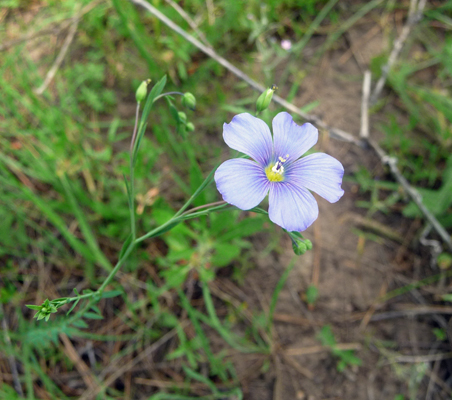 We also got to meet the fellow who owns the sailboat that's moored in the little inlet just south of the campground. He lives down in Boise and has a building lot up here but no house. He'd ridden his motorcycle up and wanted to make sure we knew who he was. We got his name and phone number, so we have some contact info in case something happens with/to his boat. He caught a trout off the boat and happily took in home with him on the motorcycle at the end of the day.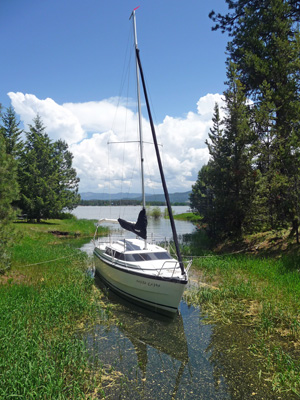 On Tuesday morning June 16th as we were getting ready to head into town, Walter called me to the door. There was a young buck feeding on the grass not more than 15 feet from our trailer.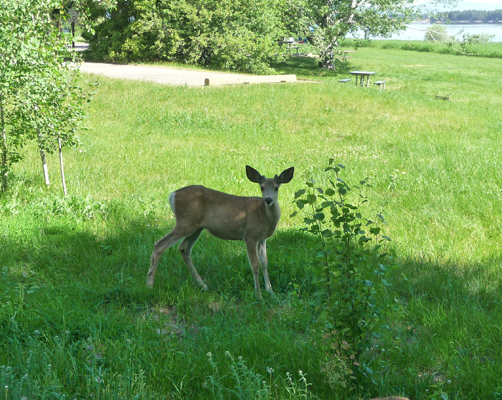 Walter stood very still and I took photos of the buck as he browsed along through the grass and up past our picnic table.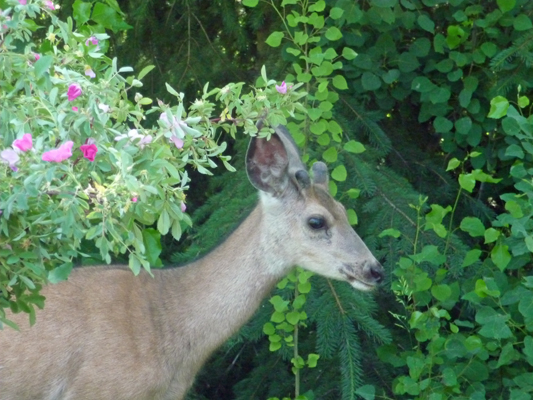 He walked within 3 feet of Walter and then continued on down through the trees and out of the campground. What a treat!
Doing the errands and laundry in McCall was much easier this week. What a difference it makes to know where you're going! For lunch we drove a short distance north of town and had lunch in the Rotary Park overlooking Payette Lake. There were people out playing in the water but it looked rather bracing.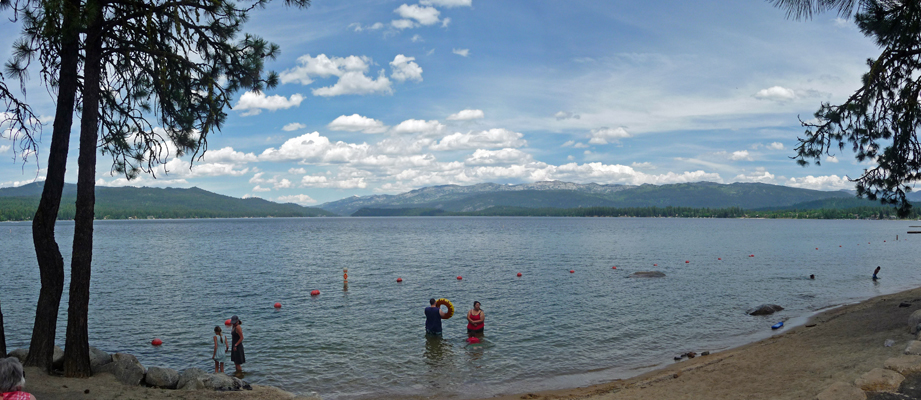 Late in the afternoon just after I'd awakened from a nap, Walter called to me to look out the window. The great sheep drive of June 2015 had begun.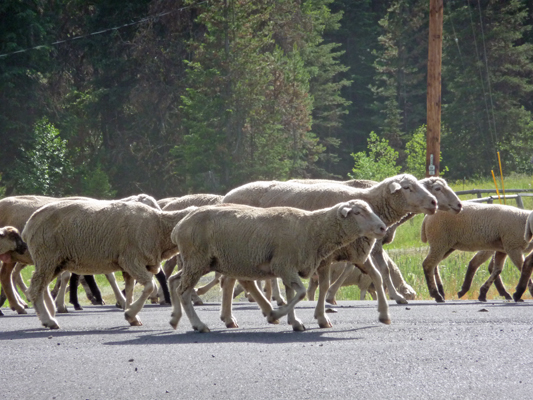 About 1,000 sheep trotted by on the road next to our campground. Baaaahing away.
There were lambs and ewes and rams.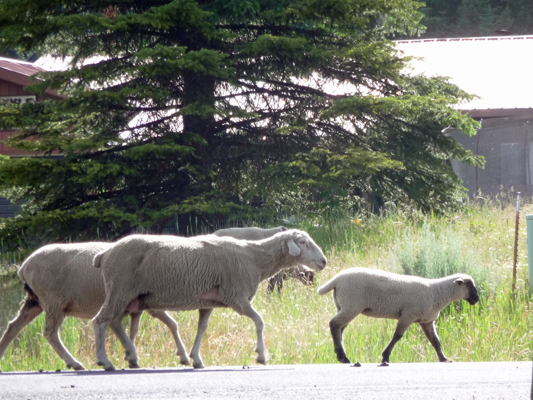 And a few stopped to munch on the grass on the verge next to our Day Use Area.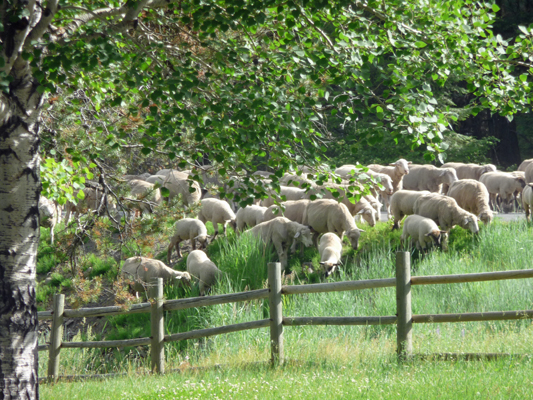 There were great huge white sheep dogs and sheep dogs like Australian shepherds.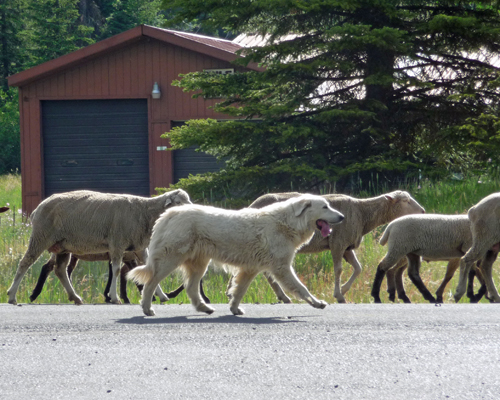 And even one black sheep.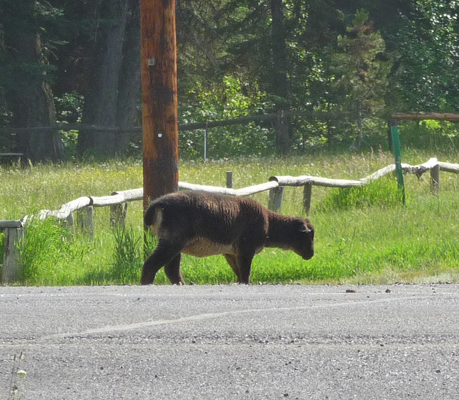 And every once in a while a pair of lambs would corner their mom for a snack.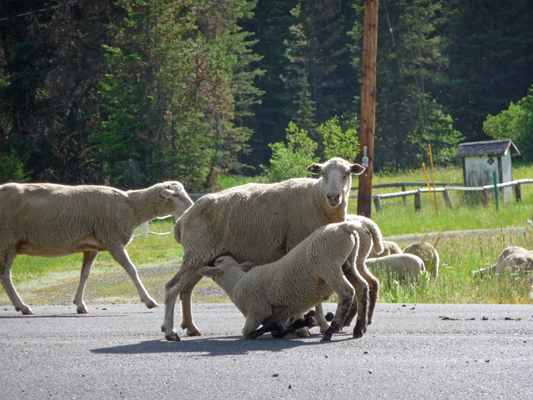 Bringing up the rear, was a shepherd on foot, with several pack animals. He had a rope in his hand that he swung around and beat on the ground to keep the sheep moving.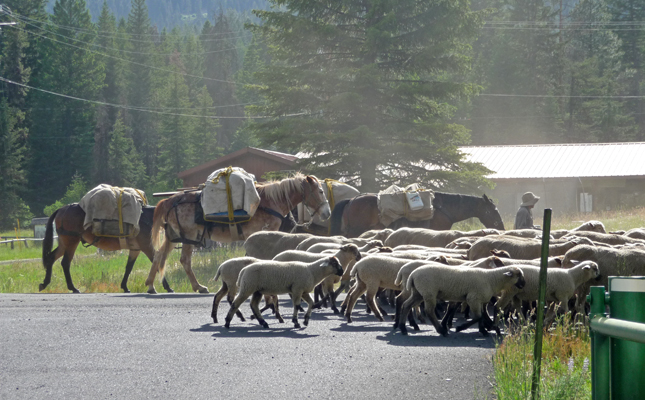 We went back in and had dinner and then at about 8:30, it happened all over again—another flock of about 1,000 more sheep. This time I heard them coming and ran out in time to catch them as they approached the campground. There was a sheep dog behind this first small flock, then the shepherd. It seems that was enough to keep them all moving.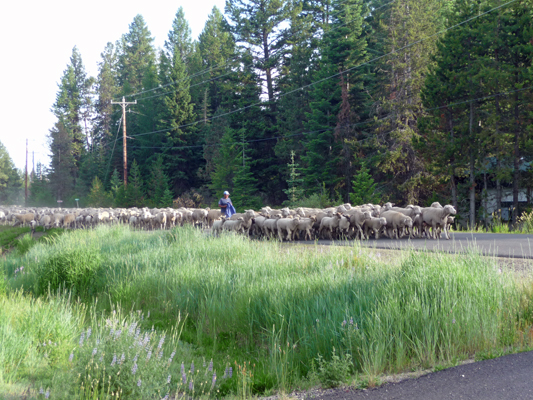 After they'd passed for a while, I shot this photo to give you a sense of how far they stretched.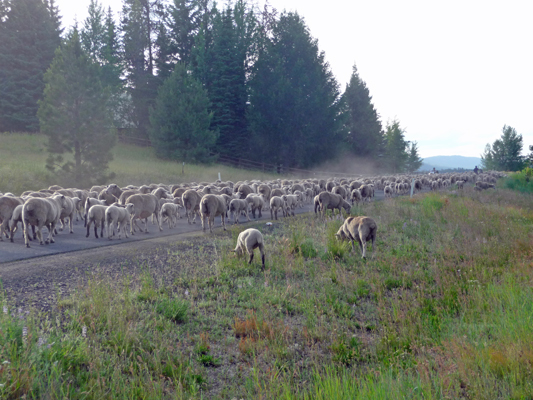 It was great fun and not something you see every day. It turns out that they are headed up into the mountains for the summer and then will return this way again in October. We saw a third flock about 10 miles south of here on Wednesday and then at about 5:30 Thursday, they trotted by just like the flocks on Tuesday, with the shepherd and his pack animals bringing up the rear. It was a whole new spin on country living for us.
On Wednesday June 17th, we made our way into the town of Cascade to walk The Strand, a trail along the North Fork of the Payette River as it runs along the edge of town. We decided to start at Kelly's Whitewater Park, which is open free of charge to the public. It was built in memory of Kelly Brennan who died in an auto accident at the age of 23. She loved sports and the great outdoors so her family built the park here in her memory.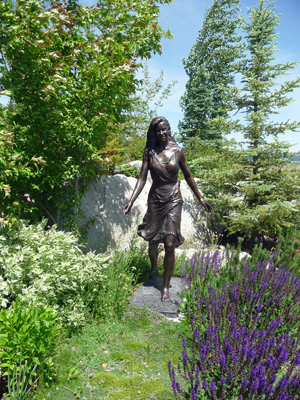 They've built a marvelous facility with good parking, lovely gardens, a huge Welcome Center with an indoor amphitheater where you can watch folks in the river and of course a whole series of rapids for people to play in. We crossed over a narrow channel on a bridge and out onto a rocky island to watch some folks playing in a small rapid. There were stand up boarders.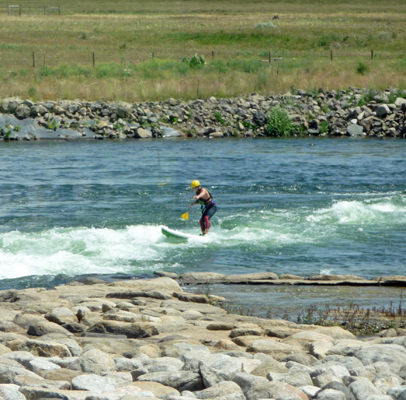 And kayakers.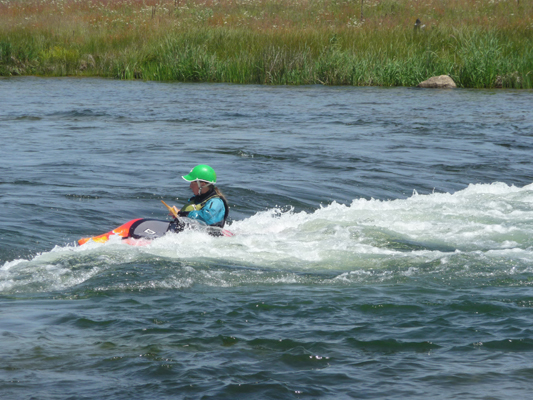 This guy was practicing flipping over. First he'd get himself pointed upstream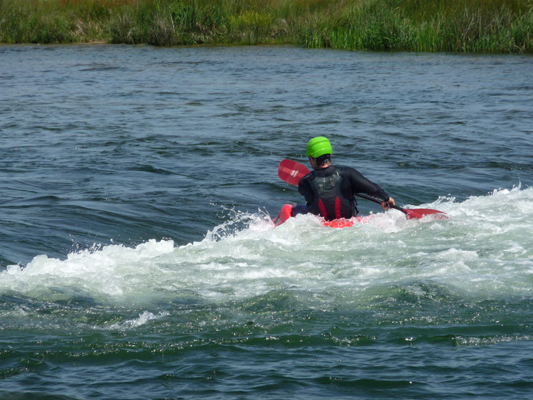 And then poof, he'd flip his weight forward and over he'd go.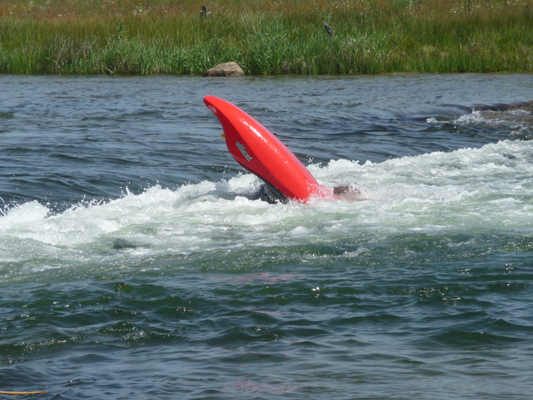 He did that over and over again—always followed with him whacking the side of his head to get the water out of his ears.
This stand up guy would come out into the rapid and then crash into the water. It's clearly not that easy to do.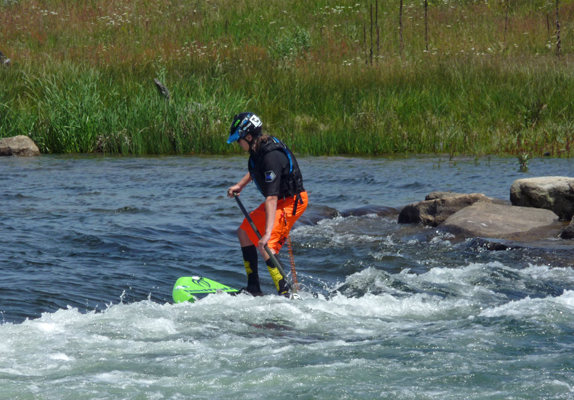 We walked back across the bridge and I couldn't resist taking this photo of a stand-up board and it's equipment resting on the rocks. Here you've got the board, a helmet, paddle, a personal flotation device (pfd) and a cord that they use to connect the board to the back of the pfd. These boards look solid but unlike surf boards these boards are inflatable. They even had an inflation station out in the parking lot.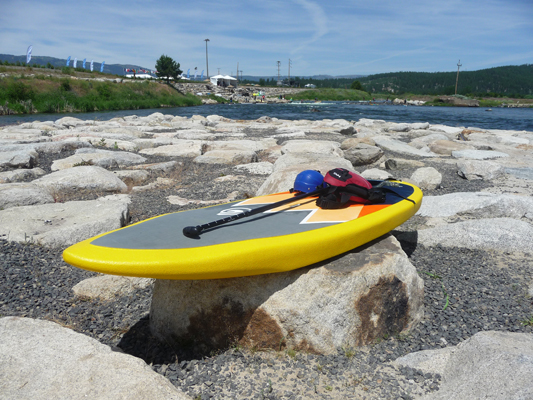 We hiked up river towards that tent-like structure in the top of the photo. The Payette River Games were scheduled for Friday though Sunday June 19th to 21st and folks were practicing maneuvers on stand up boards in preparation for the competition. The games are part of the national SUP (Stand Up Paddle) competitive circuit. And this is the only stand up paddle race on a river. All the others are on lakes or the ocean so everyone needed some practice.
At first they were just surfing across the big rapid.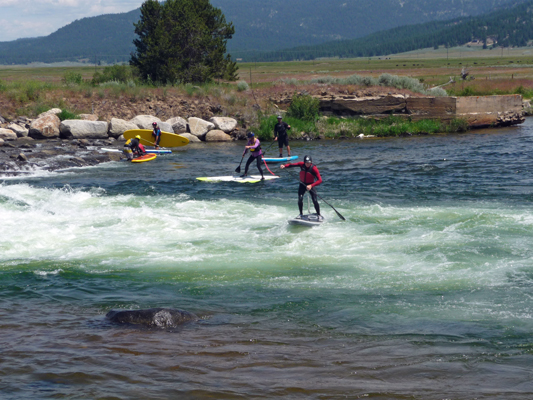 Then they began to practice what was clearly part of a slalom course.
They'd come diagonally across the river and then maneuver their way around the big inflated buoy. This was not easy. Some of them got becalmed about half way around and a few wiped out including one young woman who came close to smashing her head into one of the big boulders.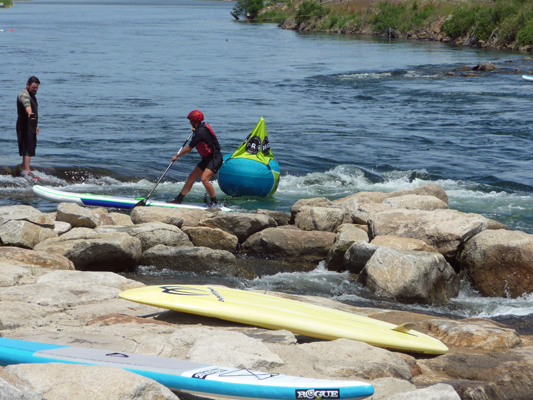 Once around the buoy, they had to get down the rapid. Some went straight down (and mostly ended up in the drink).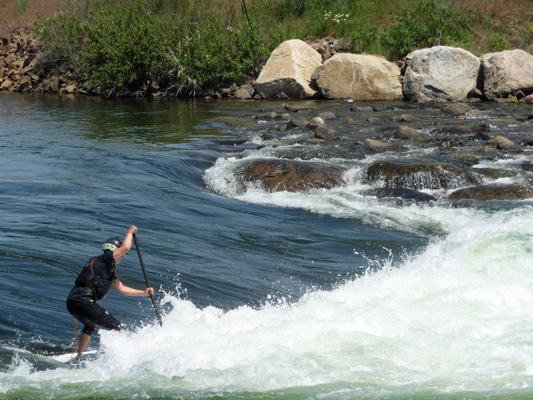 But a few did make it down and across the white water to the other side.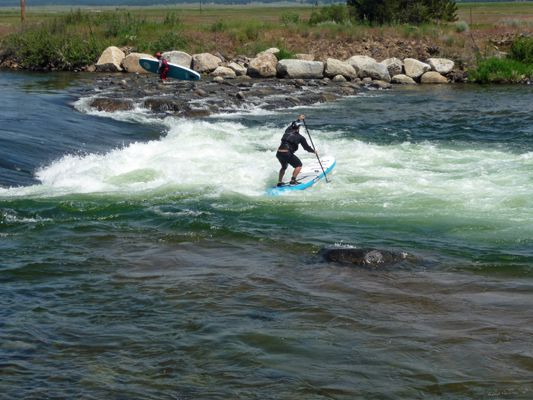 One guy figured out that if you paddled like crazy across the top of the falls that there was a really easy decent down the rapid. But very few of them could get around the buoy and then get across this way.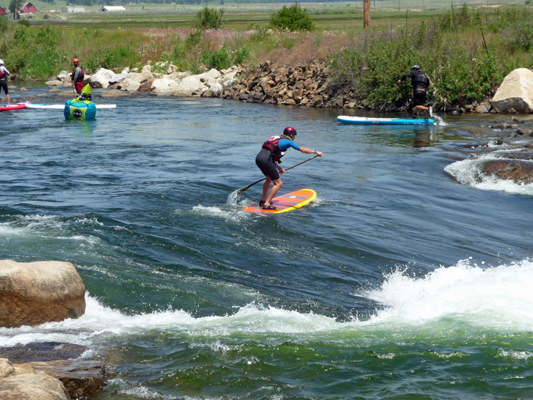 But some could.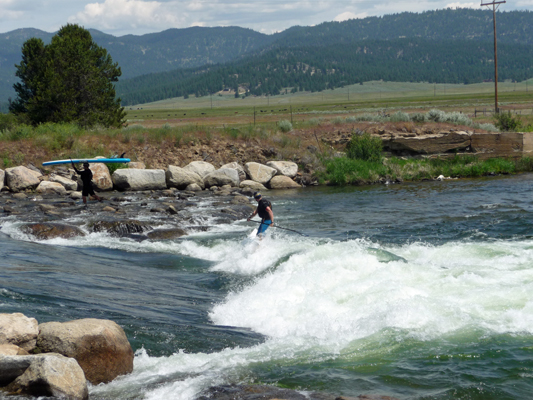 We had a great time sitting and watching on the great big boulders that were piled up in rows like bleachers. There were even big umbrellas here and there so you could get out of the sun.
When we'd had enough, we hiked on north along The Stand which follows the Payette. The riverside views are very nice.

But to your left are the old Boise Cascade lumber mill grounds that are only partially reclaimed and not very scenic. We hiked a ways and turned around—it was warm and we'd had enough. Here and there along the trail there are fun signs like this.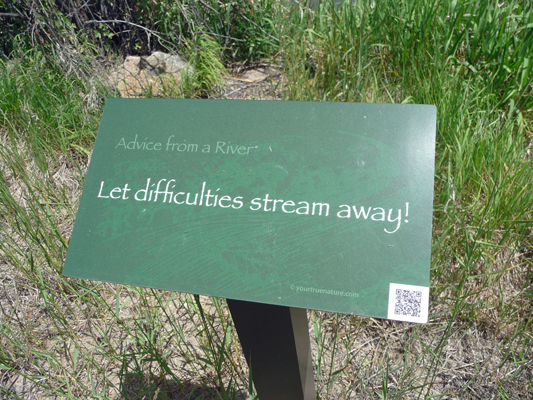 For lunch we drove south through the Round Valley (south of Cascade which is in the Long Valley) until we got into the trees again and found a nice spot with a great view of the North Fork of the Payette River as it starts a fairly rapid decent through the canyons. There is great white water south of here for both rafting and kayaking.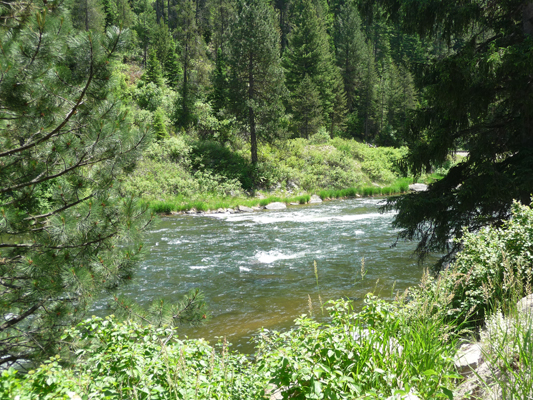 After lunch we wandered our way back north along Hwy 55 until we saw the signs for the Cabarton Road. We'd driven part of the way on this road the week before so we knew it would loop back to Lake Cascade so we took it. There were more White Mariposa Lilies (Calochortus eurycarpus) in bloom along its southern reaches.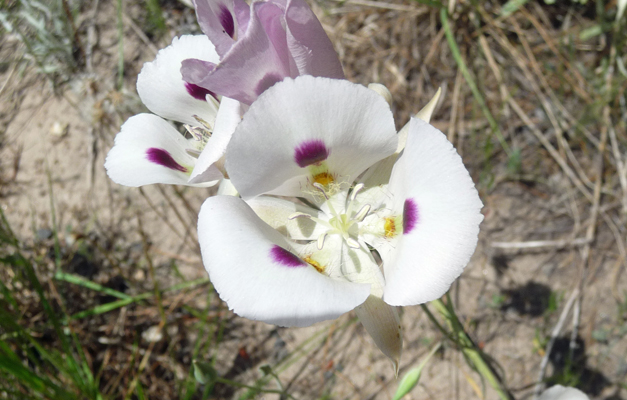 And lots of False Hellebore (Veratrum caifornicum) in full bloom.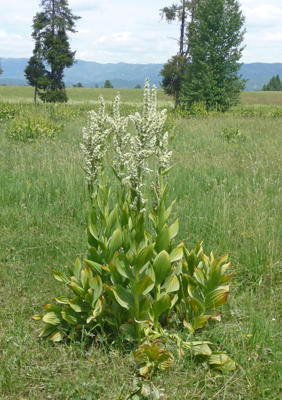 Eventually we came to the West Mountain Road and we followed it back up the western side of Lake Cascade. Just south of the French Creek Campground (USFS), what did we spy but another huge flock of sheep—including a tent for the shepherd. It turns out this is open range land so they can rest their sheep here as they work their way northward. There were lots of lambs.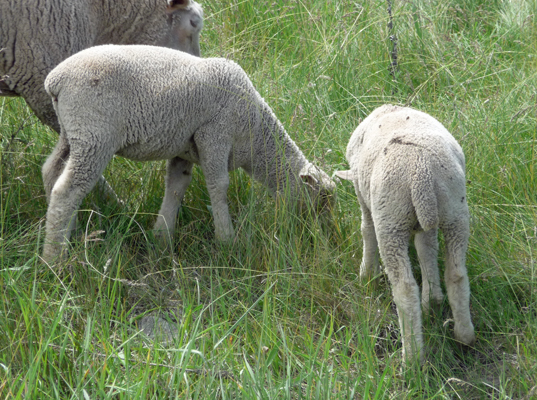 And all of them were busy chowing down on the deep grass in the meadows here.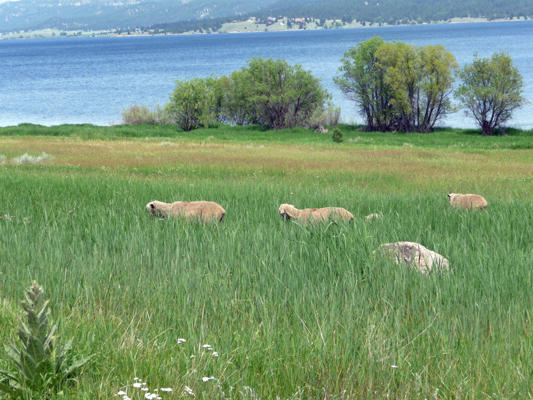 We saw huge flocks of Canada Geese out in the inlets of the lake and at least a dozen big white pelicans too.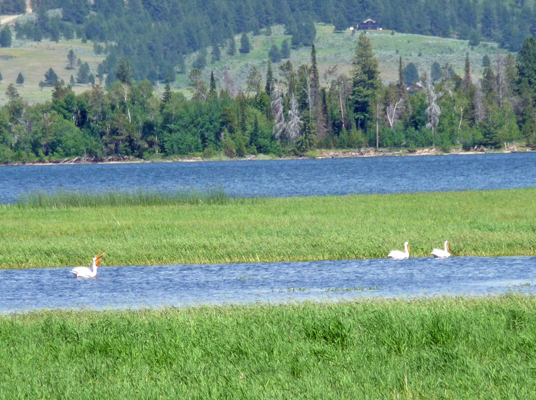 Thursday morning June 18th, I spied the beginnings of our sandy beach starting to appear along the shoreline. It's not much but given folks are always asking where the beach is, I can at least point to that little bit of sand now! In fact Friday morning, there was a kid scooping up wet sand and digging for rocks in this little space.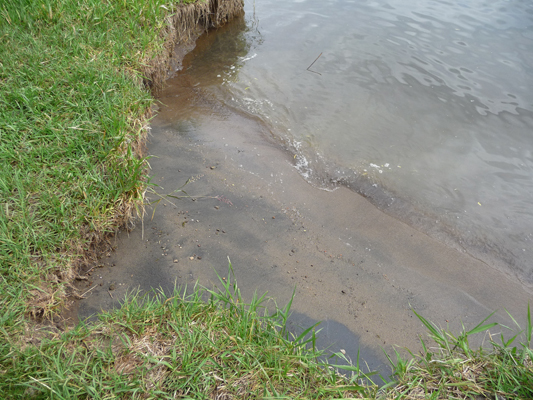 At the same time I had a red-winged blackbird land briefly on a seed head—long enough for me to grab a quick photo.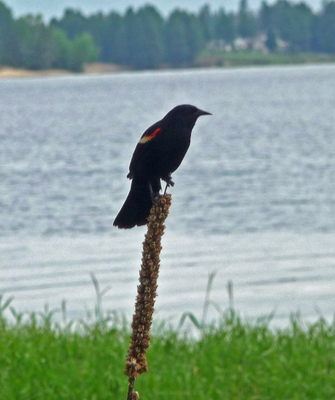 Our neighborhood Western Grebes were out fishing too.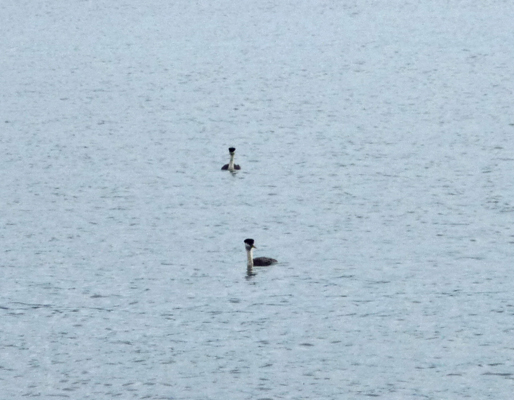 Folks have been catching fish in the lake for the last week or so—mostly bass and rainbow trout but occasionally they get a perch too.
Thursday evening, all those sheep that we saw down near French Creek made their way up the road past our campground. The first flock went by without a hitch. Then only an hour or so later we heard a second flock off in the distance. I got out there in time to shoot a photo of the lead sheep with it's bell.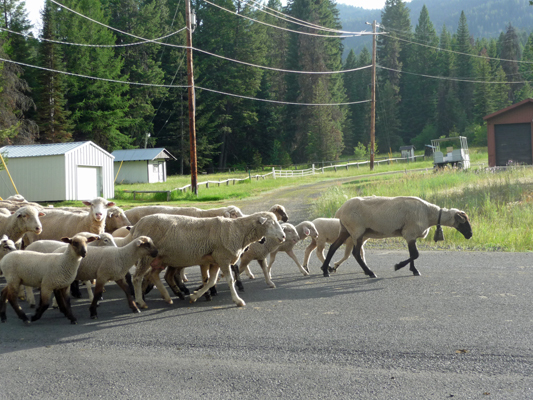 After a small portion of the flock passed by, the shepherd and one of the dogs came along. This shepherd had an interesting noisemaker to keep the sheep moving—a loop of wire with cans on it.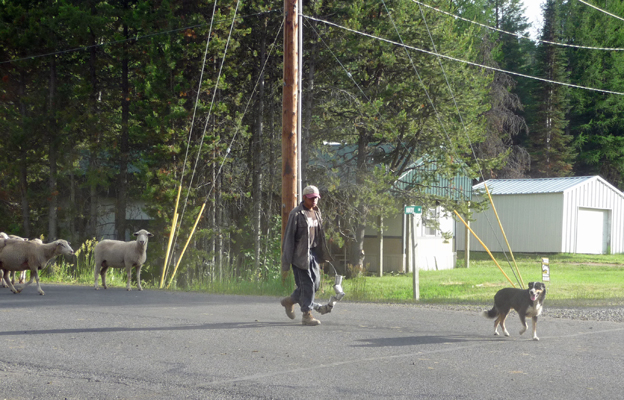 The main portion of the flock began to pass by. And then something spooked the lead flock just up the road from the campground entrance and they turned around and headed back down the road to join the rest of the flock.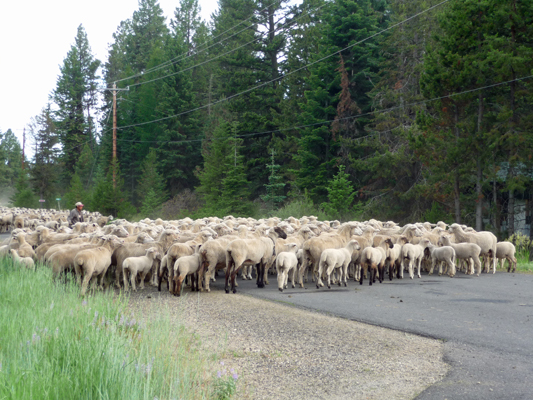 The poor shepherd could do nothing to get them turned around. He tried taking the belled sheep by the collar and leading him ahead.
The rest of the sheep wouldn't follow.
He banged his cans at them. He threw dirt clods at them. Nothing worked. It didn't help that there were cars beeping and trying to pass. And of course a crowd of people standing at the entrance to the campground taking photos. Eventually someone took ahold of the belled sheep and hauled it forward again and someone else started shooing them and whistling and they got moving again. But they were stalled at our front gate for a good 20 to 30 minutes. A sheep jam in the country.
Friday June 19th was another beautiful clear day. Once again we're pretty much full for the weekend. We had 4 spots open for Friday night only and 1 spot open for Saturday night only and nothing open for both Friday and Saturday nights. All our sites are open finally (we had a number closed to start because they were wet.) Once again, we had lots of kids, dogs, boats and families. One family spent the afternoon playing horse shoes down below our campsite and had a great time—three generations cheering each other on and being great sports.
When we got our campground report on Saturday morning we could see that we were entirely booked full starting Friday night next weekend. In fact we were already nearly 1/2 full for Wednesday and 2/3 full on Thursday. It's going to be a busy week!
The weather has been sunny with temps in the 70's and low 80's for the last week with breezes up to 10 mph (isn't it fun having an anemometer?). It hits the high for the day at about 4 pm and then starts to cool off. Most nights its been down in the high 40's. The long term forecast calls for continuing sunshine but warming temps at the end of next week—maybe into the high 90's. Whoa Nelly summer is upon us.